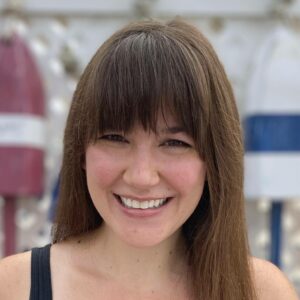 Latest posts by Lauren Vigdor
(see all)
I had the tiniest engraved cuff bracelet when I was a kid. It was a simple, flat gold band about as thick as one of my fingers, and it had my name engraved on it in script. It was given to me when I was a baby, long before I was able to actually wear it.
I remember pressing the opening of the cuff into the inside of my wrist to wiggle the bracelet on until I was almost a teenager.
That bracelet was very special to me, and though it no longer fits, it's safely stored away. There's a reason why a family member chose to gift it as one of my first pieces of jewelry. A cuff is a timeless piece of jewelry, it's durable, easy to wear, and the engraving makes it personal.
There's something about the width and weight of a cuff that makes it feel like heirloom jewelry that will last a lifetime. I think that's why they make such great milestone gifts. Below is my guide to the best cuff bracelets to give as gifts (and some to keep for yourself.)
Bottom Line Up Front
All of the cuffs in this guide are uniquely suited for different occasions and recipients, which I've called out below, but my favorite is the Gwen Cuff Bracelet from Brook & York. It's a super versatile bracelet that can be worn with anything, and I love that the design is straightforward but not boring.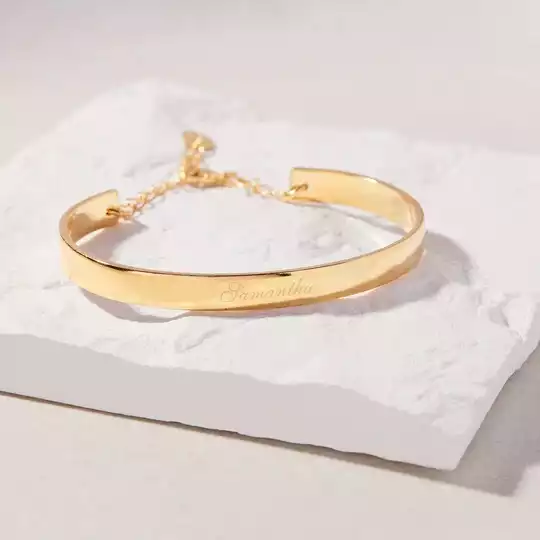 Gwen Cuff Bracelet | Brook & York
Simple yet sophisticated, the elegance of the Gwen Cuff Bracelet makes it an instant classic. Personalize it with your name or the name of a loved one in your choice of engraving styles.
Check Price
We earn a commission if you click this link and make a purchase at no additional cost to you.
Picks at a Glance
Cuff, Bangle, and Bracelet: What's the Difference?
Cuffs and bangles are both types of bracelets. A bracelet is jewelry that you wear around your wrist. Bangles are complete circles that are most often worn by slipping the whole bracelet over your hand.
There are hinged bangles with clasps that you can unhook and reattach around your wrist, but once they're clasped, the bangle will still create a complete circle around your wrist.
Cuffs are bracelets that have an opening in them that allows you to put them on—the bracelet is C-shaped. They generally fit closer around your wrist than bangles do since they don't have to be large enough to slide over your hand.
How Do You Put on a Cuff Bracelet?
It may seem silly, but there is a correct way to put on a cuff bracelet. Although they're often slightly adjustable, repeatedly stretching open and pinching closed your cuff will cause it to break over time. To correctly put on your cuff, gently push the edge of one side of the opening into the inside of your wrist.
Roll the opening of the bracelet over the side and then the back of your wrist so that it sits flat. You can remove the bracelet by repeating the process in reverse.
Buying Tips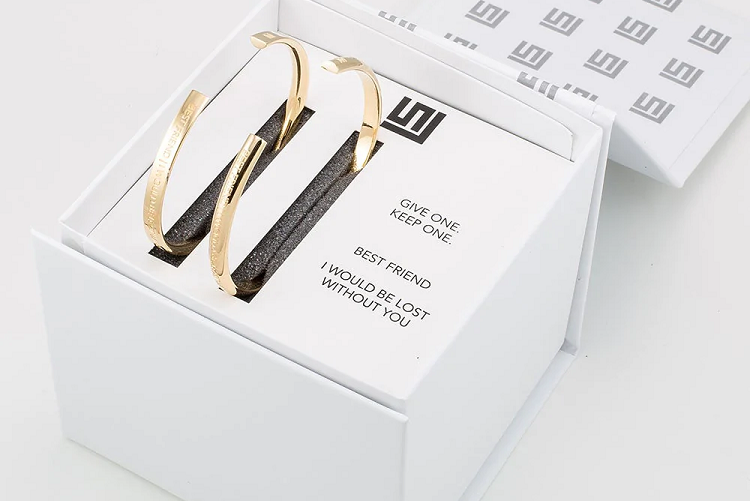 Sizing
Cuffs are slightly adjustable. You can (gently) bend them to better fit your wrist if necessary. (Please only do this once when you first get the bracelet. It will break if you do this every time you put it on.)
Even still, cuffs can be difficult to get on and off if they're too small and might slip off if they're too large. If you're buying the bracelet for someone with very petite wrists, look for one that doesn't have too wide of an opening.
Generally, you want the diameter of a cuff to be about ½" to 1" larger than the diameter of your wrist. You want to be able to fit a finger or two under the bracelet when you're wearing it, but you don't want it to be so loose that it slips off.
Returns
If you're shopping for a cuff with custom engraving, keep in mind that it probably won't be returnable. Make sure that you get a good idea of what the finished piece will look like before you check out, and double-check your spelling!
Selection Criteria
In order to even be considered for this list, the cuffs I looked at had to meet certain criteria.
Availability and Accessibility
I only considered cuffs that could be purchased online from companies that have multiple in stock. One-of-a-kind jewelry is great, but it's not very useful if you're looking for bridesmaid gifts, for example.
Durability
Cuff bracelets generally have a little give to them so that you can adjust them slightly to get them on and off your wrist. If they're not made from durable material, they're more likely to snap over time.
Customization Options (at least most of the time)
With the exception of one bracelet on this list (more on that later), all of the engraving can be customized. I made this rule for myself, and then I broke this rule myself (I know, I'm a rebel), but I knew I wanted at least most of the cuffs I included to be customizable.
There's no shortage of jewelry with gorgeous engraving in the world, but when I think of an engraved piece of jewelry, my mind immediately goes to something sentimental and personal.
I think that custom engraving is one of the best ways to ensure that a piece is truly personal. One item on this list felt personal enough without customization, which is how it snuck in.
My Picks for the Best Engraved Cuff Bracelets

This Gwen Cuff from Brook & York is the perfect everyday engraved cuff. It's modern and sophisticated, large enough to be noticed but not so bulky that it gets in the way, and it has an elegant chain that adds both security and flair.
I could definitely see this becoming a staple piece that I reach for on a regular basis. It can be worn day or night, to work, dinner, or even just a day of running errands.
It's available in three different metal options and two different engraving fonts. It can be customized with up to ten engraved characters.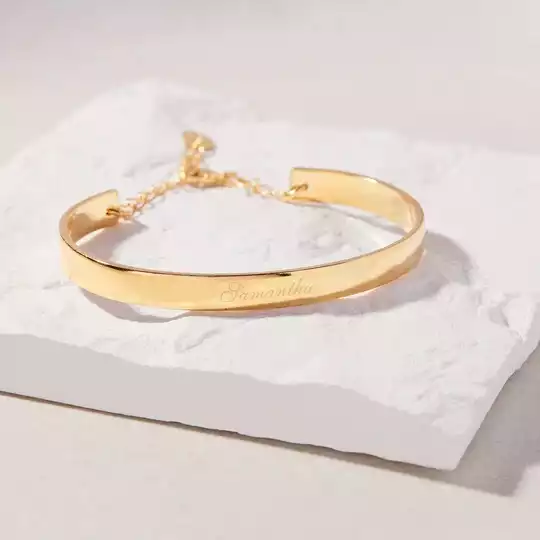 Gwen Cuff Bracelet | Brook & York
Simple yet sophisticated, the elegance of the Gwen Cuff Bracelet makes it an instant classic. Personalize it with your name or the name of a loved one in your choice of engraving styles.
Check Price
We earn a commission if you click this link and make a purchase at no additional cost to you.
Pros
I love the loose chain that links the two sides of the cuff. It almost feels like cheating, but the bracelet does still have the cuff aesthetic, so I'll allow it. The chain will make the bracelet feel a little extra secure and dangle gracefully down your wrist.

I love that it ships in 24 hours, even when customized.
Cons
I like that Brook & York offers three metal colors for this cuff, but they're all

plated brass

. I wish they offered a solid gold or even a gold-filled option for people looking to create an heirloom that will last a lifetime.

The engraving font is a little small. This actually doesn't bother me this much, but enough people left reviews about it on the website that I felt I should include it. If you're looking for bolder engraving, this might not be the bracelet for you.

This unisex Black Plate Cuff Bracelet from Eve's Addiction is so striking. The black stainless steel has an almost buttery patina to it, which perfectly complements the thickness of the band and its rounded edges.
The band can be engraved on both the inside and outside with up to 25 characters on each in three different fonts. I love how many options this gives you for personalization! You can write a hidden message or affirmation inside the band and a name or significant date on the outside.
Pros
I love that you can add engraving to either the inside or outside of the band (or both!) I wish that more styles had this option.

The cuff is made from black plated stainless steel, which is both durable and unexpected.
Cons
Due to the color and material of the bracelet, the engraving can be difficult to read from any distance. It may make the engraving feel more personal for some, but I can see some people having an issue with this.

It's true that black goes with pretty much everything, but black jewelry isn't for everyone. If you're considering buying this as a gift, make sure it suits the recipient's style. If you're unsure, gold or silver might be a safer option.
The Most Romantic: Love Birch Cuff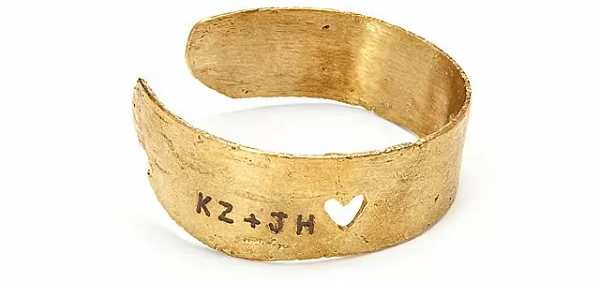 This Personalized Love Birch Cuff from artist Nancy Nelson on Uncommon Goods is so sweet and romantic! I love the way it resembles two lovers' initials carved into tree bark.
The texture of the cuff makes it really unique—it was cast from real birch bark—and the rustic heart cut-out adds to the bracelet's sweet charm. It would make the perfect engagement gift for your best friend or anniversary present for your partner.
The cuff can be customized with two sets of initials with a maximum of two characters per set.
Pros
This is a super unique piece that you're unlikely to find in other stores.

I love that it evokes a sweet, nostalgic feeling of romance.

It's made by a US-based artist and sold through an independent company.
Cons
The cuff is made of brass, so it won't last as long as gold and may tarnish over time.

The engraving is only available in one font, though for this particular design, that doesn't really bother me.

I love the graceful shape of this Whitney Cuff Bracelet from Brook & York. The curve of the band is sophisticated and modern, and I love the way it highlights the elegance of the wearer's wrist bones. It's a lovely twist on a classic cuff—it's sort of like a signet ring for your arm!
It's only available in gold, but it can be customized with up to ten characters in your choice of either script or a modern font. I think these would make perfect bridesmaid gifts for your team.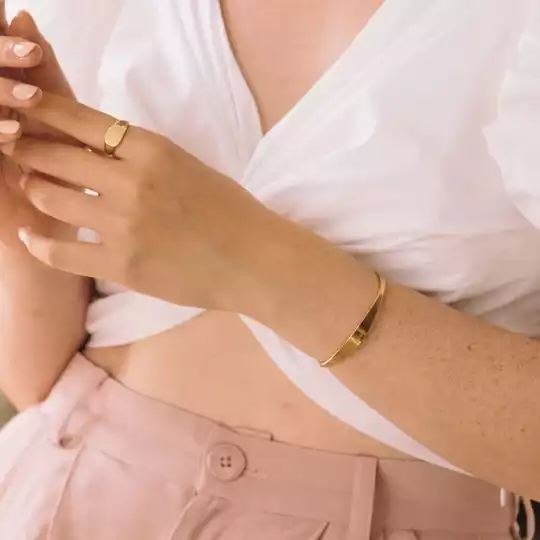 Whitney Cuff Bracelet | Brook & York
Available in 14k gold plated brass. Width: 1/4" and Length: 6". Made in the USA. With engraving this item.
Check Price
We earn a commission if you click this link and make a purchase at no additional cost to you.
Pros
A lot of engravable pieces tend to be bulky to accommodate the engravable area. I like how delicate this bracelet is.
Cons
The bracelet is only available in gold-plated brass, which may wear or tarnish over time.

The engraving on the bracelet is a bit small.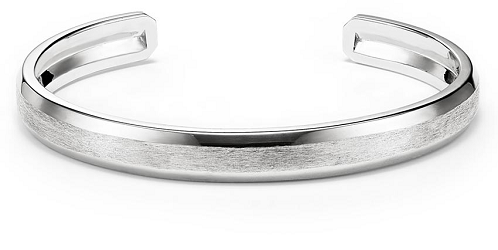 I love how sleek and smart-looking the Homme Cuff Bracelet from Brilliant Earth is. The matte-textured center band and shiny beveled edges give the cuff a lot of dimension. It's a stunning piece, even when not personalized.
The band can be engraved with either three initials or up to ten characters. You can choose between script or block text, and there are more than half a dozen optional icons that you can add to the band, such as hearts, paw prints, or religious symbols.
Pros
The cuff is made from recycled silver, which is a more sustainable metal option.

It looks great, even without any engraving.
Cons
Cuffs are slightly adjustable, but this one is only offered in one size and may be snug on men with thicker wrists.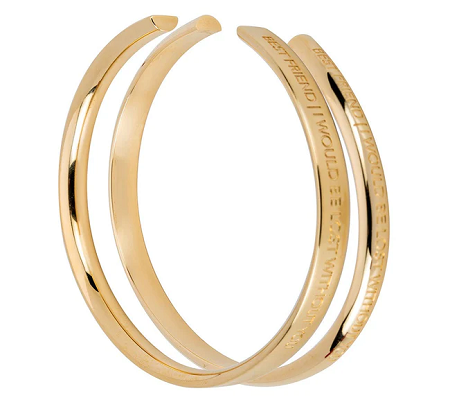 Ok, I need to start by saying that, unlike the other picks on this list, the Stella Valle Best Friend Gold Cuffs from Eve's Addiction are not customizable.
I almost didn't include them for that reason, but I thought they were too cute to not be considered among the best engraved cuff bracelets. Besides, my reasoning behind only including customizable pieces was that they felt a lot more personal to me, and these bracelets feel extremely personal even as-is.
I think these are such a chic and grownup twist on a friendship bracelet. The listing is for a set of two cuffs, each of which are engraved with the words "best friend, I'd be lost without you."
Both bracelets have a half-circle cross section, but one is formed with the flat side facing out, and the other is formed with the flat side facing in. I think this is such a clever touch. The bracelets are not exactly alike, but they're two sides of a whole, just like you and your best friend.
Pros
You'll receive two super cute delicate bangles—one to keep and one to give to a friend.

I love the thoughtful design of these. They're not perfect matches, but they complement each other perfectly.

The one upside to the fact that these aren't customizable: Eve's Addiction offers same-day shipping on this set!
Cons
This set is not customizable, and it almost didn't make it to this list because of it. I thought it was too cute to not include here, but I really wish there was the option to engrave a name, date, or coordinates on the inside of each band to make the gift a little more personal.

The one thing I don't like about the design of these bracelets is the flat finish on the edges of the cuff's opening. I think a rounded or beveled edge would make them look a little more polished.
The Best Set to Keep for Yourself: Cape Cuff Set

As soon as I saw this Cape Cuff Set from Brook & York, I knew I liked the coordinating bracelets, but it took me a minute to figure out why I liked them so much. I quickly realized that it was the orientation of the bracelets that drew me to them.
It's clear that this set is meant to be worn so that the opening of one cuff rests on the inside of your wrist while the opening of the other is displayed facing outward. I love how dynamic this makes the set feel. I love a traditional bracelet stack, but the way this one uses negative space makes it really unique.
As if that wasn't cool enough, the wider of the two cuffs is customizable with the coordinates of your favorite place. And if you want to complete the look, there's an earring set and necklace available from the shop that matches the narrower cuff.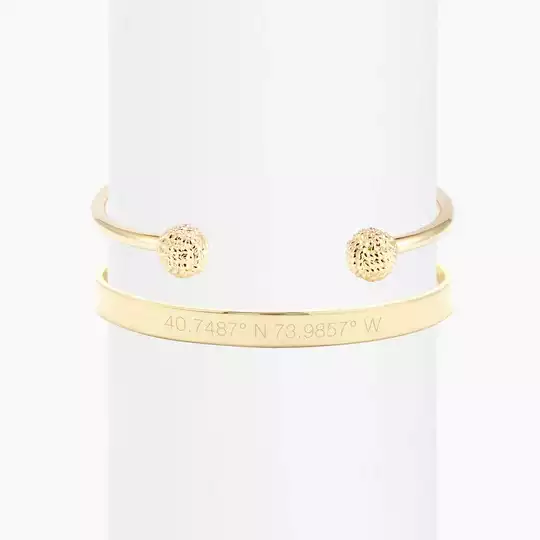 Cape Cuff Set | Brook & York
A celebration of nautical views and memories of the perfect place, the Cape Cuff Set a beautiful way to remember a special time.
Check Price
We earn a commission if you click this link and make a purchase at no additional cost to you.
Pros
I love the way these bracelets look together, but they can also be worn separately to change up your look.

Finding the right coordinates to engrave on the cuff is super easy. All you have to do is plug the address you want into the personalization box under the product listing. Brook & York's site will come up with the correct coordinates for you.
Cons
The set is only available in gold-plated brass. I wish they offered different metal colors, solid gold, or even gold filled for a little extra durability.
The Splurge: Tiffany 1837 Cuff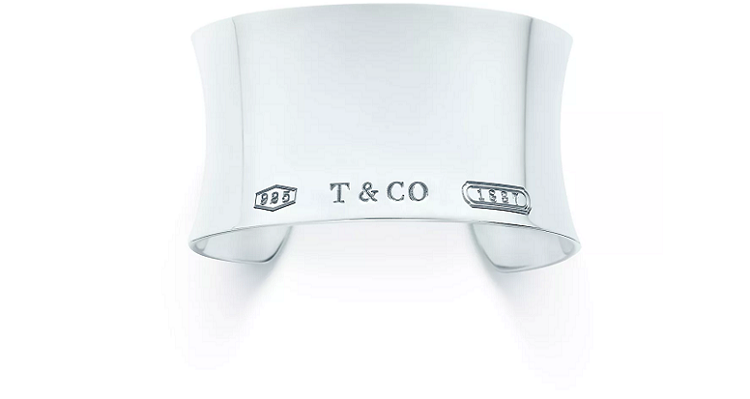 I'm going to preface this one by saying that I'm aware that a Tiffany cuff is not an option within a lot of people's budgets, but I wanted to share this splurge piece anyway—I mean, we can dream, right? Tiffany cuffs are so iconic.
Even if you're not familiar with the Elsa Peretti Bone Cuff (made famous in the 1970s), you've probably come across an image of one on the wrist of a celebrity at some point.
This Tiffany 1837 Cuff embodies that sleek signature Tiffany style. It's extra wide and unapologetically bold with clean, elegant lines.
The cuff is inscribed with "T&Co" and "1837," the year Tiffany was founded, and can be customized with personalized engraving. You can order the cuff engraved with up to three initials in your choice from a half dozen fonts online, or you can contact customer service for more personalization options.
Pros
Tiffany cuffs are iconic pieces of design and fashion history.

Tiffany offers six different font options when customizing your cuff with engraved initials.

The cuff is available in three different sizes.

It's made from sterling silver.
Cons
The cuff retails for over $1,000.

If you want your cuff customized with a name or phrase, you need to contact customer service. You can only customize it with initials when ordering online.

This Double Signet Cuff from Eve's Addiction isn't what I think of when I picture a cuff bracelet, and that's what I like about it. It's sort of a hybrid between a cuff and a bangle, which means you get the best of both worlds.
The bracelet can be customized with two initials in three different font options. I like the idea of creating a stack of these with all of someone's children's or grandchildren's initials and gifting them as a mother's day present.
Pros
The simple design is easy to wear with anything.

I like that you could easily stack more than one of these.
Cons
Because the band is somewhat narrow, I worry these might bend or warp.

They're only available in gold-plated brass.
The Best for Engraving a Whole Sentence: Novel Cuff Bracelet

It's rare to find customizable jewelry that can be engraved with more than a name or very short phrase, which is why the Novel Cuff Bracelet from GLDN stands out for me—it fits up to 50 characters along the delicate band.
This feels like a cuff that can be made truly personal. If you're shopping for custom jewelry to gift, it's really nice to have the space to engrave it with something that's uniquely applicable to your relationship with the recipient.
Don't get me wrong, a name or something short and sweet—"I love you" or "Be Brave," for example, is a lovely thing to engrave onto jewelry, but sometimes those pieces feel like they could have come from anyone.
Having the space to include a favorite song lyric or even an inside joke means that a bracelet like this is more likely to be 100% unique and personal.
Pros
The cuff is available in four metal options, two metal texture finishes, four different sizes, and two fonts for engraving.

I love that there's a place where you can leave a "special request" note when ordering this online. It makes me feel like the company really means it when they say they want your order to be perfect.

They offer free remakes and repairs on most orders for up to six months and on solid gold pieces for up to three years.
Cons
The band is on the thin side, and while I like the way it looks, I worry that it might break easily.
FAQs
Question: How are Cuff Bracelets Supposed to Fit?
Answer: Cuffs are meant to sit close to your wrist but not be so snug that they pinch your skin. For a comfortable fit, you should be able to slide one or two fingers under the back of the band once it's on your wrist. 
Question: Does Engraving Rub off Jewelry?
Answer: No, engraving is permanent and won't rub off of your jewelry. 
Question: Are Cuff Bracelets Engraved on the Inside or Outside? 
Answer: It's most common to see cuff bracelets that are engraved on the outside so that the engraving can be seen when you're wearing the bracelet.
There are some cuffs with engraving on the inside where it will be hidden (like a secret message or the fancy lining of a suit jacket.) Some bracelets, like the Black Plate Cuff Bracelet above, can be engraved on both sides. 
Final Thoughts
An engraved cuff bracelet is the perfect milestone gift. It's durable, personal, and classic. All of the bracelets on this list would make excellent gifts for your loved ones (or yourself), but my favorite is the Gwen Cuff Bracelet. It's a modern classic that will look great on anyone and fit any occasion.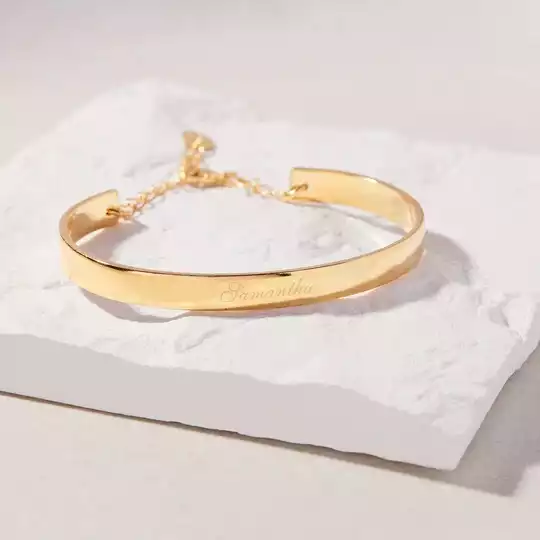 Gwen Cuff Bracelet | Brook & York
Simple yet sophisticated, the elegance of the Gwen Cuff Bracelet makes it an instant classic. Personalize it with your name or the name of a loved one in your choice of engraving styles.
Check Price
We earn a commission if you click this link and make a purchase at no additional cost to you.
Looking for more interesting readings? Check out: