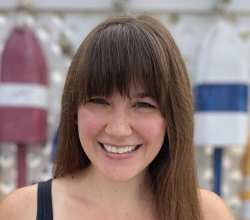 Latest posts by Lauren Vigdor
(see all)
I get a lot of joy from giving jewelry as gifts. I like finding pieces that will suit my loved ones' individual styles and will be uniquely meaningful to them. I also really appreciate how low-maintenance jewelry is as a gift. It takes up virtually no space and requires very little upkeep other than the occasional cleaning or polishing.
Custom personalized jewelry is a great way to take your gifts to the next level and really tailor them to your recipient. It can take your gift from "I saw this and thought of you" to "I helped design this for you."
The only problem is that there are so many different websites selling personalized jewelry, and it can be intimidating to purchase something (especially something custom that can't be returned) without being able to hold it in your hand first.
That's why I decided to check out Eve's Addiction, an online retailer with a ton of personalized jewelry, to see if it was worth buying from. I took a deep dive into their (packed) website and wore a piece of their jewelry around for a while to get a feel for its quality.
Bottom Line Up Front
I absolutely love the necklace that I got from Eve's Addiction. It's a delicate, versatile piece that I can wear with pretty much anything. While it may not be heirloom quality, it definitely feels sturdy enough to wear regularly. I just need to be sure to take care of it to reduce tarnishing.
One thing I actually don't love about Eve's Addiction is the sheer volume of jewelry that they sell. I found their website a little overwhelming and had some trouble sorting through everything.
Personalized Jewelry | Eve's Addiction
For the best in personalized jewelry, look no further than Eve's Addiction. Proud to provide high quality custom jewelry in the latest trends including engraved bracelets, name necklaces, coordinate jewelry and monogram necklaces.
Check Prices
We earn a commission if you click this link and make a purchase at no additional cost to you.
Eve's Addiction is an online jewelry store that specializes in personalized pieces. They carry a vast selection of birthstone jewelry and pieces that can be engraved. The selection definitely feels like it leans heavily toward jewelry that is meant to be gifted rather than purchased for yourself.
They have a lot of multi-birthstone pieces that seem to be geared toward parents and grandparents and a lot of customizable pieces that would make great birthday or wedding party proposal gifts. That being said, I certainly didn't have trouble finding something for myself!
Eve's Addiction's Jewelry Selection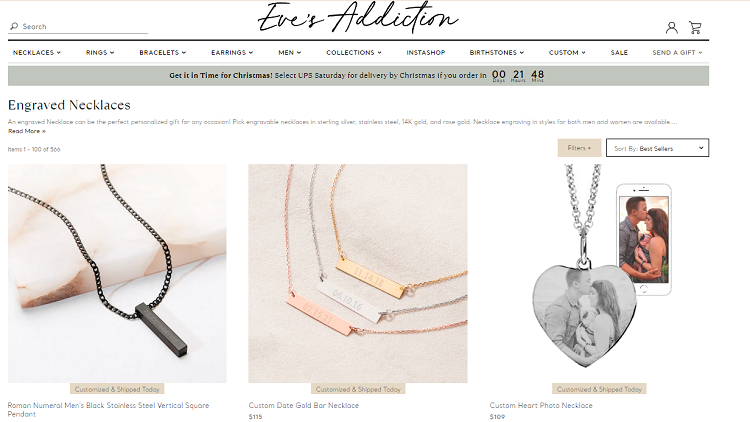 I almost feel like Eve's Addiction has too large of a selection. There are a ton of different types of jewelry and styles to choose from, to the point where their website, while well organized, feels a little overwhelming.
The collection is not just limited to jewelry (though that's the bulk of what they offer.) They also sell engravable keychains, jewelry boxes, pocket knives, and more.
A lot of it is made from sterling silver or gold-plated silver. Most of their birthstone pieces are made using brightly-colored cubic zirconia crystals rather than precious or semi-precious gemstones. However, they do sell some pieces made with real gemstones and carry extensive collections of morganite and Baltic amber jewelry as well.
Below are some highlights from their collection.
Birthstone Jewelry
Birthstone Jewelry seems to make up a considerable portion of the items offered by Eve's Addiction. There are plenty of pieces that feature an individual birthstone (I love their Engravable Birthstone Bar Necklace), but where they really seem to shine is with multi-birthstone pieces, which make great gifts for parents and grandparents.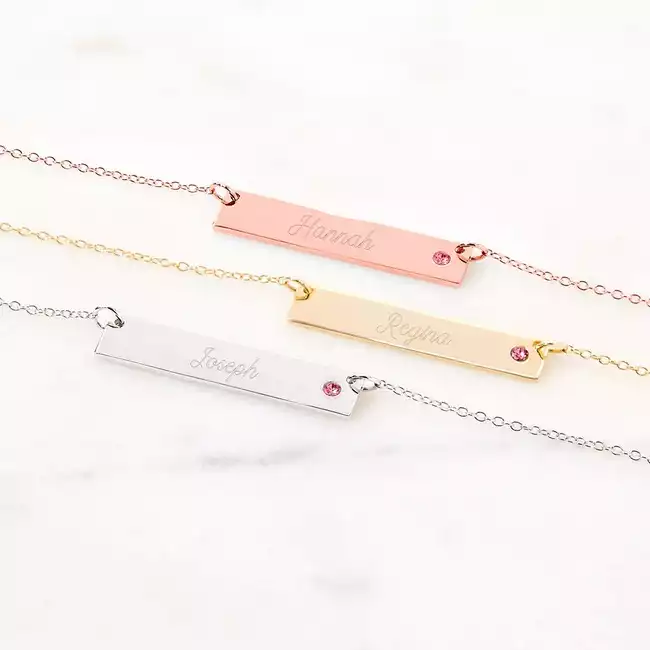 I think that jewelry from the Pea Pod Collection would make an adorable gift for a parent. It can be customized to feature each child's birthstone snuggled together in a silver or gold pea pod.
The Cage Jewelry Collection has cage-style lockets that can house multiple loose birthstones, and the Family Tree Collection features birthstones set on the branches of a metal tree pendant. My partner's grandmother would love one of these made with her children's and grandchildren's birthstones.
Unique Name and Monogram Jewelry
In addition to engravable jewelry and accessories, Eve's Addiction has some unique name, monogram, and initial jewelry like their Solid Gold Monogram Necklace.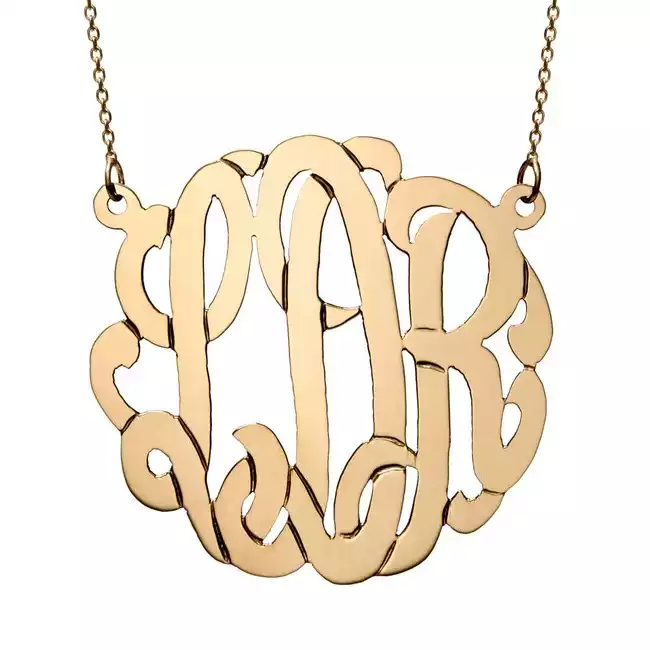 Pieces like this feel a little more personal to me since the shape of the pendant is actually determined by your recipient's initials. They're a little less common than stamped or engraved jewelry. A particular favorite of mine from the collection are the Elegant Script Gold Name Hoops. I think they'd make an adorable Sweet 16 gift.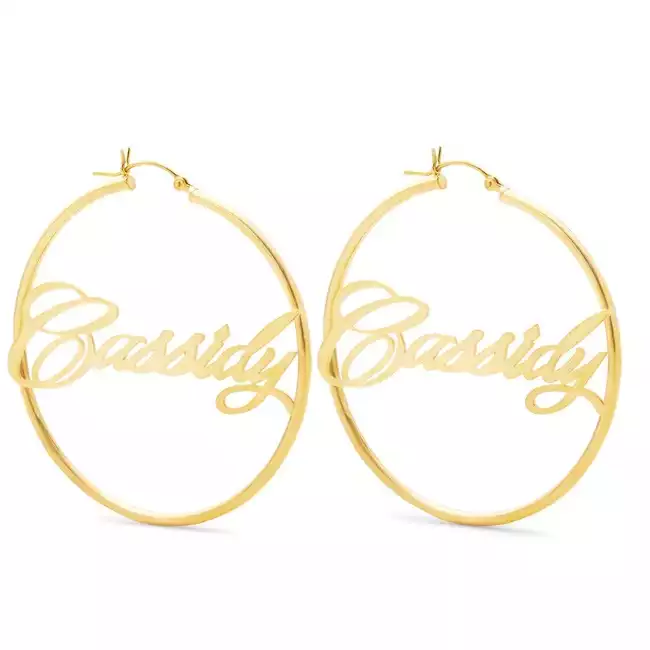 Elegant Script Gold Name Hoops | Eve's Addiction
Get a fabulous personalized jewelry accessory with these Elegant Script Gold Name Hoops. These custom 2" gold plated sterling silver name hoop earrings feature a name or word of your choice in a delicate elegant script.
Check Price
We earn a commission if you click this link and make a purchase at no additional cost to you.
Photograph Jewelry
One of the most unique things that Eve's Addiction offers is their extensive line of photograph jewelry. You can upload a photo and have it placed within a locket or engraved on a pendant.
I think the photo projection necklaces are particularly cool. You can upload an image, and Eve's Addiction will craft a piece of jewelry with a small lens instead of a gemstone. If you hold a flashlight up to the lens, you'll be able to project your photo onto a flat surface! It's a very unique take on photo jewelry, and I love that your photo becomes a tiny secret within the piece!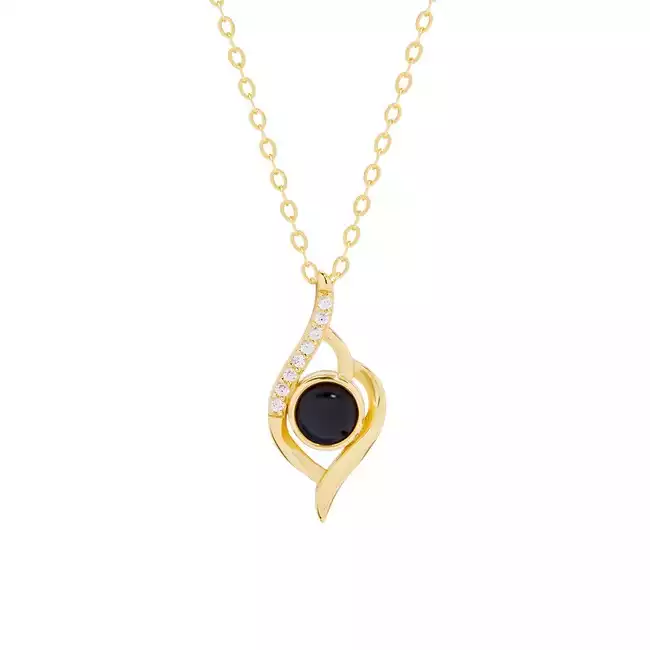 Custom Gold Photo Projection Twist Pendant | Eve's Addiction
Custom Gold Photo Projection Twist Pendant is the perfect necklace for someone you love. This photo projection necklace comes on an 18 inch rolo chain with a custom picture and you display it by projection.
Check Price
We earn a commission if you click this link and make a purchase at no additional cost to you.
Eve's Addiction Customer Experience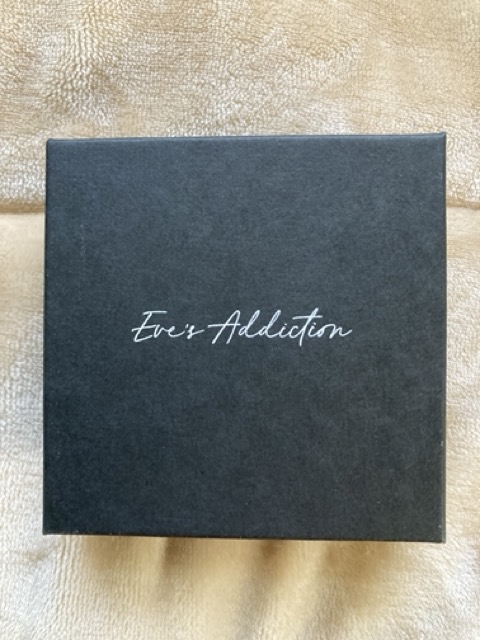 Shopping online is about so much more than just the products, so I wanted to take some time to review my experience as an Eve's Addiction customer.
Website
As I stated earlier, the website is a bit overwhelming due to the sheer volume of products they offer. It's well organized, and you can shop by jewelry type or collection, with submenus to filter your choices further from there.
Still, if you're like me and you like to thoroughly browse a site before deciding on the perfect piece of jewelry to order, you might find yourself going down a bit of a rabbit hole here. They actually have a few gift guides on their site, but I didn't discover them until I was searching for the link to their FAQ page at the bottom of the homepage.
I did notice that the jewelry they post on their Instagram feed is much more curated and understated than the website. I'm sure that's their way of advertising to that particular market, and you can take what you will from that information, but I almost wish the website was more curated as well.
Selecting and customizing your jewelry on the site is pretty straightforward. They include all of the product information you could possibly need under each listing, and there are drop-down menus, buttons, and text boxes for all of the customization options like metal type, birthstone, or engraving.
Shipping and Tracking
Most Eve's Addiction orders will ship within a day. Standard shipping is free for all orders over $50 and costs a flat rate of $5.95 for orders under $50. You can upgrade to a faster shipping method for an additional charge.
I like how easy it is to track your order on the website. Eve's Addiction will send you an email when your order ships, but if you're curious, you can go to their page and enter your order info to see when your package will arrive. I feel like this should be standard in 2022, but you'd be surprised at how many websites I've come across that don't give you an easy way to track your order!
Returns
Eve's Addiction accepts returns on unworn items in their original packaging received within 60 days of purchase. Returns are not accepted on engraved, photograph, or customized pieces. All of this seems pretty standard and unsurprising to me. The customer is responsible for the cost of return shipping, which is a little annoying but not that surprising either.
Customer Service
Their customer service is available via chat or phone from 9am to 12am. You can also email them or write them a letter at any time. All in all, it seems pretty standard, but I have read a lot of testimonials from various sources saying that their customer service was helpful, which is always reassuring.
My Experience with Eve's Addiction
I decided to order the April Birth Flower Pendant from Eve's Addiction.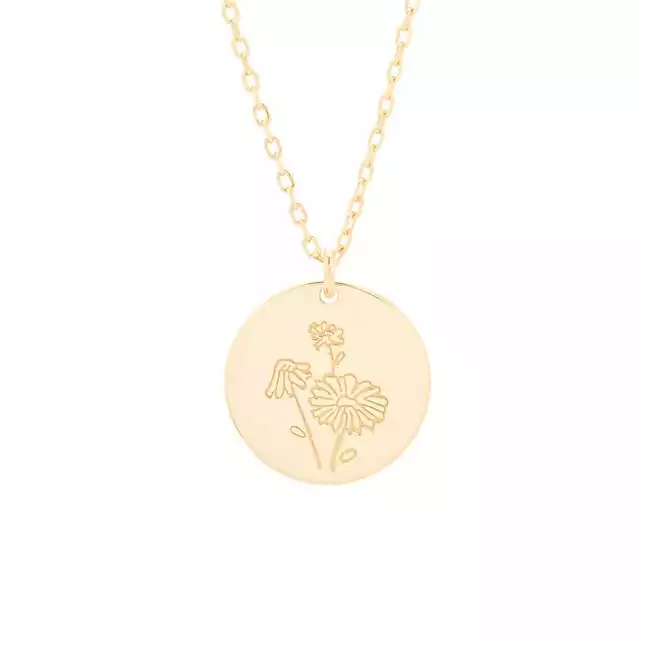 Gold April Flower Pendant - Daisy | Eve's Addiction
The Gold April Daisy Flower Pendant conveys innocence, love and purity. It is also a flower given between friends to keep a secret; the daisy means "I'll never tell."
Check Price
We earn a commission if you click this link and make a purchase at no additional cost to you.
The Packaging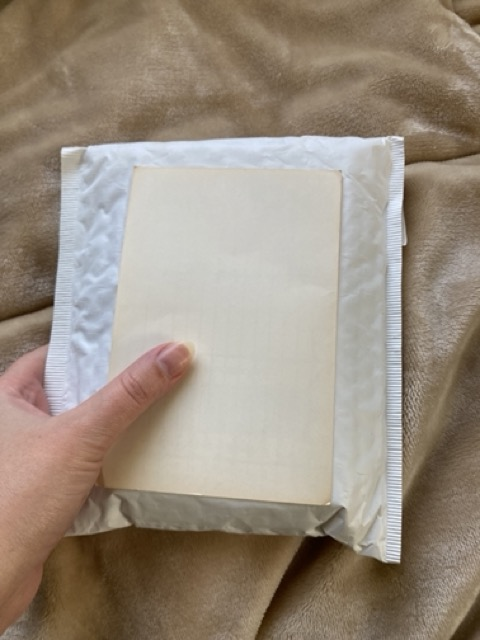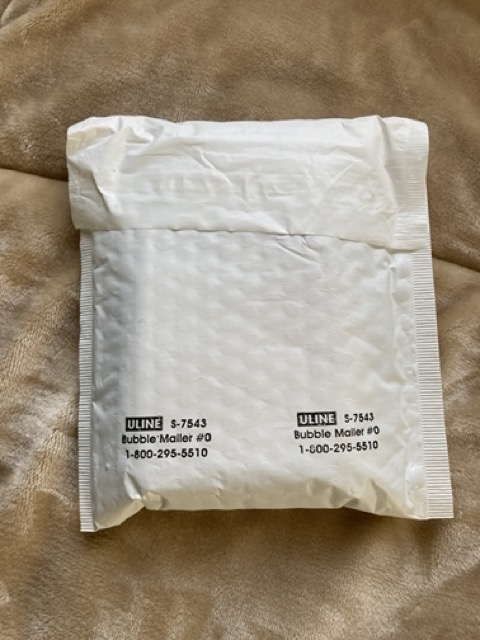 My necklace arrived quickly and was well-protected in a padded envelope. Inside was a black paper jewelry box with "Eve's Addiction" embossed on it. Inside was a layer of protective cotton and my necklace, which was attached to a paper card. Everything arrived in pristine condition—the corners of the box weren't even the slightest bit dented.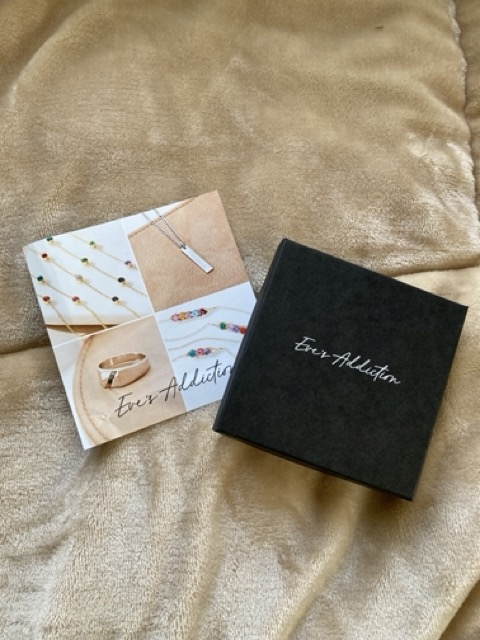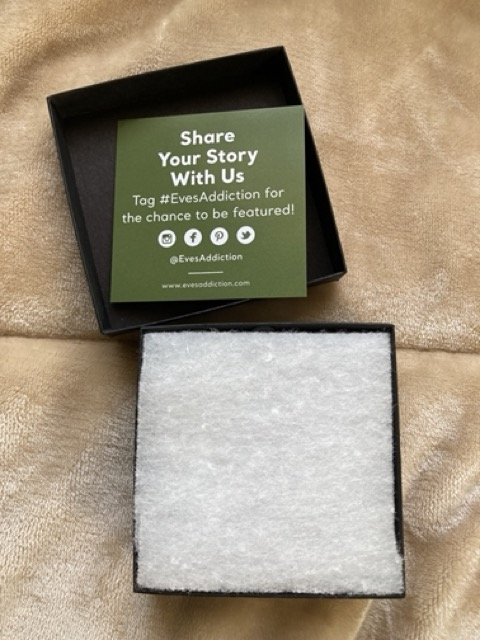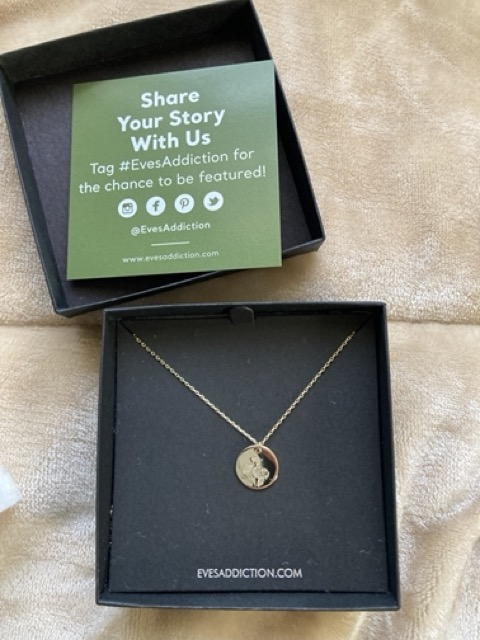 The Jewelry
The coin-shaped pendant on the necklace is smaller than I expected it to be (it's smaller than a dime), but I actually prefer it that way. I like to mix it up a lot, but the majority of the time, I'm a dainty jewelry girl.
The coin is engraved with a daisy and hung on a delicate, barely-there chain. I love the look of the chain, but I definitely won't be wearing this necklace around my one-year-old niece. It doesn't look like it will take much force to snap it.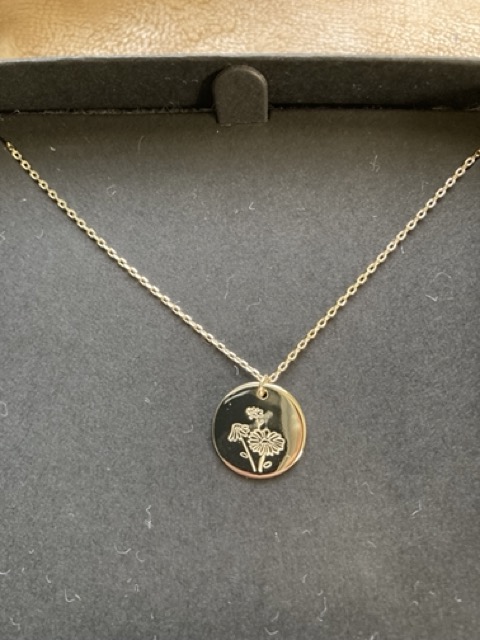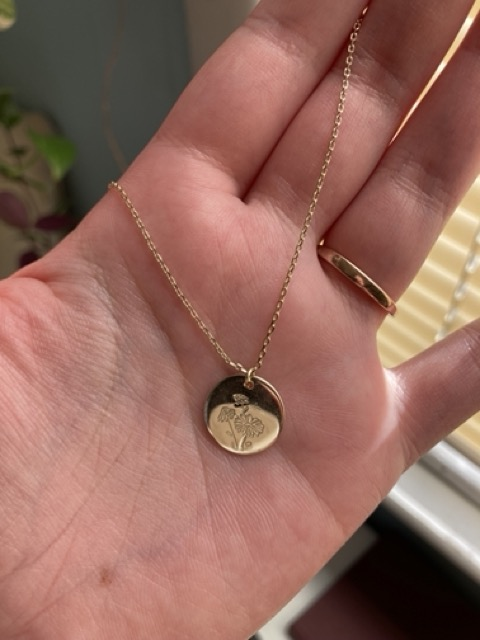 The gold is super shiny and reflective, and the pendant feels surprisingly heavy and sturdy, despite its size. The necklace is made from gold-plated silver, so even if it does tarnish a bit over time, I'm not worried about it turning my neck green the way other metals might.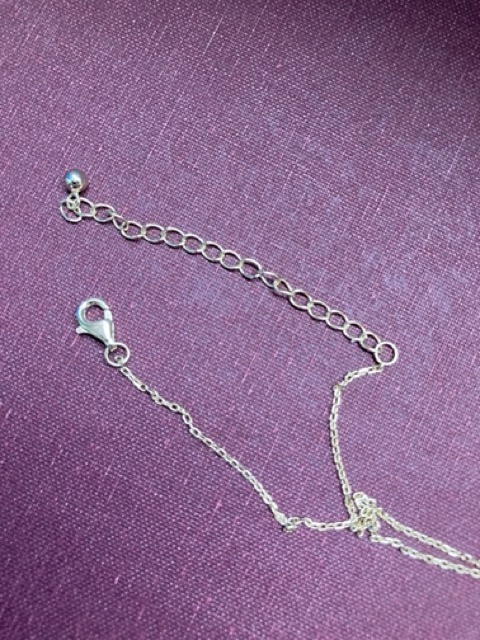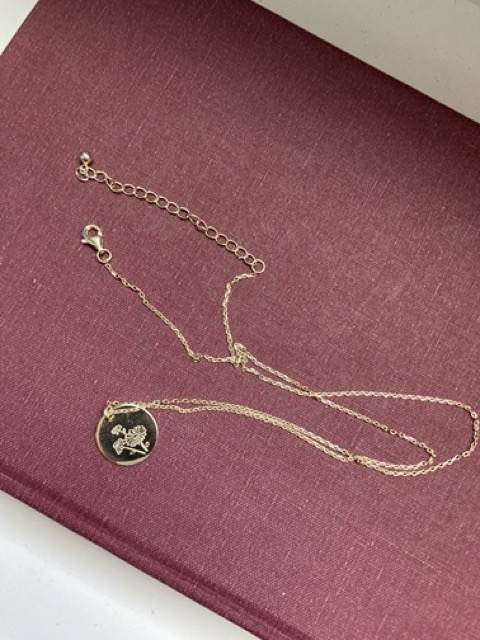 I love the simple daisy drawing etched on the pendant. It's the birth flower for the month of April, my birth month. The necklace is sweet and simple and can be worn with practically anything. I think it will look really nice layered with a few other necklaces.
My Thoughts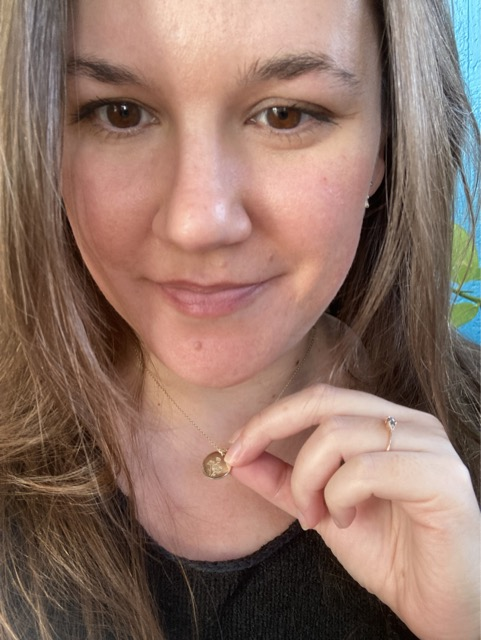 I really like this necklace, and I think it will become a staple accessory in my wardrobe. It can be adjusted by about two inches in length, so as long as it works with the neckline of whatever I'm wearing, I can't really think of any outfit this won't go with, whether casual or formal.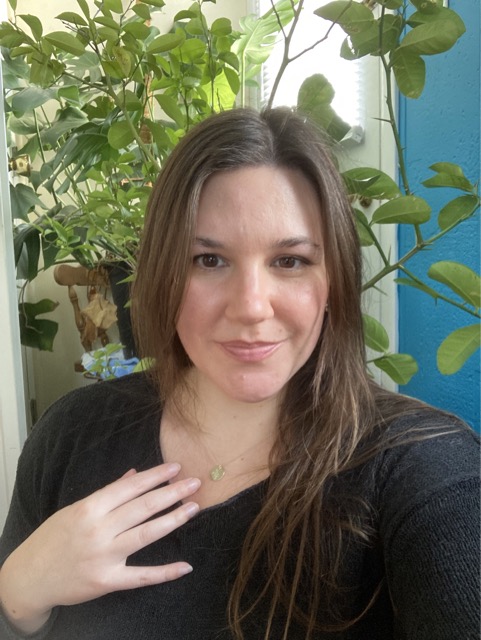 Since it's gold-plated and not solid gold, I'm going to be particularly careful about not getting it wet and storing it safely so that it doesn't wear or tarnish. I don't expect this to be an heirloom piece that lasts me a lifetime, but for the price (it retails for $76, but Eve's Addiction runs frequent promotions), I can't really complain. I will wear it frequently and get my enjoyment out of it.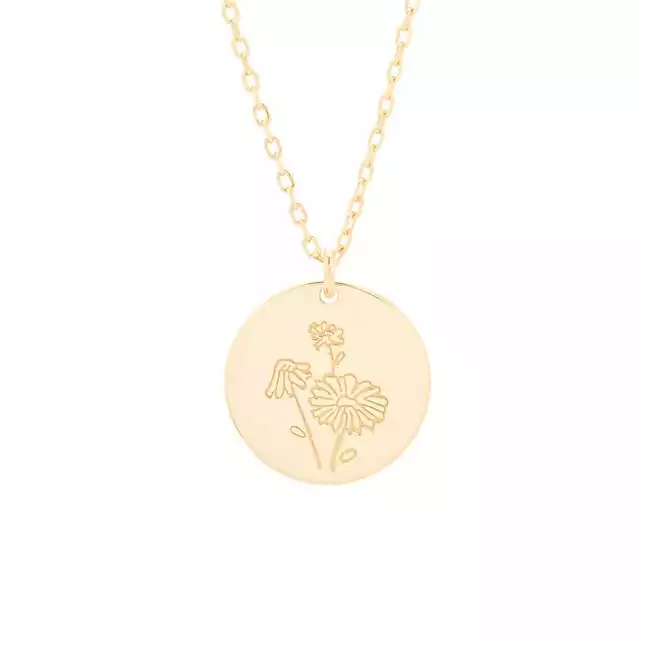 Gold April Flower Pendant - Daisy | Eve's Addiction
The Gold April Daisy Flower Pendant conveys innocence, love and purity. It is also a flower given between friends to keep a secret; the daisy means "I'll never tell."
Check Price
We earn a commission if you click this link and make a purchase at no additional cost to you.
Eve's Addiction Pros and Cons
Pros
There are many different styles and types of jewelry to choose from, many of which are customizable.

All of the product info is displayed clearly under each listing.

I love the necklace I got from them!

Everything is reasonably priced. Most of their jewelry is priced around $100 or less.
Cons
They carry so many different styles and products that the website becomes challenging to navigate.

I don't really like the look of the brightly-colored cubic zirconia birthstones. I prefer natural-looking stones, even if they're synthetic. They might not be a con for everyone, though.
Alternatives
If you don't think that Eve's Addiction is right for you, consider one of these alternatives.
For Unique, Customizable Birthstone Jewelry: Garden of the Sun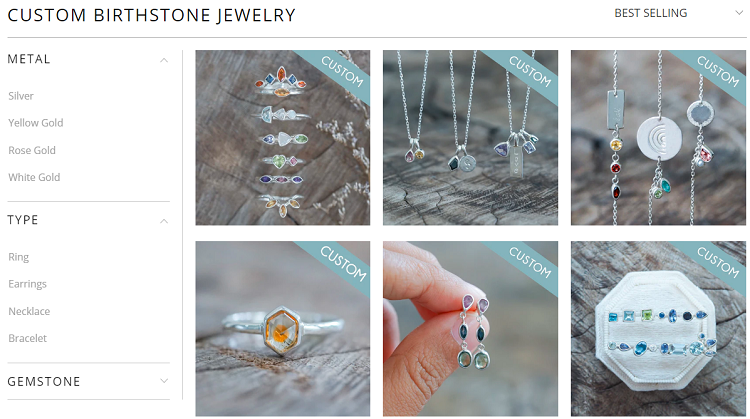 Garden of the Sun carries some really unique, organic-looking multi-birthstone pieces that can be customized. They don't have nearly the selection that Eve's Addiction carries, but they have a lot of options for customization, including different stone colors, sizes, and shapes. It's also a great place to start if you want more natural-looking stones than the ones Eve's Addiction uses.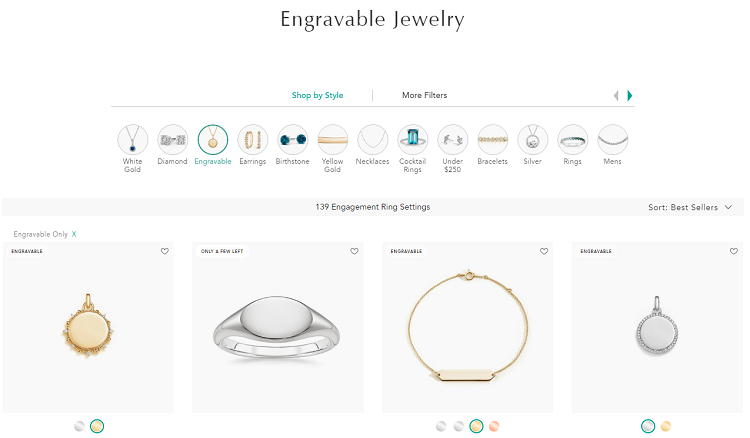 If you like the look of Eve's Addiction's engravable bar necklaces and tags but want more options that will last a lifetime without tarnishing, check out Brilliant Earth. They're a vast online jewelry retailer specializing in engagement and wedding jewelry. Still, they have a ton of solid gold pieces that can be engraved with names, initials, monograms, and more.
For Fine Birthstone Jewelry: Blue Nile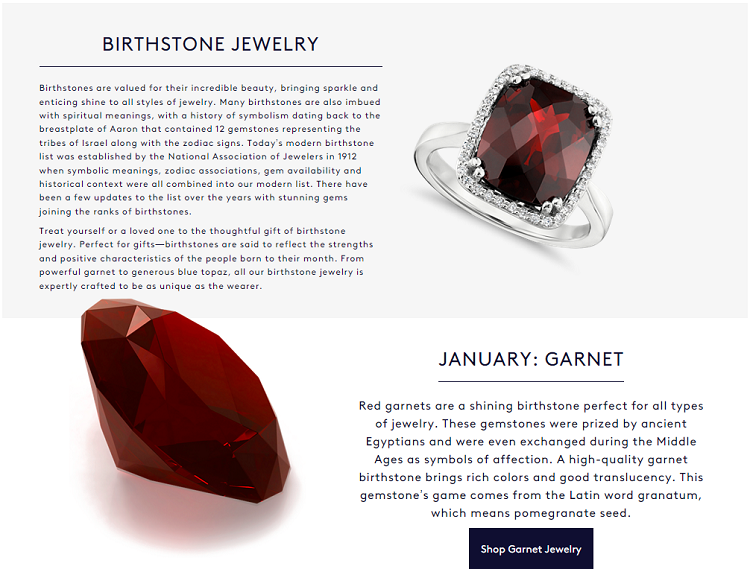 Blue Nile is a great place to shop if you're looking for fine jewelry made with birthstones. They carry a large selection for each month in a variety of styles.
This is an excellent alternative to Eve's Addiction if you're looking for jewelry made with real precious or semi-precious gemstones and solid gold. One thing to note is that these more expensive materials will naturally result in more expensive jewelry for you.
FAQs
Question: Is Eve's Addiction Real Silver?
Answer: Many of Eve's Addiction's pieces are made with sterling silver, while others are made from gold or rose gold plated silver. They do carry a few pieces that are made from solid gold. The type of metal used for each piece is listed on the website under the product description. 
Question: Where is Eve's Addiction Located?
Answer: Eve's Addiction is a fully online jewelry store, but they are based out of Old Saybrook, Connecticut. 
Question: Can you Wear Birthstone Jewelry for Other Months? 
Answer: You can absolutely wear birthstone jewelry for other months. Many people choose to wear their own birthstones, but some prefer to wear the birthstone of a loved one. It's also totally ok to wear a stone just because you like how it looks! 
Final Thoughts: Would I buy from Eve's Addiction again?
Most of Eve's Addiction's core selection is not really my style. I prefer natural-looking gemstones and simple jewelry. That being said, I LOVE my birth flower necklace. You can definitely find something to suit any style here; you might just have to do some digging on their website.
I think they're a great place to start if you're looking for affordable, customizable jewelry, especially for gifting. I know a lot of grandparents and parents who would love one of their multi-gemstone pieces, and a lot of the personalized name and initial jewelry would be perfect for a birthday or bridal party gift.
Looking for more interesting readings? Check out: