Sometimes the decision to sell old jewelry is personal: divorce and breakups happen, and it feels good to sell your engagement and wedding rings as a form of closure. Sometimes selling jewelry isn't personal at all: maybe you inherited a shoebox full of baubles from a distant aunt with an addiction to the Home Shopping Network.
Regardless of your reasons, once you've made the decision to sell your jewelry, you'll be faced with the task of determining where to sell it. In this Worthy review, I'll take a look at one of the leading sites for selling jewelry online and determine what sets it apart from its competitors.
As a jewelry maker, I've had a lot of experience selling jewelry, and I think that the detailed work necessary to create listings is the most difficult part of the process! I'll examine the difficulty of Worthy's selling process and whether or not it's worth the effort. Perhaps most importantly, I'll decide whether Worthy will get you the best price possible for your jewelry!
Bottom Line Up Front: Is Worthy a Great Place to Sell Your Jewelry?
If you're looking for a quick and painless way to sell your fine jewelry or diamonds, Worthy is an excellent option. You won't receive market value for your jewelry, but it's extremely unlikely that you'll receive market value regardless of where you choose to sell your piece.
It does take around two weeks to sell your jewelry with Worthy, so it's not the best option if you need fast cash. If you'd rather have cash in hand within a few days, consider selling your jewelry to Abe Mor or Circa Jewels instead.
My Top Pick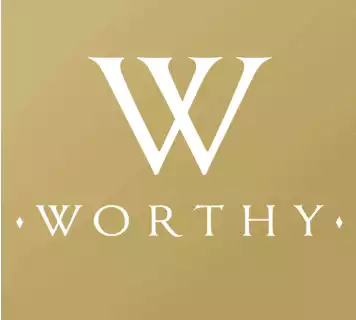 Why I Sell to Worthy
Worthy ensures you get TOP DOLLAR for your diamond ring, with a quick and easy auction process and transparent sale. They handle the messy middle, with a top network of professional diamond buyers. Without this auction format, you likely are selling at 50-60% value...
Get Started Here
We earn a commission if you click this link and make a purchase at no additional cost to you.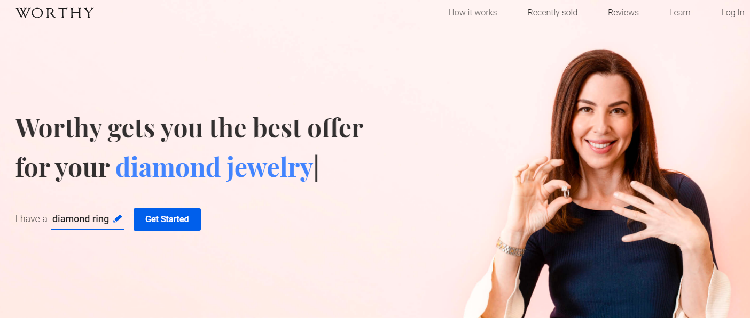 Worthy is an online jewelry auction site. Sellers can submit their fine jewelry and watches and auction them off to interested buyers. The site's auction process is different from a lot of its competitors, who will offer to purchase your valuables outright. Auctions help to drive up the price of your jewelry by creating competition through bidding wars.
Worthy is a very reputable company with an 4.8 star rating on Trustpilot. They are committed to selling your jewelry as quickly and painlessly as possible. And they also take care of all of the hard work of preparing your old jewelry for sale, even providing you with a free, professionally certified appraisal of your piece!
How Worthy Works
Describe Your Jewelry
You start by going to Worthy and giving some information about the jewelry you're planning to sell. You'll be asked about the type of jewelry, style, metal type, carat weight, brand, condition, and any other applicable descriptive features. Don't worry if you don't know all the details of your piece. You'll have the option to select "I'm not sure" for any description prompts.
Create an Account
You'll be asked to enter some personal information, such as your name and contact information. Your account will later give you access to a live display of your piece's auction (more on that later!)
Ship your Jewelry
Worthy will send you a FedEx mailer that you can send back to them via FedEx pickup or drop at your local FedEx location. The mailer is trackable and fully insured by Lloyds of London.
Cleaning and Grading
Worthy will professionally clean your piece to prepare it for auction. They will have third-party professionals inspect your jewelry and give it a grading report in-line with industry standards. The company has partnered with the GIA and other top grading services to offer these reports.
Photography
Since your jewelry will be sold online, photographs are the only way potential buyers will be able to view it. Once your piece is cleaned, Worthy takes professional, high-definition photographs of the piece from every angle.
Reserve Price
After they grade and process your jewelry, Worthy will send you a recommended "reserve price." This is the lowest price they believe the piece should sell for. You can choose to accept their recommended reserve price or set your own. Worthy will not sell your jewelry for lower than your set reserve price.
Auction
Finally, Worthy will put your item up for auction. They will create a listing complete with pictures, description, and grading report. Worthy's network of over one thousand professional jewelry industry buyers will have access to your listing and will be able to place bids. Once the auction goes live, you'll be able to follow along through a live display.
Payment
Once your piece sells, Worthy will take their fee (more on that below) and immediately begin processing your payment. You can choose to receive payment via PayPal, bank transfer, or check, and processing time is dependent upon the method you choose.
On average, you should receive payment within one to five business days. Note that if you're selling multiple items, Worthy won't begin processing your payment until the last item has sold.
My Thoughts on Worthy's Jewelry Selling Process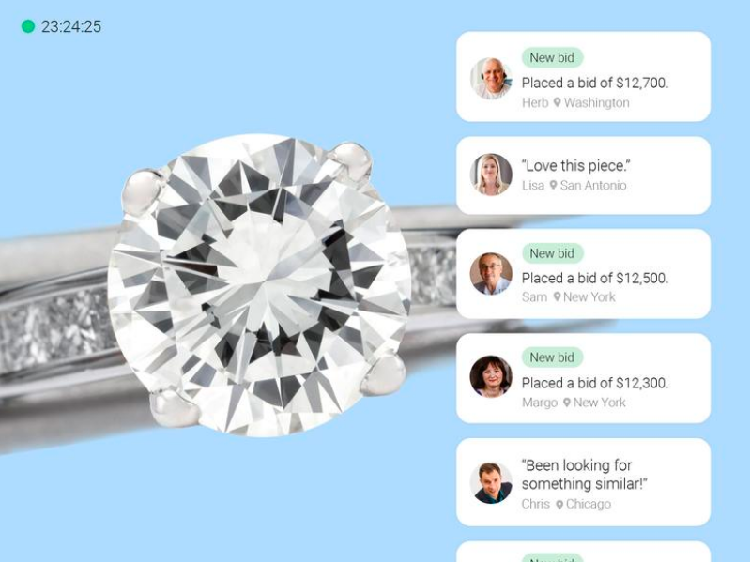 Worthy couldn't make the process of selling your engagement ring or jewelry online any easier. (Well, I guess they could come to your house and pick the piece up themselves, but then you'd have to put on real pants.) All you need to do is create an account and put your piece in the mail (for free, mind you), and Worthy takes care of the rest.
With the amount of competition in online marketplaces, sellers that don't have impeccable photographs and a trustworthy reputation quickly fall behind.
Trust me; I own an Etsy shop! I love that Worthy takes care of the super important cleaning, grading, and photographing for you. In my mind, that makes it worth their fees! As an added bonus, the entire process only takes about two weeks! That means, if you're looking to sell your jewelry for quick cash, Worthy isn't a bad option!
Key Features of Worthy
Worthy has an easy-to-navigate website and makes it easy to begin the process of selling your jewelry through their site.

Worthy has excellent customer service available through phone or chat.

Worthy offers complimentary cleaning and photography of your jewelry.

Worthy will provide you with a free professional certification from the Gemological Institute of America or a similar organization.

Worthy provides free shipping and your jewelry is fully insured.

Worthy suggests a minimum sale price but ultimately allows you to choose the minimum price you're comfortable selling your piece for.
What Can (and Can't) I Sell On Worthy?
Worthy accepts diamond and some precious stone jewelry, precious metal jewelry, designer jewelry, loose diamonds, and branded luxury watches.
A detailed look at what you can sell on Worthy:
Diamond engagement and wedding rings made of precious metals (gold or platinum), including vintage engagement rings, bridal sets, and wedding bands.

Diamond earrings made of precious metals

Diamond necklaces, including pendants and chokers.

Diamond bracelets made of precious metals, including bangles, tennis bracelets, and charm bracelets.

Designer jewelry from brands such as

Tiffany & Co

., Cartier, and Bvlgari.

Luxury branded watches from brands such as Rolex, Omega, Chopard, Harry Winston, and Zenith. Watches must be in working condition.

Loose or mounted

diamonds

in all cuts, clarity, and color, weighing at least .5c. Diamonds of less than .5c are accepted provided they're set with a diamond melee totaling at least .75c.
Some things that Worthy does not accept:
Diamonds under .5c.

Diamonds or jewelry pieces with an estimated resell value of less than $1,000.

Jewelry not made of gold or platinum unless it is set with a diamond larger than .5c, in which case they will sell the diamond without the setting.

Moissanite

and semi-precious gemstones.
My Thoughts on What You Can Sell
While I wish Worthy accepted smaller diamonds, I think they do a good job of keeping their collection curated for their buyers. Worthy isn't eBay and shouldn't be treated as such. It's a place designed to sell your fine jewelry — pure and simple.
Can I Buy Jewelry Through Worthy?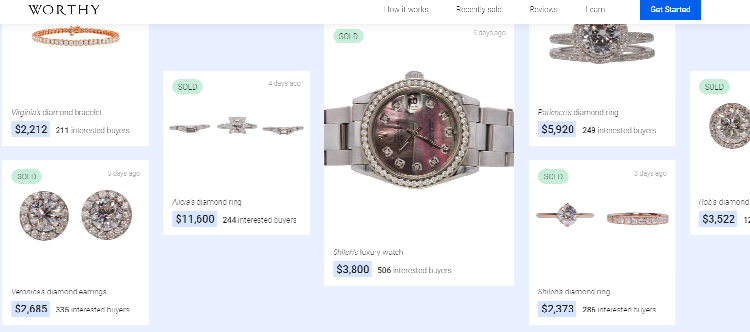 Yes! Until recently, Worthy was not in the retail jewelry business. Anyone could sell a ring with Worthy, but buying jewelry wasn't an option for everyday consumers. But recently, Worthy has opened The Worthy Shop where you can buy an assortment of diamond engagement rings and wedding bands. Check out The Worthy Shop to find your perfect engagement ring now!
My Thoughts
While I suppose it makes sense that Worthy wants to keep their buyers' network limited to professionals and repeat customers, I find it a little disappointing.
As a seller, you're leaving money on the table by only selling to jewelry business professionals. These buyers are looking to purchase at wholesale prices so that they can reset or resell your jewelry and turn a profit. As a buyer, I'd love the opportunity to bid on a selection of pre-owned jewelry, knowing that a substantial portion of the price I paid would be going directly to the previous owner.
Worthy's Fees
Obviously, Worthy is a business, and one of their goals is to turn a profit. They do this through fees that work as a sort of consignment shop-style commission. Once your item has sold, they take a percentage of the profits and send you the rest.
The percentage that Worthy takes is set on a sliding scale and depends on the final selling price of your jewelry. It is structured as follows:
| | |
| --- | --- |
| Final Selling Price | Fee Percentage |
| Up to $5,000 | 18% |
| $5,001 to $15,000 | 14% |
| $15,001 to $30,000 | 12% |
| $30,001 and Up | 10% |
| Jewelry Box (3 or more items) | 18% |
Worthy will also charge buyers additional fees if an item sells above the reserve price, but those fees do not affect sellers.
My Thoughts on Worthy's Fees
While I don't think Worthy's fees are unreasonable per se, they are on the high side.
I appreciate their "we don't get paid unless you get paid" structure, but since you're already selling a pre-owned piece to a buyer expecting to pay wholesale prices (or lower), the fees do feel like they're chipping away at the tiny crumbs left of the original value of your jewelry. Such is the world of diamond reselling, unfortunately.
Worthy's fees for selling your diamond jewelry are competitive with other auction services. And Worthy can help get more value for each piece that you sell, so the fees could definitely be worth it.
My Top Pick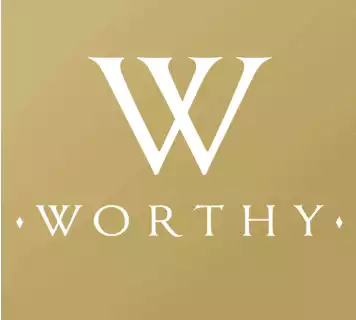 Why I Sell to Worthy
Worthy ensures you get TOP DOLLAR for your diamond ring, with a quick and easy auction process and transparent sale. They handle the messy middle, with a top network of professional diamond buyers. Without this auction format, you likely are selling at 50-60% value...
Get Started Here
We earn a commission if you click this link and make a purchase at no additional cost to you.
Worthy Pros and Cons
Pros
The entire process is quick and easy for sellers.

You can sell to a group of buyers you wouldn't normally have access to.

There's very little risk for you. The whole process is free up until your piece sells and everything is insured.

Worthy provides a free GIA or IGI certificate.

If your minimum reserve price isn't met in auction, or you change your mind for whatever reason, Worthy will return your jewelry to you free of charge.

The fact that auctions are competitive means that there's the potential to drive prices up, though this doesn't always happen.

When it comes to engagement rings, for the most part, Worthy's buyers are interested in your diamond, not the setting. This means you can sell your ring even if the setting is cheap or damaged.
Cons
Worthy doesn't take pieces with an estimated resell value under $1000.

You most likely won't get much money for an engagement ring setting. Expect to receive compensation for the melt value or scrap value of your gold or platinum.

Worthy prices their jewelry at wholesale or liquidation prices. That means you won't receive the market original retail price for your piece, though it's extremely rare to receive the market retail price on a piece of jewelry or diamond, regardless of where you sell it.
Alternatives to Worthy
If you don't think Worthy is the best option for you, here are some alternatives to consider.
Abe Mor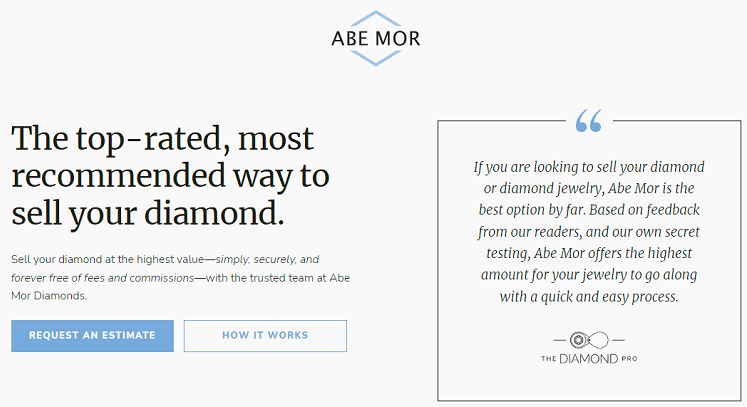 Abe Mor is a diamond wholesaler with an online diamond resell process that works similarly to Worthy. Unlike Worthy, they buy your diamond outright rather than holding an auction.
You fill out a form on their site with your contact information and some information about your diamond, and they give you an initial estimate of what they think they may offer for your diamond.
After you send them your diamond, they will inspect it and return to you with a final offer. If you choose to accept the offer, they will send you payment within a few business days. If you reject the offer, Abe Mor will ship your diamond back to you free of charge.
Pros and Cons
Pros
Receive cash within an average of 1-4 business days, rather than a few weeks with Worthy.

Don't have to wait for an auction.

Some sellers have reported receiving higher offers from Abe Mor than they expected to earn from Worthy, though this varies.
Cons
Abe Mor offers a flat rate, so there's no chance to drive a price higher at auction.

Abe Mor only deals in diamonds, whereas Worthy accepts other fine jewelry as well.
Circa Jewels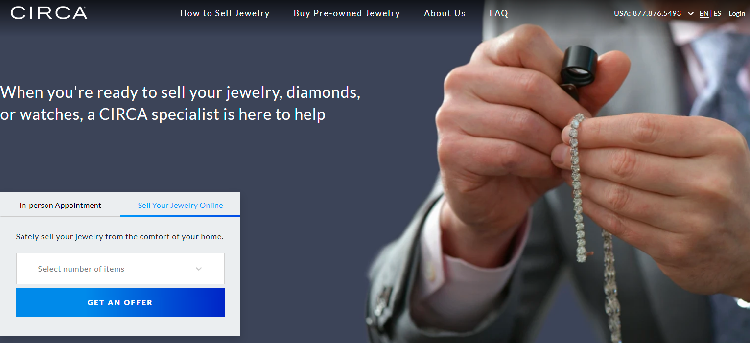 Circa Jewels is an online marketplace for pre-owned jewelry. You can sell your jewelry to them, but you can also purchase jewelry from them as well.
You can set up an in-person appointment to have your jewelry evaluated at one of their 19 brick-and-mortar locations worldwide, or you can send your piece to them for evaluation and to receive an offer.
If you accept their offer to buy your jewelry, you will receive payment immediately. If you reject the offer, your piece will be shipped back to you free of charge. You can also choose to receive a gift card in lieu of cash, either from Blue Nile (valued at 110% of the cash offer for your piece) or Circa Jewels (valued at 120% of the cash offer for your piece.)
Pros and Cons
Pros
Receive cash right away after accepting an offer, without waiting for an auction.

17 brick-and-mortar locations worldwide — great for those wary of shipping diamonds.

Circa Jewels is an excellent option for those looking to purchase new jewelry immediately after selling an older piece, for example, someone looking to upgrade their engagement ring.

Circa Jewels accepts diamonds, fine jewelry, and luxury watches.
Cons
There's no opportunity to drive up prices at auction.
Diamocycle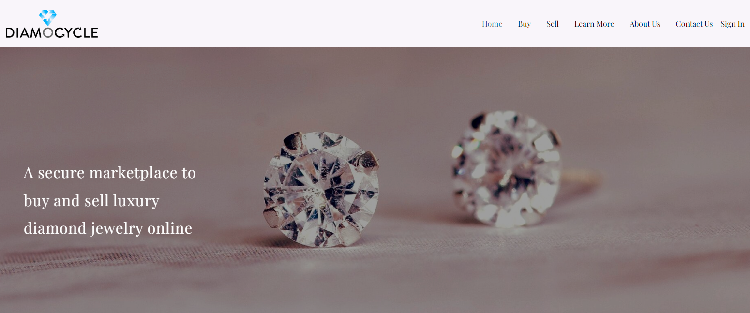 Diamocycle is an online marketplace for loose diamonds and diamond jewelry. It works very similarly to Worthy with two major differences. First, your jewelry is listed on their site and sold outright, not bid on in an auction. Second, you take care of creating the listing for your item yourself.
You keep the jewelry in your possession until the piece sells, then you ship it to Diamocycle to be verified and passed on to the buyer. Diamocycle then takes their sales commission and passes the remaining profits on to you.
Pros and Cons
Pros
For pieces that sell for $1,500 to $5,000, or $14,999 or higher, Diamocycle's commission is a smaller percentage than Worthy's.

Great for people who are risk-averse — you keep your items in your possession until they sell.
Cons
Diamocycle's commission percentage is higher than Worthy's for pieces that sell for $1,499 or below.

If you (accidentally or intentionally) misrepresent your diamond or jewelry, your sale will fall through. No one verifies your listing until after a sale is made, and sales will be canceled if the information provided is inaccurate.

You are responsible for creating the listing, along with any photographs, descriptions, and grading reports you choose to include.

There's no auction to potentially drive up prices.

You aren't selling to Diamocycle directly, so sales can take just as long as auctioning through Worthy or selling your item on eBay or Etsy.
FAQ
Question: Is Worthy a Reputable Company?
Answer: Yes, Worthy is a reputable company that has been in business since 2014. They have an A+ rating from the Better Business Bureau. 
Question: What Percentage does Worthy Take?
Answer: Worthy takes a commission on a sliding scale dependent upon the final price your piece sells for. Their commission will be 10% to 18% of the final sale price of your piece. 
Question: Can You Get Your Ring Back from Worthy?
Answer: Yes, if you change your mind for any reason before a sale is made or your ring doesn't sell for the minimum price you set at auction, Worthy will ship it back to you free of charge. 
Final Thoughts
If you're planning on selling your pre-owned jewelry, including wedding rings and engagement rings, Worthy is one of the safest and easiest places to do it.
They take care of all the heavy lifting for you — all you have to do is create an account, send them your jewelry, and wait to receive your money. That alone is worth it to me, but I also love that the entire process is free until your ring sells, and the free professional grading report is a really nice touch!
Keep in mind that selling jewelry can be emotional. Only you know for sure when you're ready to part with a piece, so take your time and don't let anyone pressure you into anything you're not ready for. Once you're ready, selling with a reputable company like Worthy will make the entire process fast, easy, and pain-free.
My Top Pick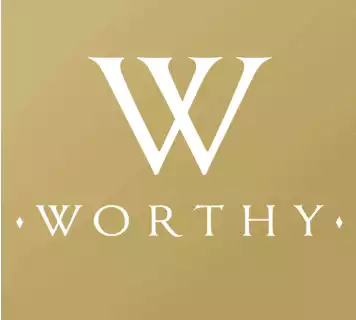 Why I Sell to Worthy
Worthy ensures you get TOP DOLLAR for your diamond ring, with a quick and easy auction process and transparent sale. They handle the messy middle, with a top network of professional diamond buyers. Without this auction format, you likely are selling at 50-60% value...
Get Started Here
We earn a commission if you click this link and make a purchase at no additional cost to you.
Looking for more interesting readings? Check out: