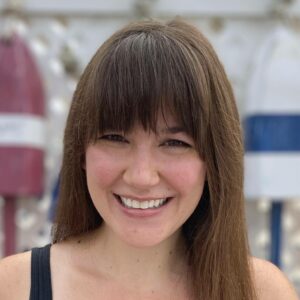 Latest posts by Lauren Vigdor
(see all)
Do you have a favorite place in the world? I have a few of them. The beach that I've visited every summer since I was born, the farm near the house I grew up in where I would eat ice cream and feed goats, and the town in Ireland where I studied abroad, to name a few. Coordinate necklaces are a lovely way to wear a reminder of your favorite places and keep them close to you.
Coordinate necklaces are engraved with the exact coordinates of a place that's meaningful to you. I kind of like that it isn't immediately apparent what location is represented on your necklace. You'll know what the numbers mean, as will anyone you tell about your jewelry, but strangers won't. It makes the necklace feel personal and opens it up as a conversation starter.
Coordinate necklaces also make great milestone gifts. They can be engraved with the location of a school, wedding, engagement, hometown, or new city. Below are my picks for the best coordinate necklaces so that you and your loved ones can carry your favorite places with you.
Bottom Line Up Front
Jewelry is personal, and not all jewelry will suit all styles, but one of my top picks is the Coordinate Bar Necklace, from Brook & York. This is the universal crowd-pleaser. If you don't know which necklace to choose, go with this one. It's elegant and understated, not too expensive, and will go with pretty much anything.
Other Picks at a Glance
Some of my other favorites from this list include:
The Heart Cut Out Coordinate Bar Necklace from Eve's Addiction. It's a charming necklace with the sweet addition of a cutout heart, and I like that it's available in three colors of solid gold, so it can be a true heirloom piece and a gift that will last a lifetime.
The Compass Necklace

: This one is for the wanderer. This is the best coordinate necklace for your travel-loving buddy. It will always guide them home (or to their favorite spot!)

The Coordinate Date Bar Necklace:

This is the one for the milestone moment. This necklace combines coordinates with a date and is the best option on this list if you want to commemorate an event like a graduation or wedding.
What are Coordinate Necklaces, and What do These Numbers Mean?
Coordinates are a unique set of numbers that identify an exact location on a map. The set consists of two numbers: latitude, which is a north/south measurement (in degrees) of a location's distance from the equator, and longitude, which is an east/west measurement of the location's distance from the Prime Meridian. (If you were to draw a line down the center of a map from the north pole to the south pole, passing through Greenwich in London, you would trace the Prime Meridian.)
A coordinate necklace is simply a necklace personalized with the coordinates of a meaningful location. It's an unexpected and delightful way to wear a memory of your favorite place.
How do you Write Coordinates for Jewelry?
When writing coordinates (for jewelry or otherwise), the latitude is always written first. That's the horizontal number that measures your location's distance north or south.
All of the jewelry that I've included on this list are from shops that will calculate and write the coordinates for you—all you have to do is plug in the address that you're looking for.
If you do want to calculate your coordinates for yourself, you can use an easy online tool like LatLong.net.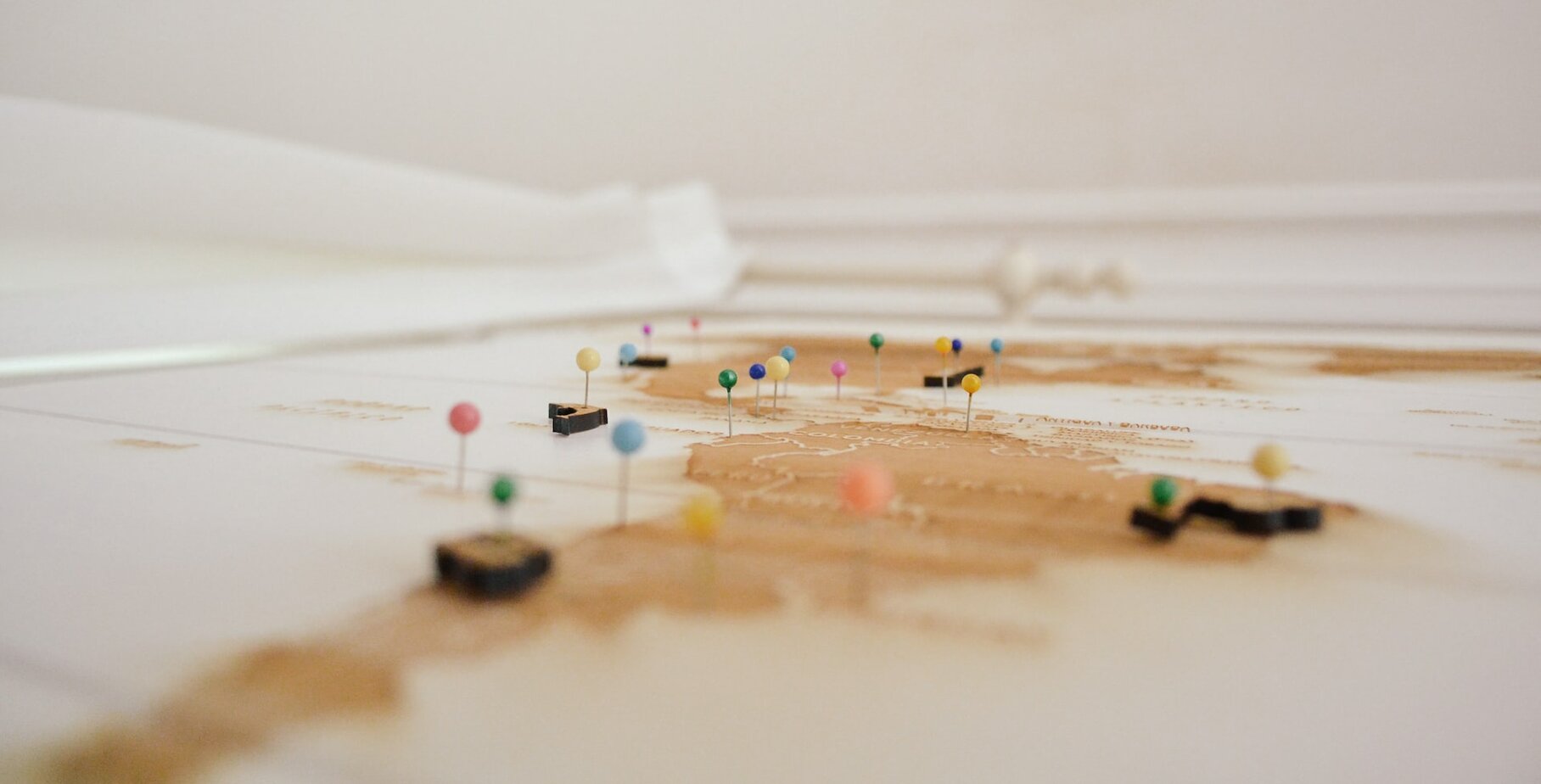 Coordinate Necklace Shopping Tips
If you're buying a coordinate necklace as a gift, consider the recipient. Make sure the design of the necklace suits their style and the coordinates are to a place that's special to them.

Consider your budget, the quality of the piece, and the materials it's made of. Solid gold necklaces will last a lifetime, but they're considerably more expensive than

gold-plated

necklaces, which may tarnish or wear over time.

Double-check your coordinates. Most engraved/personalized jewelry is non-refundable, which means if you mess up your coordinates, that's on you.
Selection Criteria: How I Chose the Best Coordinate Necklaces
To even be considered for this list, these necklaces had to check a few boxes:
Quality for Price

: Not all of the necklaces on this list are the same quality, but they're also not the same price. I consider each necklace on this list to be excellent quality for the price you'll pay for it.

Versatility:

Each necklace on this list is appropriate for many different people and occasions. Many of them are customizable beyond choosing the coordinates engraved on them, with options for metal colors, chain lengths, birthstones, and more.

Coordinate Calculation

: This one might not be a big deal to everyone, but I only considered necklaces from sites that would calculate the coordinates for you. This doesn't mean that I wouldn't cross-reference them with another coordinate calculator before ordering; I just wanted to choose necklaces from websites that make customizing your jewelry as easy as possible.

Reliable Retailers

: Every necklace on this list is sold through a reliable retailer. They all offer fast turnaround times and accessible customer service.
My Picks for the Best Coordinate Necklaces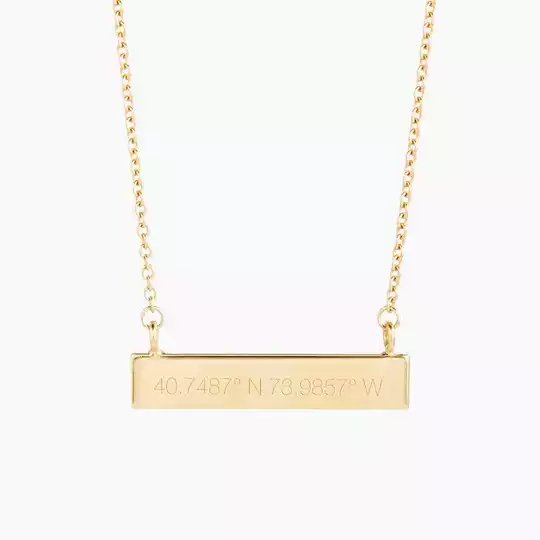 Coordinate Bar Necklace | Brook & York
Keep a reminder of a place that is important to you by creating a custom Coordinate Necklace to be engraved with the latitude and longitude of a place that you choose.
Check Price
We earn a commission if you click this link and make a purchase at no additional cost to you.
I had to include at least one classic, straightforward necklace on this list, and this is it. This Coordinate Bar Necklace from Brook & York is exactly what I would want if I were looking for a simple, elegant way to honor my favorite spot.
It's a small detail, but I love that the chain is attached to loops that are soldered directly to the bar rather than jump rings threaded through punched-out holes. It gives the pendant a finished, continuous feel that makes it look expensive.
The necklace is available in gold, rhodium, or rose gold plated brass and can be personalized with the coordinates to a location of your choosing. Brook & York makes it easy to determine the correct coordinates—all you have to do is plug the address of your location into a box under the product description, and they'll calculate everything for you.
Pros
This is an understated, timeless design that will suit most styles.

The chain comes with a built-in 2" extender, so the length of the necklace can be customized. I think this design looks particularly beautiful when worn short, right around the clavicle.
Cons
The only metal options for this necklace are all plated brass. I wish there were an option to upgrade the design to something that will last longer without tarnishing.
Meridian Necklace
This Meridian Necklace is such a charming spin on a coordinate necklace. I love that the bar is finished with a sleek arrow on either end. It's a nice finishing touch that adds an air of whimsy to the piece.
This necklace may be more than twice the price of a lot of the other ones on this list, but that's because it can be made of either sterling silver or 14K gold, finished in gold or rose gold vermeil. Sterling silver and gold are much more durable and less likely to tarnish than gold-plated brass.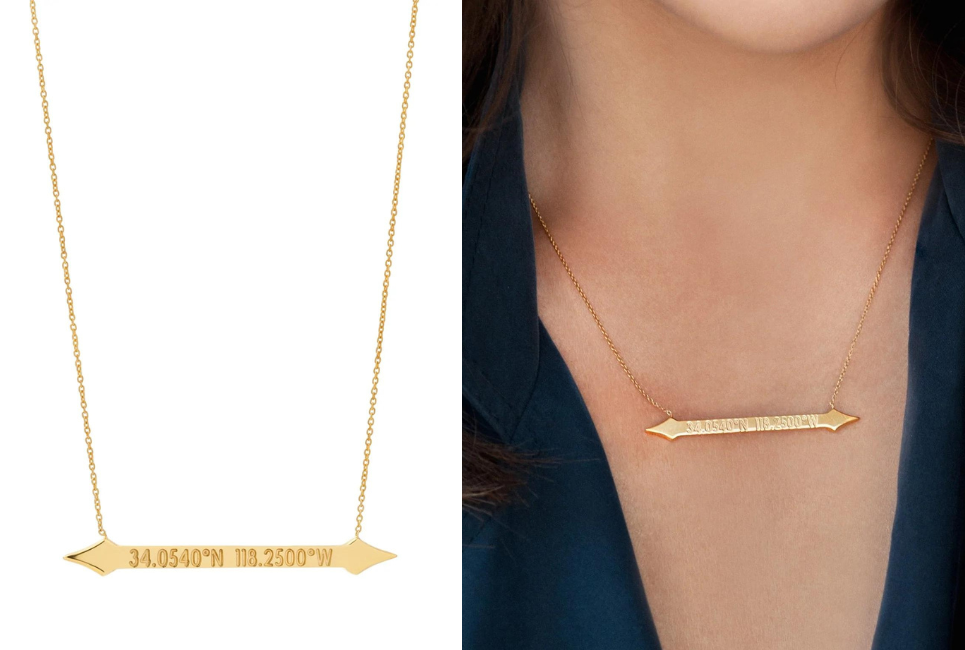 Pros
I like that the design is still simple, but the arrows make it more interesting while working with the necklace's theme.

All you have to do is enter an address when selecting your customization options, and the website will calculate the coordinates for you.
Cons
The product description makes it clear which metals/finishes are available for this necklace, but the dropdown menus to select them are kind of confusing. There's one dropdown where you can select the base metal and another where you select the finish, but not all finishes are available for both base metals. It would be easier if they just listed all of the options under one menu.
Cairo Necklace
The Cairo Necklace from Lat & Lo is a pretty unique take on a coordinate necklace. It's rare to see a personalized engraved necklace that isn't a pendant, but this one features coordinates that are engraved directly onto the herringbone chain.
The fact that the engraving on this is so subtle makes it feel extra personal to me. Most people will just see that you're wearing a classic, timeless necklace since the engraving isn't immediately apparent.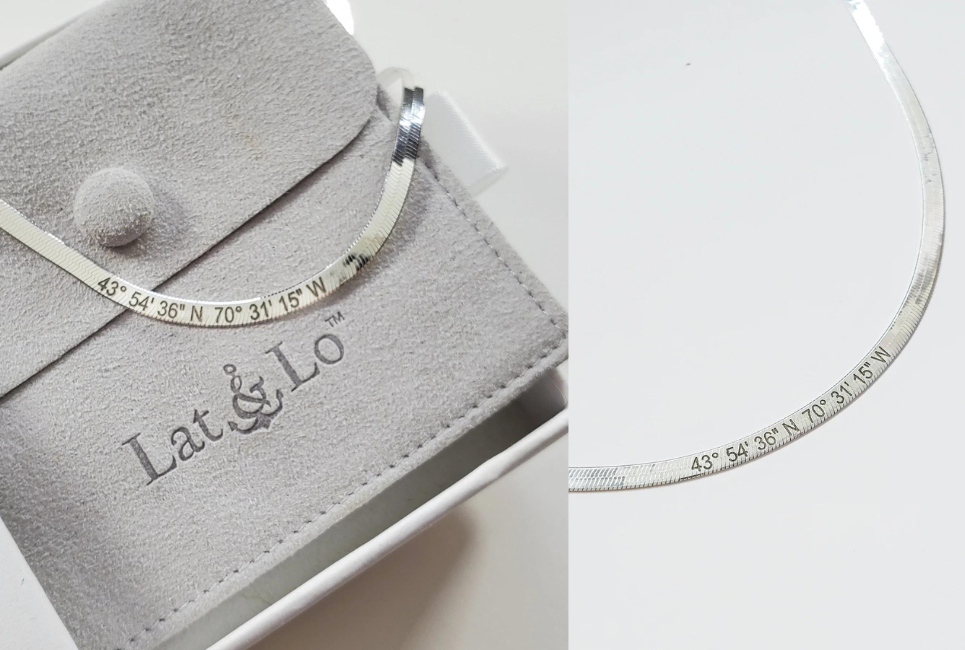 Pros
I love that the engraving is done directly on the chain.

The chain is available in sterling silver and 14K gold. Both options are durable and beautiful.
Cons
Herringbone chains look really elegant, but they have a tendency to get kinks in them that prevent them from laying flat over time. I can't say whether or not the engraving will make this more likely to happen, but this is a piece of jewelry that is going to need to be worn and stored with care either way.
Compass Necklace
This Compass Necklace is the perfect wanderlust-curing gift for your pal who might be pining for a favorite remote location. I love that the compass evokes an air of adventure with its pretty gold face and Swarovski crystal center.
The back of the compass can be engraved with the coordinates of a cherished place. I like that the website gives you the option to look up the coordinates of your location or just enter them yourself, but I don't know that I would use the latter feature.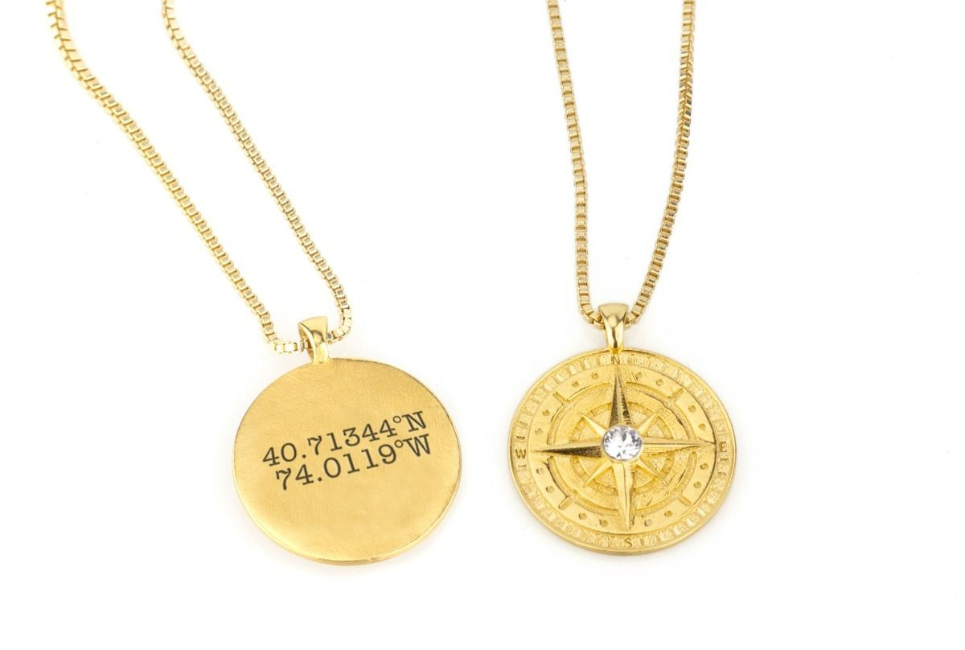 Pros
I like that you can choose from four different chain lengths for this necklace. It's a customization option that is often overlooked.
Cons
The necklace is available in sterling silver or 18K gold plated. I wish they had a solid gold or gold-filled option.

I don't love the look of the box chain on this necklace. I'd probably swap it out for a different chain.
This Vertical Square Pendant from Eve's Addiction feels like a monolith. I love how powerful it looks. It's got a sleek, industrial look, but it's also small enough that it won't look too over-the-top or distracting.
It's available in both regular or black-plated stainless steel, both of which should be durable enough for everyday wear. In addition to the coordinates on the front of the pendant, you have the option to include up to 12 characters of engraving on each of the other three sides (for an additional $9 per side.)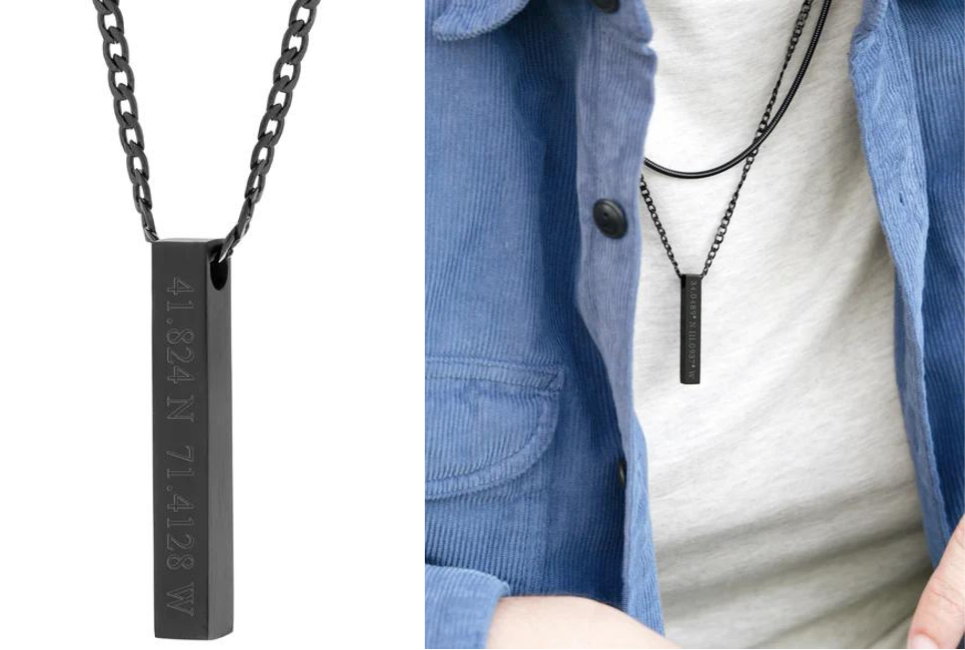 Pros
I love that this is engravable on all four sides.

It's a simple, durable necklace that's perfect for casual everyday wear.

The listing says it's for men, but I think this is definitely a unisex necklace.
Cons
Although it's not huge, the thickness of the pendant might make it feel too bulky for people who prefer lighter, delicate jewelry.
This Coordinate Date Bar Necklace is the perfect way to commemorate a special place and moment like an engagement site or a destination wedding. The two tags can be customized with a date and the coordinates to a location, respectively.
The design is very straightforward, but I like the modern, geometric feel that the way the tags hang lends to this necklace. I think they'd look great layered with a short, chunky chain.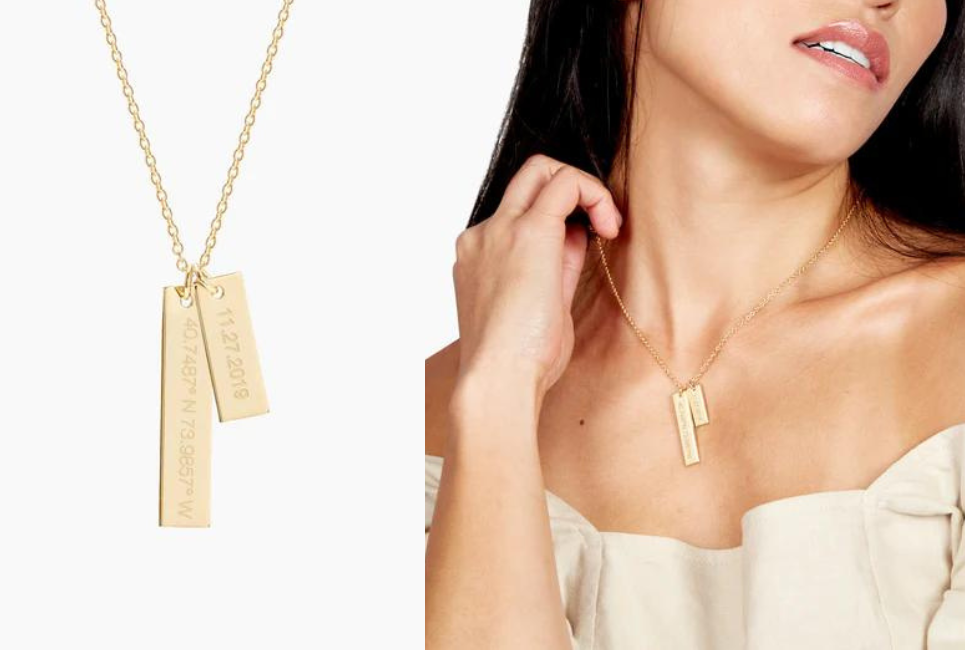 Pros
This necklace is an excellent way to honor a sentimental event by personalizing it with a date and exact location.

The layered tags on this necklace look cool and modern even when you aren't close enough to see the engraving.
Cons
As a delicate jewelry fan, I kind of wish the tags were a bit smaller, though that probably won't bother everyone.

One problem I have with super shiny, flat pendants like this is that they have a tendency to show fingerprints.
I don't think that I would have ever thought to seek out jewelry with both coordinates and a birthstone on it, but now that I know this Coordinate Birthstone Bar Necklace exists, I can think of a dozen reasons to order it. A necklace that combines a birthstone with the coordinates to the location of a child's birth would make a sweetly sentimental gift from a parent, and the coordinates of a shared favorite location with each recipient's respective birthstone would be a great way to commemorate a special trip with friends.
This necklace is made from plated sterling silver, so while the plating may tarnish (or even wear away if you don't take good care of it), the necklace itself will be pretty durable. Plus, you don't have to worry about your skin turning green like it might with other cheaper metals.
It's available in silver, gold, or rose gold finish, and drop-down menus make it easy to choose your desired metal color and birthstone. There's a box where you can plug in an address, and the site will calculate the correct coordinates for you.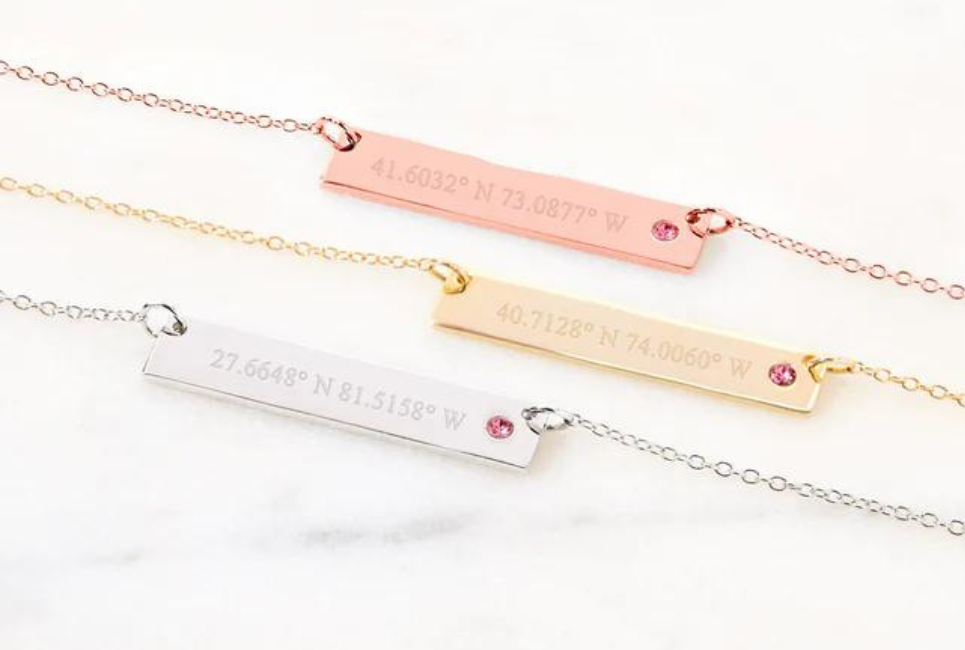 Pros
The necklace comes on a chain with a 2" extender, so it will be easy to customize its length if need be.

There's an option to add up to ten characters of engraving on the back of the piece for $9 more.
Cons
I don't love the super brightly colored cubic zirconia birthstones. To me, they look cheaper than a more natural-colored stone would.
To me, this is a slightly more grown-up (though somewhat less customizable) version of the necklace above. Instead of a cubic zirconia birthstone, this Heart Cut Out Coordinate Bar Necklace has a charming heart shape punched out of the metal. It's a sweet way to commemorate a special place that's close to the recipient's heart, like a hometown, a favorite vacation spot, or the site of a memorable moment. (I think this would make a stellar anniversary gift!)
It's made of solid 14K gold, so while it's more expensive than some of the gold-plated necklaces on this list, it won't tarnish, and it's much more likely to last a lifetime.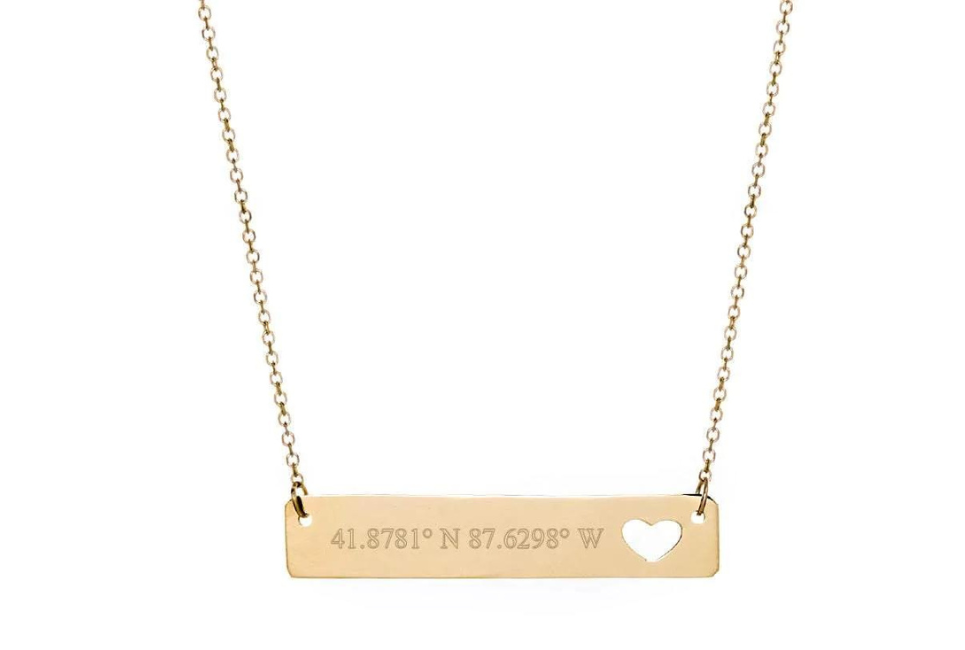 Pros
It's available in solid 14K gold, rose gold, or

white gold

. Any color you choose will resist tarnish and last a lifetime.

The punched-out heart feels just a little bit rustic to me in a way that I really like.
Cons
The heart cut out might be too "cutesy" for some people.

There's only one available font for the engraving.
FAQs
Question: Do you Write Latitude or Longitude First for Coordinates? 
Answer: When writing coordinates, latitude (the horizontal measurement) is always written first. 
Question: How do I Find Coordinates?
Answer: You can find the coordinates of a location by plugging that location into a coordinate finder like LatLong.net or the ones provided on each of the product listings above or right-clicking a location on Google Maps. 
Question: Which Coordinates are Negative? 
Answer: If the first number of your coordinates is negative, the location is south of the equator. If the second number is negative, it is west of the Prime Meridian. 
Final Thoughts
Most people can think of at least one or two places that are meaningful to them—places where they feel the safest, happiest, most inspired, or where some of their favorite memories were made. A coordinate necklace is such a lovely way to represent these places in jewelry. They're personal, sweetly sentimental, and just technical enough to make them pretty cool conversation starters.
Of the necklaces on this list, my favorite is the Heart Cut Out necklace. It suits my taste for simple, dainty jewelry, but the cutout heart adds some unique charm. One of the biggest reasons why I like it is that it's available in solid gold. While a solid gold necklace is an investment (trust me, not all of my jewelry is solid gold), I think for a piece like this that's meant to be a sentimental heirloom, it makes sense to splurge for something that will last.
Looking for more interesting readings? Check out: