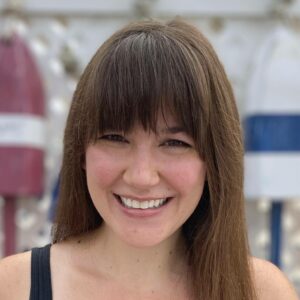 Latest posts by Lauren Vigdor
(see all)
As an artist and jewelry designer, I have often looked to 70s jewelry trends for inspiration, especially in the popular nature-inspired designs and use of organic materials. Jewelry in the 70s celebrated originality and identity and was influenced by a merging of several different cultural movements. In this guide, I'll walk you through some of the signature jewelry styles of the 1970s.
A Brief Summary for Those Who May Be Short on Time
The 1970s was a decade defined by individuality and self-expression, values that were reflected in the jewelry of the time. Pieces were heavily influenced by the zeitgeist, especially the disco and bohemian movements, and ranged from bright and glittery to multicultural and nature-inspired. Jewelry was both big and bold, and yellow gold reigned supreme. Hoops, dangling earrings, and statement pieces like big pendants, chunky rings, and wide bracelets were all popular. For more in-depth detail, read on!
Style Influences in 1970s Jewelry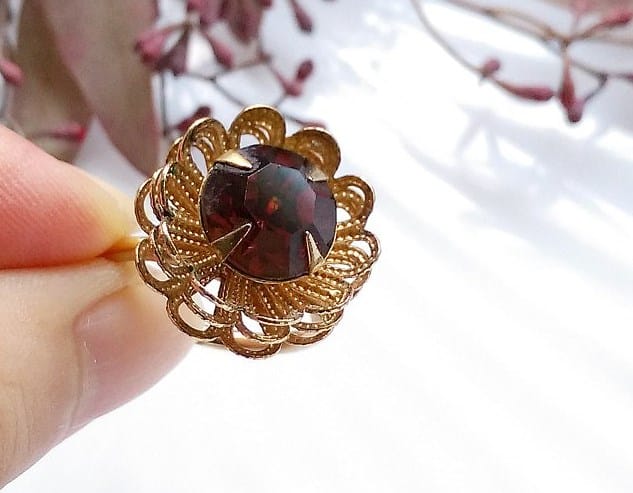 The cultural and political climate of the 1970s significantly influenced jewelry design during the decade. It was a time marked by a lot of societal, political, and economic change. The civil rights and counterculture movements created a bold, individualistic, free-thinking atmosphere. People looked to other cultures for style inspiration and weren't afraid to buck societal norms and subvert public expectations of fashion.
The 70s were also marked by a surge of women joining the workforce during the "second wave of feminism." More women began purchasing their own jewelry, and many opted for affordable, fun, and casual pieces that could be worn to work during the day, as well as out at night. Pieces were less elegant than their counterparts from previous decades and didn't need to be reserved for special occasions.
Popular culture and the art scene also had a strong influence on jewelry in the 1970s. Woodstock, color televisions, and psychedelic drugs like LSD led to brighter color usage in jewelry, as well as in fashion and design. Glam rock inspired more androgynous looks in fashion and jewelry, and Studio 54 cultivated a desire for glitter and ostentation. Influences from the beginnings of the punk movement, the Vietnam war, and travel/safari looks were also present. The crossover appeal of styles meant that people were more inclined to collect jewelry pieces that spoke to them, rather than sticking with just one theme.
Two of the most influential (and well-known) styles of the 70s were the hippie/bohemian style of the first half of the decade, and the disco style popular in the latter half of the decade. The bohemian movement's impact was apparent in the use of natural materials and multicultural influence, and disco led to people craving bold, glittery pieces of jewelry that shined on the dance floor.
Popular Jewelry Materials in the 70s
Yellow Gold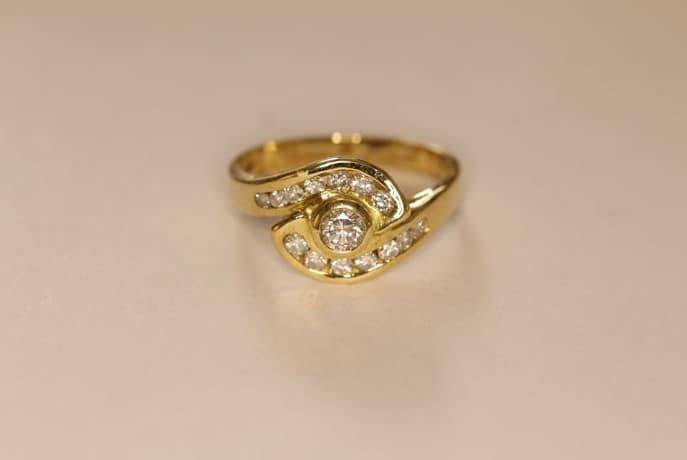 Much like in the previous decade, yellow gold was the most popular metal for jewelry in the 70s. It stood out against bold, colorful patterns in clothing, and complimented the warm, autumnal hues popular in both fashion and interior design at the time. Unlike the 1960s, however, textured gold became very popular in the 70s. Hammered, matte, and gritty textured pieces were all in style at the time, partially due to the influence of non-western styles of jewelry design.
Natural Materials
Spearheaded by the back-to-nature attitude of the bohemian movement and a growing interest in diversity and multiculturalism, natural materials became more prominent in jewelry in the 70s. Large stone pendants, bangles made of ivory or wood, and dangling earrings made from feathers and leather were all popular. Puka shell necklaces also made their way into the mainstream during this time.
Bold Semi-Precious Gemstones
Semi-precious gemstones, especially turquoise and lapis lazuli, were very popular in the 1970s. They had the double benefit of pairing well with the natural, bohemian aesthetic, as well as catering to the desire for larger-than-life statement pieces without breaking the bank. As an added bonus, semi-precious stones worked well for both day and night and didn't need to be saved strictly for formal occasions.
Beads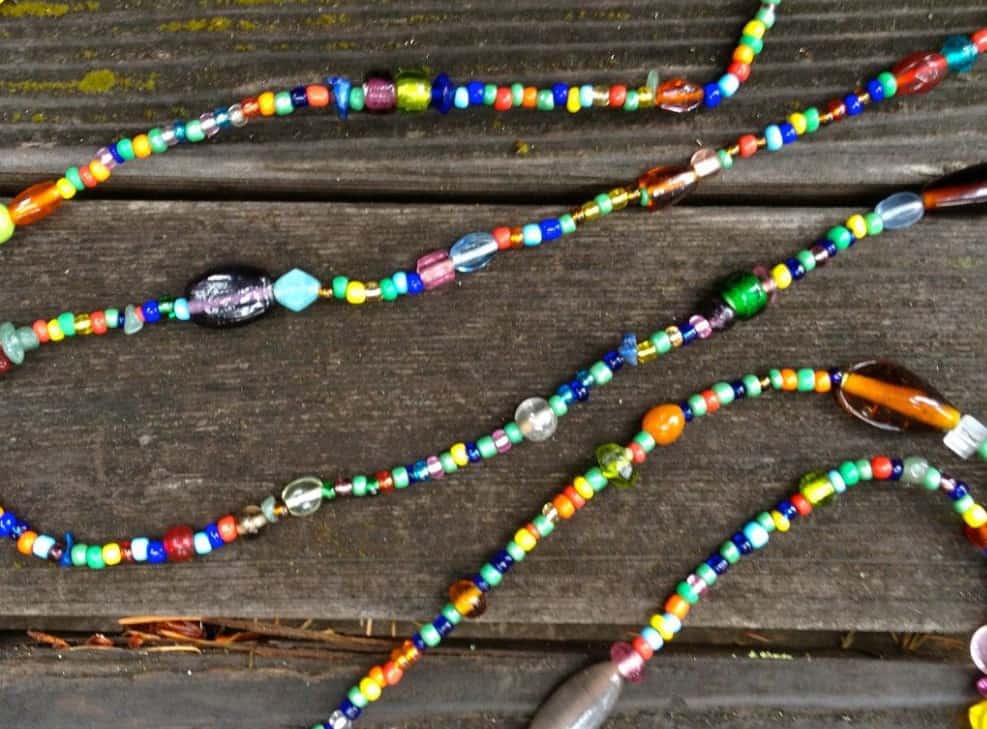 Multi-Colored beads in all shapes and sizes were popular in the 70s. They were made of wood, plastic, stone, coral, or bone. Beads were used in various applications for all kinds of jewelry, such as earrings, beaded bangles, or beaded pendants, but they were most often worn in long strands. More on those later!
Crystals
Crystals were a cost-effective way to add major sparkle to any disco lover's night out. They added serious glam to headbands, necklaces, barrettes, and especially dangly earrings. Fun fact: the first pair of earrings I ever designed was made from my grandmother's old chandelier crystals!
Popular Jewelry Styles in the 70s
Hoop Earrings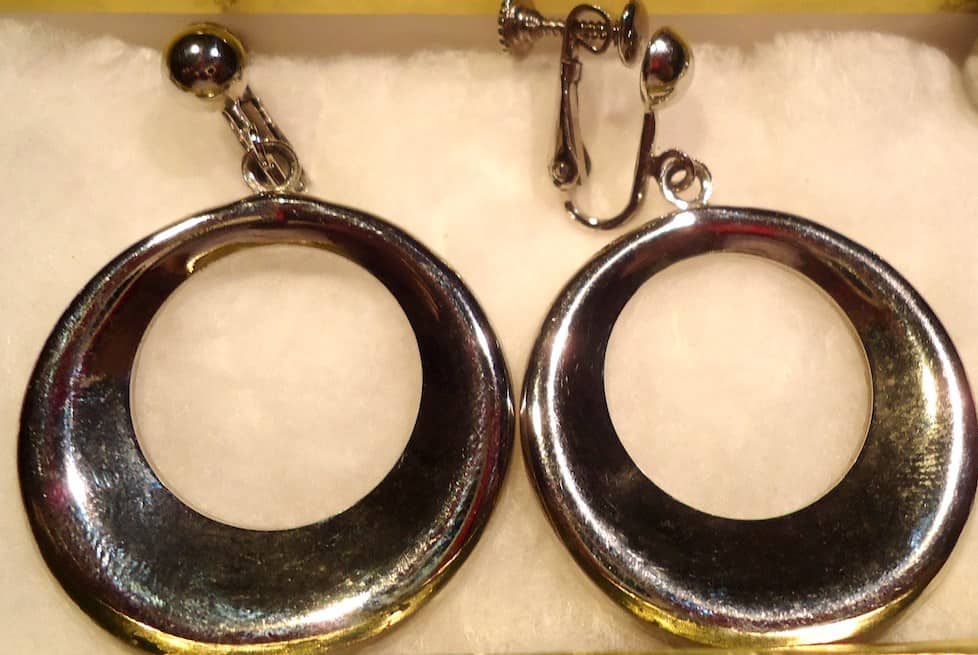 One of the most ubiquitous styles of 70s jewelry, and my personal favorite, are hoop earrings. They came in a range of sizes and styles to complement any look, but as with most things in the 70s, bigger was generally better. Hoop earrings were certainly not a new concept in the 70s. They are one of the oldest styles of jewelry, dating back to ancient civilizations and present throughout history across vast many cultures. Though their popularity seems to ebb and flow, they never seem to fully go out of style. I love that a simple pair of gold hoops can make even basic jeans and a t-shirt look put together and fun.
Dangling Earrings
Long dangling earrings were made popular by disco-inspired fashion trends. They were often dramatic and made with inexpensive but shiny materials that moved with wearers on the dance floor. Long bohemian style earrings made of beads or tassels, or from natural materials like leather or feathers were also popular.
Large Stud Earrings
One of my earliest memories is of rummaging through my mom's jewelry box as a child in order to pick out her sparkliest, coin-sized 70s clip-on earrings. (I used them as fabulous hair accessories for my Barbie and She-Ra dolls.) Large bold and sculptural stud or clip-on earrings were super popular in the 70s. Colorful, funky-shaped plastic made a statement, while diamond or crystal-encrusted metal glittered at the disco.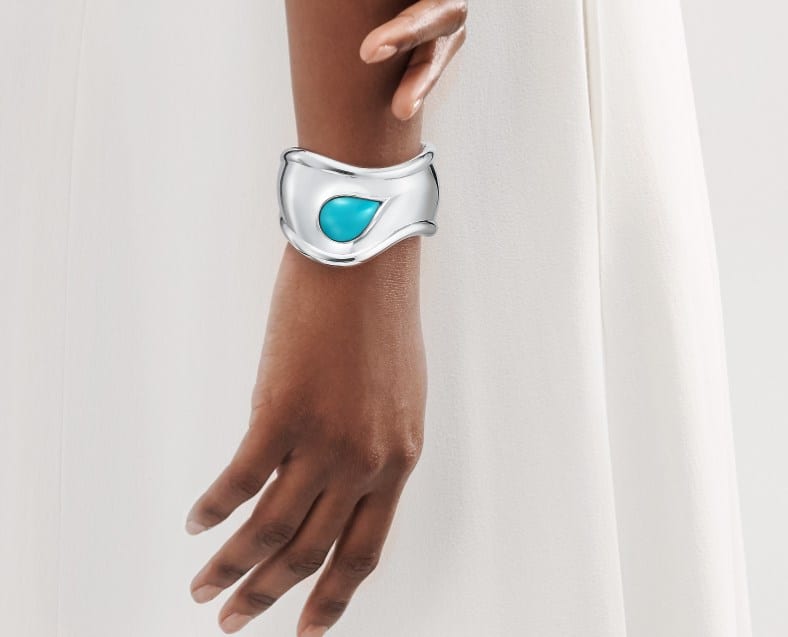 Bracelets in the 70s were large and wide. Chunky bangles in brightly colored plastic or made of natural materials like wood and ivory were worn layered. Large, sculptural metal cuffs, like the iconic Elsa Peretti "Bone Cuff" designed for Tiffany & Co, were worn as statement pieces.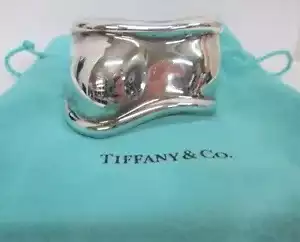 Elsa Peretti Bone Cuff | eBay
Celebrating 50 years of the Bone cuff. Powerfully feminine with an effortless ease, this groundbreaking design is sculpted to conform to the left and right.
Check Prices
We earn a commission if you click this link and make a purchase at no additional cost to you.
Friendship Bracelets
Woven friendship bracelets, just like the ones so many of us made at sleepovers or summer camp, were popular among bohemians and the youth of the 70s.
Ankle Bracelets
Anklets were trendy in the 70s and were a great way to sport colorful beads or sparkly crystals.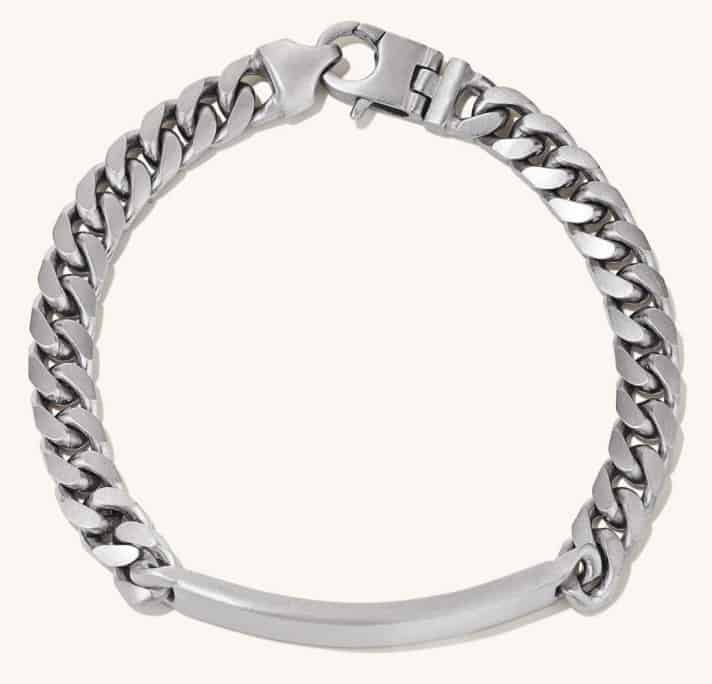 ID bracelets consisted of a metal plate engraved with a name, usually the wearer's or a loved one's, worn on the wrist with a simple chain. In the 70s it was popular to wear the name of a loved one fighting in the war in Vietnam.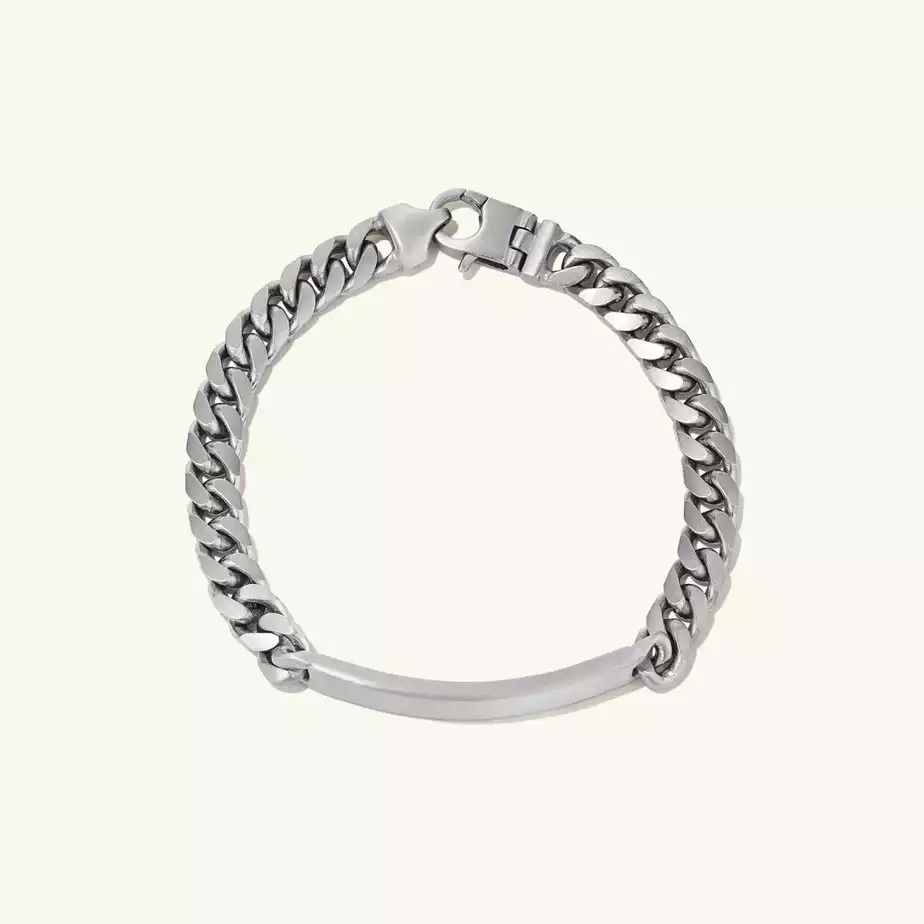 Engravable ID Bracelet | Mejuri
The arm-hardware you've been waiting for. Handcrafted in sterling silver and finished with palladium for that just-right tone featuring a solid cuban-link chain, all you have to do is put a name on it.
Check Price
We earn a commission if you click this link and make a purchase at no additional cost to you.
Long Beaded Necklaces
A holdover from 60s jewelry trends, "Love Beads" retained their popularity in the 70s. They were long strands of multicolored beads strung on a cotton thread or even wire and were worn draped in layers around the neck, or wrapped around the wrist like a bracelet. Both men and women wore love beads, and groups of friends would have parties where they would string beads together.
Pendants
Necklaces with pendants were big in the 70s, and honestly have never really gone out of style. Pendants in the 70s ranged from dainty gold charms to large wood and stone statement pieces and were often worn layered with other necklaces. (Think Goldie Hawn's look in the movie Cactus Flower, or her daughter, Kate Hudson, in Almost Famous.) Gold chains or leather cords, sometimes with a stone or large gold medallion, were popular among men. (They got bonus points for sporting them with an unbuttoned shirt and chest hair.)
Sautoirs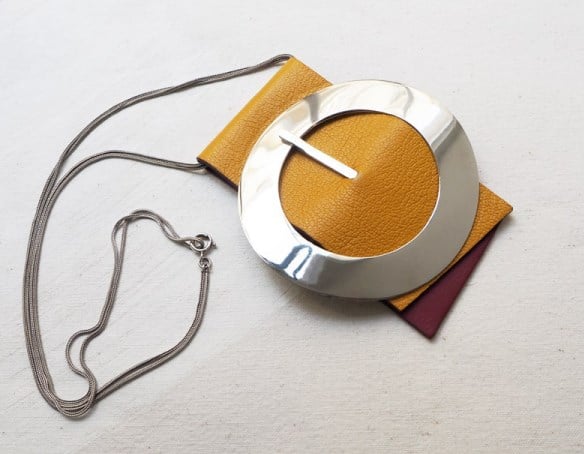 Long necklaces with a bauble, tassel, or cross suspended on them are known as sautoirs. They were one of the more popular ways to display larger pendants or tassels in the 70s, and would be made from gold, leather, or braided or twisted ropes of small beads.
Chokers
Chokers were very popular in the 70s, but they looked a little different from the 90s tattoo bands I grew up wearing. Many were made from a strap of velvet, sometimes adorned with a cameo or stone. Faux pearl chokers were also popular, as were big, chunky sculptural metal pieces and gold chains. The high, close-fitting style of necklace worked particularly well with the blousy v-shaped necklines and wrap dresses that were so popular in the 70s.
Chunky Statement Rings
While not as glitzy as the bejeweled cocktail rings of the 1920s, large statement rings were extremely popular in the 70s. Popular styles included huge natural stones set in metal or wire bands and funky shapes cast in metal or brightly colored plastic.
Mood Rings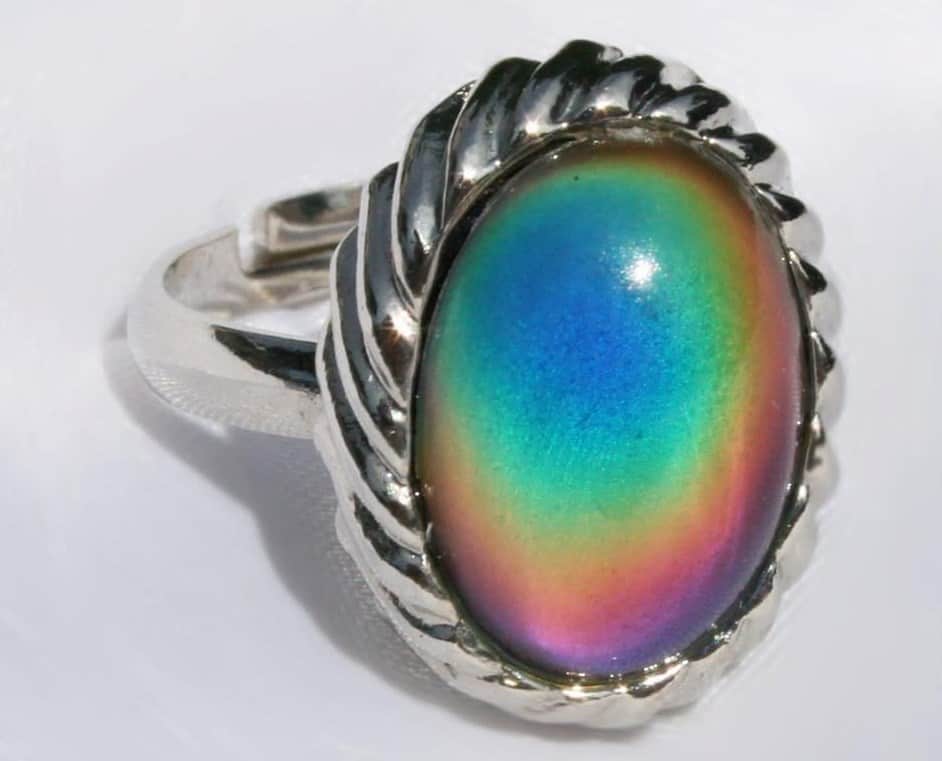 Mood rings were a massive fad in the mid-1970s. They consisted of a metal band with a liquid-filled "crystal" that changed color and professed to predict the wearer's mood. In reality, the metal band would conduct body heat to the thermo-reactive liquid in the crystal, which would change color depending on temperature fluctuations. The theory was that the human body tends to radiate more heat when happy or in love, and cool down when feeling stressed. While I'd imagine it was probably hard not to get hot and bothered watching David Bowie or Donna Summer up on stage, it wasn't exactly a scientifically sound method of determining one's mood. Regardless, who could resist a quirky, color-changing accessory?
Engagement Rings in the 1970s
While the concept of engagement jewelry dates back to prehistoric times , each decade of the modern era came with new trends and public predilection in engagement rings.
Many engagement rings in the 70s sported chunky, thicker bands than the popular styles of previous (and later!) decades.

Marquise, brilliant, and princess cut diamonds were all popular, along with the radiant cut diamond, which was created in the 1970s.

Multi-diamond rings were very popular, especially those that mixed different cuts in one ring, or featured other gemstones such as sapphires or emeralds alongside diamonds.

Channel set diamonds

either set around the central stone or in the band, also became more popular.

Coordinated wedding bands that fit around the engagement ring, known as contour wedding bands, were also made popular in the 70s.

Bridal sets, which consist of a matching engagement ring and wedding band for the wife, and wedding sets, which also included a coordinating band for the husband, became more and more in demand.
How to Wear 70s Style Jewelry Today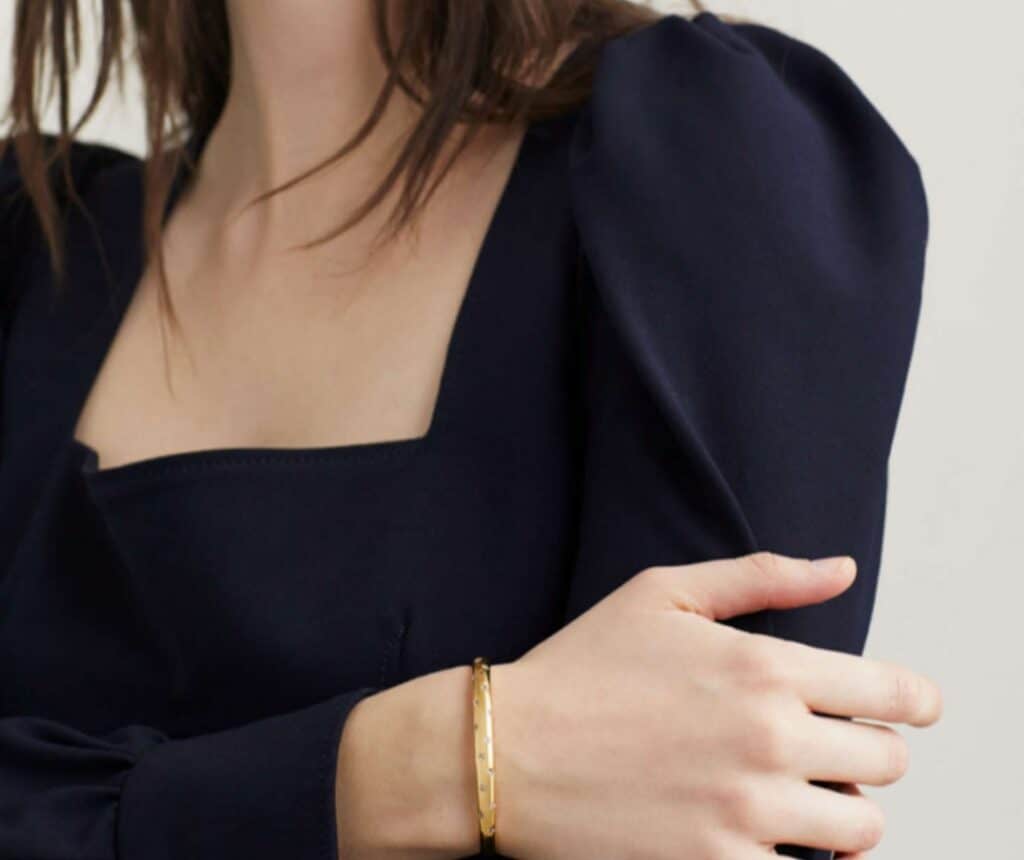 Only wear one statement piece at a time, such as a large pendant or chunky ring, so as not to overwhelm your look.
Hoops are always a great option. They can be as understated or dramatic as you like. I like simple earrings with a structural twist on the classic hoop shape.
Layer necklaces/bangles – go for a variety of lengths/widths to add dimension, or try mixing metals/materials.

Statement rings, pendants, and studs are a great way to incorporate natural materials like wood or semi-precious stones into your look.

Pair vintage jewelry with a contemporary outfit, or vice versa. It will keep your look fresh and stop you from looking like you're headed to a Saturday Night Fever costume party. (Unless that is where you're headed, in which case put on your "boogie shoes" and have fun!)

If you're going to wear large dangling earrings, keep your neckline and other jewelry simple and classic. Consider tying back long hair to really show them off.
For an updated take on clip-on studs, consider trying magnetic back earrings.
FAQ
Question: What jewelry was popular in the 70s?
Answer: Yellow gold jewelry and jewelry made from natural materials were extremely popular in the 1970s. People wore hoop earrings, gold chains, and large statement pieces, such as pendants, chunky rings, or big earrings. Long, beaded necklaces, bangles and cuff bracelets were also popular. 
Question: What are some 70s earring styles?
Answer: People wore big earrings in the 70s! Large, structural studs or clips ons, hoop earrings, and long dangling earrings were all very popular. 
Question: What kind of jewelry did men wear in the 70s?
Answer: Men in the 70s wore love beads, leather cords, or large gold chains, often with medallions. In the 70s men also started wearing wedding bands that coordinated with their partner's engagement and wedding ring. 
Question: How can I rock the 70s jewelry look?
Answer: Stick to yellow gold and natural materials. Consider a large statement piece, like a choker or big pendant, or layer on bangles or beaded necklaces. Most importantly, remember that jewelry in the 70s was about freedom of expression, so wear what speaks to you, and wear it with pride!
Question: Where can I buy 70s jewelry?
Answer: Lots of places! Your local vintage or antique store may have a selection of 1970s jewelry, but if you prefer to shop online there are plenty of convenient places to start looking. Whenever possible, I like to support small businesses, so vintage shops on Etsy are my preferred place to start. Ebay also has some great selections of vintage 1970s jewelry. Etsy and even Amazon have a lot of contemporary pieces inspired by the 70s as well. 
Question: What is disco jewelry?
Answer: Disco jewelry is anything bold and flashy that will get you noticed on the dance floor! Sparkly, dangling earrings, big pendant necklaces, and shiny bangles or metal cuff bracelets are all disco jewelry.
Question: What is hippie/bohemian jewelry?
Answer: Hippie/bohemian jewelry is diverse, multicultural, and inspired by nature. Jewelry made from semi-precious stones such as turquoise and lapis lazuli, natural materials like leather and wood, and love beads are all hippie and bohemian jewelry. 
Question: Do mood rings really show your emotions?
Answer: Strictly speaking, mood rings don't technically show your emotions, they react to your body temperature. That being said, if your palms get warm and sweaty when your crush walks by, the mood ring might just give you away! 
Final Thoughts
There's no one style that encapsulates 70s jewelry, but rather a blend of styles influenced by the zeitgeist of the time. Daring and eye-catching pieces meant to express the wearer's individuality were the most popular styles of the decade. Yellow gold was the most in-demand metal of the era. Natural and beaded bohemian jewelry, and bright and glittery disco jewelry were both very popular. Less expensive materials, such as crystals and semi-precious gemstones were more utilized than precious gems. Above all else, the "anything goes" attitude toward jewelry in the 70s left plenty of room for fun and self-expression! Now excuse me while I go out and buy a pair of tassel earrings.