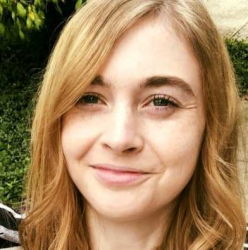 Latest posts by Erin Jamieson
(see all)
No matter if you're following the Meaghan Markle and Prince Harry feud between the Royal Family and the British tabloids, the couple is ever-present in the news. Now that includes a signature gemstone and diamond cocktail ring, sure to provide ideas for jewelry for special occasions or even a unique take on engagement rings.
Meghan Markle, who often uses fashion to make social and political statements, aired with Prince Harry on Spotify, wowing in a playful Oscar de la Renta peplum hem dress with large print citrus fruit. While most eyes may have been initially of this plucky dress, what is now capturing attention is the cocktail ring she wore–not only for its style but also for its symbolism.
The pink sapphire cocktail ring features an ethically sourced center stone with accent diamonds, all on a band made out of recycled materials. Created by Ecksand, a Canadian company, the cocktail ring showcases Meagan's connection to Canada and her commitment to sustainability at the same time. Excited stylists may also note that, compared with what many may expect, the cocktail ring is more modestly priced, at around $1,144 U.S. dollars.
You don't have to be a fan of Markle to fall in love with a cocktail ring– but what exactly are diamond cocktail rings, how are they worn, and how do you find one for your next special occasion?
In this article, I'll tell you everything you need to know to find the best diamond cocktail rings, in a variety of styles and at a variety of price points.
What is a diamond cocktail ring?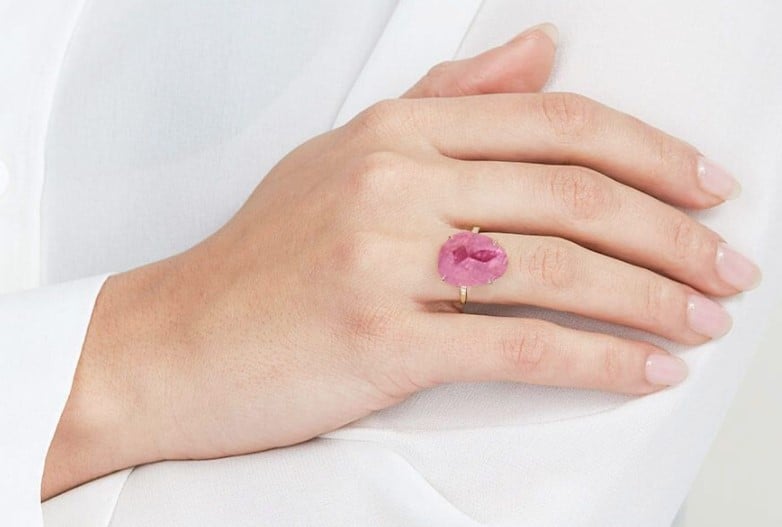 A diamond cocktail ring, as the name suggests, is a ring meant to be worn at cocktail parties, or, really any party that calls for semi-formal to formal attire. Meant as a statement piece, cocktail rings are oversized and normally feature a center stone– often a colored gemstone but also diamonds— surrounded by diamond accents.
A statement ring and a dres's ring are the same as a cocktail ring.
The term cocktail ring is thought to have originated as early as the 1920s, though fashion experts point to the 1940s as a re-emergence and officially naming of the trend. Bright colors, plenty of glitz, and an over-the-top look make for attention-grabbing rings. From the 1920s through the '40s, on and off, the cocktail ring was a sign of wealth, elitism, and prestige.
By the 1960s, however, in wake of social movements, the popularity of cocktail rings declined. It was not until the 1980's that most point to the cocktail ring once again enjoying popularity– but now, far more accessible popularity. No longer wearing cocktail rings is just a sign of wealth. In fact, cheaper materials became more popularly used in many cocktail rings to lower costs.
A diamond cocktail ring can feature either a diamond center or, technically, a colored gemstone with diamond accents. It's a nice distinction to have, as cocktail rings with gemstone simulants are often used as inexpensive– but less durable and value– statement pieces.
What finger is a cocktail ring worn on?
A cocktail ring is worn on the middle finger, which fits in the theme of the desire to draw attention and make a splashy statement. Some also opt to wear a cocktail ring on their fourth finger.
Can you wear a cocktail ring every day?
You can, in fact, wear a cocktail ring every day– if you're ready to make a bold statement. As opposed to when they were first introduced, cocktail rings, and how they are worn, have become more common and more versatile.
Cheaper cocktail rings can be paired with outfits of your choice, whereas more expensive cocktail rings can even be used as engagement rings. Cocktail rings pair as jewelry for a black dress or other classic clothing.
When accessorizing, I recommend keeping the rest of your jewelry a bit more simple. For a more plain cocktail ring, you can get by with a not-too busy, or complementary print, as Markle did with her Oscar de la Renta dress with a ring in a matching lemon hue. For a cocktail ring with more than one color, you may find it pops more against solids. For bracelets or earrings, opt for solid metals.
Of course, the best part about cocktail rings, in my opinion, is that they don't have any rules per se on how to wear them. If anything, the evolution of cocktail rings is a testament to evolving fashion norms, and the continual ability to express ourselves in unique ways.
Quick Guide- How to Find a Diamond Cocktail Ring
Now that you know what a diamond cocktail ring is, I want to touch on some important factors on how to find the best options.
First, you need to determine why you're searching for a cocktail ring. Someone hoping for a fun splash for one occasion may not feel the need to buy a durable or valuable ring. That said, if you're specifically looking for a cocktail ring with a diamond center or diamond accents, I suggest considering upping your budget a bit.
A diamond cocktail ring that lasts may actually be a better investment, allowing you to use it for multiple occasions. It also is more suited for something like an alternative engagement ring, or even as a wedding anniversary gift.
To that end, here are my factors for choosing a diamond cocktail ring that is more likely to last– but still affordable and playful.
Metal Type
The stone center may capture attention for a cocktail engagement ring, but one factor you don't want to miss is the metal band it's on.
I recommend yellow, white, or rose gold of no lower than 10K, or platinum. While other options, such as sterling silver, can give a vintage ring appeal, they are more susceptible to corrosion and wear. Many say that skin tones with pink or warm undertones do better with cool metal colors, whereas cool skin tones do best with warm metals– even something like rose gold.
While it may sound like a plus, I'd recommend staying away from gold plating. Such plating is known to wear off over time and is especially not suited for everyday use.
Center Stone and Accent Diamonds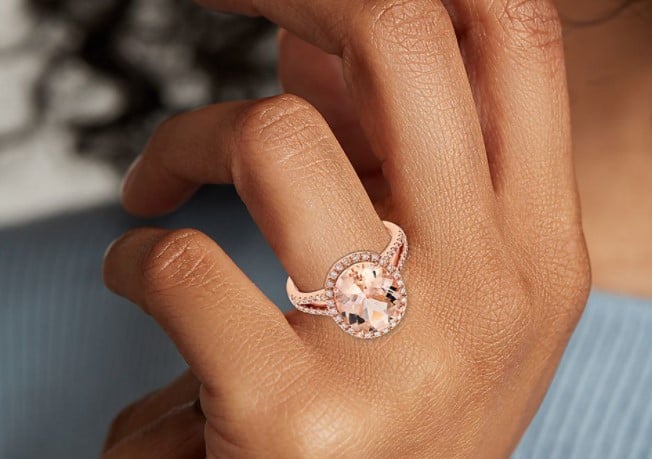 Whatever gemstone you opt for, it's ideal to at least get some information regarding GIA or AGS ratings for factors including color, clarity, cut, and more. While I don't think you have to be quite as picky as if you're using this as an engagement ring, I also recommend taking this step. Without any of this information, you may be buying a stimulant (read about the difference between a diamond vs a diamond simulant here).
Design Ideas
The possibilities are endless in terms of diamond cocktail ring styles and designs
Vintage Diamond Cocktail Rings
Vintage cocktail rings can either be antiques–most commonly in the Art Deco style– or modern replicas, which are usually far easier to find and more affordable. Vintage diamond cocktail rings often are nature-themed or have a floral design. The stone is inset with a fairly uniform pattern, with diamond accents around the perimeter. Warmer tones, such as yellow and rose gold, are often favorites.
Minimalist Bands
For a modern take on diamond cocktail engagement rings, another option is a statement gemstone is a centerpiece, set on a solid metal band. The solid metal band draws more attention back to the bold center stone and limits accents. These may be a bit less bold or glamorous, but they tend to be a bit more versatile for someone looking to wear it more daily and not necessarily as an engagement ring,
Glamorous Geometry
Rectangular shapes play a twist on a classic round cut, sometimes set on multiple platforms of metal, with diamond accents galore. A focus is not only on the center stone but the dispersal of accent diamonds alongside each layer. This is a modern look, but with more glitz than minimalist bands. Varieties of these include criss-cross, baguettes, and twists.
Claw Set Cushion
Claw set cushion cuts are also a popular choice for diamond cocktail rings. This design uses claw prongs for a prominent display of a center stone, which is often moissanite or a light pink or pastel hue. This style of cocktail ring mixes modern and classic.
Diamond Cocktail Rings, You Can Buy Now: My Ideas
Now that I've given you some ideas for how to find the best diamond cocktail rings, as well as my favorite styles and trends for diamond cocktail rings, I want to share with you some great places to shop for cocktail rings.
While these companies do vary in terms of sourcing, selection, and price points, all of these companies are well established in the online jewelry community, reputable, and offer fair policies, alongside beautiful options for cocktail rings– whether you're searching for a special occasion or even as an option for an engagement ring.
Kay Jewelers
For All Diamond Glamour: Diamond Ring 2 ct TW Round-cut 10K White Gold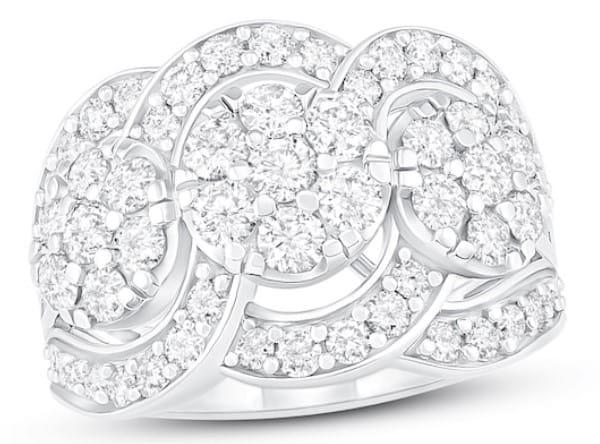 This modern, fashion-forward, all diamond statement ring ditches the traditional design of a cocktail ring, with a full focus on diamonds with embellished arches, carefully crafted clusters, and bright appeal, set on 10K white gold. Buy Here.
For a Wedding Anniversary Gift: Diamond Baguette Band on 14K White Gold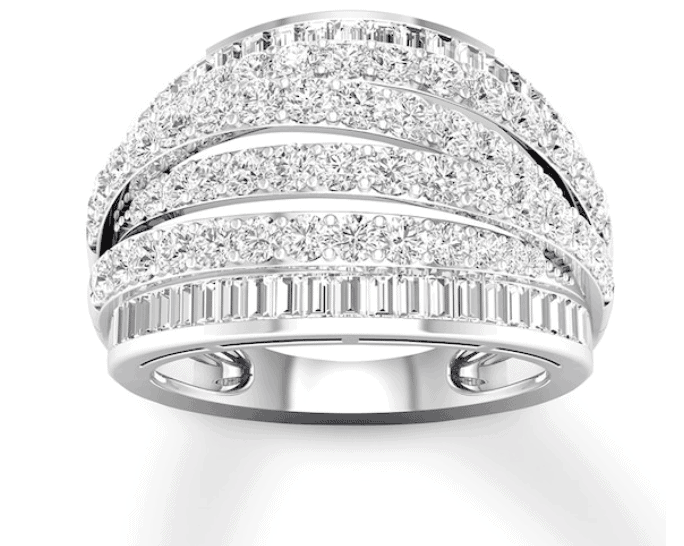 Doubling as a cocktail diamond ring and a potential anniversary gift, this diamond baguette is set on 14K white gold for improved durability, with dazzling layers of small diamonds accounting for a total carat weight of 2 carats. Buy Here.
Le Vian Chocolate Diamond Rings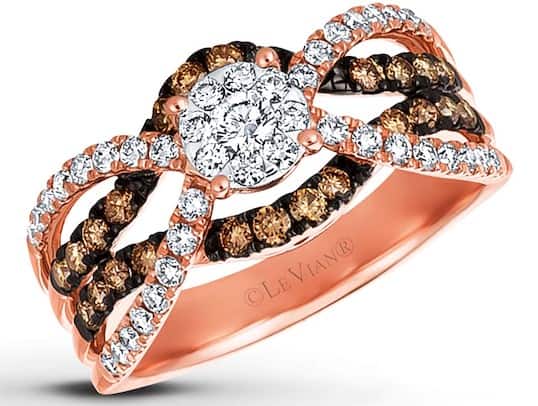 Looking to make a modern–but less expected– statement with a diamond cocktail ring? Interlacing ribbons feature colored diamonds, set on a warm 14K strawberry gold. The total diamond carat weight is ¾ carats, with a glamorous but slightly less overstated appeal.
Buy Here. An honorable mention goes to the Cultured Pearl Ring, now on sale for just over $700, featuring a similar array of diamonds but with a mother-of-pearl accent. Buy Here.
Amethyst, Garnet, Pink Tourmaline, & Diamond Ring 10K Rose Gold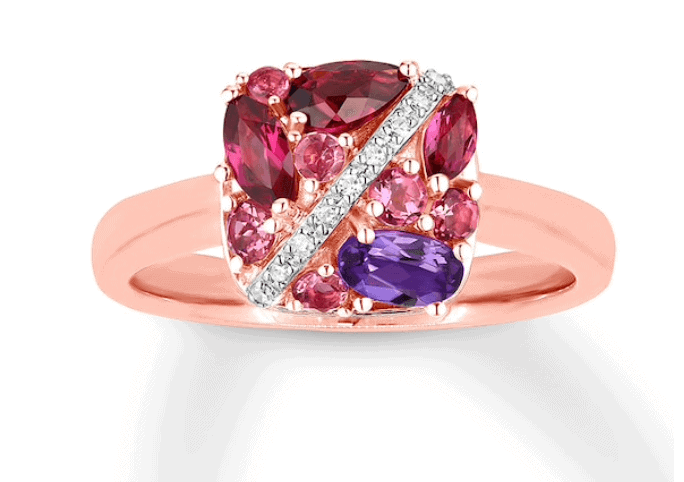 My final pick for Kay's is this colorful array of gemstones for someone not afraid to make a bold statement. This cocktail ring is priced at $299 and features a colorful array of garnet, pink tourmaline, amethyst, and diamonds, set on 10K rose gold. Buy Here.
Blue Nile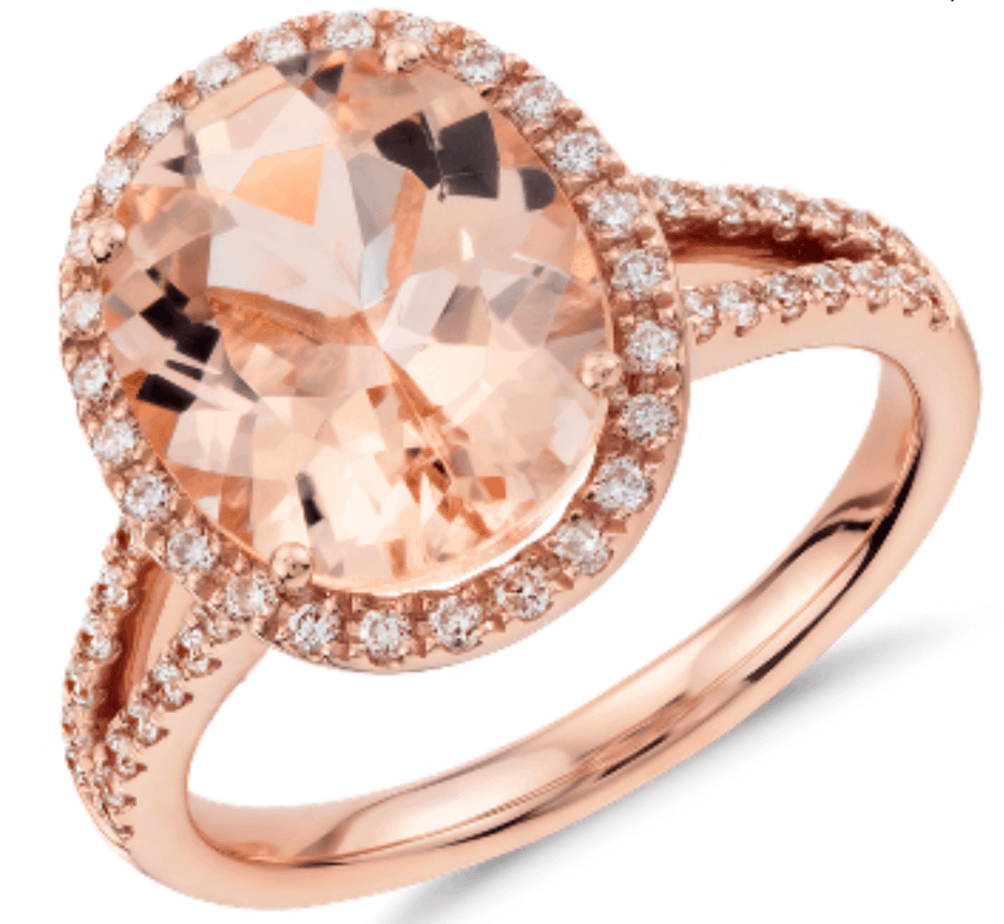 A Blue Nile favorite, this ring is a modern take on a more vintage look–at once elegant and playful, and one of my favorite options if you want a choice that could easily double as an engagement ring. Side round diamonds create beautiful accents, with eye-level clarity, set on 14K rose gold to exude warmth.
Amethyst and Tanzanite Diamond Cathedral Ring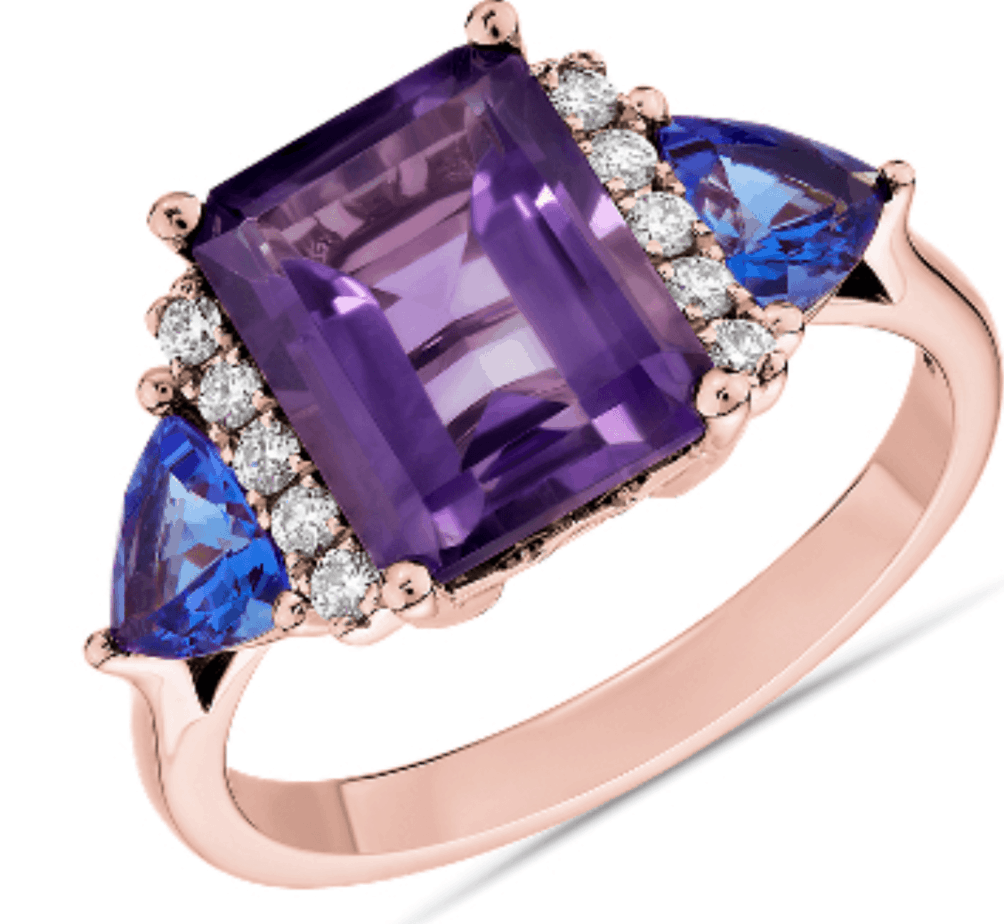 Also set on 14K rose gold, this amethyst and tanzanite diamond cathedral ring is sure to make a statement– cocktails aside. Classic blue and purple hues are paired with side accent diamonds and a sleek band so all the attention is on the gemstones. Buy Here.
Criss-Cross Diamond Fashion Ring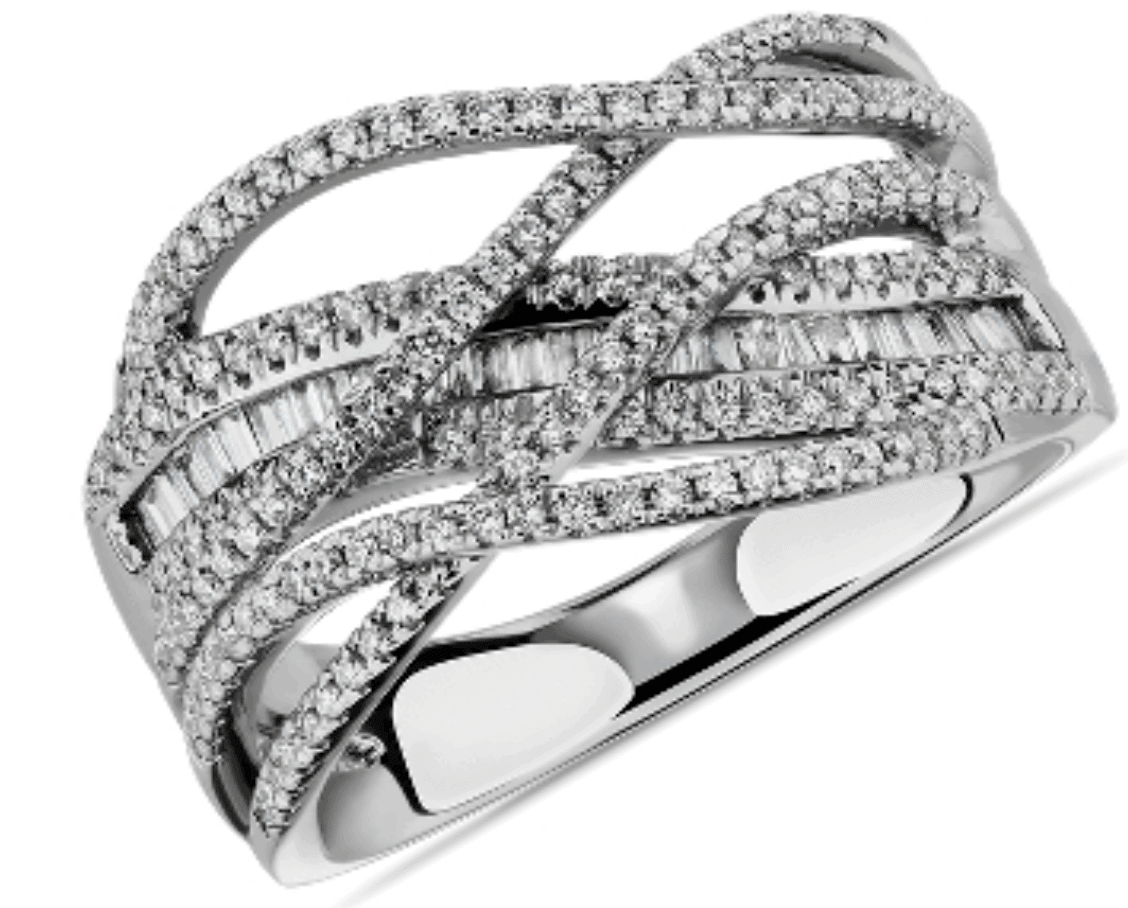 The criss-cross style plays special attention to diamond dispersal and unique geometry– and allows for more versatility than your typical diamond cocktail ring. Set on 14K white gold, a half-carat of diamonds is evenly distributed for a modern and sophisticated look. Buy Here.
Non- Diamond Cushion Cocktail Rings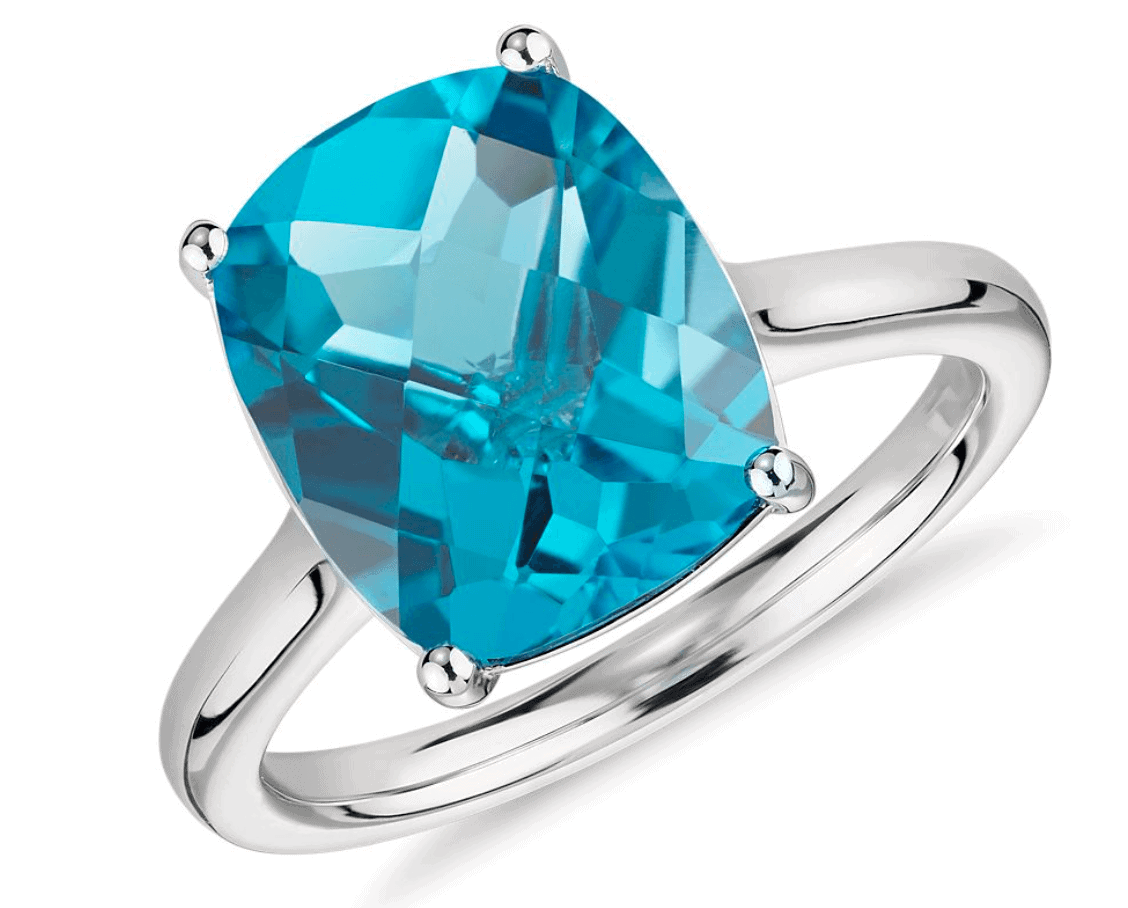 The Blue Nile offers cushion cocktail rings with a sleek and less overstated look. While they don't have diamonds, I did want to include this option as an affordable alternative. Priced at as little as just over $350 through just under $1000, all gemstones are set on 14K white gold for a look that won't age. Gemstone options include amethyst, aquamarine, black onyx, blue topaz, citrine, opal, and peridot. Buy Here.
Zales
Composite Diamond Rectangle Frame Split Shank Ring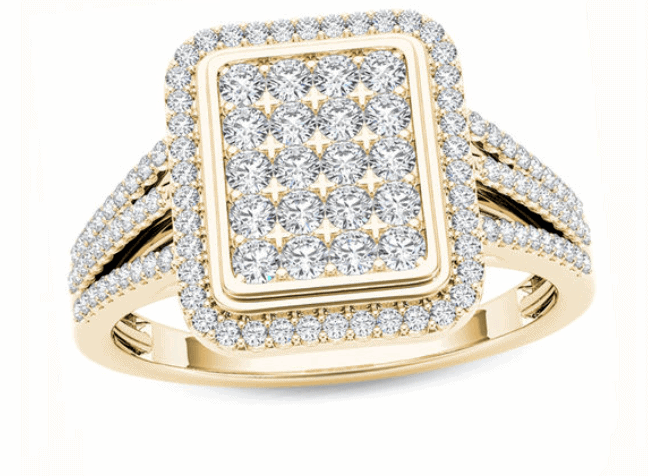 Modern glamour, geometric shapes, and glitz are all on full display with this cocktail ring, priced under $800. Perfectly for making a dramatic entrance, the rectangular design uniquely captures diamond sparkle, set on war, yellow gold for classic contrast. The total carat weight is ½ carats. Buy Here.
Diamond Cushion Cluster Ring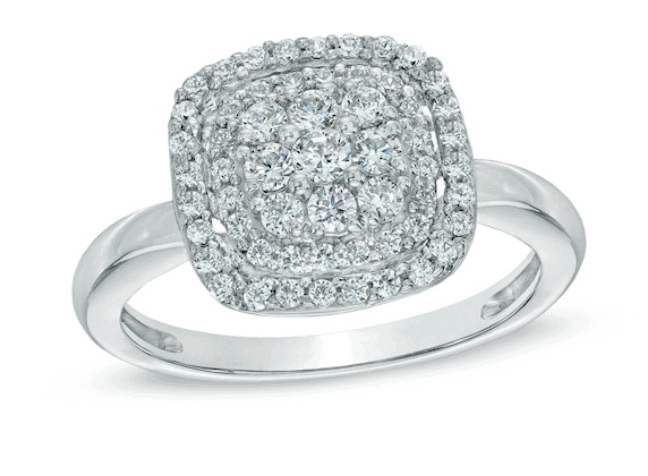 Available in 10K white, yellow, and rose gold, this diamond cushion cluster ring dazzles without overwhelming. The cushion cut is at once modern and classic, with rows of diamonds and a polished shine. Buy Here.
Oval Lab-Created Emerald and 1/5 CT. T.W. Diamond Vintage-Style Frame Ring in 10K Rose Gold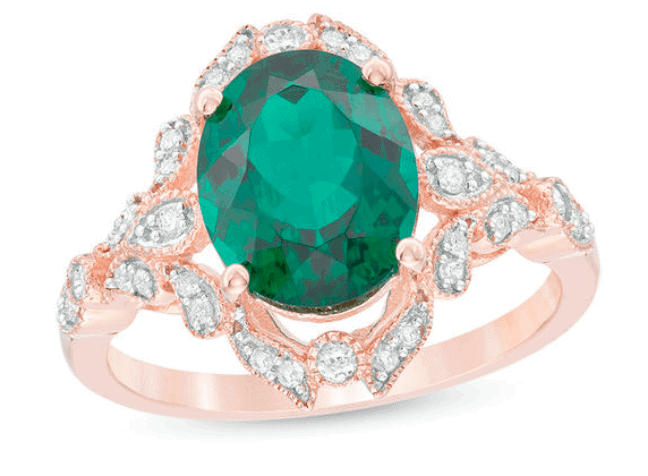 A vintage-styled ring under $1,000 is hard to find sometimes, and this striking style is an excellent choice for a cocktail ring. The bold emerald stone is accented with pavé- and bezel-set white diamonds, while milgrain detailing adds a bit of elegance. Buy Here.
Composite Diamond Heart Ring in 10K White Gold
Heart-shaped rings aren't for everyone, but they can not only be fun, but also full of symbolism. Besides the obvious connections, hearts are closely linked to circles, and ever-lasting not only love but also connection. 1 carat's weight of diamonds is arranged in a layered shape and set on 10K white gold. Buy Here.
FAQs
Question: Can you use a cocktail ring as an engagement ring?
Answer: While cocktail rings were once designated for parties and as jewelry for special occasions, now cocktail rings are used in many ways. For the less traditional, a high-quality cocktail ring can in fact work as an engagement ring. With styles ranging from vintage to modern, cocktail rings can make for unique engagement rings. Just be sure to avoid stimulants and gold plating, both of which are not long-lasting or suitable for everyday use.
Question: Why are they called cocktail rings?
Answer: The name of cocktail rings is most likely from the period of Prohibition in the United States, and as a jab at the laws regarding alcohol consumption, doubling as a prestige symbol. The name is still used, but cocktail rings are also called statement rings, or even dress or dinner rings.
Question: What is a diamond dinner ring?
Answer: Though the term is not as common now, a diamond dinner ring is a type of cocktail ring that most prominently features diamonds– as opposed to other cocktail rings that rather have diamonds as accents to the central colored gemstone. They tend to be especially high on glitz and glamour and set on white gold or platinum, though yellow gold is possible as well. These can also be used to take advantage of diamonds and their bow effect.
Final Thoughts
Whether you're shopping for a special occasion, wedding anniversary gift, or even a unique engagement ring, a diamond cocktail ring is a sure way to make a statement for a formal outfit. In fact, as a final idea, a cocktail ring may even work as a way to personalize your look for a bridesmaid dress.