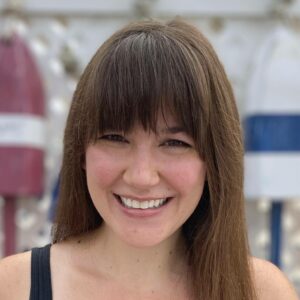 Latest posts by Lauren Vigdor
(see all)
The best jewelry is deeply personal. We associate it with good memories of all the fun events we wore it to, it's often given as gifts, and sometimes jewelry is even passed down from loved ones. There are few types of jewelry as personal as engagement rings, which is why I love whenever I see couples deciding to buck tradition by selecting an engagement ring that is uniquely theirs. If you're in the market for an engagement ring and want to find something personal and unique, you may want to consider looking for a coloured diamond rather than a more traditional colorless diamond. Coloured diamond engagement rings are just as beautiful and durable as more traditional rings, but they're also unique, just like your relationship.
Below is a list of some coloured diamond engagement ring ideas. I must admit, writing this guide made me want to purchase all of these rings and then line them up in rainbow order, or better yet wear one on each finger and then strut around like some kind of ultra-chic Thanos.
Bottom Line Up Front
Diamonds come in every shade of the rainbow, and there really is a coloured diamond engagement ring out there for every couple. If I had to pick a favorite from this list it would be this green diamond solitaire ring. It's such a simple, gorgeous ring and I love the moss green diamond with its lovely inclusions.
About Coloured Diamonds
Coloured diamonds are also known as "fancy diamonds" and only one in around 10,000 diamonds is naturally coloured. Coloured diamonds are found in all the shades of the rainbow, as well as brown, black, and gray. Some colors are much rarer than others and can be extremely expensive. Lucky for us, lab-grown coloured diamonds also exist, and are a cost-effective and ethical way to own a coloured diamond engagement ring!
Coloured diamonds are not rated the same way colorless diamonds are. The most important feature of a coloured diamond is the intensity of its color, and fancy diamonds are often heat-treated to bring out more of their color. Coloured diamonds are cut in ways that make their color look its best, not necessarily for the most sparkle as with colorless diamonds. Clarity is much less important in coloured diamonds than it is in colorless diamonds.
Many coloured diamonds display secondary colors. You'll often see diamonds listed in colors such as "bluish-green" or "yellow-brown." Diamonds that are considered to be the purest expression of one individual color are often more expensive than diamonds with secondary colors simply because they're harder to come by.
One Tip for Choosing a Coloured Diamond
Coloured diamond engagement rings can be very expensive, so when choosing a ring make sure you purchase your jewelry through a reputable source. Be wary of scams — if the price of a ring sounds too good to be true, it probably is.
Some Ideas for Coloured Diamond Engagement Rings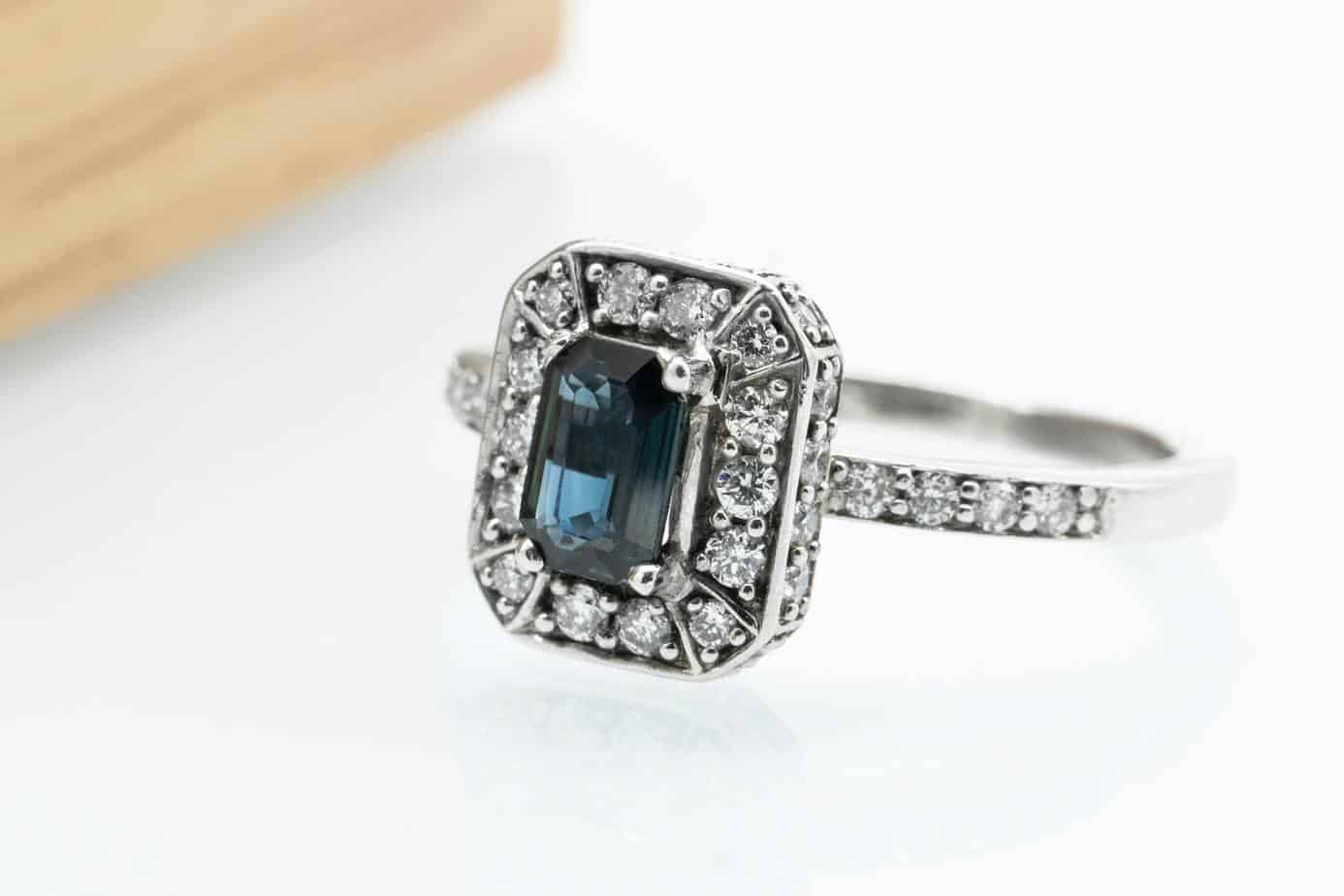 Below are some coloured diamond engagement ring ideas. I felt these rings showcased the wide range of diamond colors available, and the variety of styles of coloured diamond engagement rings that can be found.
Pink Diamond Rings
Pink diamonds are among the most popular coloured diamonds. Natural pink diamonds are often called "argyle diamonds," named after the mine in which they're found. Lab-created pink diamonds are some of the easiest-to-find coloured diamonds. They range in color from very light pastels to very bright candy hues.
Fancy Pink Brown Diamond Ring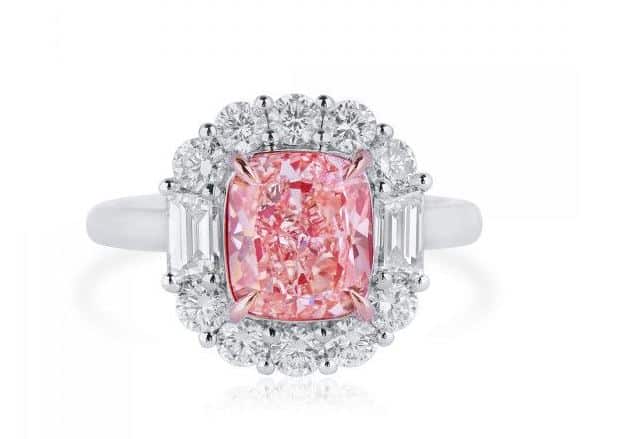 The color of this radiant cushion-cut diamond is just exquisite. This ring is exactly what comes to mind when I try to picture a pink diamond engagement ring. I love the attention to detail here. While the ring is set in white gold with a colorless diamond halo, the prongs holding the center stone in place are made of rose gold so as not to draw attention away from the pink diamond. Request pricing here.
Lightbox Pink Diamond Baguette Ring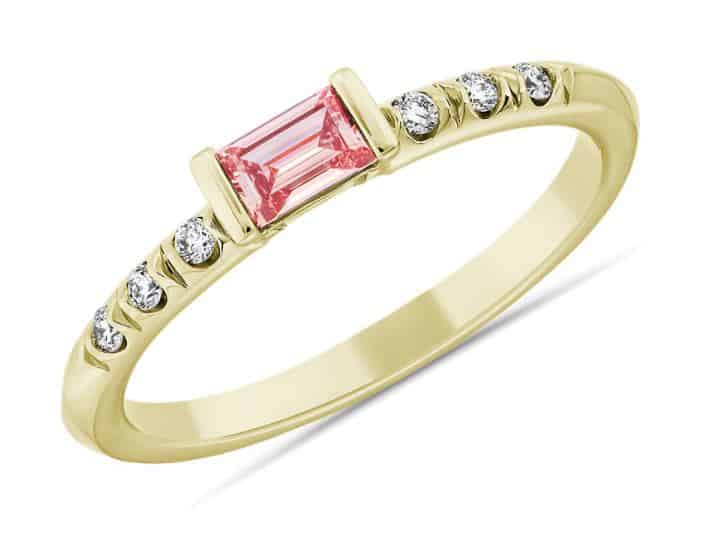 I know this doesn't look like a traditional engagement ring, but I think this slim, contemporary-looking ring is perfect for stacking with a wedding band. The lab-grown pink baguette diamond is fun and playful, and the side diamonds add extra sparkle. Buy here for $700.
Nature-Inspired Fancy Pink Diamond Ring with Ruby Accents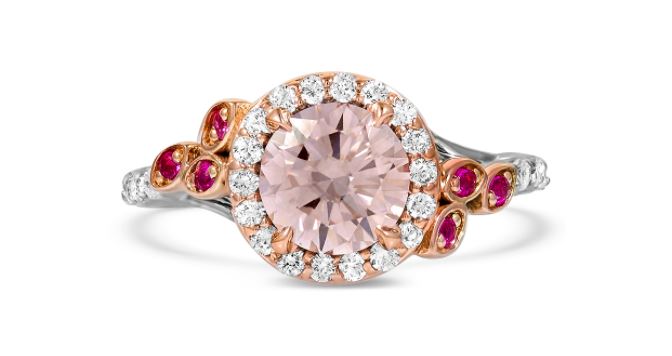 Now, this is a fairytale engagement ring if I've ever seen one. Normally I'd worry that the different coloured gemstones and mixed metals would look too busy on one ring, but in this case, I think it's part of the ring's charm. I love all the diamond accents and the ruby leaf details on this ring. Request pricing here.
Red Diamond Rings
Fancy red diamonds are some of the rarest and most expensive diamonds on the market. Only a handful of naturally red diamonds exist in the world. Many of them are slightly opaque reddish-brown shades, but clear crimson diamonds do exist.
Hexagon Shaped Red Diamond Ring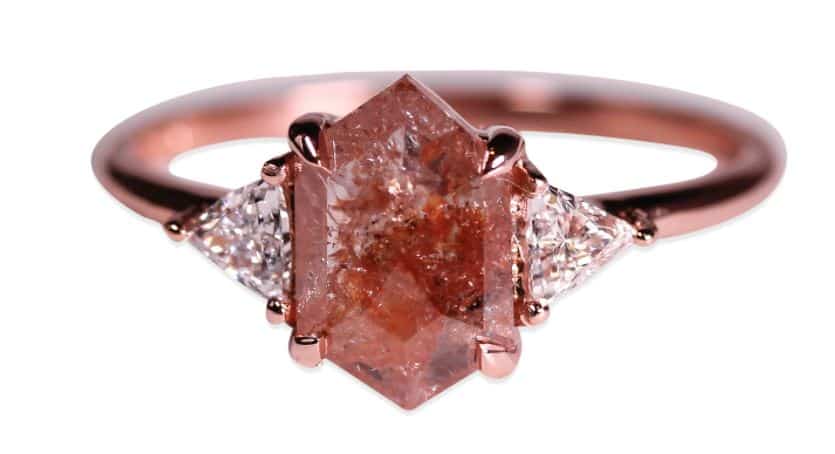 I think that even without the color of the center diamond, this would be a lovely engagement ring. The rose-cut hexagonal red diamond has such interesting inclusions though, it really does make this ring unique. I love how the trillion cut side diamonds balance out the shape of the center stone. Buy here for $3,985.
Fancy Red Radiant Diamond Halo Ring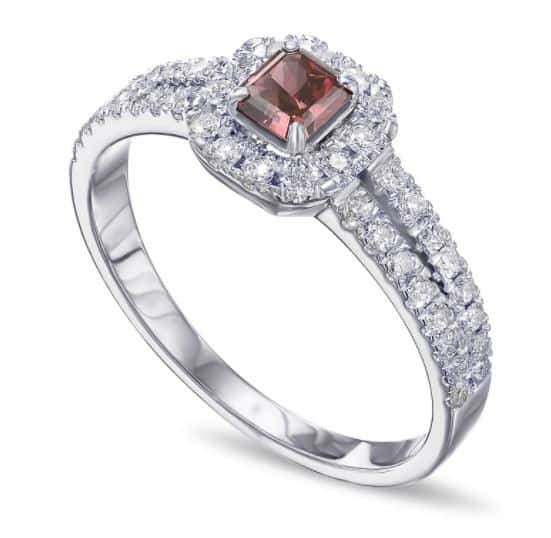 It's extremely rare to find a red diamond ring as perfect as this one. The center stone is perfectly cut to show off its gorgeous red color and the pavé halo and split shank band really draw your attention in. I am so impressed by this ring. Request pricing here.
Peach Red Bridal Set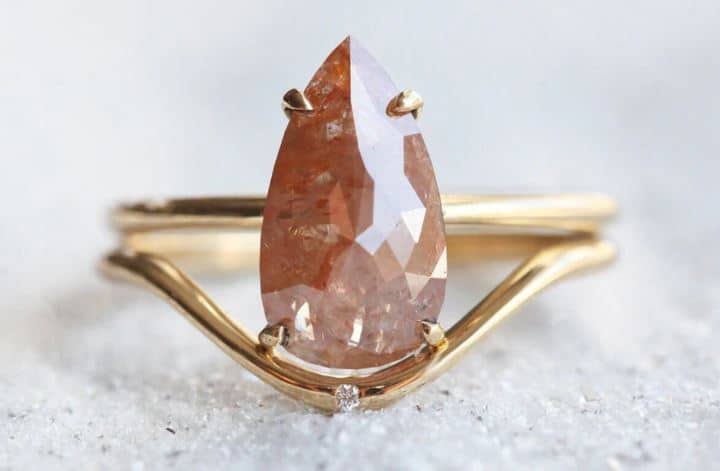 The color of this rose cut pear shaped diamond is so interesting! I love the peachy red tone and all of the gorgeous inclusions. It looks stunning set on a simple gold band, and I love the matching contour wedding band with the sweetest little diamond detail! Buy here for $4,360.
Orange Diamond Rings
Orange diamonds are very rare, though not quite as rare as red diamonds. They make up less than 1% of all fancy diamonds. "The Pumpkin" worn by Halle Berry at the 2002 Oscars and "The Orange" are two of the most famous, expensive orange diamonds. They range in color from light, citrusy yellow oranges to deep rust shades.
Vivid Orange Diamond Ring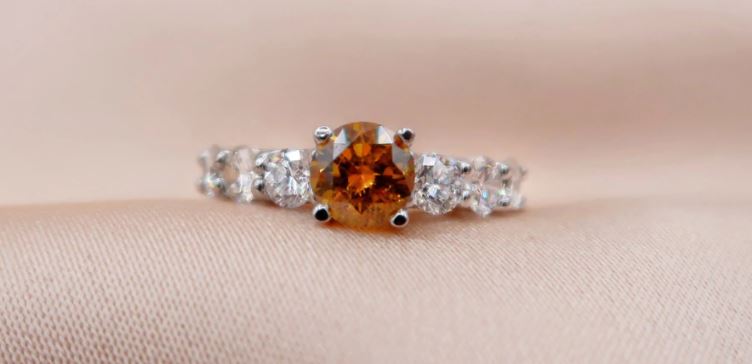 This 1.3 carat diamond is a gorgeous example of the depth of color that makes orange diamonds so unique. I honestly think I'd prefer to see this set with smaller side stones to really let the center stone sing, but there's no denying that this is a beautiful ring. Buy here for $14,950.
Orange Daisy Ring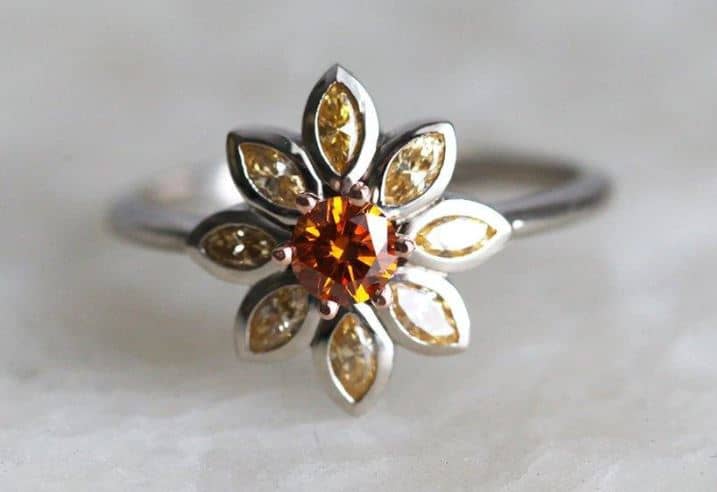 This ring is a two-for-one on the coloured diamonds! A center orange diamond is surrounded by marquise cut yellow diamonds. While I can't say a flower-shaped engagement ring is really my cup of tea, I'm sure there are plenty of people out there looking for something sweet and nature-inspired that will just love this one. Buy here for $6,021.65.
Yellow Diamond Rings
Yellow diamonds are one of the easiest to find fancy diamonds. They occur naturally and can be lab-grown. They can be found in pale white wine shades to canary yellow or deep orangey-yellow.
Radiant Cut Yellow Diamond Ring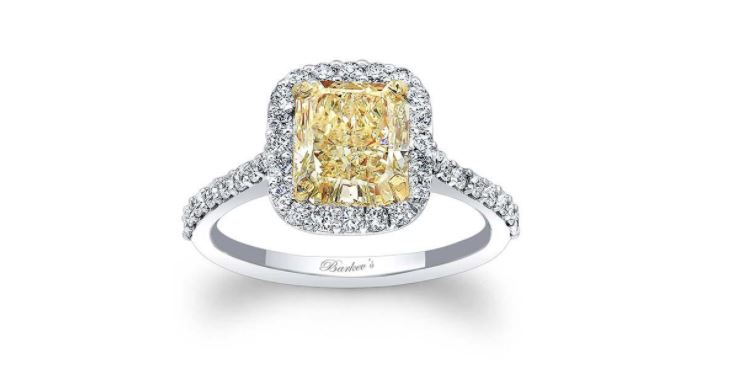 Without the color of the center stone, this would be a pretty traditional-looking engagement ring. The radiant cut paired with a diamond halo and band isn't particularly groundbreaking, but it really enhances the pale yellow color of this diamond. If you want a coloured diamond with a lot of bling, this is a great option. Buy here for $17,900.
Yellow Marquise Diamond Ring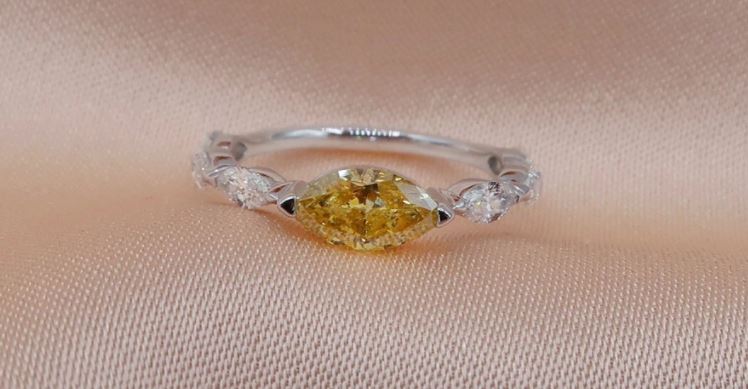 I think this is a charming unconventional engagement ring. The vivid natural yellow fancy diamond is cut into an unconventional marquise shape and flanked by additional marquise side stones. I really like the playfulness of the succession of marquise diamonds — they give the ring such an interesting profile. Buy here for $12,000.
Vivid Orange Yellow Solitaire Ring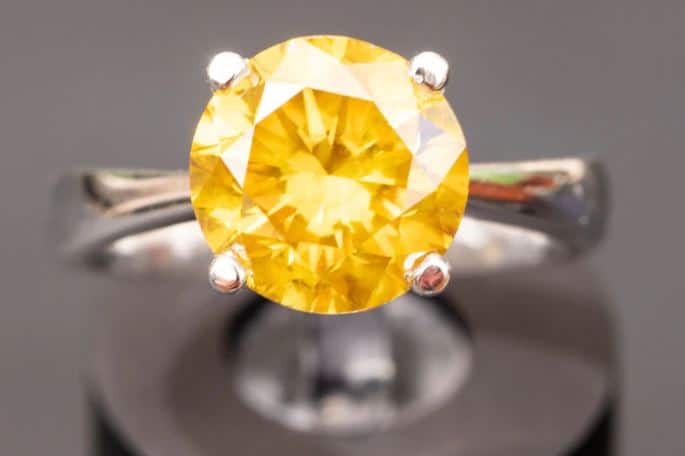 This is my favorite of the yellow diamond rings on this list. I love that nothing stands in the way of the gorgeous sunflower yellow color of the diamond. I also think that the simple tapered band is so elegant. This is such a stunning example of how special a yellow diamond can be. Buy here for $7,686.
Green Diamond Rings
Green diamonds range in color from very faint, light spring greens and olives to deep emerald and kelly greens.
Anya Ring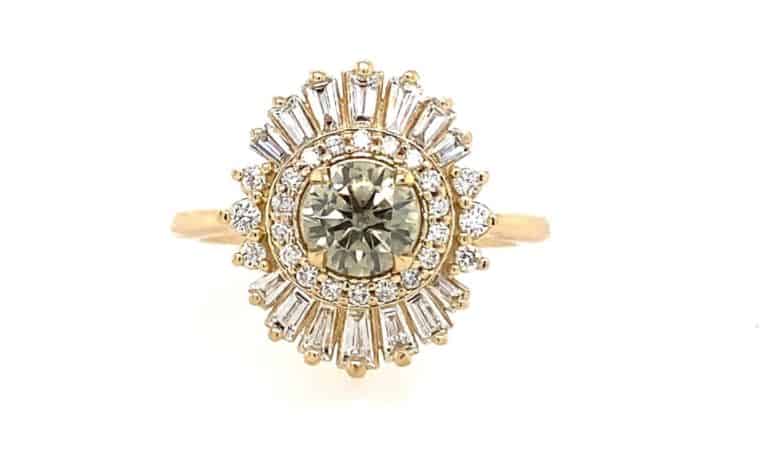 I love the ornate round and baguette diamond halo surrounding the eye-clear green diamond on this ring. As far as green diamonds go, this is a pretty pale green which I personally tend to prefer, but it probably has too many gray and brown tones for someone looking for something brighter or more emerald-coloured. Buy here for $5,200.
Green Diamond Solitaire Ring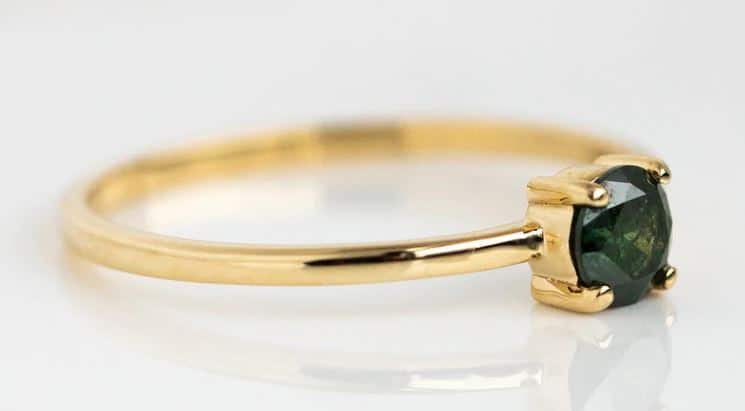 Now, this is the ring for someone looking for a bright green diamond! I know I just said that I tend to prefer paler green diamonds, but this moss-coloured solitaire ring is just absolutely stunning. I love the slight inclusions in the diamond and the fact that it's paired with a simple yellow gold band. Buy here for $423.
Mariah Ring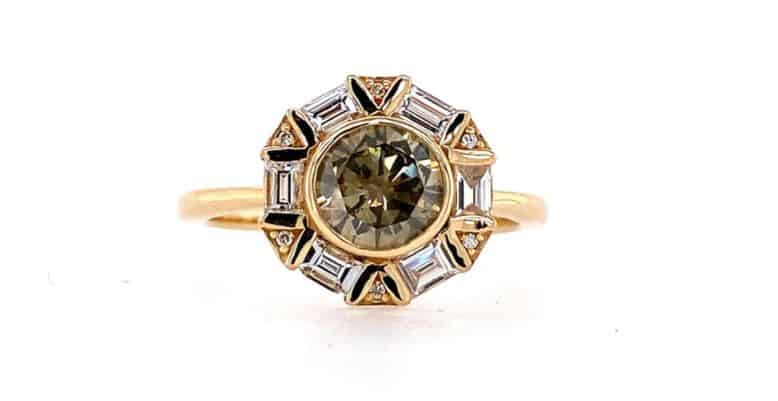 The deco halo around this vintage-inspired olive green diamond ring is what really makes it. I think this ring definitely makes a statement and will make even more of an impact when paired with a dramatic contour wedding band. Buy here for $5,160.
Blue Diamond Rings
Natural blue diamonds are incredibly rare and valuable. Lucky for us, however, lab-grown blue diamonds are relatively easy to come by, and come in lovely pale sky to deep ocean shades. Fun fact: the famous "Hope Diamond" is a blue diamond!
Blue Diamond Floral Halo Ring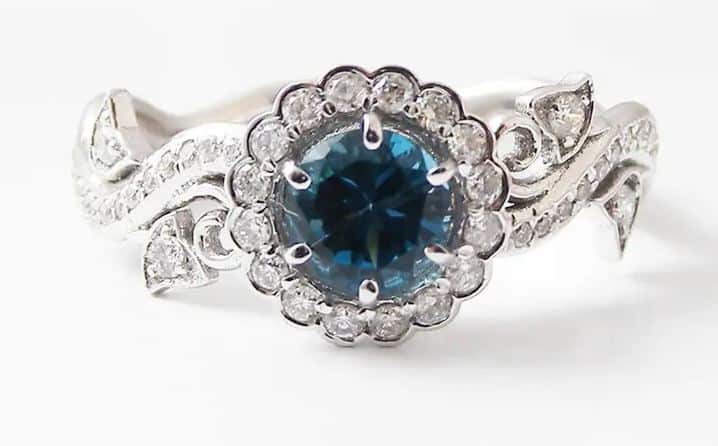 As I stated above, I'm not usually too keen on flower-shaped engagement rings, but if that's what you're in the market for, I think this is a very charming ring. The ocean blue color of the diamond is breathtaking, and the wavy band with floral and leaf details are sweet and romantic. Buy here for $2,149.60.
Celtic Knot Ring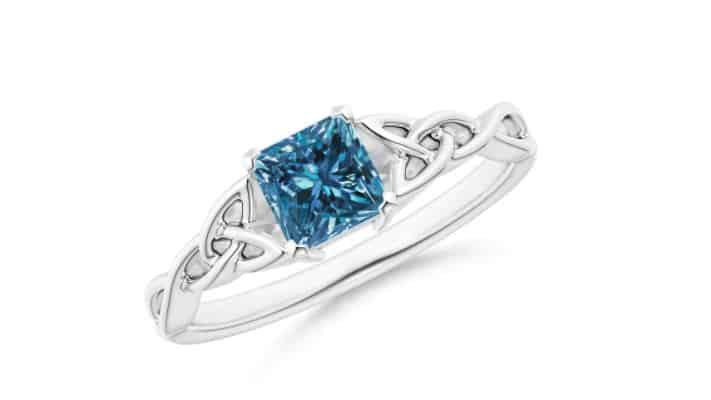 I have Irish ancestors and actually spent some time going to school there, so I love a Celtic-inspired piece of jewelry, but if it's not part of your culture or heritage, this ring might not appeal to you. (Or maybe it will — I'm sure some people will appreciate the beauty of the style independent of any cultural significance, and who am I to say!) I also really love the gorgeous blue color of this princess-cut diamond. Buy here for $1,052.
Emerald Cut Blue Diamond Ring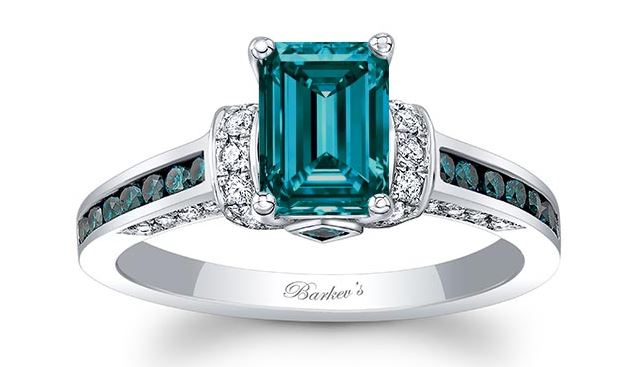 I like this ring because it's so different from a lot of the other rings on this list. The combination of the center emerald cut, channel set, and smaller princess cut diamonds, all of them blue, makes for a stunning visual continuity. Buy here for $5,715.
Purple Diamond Rings
Purple diamonds are split into two categories by the GIA: purple and violet, but for the sake of this list I'm going to combine them. Purple diamonds tend to be a slightly more pink color, and violet diamonds are more of a bluish purple. Purple and violet diamonds are most commonly found in nature in the same mines containing blue or pink diamonds, but only a few are found each year.
Lilinoe Ring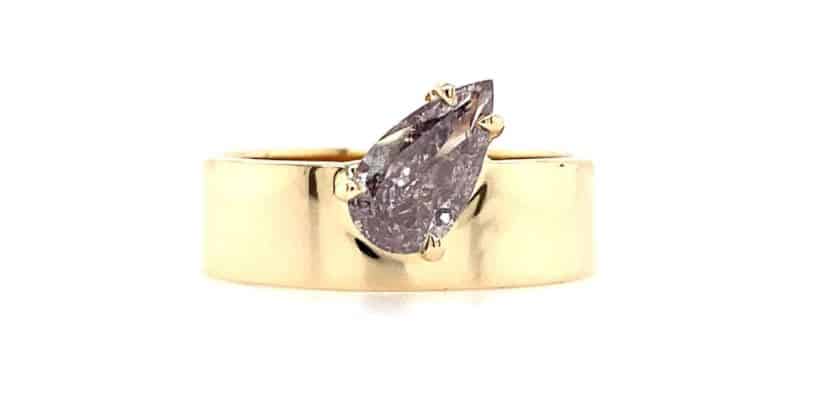 For a ring that should be all about the color of the diamond, this one also manages to find a unique voice when it comes to the band as well. I'm not generally a fan of thick bands on engagement rings, but this is the perfect setting to show off this lovely off-center purple pear-shaped diamond. Buy here for $5,560.
Fancy Purple Radiant Double Halo Ring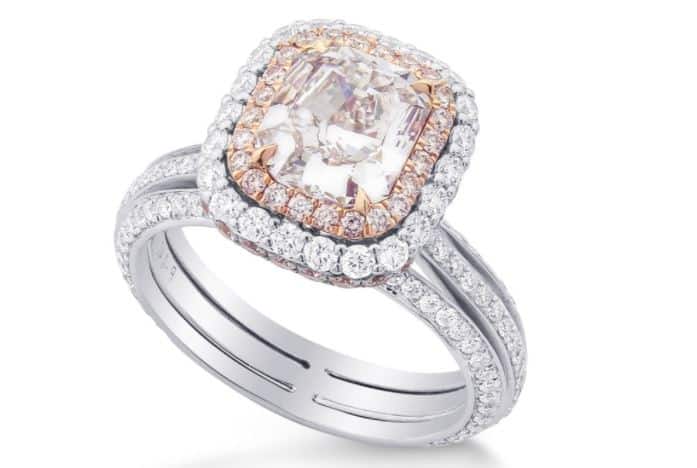 When it comes to engagement rings, halo rings are one of the best ways to maximize bling. This gorgeous pale lilac-coloured purple/pink diamond is circled by not one but two diamond halos, an inner circle of pink diamonds and an outer circle of colorless diamonds. As if that wasn't enough sparkle, this ring is set with even more diamonds along its shoulders and shank. This definitely reminds me of a celebrity engagement ring, especially since it costs more than some people's houses. Buy here for $360,000.
Brown Diamond Rings
Along with yellow diamonds, brown diamonds are the most common natural coloured diamonds. They can be found ranging from deep, chocolate shades, to the extremely popular pale champagne color.
Camden Ring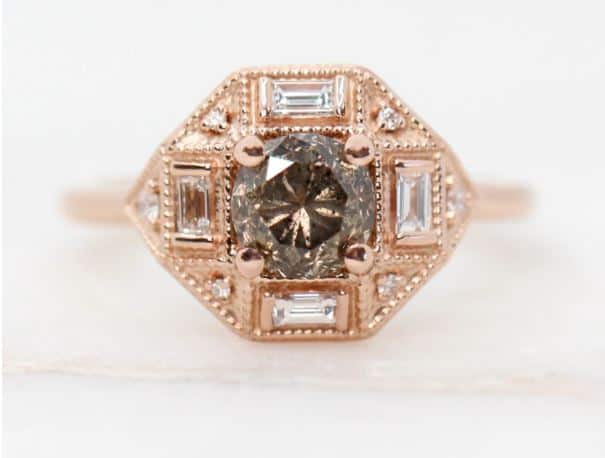 I think this vintage-inspired art deco style ring is so unique, though it may be a little difficult to pair a wedding band with it. The rose gold setting really brings out the beautiful warm tones of the brown diamond, and the round and baguette accent diamonds frame the center stone so nicely. Buy here for $3,150.
Imani Ring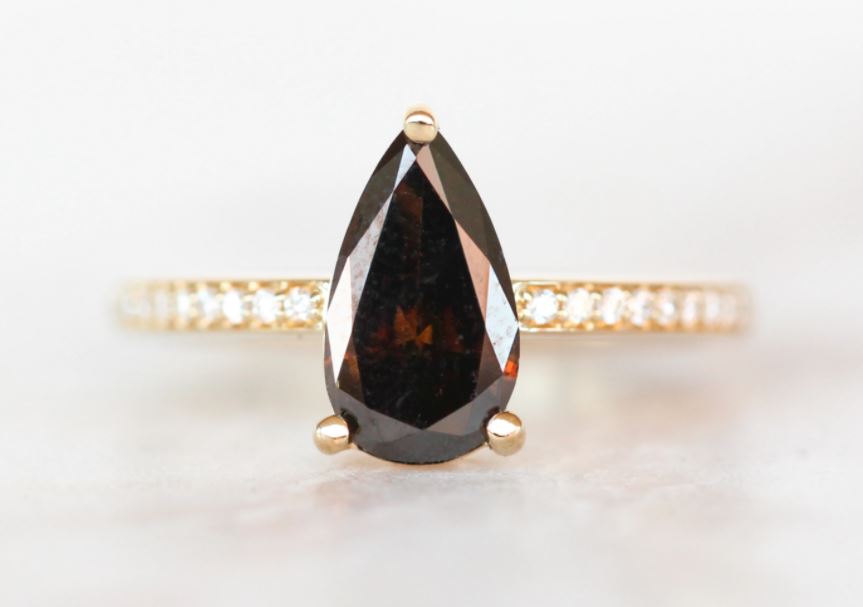 The slender yellow gold band with white side stones pairs perfectly with this warm, opaque brown pear cut diamond. I think this ring is really sophisticated. Buy here for $3,550.
Imogene Ring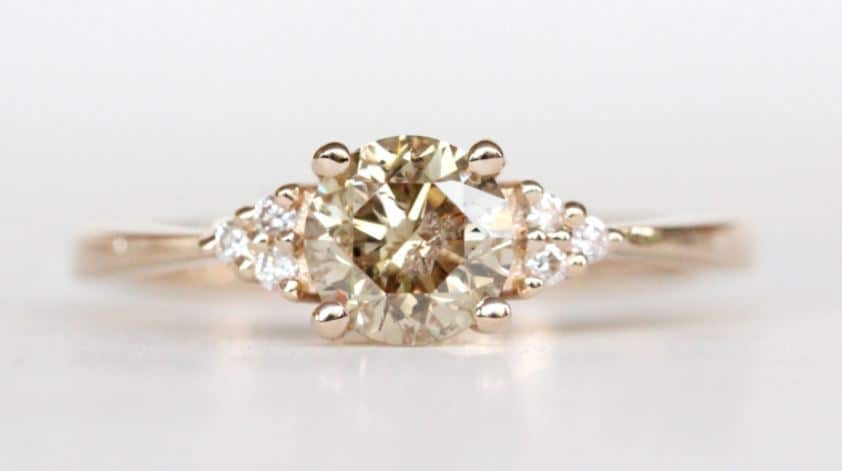 I think this is such a lovely example of a champagne-coloured diamond. Champagne diamonds are soft, yellow-brown diamonds the color of the most celebratory beverage. I adore the accent diamonds on this ring, and think this is a lovely, romantic coloured diamond for someone who still wants something a little more traditional. Buy here for $3,300.
Black Diamond Rings
Black diamonds range from natural, speckled black diamonds that contain spots of translucent clarity to opaque black diamonds, which are usually heat treated.
Veronica Ring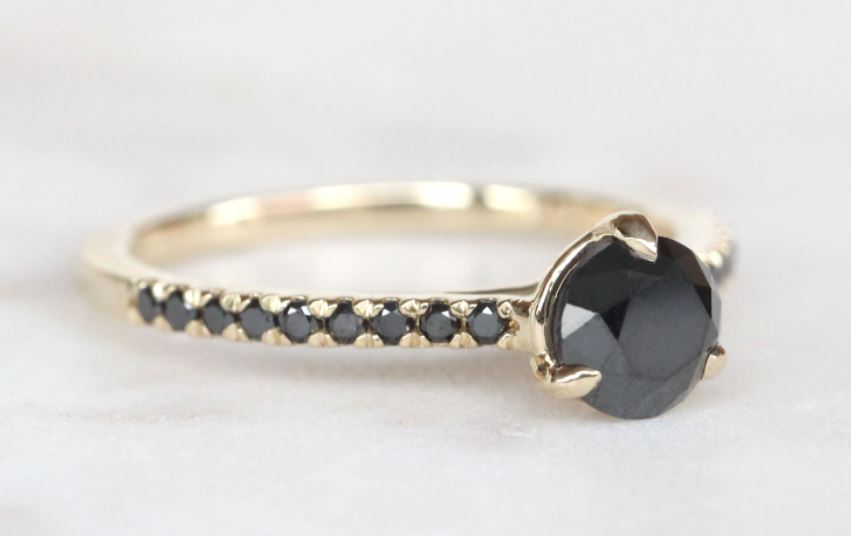 I think this ring is so chic. The pitch black center diamond and 18 accent diamonds are impactful and ultra-classy. The gentle, almost imperceptible taper of the band is such a lovely, elegant detail. I think this is the ultimate black diamond engagement ring. Buy here for $2,150.
Unusual Round Black Diamond Ring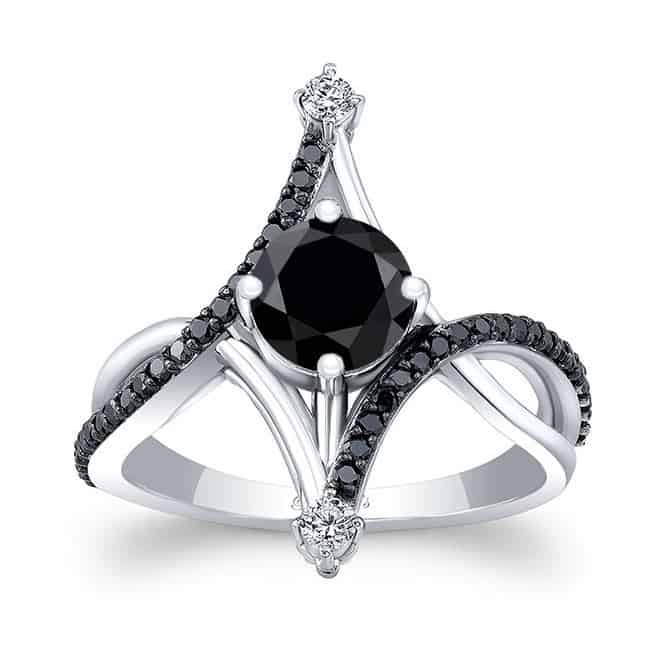 I think the name of this one says it all. If you're looking for a black diamond engagement ring, chances are you're looking for something that's going to make an impact, and this ring certainly does that. I'm not even going to pretend that everyone will be into this ring, but if you're looking to make a statement, it doesn't get much more bold than this. Buy here for $3,075.
Black Diamond Flora Ring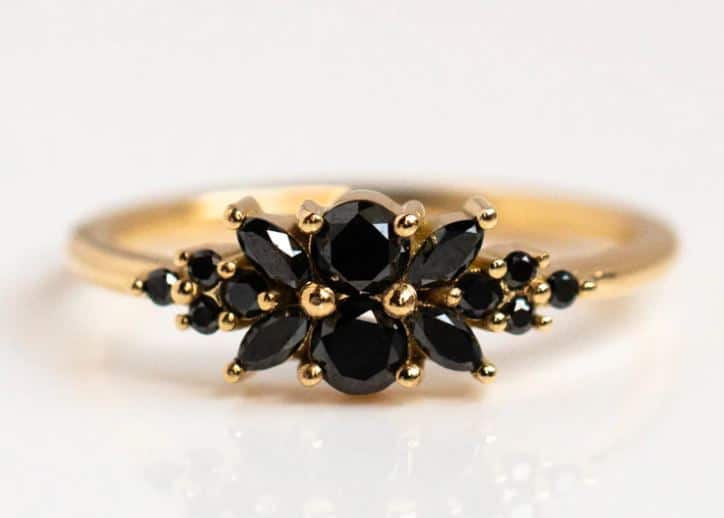 This is another unconventional black diamond engagement ring. I love that this ring forgoes the traditional single center stone in favor of a flowery cluster of dark diamonds. There's almost a graceful movement to this ring, which makes it a lovely, romantic option for an engagement ring. Buy here for $1683.
Gray Diamond Rings
I could wax poetic about gray diamonds all day. I think they're absolutely lovely and so romantic, especially when they contain a lot of constellation-like inclusions. Gray diamonds can be deep charcoal to very light, misty shades, and include the salt and pepper diamonds we all love so much.
Eleanor Ring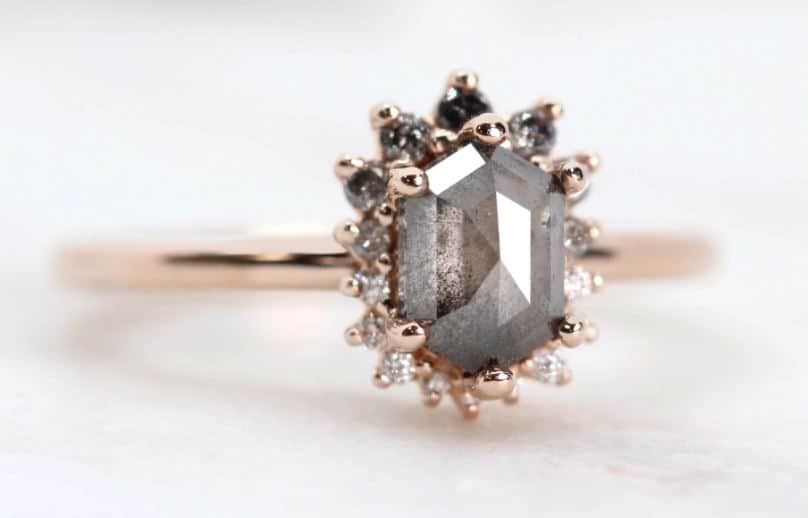 This smoky gray center stone is so magical. I love the tiny dark inclusions scattered across it. My favorite part of this ring, however, is the ombre halo of white and gray salt and pepper diamonds encircling the center stone. It truly is a gray diamond lover's dream! Buy here for $3,250.
Aurora Ring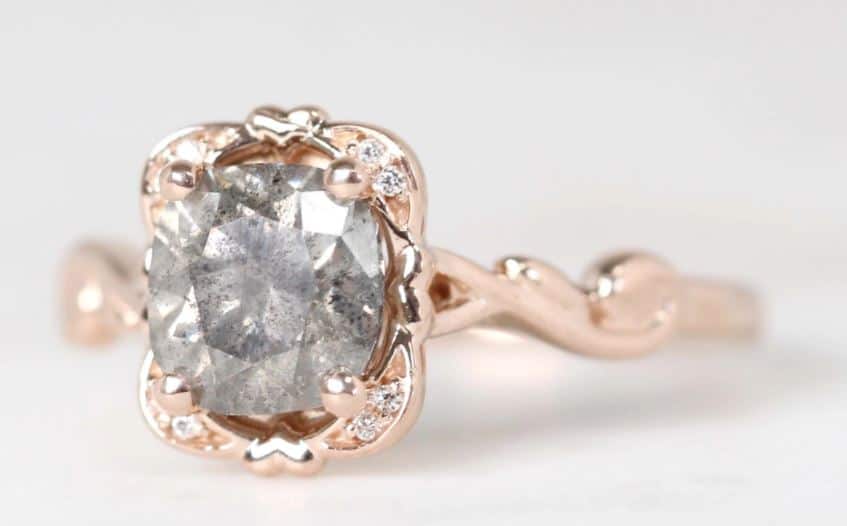 This stormy gray diamond reminds me of a vintage leaded glass mirror. It's romantic and mysterious, and the unusual vintage-inspired setting and tiny accent diamonds only add to it's intrigue. Buy here for $4,550.
Olive Ring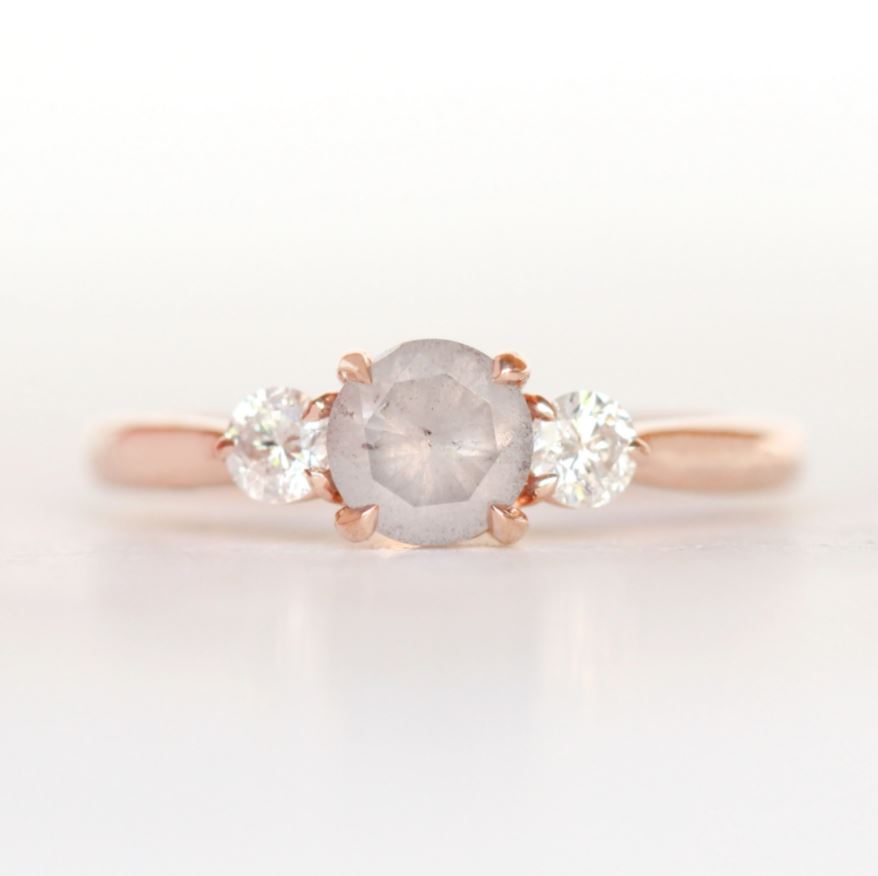 I think that this misty gray diamond is so dreamy! I love the smoky opacity of the center stone and the subtle black inclusions. I think that this ring is a great traditional-looking ring that's still unique and intriguing. Buy here for $3,250.
FAQ
Question: What colors of diamonds are there?
Answer: Both natural and lab-grown diamonds can be found in all of the colors of the rainbow, as well as black, brown, gray, white, and of course colorless. Coloured diamonds are rarer than colorless diamonds, and some colors can be quite expensive.
Question: What is the rarest color diamond?
Answer: Natural red diamonds are the rarest color of diamond. There are only a handful of them in the entire world.
Question: What color diamond is the most expensive?
Answer: Natural red diamonds tend to be the most expensive, because they are so rare, but the cost of a coloured diamond has a lot to do with how vivid the color of the diamond is. Pure, vividly coloured diamonds are often more expensive than less saturated colors or diamonds with strong secondary colors.
Question: Do purple diamonds exist?
Answer: Yes! Both purple and violet (a bluish-purple) diamonds exist naturally, but they are quite rare. Lab-grown purple diamonds are easier to find and less costly than natural purple diamonds.
Question: What is the most common color diamond?
Answer: Yellow and Brown diamonds are the most commonly occurring natural diamonds.
Question: What is the cheapest color of diamond?
Answer: Brown, yellow, and gray (including salt and pepper) are generally the cheapest coloured diamonds. This is because they are the coloured diamonds most commonly found in nature.
Final Thoughts
If you're in the market for a coloured diamond, you may want to consider looking for a lab-grown diamond. Natural fancy diamonds are very rare and can be prohibitively expensive. If you have your heart set on a natural diamond, working with a jeweler to create a custom ring might be the way to go. Either way, I hope you'll find inspiration in this article that helps guide you through finding or designing your dream engagement ring!
If I had to choose just one ring on this list, my pick would be the Green Diamond Solitaire Ring from Local Eclectic. I just can't get over that color! I think this ring is sweet and simple, and it really lets the color of the diamond shine.