Latest posts by Jeanette Kierstead
(see all)
Stackable rings are ones that can fit on top of each other on your finger to create a design that is all your own. You can buy separates and stack them in any way that you wish. When stacking, you don't have to worry about sticking to one color band. You can mix and match colors and styles. It's a great way to let your style and personality shine.
These stackable rings are all approximately 100 dollars or less on Amazon, so they're incredibly affordable gold rings, which means you can purchase more than one.
---
Tri-Color Link Ring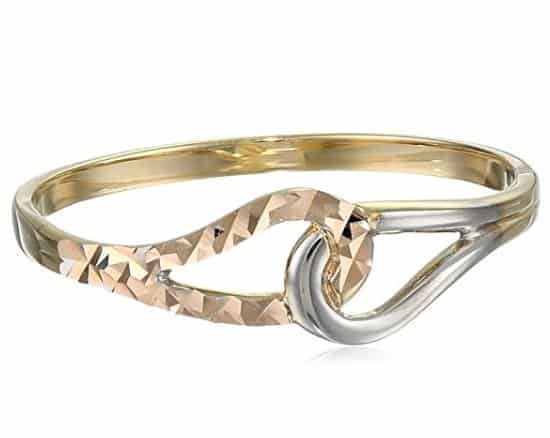 Tri-color rings usually signify the three aspects of a loving relationship. The white or silver represents enduring friendship. The yellow gold represents loyalty, and the rose gold is meant to represent true love. The tri-color link ring is delicate and petite. It looks really pretty on a small hand, or it can be stacked with other rings. With the variety of colors, it will match rose gold, white gold or yellow gold stackable rings.
14k yellow gold
White, rose- and yellow-gold shapes
Width is 0.25 inches
Length is 0.75 inches
---
Yellow Gold Braided Ring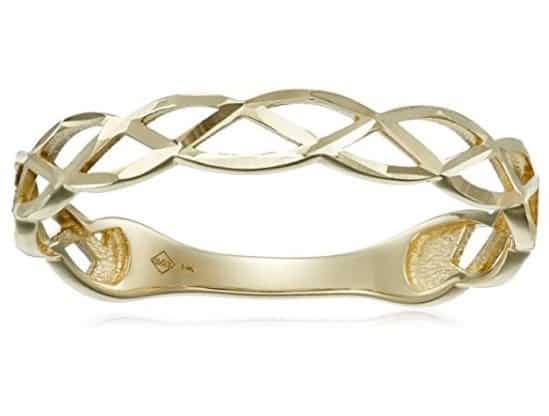 This cute, stackable ring can be worn daily since it'll keep its shape. The ring has a nice sparkle due to the way the braids were cut. With the design being incredibly flat and slim, it can be worn during your daily activities without getting in the way. This is also what makes it the perfect stackable ring. It can be worn side by side with other rings or on the same finger to create a unique design that's all your own.
Yellow, 14k gold
Width is 1.5 millimeters
Weighs 0.8 grams
Rose Gold Rope Band
---
14k Gold 1mm Rope Band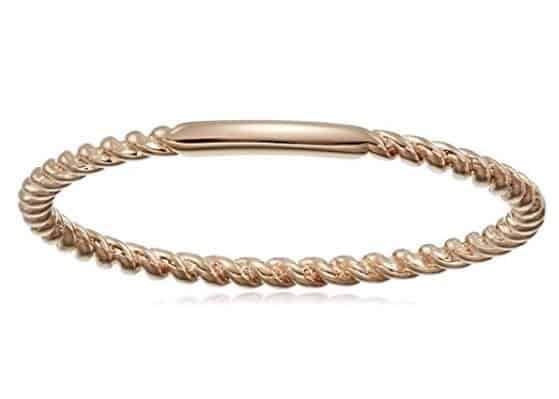 This stackable ring is a slim 1mm wide, which makes it fantastic for stacking multiple bands of various colors. Whether you add more rose gold bands or switch it up to add other hues like white or yellow gold, it'll look great stacked all on one finger or across a few fingers on each hand. The twisted rope design has an added element of texture.
14 rose gold
Thin, rope band
Stackable with other slim rings
1 millimeter
0.9 grams
---
Simple Stackable Band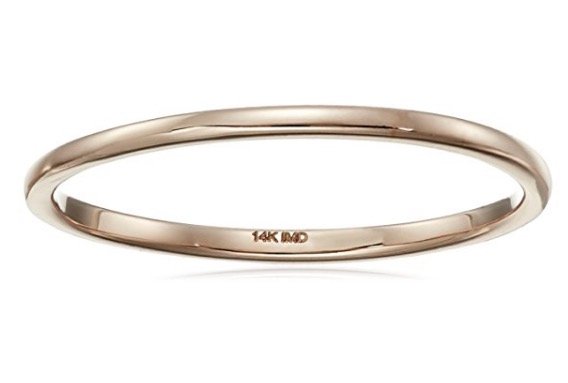 A simple, rounded band in rose, yellow or white gold can be stacked with others to create a unique affect that will make you stand out from the crowd. If you purchase it in a smaller size, you can wear it as a midi ring, which is a ring that sits on the top half of the finger. You can choose to wear all the same color if you wanted too. When they're stacked together on one finger, they look like a very expensive arrangement.
14k white/rose/yellow gold
1.3 millimeters
0.8 grams
Curved Wave Thumb Ring
---
Thin Comfort Fit Curved Wave Thumb Ring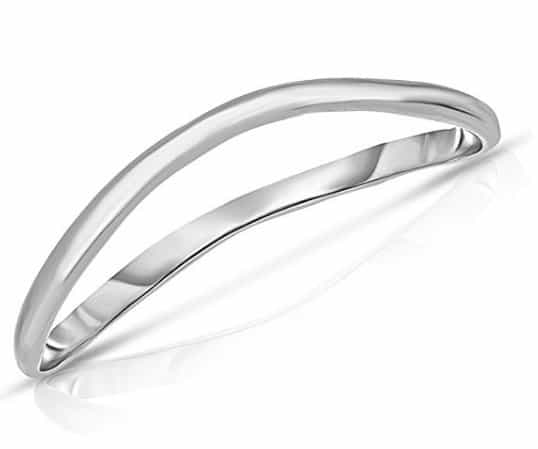 The unique shape of this ring makes it stand out from the crowd. It's slim yet has a slight wave to it. This ring is made to fit specifically on the thumb, and you'll hardly realize you're wearing a ring there. It's designed to be incredibly comfortable. It can be stacked with more wave rings or other types of stackable rings on other fingers. You don't have to wear it on the thumb. Change things up for a different look.
10k white/yellow gold choices
---
Stackable 14k Yellow Gold Gear Cut Mid Finger Band Knuckle Ring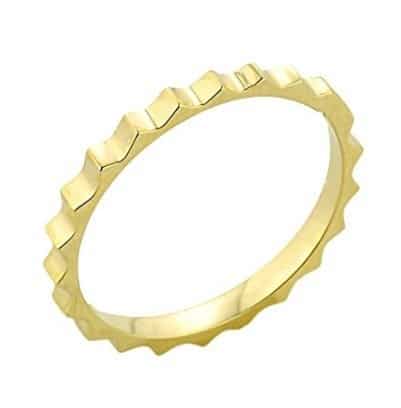 This midi finger ring fits on the finger between the middle of the finger and the tip. It's made to look like a tiny gear with small spikes. This modern, unique ring is made for a woman who's not afraid to be stylish. It's elegant while still being incredibly fashionable. This can be stacked with other midi rings since it's so slim.
14k yellow gold
Width is 1.7 millimeters
Weighs 0.80 grams
---
Sideways Cross Midi Finger Ring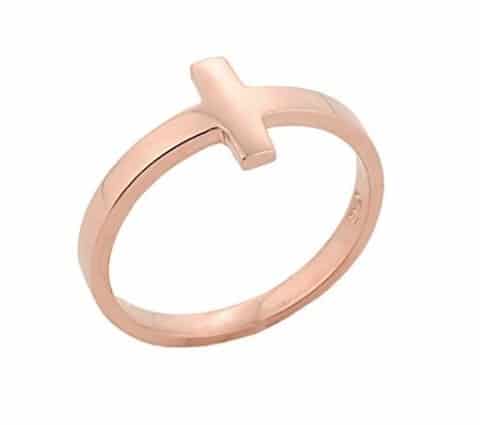 This trendy ring is a sideways cross for those who want to be stylish while celebrating their beliefs. The midi finger ring sits on any finger between the knuckle and the tip comfortably. The ring is made of polished rose gold in a size that fits delicately on your skin. You don't want something bulky and heavy on the mid-part of your finger, so this ring is perfect. You might choose to slip this ring on the midi finger along with other styles too.
14k rose gold
Width 1.7 millimeters
Weighs 1 gram
---
You can mix and match colors and styles when choosing stackable rings. Be a rebel and choose a set of stackable rings that speaks to your own style. Don't be afraid to be bold in your color choices. The only real guidelines you should follow is that they're thin enough to be stacked together comfortably.