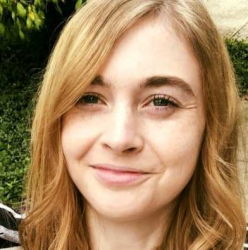 Latest posts by Erin Jamieson
(see all)
As someone who's written for the bridal industry for years, I know just how much trends can change– from buying wedding dresses online, to more recent moves towards diamond engagement ring alternatives.
One of the most interesting trends calls for a reversal of the obsession with a clear diamond: couples are opting for salt and pepper diamond rings.
Salt and pepper diamond join many surprising 2021 engagement rings trends, including rings with mixed textures and colors, asymmetrical rings, a move towards color with green, teal, and blue sapphire rings, geometric shapes with baguette cuts, and chunky modern looks. There's even a move toward three stone engagement rings, which industry experts think may be linked to Meagan Markle's engagement ring.
Of all these trends, though, salt and pepper diamond rings felt perhaps the most surprising to me. While there has been a move towards gemstone rings and more modern styles for some time, the salt and pepper diamond trend puts a spin on the classic diamond engagement ring for a unique and distinctive look.
The question is: is a salt and pepper diamond right for you? In this article, I'll tell you everything you need to know about salt and pepper diamonds, the best ideas for salt and pepper diamond rings, and how to find one that matches your style and budget.
What is a salt and pepper diamond?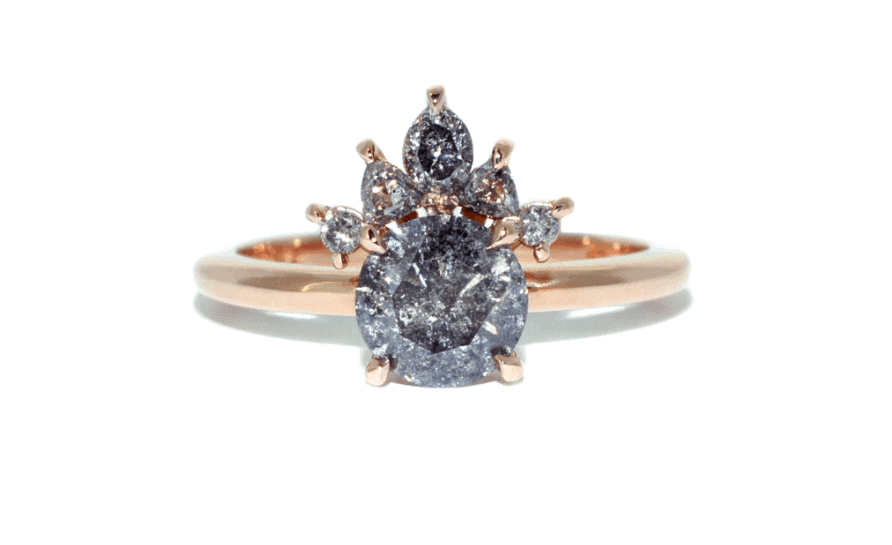 A salt and pepper diamond is actually no different than a regular diamond– it's a diamond with many inclusions or flaws. These flaws are what give a salt and pepper diamond its speckled white and gray appearance, hence the name.
In order to understand what a salt and pepper diamond is, and how it's classified, I'll first go over what it means for a diamond to have inclusions.
What are diamond inclusions?
Diamond inclusions refer to the flaws on the surface of a diamond, which include variations in shape, size, but also color. A diamond is rated by inclusions through professional organizations, including the Gemological Institute of America and the American Gem Society. In reality, a flawless natural diamond does not exist, though some are rated as nearly flawless.
Inclusions, also known as laws, include both external and internal properties. While flaws may sound like a negative label, flaws are also what mark natural diamonds as unique from one another.
Inclusions can include discoloration, differences in shape or size, and internal imperfections, such as structural issues. While some inclusions are obvious– like discoloration–others must be examined under a microscope. In fact, some more serious inclusions are the ones the average person cannot readily detect.
How are diamond inclusions rated?
While some inclusions are classified in other ways, for our purposes when discussing salt and pepper diamonds, we are referring to external, or surface-level coloration–as opposed to internal or structural inclusions.
Surface level inclusions are rated in terms of clarity; in fact, not all diamond inclusions are immediately obvious even on a surface level, Clarity refers to the ability for light to reflect off of the diamond surface, which greatly influences the fire, brilliance, and scintillation or 'shine'.
Diamonds are rated on a scale of clarity, with flawless being the most valuable, and Included being the least valuable and least transparent of brilliant. Below is the GIA's official standards for determining clarity, word for word from their website:
Flawless (FL) No inclusions and no blemishes visible under 10x magnification
Internally Flawless (IF) No inclusions visible under 10x magnification
Very, Very Slightly Included (VVS1 and VVS2) Inclusions so slight they are difficult for a skilled grader to see under 10x magnification
Very Slightly Included (VS1 and VS2) Inclusions are observed with effort under 10x magnification but can be characterized as minor
Slightly Included (SI1 and SI2) Inclusions are noticeable under 10x magnification
Included (I1, I2, and I3) Inclusions are obvious under 10x magnification which may affect transparency and brilliance
As such, salt and pepper diamonds would be rated under the "included" designation, due to the fact that they have surface-level variations that impact brilliance.
What are the pros and cons of a salt and pepper diamond?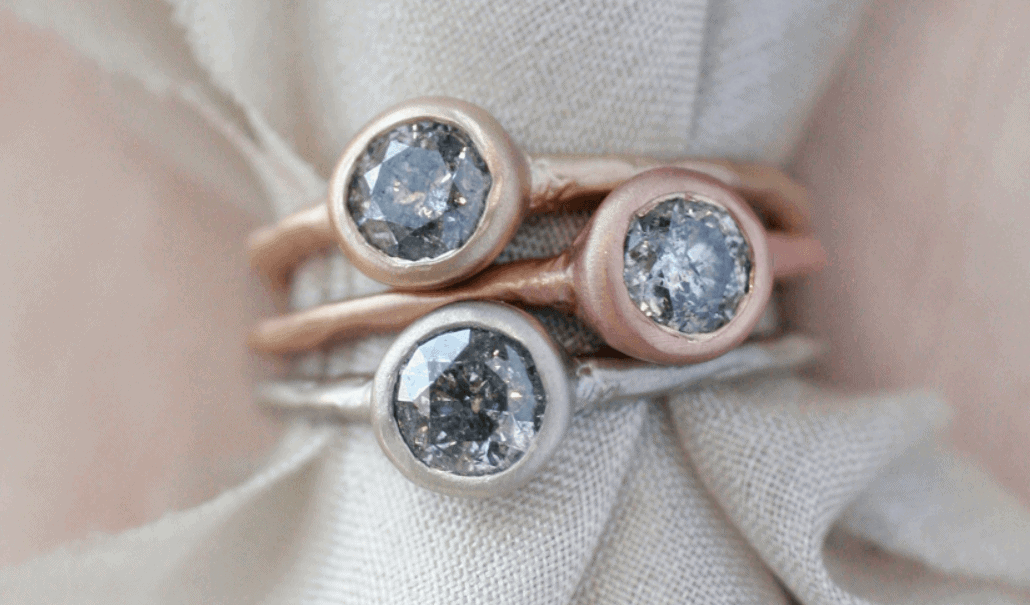 A salt and pepper diamond is not for everyone– but I do recommend giving it considered as one of the best modern alternatives to a regular diamond. While diamonds are usually most praised for their brilliance and clarity, salt and pepper diamond defies conventions and offers some pluses of its own.
Pros
There are a few reasons to love a salt and pepper diamond. Salt and pepper diamonds and unique and perfectly suited for the less conventional couple.
These diamonds are more affordable, leaving your wiggle room to spend on a larger carat, more expensive metal type, or even for planning a Hawaiin honeymoon. The unique look ensures the diamond will feel unique to you and make you stand out.
Are salt and pepper diamonds conflict-free?
In addition, salt and pepper diamonds tend are more often ethically sourced and conflict-free. While you can find many companies, like Brilliant Earth, that are supportive of ethical and sustainable sourcing for all diamonds, salt and pepper diamonds are less linked to harmful practices and labor concerns, in part because they are simply less valuable.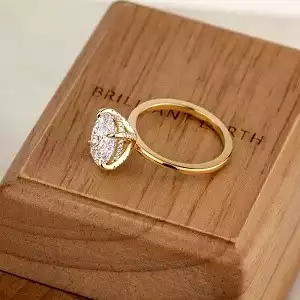 Planning a Proposal?
Make that proposal happen! Get started designing and create an engagement ring as unique as the wearer. To help pull off the perfect engagement, head over to Brilliant Earth's proposal guide.
Check Prices
We earn a commission if you click this link and make a purchase at no additional cost to you.
Are salt and pepper diamonds as durable as regular diamonds?
While they may be less valuable than traditional diamonds, salt and pepper diamonds are the closest diamond alternative, in that they are structurally the same and have the same hardness and toughness rating as a diamond.
Cons
How valuable is a salt and pepper diamond?
A salt and pepper diamond is worth less than a traditional diamond rated high on the clarity scale. While this can also be a plus in terms of affordability, this could be a downside to anyone who is concerned about their ring having value.
Do salt and pepper diamonds sparkle?
Another downside to salt and pepper diamonds is the level of sparkle. That isn't to say it doesn't sparkle at all; a more helpful way to think about it is a unique and more subtle scintillation.
Light is refracted and appears more milk to gray in some places, while other places may have more traditional shine. The sparkle is not uniform and unique depending on the diamond and how the light hits it. But for those looking for the most brilliance, or uniform brilliance, a salt, and pepper diamond may not be the best option.
Is it easy to find salt and pepper diamonds?
Another con I need to mention is availability. Though salt and pepper diamonds may be on the rise in terms of trends, they still are sold far less often than other diamonds. For one, as they are less valuable and still less popular, there is likely less incentive to sell them.
For another, not every diamond with inclusions is seen as presentation worthy or classified as a salt and pepper diamond. Salt and pepper diamonds still need to be internal sound as well. They are unique, and you'll have fewer options than you would for other diamonds (which also includes lab-grown diamonds).
My Ideas: Salt and Pepper Diamond Rings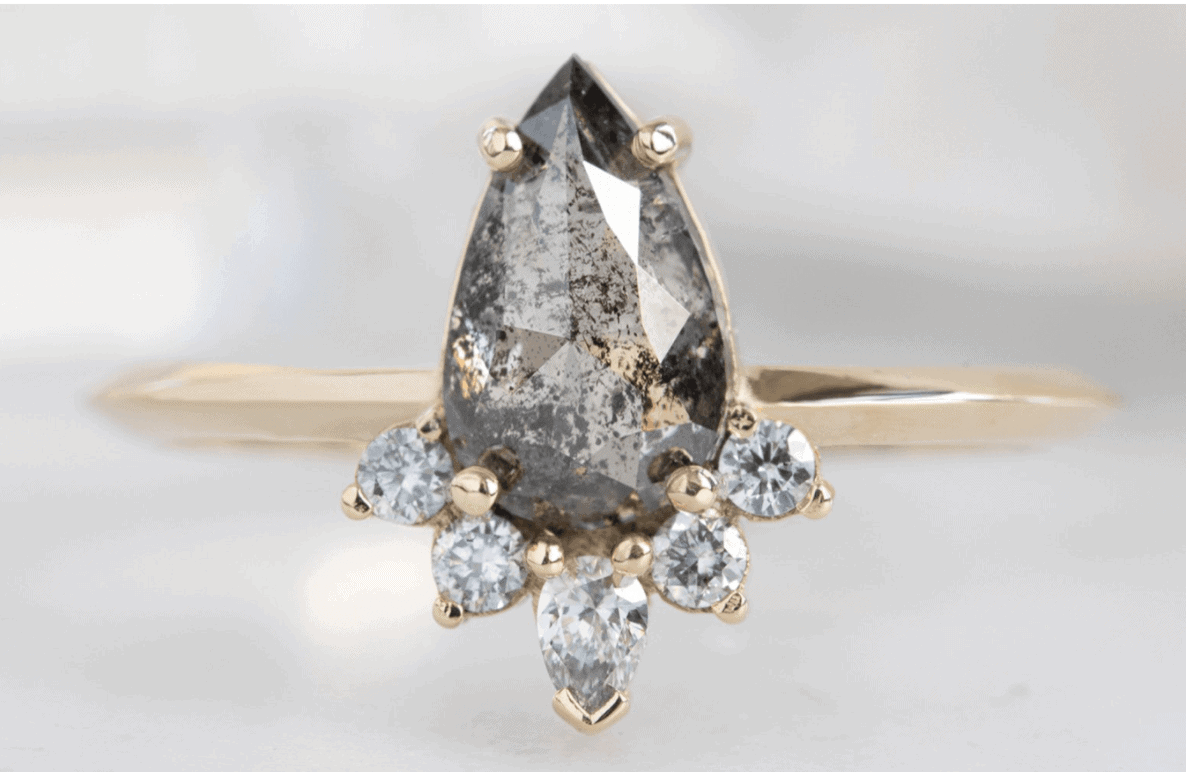 Now that I've told you about the differences between a salt and pepper engagement ring vs a traditional diamond ring, as well as the pros and cons, I'll give you some examples of salt and pepper diamond rings you can buy online. I've done my best to select from reputable companies with reasonable prices and quality products, as well as a variety of styles.
Before I give my examples, though, note that you can also wear salt and pepper diamonds even as a beautiful wedding anniversary gift, or in another form for a special occasion. In fact, a salt and pepper diamond would make a perfect jewelry to pair with a black dress.
Described as an alternative, mysterious, smoky, and still elegant, the salt and pepper diamond look is beautiful for the daring couple or person who wants to show off their unique style. Here are my top picks.
Salt and Pepper Diamond Ring Collections
Under this category, I'm including two companies that offer more extensive options for salt and pepper diamonds. While many companies offer only a handful of options at a time, the following have several designs and styles to select from.
For Beautiful Geometry: Alexis Russell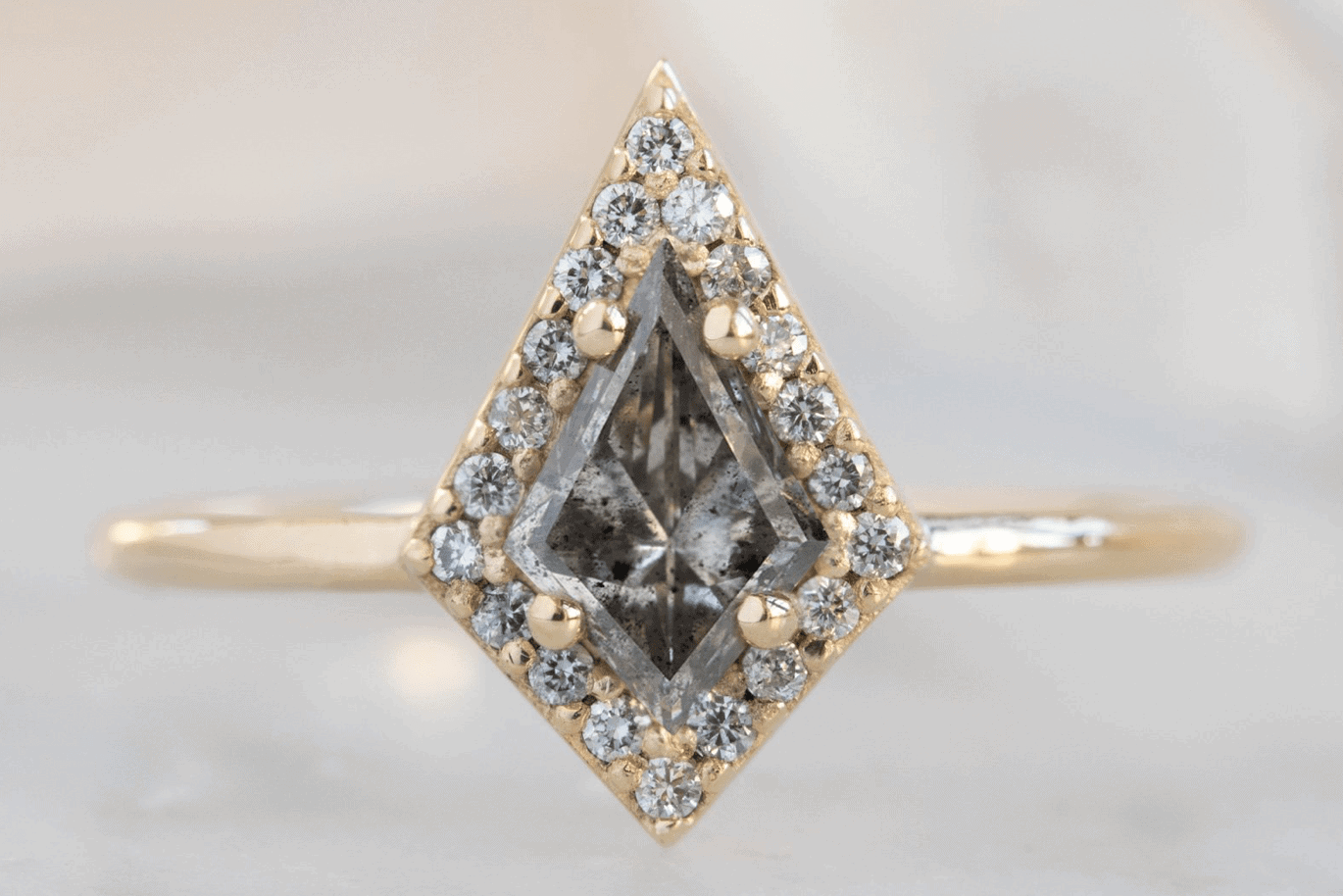 Alexis Russell offers three pages worth of gorgeous salt and pepper diamond rings to choose from, priced at $2,700 to $8,700, with many options around three thousand dollars. Most of these rings strike me as incredibly unique in construction, following trends of asymmetry, unique geometry, and a bit of classic touches.
From minimalist to elegant, salt and pepper diamonds are the star, situated on 14K rose gold, yellow gold, and white gold. All diamonds are ethically sourced and GIA certified, with the option for customized engraving.
My favorites in this collection include the opulent Dahlia Ring, which features a halo design; the Aster Ring, for its vintage beauty; and the Sage Ring for its simple and sleek modern design. Shop the entire Alexis Russell salt and pepper diamond collection Here.
For Loose Diamonds & Variety: Point No Point Studio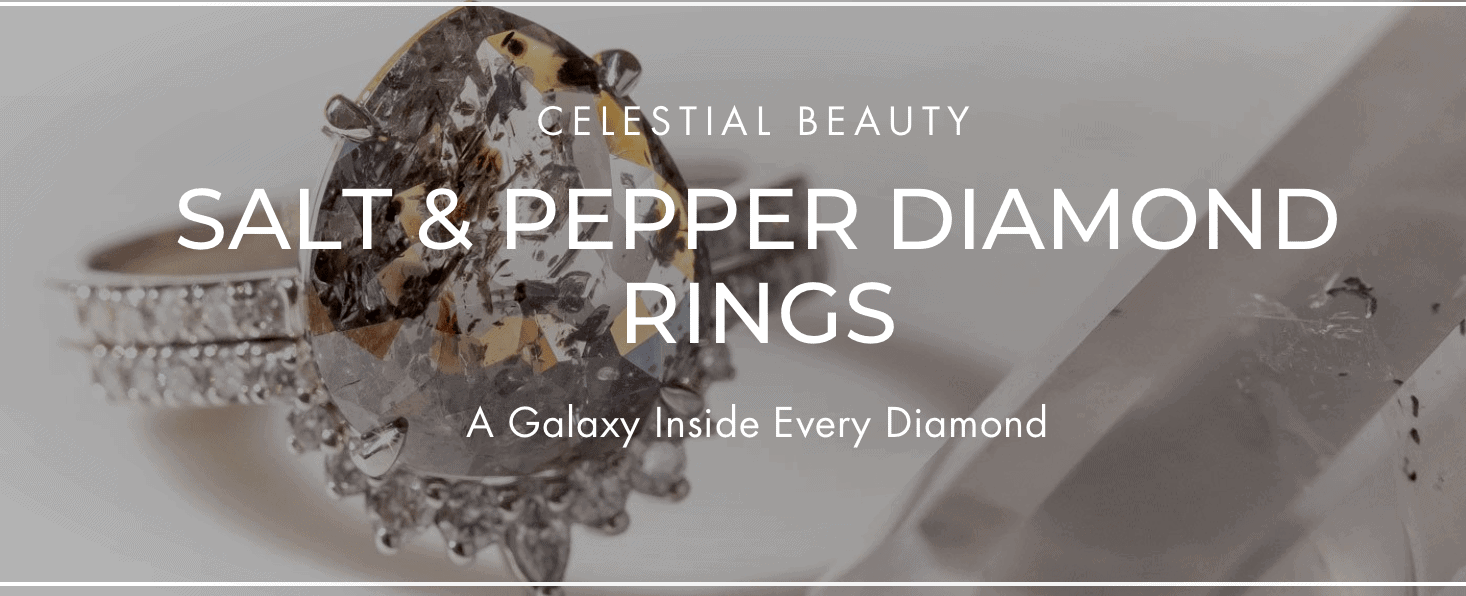 If you're looking for a loose salt and pepper diamond, and want as many options as possible, then the salt and pepper diamond collection from Point No Point Studio may be a reasonable option for you. You can buy salt and pepper diamonds in about every shape you can imagine from pear and marquise shapes to round brilliant diamonds and everything in between.
Their engagement ring collection is priced at $2,800, for a .79 carat diamond on 14K yellow gold, to $7,800 for a 3.06-carat diamond on 14K rose gold. Most rings feature a slender band, with options for solid metal and diamonds along with the band. 14K yellow, white and rose gold is the standard. Compared with Alexis Russell, there is a little less focus on unique geometry and more on touches of classic glamour.
My favorite engagement ring from this collection is this opulent and timeless 1.06 carat Marquise Ring.
Etsy
Etsy is not, of course, one seller, but a source of many individual and small sellers. Etsy happens to have a large collection of salt and pepper diamonds, many priced around or even below $1,000. I love that these rings are unique, and may offer designs you can't find elsewhere. In addition, I also always love the idea of supporting small and individual creators.
The downside is that many of them may not have the more stringent standards for ethical sourcing, and you also may not get as much information in terms of diamond grading, if those factors are important to you.
On the other hand, Etsy is also a one-shop place if you want to find vintage rings. Vintage salt and pepper diamond rings are quite hard to find, and Esty really does have a decent collection.
Some options that caught my eye include: this elegant but simple Vintage Salt and Pepper Diamond Ring featuring an Art Deco design on a rose gold band; a modern and slightly industrial Raw Salt and Pepper Diamond Ring; and this Unique Salt and Pepper Diamond Bridal Set for a nature-inspired ring.
You can shop all salt and pepper diamond rings here.
Individual Rings
Of course, you aren't limited to just two companies. I've also found some individual selections for salt and pepper diamond engagement rings that are also beautiful and reasonable prices.
Sofia Kaman Organic Salt and Pepper Diamond Ring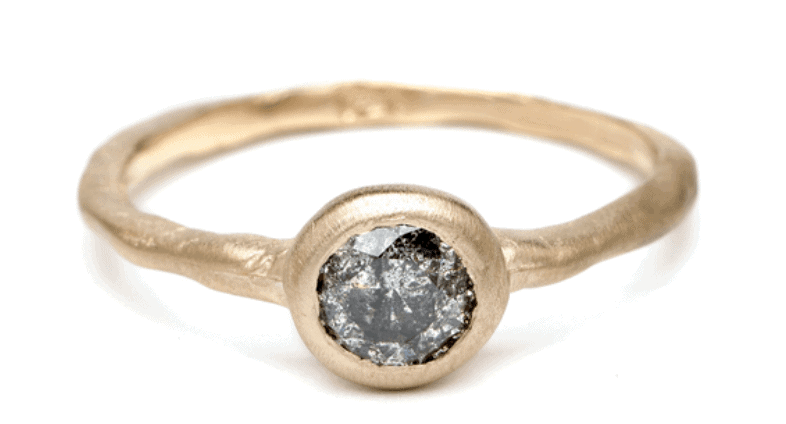 Priced at just slightly over $2,000, this affordable salt and pepper diamond ring option is available on 14K rose, yellow and white gold, and either a matte or shiny finish. Described as a twist on a classic, the 0.5 carat diamond is in a round brilliant cut and conflict-free, centered on a bezel setting, with a textured band for added dimension. Buy Here.
Lilia Nash Salt and Pepper Diamond Ring in 18K Gold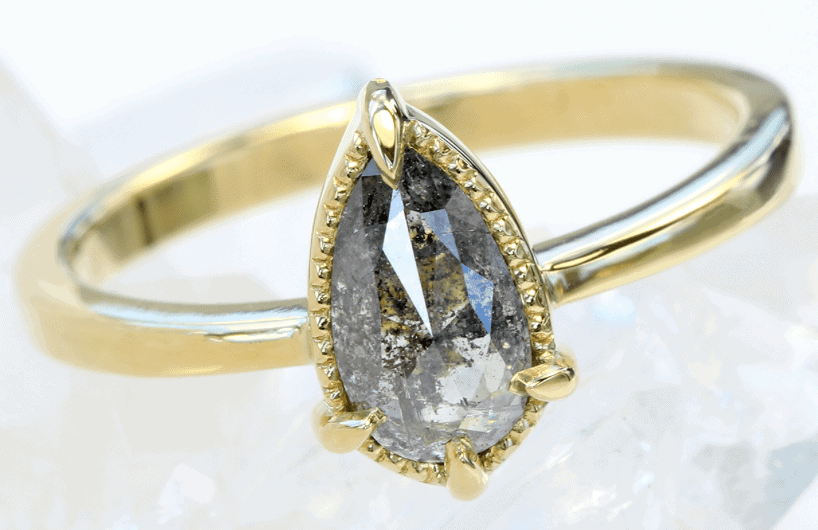 All Lilia Nash pieces are handmade, with ethically sourced gemstones. Though this is a specific size, the ring can be resized within their sizes and is a stunning option on 18K yellow gold.
The unique pear-shaped pears beautifully with a solid band and also stacks well with a plain or diamond wedding ring. The 0.97-carat diamond is a beautiful modern look for the unconventional person, with still classic appeal. It retails for just under 2,000 British pounds. Buy Here.
Lilia Nash Emerald Cut Salt and Pepper Diamond Ring in 18K Gold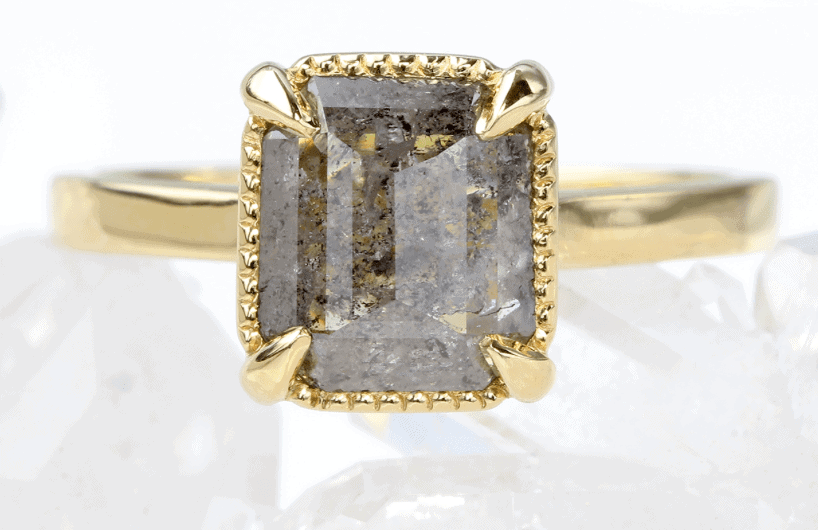 This emerald cut salt and pepper diamond ring are set on an 18K yellow gold band with, especially unique inclusions. I love the sense of dimension and texture this ring has, and the smoky appeal is distinct as well. Priced at a little over 3,100 British pounds, it's a unique design that does not call too much attention to itself. Buy Here.
FAQs
Question: How much are salt and pepper diamonds worth?
Answer: Due to inclusions, and less brilliance, salt, and pepper diamonds are not as valuable as some other diamonds– including both nearly flawless and rare fancy colored diamonds, like blue diamonds. However, they are more expensive than diamond simulants or some gemstones. The price ranges greatly depending on the 4 C's of diamond buying (clarity, cut, color and carat) and can range from as little as $150 up to $1500 per carat.
Question: What is a grey diamond ring?
Answer: While a salt and pepper diamond appears speckled white and gray, or even almost black, a gray diamond is more uniform in appearance. While quite rare, due to low demand, gray diamonds are not expensive like fancy colored diamonds are.
Question: What is a champagne diamond?
Answer: A champagne diamond is a colored diamond that appears brown with yellow undertones. While they can be dark brown to quite light, perhaps the most popular hue, as the name implies, is close to the color of champagne.
Final Thoughts
A salt and pepper diamond ring may not be the best option for everyone–it won't exhibit the same brilliance as other diamonds–but what it can do is provide a stunning and unique look– and often at a more affordable price.
Still, contemplating? If you're considering going the gemstone route, here are the best places to buy gemstones online.