Latest posts by Jeanette Kierstead
(see all)
When purchasing a diamond engagement ring, it's important to consider the entire bridal ring set. Traditionally, the engagement ring is placed on the finger during the proposal and a wedding band is slipped on her finger during the ceremony. While this can be a plain band, it's often more stunning and gorgeous to have a set that meshes together beautifully.
Our Favorite Bridal Ring Sets
If you've already given her an engagement ring, the two of you might consider upgrading to a wedding set that is made to work in a pair. These kind of rings make lovely anniversary gifts for your love, too.
Diamond Ladies Bridal 3 Stone Engagement Ring with Band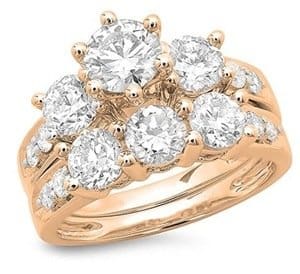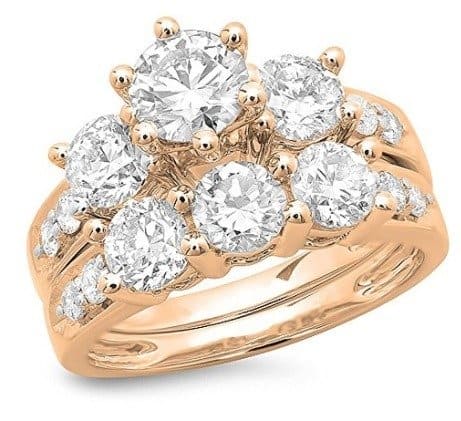 We chose this lovely bridal ring set for the list because it comes in a variety of metal colors; white gold, yellow gold, and rose gold. We also chose it because it's a unique looking ring. There are five medium diamonds and one large as the main feature of the ring. In total, there are 14 diamonds on the two bands. The large diamond is 0.74 carats, the five medium diamonds are a total of 2.02 carats and the rest are 0.34. The round diamond has a minimum color of I-J and a clarity of I1-I2. It comes in sizes 4 through 10. The diamond bridal ring set that you choose when asking that all important, life-changing question can make a huge difference in her response. With this ring, she'll definitely say a huge YES!
---
3 Stone Vintage Milgrain and Filigree Bridal Set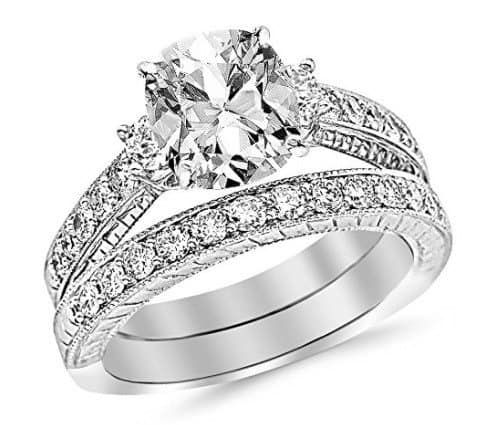 While the previous ring had a unique looking engagement ring, this is more of what people picture with an engagement ring. Yet, it has some very special details. There's one large stone with two side stones. That main setting trails away in diamonds on both sides. There's milgrain and filigree on the sides of both bands for a vintage feel. This might be one of our favorites on the list. The band comes in yellow, white, and rose gold as well as platinum. The main diamond is a cushion cut 0.50 carat diamond with a minimum color of F and a clarity of VS2. It comes in sizes 3 through 11 and can be resized easily. The natural, untreated diamonds have a total carat weight of 1.53.
---
Kobelli Diamond Engagement Ring and Wedding Band Set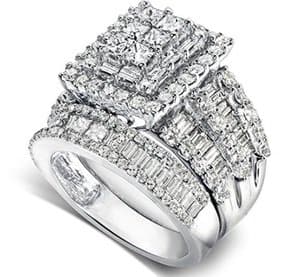 This ring comes in 14k white gold with an invisible setting. This ring is quite unusual, but we love the unique around here. The table of the ring has 8 princess cut diamonds totaling 0.75 carats. There are baguettes surrounding the center and a halo of round diamonds after that. Layer after layer of diamonds are truly exquisite. The channel of baguettes on both sides of the ring and in the wedding band give the ring so much style. If you wanted to blind all your friends with the sparkle and shine of your ring, this is the choice. It comes in sizes 4 through 10 and can't be resized because of the intricate detail on the bands.
---
Blue Sapphire and Diamond Wedding Ring Set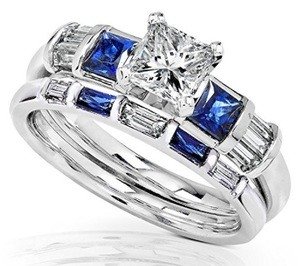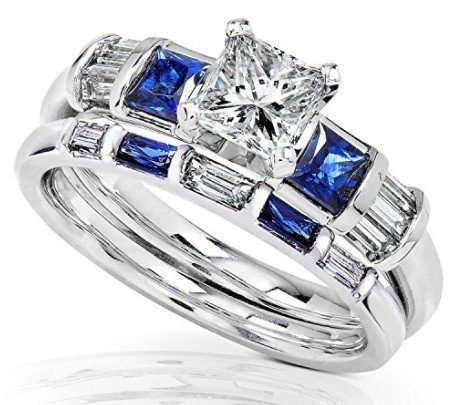 Not all bridal ring sets have to be diamonds. While this one has a main solitaire style diamond in the middle, the side stones are blue sapphire. The alternating color pattern between the white diamonds and the blue sapphires are truly stunning, and the wedding band has the same matching pattern. The main diamond is princess cut as well as the blue sapphires, but the diamonds are baguette. The sapphire has a minimum color of GHI and a clarity of I1-I2. The stones are natural and untreated. The princess diamond has a color of GHI and a clarity of I1-I2. This incredible bridal ring set comes in sizes 4 through 11.
---
2.08 Carat 14K White Gold 3 Row Engagement Ring and Wedding Band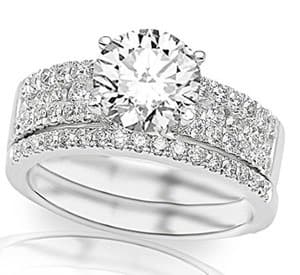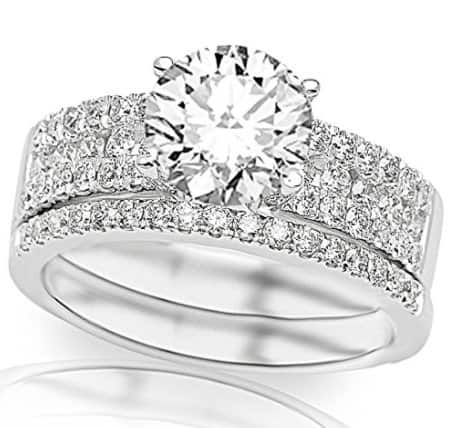 We are featuring another ring that isn't all diamonds. This ring has a 1.5 carat Moissanite stone set in the middle of three rows of diamonds in a channel on the band of the ring. The matching wedding band has a channel of round diamonds, too. The Moissanite stone is a round brilliant with a minimum color of white and a clarity of AAA. The round brilliant, channel set diamonds have a minimum color of G-H and a clarity of SI1-SI2. The ring comes in sizes 3 through 11 and is resizable.
---
Bridal Ring Sets – Final Thoughts
All of the rings featured on this list are ones that any woman would be proud to wear for her entire life. While she isn't likely to say no because of a poorly chosen diamond engagement ring, you want her to be overwhelmed emotionally and crying tears of joy when she hears you propose and sees the ring you picked for her. Any of these rings will have that impact on her.