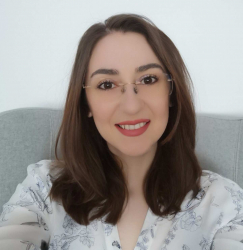 Latest posts by Alexandra Gavrilescu
(see all)
I'm pear-shaped, and I know what I'm talking about. Finding a great wedding dress for your pear-shaped body can be tricky and frustrating, especially if you're not at peace with your hips yet.
I used to strongly dislike my wide hips (I still don't like them at times, but that's a work in progress, a long process, and a topic for another time).
We're here today to discuss the best and most flattering wedding dresses that suit women with gorgeous pear-shaped bodies.
You might not feel like your hips are your strong point, but think about how so many celebrities make them work, and they look confident and charming.
Among those famous people, there are a few I want to mention before we begin: Shakira (whom I adore), Beyonce (the queen), Rihanna (hot Riri), petite, and cute Eva Longoria, and many other amazing women.
Without further ado, let's get started on the best wedding dress for a pear-shaped body topic. Below, you'll find valuable insights and tips on the details your gown should feature to enhance your beauty and flatter your body type.
My Bottom Line Up Front!
I'm petite, and my hips are strong and wider than my torso, and I chose to wear an A-line wedding gown on my big day. So, I'm biased when I say that my absolute favorite type of wedding dress is the A-line one since it's so easy to wear, comfortable, and flattering for most body types.
10/04/2023 10:53 am GMT
Best Wedding Dress for Pear Shaped Body – Top 6 Fabulous Gown Ideas
Here are the things I believe are essential to consider when you have a pear-shaped body and search for your dream wedding dress. I tried to include various useful details regarding the shape of the dress, its neckline, length, waistline, and more.
You might think that having a pear-shaped body might make it hard for you to find something flattering. Well, that's not exactly true. In fact, there are several great alternatives you can choose from when selecting your wedding gown.
Ball gowns are cinched around your natural waist, which is thinner than your hip area. Therefore, this type of wedding dress is the perfect choice for your curvy outer tighs. The skirt is made so that it covers the hips by flaring out over them. I would choose a ball gown that has a corset bodice. While the dress should be simpler, the top part of the gown could be embellished with floral patterns or lace.
That's a great way to draw attention to your waist and neckline rather than your lower body. A ball gown would be fantastic for those who are more gifted around the bust area since it will create a well-balanced figure. Basically, you'll look just like a princess.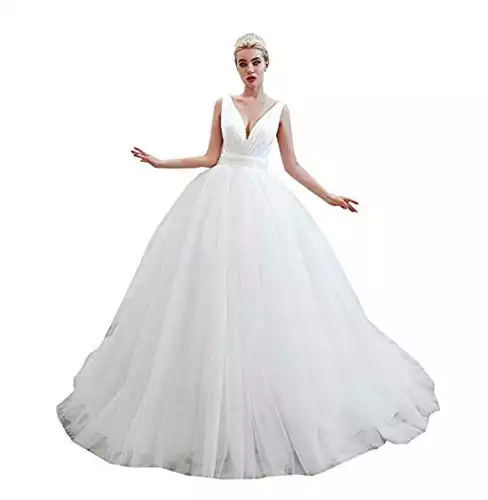 Haixiangdress Simple Satin Tulle Ball Gown | Amazon
For the bride who likes to keep things simple, this V-neck sleeveless satin and tulle backless ball gown wedding dress is a perfect choice.
Buy at Amazon
We earn a commission if you click this link and make a purchase at no additional cost to you.
10/04/2023 10:53 am GMT
This type of wedding dress is my favorite one of all. I love how flawlessly and effortlessly the skirt falls around your body without being too fluffy or tight.
It flatters all bodies, no matter the size or shape, and it's incredibly feminine and delicate. I love it so much! Writing about A-line gowns reminds me of how much I miss wearing my wedding gown. I felt so amazing in it!
A-line dresses sit gorgeously on pear-shaped bodies. The top part of these gowns are figure-hugging, and then the skirt flares under the waistline, but not as much as ball gowns. For a natural and elegant look, you should opt for an A-line wedding dress that features a high waistband to make your waistline look even smaller than it already is.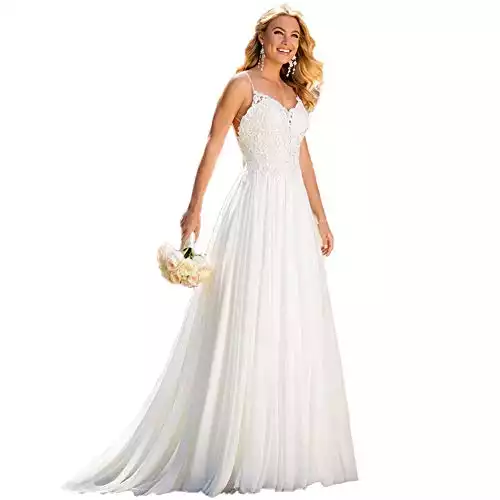 A-Line Wedding Dress | Amazon
A style beachy brides have been dreaming of, this relaxed wedding dress is made of luxurious lace and soft silk chiffon.
Buy at Amazon
We earn a commission if you click this link and make a purchase at no additional cost to you.
10/04/2023 10:24 am GMT
The empire waist dress style goes perfectly with a vintage or retro design. Empire gowns come with a very high waistline located right under the bust, making you look taller and thinner.
From under your bust, the skirt flows naturally all the way down to the hemline. This type of dress is the ideal choice for pregnant women since it's very comfortable.
Empire dresses focus the attention on your upper body, especially around your neckline, while concealing your hips. I love how these models create body definition.
However, you should go even further and achieve the illusion of a more generous bust with the help of add-on embellishments placed on the bodice. This is an excellent tip for those who, like me, are less busty.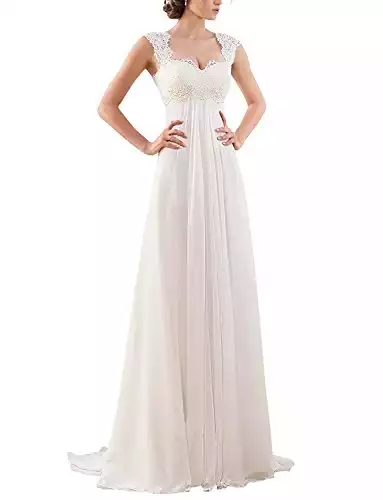 Ivory Lace Bridal Gown | Amazon
Elegant lace chiffon beach wedding dress for civil or beach wedding.
Buy at Amazon
We earn a commission if you click this link and make a purchase at no additional cost to you.
10/04/2023 10:09 am GMT
You may think that being a pear-shaped bride, you won't be able to pull off a bridal pantsuit. Well, my dear, let me convince you of the opposite. It's all in the style and the details.
You can totally look gorgeous and confident wearing pants on your wedding day, as long as you embellish the lower part of the suit with a back train.
For a highly comfortable outfit, choose a detachable train. That way, you can wear the entire set during the ceremony, and then you can take the train off and dance the night away.
Also, pantsuits instead of bridal gowns are very trendy and suitable for modern brides. Moreover, with this bold attire, you'll definitely make a statement.
You'll look sophisticated and chic, and your figure will be balanced out perfectly by the flattering pants.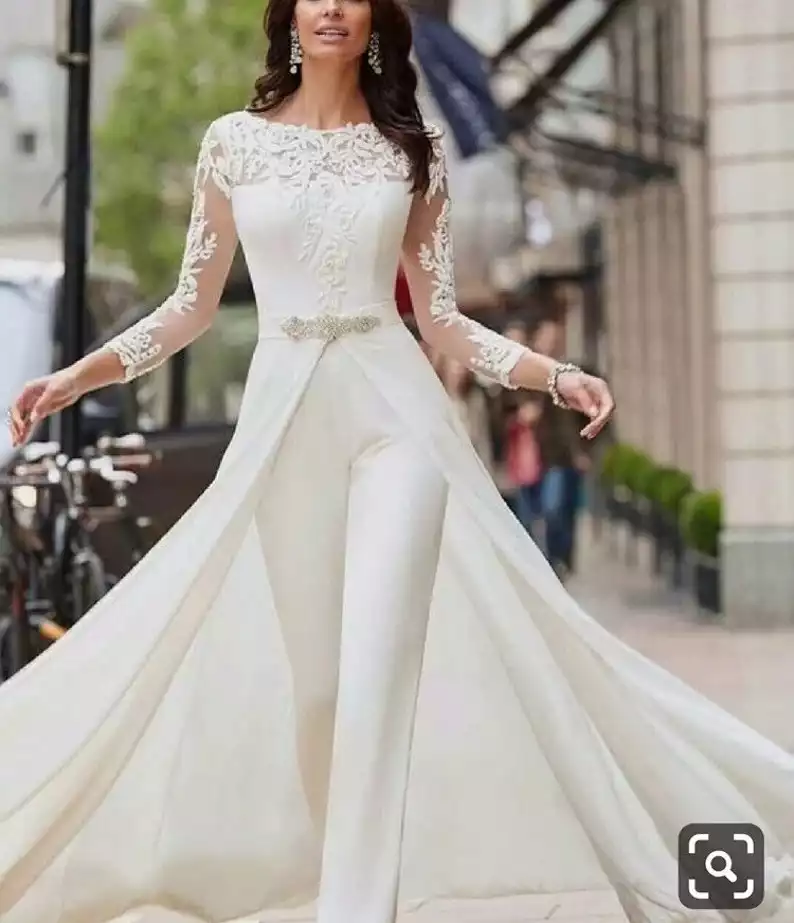 Bridal Jumpsuit With Cape | Etsy
A dress made from quality print to make you appear extremely elegant. Item is handmade, custom size in variations.
Check Price
We earn a commission if you click this link and make a purchase at no additional cost to you.
E. Two-Piece Wedding Dresses
If you're a pear-shaped woman who wants to break tradition, you could opt for a two-piece wedding dress. These attires are great at focusing on your tiny waist while also flattering your figure at the same time. Even with a two-piece outfit, you can still look chic, classy, and elegant. But, this option is also fun and flirty.
F. Tea-Length Wedding Dresses
Full-skirt tea-length dresses that mimic those outfits from the 1950s are among my favorite ones. I love their retro look and their feminine appearance.
With a tea-length wedding dress, you'll look fabulous and playful. It's very easy and comfortable due to its length. You won't have to worry about stepping on the dress's hemline when walking or dancing.
This type of dress is nothing else than a shorter A-line gown because they feature the same silhouette. Unlike A-line gowns, medium-length wedding dresses come with boosted comfort and a more laid-back and casual vibe. This attire is suitable for smaller and more intimate wedding parties.
Best Wedding Dress for Pear Shaped Body – How to Choose the Perfect One
When searching for your dream dress, you should, as a pear-shaped bride-to-be, consider the following things:
Make sure your dress has appealing and eye-catching details around the top part, including the neckline. They will draw others' attention to your bodice and upper body;
If you want your hips to be de-emphasized, the best choice is an A-line gown because it only skims over your thighs, and it's not very fluffy or volumized. A-line dresses make you look taller than ball gowns;
The second best choice is an empire waist dress, while the 3rd option should be a ball gown;
Your dress should have a cap sleeve, a fuller skirt, and broader shoulder pads or straps. These elements will balance your body shape. If the weather allows it, you could even wear a bolero to obtain a well-balanced figure that resembles the one of an hourglass by emphasizing your tiny waist;
Those who don't have an issue with those gorgeous, strong hips and want to flaunt them can easily wear a fitter or straight gown. However, you might need to customize your dress to fit your body since pear-shaped women have a larger size around their lower body and a smaller size around their upper body. Or, you could buy a pret-a-porter gown from the store and then have it altered by your reliable tailor;
If you feel confident enough and want to accentuate your curves, you could wear a mermaid or a trumpet wedding dress. These two styles create the illusion of curvy hips, so they're considered ideal for skinny brides, but nobody says you cannot wear them if you have wider hips.
All in all, it's crucial to choose a flattering wedding gown which, in the case of a pear-shaped body, would mean a loose skirt, a high waist, and a fitted top.
Tips for Petite Pear-Shaped Brides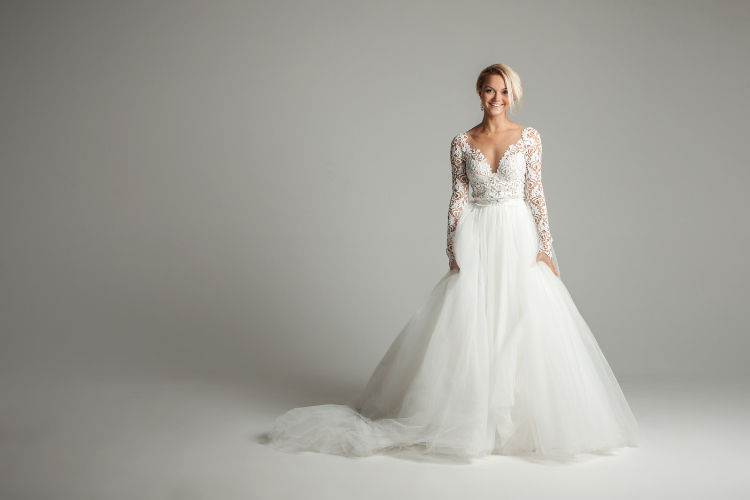 Not only are my hips wider, but I'm also petite. If you're like me, you should consider the following guidelines when choosing your bridal gown:
Long and flowing wedding dresses are the way to go for petite brides;
Vertical details such as vertical material folds will flatter you;
Dresses with high waistlines and empire gowns will suit you the best.
The Best Types of Necklines for Pear-Shaped Bodies
All the skirts and designs mentioned above should be paired with the following types of necklines to complete the look and bring a higher level of balance to your body shape:
Always choose an open neckline to draw attention to your upper body;
Wider necklines are also remarkable for pear-shaped women;
If you're courageous enough, you should opt for a plunging V neckline that elongates your body, making you look slimmer and taller;
For those of you who don't want a neckline that's too revealing, the best option is a cowl neckline that shows your collarbones, and it's fashionable;
Scoop or square necklines are also perfect for pear-shaped figures because they balance your body by making the top part look wider than it actually is;
Pear-shaped bodies can also benefit from wedding gowns with asymmetrical necklines or one-shoulder bodices. These alternatives will create a more dramatic effect;
The classic and romantic neckline that flatters a pear-shaped bride is the sweetheart neckline which boosts your bust area and makes it look more volumized.
What to Avoid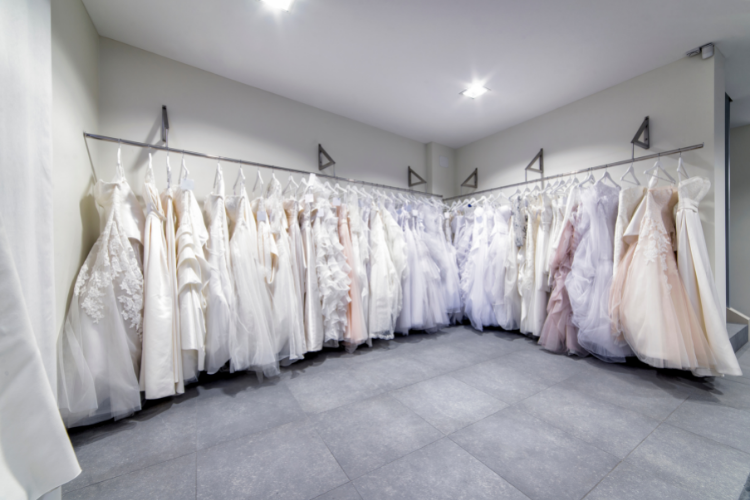 Here are the details or designs you should avoid:
Figure-hugging designs such as mermaid gowns;
Too thin materials that tend to cling to your hips like sheaths dresses;
Dresses with a lower waistline that will make you look shorter.
If you still want to wear a figure-hugging gown, choose one that comes with powerful statement details placed along your neckline to make the eye focus away from your hips.
Best Wedding Dress for Pear Shaped Body – FAQs
Question: What Featured Does a Pear-Shaped Body Has?
Answer: Pear-shaped women are feminine and lovely. In fact, this body shape is the most commonly-met type among women. Bodies with a pear shape figure have the strongest and widest area around their hips, under their waist.
The overall frame is similar to a triangle. Women with this shape feature wider hips, smaller shoulders and busts, and a well-defined waist.
Therefore, if you're pear-shaped, your best asset is your waistline. So, make sure that your dress will accentuate that. Gowns that elongate the figure are also a must by having more details and more volume in the top part.
Question: What Are the Best Bridal Gowns for Plus-Size Gals?
Answer: First, just let me say that you should feel empowered by being a strong independent woman and embracing your curvy body. Then, go ahead and experiment with all sorts of wedding dress models, from mermaid styles to ball gowns, regardless of your body type.
Theoretically, the ideal choices regarding the wedding attire for a plus-size bride are A-line dresses and ball gowns. Still, nobody says you cannot wear a mermaid skirt confidently and successfully.
Question: What's the Wedding Gown Shilouette that Most Brides Prefer?
Answer: Historically, the most popular shapes of bridal gowns are A-line dresses and ball gown silhouettes. But, it all depends on you, your personality, and your preferences.
Question: What Are the Ideal Wedding Gowns for Pregnant Brides?
Answer: If you want to show off your cute baby bump while supporting your belly, you should opt for either a mermaid dress or a trumpet gown. If you wish to conceal your tummy, the best kind of dress that does that successfully and subtly is the one with an empire waistline made of a flowy material.
Best Wedding Dress for Pear Shaped Body – Bottom Line
Besides following the above rules that are simple to put into practice, the most important thing is for you to feel confident and comfortable in your wedding gown.
Regardless of the dress style, you opt for, you will look your best on your wedding day as long as you manage to stay relaxed and enjoy the event. If you're not satisfied with a dress, don't compromise, and don't settle for anything that's not making you feel like a princess.
10/04/2023 10:53 am GMT
I wish you good luck on your wedding dress hunt, and I genuinely hope that my guidelines will help you to find THE ONE (I'm talking about the attire since you've probably found your better half already. LOL!) 🙂