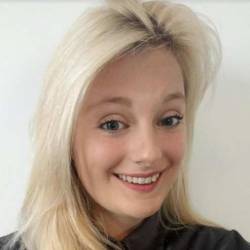 Latest posts by Rosie Greaves
(see all)
Every bride wants to look and feel her best on her wedding day. Let's face it, we all have our hang-ups.
Sadly, I think most of us are guilty of being too hard on ourselves when it comes to judging our bodies. Diets, exercise plans, weird underwear- you name it, if it takes a few pounds off the stomach we'll most likely give it a go!
If you're about to buy a bride dress, and you can relate to all of the above, you're in the right place.
Throughout this article, we're going to discuss a few surefire ways to find the best wedding dress for hiding tummies. From picking your dream gown to selecting the right accessories, we're going to explain it all. So, without further ado, let's dive on in!
How to Pick a Wedding Dress That Hides Your Belly Fat

So Where to Order the Dress?
Known for its elegant and romantic designs, BHLDN offers a wide range of dresses and attire for brides, bridesmaids, and wedding guests. Ordering a dress online from BHLDN comes with several advantages and reasons why it may be a preferred option.
Check BHLDN Collection at Anthropologie
We earn a commission if you click this link and make a purchase at no additional cost to you.
First, these are some quick tips for how to pick a wedding dress to minimize belly exposure:
1. Wear a Belt
A belt can be a simple and affordable fix to minimize the middle part of your body and highlight the right parts.
2. Wear an Empire Waist Dress or A-Line Dress
An A-line or Empire dress is ideal for minimizing midsections due to the design lines. for This is the main part of this article (see more below for more details).
3. Wear Body Shaper
Bridal shapewear is an excellent way to cinch and smooth body lines underneath a wedding dress. Read more about the best shapewear for wedding dresses.
4. Avoid Stretchy Lace or Satin
Lace and satin do not help minimize unflattering lines, particularly stretch varieties.
5. Distract with Accessories and Necklines
An off the shoulder neckline and eye-popping accessories like earings, necklaces and hair pieces can take the attention away from the midsection.
How to Pick the Right Dress
If you want to hide your stomach, you're better off choosing a style that's tighter across your bust and flowy towards your middle. This will showcase your upper half while naturally covering your belly.
Two kinds of dresses usually fall into this fabulous category:
1. The Empire Waistline
This kind of dress boasts a fitted bodice that finishes just below the bust, as well as a gathered skirt. They're typically long and loosely fitted. The material should gently skim the body, giving a gorgeous high-waisted appearance.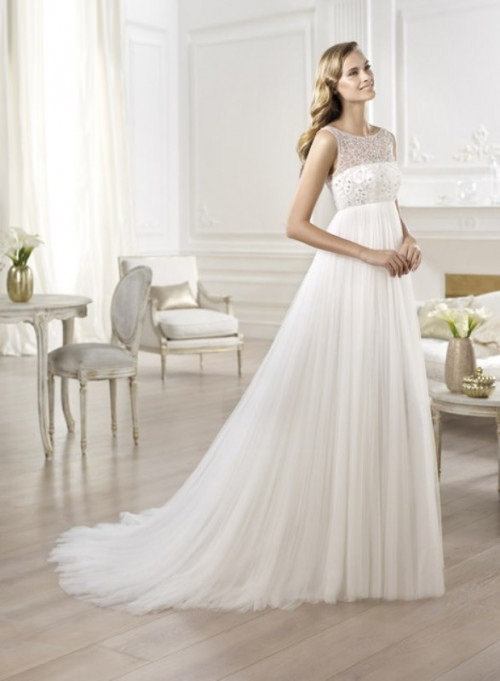 You'll be glad to hear that Empire dresses come in an array of sleeve lengths. You can have anything from longer bell sleeves to completely strapless dress; it all depends on what you feel most comfortable in!
Similarly, empire-waist dresses boast all kinds of beautiful skirts. However, if you want to conceal your abdomen, you're better off going for a free-flowing skirt. You're in luck because empire dresses are usually crafted from lighter fabrics. Not only are these fabulous for looser-style wedding gowns, but the overall look is incredibly romantic.
So, who does this dress flatter most? The short answer is anyone; but, more specifically, a bride who wants to enhance her bust.
This doesn't mean women with larger chests can't rock an empire dress. Some gowns flawlessly complement this body shape, and strike the perfect balance between sexy and sophisticated!
Top Tip: an empire waistline is a perfect dress choice if you boast a pear-shaped body. The design's very forgiving around the legs and hips. Plus, because these dresses have a ton of room around the stomach, making them ideal for the pregnant bride who wants to hide the baby bump – gorgeous and comfy, what could be better?!
A-Line Dress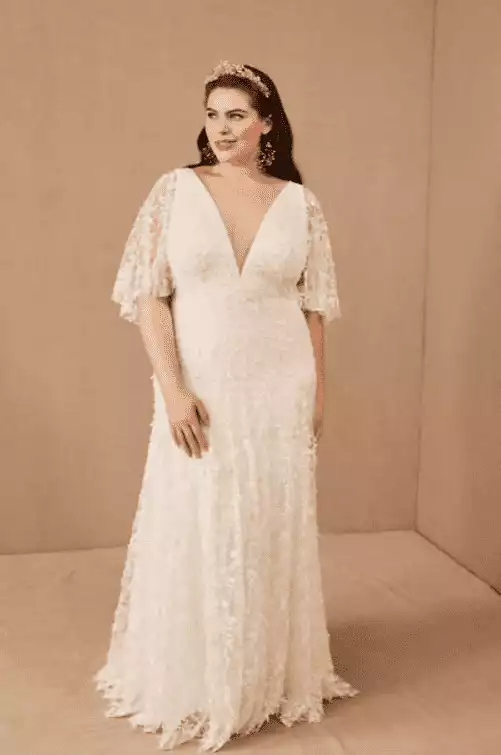 Jenny by Jenny Yoo Lourdes Gown | Anthropologie
The Jenny Yoo Lourdes fit-and-flare v-neck gown is a vision with its romantic allover dimensional lace details. A plunging illusion neckline flows into a soft skirt replete with textural appliques.
Check price
We earn a commission if you click this link and make a purchase at no additional cost to you.
This skirts more fitted at the hips and then gradually widens as it comes out towards the hem. When it comes to length, A-Line dresses range from anything above the knee to floor length gowns with a massive train; the choice is yours!
The princess cut is a more dramatic style of A-line dress. It typically emphasizes its beautiful, clean long lines running from the neckline to the hem. These designs work wonders for making your waistline appear thinner!
Just like the empire cut, A-line dresses are a fabulous option for almost any shaped bride. Whether you want a fuller skirt to hide a rounder lower body or, want to craft the illusion of a skinnier waist, the A-line gown won't disappoint.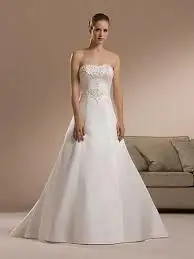 On a similar note, if you're self-conscious about your belly fat (not that you should ever feel that way), there are a few styles of dress you should steer clear of because they draw the most attention to your stomach:
Avoid tightly cut dresses
Avoid Mermaid gowns
Other Hints and Tips for Hiding Midsections
Find the Best Dresses to Slim Your Midsection
According to the Everafter Guide there are several fabrics you should stay well away from. Both satin and stretchy lace will only make your belly look more significant than it actually is. Instead, opting for lighter fabrics, not only are these flattering, but they're usually a comfier option- win-win!
Organza, chiffon, and tulle are all great examples of the kinds of fabrics we're talking about.
We also suggest going for a dress with a delicate pattern. Usually, these give off a gorgeous slimming effect, even more so than block colors and plain materials.
For example, a strategically placed floral design draws attention to the parts of your body you feel more comfortable with. It's all about flaunting your assets, so you feel the most comfortable you possibly can in your own skin!
Distraction is Key
It's not just about choosing the right shape of wedding dress, but also, the most flattering features. Picking the right neckline goes a long way in hiding any unwanted belly fat.
For example, off-the-shoulders, a sweetheart cut, or intricately patterned long-sleeves, all work wonders for diverting attention away from your stomach!
Top Tip: Opting for a sweetheart neckline is one of the best ways to naturally mimic the shape of your body's curves. Hence, accentuating your natural beauty and stunning figure!
Our Favorite Designs
Beaded Sweetheart Cut with Tulle Skirt: This strapless tulle gown has a gorgeous sweetheart neckline. Not only does this dress enhance your bust, but it virtually hides the entirety of your midsection. We love the delicate beading and the stunning appliqué detailing that's scattered all over this gorgeous gown. Check out David's Bridal for more info!
If you're comfortable with a backless wedding gown, then this Nicole Miller design is gorgeous! This sumptuous peekaboo back takes all the attention away from your stomach and focuses on your other assets. This design fuses class and sex-appeal into one magnificent outfit while keeping the rest of your belly wholly covered. All in all, it's an all-around flattering design.
If you're after a more romantic style of bridal gown, then this off-the-shoulder design from Essense of Australia is ideal- especially, if you're after a touch of boho chic! It screams simple elegance. We love the deep V-neckline that showcases the stunning lace bodice. The long, illusion-lace sleeves naturally drape from the neckline, which looks divine!
Sophia Tolli: This strapless sweetheart cut wedding gown boasts a soft tulle A-line silhouette. Featuring a semi-sheer bodice which can only be described as divine, the exposed boning is beautifully embellished with beads, and the zipper embroidered with subtle diamantes.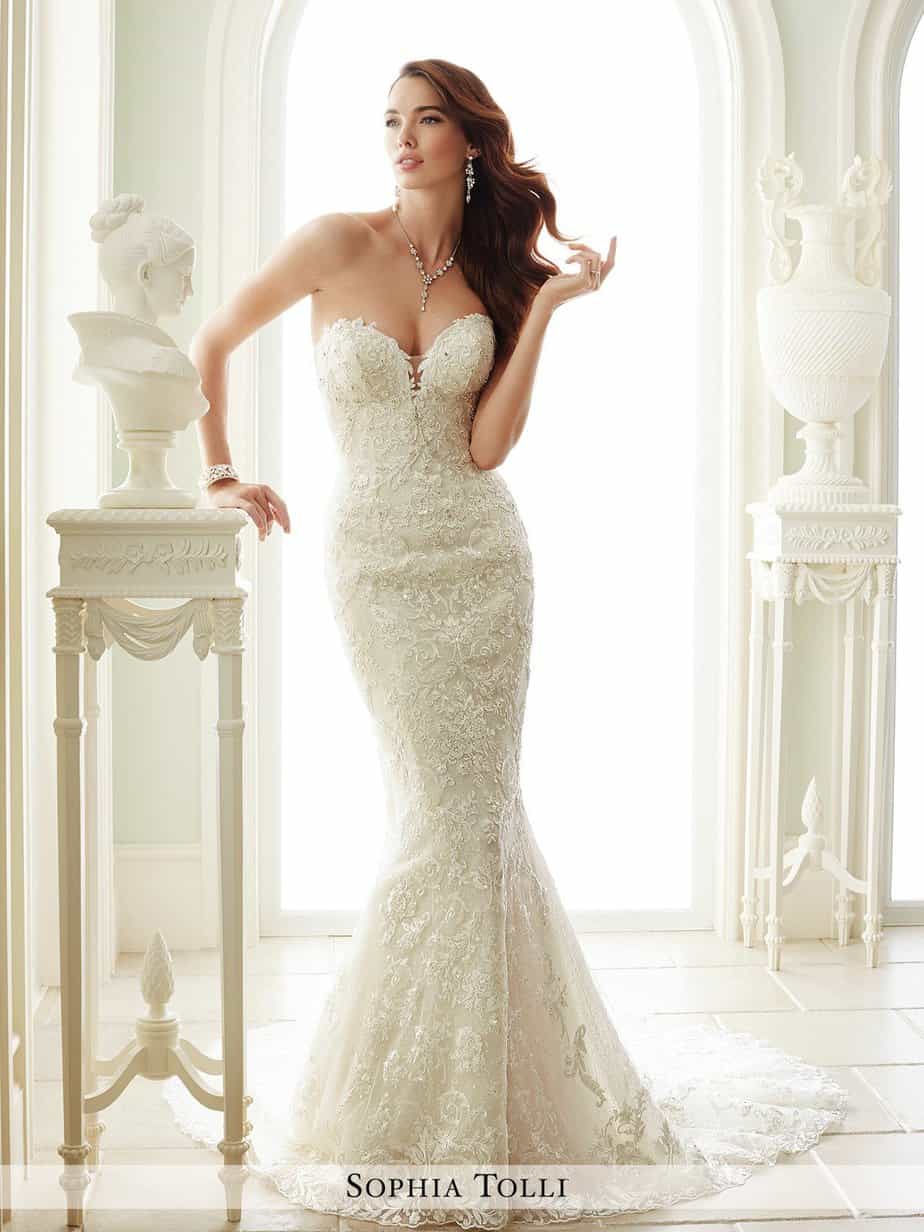 Morilee by Madeline Gardner/Voyage: this gorgeous ivory colored gown flaunts a gorgeous A- cut with a beautiful V-neckline. The light chiffon fabric and lace detailing is ideal for any bride looking for a delicate design that exudes elegance.

Amaré Couture: This silky dress features stunning lace embellished with intricate Swarovski Crystals. Its immaculate detailing and strapless no-fuss neckline ooze class. We love the gorgeous buttons that run from the top right down to the bottom, it's a wonderful touch to the impressive empire waistline, and feminine A-line skirt.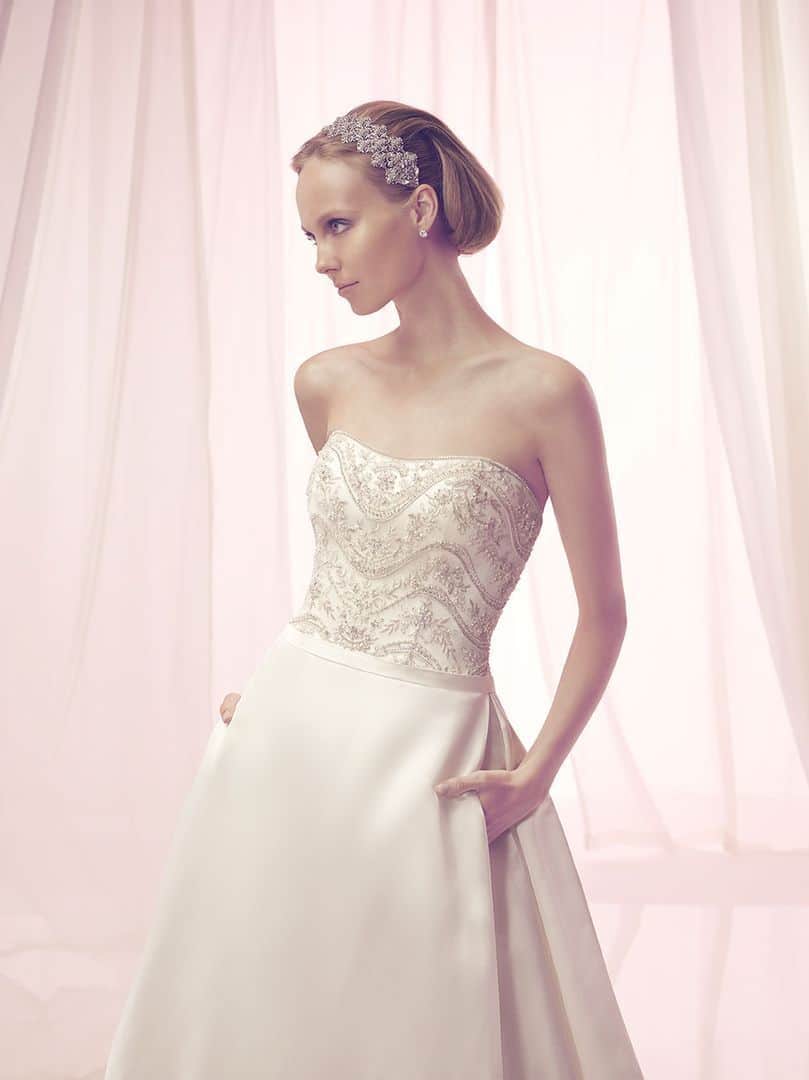 Listen Up to These Pearls of Wisdom
In addition to finding the right dress, you can also do the following. Trust us; you'll be glad you listened to this amazing advice from Fustany:
1. Wear a Bridal Belt
Waist belts are gorgeous. Period. However, when used correctly, they're fabulous for making you look slimmer! Just wrap a bridal belt around your waistline to enhance your beautiful curves.
Top Tip: when tying your belt, don't wrap it too tightly. If you do, you might ruffle the fabric; this can have the opposite effect. Make sure it feels comfortable, you'll know when it's sitting right because it'll look divine!
2. Get the Right Underwear
Spanx naturally distribute your belly flat, so they're excellent for giving support and making your tummy area look way slimmer. However, you need to find the right style and size to ensure you get the maximum amount of support. Otherwise, you won't conceal your belly entirely.
The last thing you want is too smaller size. This will do nothing but make you feel uncomfortable, and that's the last thing you want on your wedding day!
Top Tip: always try on your Spanx with your wedding dress. This will give you a better idea of both the look and the fit. Plus, you'll have plenty of time to get another pair before your special day, should you need them. If you find they're uncomfy, you probably need a pair made of thinner material.
3. Accessorize!
Bows on the back of wedding dresses have stormed back into fashion over the last couple of years. These are fabulous for giving the appearance of a skinny waist.
Additionally, think long and hard about your bridal jewelry. Statement necklaces and dangly earrings are another way to ensure the attention stays away from your belly. Jewelry naturally draws your eye to other areas you're more comfortable with- practical and pretty, what's not to love?!
Final Word
If you follow all of the above advice, you're guaranteed to look gorgeous in your perfect wedding dress!
If you enjoyed this blog post, we're confident you'll love this other articles we recently published; When is the Best Time of Year to Buy a Wedding Dress. Enjoy!

So Where to Order the Dress?
Known for its elegant and romantic designs, BHLDN offers a wide range of dresses and attire for brides, bridesmaids, and wedding guests. Ordering a dress online from BHLDN comes with several advantages and reasons why it may be a preferred option.
Check BHLDN Collection at Anthropologie
We earn a commission if you click this link and make a purchase at no additional cost to you.
FAQs
Question: How can I hide my belly in a wedding dress?
Answer: There are plenty of ways to hide your belly in a wedding dress, and this not only includes choosing a model that is loose bellow the waist, but you can also choose proper accessories like belts and straps, and avoid materials like satin and lace, which can only make your tummy show up more.
Question: When should I purchase a wedding dress if I am pregnant?
Answer: This depends on how long you are pregnant, and how far the date of your wedding is, but I would definitely recommend that you don't purchase the dress earlier than two months ahead because it might not fit for the wedding and you will not be able to fix it.
Question: Do I need Spanx under my wedding dress?
Answer: No, you don't need shapewear under your wedding dress, unless your dress has a pear shape and you don't want your underwear to be noticeable.