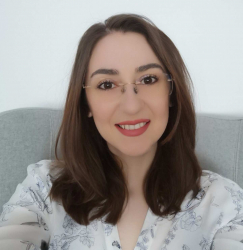 Latest posts by Alexandra Gavrilescu
(see all)
The empire dress silhouette is all about the gown's shape and how it hangs down your body. It's an outline that can flatter and emphasize certain body types. For example, the silhouette of an empire waist wedding dress makes your body look slimmer and longer. For that reason, many brides-to-be choose this type of wedding dress.
Another benefit that comes from wearing such a dress is its versatility. Different dresses might feature a wide range of necklines, from halter tops to a sweetheart or V-neck details, and all these dresses rock the empire waist shape at the same time. Besides wedding dresses, this waistline also looks fabulous on numerous other dresses, from cocktails ones to sundresses, bridesmaids' gowns, and everything in between.
Let's see the most beautiful and popular empire waist wedding dress ideas and the tips you must keep in mind when picking your dream dress.
My Bottom Line Up Front!
I love all empire waist wedding dresses since they're flattering and cute. But, my absolute favorite ones are those with a vintage touch and a retro look. I would also love to wear the one with a plunging yet not very revealing neckline because it elongates my body. Moreover, its draped bodice gives me volume around that area (this is great if your bust isn't very generous). I prefer an A-line skirt to make me look taller while also concealing my wider hips.
Knowing your body type and the design elements that suit you the most before choosing a specific empire waist wedding dress is essential.

So Where to Order the Dress?
Known for its elegant and romantic designs, BHLDN offers a wide range of dresses and attire for brides, bridesmaids, and wedding guests. Ordering a dress online from BHLDN comes with several advantages and reasons why it may be a preferred option.
Check BHLDN Collection at Anthropologie
We earn a commission if you click this link and make a purchase at no additional cost to you.
Amazing Empire Waist Wedding Dress Ideas – My Top 11 Choices
*The following wedding dress ideas are listed in random order. I've chosen and included them in today's guide because they're gorgeous, fashionable, timeless, and flattering.
A. Simple and Romantic
Here are some fabulous examples of simple and romantic bridal gowns with an empire waistline.
Zola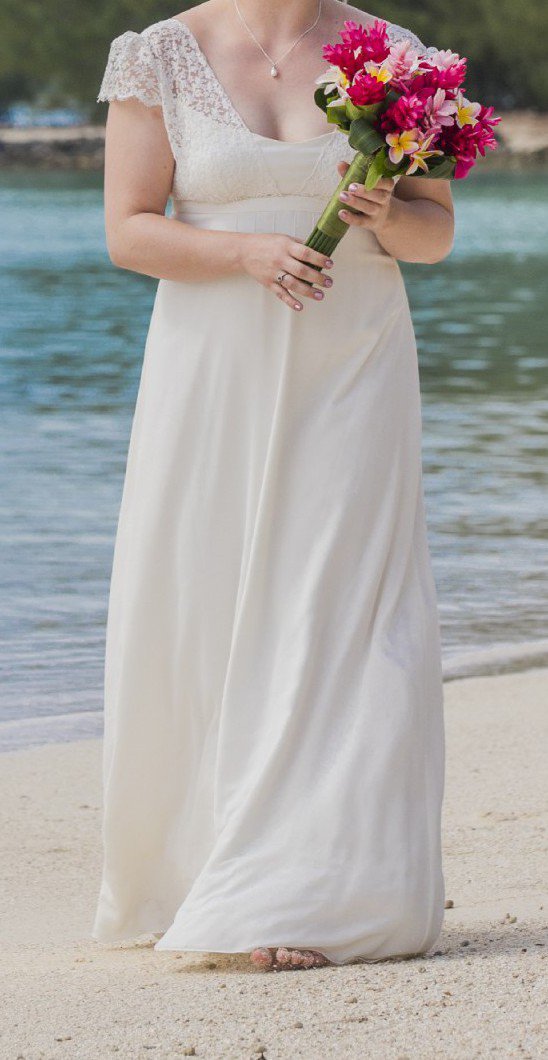 I fell in love with the Zola dress from the first time I saw it. It was created by Laure de Sagazan, who's also known as the queen of high-waist empire wedding dresses. The dress is simple and very romantic, with its open back embellished by the incredible detail of the pearl buttons. This wedding gown features a mix of two main fabrics: silky crepe and Calais lace.
This dress is so simple that it allows you to play around with different accessories to achieve your wanted look and show your personality.
Ruiz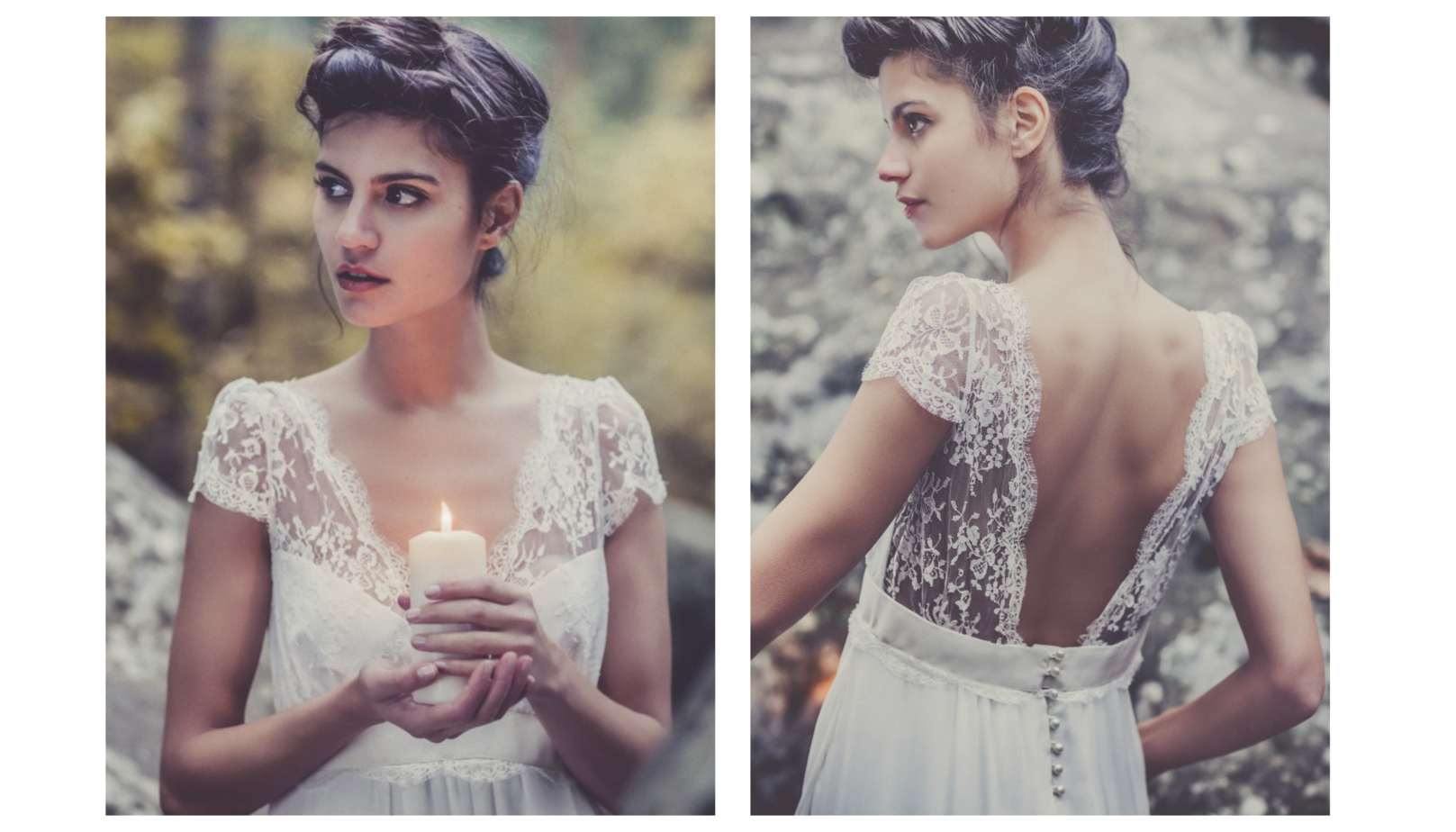 Ruiz is another stunning high-waist wedding gown that caught my attention. The design is an iconic one and a great success of the Sagazan house of fashion. This dress is incredibly charming and timeless. The back is open and framed by lace details. Paired with silk heels and a retro updo, it will give you a vintage appearance.
You can also purchase it online from women who have worn it on their wedding day, and they kept it in excellent condition.
Sublime
The Sublime empire waist wedding gown is designed by Harpe. This dress is simple and romantic due to its lightweight and flowing material. The sleeves are made of organza and shaped like butterfly wings. I love how charming and bucolic this empire wedding dress is. It will surely make you feel special on your big day.
When I look at this dress, I see the perfect mix of elegance and simplicity, with a touch of refinement. It has frill sleeves and a V-shaped neckline. Moreover, the top part is covered with a layer of delicate lace.
B. Chic and Elegant
Elegant can also be chic with the right kind of details that embellish a wedding dress. So instead of describing the general style, I've chosen to show you a specific empire dress model that's elegant and chic.
Lotte
Lotte is an exquisite empire waist dress with a beautifully-designed open back. The skirt is made of a flowy material. Rembo Styling creates this design. What I love most about this gown is its sparkly bodice covered in sequins. I also like the open back, which is shaped like a triangle because it's not too revealing.
C. Long-Sleeved Lace Wedding Dress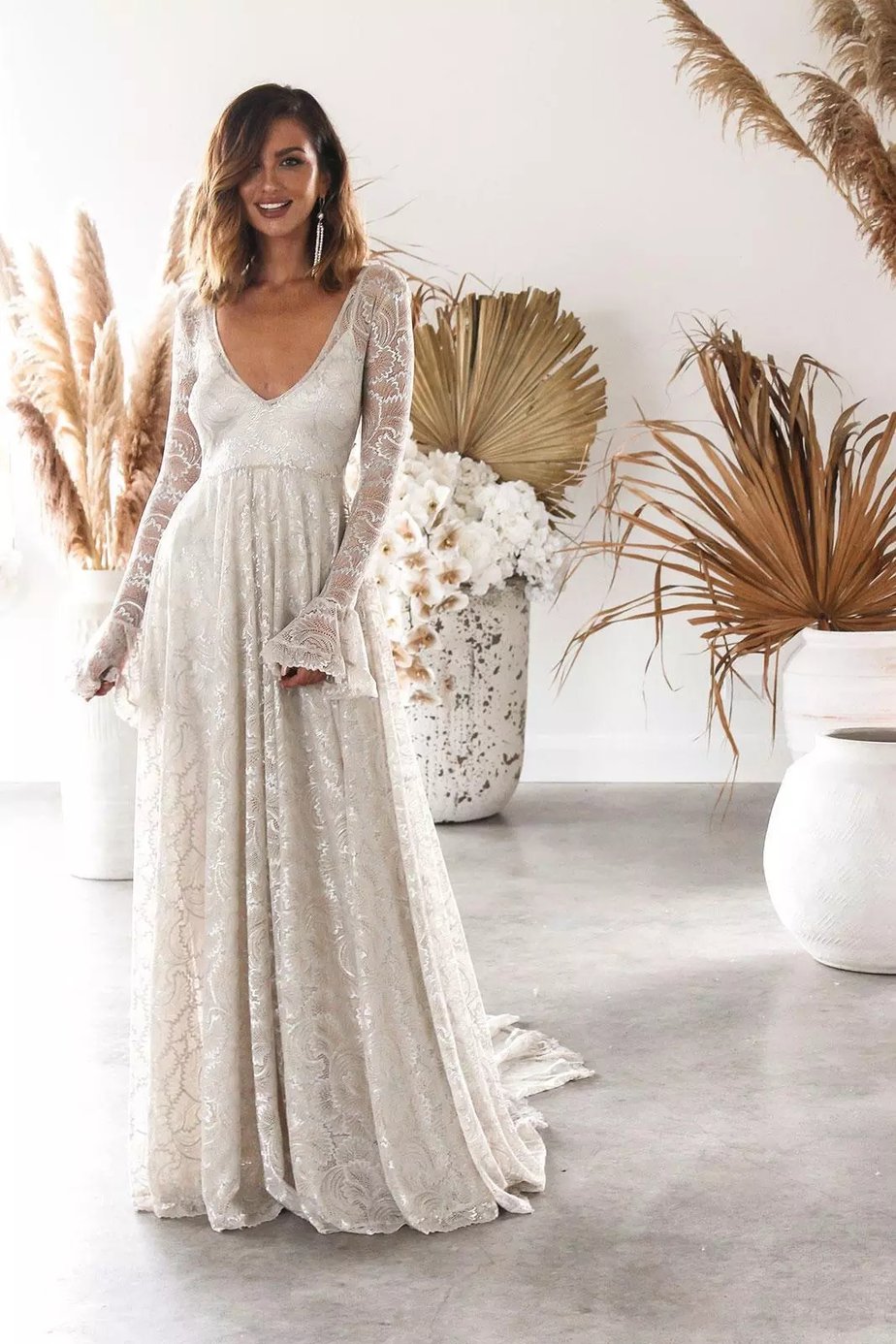 I love wedding dresses that have bustier bodices because they create a beautiful and balanced hourglass shape and the illusion of a very tiny waistline. Unlike other bustier bodice alternatives, Empire waist dresses have a shorter top part so that the skirt can start right under or very close to the bust area.
Long sleeves represent another detail that I love about wedding gowns. I consider them to be extremely elegant and classy. For a flowy or airy look, you should opt for lace or tulle sleeves. A combo would be the ideal choice for me: transparent tulle sleeves with subtle lace appliques here and there.
D. Draped Bodice and Plunging Neckline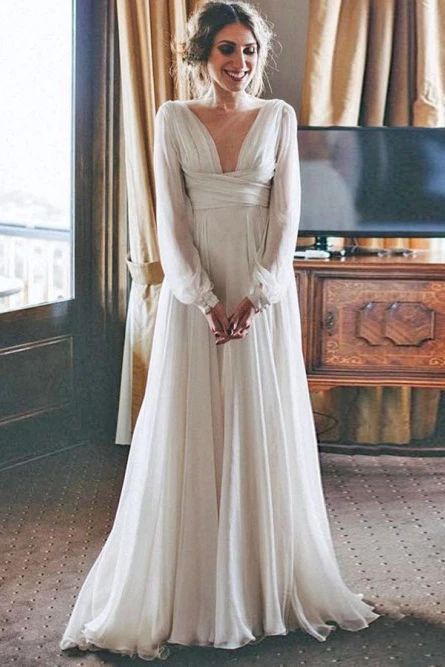 The details of this type of empire dress are so very flattering on most body types. I adore the draped bodice that resembles the ones featured in Greek dresses. The plunging yet not vulgar neckline is also to die for. The skirt is an A-line pleated one, and the sleeves are long. The long sleeves boost the elegance of this empire wedding dress.
E. Off-the-Shoulder Boho Chic
This type of boho chic empire dress is perfect for a rustic wedding or a ceremony on the beach. My favorite detail about this dress is its off-the-shoulder neckline, making you look effortlessly beautiful. Moreover, this type of dress is very versatile and can be used more than once. Therefore, you could repurpose it on other occasions when you attend post-wedding events.
It can also work as a cocktail dress for a garden party, or you could simply wear it for fun when you're traveling to somewhere sunny and post many cute photos on the beach.
F. Sleeveless Hippie Boho Chic Empire Waist Dress
If you consider yourself more of a hippie person, you should opt for a laid-back boho-chic empire wedding dress without sleeves. Wear the dress with simple and natural accessories such as a flower crown on your head. Also, with this style, you should wear your hair back and untied. Beachy wavy hair will complete the outfit.
G. Short Sleeves and Pleated Skirt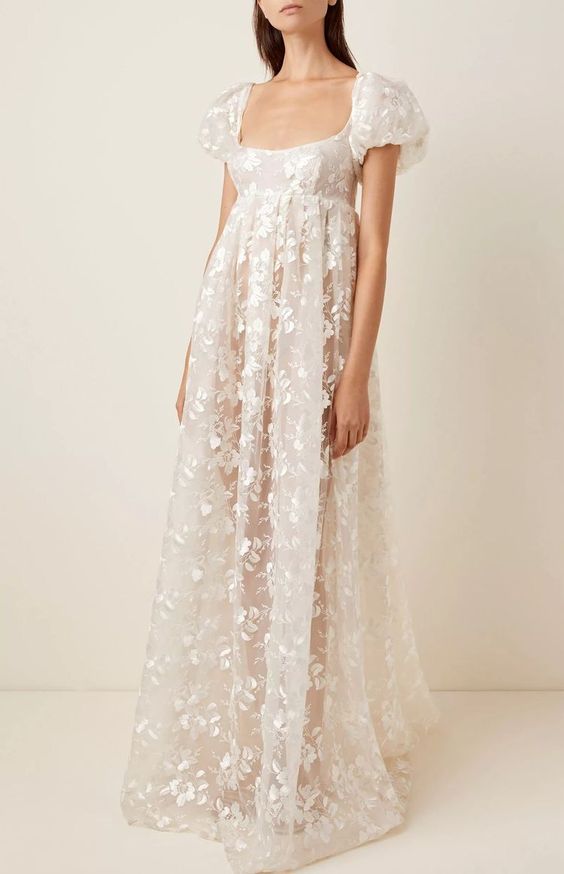 An empire waist wedding gown featuring cute short sleeves and a pleated skirt is also chic and timeless. Like me, if you love lace, you will want the entire dress to be covered in lace. Otherwise, you could opt for a more minimalistic look and only cover the top part of the dress with sheer lace fabric.
Maybe you prefer straight regular sleeves, but I would personally choose puffy sleeves since I know they will balance my body and give me that nice hourglass shape.
H. Casual Empire Waist Wedding Gown with a Draped Bodice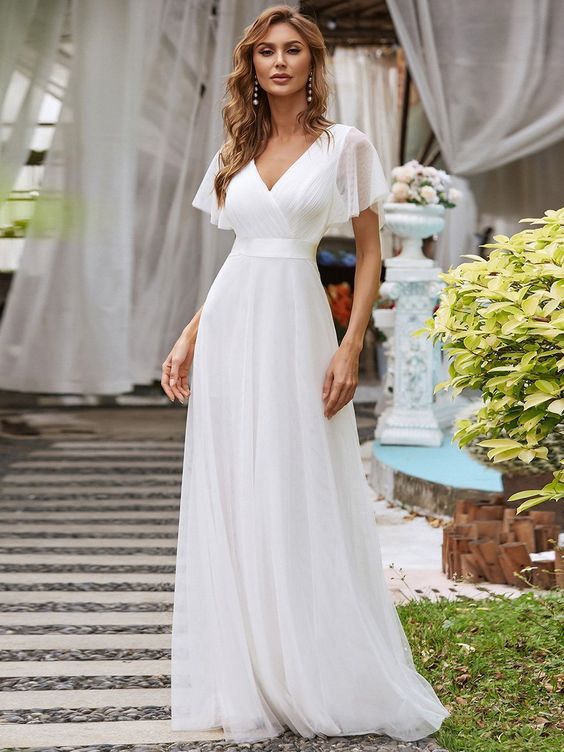 Some brides want to feel like princesses on their wedding day, and that's perfectly fine. However, others might want to wear something more comfortable; a more casual wedding dress style, and that's ok too. After all, it's your special day, and you're the main character of the entire event, and what you say goes, goes!
The empire waist gown featured in the photo above is gorgeous, and I love how flowy and delicate the short sleeves are. Still, this style also works well with thick straps and no sleeves. The entire gown screams femininity. The band around the waistline makes your middle area look very slim.
I. Simple and Modern Dress with a Bit of a Train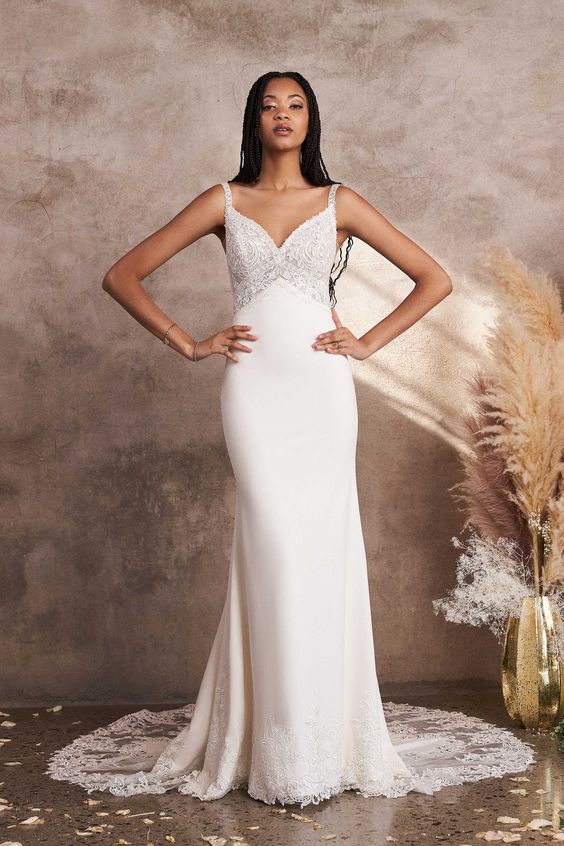 Most modern brides (at least, the ones I know) want to wear something simpler; a fitter wedding dress that doesn't have too much volume. I confess that's not my style but to each its own. However, if you want a fitter empire dress, you should know that a small train works perfectly with this option.
Thick straps or sleeves are great for a simple yet modern high-waist dress. The train will make it look elegant and refined. If fit and flare are your styles, you should know that the best material for the skirt part is crepe. The bodice can be made of other fabrics, such as lace. You could also opt for the same fabric all over, but cover the top part with a thin, sheer layer of delicate lace. As you can see, I tend to repeat the word "lace" a lot. That's because I'm a huge fan of this classic and timeless material.
J. Minimalist High-Waist Gown with Spaghetti Straps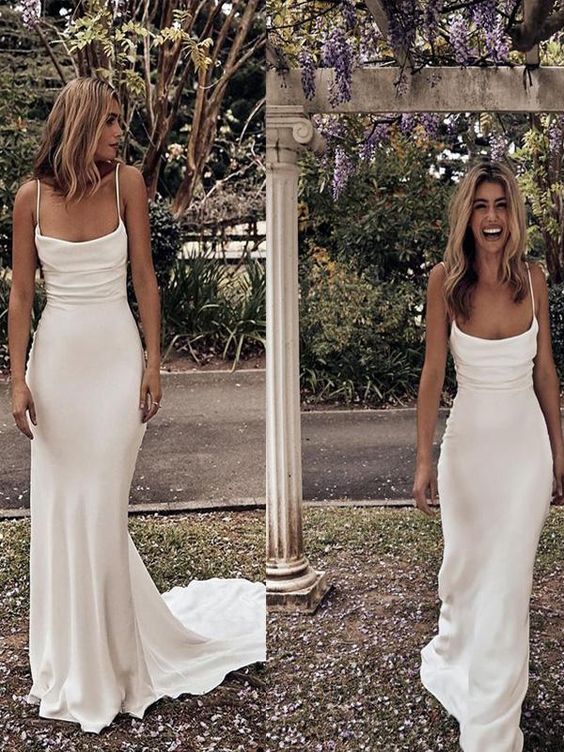 An empire wedding gown with a minimalist design and thin spaghetti straps, a plain model, a fit-and-flare shape, and a tiny train is the perfect alternative for those who want to take the concept of minimalism to the next level. Because your wedding dress will be this simple, you can play around when it comes to your chosen veil. This head accessory can be a bit more complex, a loner one, or as simple as the gown.
Chiffon and taffeta are two of the best materials for this kind of dress. Also, these empire plain gowns look amazing in colors like off-white, ivory, and champagne.
K. Empire Waist Wedding Ballgown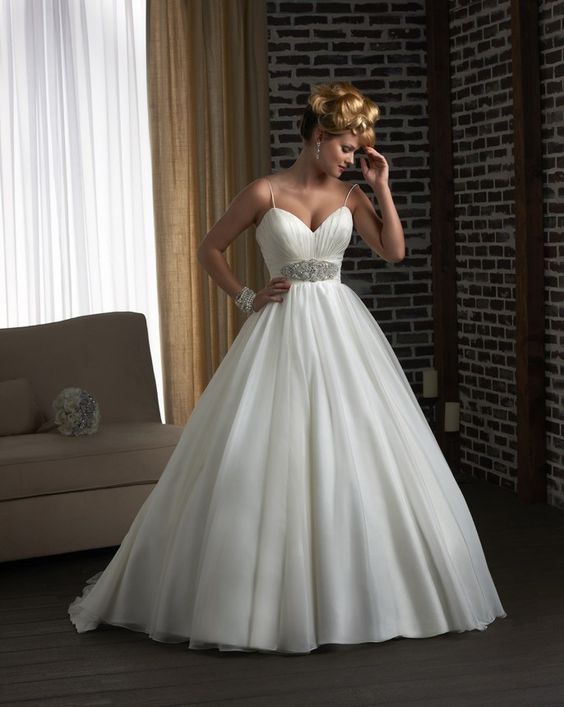 As I previously stated, many brides want to feel like princesses on their wedding day, which is understandable and relatable. I felt like one, and it felt amazing. Still, I'm petite, and I wouldn't say I liked the puffiness of a full ballgown skirt. Still, not everyone feels the same as I do. Hence, empire waist dresses can also feature fabulous ballgown skirts.
Wear this bridal gown with statement earrings and skip the other accessories. The skirt could be layered for increased volume, while the bodice could be embellished with floral appliques, which comes in handy if you're like me and don't have a big bust.
Amazing Empire Waist Wedding Dress Ideas – Finding Your Dream Dress
Here are some other details you should consider when searching for your ideal empire waist wedding dress.
A. Pay Attention to the Fabric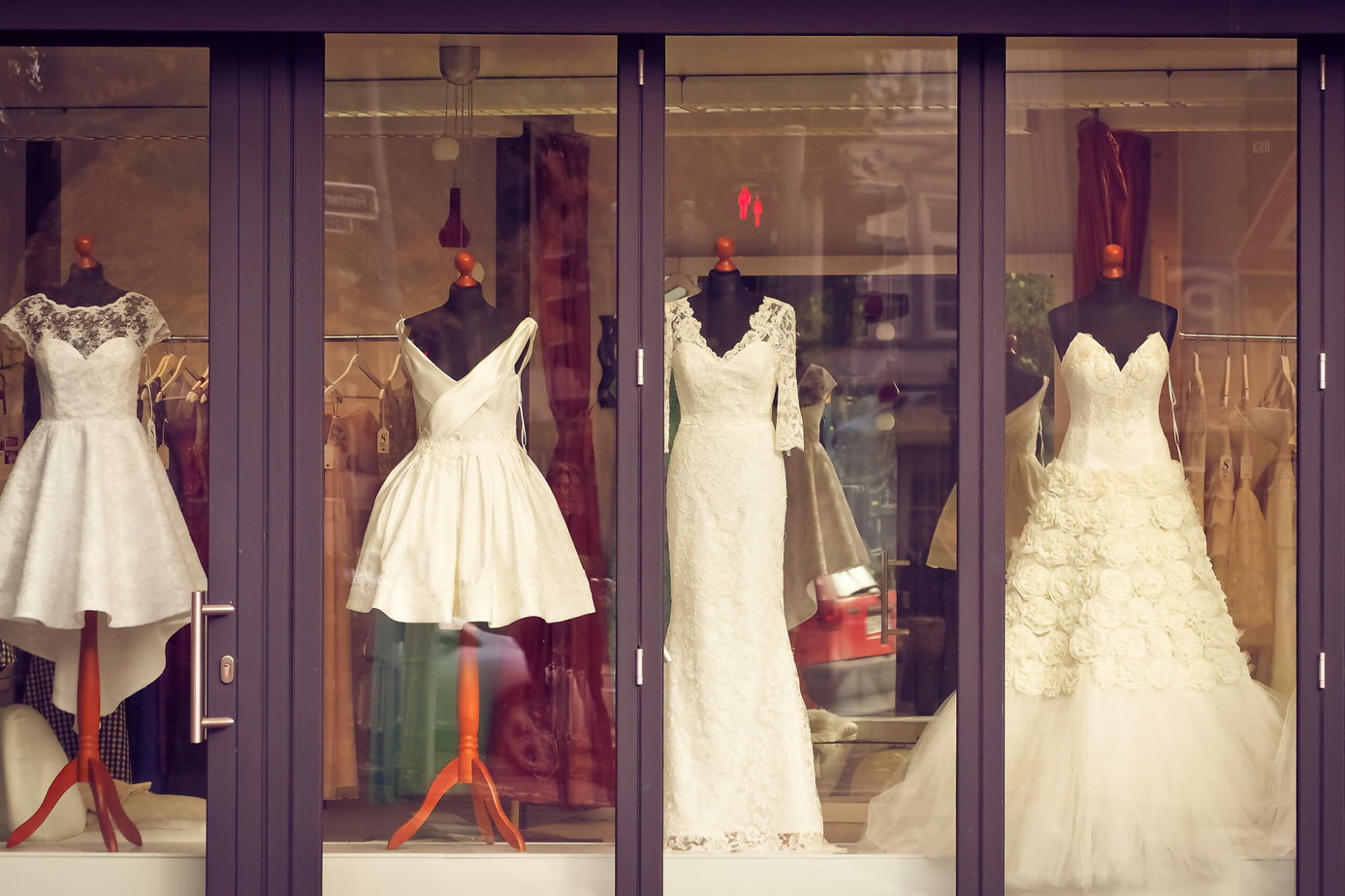 Colors and materials are the most important aspects of your empire waist wedding dress. I wanted something classic, so I went with an off-white color for my wedding gown, but you could follow your personality and intuition and opt for any other color you want. Bright white is something most brides wish to, but I can say that's not something I would choose.
Instead, I would always opt for an off-white or even ivory dress. Baby pink, blush, and pale gray are other possible colors that go well with this type of dress. I'm a sucker for pastel colors, so I would love to see an empire waist gown in baby blue or powder pink. If you want to achieve a rustic or boho-chic appearance, you should consider materials such as lace. Satin and silk are great for a classic and timeless look, while fairytale-themed weddings go hand in hand with a gown made of organza, chiffon, or tulle.
Some brides want a more formal and sophisticated look that can be easily created if the wedding dress is made of taffeta or draped crepe.
B. Consider Your Desired Neckline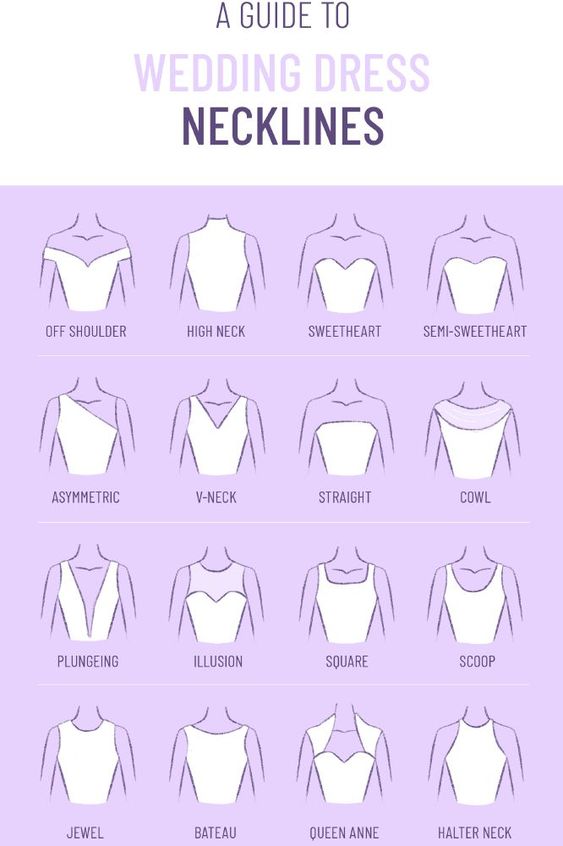 The best neckline that goes well with a wedding dress that has an empire waistline is a sweetheart neckline. This neckline shape pairs well with the high-waist skirt in a seamless manner. Moreover, it boosts the gown's feminine appeal. Of course, other necklines could work, too, based on your preferences and body type. Still, the sweetheart shape elongates your neck and completes the entire frame.
You could also opt for deep V necklines, but they are a bit more revealing. The sweetheart alternative falls somewhere in between a plunging neckline and a conservative high-neck frame. If you want to cover your chest a little more, especially during the church ceremony, you could easily add a thin layer of lace over the bodice, providing extra support.
Regardless of the type of neckline, you'll choose to feature on your empire waist wedding dress, the most important thing is for your to feel good and comfortable in that gown. The bodice shouldn't cut into your skin. Instead, it should look seamless, like it's built on your body. Pay attention to how different wedding gown brands apply different sizing guides. Your dress shouldn't restrict you from moving freely.
C. Sleeves or Straps?
Once you know the type of neckline you want to show, you must decide if your dress will be a sleeveless one or not. Will it have straps? Are the straps going to be thick or thin? Do you want it to feature short or long sleeves? Maybe you want something similar to a corset without sleeves.
Each of these styles come with their appeal and advantages. For example, numerous empire waist dresses feature strapless bodices. However, if you want a dreamy appearance, I suggest you opt for an off-the-shoulder top. Your arms will be slightly covered, but you will also display an airy feel.
On the other side, if your skirt is more voluminous or even a ballgown, you might want to balance that out by wearing a top with spaghetti straps. Thicker straps go better with a flowing skirt that falls near your body. I confess that, at first, I was obsessed with sleeves, and I wanted my bridal dress to have long or 3/4 lace sleeves. However, the plan changed when I found my dream dress that didn't have sleeves. I insisted on creating some for it, but the sales consultant said that this detail might interfere with the overall design of the dress.
It also depends on what you want to achieve on your wedding day in terms of style. Many exciting and beautiful options go well with an empire waist wedding dress, including halter necklines, fluttery cap sleeves, or t-shirt sleeves.
D. The Style of the Skirt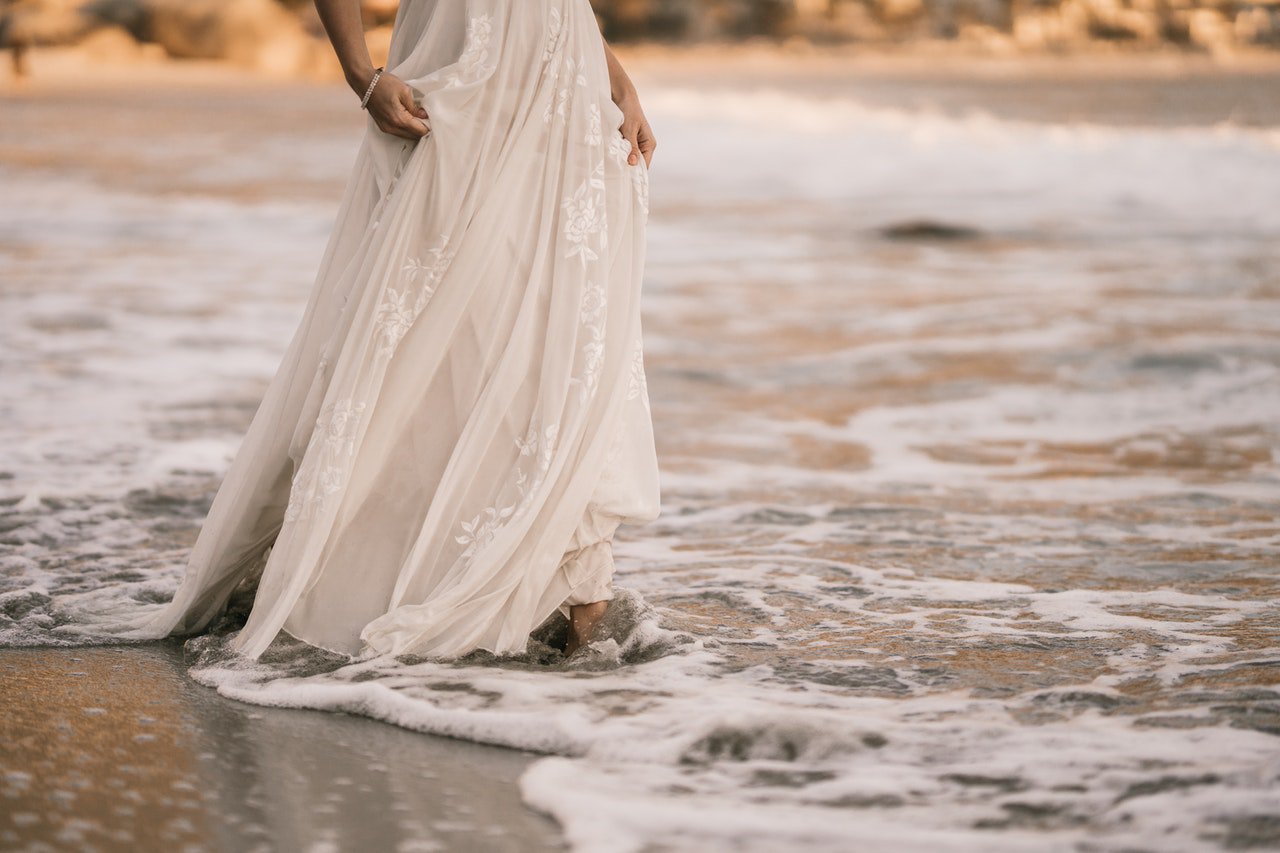 This type of wedding dress goes well with numerous different skirt styles. On empire waist dresses, the skirt begins right under your bust area, and it can be body-skimming or more voluminous. To achieve your desired bridal look that flatters you the most, you must consider the right kind of fabrics, based on the skirt style. For a flowy look, you should opt for lighter fabrics like organza or tulle, whereas satin, velvet, taffeta, and other thick materials create a more luxurious appearance.
Also, the skirt could be simple and lightweight, a more weighted ballgown, or a compromise between those two, which is a pleated skirt. Other details such as trains and decorative elements should also be considered. For example, I had an A-line wedding dress with a medium-length train that I could camouflage on top of the skirt, on the back part, with the help of three little buttons.
If you want to show your legs, you should choose a skirt with a side slit. Modern brides looking to achieve a whimsical look usually want pockets on their wedding dresses.
E. Accessories and Embellishments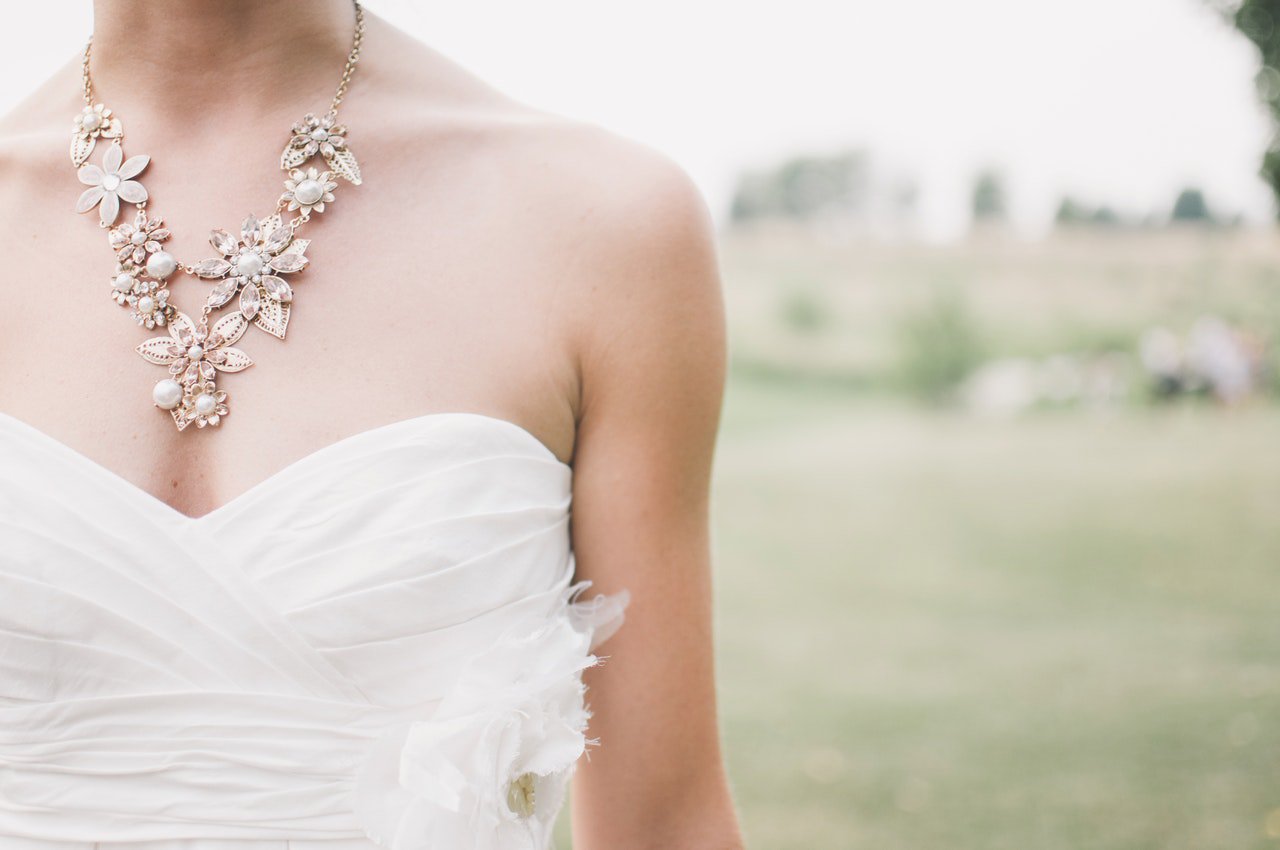 Finally, you would want to consider accessories and other embellishment details that you want to be featured on your dress. To finalize your bridal look, you'll need to find a suitable pair of shoes. If your skirt is a fuller one, the shoes should be a couple of inches tall to help you avoid dragging the bottom part of the dress on the ground.
I get it if you don't feel comfy wearing stilettos. I don't either, but there are great alternatives such as t-strap shoes with thicker and more solid heels. These will provide you with higher stability. Sparkly pumps could also do the trick if you're tall.
Other details a bride-to-be should keep in mind before purchasing the dress are the veil, earrings and other jewelry, and possible belts. Initially, an authentic empire waist dress is made to be worn as it is, without any belts around the waistline. However, you can still wear a band or a belt to emphasize your tiny waist.
The best type of wedding veil that goes perfectly with high-waist empire dresses is a long and simpler one. You could even skip the veil and wear flowers, hairpins, or other small or minimalist hair accessories instead. Avoid wearing bulky or statement necklaces because they might ruin the entire purpose of the dress that aims to make you look slimmer and taller.
Delicate necklaces and simple yet elegant earrings are the perfect options when it comes to jewelry.
Amazing Empire Waist Wedding Dress Ideas – FAQs
Question: What Are Empire Waist Dresses?
Answer: Gowns with an empire waistline are similar to babydoll tops or dresses. Their top is fitted and ends right under your bust. The gown continues with a flowy and loose-fitting skirt, which gives you an overall ethereal appearance in contrast with the tight bodice. These dresses create the illusion of a higher waist which elongates your torso. Empire waistline dresses are very romantic and timeless.
Question: What Are the Main Benefits of Wearing an Empire Waist Wedding Gown?
Answer: First of all, these gowns will make your figure look elongated and slim. Moreover, these dresses are flattering, and they might even cover a small baby bump if that's what you want. Furthermore, empire waist dresses are comfy and easy to wear, not to mention how versatile they are. Finally, if you're a petite bride, like me, you will love how tall you'll seem if you choose to wear this kind of dress on your wedding day.
Question: What Are the Main Differences between A-Line Gowns and Empire Waist Dresses?
Answer: Both high-waist dresses and A-line wedding gowns make the bride look thinner and taller. However, while A-line dresses emphasize your tiny natural waist through a fitted bodice or corset, empire dresses focus on that line right under the bust area and above your natural waistline. So, we could say that women who have thicker waists could wear empire gowns since that body area could be the thinnest part of their torso.
Another difference is that A-line dresses flare around your body, whereas empire gowns elongate your frame even more by draping straight down.
Bottom Line
Finding the perfect dress for your wedding day can be stressful and overwhelming. Still, I fondly remember that part of my wedding planning process. Searching and trying bridal gowns was and still is the favorite part of that entire period. I loved how those fabulous gowns made me feel like a princess. I'd searched for the perfect one for over three months, till I finally found the one my heart was looking for. It had an A-line silhouette, an open V-shape back, thick straps covered in lace, and a generous yet decent neckline plunge.

So Where to Order the Dress?
Known for its elegant and romantic designs, BHLDN offers a wide range of dresses and attire for brides, bridesmaids, and wedding guests. Ordering a dress online from BHLDN comes with several advantages and reasons why it may be a preferred option.
Check BHLDN Collection at Anthropologie
We earn a commission if you click this link and make a purchase at no additional cost to you.
I honestly hope that my guide will help you find your dream dress easier and quicker than I did. It's essential to know your body type and determine what shape suits you the most.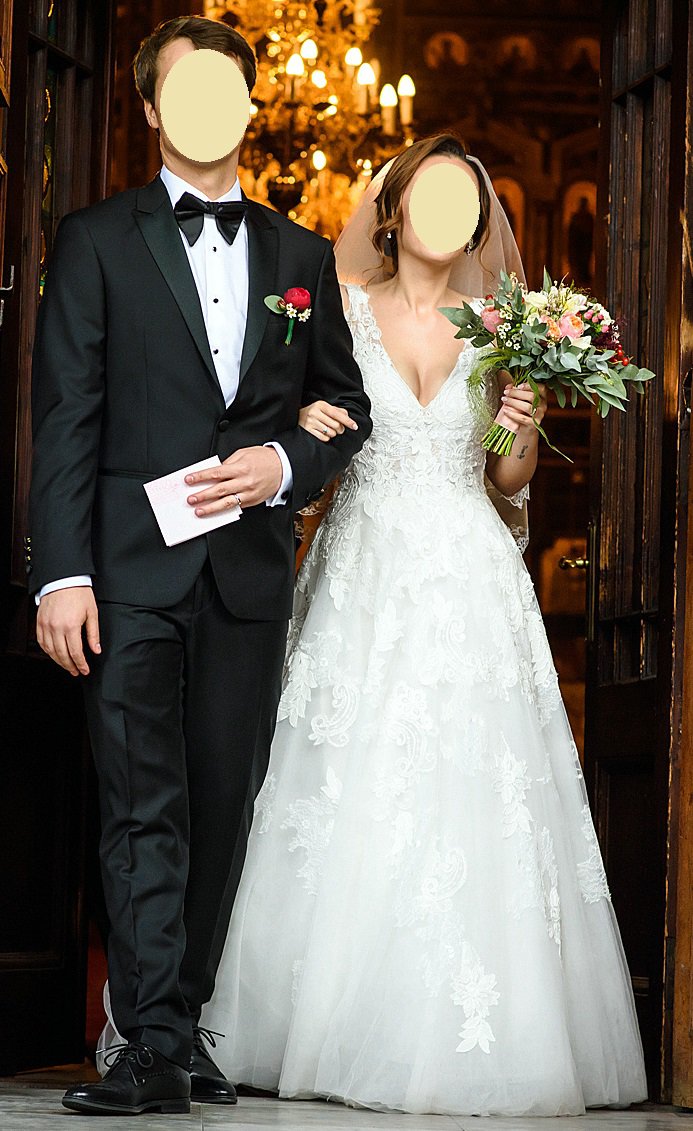 This is us, on our wedding day in 2019, and this was my A-line wedding gown.
Recommended Reads: