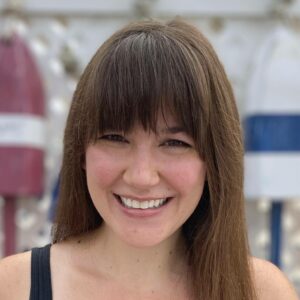 Latest posts by Lauren Vigdor
(see all)
Initial and monogram necklaces have been popular since the Ancient Romans, and they've never really gone out of style. They're trendy among celebrities—Sarah Jessica Parker, Meghan Markle, and Taylor Swift have all famously sported necklaces with initials.
They've worn their own initials or initials that honor their children or disclose new relationships to the world. I actually own several gold initial necklaces (all with my own initial—no secret love affairs being announced over here), my favorite of which is a tiny gold filigree L that I've had for as long as I can remember.
Initial necklaces are a lovely way to personalize your look, and they make excellent gifts. If you're in the market for a letter necklace for yourself or a loved one, you're in the right place.
I've created this best gold initial necklaces guide to walk you through the shopping process and help you choose the perfect piece of personalized jewelry.
Bottom Line Up Front
I love all of the necklaces on this list (they are the best, after all), but if I had to choose one favorite, it would be the Blaire Diamond Initial Pendant, my pick for "Best Gold and Diamond Initial Necklace."
It's the perfect size, and I love the font—I would honestly love this even without the diamonds, but they're really the icing on the cake here!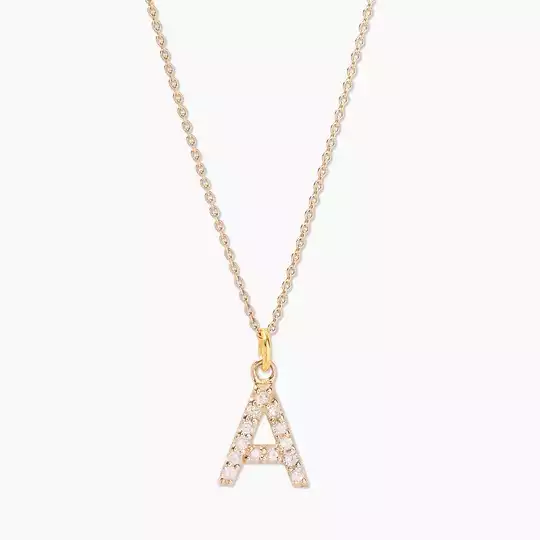 Blaire Diamond Initial Pendant | Brook & York
This is an uppercase only font, lowercase letters entered will be produced as uppercase. Available in sterling silver or 14k gold vermeil.
Check Price
We earn a commission if you click this link and make a purchase at no additional cost to you.
My Top Picks at a Glance
If you're looking for bridesmaid gifts

: The

Initial Gold Disc Necklace

is a simple, versatile option that's pretty affordable—even if you have to buy twelve of them! This one also makes an excellent Mother's Day gift!

If you want something oversized:

The

oversize sideways initial necklace

is the perfect Alexis Rose necklace (if you know, you know). It makes a statement without overpowering the rest of your outfit and is surprisingly versatile.

If you're looking for something a little bit different:

The

Nagini Letter Charms

are initial pendants made out of tiny gold snakes—absolutely adorable and super unique.
Why Buy an Initial Necklace?
Initial necklaces are one of the most classic forms of personalized jewelry. I actually think they're a little more personal than birthstone jewelry—especially if you wear a loved one's initial, like your lover's or children's initials. Gold initial necklaces also tend to be pretty versatile.
They go with everything, and they're appropriate for pretty much any occasion; it's one of the reasons why they make such great gifts!
Some Things to Consider When Shopping for Gold Initial Necklaces
1. Whose Initials do You Want on the Necklace?
If you're purchasing the necklace for yourself, you may want to wear your own initial, your partner's initial, your child's, or another friend or loved one's. If you're purchasing it as a gift, think about whose initial(s) the recipient may want to wear.
Initial necklaces make great bridesmaid gifts (give each bridesmaid a necklace with her own initials) or Mother's Day gifts (give the recipient her children's or grandchildren's initials).
2. How Many Initials do You Want on one Necklace, and is it Possible you May want to Add More Over Time?
Maybe you want to add your and your partner's initials together on one chain, or maybe you want to give your mom a necklace with her three grandchildren's initials on it. It helps to know how many initials you'll need before you begin shopping.
At the same time, it's worthwhile to think about whether or not you may want to add more initials to the necklace in the future.
If you're giving a necklace with children's initials to a parent and it's possible that their family may still be growing, you might want to purchase a chain with removable initial charms. That way, you can add future family members to it.
3. Consider the Style Necklace you're Looking For
Ask yourself some questions about how you'd prefer the jewelry to look. Are you looking for a necklace with an individual letter-shaped charm or pendant, or do you prefer one with the initial engraved on a disc or medallion?
Is there a particular font that you're drawn to for the initial? Do you want something delicate or something that makes a statement? Something simple or something flashy? In addition to the gold, do you want gemstones? Answers to all of these will help narrow down your search.
4. Set a Budget and Stick to it
No one needs to break the bank for jewelry. There are plenty of gorgeous options out there that fit into all budgets.
Figure out what you want to spend on your necklace and stay within your budget. Gold-plated and gold-filled pieces are a budget-friendly alternative to solid gold, and simple, engraved designs tend to be pretty affordable.
Hint: there are both gold-plated and solid gold necklaces in all sorts of styles on this list, so you'll have no problem finding something great, regardless of your budget.
Selection Criteria
In order to even be considered for this list, the necklaces I looked at had to meet specific criteria:
Everything on this list is sold by a

reliable retailer

with excellent customer service and fast shipping times. You won't have to worry about getting scammed or having your piece held up in customs for a month when you order any of these.

The necklace also had to be sold through a retailer that was guaranteed to have

plenty of items in stock

. For example, I found a lovely gold and diamond necklace from Saks, but they only had the letter L in stock—great for me, but maybe not so good if your name starts with any other letter. It didn't make the cut.

I stuck with necklaces that hover around a

standard length of 16 to 18 inches

. These are the most popular and versatile lengths for necklaces.

All of the necklaces on this list would make appropriate gifts for

several different occasions

. Nothing is too occasion or recipient-specific. (They also all make great gifts for yourself!
My Picks for Best Gold Initial Necklaces
Best Simple Letter Necklace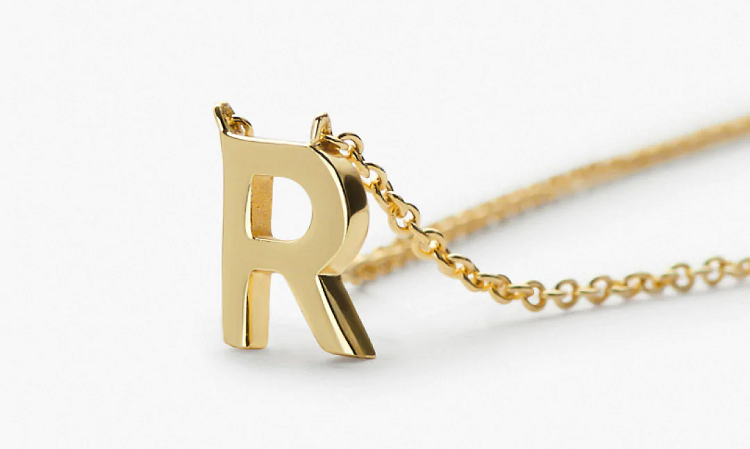 This simple gold initial necklace from Ana Luisa is the perfect basic initial pendant. I really like how clean looking it is.
The initial pendant is tiny, but it's made from thick metal, so it's got a little weight to it, which I love. This is the perfect "wear anywhere" initial necklace, and it would make an excellent gift for just about any occasion.
Pros
The necklace is gold-plated, so it might wear over time, but I do really like the fact that it's plated over recycled sterling silver, so that's a pro for me.

I like that the pendant has two loops with the chain, even on letters where you'd expect just one point of contact, like the L or the A. I think it's a nice touch that makes the necklace look more deliberate and expensive.
Cons
I love a dainty chain, but this one is almost too delicate. The one downside to how the pendants are connected to the chain is that you can't simply replace the chain if it breaks.
Best Gold Disc Initial Necklace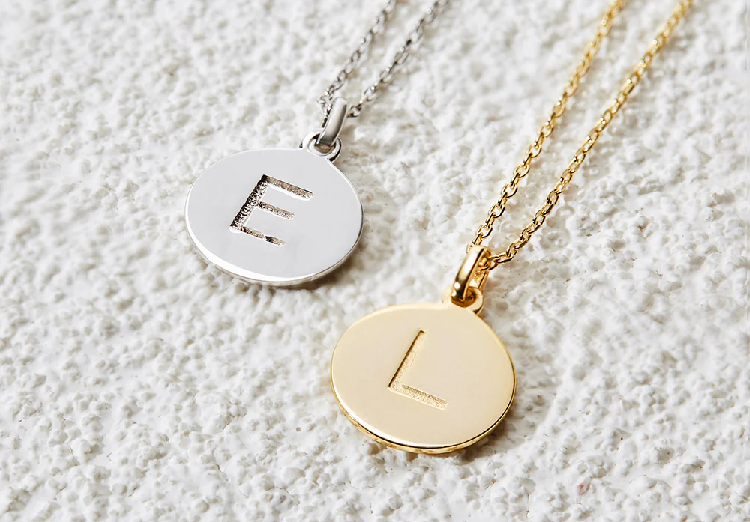 I think this Initial Gold Disc Necklace is probably the most versatile design on this list. I love how clean and simple it is. I actually own the similarly-designed April Birth Flower Necklace from this company, but I might have to add this initial one to my collection as well.
If you're in the market for an initial necklace to give as a gift and you're unsure of what style to choose, this is the one. It would make a lovely (and affordable) bridesmaid gift, and you can add more letter charms to it, which makes it the perfect gift for a parent or grandparent.
Pros
I love that the charms are removable—If you decide you want to in the future, you can add the initials of your loved ones.

This is the perfect layering necklace. It's understated and delicate, so it will pair with most things, and the 16-inch chain has a two-inch extender on it, so you can adjust the length to complement whatever else you're wearing.
Cons
The engraving is a little hard to see from far away (though I kind of like this—it makes the necklace feel more personal to me).
Best Sideways Initial Necklace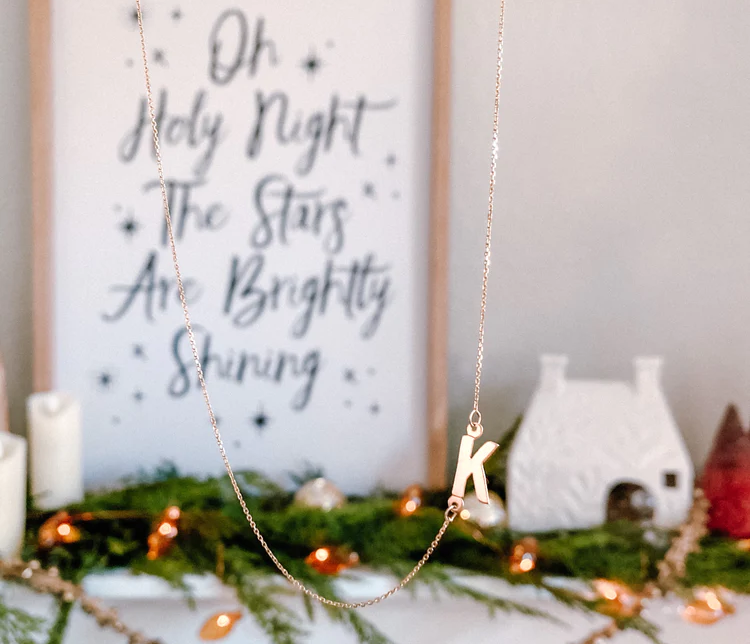 I'm a big fan of sideways-oriented initial necklaces like this Gold Sideways Initial Necklace from Eve's Addiction. I think they're a very chic deviation from a traditional pendant necklace. This piece is still simple and versatile, and you can layer it with other jewelry, but the position of the initial makes it a little more dynamic as well.
Pros
The letter and loops that attach it to the chain are made from one piece of metal, which gives those connection points a little extra security. If you don't like the way this looks, it might be a con for you, though.

There are two different length options available for the chain.
Cons
I know this isn't about the actual necklaces themselves, but I don't like that they only show a few different letters on the website. If I'm buying something online, I want to know exactly what it looks like!
Best Two Initial Necklace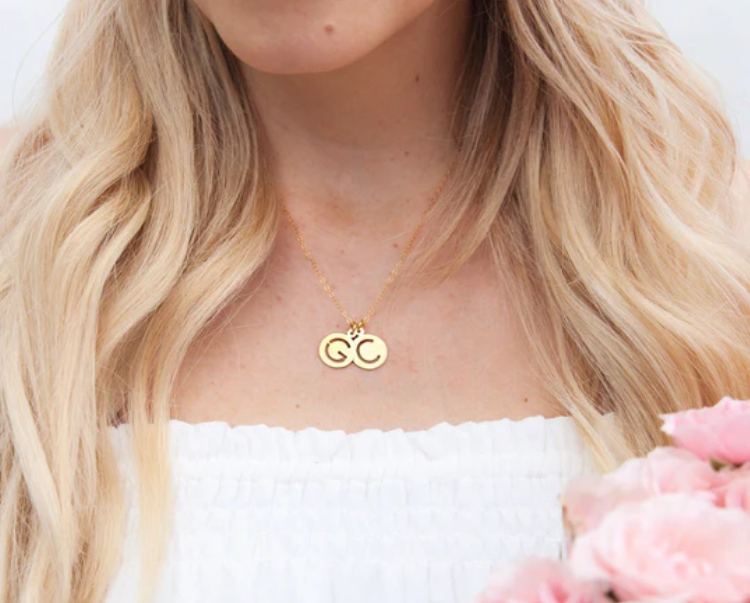 There are plenty of scenarios where you might want a two-initial necklace. They make great gifts for a parent of two children, you can wear your first initial alongside a loved one's, or you can wear a necklace with both your first and last initial on it, to name a few.
This Halsey Two Initial Pendant from Brook & York is my favorite example of a two-initial necklace. It's modern but still pretty, and the cutout letters set it apart from more common engraved pieces while adding a lightness to the design. I think this would make a lovely gift.
Pros
I like that the pendants manage to be bold and light at the same time.

It's also available in rose gold or silver.
Cons
This looks like the type of necklace that you would be able to add extra charms to, but I don't believe it is. The initial charms that are on the necklace don't slip on and off the chain, and they don't sell add-on charms in this style the way they do some others.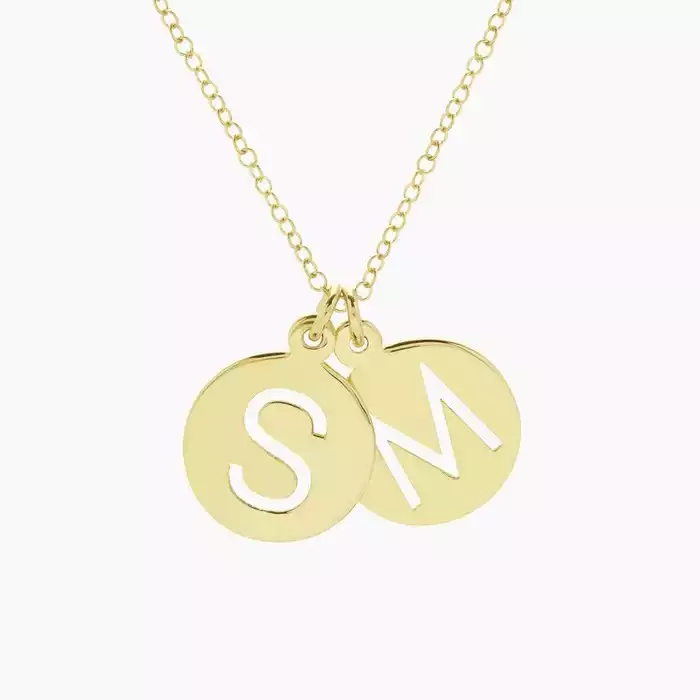 Halsey Two Initial Pendant | Brook & York
Wear your initials in a cool cut-out style with our Halsey Cut Out Two Initial Pendant. Choose your initials, which will be cut out to give the look of a simple, modern font, and pick the finish that will make this necklace fit your personal style.
Check Price
We earn a commission if you click this link and make a purchase at no additional cost to you.
Best Three Initial Necklace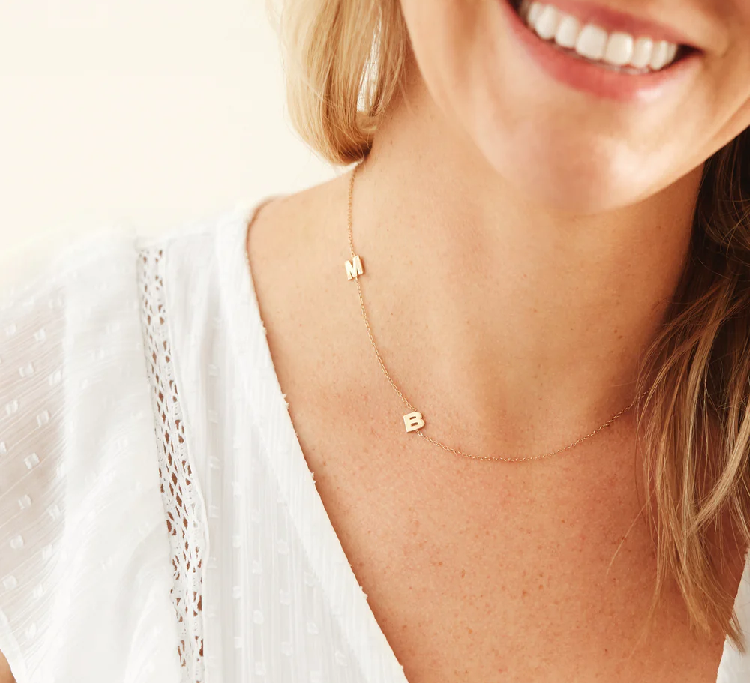 This Sideways Three Initial Necklace is the perfect gift for a mother or grandmother of three children. (There are plenty of other reasons why you might want to give someone a three-initial necklace, but that's probably my favorite.)
I love how the letters are linked to the chain instead of hanging as pendants. It adds some interest to the piece, and it spreads the initials out so that you can read all of them. I think the way they sit along your collarbone looks really elegant.
Pros
I like that this design is very deliberately meant for three initials. It feels more intentional than a necklace that can hold any number of clustered pendants.

I like that the font used for the letters is a little chunky. I think it makes them pop against the delicate chain.
Cons
While I love the off-center position of the letters, it does sometimes make the necklace look like it's just twisted on your neck.
Best Large Initial Necklace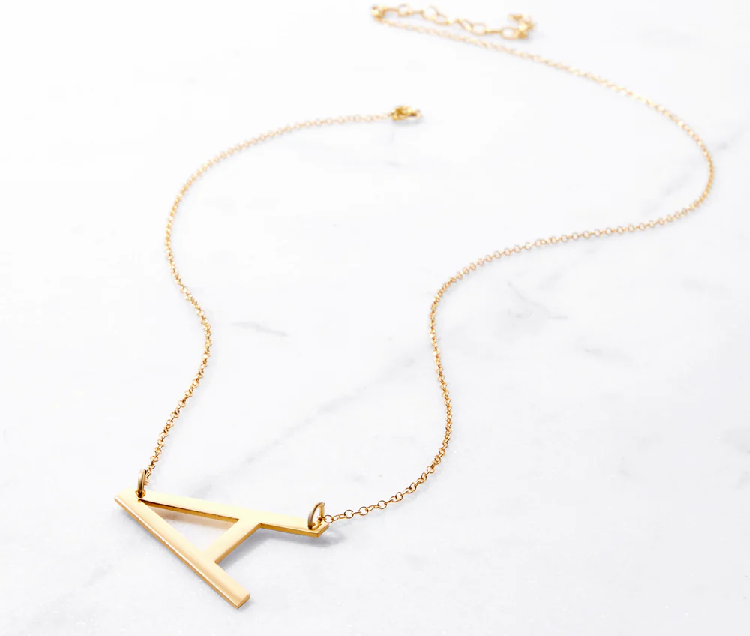 I love this oversize, sideways initial necklace from Eve's Addiction. It reminds me a little of the one Alexis Rose wears all the time in Schitt's Creek, but the font is bolder and a bit more modern-looking.
Like I said above, I'm a big fan of sideways-oriented initial necklaces. I think this is a really cool piece of jewelry that makes a statement without being too garish.
Pros
The chain has a two-inch extender so that you can adjust the length of the necklace slightly.

It's a bold piece, but the style is simple enough that you can wear it often and with anything.
Cons
One issue I've discovered with large, flat pieces like the initial on this necklace is that since everyone's body is shaped differently, it may lie awkwardly on your chest/collarbone. Having the built-in extender will help you adjust for this, though.

I think the huge jump rings connecting the initial to the chain are a little distracting.
Best Gold and Diamond Initial Necklace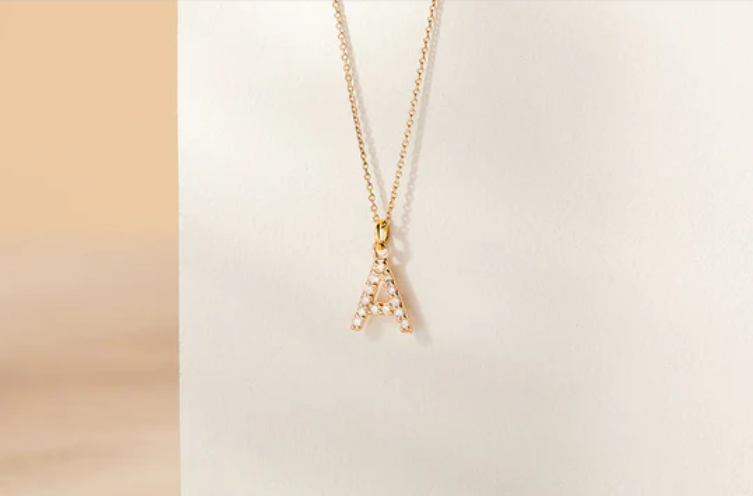 I think that this dainty Blaire Diamond Initial Pendant is extremely classy looking. The delicate uppercase letter is simple, sweet, and set with tiny diamonds.
I would like the style of this one even without the diamonds—the size and font are perfectly on par with my taste—but the extra bling really puts it over the top.
Pros
This could definitely be worn dressed up or down for any occasion.

It's got the perfect amount of understated bling.

I love how tiny and dainty this necklace is.
Cons
This is another instance where the site only shows pictures of one of the letters. The font is straightforward enough that I would feel pretty confident in ordering any of the other ones, but it would be nice if they were pictured!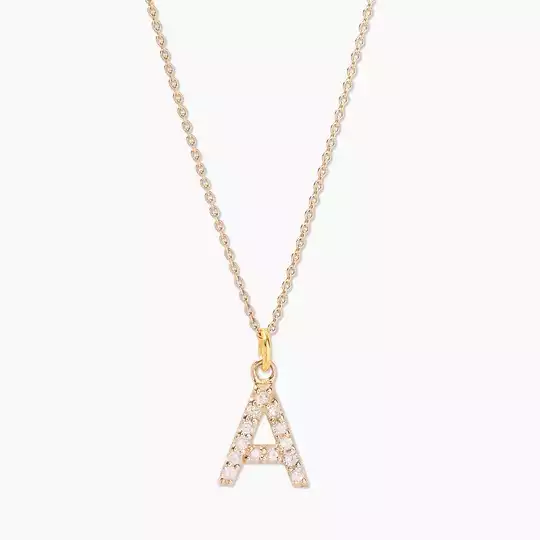 Blaire Diamond Initial Pendant | Brook & York
This is an uppercase only font, lowercase letters entered will be produced as uppercase. Available in sterling silver or 14k gold vermeil.
Check Price
We earn a commission if you click this link and make a purchase at no additional cost to you.
Best Bar Initial Necklace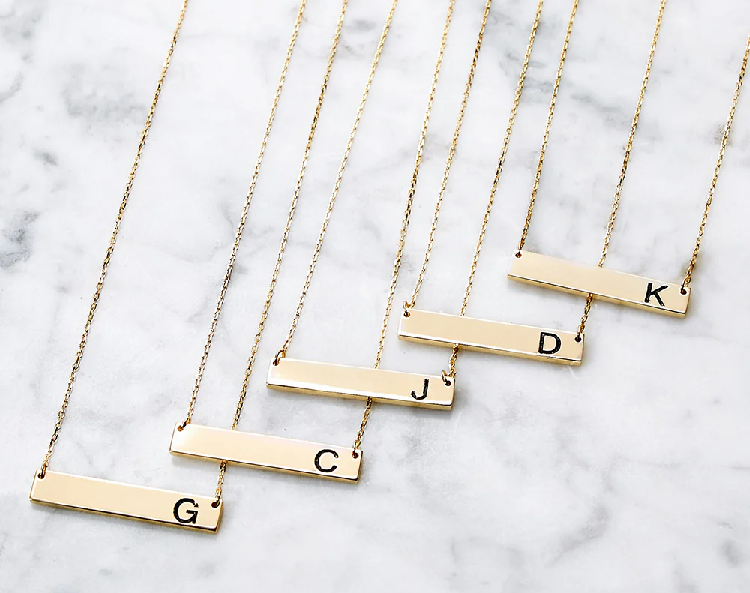 This Gold Name Bar Necklace is another less traditional take on an initial necklace. It features an initial stamped into one side of a flat gold bar. It's a more contemporary design than some of the others on this list, and I think it's really tasteful and understated.
I like the way the asymmetry of the letter placement plays against the simple, geometric bar. This necklace is a great one to have in your regular rotation to add something a little extra to an outfit. This is another style that would be great for bridesmaid gifts.
Pros
I love the oxidized look of the black-filled letters. It really makes them stand out against the shiny gold bar.

For $9 more, you can have the back of the bar engraved with up to 12 characters in your choice of three fonts.
Cons
For some reason, the letters D, J, K, and S cost $10 extra. It seems weird that the cost to produce a necklace with those letters would be any higher than the others. Besides, at any rate, I think it's strange that they're passing on that extra cost to their customers.

The website makes it look like you can choose from three different fonts for your initial, but the fonts are actually just for the optional engraving on the back. I was confused at first!
Most Unique Gold Initial Necklace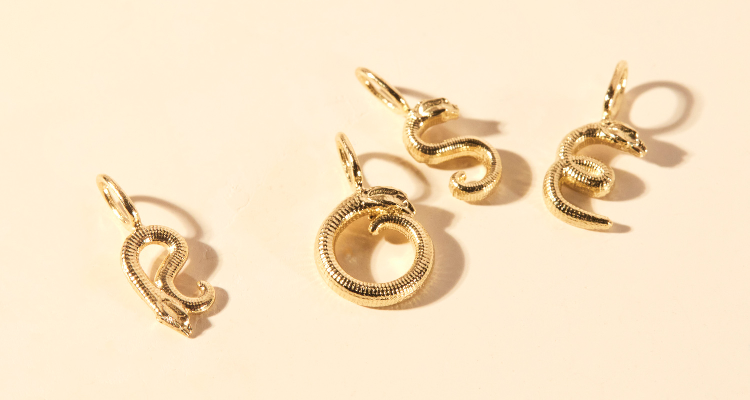 A tiny, adorable snake charm in the shape of my first initial is the jewelry item I never knew I always wanted. I am completely smitten with these Nagini Letter Charms from Catbird NY.
These little guys are so cute and unique! They're super tiny and are sold separately from their chains, so you could even get a matching tiny snake initial bracelet!
Pros
You can purchase the charm on its own, or you can add on your choice of more than a dozen different chains in various lengths and styles.

The charms are made from 100% recycled solid gold.
Cons
I love the little snakes, but I'm actually not a huge fan of how the font looks from further away on some of the letters. Some, like the A, P, and O, are great, but the M in particular really bothers me for some reason (sorry, M names).

The $98 listing price is only for the charm. The optional chain add-ons cost anywhere from around $150 to $300 extra.
Best Gold and Gemstone Initial Necklace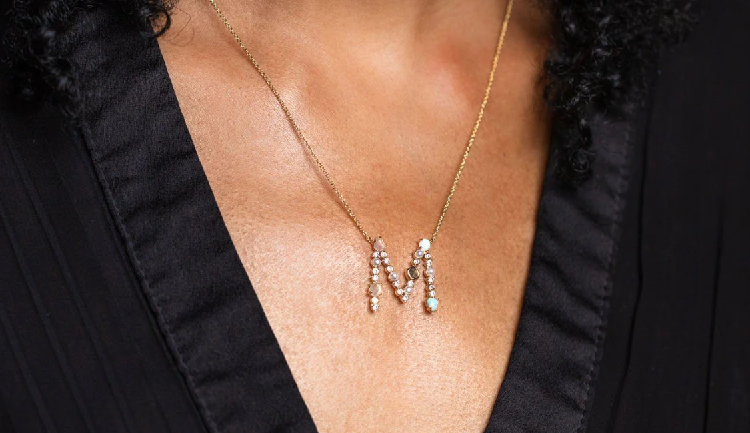 I know this gold and opal monogram pendant from Local Eclectic won't be for everyone, but I think it's really unique and lovely, so I wanted to include it. Each letter is set with a medley of vivid simulated opals and sparkly cubic zirconia—it's like gemstone potpourri!
The combination of colors and textures gives this a kind of fantasy coral reef feel when you view it up close, but the pendant is also small enough that it doesn't look too cluttered or arts-and-craftsy.
Pros
This is not your average initial necklace. It's a unique art piece that you probably won't see too many other people wearing.

I love how scattered and whimsical the stones look without feeling too messy or cutesy—there's even a mix of prong and bezel-set stones.
Cons
This design is busier than the other ones on this list and won't be for everyone. I would imagine that not everyone will like the different-sized stones on one piece.

Beyond choosing your letter, this necklace isn't customizable at all.
Splurge Initial Necklace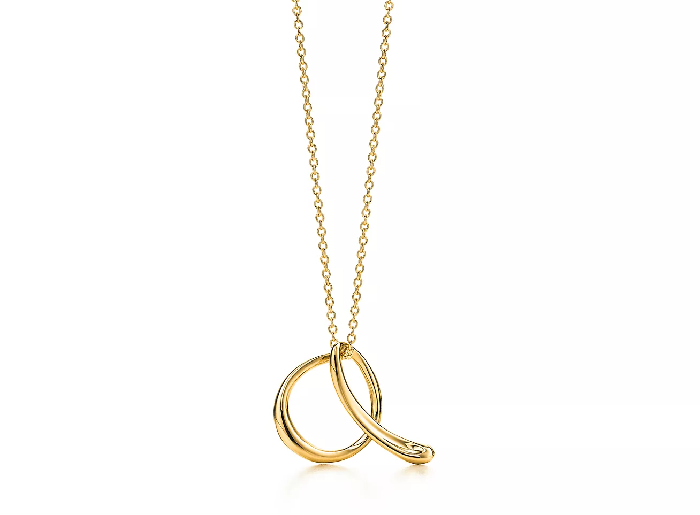 Not everyone's budget will have room for a necklace that costs over $1000, and honestly, I don't expect everyone to even like this style as much as some of the more affordable ones on this list—everyone's taste in jewelry is different.
That being said, I really wanted to include a piece of fine jewelry that could be treasured as an heirloom, and in my opinion, this Elsa Peretti Tiffany Letter Pendant is the best.
Elsa Peretti is an iconic jewelry designer who started designing for Tiffany & Co. in the 1970s. Owning one of her pieces feels a little bit like owning a bit of jewelry design history. I love that this is instantly recognizable as a Tiffany necklace. It's simple but very unique and sculptural.
Pros
It's less common to see lowercase letters used in initial necklaces. It makes this style more unique.

It's made from solid 18K gold.
Cons
The price point might be a pretty significant impediment for a lot of people.

Although I love the way most of the letters look, there are a few that I just don't like as much in this style.
FAQs
Question: Whose Initials Should You Wear on a Necklace?
Answer: You can wear any initials you want on a necklace! Many people choose to wear their own initials or the initials of a child or other loved one, but there's no rule stating whose initials you need to wear! 
Question: Is Gold-Plated Jewelry Real Gold?
Answer: Yes and no. Gold-plated jewelry is made from a thin layer of real gold affixed to a base metal, usually brass or silver. The outer layer of gold is "real" gold, but it's not the same as solid gold jewelry, which is made from the same gold metal throughout the piece.
Question: What is the Best Necklace Length?
Answer: The best necklace length for you will depend on what you want your necklace to look like when you wear it.
Eighteen inches is pretty standard length for necklaces, but if you want a shorter length that sits higher on your collarbone, consider a 16-inch necklace or even 14 inches, which is a common length for a choker. Longer necklaces (as long as 30-35 inches and beyond) can also make an elegant statement. 
Final Thoughts
Gold initial necklaces make up some of the most classic and versatile pieces of personalized jewelry. They go with everything, and they make great gifts. If you don't want to wear your own initial, wearing someone else's is a great way to show your love for a friend or family member.
I already own several gold initial necklaces, but there's always room for more! My favorite is the Blaire Diamond Initial Pendant, but I might be adding a few more from this list to my collection as well!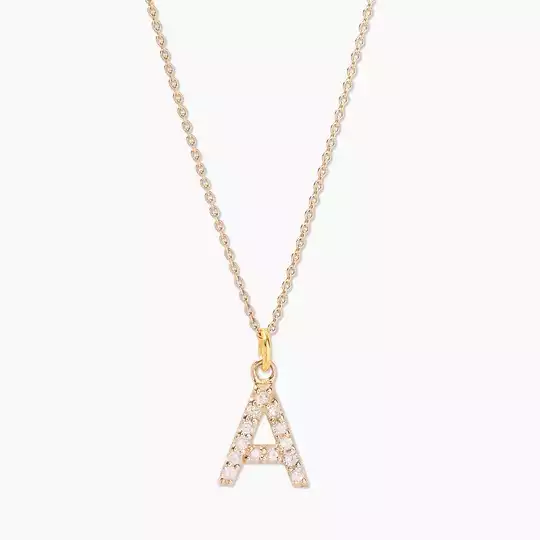 Blaire Diamond Initial Pendant | Brook & York
This is an uppercase only font, lowercase letters entered will be produced as uppercase. Available in sterling silver or 14k gold vermeil.
Check Price
We earn a commission if you click this link and make a purchase at no additional cost to you.
Looking for more interesting readings? Check out: