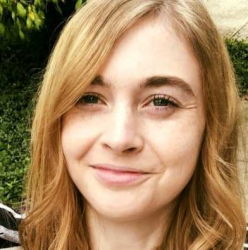 Latest posts by Erin Jamieson
(see all)
For many, December is a month of giving, hope, and family. And whether you're looking for ideas for a surprise engagement or gift, it so happens to be the month of enchanting blue birthstone rings.
Enchanting birthstones are being featured more and more, from fine jewelry like necklaces to exquisite rings. Birthstone jewelry was named as a top trend in 2020 and continues to inspire with personal and gorgeous styles.
Etsy trend guru Dayna Isom Johnson declared birthstones as a breakout wedding trend. More and more couples are searching for diamond alternatives for engagement rings, and birthstones are meaningful and unique.
Johnson claims the trend is a way to express more personality and add a personal touch to an engagement ring. Others, according to the same 2020 report, love the symbolic meaning behind birthstones. And with birthstones increasing in popularity, you don't have to settle.
For December, you have an option of more birthstones than most months– and each is remarkable in its way. Dazzling blue hues reflect the enchanting, whimsical, and gorgeous details of the season.
In this article, I'll tell you the pros and cons of each December birthstone and provide tips on how to buy the best gemstone ring possible. I'll finish with my favorite ideas for December birthstone rings that are durable and stunning in their own right.
How many December birthstones are there?
December doesn't have one or even two birthstones, but three. Having more birthstones to choose from allows you to have more buying opportunities and allows you to be more selective as well.
Why does December have multiple birthstones?
While you may associate one birthstone for a given month, the truth is that it's quite common for months that have multiple birthstones; this is true not only for December but other months as well. Most months have two birthstones, but all have at least more than one to provide more choice. The biggest reason is there have been concerns with how affordable and durable birthstones are.
What is the color for December?
Blue is the dominant color for December and that's reflected in the three birthstones. Turquoise, tanzanite, and blue zircon show an array of colors, from icy to deeper blues. Touches of the elegance of mysticism seem well-suited for the season.
What is the most popular December birthstone?
Of the three birthstones for December, blue zircon happens to be the most popular. It's unclear why this is, but turquoise and tanzanite are still fairly well known. You may see some mention of other stones, including blue topaz, but the most recognizable stones are turquoise, tanzanite, and blue zircon.
Each December birthstone has something unique to offer– and certainly pros and cons. The key is understanding how to select the best quality gemstone and the one that makes sense for you– not necessarily the most popular.
Is tanzanite worth buying?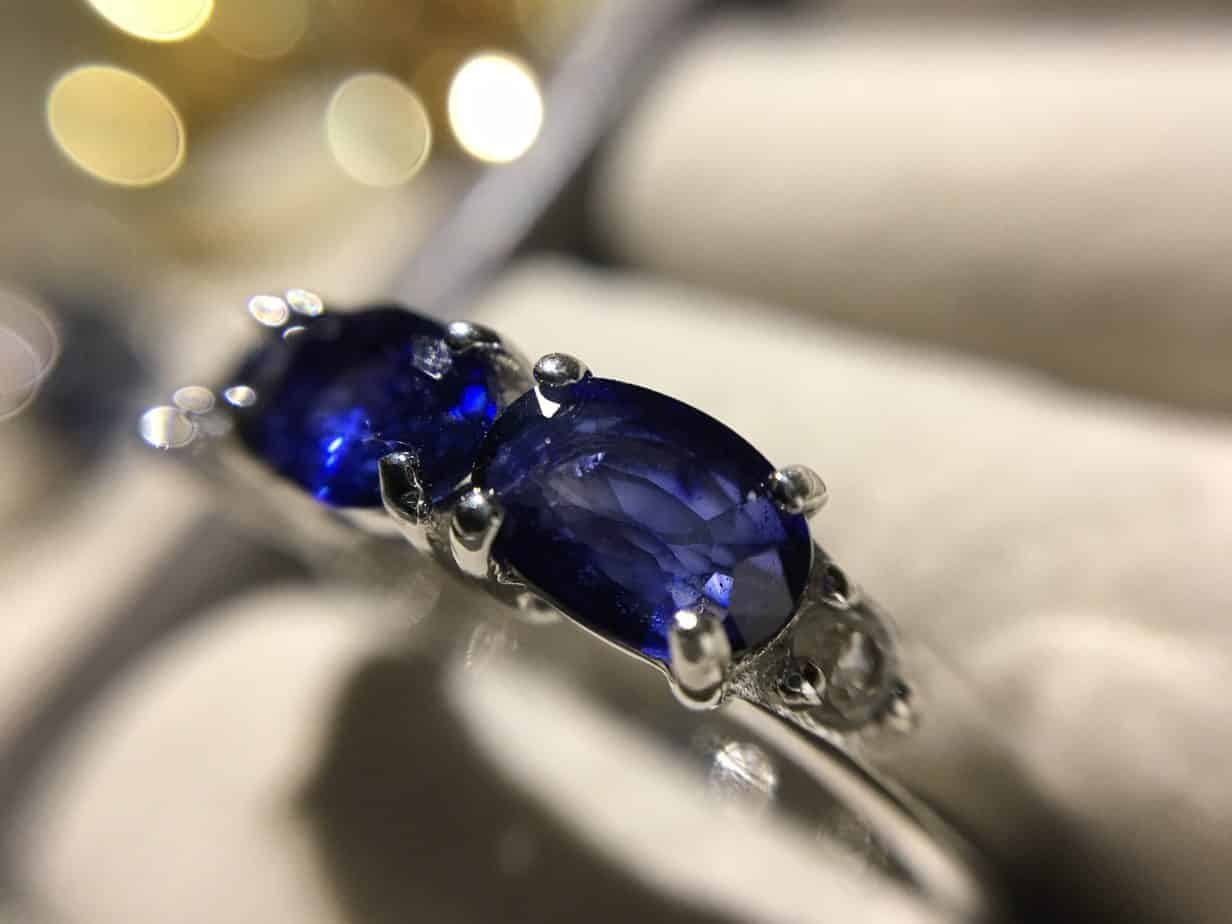 Tanzanite, one of the birthstones for December, is a blue to a violet form of zoisite and belongs to the epidote mineral family. Since it's only naturally found in Tanzanite, it's rarer than a diamond. The beautiful gemstone has special qualities depending on your lighting, making it unlike any other gem within the blue or violet spectrum. At its best, it's considered a good investment, as it tends to retain its value.
The refractive index of 1.69 to 1.7 is comparable to rubies and sapphires so that you can expect similar brilliance.
Can tanzanite be worn every day?
Tanzanite is rated at a 6 to 7 on the Mohs hardness scale, making it suitable for wear and susceptible to scratches. Since it has a nice cleavage, this also means it's vulnerable to chips with a direct impact. I recommend taking your ring off during any physical activity, especially contact sports– and do know you have to be a bit more careful than some other precious gemstones.
Should tanzanite be blue or purple?
Tanzanite ranges from violet-blue to bluish violet and even violet with purple undertones. The hue should be rich and expressive, but a bluer tone is considered a bit more desirable than those closer to purple on the spectrum. Regardless, the quality is determined by deeply saturated colors—the paler the hue, the less valuable.
How can you tell the quality of tanzanite?
Aside from color, other quality factors concern the cut and clarity. Cushion and oval cuts are considered the most desirable, with round cuts being the next best choice. Avoid deep cuts, like emerald cuts.
More important, however, is the overall grade, which includes the level of clarity. After color, clarity, and luster are the most important. Make sure there are details about the level of inclusions– even better if there's a quality grade. AA should be the minimum quality used for a ring.
| | |
| --- | --- |
| AAAA | The top 10 percent of all tanzanite. These feature a deeper blue hue, with purple undertones and are eye clean, with no visible inclusions |
| AAA | The top 20 percent of tanzanite. These are still beautiful gemstones, featuring a medium blue-violet hue, with modest inclusions. |
| AA | The top 50 to 75 percent of tanzanite. These usually are more violent than blue, with some gray undertones. Acceptable for use in fine jewelry, inclusions are more noticeable but acceptable. |
Is turquoise worth any money?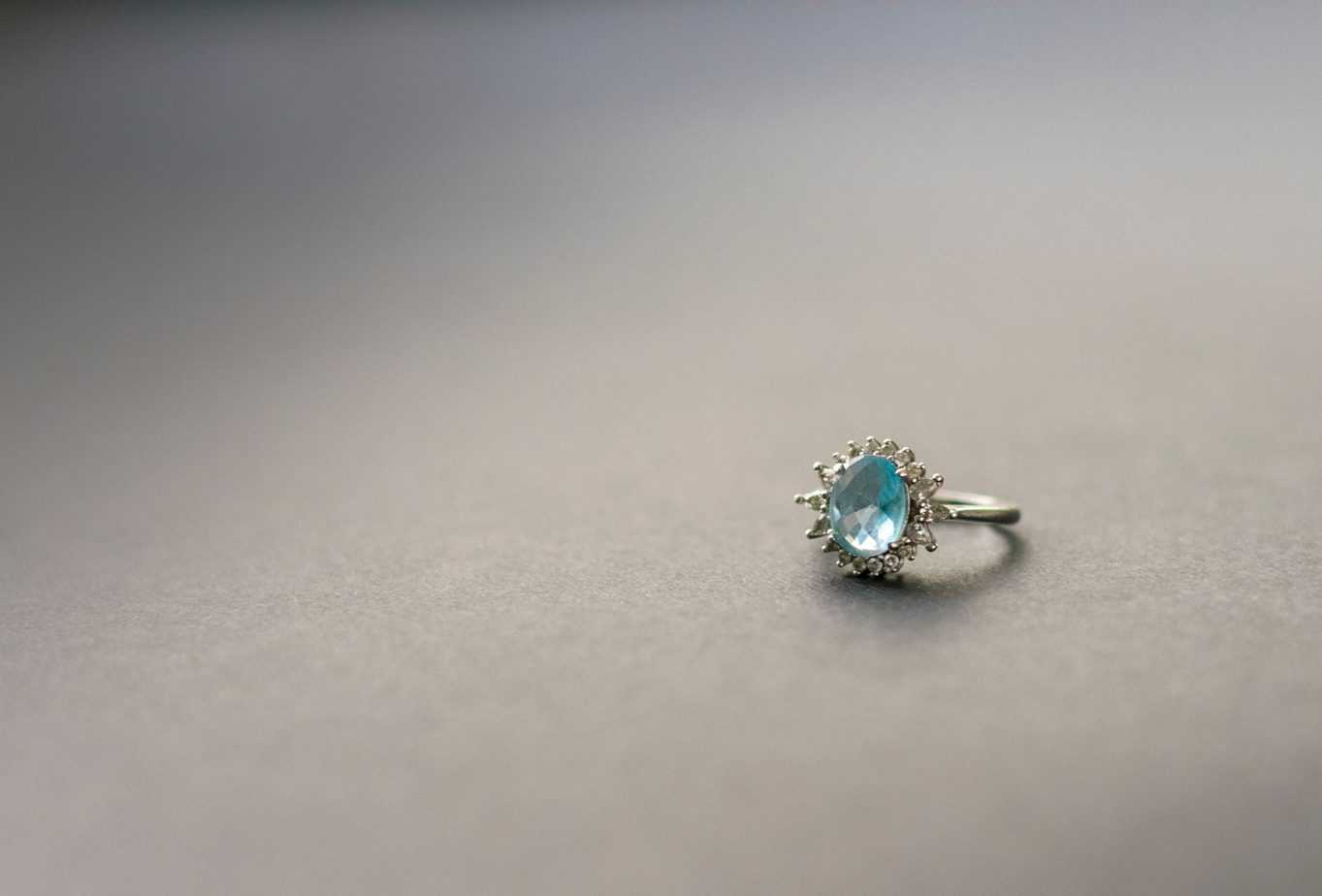 Considered the traditional December birthstone, a turquoise is a form of hydrated phosphate of copper and aluminum, exhibiting an opaque, blue to green hue. Naturally found in only a handful of regions in the world, there are many imitations and lab-grown options. Lab-grown presents just as fine of quality but less value. Some natural turquoise of the highest quality are worth up to as much as $1000 per carat, but most range from as little as $10 to $100 per carat.
Turquoise has a unique hue and a respectable refractive index of 1.6 to 1.65– it's not the most brilliant stone and far less brilliant than a diamond, but not dull, either.
Is turquoise a durable stone?
Turquoise is a charming stone, but it's likely better suited for a cocktail or fashion ring vs. something you'll wear every day, such as an engagement ring. It has a Mohs hardness rating of 5 to 6, making it vulnerable to everyday wear scratches and dents. While acceptable for wear, it's not likely wise to wear a turquoise ring heavily. While a fairly stable stone, it can react to excessive heat and discolor.
What color turquoise is the best?
Turquoise color is interesting in its variety. You can also find nearly solid hues, as well as hues with streaks and spiderweb veins. The most prized hue is Persian blue, which is an even sky or robin's egg blue, ideal for cabochon cuts. This hue is naturally sourced from Iraq.
The next value is bluish-green. Bluer tones are more desired over those with green and yellow undertones. The least desirable is turquoise that features heavy matrix patterns. These can be full of character, but they must be cut in a precise way. Color saturation or intensity is also important.
How can you tell the quality of turquoise?
The cut is likewise important for the quality of turquoise. Cabochon cuts are desired for the round, rounded dome and oblong shapes. While turquoise is versatile, sticking with rounded cuts is best. The lowest quality of turquoise available is in the form of nuggets, which are tumbled and not suited for fine jewelry.
Like most colored gemstones, there are also official ratings that provide insight into the overall quality. You should opt for nothing lower than AA, and preferably better.
| | |
| --- | --- |
| AAAA (Heirloom) | The top 1 percent of all turquoise. These are the ideal bright blue color, with no visible inclusions. |
| AAA (Best) | The top 10 percent of turquoise. These stones are sky-blue turquoise with an eye-clean quality. |
| AA (Better) | The top 33 percent of turquoise. A greenish-blue is accompanied by minor inclusions. |
| A (Good) | Stones are deemed acceptable by most jewelers. These are light blue and include noticeable inclusions. |
Is zircon a real gemstone?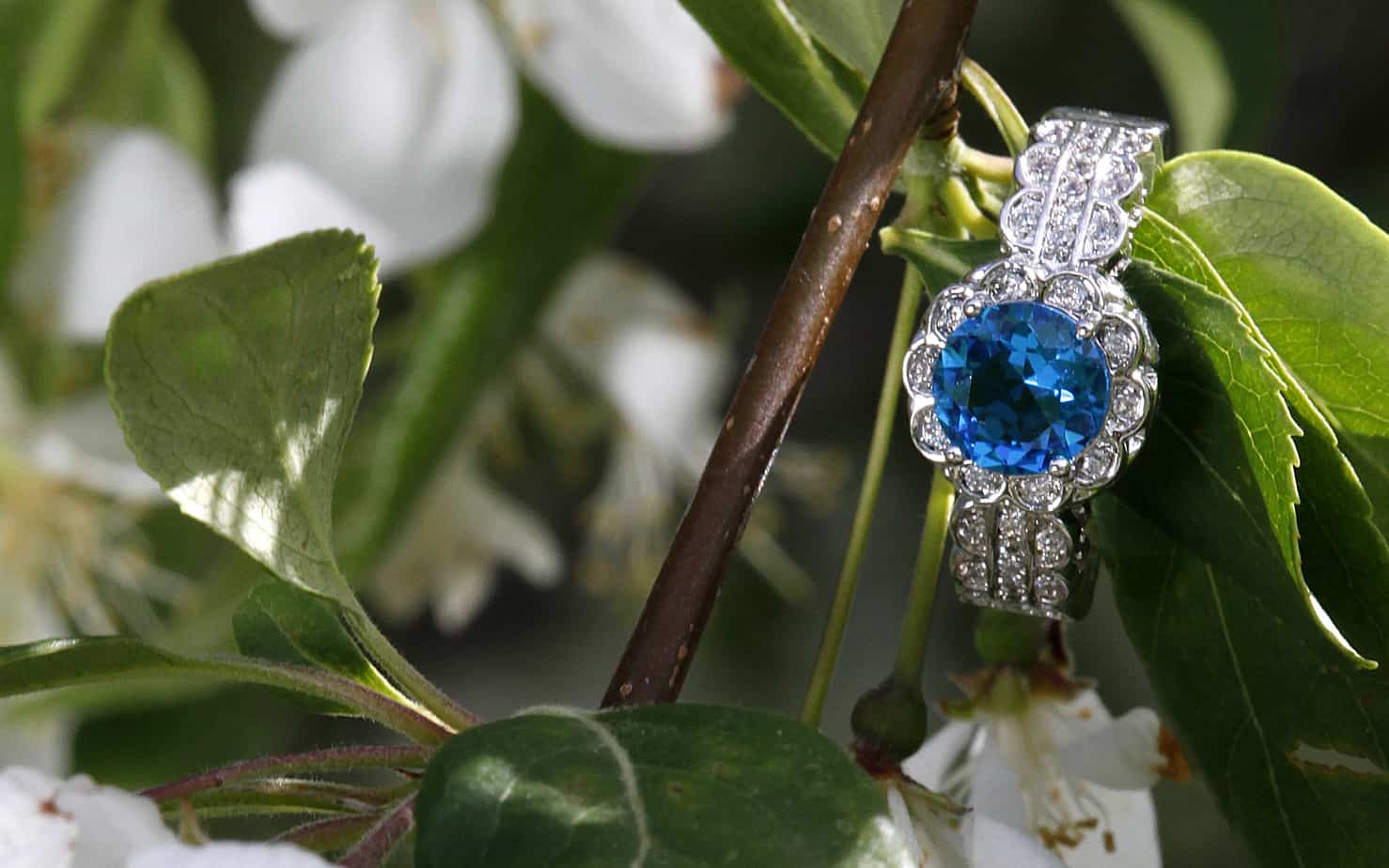 Interestingly, zircon has gotten a reputation as a simulant– and even been compared with cubic zirconia. Likely, the name similarities confuse many. In truth, zirconia is a naturally occurring stone, though it can, of course, also be lab-grown.
Zircon is an overlooked gemstone that exhibits brilliance, with a refractive index as high as 1.9– below diamonds but above gemstones like rubies and sapphires. With its vast array of hues, this playful gemstone is unique and offers a beauty of its own.
Is zircon safe to wear every day?
Zircon can range from 6 to 7.5 on the Mohs hardness scale. At its hardest, it's fairly suited for everyday wear– at its lowest, you have to be careful. It's suitable for everyday wear, and more so than turquoise, but you do need to treat it with care; this is also true because it's a brittle stone, like a diamond, so it can chip, Wear it with care and store it separately from other pieces of jewelry. Avoid harsh chemicals and use common sense how and where you wear your ring.
Which zircon is best?
Blue zircon– the birthstone for December– is considered the most desirable color. Bright red and green are the next value. For blue zircon, do note that many stones have been heat-treated. Nonetheless, look for a saturated, deep hue. Pastel blues are fine– but not quite as desired. A greenish-blue is common.
Clarity and Inclusions
Look for eye-clean zircon. One concern is that lower-quality blue zircon has a cloudy appearance. Likewise, parallel inclusions can impact the durability of blue zircon. And by all means, make sure you're buying natural or lab-grown, and ensure you aren't instead of looking at a stimulant.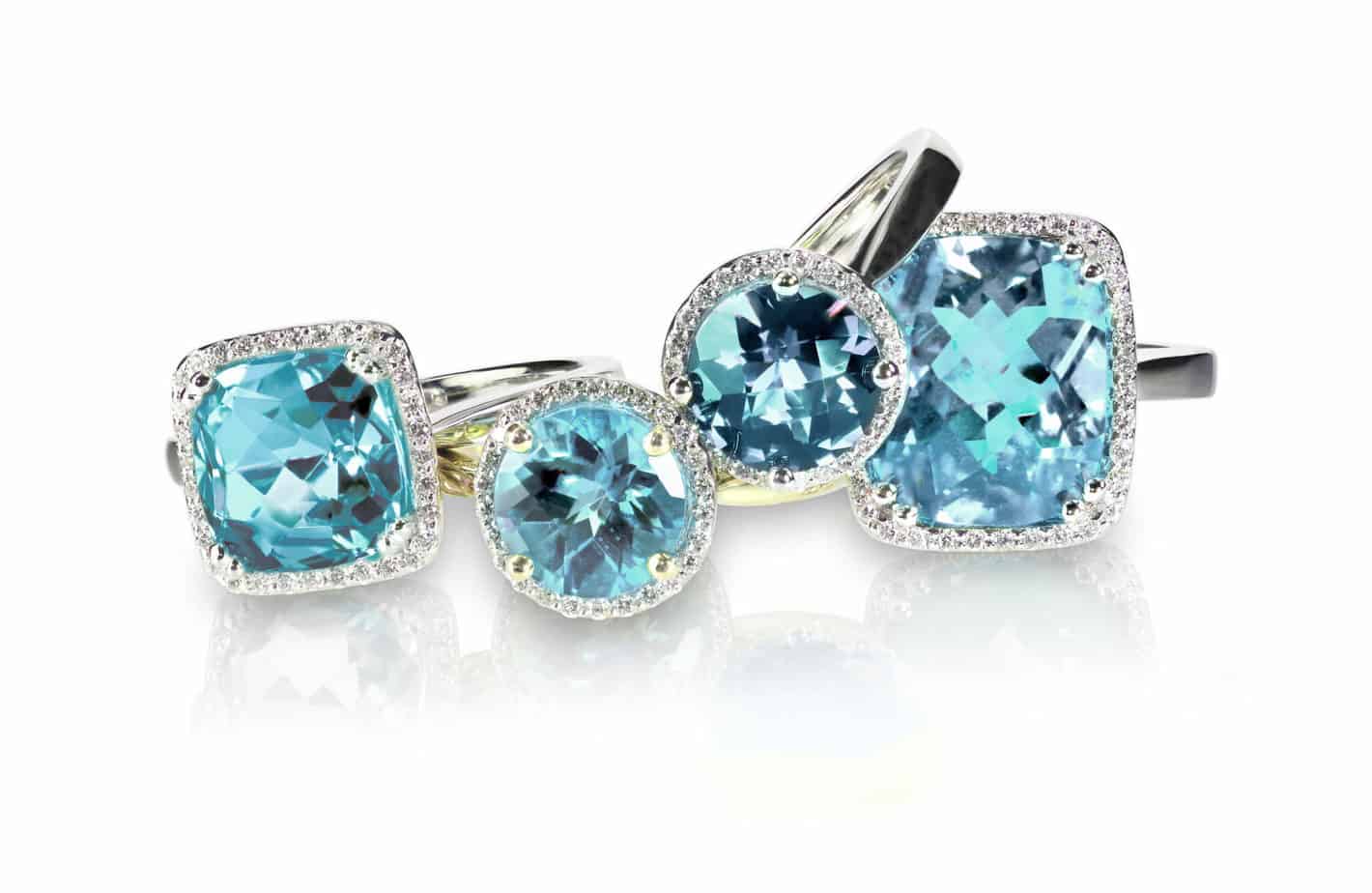 Cut
For a cut, you want something that optimizes the beat feature of blue zircon: fire and brilliance. For this, a round brilliant cut is ideal. Oval, princess, and cushion cuts are also excellent choices. Even heart and marquise cuts have their charm and suit blue zircon.
Carat
Finally, note that larger isn't better: carat size for zircon is sometimes preferred at a more modest level, as large carat sizes of great quality are quite unusual. And with the fire, brilliance, and beautiful hues zircon has to offer, you don't need a large carat stone.
My Ideas: December Birthstone Rings
Here are some of my favorite ideas for some of the most exquisite December birthstone rings. I've selected these rings from fine jewelers, including Jared, Brilliant Earth, Ross Simmons, and Zales. All of these rings are crafted in fine-quality precious metals that won't tarnish, and all gemstones are genuine natural or lab-grown.
Tanzanite Birthstone Rings
Tanzanite rings can be found through a specialty jewelry store, Tanzanite Jewelry. This highly rated store specializes in this signature gemstone and features beautiful, luxurious rings. My other picks come from Brilliant Earth. These beautiful rings feature blue and violet hues, which look splendid with white gold and platinum, but of course, they can also be paired with yellow or rose gold to bring out warmer hues. Shop All Tanzanite Jewelry Designs Rings Here.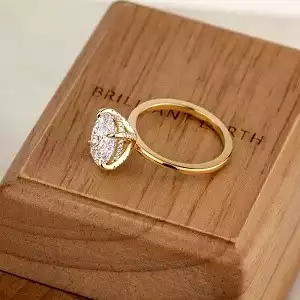 Planning a Proposal?
Make that proposal happen! Get started designing and create an engagement ring as unique as the wearer. To help pull off the perfect engagement, head over to Brilliant Earth's proposal guide.
Check Prices
We earn a commission if you click this link and make a purchase at no additional cost to you.
Brilliant Earth Loose Tanzanite Gemstones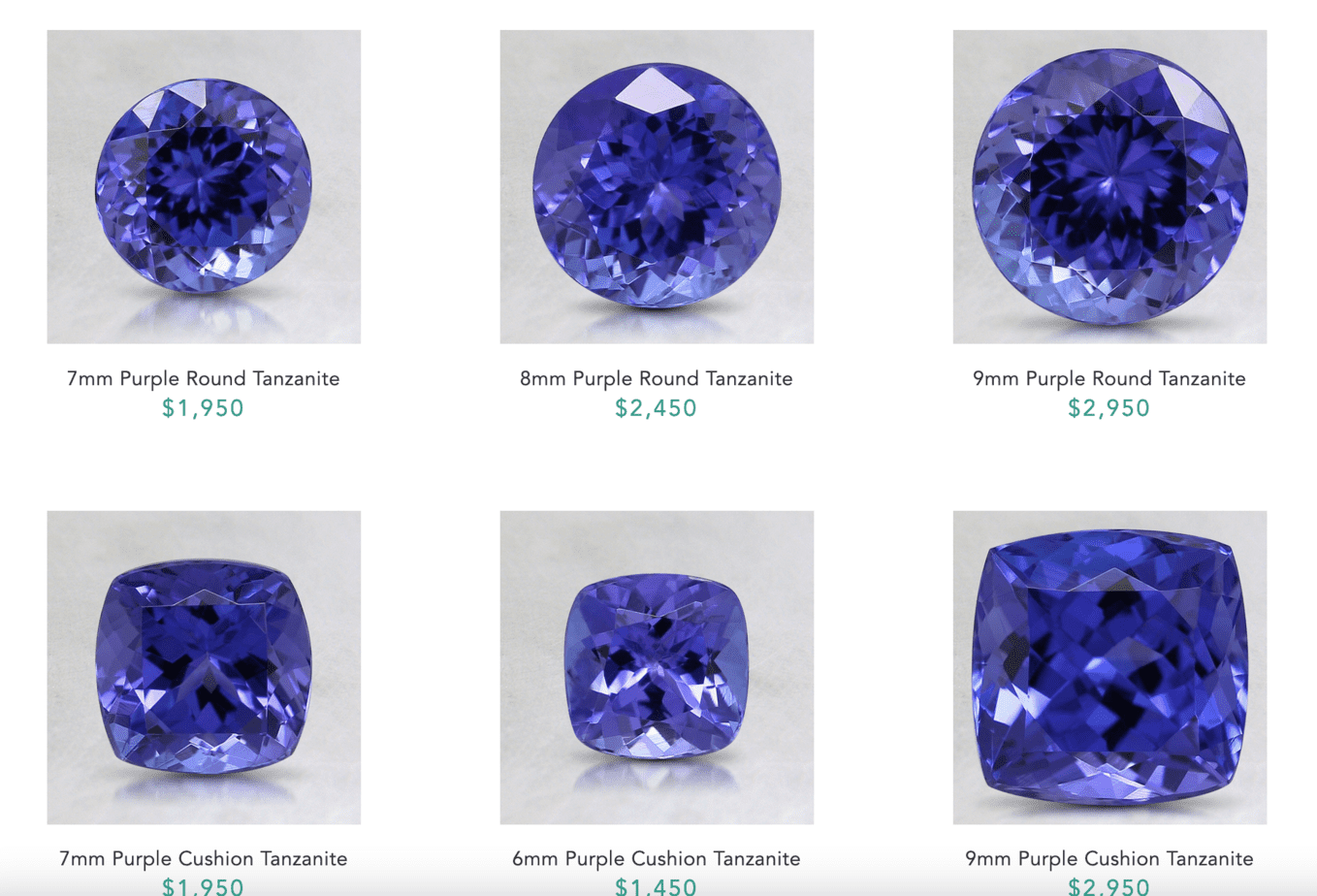 Are you looking for loose tanzanite gemstones of exquisite quality? Brilliant Earth offers just that. These beautiful loose gemstones are available in round, cushion, oval, marquise, and pear cuts, and all are ethically sourced and GIA-certified. You can select a loose gemstone to create your ring for a custom look. Currently, available tanzanite gemstones are priced from $1,450 to $4,750. Shop Loose Tanzanite Gemstones Here.
14K White Gold Oval Tanzanite Ring 1.32 Carats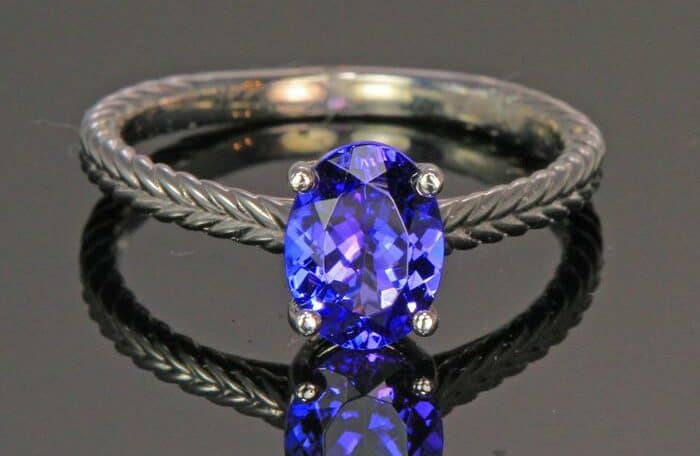 Sometimes simple can be exquisite. This beautiful ring is priced at $1,050 and features a blue violet-hued oval gemstone. Beautiful clarity provides brilliance, with a classic four-prong setting, all crafted in 14K white gold. A lightly braided band adds elegance and texture to otherwise clean lines. Buy Here.
14K Yellow Gold Tanzanite and Diamond Halo Ring 1.05 Carats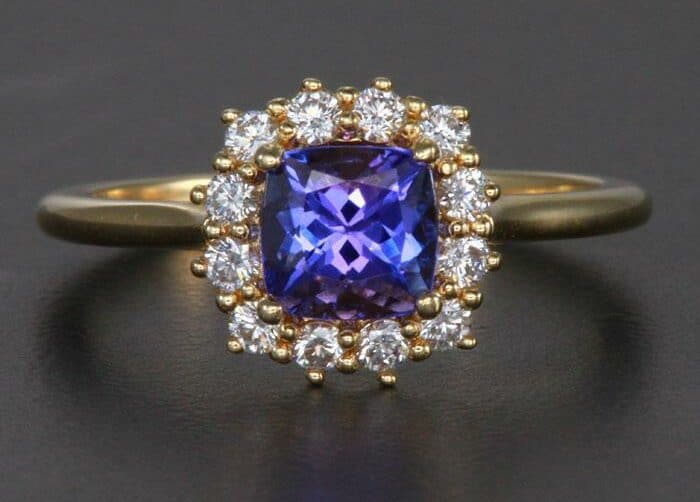 This gorgeous ring highlights the beauty of a nearly flawless, vivid blue-violet gemstone. The square cushion cut tanzanite stone is surrounded by a halo of round brilliant diamonds, This glamorous ring is crafted in rich 14K yellow gold and priced at $1,296; Buy Here.
14k White Gold Square Cushion Tanzanite Ring with Diamond Accents 1.76 Carats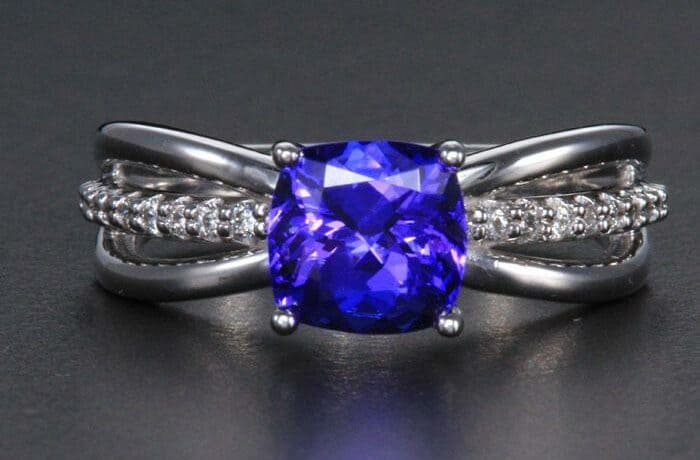 This unique ring plays with modern geometry, with undeniable elegance. Nearly flawless square cushion tanzanite is secured with a four-prong setting. The deep violet hue is lightly accented with round brilliant diamonds for classic sparkle. Priced at $1,890; Buy Here.
18k White Gold Tanzanite Ring with Halo of Diamonds 4.72 Carats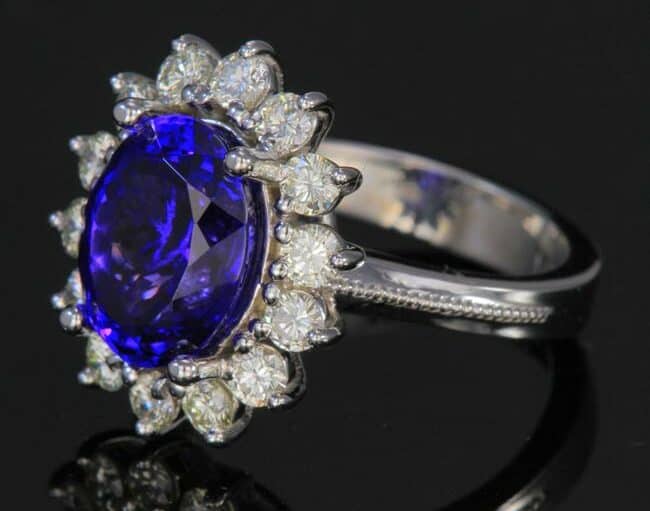 Priced just under $7,000, this tanzanite ring is truly statement-worthy. The blue-violet oval tanzanite radiates with an opulent hue, paired with fourteen round brilliant diamonds. The beautiful color and clarity of both the diamonds and tanzanite are truly spectacular. The ring is crafted in 18K white gold with light detailing along with the band; Buy Here.
Turquoise Birthstone Rings
Turquoise needs to be selected with care. While several companies sell turquoise, I made sure to avoid fake or low-quality options that are prominent in the market. Ross Simmons offers turquoise rings paired with polished gold for finer quality and a more formal statement.
These rings are mostly all the desired sky blue hue, with modern and playful styles. You'll find colorful and even floral designs for spirited rings. Be aware that there are a few simulant options– so read carefully. These turquoise stones have been stabilized for improved durability. Rings will need to be resized. Shop All Ross-Simons Turquoise Rings Here.
Turquoise Ring with .32 ct. t.w. Diamonds in 14kt Yellow Gold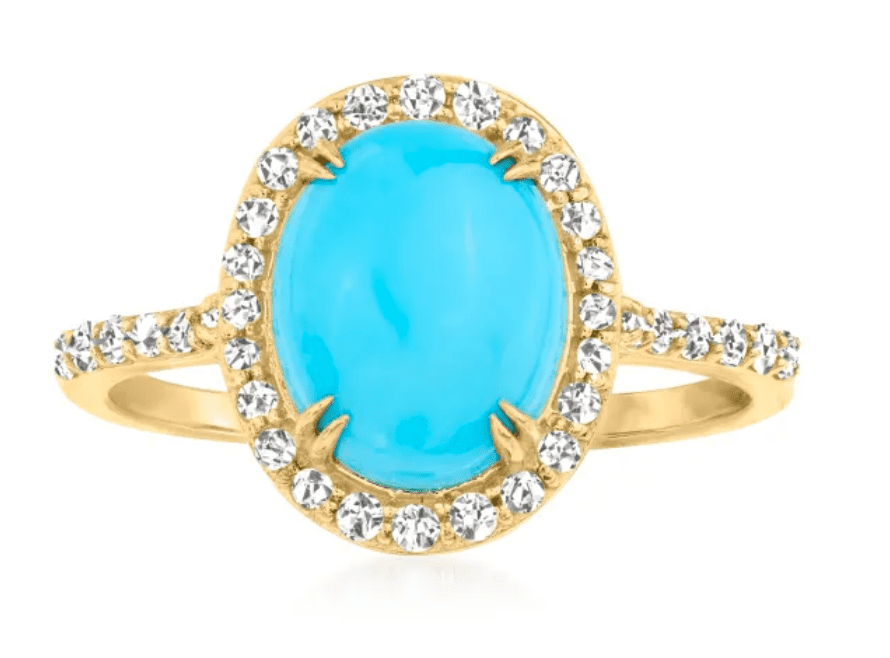 This incredible turquoise ring shows you how smaller carat sizes can still be an excellent idea. The ring is now discounted for under $600 and stuns with a sky blue hue and gorgeous details; an oval cabochon turquoise stone is surrounded by a halo of sparkling diamonds. 14K yellow gold brings out warm hues and makes for a refined, finishing statement. Buy Here.
Turquoise and Diamond-Accented Ring in 14kt Yellow Gold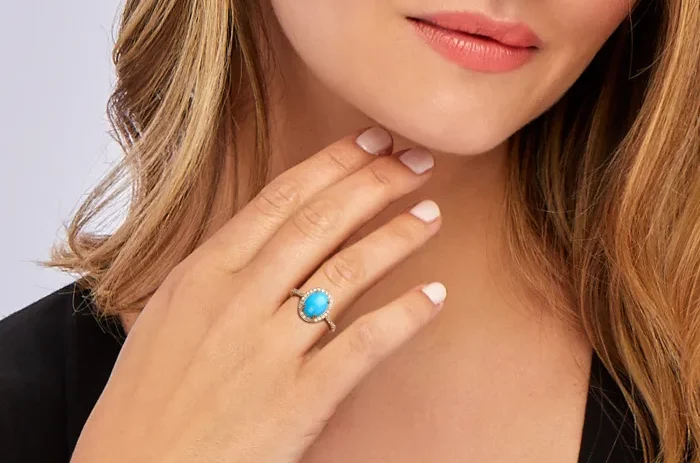 This vintage-inspired ring retails for just over $670 and makes for a gorgeous December birthstone ring for a party. An oval cabochon turquoise stone with a sky blue hue. The migraine marquise shapes are accented with diamonds for a sense of elegant timelessness, crafted in 14K yellow gold. Buy Here.
Turquoise and Pink Sapphire Ring with Diamond Accents in 14kt Yellow Gold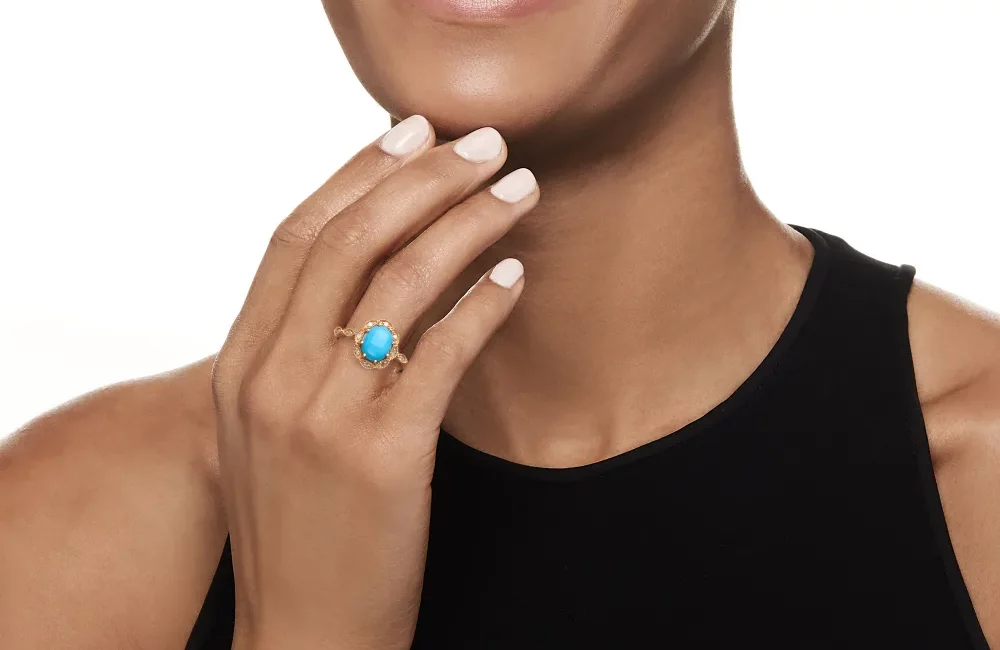 This bright ring combines September and December birthstones– perfect if you want to symbolize a close bond between two born in those two months. This creative ring pairs oval cabochon turquoise with alternating pear-shaped pink sapphires and dazzling diamond accents. Set in 14K polished yellow gold and priced at $1,046; Buy Here.
Turquoise and 1.47 ct. t.w. Diamond Flower Ring in 18kt White Gold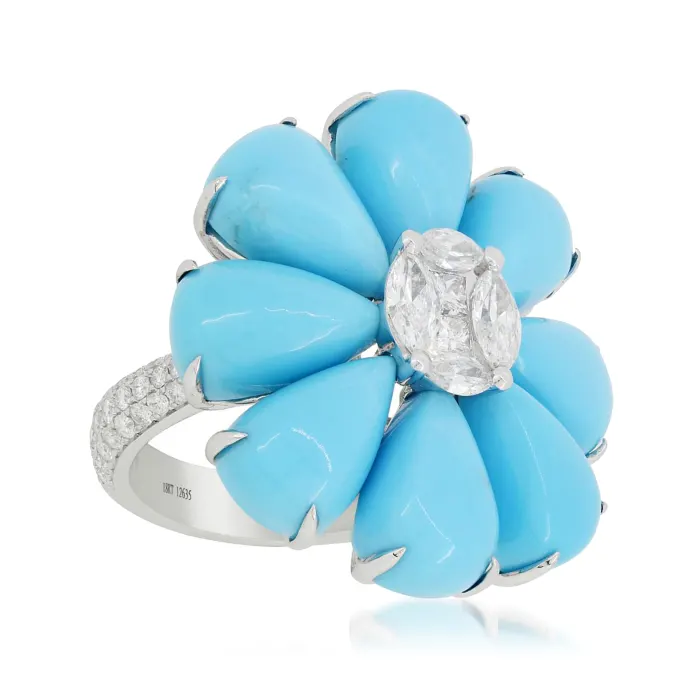 This show-stopping cocktail ring showcases just how fun this December birthstone can be—crafted in beautiful 18K white gold, a turquoise cabochon is arranged in petals to surround a round cut diamond. Marquise, princess-cut, and round diamonds accent the shank for an alluring look. Priced at $7.496; Buy Here.
Blue Zircon Birthstone Rings
Blue zircon can be tricky to find. As is the case with turquoise, you need to be extra careful you're selecting a genuine gemstone. My picks come from Ross Simmons. Diamonds and modern shank styles are some of the highlights of my favorite ideas. I've also included an option from Ruby Lane, a specialist in antique and true vintage rings.
5.25 Carat Blue Zircon Ring with .20 ct. t.w. Diamonds in 14K Yellow Gold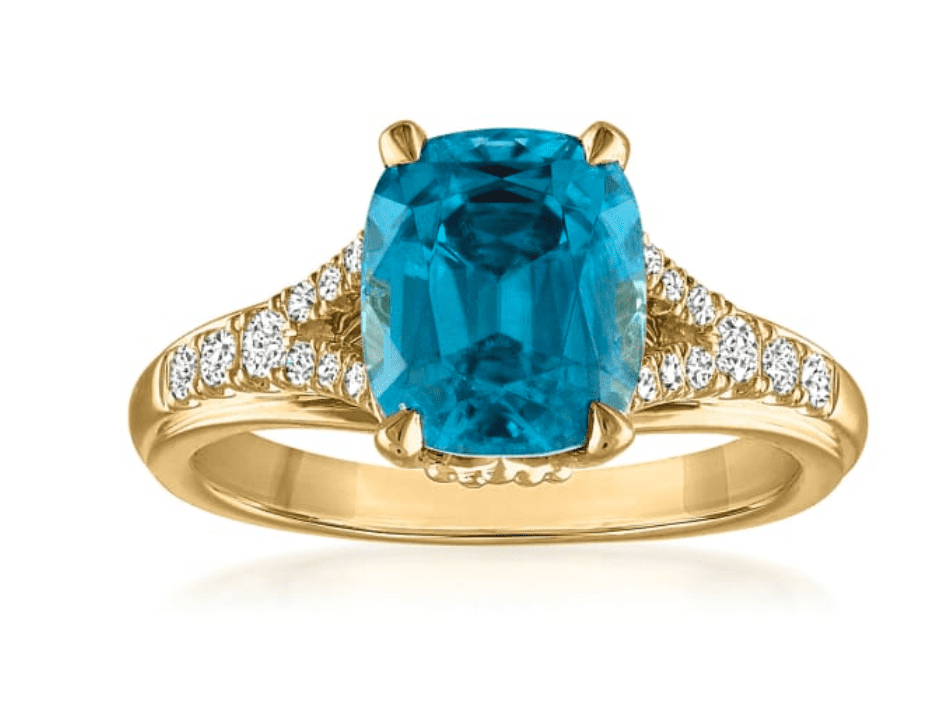 This stunning ring wows with a saturated blue zircon stone. The flattering cushion-cut gemstone is set on a 14K yellow gold tapered shank. Warm and cool tones are balanced with yellow gold, cool blue, and sparkling round brilliant cut diamonds. Priced at $4,496; Buy Here.
4.70 Carat Blue Zircon Ring with .29 ct. t.w. Diamonds in 18kt Rose Gold
This enchanting style is one of my favorite ideas for a December birthstone ring. The rich 18K rose gold is the perfect touch for a mystical ring. The icy blue of the oval blue zircon is adorned with a bond halo of round, brilliant-cut diamonds. Sure to make an impression, this unique ring is priced at $2,096; Buy Here.
Etched Blue Zircon Solitaire Ring
This unique ring keeps the style simple with a classic solitaire but with beautiful details. The mid-century era ring stuns with a bright blue stone, with artisan etching for a unique touch. A classic four-prong setting is accompanied by fine detailing on a 14K yellow gold band. Priced at $885; Buy Here.
Frequently Asked Questions
Question: What birthstone is Bloodstone?
Answer: Bloodstone is the lesser-known birthstone for March. Bloodstone is a form of quartz and is typically a deep green, accented with bright red spots of iron oxide. It's naturally found in Brazil, Australia, and India.
Question: What is the most important birthstone?
Answer: There is no one most important birthstone. All birthstones are rich in symbolic meaning and cultural significance. But if you're asking about the most valuable birthstone, look to July. One of July's birthstones is a ruby. Ruby is known for passion, love, and a deep, expressive hue. It's more rare and valuable than most diamonds, except some exceptionally rare diamonds.
Question: Are birthstones good luck?
Answer: Some believe that birthstones bring good luck, protection, and good health. Each birthstone has a unique meaning. Birthstones also have deep roots in astrology, as well as a bevy of cultural traditions.
Final Thoughts
December birthstones feature a beautiful range of blues, from teal to saturated, deep blues. From mystical to brilliant, these gemstones are unique and beautiful at their finest quality. Make sure you're buying a natural or lab-grown gemstone, not a stimulant. Treat your ring with care by using warm, soapy water and a gentle cloth.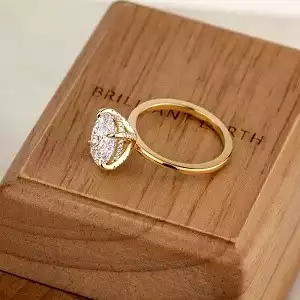 Planning a Proposal?
Make that proposal happen! Get started designing and create an engagement ring as unique as the wearer. To help pull off the perfect engagement, head over to Brilliant Earth's proposal guide.
Check Prices
We earn a commission if you click this link and make a purchase at no additional cost to you.
Looking for more interesting readings? Check out: