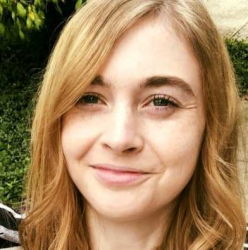 Latest posts by Erin Jamieson
(see all)
One of the most important pieces of jewelry you'll ever buy or own is an engagement ring. But those rings can be pricey, and it's hard to find the best value for your money. Perhaps that's why Jared's more affordable engagement rings are still so popular in 2022.
There have been signs for a while that the old supposed rules about how much to pay for an engagement ring were fading. In 2019, a CNBC report revealed that two-thirds of young adults in the United States felt an engagement ring should cost no more than $2,500– at odds with the average of around $6,000.
The pandemic has only made people consider more carefully how and where they spend their money. At the same time, most people want to buy a classic diamond ring– or maybe a precious gemstone ring for a different look.
That's where, for many, Jared's comes in. In 2021, Signet Jewelers, the parent company of Jared's, saw surging sales along with increased stock prices. And most of those sales were driven by Millenials.
But is Jared's all it's cracked up to be? In this article, I'll tell you the pros and cons of Jared's engagement rings. I'll also give you my picks for the best styles for the price point of your choice.
Is Jared Jewelers legit?
Jared Jewelers is one of the many companies under the giant, Signet Jewelers. Nearly all of these companies– which also include Kay Jewelers, Zales, and James Allen– have been held in fair regard and have been in business for decades. Most all hold A+ ratings from the Better Business Bureau.
Jared's has been in business for just eight years shy of a century and still holds an A+ rating. The company has been known for reputable but slightly less expensive rings than competitors. On the surface, Jared's seems like a decent choice, but it's a little more complicated than that.
Does Jared switch diamonds?
In 2016, Jared, along with other Signet Jewelry companies, was accused of switching out to sell lower-quality diamonds to customers. Nothing was confirmed, and much of these allegations came from individual customers. It's impossible to say if this did or did not occur, but it did cause a stir at the time. It is unlikely such a practice is still occurring if it was.
Are Jared diamonds as large as they say?
The second allegation, however, seems to have more teeth. In 2021, Jared's was hit with a lawsuit alleging that the jeweler inflates diamond carat weight. Nothing has yet happened with this class suit, which is pending, and it's unclear whether anything will come of it. However, it is good to keep an eye out for it.
All told, for now, Jared's retains its decent reputation in the industry, but customer reviews are mixed, and there is some discontent.
Is Jared good for engagement rings?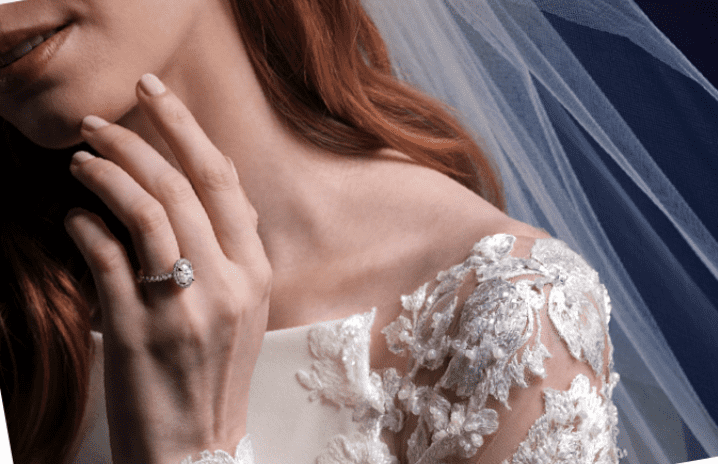 Uncertainty aside, what about what we do know for certain about Jared? For one, the company has been making rings for over 90 years. For another, their engagement rings are a little below average cost– and they also aren't so cheap that the prices are concerning. However, a company like the Blue Nile also arguably has reasonable prices.
Is Jared good quality?
The quality of Jared ranges a bit. Preset rings are also made with beautiful, quality precious metals. These include great choices, such as 14K or 18K gold as well as platinum. The quality of the actual diamonds varies. Many are more of average quality than excellent quality, which is suitable for some.
Natural diamonds are also available for creating your own rings. These have a greater range of quality. They don't go as far as some other brands in terms of sourcing specifications for sustainability or other concerns.
The good news is that all of their lab-grown diamonds are GIA rated, so you know you're buying a genuine diamond/ gemstone ring. I also like that there are online features to help you understand the quality of your ring, and their listings are transparent as to what's being sold.
You can expect a Jared ring to last well, especially if you take proper care of it.
What styles of engagement rings does Jared sell?
Jared sells mostly classic and modern classic designs. You won't find styles that are especially daring or trendy, but you also will find a reasonable variety of styles. You can select pre-made rings, which include lab-grown diamonds, or loose natural diamonds.
Can you negotiate diamond prices at Jared?
Unfortunately, you really can't negotiate prices at Jared's. Your best bet is to buy a slightly smaller carat size. I also recommend comparison shopping.
How do I find an engagement ring at Jared's?
No matter where you shop, I recommend starting with a budget in mind. That way, you won't be tempted to overspend. Then, focus on quality and what you're getting for your money.
How much money do you spend on an engagement ring?
There used to be a supposed rule that you should spend two to three months' salary on a ring, but I think this is unwise– and many agree. More and more, couples are opting to save a little money on the ring and use that money saved to go towards the wedding, down payments, or even debt. The truth is, spending a certain amount on an engagement ring has no bearing on your relationship.
What you spend should feel comfortable. If you really want an idea, the average cost of an engagement ring in the United States is around five to six thousand dollars, but that is an average– meaning it accounts for those who buy quite expensive rings. Most expect to spend $1,000 to $5,000.
Which diamond color is best?
Aside from rare fancy colors (such as the Blue Hope diamond), colorless diamonds are the most valuable. Diamonds are rated from D, which is colorless, to Z, which is a light yellow or even brown.
Which diamond cut is best?
Round brilliant diamonds are the most desired for their beautiful scintillation. An estimated 75 percent of natural diamonds are cut this way. Other great cuts that enhance sparkle include cushion cuts, emerald cuts, princess cuts, Asscher cuts, oval, marquise, pear, radiant, and heart-shaped diamonds. Generally, deeper cuts are considered less desirable.
What's more important, color or clarity?
If you have to decide between the two, opt for a slightly higher grade color. Clarity does impact the way light emits and sparkles, but if the color of your diamond is poor, you're really going to notice. You can get by with clarity as low as S11 or even S12, but diamonds with a yellowish tint are quite noticeable.
Jared's Engagement Rings: My Picks
For pre-made engagement rings, you have your pick of a few styles: solitaire, halo, and 3-tone. In addition, you can create your own through Jared's custom rings. The custom ring selection is my favorite option. You can select from about any cut you like, including round, marquise, radiant, cushion, and more. By starting with a diamond, you have complete control over the diamond type–natural or lab-grown– as well as the diamond quality. While custom rings are more pricey, in my opinion, this is where Jared's shines most.
But if you're set on a pre-made design, there are some decent options. Pre-made rings don't allow you to choose diamond quality but are available in a few classic styles, including solitaire, halo, and three-stone. Many of these are lab-created diamonds, and you'll find some surprising options, such as a black diamond solitaire engagement ring. Most diamonds are classified on the lower end of nearly colorless, but you can find some of a higher color rating (or worse).
The difficult part is that, while there are budget-friendly options, most of those have visible inclusions. Focusing on overall quality per price point, here are my top recommendations.
Bold Reflections Lab-Created Diamond Rings
This collection consists of lab-created diamond rings and it's one of my favorite options from Jared's pre-made rings. The reason? Lab-created diamonds may not be as valuable, but they allow you to save money without sacrificing quality. To that end, compared to many of Jared's rings, you'll find more colorless vs near colorless diamonds. That distinction can make a big difference, especially if you're buying one carat or above.
All have a color rating of F and a clarity of S12. F is on the lower end of colorless diamonds. S12 is about as much as I'd expect for clarity. You may notice some inclusions, but with a colorless diamond, it'll still be a reputable option for most. All are only available in 14K white gold. Shop Bold Reflections Here.
1 Carat Cushion-Cut Solitaire Engagement Ring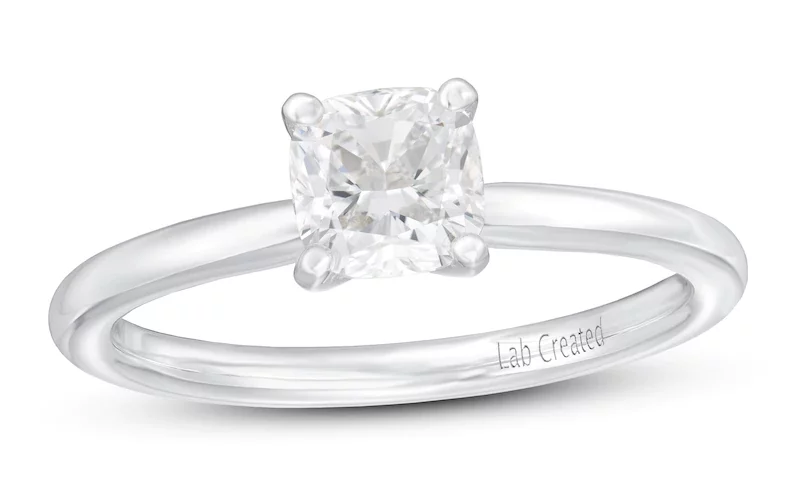 This classic engagement ring features a beautiful cushion cut for a modern allure. The 14K white gold band suits the diamond perfectly. For the minimalist at heart or someone who just loves a subtle solitaire style, this engagement ring is priced at $3,499.99 Buy Here.
3-Stone 1.5 Carat Engagement Ring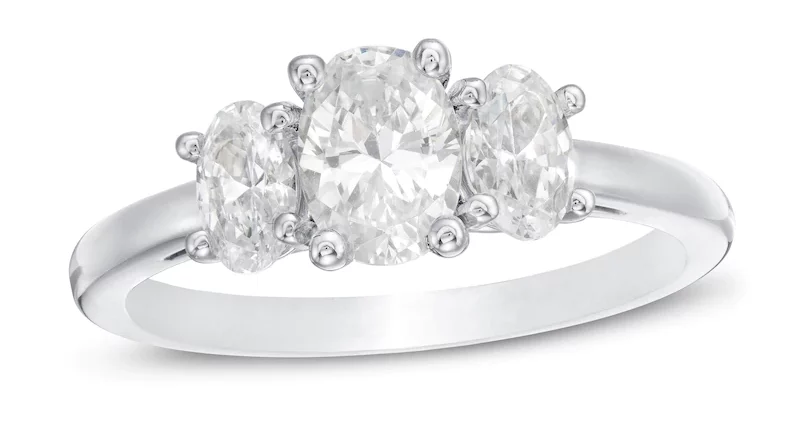 A 3 stone style is a different take on an engagement ring that still feels timeless. This 3 stone ring features oval-cut lab-grown diamonds on 14K white gold. Since there are three, instead of one center stone, you get a higher carat count for the same price point of $3,499. Buy Here.
1 1/6 Carat Solitaire Engagement Ring
If you want to sparkle all over but not at a high price, consider this lab-grown diamond ring. The ring features a brilliant round cut center stone, crafted on a 14K white gold band. The band consists of elegant accent diamonds for a look that's enchanting but not overwhelming. Priced at $4,499. Buy Here.
2 ⅜ Carat Round Diamond Engagement Ring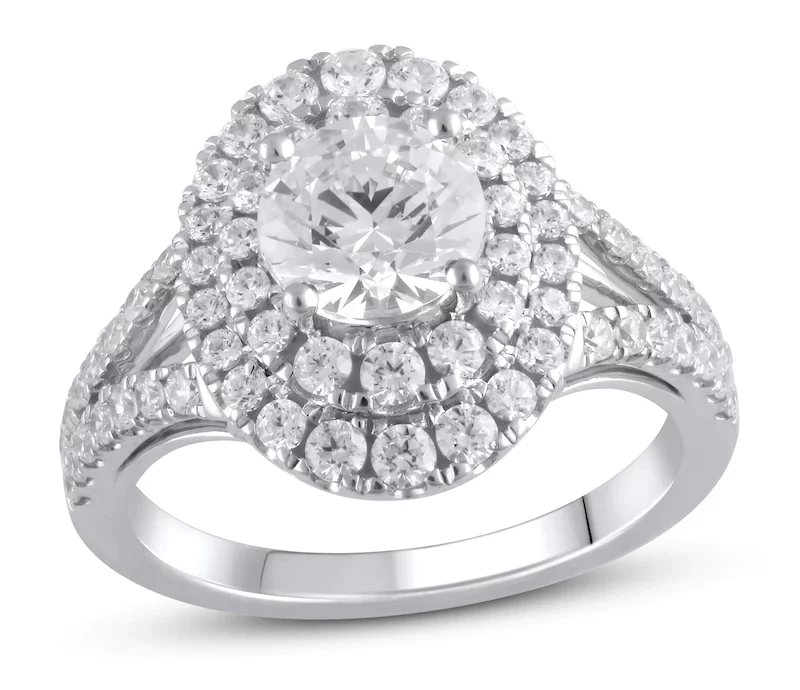 This dazzling engagement ring is priced at $6,499. A center, brilliant-cut round diamond is surrounded by a halo of accent diamonds. Diamonds also accent the split-shank, complementing the 14K white gold band. Buy Here.
Colorless Diamond Engagement Rings
Yours very best? Jared's colorless diamond engagement ring collection. As this suggests, you'll only be looking at colorless diamonds. This collection consists of just 33 ring settings, saving you a lot of time sorting through lower-quality diamond accents. . The classic designs have a timeless appeal.
These are ring settings, meaning you have complete control over the quality of your central diamond– which makes it harder to estimate your total cost but does give you the best bet for a great diamond, without starting from scratch.
One thing I don't love as much is that there isn't much information about the clarity of the accent diamonds. Since they are certified rated by the GIA, I strongly recommend requesting a full report and details before buying. Shop Colorless Engagement Rings Here.
⅝ Carat Round 14K Yellow Gold Ring Setting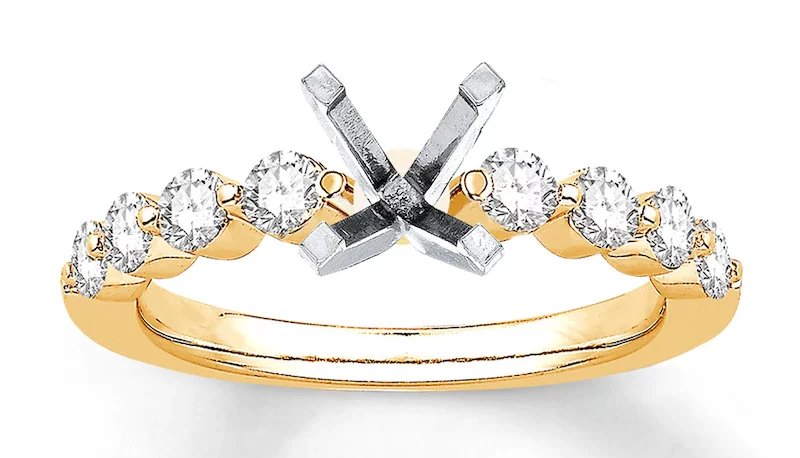 Now on clearance for $1,499, this ring offers classic appeal and just the right touch of sparkle. A 14K yellow gold band is evenly accented with ⅝ carats of round-cut, colorless diamonds, The prong setting will allow you to achieve a clean, classic, modern look. This design is also available in 14K white gold. Buy Here.
½ Carat Round-Cut 14K Rose Gold Ring Setting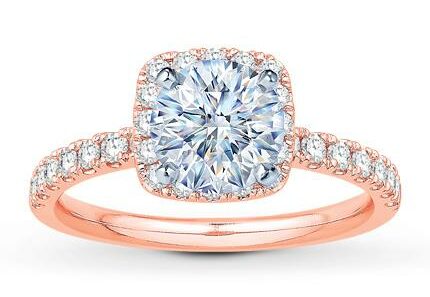 Rose gold provides a romantic, unexpected look. This lovely engagement ring setting is crafted in 14K rose gold and features a band of round diamonds that add sparkle. You can set this ring with a round-cut diamond to complete the look. It's elegant, romantic, and timeless. Priced at $2,499. Buy Here.
¾ Carat Round 14K White Gold Ring Setting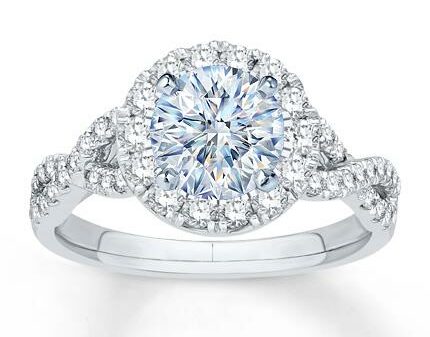 This classic ring setting provides an extravagant accent to a round-cut center diamond, priced at $2,999. Crafted with 14K white gold, the cool, elegant look is accented with ¾ carats of round diamonds. The twist style adds an artistic touch, while still accomplishing a classic appeal. Buy Here.
½ Carat Timeless 14K White Gold Ring Setting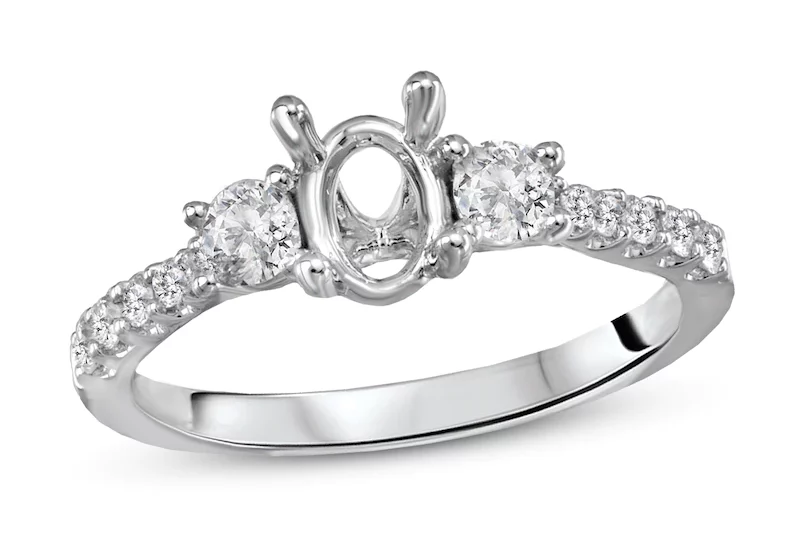 This ring setting is sophisticated, with a timeless design. A band of colorless, round diamonds accent either side of the center setting. The design lends itself to sparkle without being overly bold. Crafted in 14K white gold; Buy Here.
Frequently Asked Questions
Question: Are Kay and Jared the same company?
Answer: Kay and Jared are sister companies. They are both owned under the Signet Jewelers group, which is why you may see them often compared or feel that some of their styles are similar. As such, why are they different stores, they are not competitors.
Question: Is James Allen owned by Jared?
Answer: James Allen is not owned by Jared, but they are owned under the same parent company, Signet Jewelers. James Allen is actually a bit cheaper than Jared's. One reason that James Allen diamonds tend to be cheap is that they don't house their own diamonds, but are entirely online-based. Thus, they don't have the stocking and storefront costs like Jared's and Kay Jewelers do. Of course, the downside for many is that they can't shop in in-person stores. Ultimately, it comes down to a matter of preference.
Question: Are colorless diamonds more expensive?
Answer: Coroless diamonds are more expensive and more valuable for good reason. The lower in the quality you get, the more of a yellowish or even brown tint your diamond present. Color is even more important than clarity for the beauty and value of a diamond.
Question: Which diamond cut is most expensive?
Answer: Round brilliant diamonds are usually the most sought-after and also the most expensive. The many facets allow the diamonds to sparkle to their optimal level. The good news is that you can still get this cut and save money by opting for a lower carat size. You could also go for other great cuts, such as the oval, cushion, and marquise. Keep in mind that cut is just one factor in a diamond's appearance.
Final Thoughts & Alternatives
In my review, Jared's is a mixed bag. The create your own option is a great way to take control over much of what I find frustrating with pre-made rings. You get the full details as to the quality of your diamond as you select your ring, and you have the ability to buy in about any style and quality you like.
Just remember: setting a budget ahead of time really can make a difference. By doing so, you ensure you can buy a great quality ring, but no one outside of your means. Jared's can be cheap, but some of those options are reflected more in the quality of the diamonds vs the carat size. So if you are sold on Jared's, your best bet is to create a ring from scratch.
The pre-made rings, if no allegations are true, are not a poor choice. There are some genuine, classic styles. You won't find flawless diamonds, but you can find colorless diamonds. The biggest concern is the clarity level: most of the diamonds sold appear to be an S12, which is about as low as I'd personally recommend.
All in all, Jared's is not a terrible place to buy an engagement ring– but I do think there are great alternatives. I recommend Blue Nile engagement rings if you want to stay at a lower to a mid-price point, or Brilliant Earth engagement rings if you want exquisite, modern looks with sustainably and ethically sourced diamonds.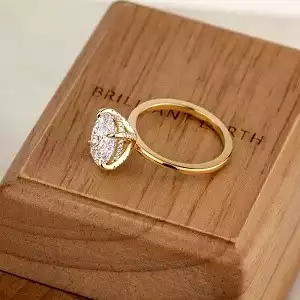 Planning a Proposal?
Make that proposal happen! Get started designing and create an engagement ring as unique as the wearer. To help pull off the perfect engagement, head over to Brilliant Earth's proposal guide.
Check Prices
We earn a commission if you click this link and make a purchase at no additional cost to you.
Looking for more inspirational readings? Check out: