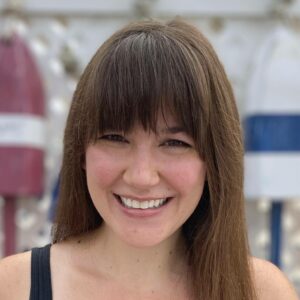 Latest posts by Lauren Vigdor
(see all)
Confession time: I hated my birthstone when I was a kid. My friends and I would go to the mall and they would all walk out of Claire's with colorful, sparkly rings in gumdrop shades and I'd be stuck with clear — boring, inconspicuous clear! Clear is not a bold enough color for a passionate, self-assertive Aries! As an adult, I can see the error of my ways and have absolutely come to appreciate my April-born Aries birthstone, the diamond (not for nothing, but I'm also now aware that not all diamonds are colorless, which is also not the same thing as "clear.") Learn from my mistakes! Below I'll give you some ideas for the best Aries birthstone jewelry for people born in March and April, including those of us who are still secretly a little bummed that their birthstone is "clear."
Bottom Line Up Front
There's definitely no shortage of unique and gorgeous Aries birthstone jewelry available online, but if I had to choose a favorite it would be the Solid Gold Birth Flower Ring from Local Eclectic. It's a delicate, heirloom-quality piece that's unique and special without being overly flashy. For more information and the rest of my picks, read on!
Chart Placement
When someone says they're an Aries, they're usually referring to their sun sign (also known as zodiac sign — that's the one that corresponds to your birthday) but modern astrologists and astrology enthusiasts like to look at various placements along their chart, including the "big three" below.
Aries Sun Signs:

Aries suns are warm, witty, bright, fiery, encouraging, and competitive.

Aries Moon Signs:

Aries moons are said to be confrontational, intense, and spontaneous.

Aries Rising Signs:

Aries rising signs tend to be stable, powerful, and grounding.
March Aries Birthstones
March has two birthstones, aquamarine and bloodstone. Bloodstone is the "traditional" birthstone, while aquamarine is the "modern" birthstone according to a list that was standardized in 1912.
Aquamarine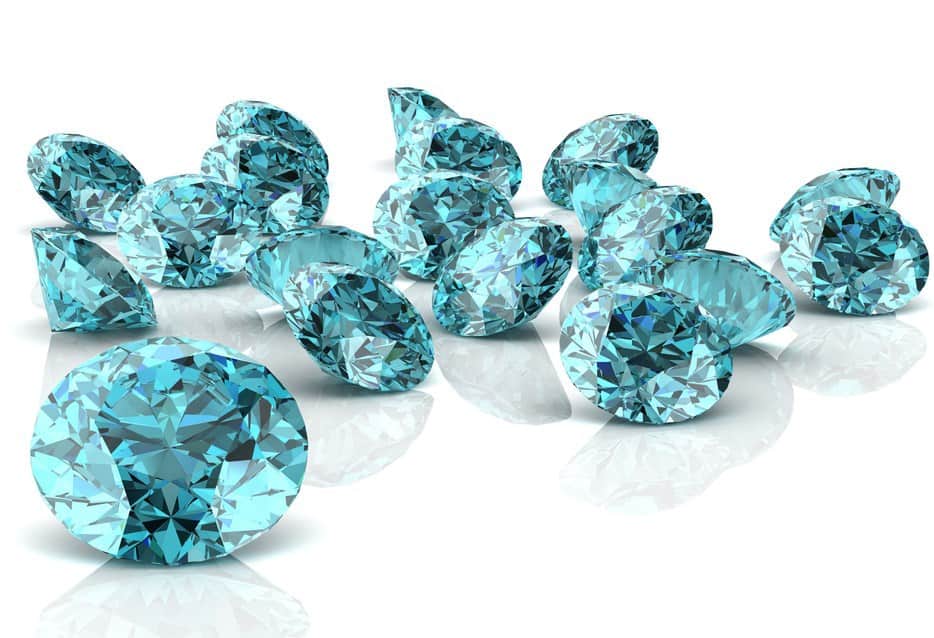 A member of the beryl family, which also includes emerald and morganite, aquamarine is known for its cool, clear blue color. It ranks a 7.5 to 8 on the Mohs scale, and like all beryls, large stones are easier to come by, which means more options for large gems and intricate cuts for you!
Aquamarine is named for the color of the sea, and is said to enhance the happiness of marriage. Although aquamarines are easy to find and moderately priced, aqua moissanite is a good option for those looking for an alternative stone to substitute.
Bloodstone
Bloodstone (also sometimes known as Heliotrope) is a variety of chalcedony, a type of quartz. The stones tend to be dark opaque or semi-translucent green with orange-red or blood-red inclusions. Bloodstone isn't normally faceted for jewelry, though there are exceptions. More often it is cut into cabochons or carved. Although it's definitely hard enough to be used in jewelry, bloodstone is only a 6.5 to 7 on the Mohs scale, so it's best to take some care while wearing and storing your bloodstone jewelry so as not to scratch it.
Bloodstone is generally thought to give the wearer strength and to promote health. It is relatively inexpensive, though bloodstone jewelry can be harder to source than aquamarine simply because it's not as popular. Vintage pieces and custom designs are probably your best bet for finding bloodstone pieces, and there aren't any comparable alternatives to substitute for bloodstone.
April Aries Birthstones
Diamond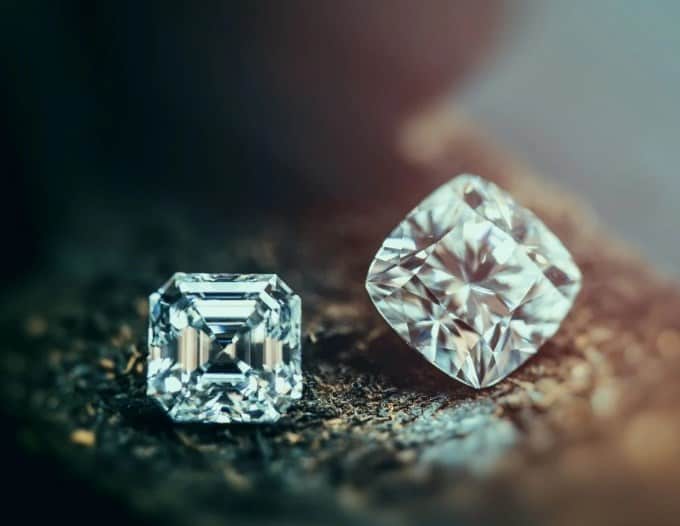 The queen of all gemstones, diamonds are both the modern and traditional birthstone for April. Diamonds are the hardest gemstone (weighing in at a whopping 10 on the Mohs scale) making them perfect for daily wear in jewelry. They're brilliant and sparkly in a way that's hard to beat, but carry a hefty price tag when compared to other gemstones. Moissanite and cubic zirconia are some budget-friendly options if you're looking to recreate the look of a diamond for a piece of birthstone jewelry.
Diamonds are often a favorite gemstone among leaders, which makes them perfect for an ambitious Aries! They are associated with strength and love and are said to bring good health and luck.
My Picks for Aries Birthstone Jewelry
Criteria
I chose the following pieces primarily because I love the way they look! I especially like unique pieces of jewelry that have some personality. I definitely appreciate the ability to customize a piece, especially when it comes to sizing or metal options. Although not all of the pieces below will fit into everyone's budget, cost was definitely a factor in these picks. Many of them are under $100, which means they'll make perfect gifts for the Aries in your life — even if that Aries is you!
Aries Birthstone Necklace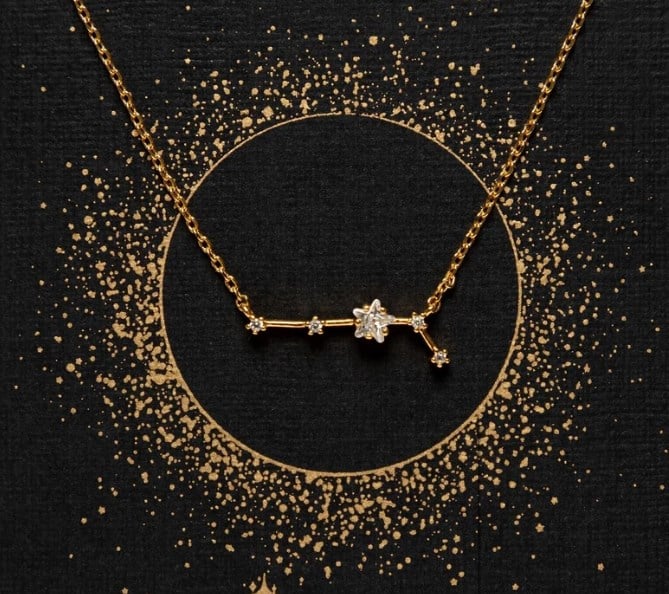 I love this constellation necklace from Brooklyn Tag on Etsy. They're not real diamonds, which may be a blessing to your bank account, but the clear crystals in this necklace form the Aries constellation, making it a double whammy for April-born rams. I like that this charming, dainty necklace would look just as great on its own or layered with other necklaces. Buy here
Pros
Less than $100

Choice of gold or silver finish
Cons
Only made with clear crystals, so no blue option for March Aries
Aries Birthstone Ring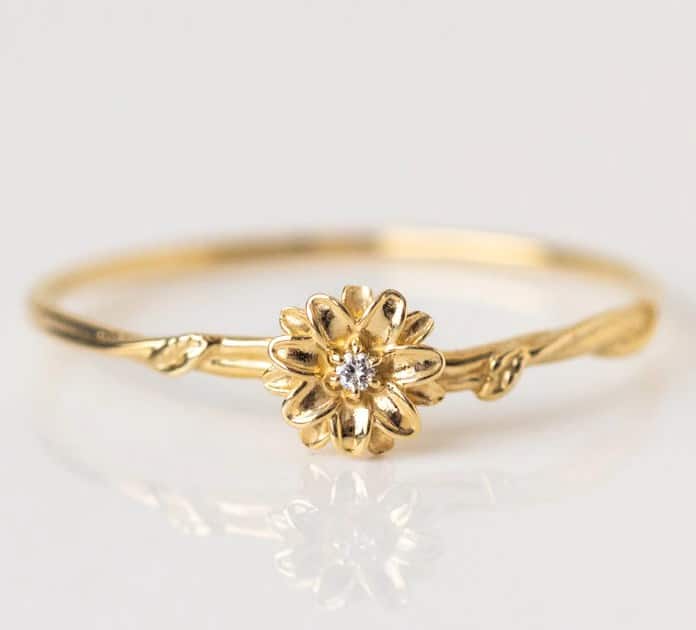 This solid gold birth flower ring from Local Eclectic is so cool! Someone, please buy me this ring! I love how these rings combine both birthstone and birth flower (don't worry, non-April babes, there's one for each month.) The sweetly simple design and fact that this ring is made from solid gold make it a true heirloom piece. Buy here
Pros
Made with solid gold and natural gemstones

Styles for all 12 birthstone/birth flowers are available, so none of your friends need to feel left out!
Cons
Over $100

Only one metal option is available

Only six sizes with no half sizes available
Aries Birthstone Bracelet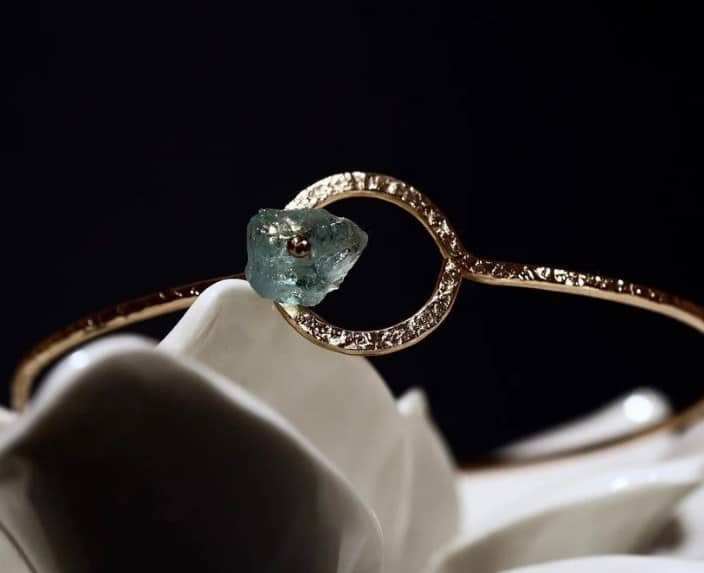 This raw aquamarine bangle from Niccoletti on Etsy is so dreamy. I love the hammered texture and clever closure design. Buy here
Pros
Six size options

Choice of three metals at no additional cost

Available with other stones, for our non-Aries friends

Less than $100
Cons
Crystal closure may catch or be a point of stress on the bangle
Aries Birthstone Pendant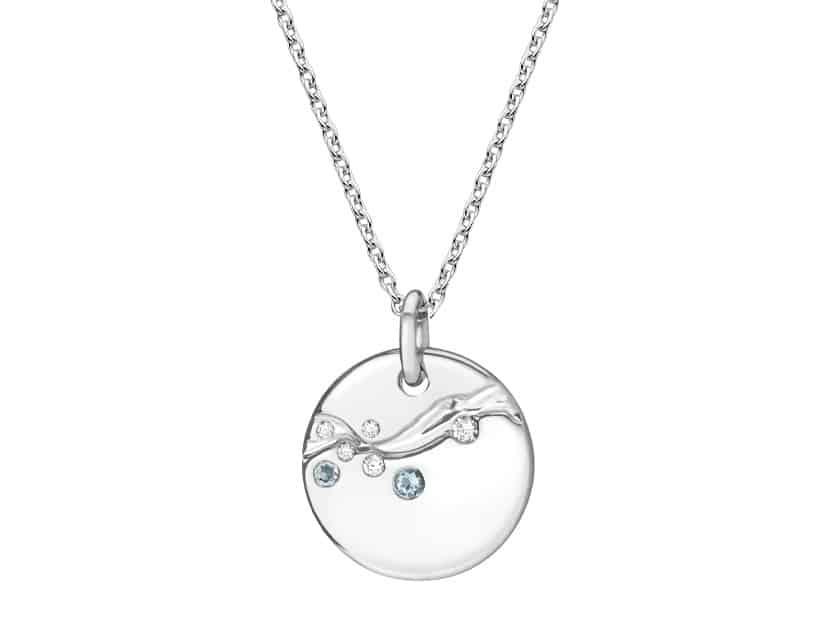 This aquamarine and diamond pendant from Brilliant Earth gets bonus points for featuring both April and May Aries' birthstones! It's perfect for the fire sign who could use a little water in their life. Buy here
Pros
Made with recycled silver and ethically sourced gemstones

Inspired by Brilliant Earth's donation efforts to ocean conservation
Cons
Over $100, though still more affordable than other fine jewelry options

Only one metal option is available
Aries Birthstone Studs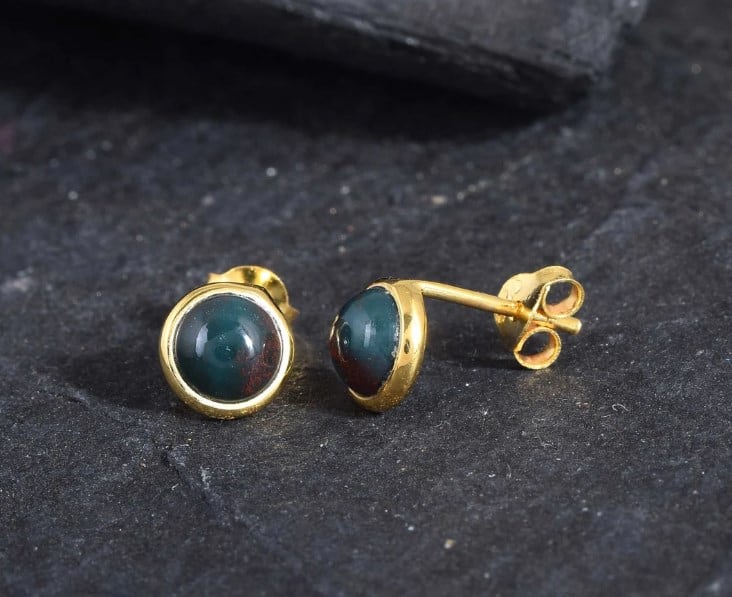 These bloodstone studs from SeagullIN on Etsy are so cool and classic! They would make a perfect gift for any enterprising March-born Aries in your life! Buy here
Pros
Less than $100

Three metal options
Cons
Gold and rose gold options are plated and may show wear if not handled carefully
Hoop Earrings for Aries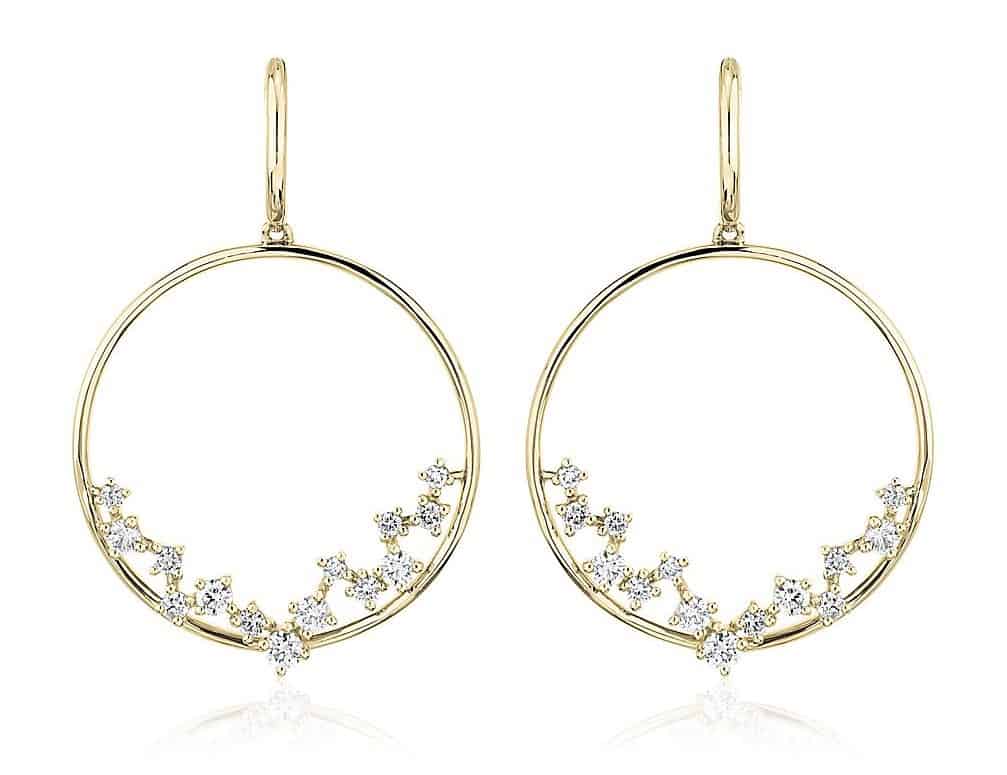 I think these Diamond Scatter Hoop Earrings from Blue Nile are such a chic and contemporary twist on a classic. They're definitely imbued with some fiery Aries energy. Buy here
Pros
Can be dressed up or down, and will work with a variety of outfits

Heirloom quality
Cons
Out of budget for some people

Only one metal option
Aries Birthstone Drop Earrings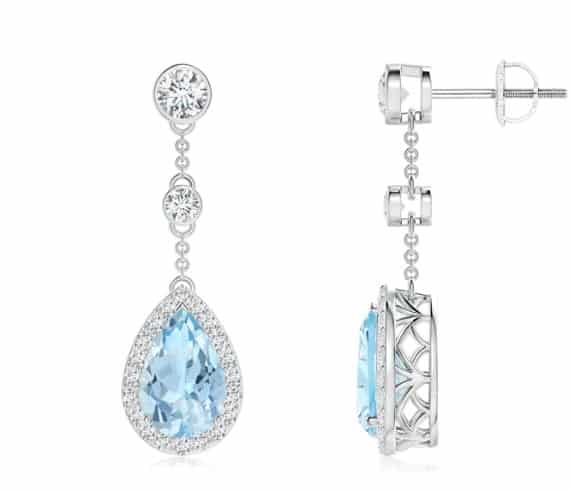 These vintage-style pear-shaped aquamarine earrings from Angara serve up some serious bling. They'd be perfect for a wedding or other special occasion! Buy here
Pros
Option to choose gemstone quality

Four different metal options
Cons
Considerably less affordable than some other options
Earrings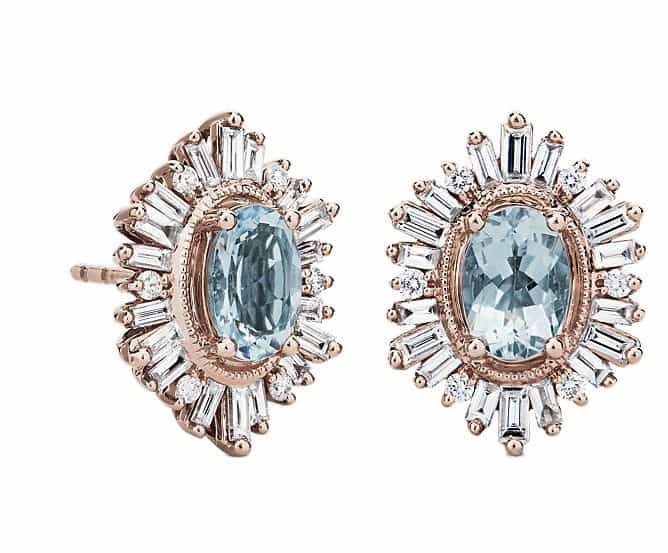 I can't stop looking at these deco-inspired studs from Blue Nile! The combination of oval aquamarines with baguette-cut diamond halos makes these so unique and special! Buy here
Pros
Design is unique, but still classic

Made with both March and April birthstones
Cons
Definitely a splurge piece for some people

No customization options
Multi Stone Ring for Aries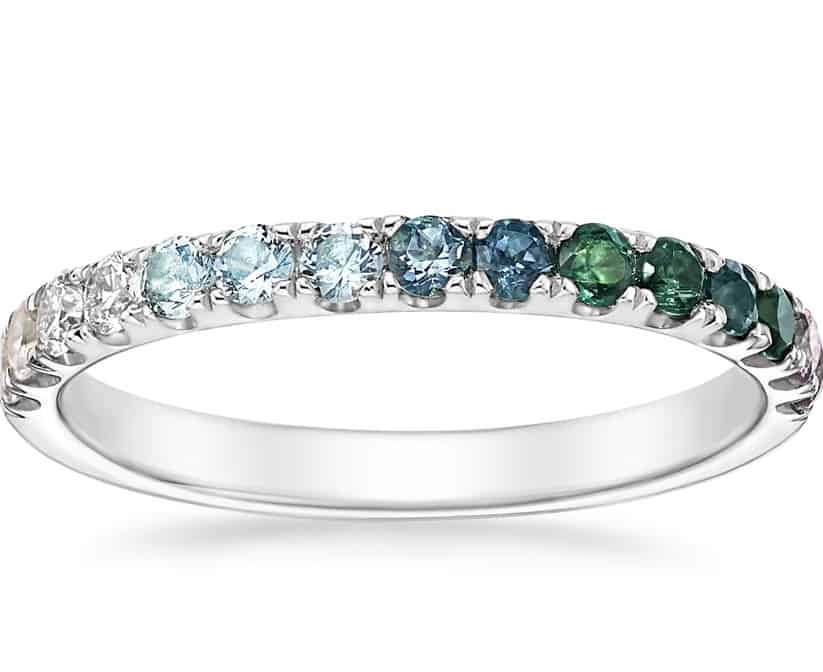 This Coastal Ombre Ring from Brilliant Earth is made with both diamonds and aquamarines, as well as various other gemstones set together to create an ombre effect. It's a playful and elegant band that would be perfect for a milestone birthday or anniversary gift. Buy here
Pros
Four metal options

Heirloom quality
Cons
Will be out of some peoples' price range
Jewelry For an Aries Who Might Be Sick of Colorless Gems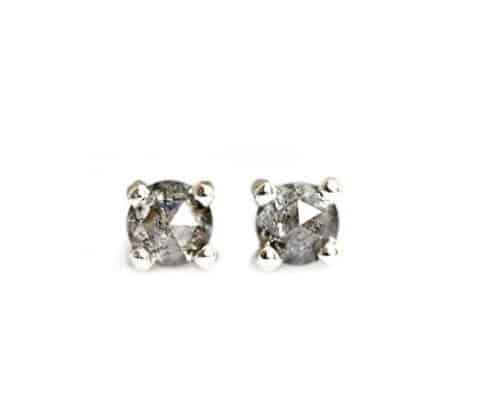 Not that you know anyone like that, right? (My birthday is April 15th, in case anyone is wondering.) I love the dimension in these salt and pepper rose cut diamonds from Andrea Bonelli. Salt and pepper diamonds are diamonds with a lot of black and white inclusions which create a galaxy effect within the stone. They're some of my favorites because they are simultaneously elegant and unique. Buy here
Pros
Can be worn with pretty much everything

Durable enough for daily wear

Three metal color options in two finishes (either brushed or polished)
Cons
Zodiac-Specific Aries Birthstone Jewelry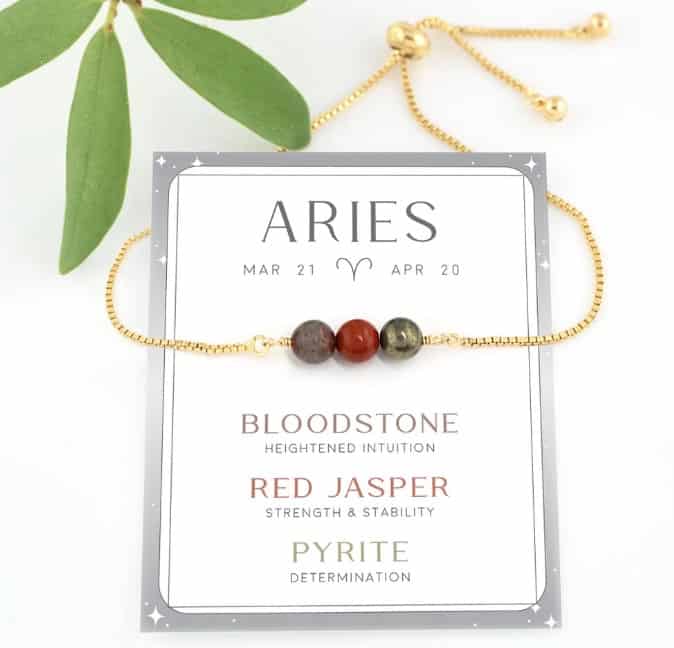 I love that this zodiac bracelet by Delezhen on Etsy is made specifically for an Aries. It sports a trio of stones all tailored specifically to Aries: bloodstone, red jasper, and pyrite. Buy here
Pros
Made specifically for Aries

Three metal options

Less than $100, making it a very giftable option
Cons
Style won't suit everyone

Made with non-traditional Aries birthstones, with the exception of bloodstone

Metal is plated and may show wear over time
Rough Aries Birthstone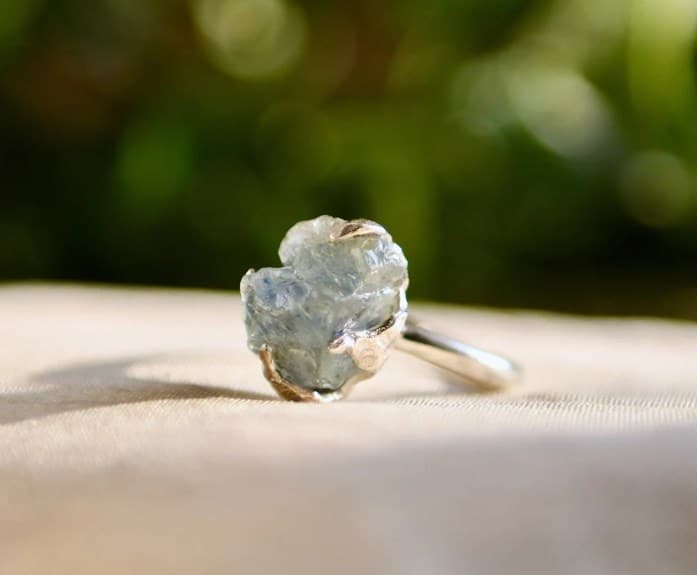 I think that uncut gems are so romantic when used in jewelry, and this raw aquamarine ring from Elementa Jewels on Etsy does not disappoint! It's simultaneously boho and bold, and would even make a lovely engagement ring! Buy here
Pros
Full and half sizes 5 – 11

Less than $100
Cons
Only one option for metal (sterling silver)
Aries Birthstone Jewelry For Teenagers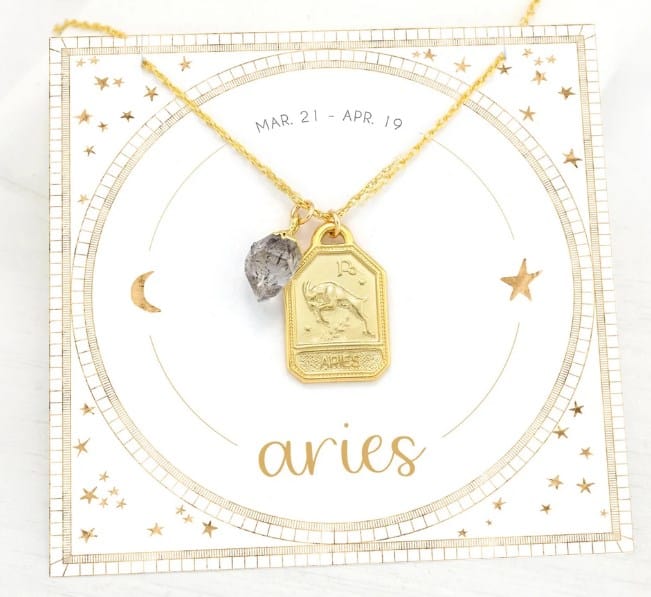 This Aries tag necklace from Delezhen on Etsy is adorable! It can be purchased with or without the Herkimer diamond crystal, and would make the perfect birthday gift for an Aries teen! Aries tags with aquamarine are not listed on the site, but they do offer aquamarine crystals on their Pisces necklaces, so if you're shopping for a March Aries it may be worth shooting them a message! Buy here
Pros
Customizable with or without crystal

Three different length options

Two metal options

Less than $100
Cons
Style may be too young looking to appeal to everyone

No option for aquamarine crystal with Aries charm listed, though could possibly be requested
Most Affordable Aries Birthstone Jewelry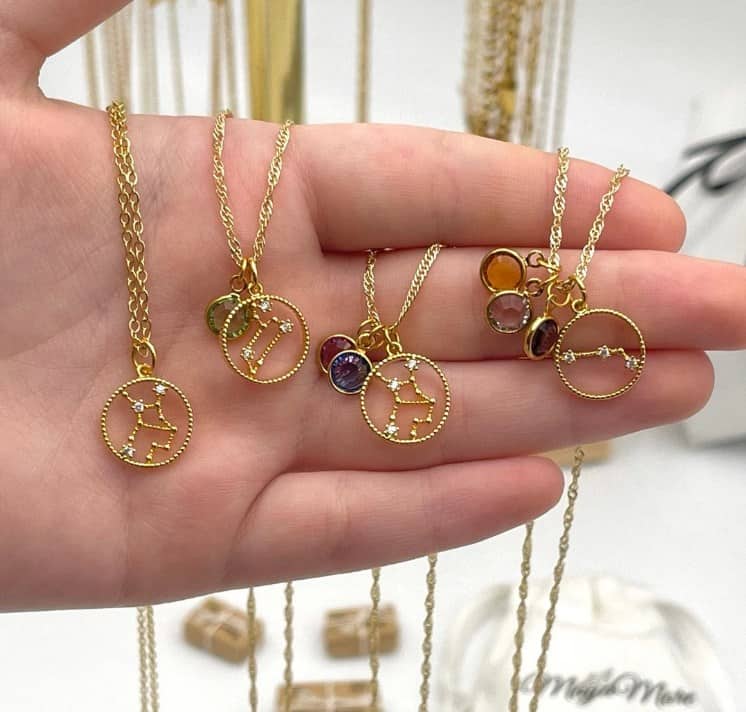 These constellation birthstone necklaces from Maya More Jewelry on Etsy. I love that these can be customized with one or more birthstones so that you can keep a reminder of your loved ones close to your heart. The birthstones are gold-plated Swarovski crystals, making this necklace a more affordable option. Buy here
Pros
Less than $100

Customizable with choice of up to five birthstones
Cons
May be too young looking for some people

Only one color of metal
Casual Aries Birthstone Jewelry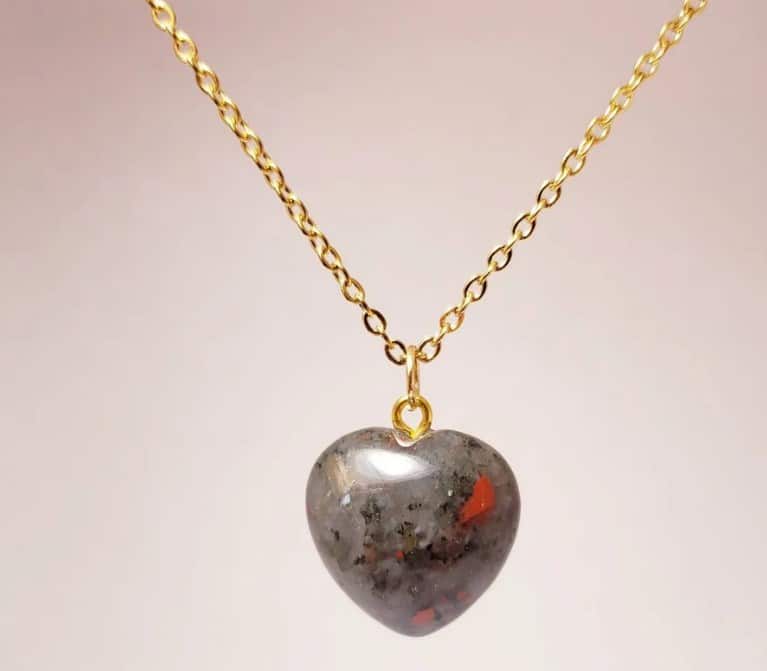 This bloodstone heart necklace from Lucid Dawn Creations on Etsy is so simple and cool. It would make a great gift for your best friend who could use a little Aries magic in their life. Buy here
Pros
Less than $100

Eight chain length options, plus option to purchase just the charm
Cons
Chain material is not listed
Aries Birthstone Engagement Ring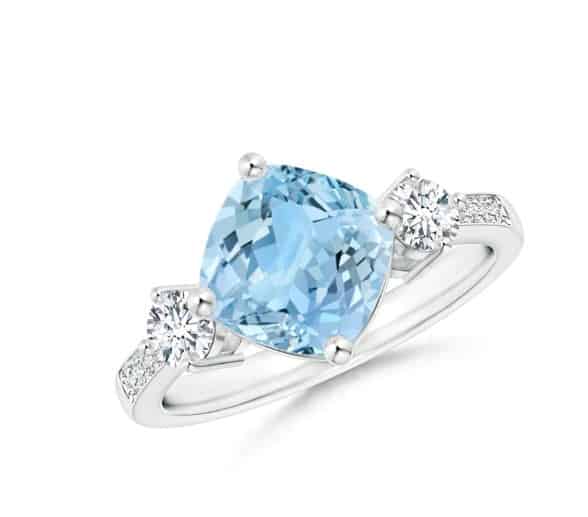 I love this sideways cushion-cut aquamarine and diamond ring from the Angara. It's classic with a unique twist — perfect for an individualistic Aries. Buy here
Pros
Fully customizable with options for quality, size, weight, and metal

Free shipping and lifetime guarantee

One free ring resize
Cons
Best quality option costs up to $2420
Most Unique Aries Birthstone Engagement Ring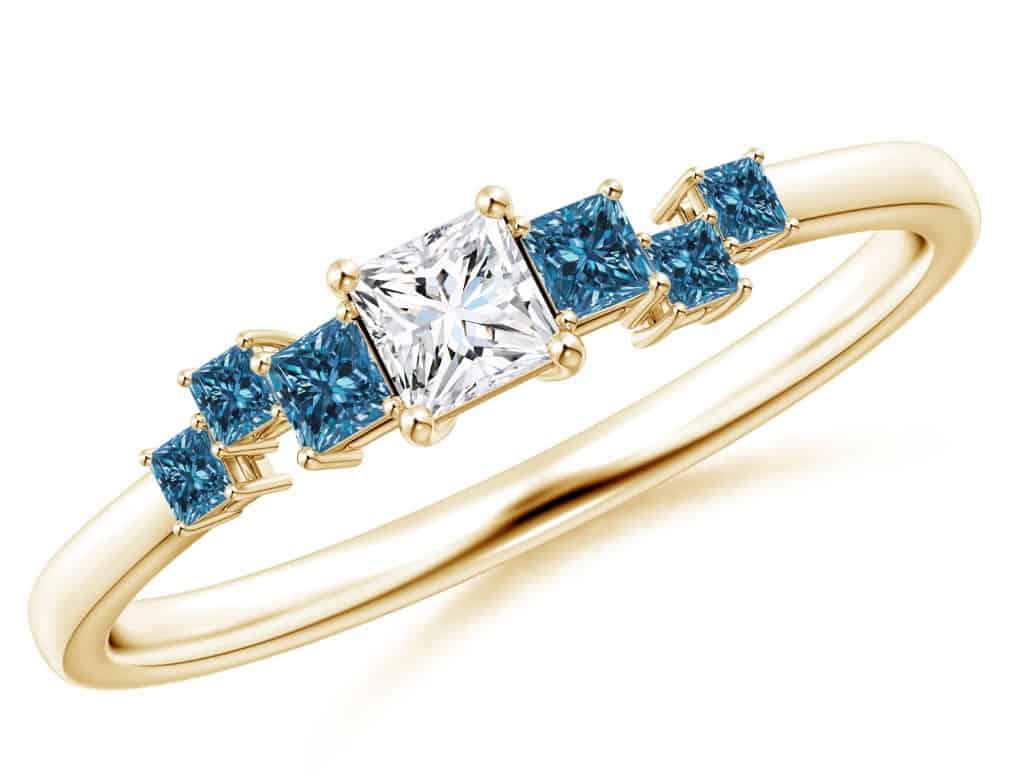 This princess-cut white and blue diamond ring is made especially for Aries! The unconventional zig-zag arrangement of the diamonds on this half eternity ring, also from Angara, is perfect for a unique, individual Aries. Buy here
Pros
Options for two gemstone qualities and three metal colors

Tons of size options, including half sizes

Made specifically for Aries
Cons
Unique zig-zag design may not suit everyone
Contour Band for Aries
This delicate and romantic aquamarine contour band from Oore on Etsy is a perfect way to incorporate your birthstone into your wedding set (for bonus points it can also be your something blue!) Buy here
Pros
Full, half, and quarter sizes between 4 ½ and 8 ¾

Three options for metal colors
Cons
Over $100

Thin band may be too delicate for some brides

Boho style may not suit more traditional brides
Eternity Band for Aries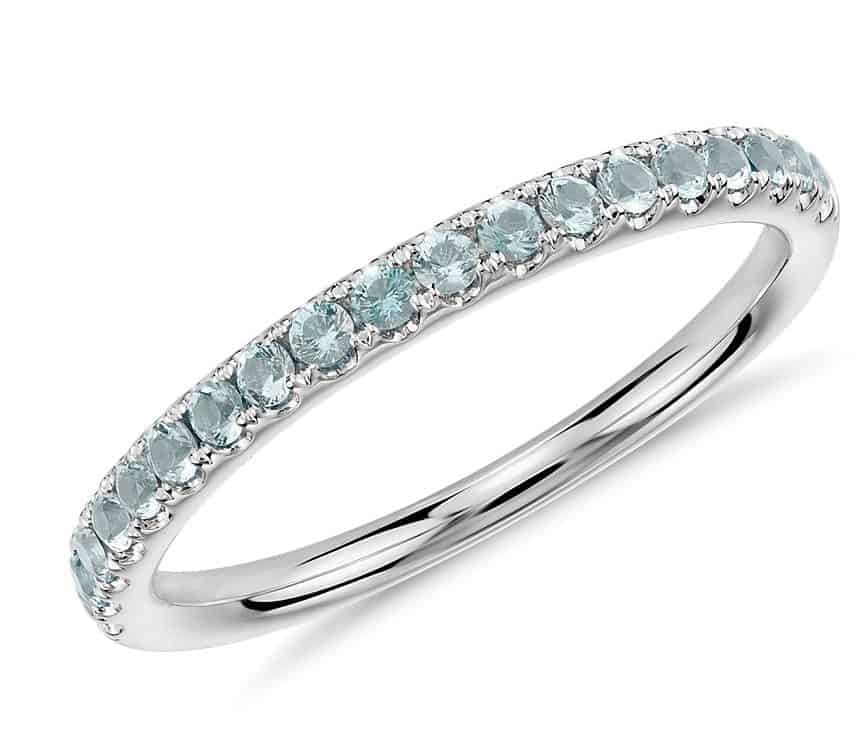 This Riviera Pavé Aquamarine ring from Blue Nile is my pick for an eternity band for Aries. It's sleek and sparkly, and looks great alone or stacked with other rings. Buy here
Pros
Style will pair well with other jewelry

More affordable than some other find jewelry
Cons
Over $100

No half sizes available
Aries Bridal Jewelry Set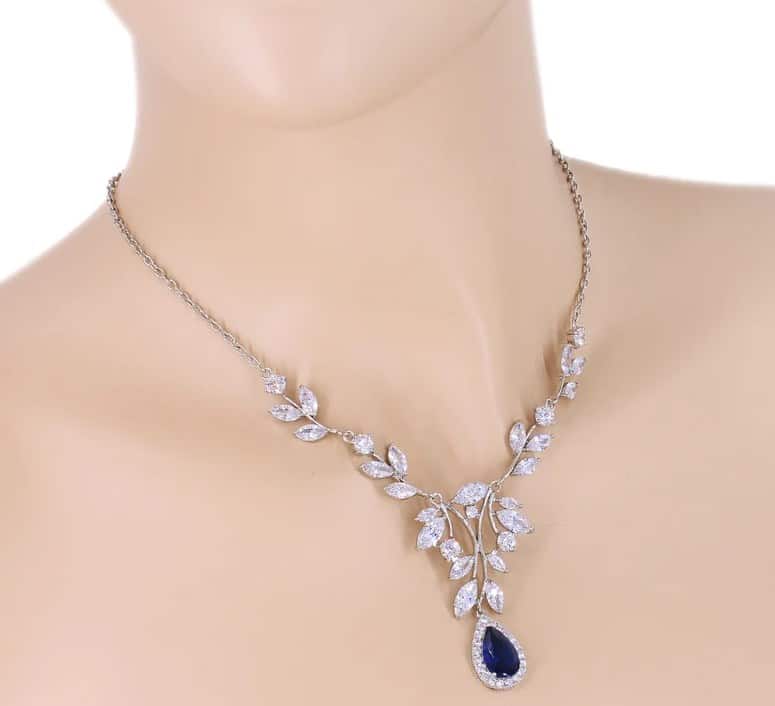 I love this mix and match set from Pepe Jewe on Etsy. It's affordable bling for your big day, and will look great in photos regardless of whether you choose the clear zirconia or aquamarine. All of the pieces in the set can be ordered individually, and include a hair clip, earrings, bracelet, necklace, and backdrop. Buy here
Pros
Only purchase pieces of set that you want

Ten options for zirconia colors, with options for both March and April birthstones

Customizable lengths for both necklace and backdrop
Cons
Over $100 if you purchase the complete set

No options for different metals, though the shop does offer several options for both silver and rose gold sets (but no options for yellow gold)
FAQ
Question: What Birthstones are for Aries?
Answer: Aquamarine and Bloodstone are the birthstones for Aries born in March. Diamond is the birthstone for Aries born in April.
Question: What color gem is Aries?
Answer: Aries is a fire sign, and is often associated with the color red. The birthstones for Aries are diamond, the most popular of which are colorless, aquamarine, which is a pale greenish-blue, and bloodstone, which is an opaque deep green with reddish-orange flecks.
Where do I buy Aries birthstone jewelry?
Answer: Blue Nile and Brilliant Earth both have a great selection of fine birthstone jewelry if you're looking for a little Aries bling (find it in the drop-down menu under the jewelry tab.) Etsy is also a great place to look, especially for unique or more affordable pieces. I love the selection offered by Delezhen. I also love to shop on Local Eclectic. They have a great selection of birthstone jewelry options!
Question: What is the main birthstone for Aries?
Answer: Diamond is usually considered the main birthstone for Aries, but there are others including aquamarine, bloodstone (heliotrope), jasper, sapphire, and topaz.
Question: What stone can Aries wear?
Answer: Aries can wear whatever stone they want! It is said, however, that diamonds are particularly lucky for Aries. Some people also believe that an Aries should wear a red stone, such as a jasper or coral, on their right hand.
Question: When is Aries season?
Answer: Aries season begins with the spring equinox, which means it runs from March 21 to April 19. If your birthday falls on or between those dates, congratulations, you're an Aries! Aries season is a great time to set and work toward new goals and marks the start of the astrological new year.
Question: What are Aries like?
Answer: Aries is a fire sign, and we tend to have a reputation for being headstrong, ambitious, and selfish. While some of that may be true (even if it hurts our feelings to hear it) it stands to reason that the sign that most celebrates individualism should be populated by, well, individuals.
Aries is the first sign of the zodiac, so it makes sense that Aries would be natural leaders. Aries are determined planners and go-getters. They're fiery and passionate, and deserve jewelry to match their unique sparkle!
Question: What celebrities are Aries?
Answer: Elton John, Sarah Jessica Parker, Kourtney Kardashian, Chance the Rapper, Mariah Carey, Lady Gaga, Paul Rudd, and Eddie Murphy are among the long list of Aries celebrities. Click here to see more of them!
Question: Is diamond the only birthstone for April?
Answer: Diamond is traditionally the only birthstone associated with April, though some historical lists have included sapphire as well.
Question: Why does March have two birthstones?
Answer: Many months have more than one birthstone associated with them, since lists have varied with history and different cultures. Bloodstone is the traditional birthstone for March, and aquamarine is the modern birthstone.
Final Thoughts
Whether they're born in March or April, Aries have a ton of gorgeous birthstone jewelry available to them. All three Aries birthstones are durable enough for jewelry, but I'd only recommend diamonds or aquamarine if you're shopping for an engagement ring. Save the bloodstone for earrings or a pendant. There's no shortage of lovely pieces on sites like Brilliant Earth, Blue Nile, and Etsy, but the birthstone collection offered at Local Eclectic is my favorite. I especially love their birth flower rings.
Looking for more interesting readings? Check out: