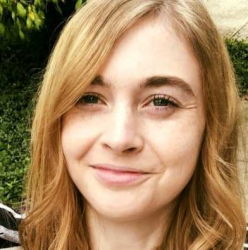 Latest posts by Erin Jamieson
(see all)
Jewelry trends come and go, but one hot trend that always comes back is zodiac jewelry. If you're a Libra, you're in luck: with four gorgeous birthstones to choose from, there are endless ideas for fashion rings and even engagement rings just waiting for you to discover.
From Rihanna to Hailey Bieber and even Meghan Markle, zodiac jewelry is as popular as ever. A fashion report by Vogue showcased how the trend is only growing. While astrology has always been a part of many people's lives, there's now a crossover appeal for everything from necklaces to stunning rings.
For some, wearing zodiac jewelry is a sign of a deeper connection with horoscopes. Others simply see it as a personal touch. Fashion and art historians say that the trend is more than a trend– but symbolizes a deeper movement. Wearing your sign is a way to connect with oneself and express oneself in ways much other jewelry cannot.
At the same time, there's also been a shift in the jewelry industry in general, and that even extends to cocktail and engagement rings. While classic diamond rings remain popular, more and more consumers are interested in finding unique alternatives.
If you happen to be a Libra, it's time to get excited about Libra ring ideas. You or a loved one can express yourself with your choice of four dazzling gemstones, each offering unique colors and characteristics. In this guide, I'll tell you about the September and October birthstones, and how to find the very best rings.
When does Libra season start?
Libra season runs from the end of September to the end of October. If your birth date falls between September 23rd and October 23rd, you're a Libra.
What kind of sign is a Libra?
Libra is an air sign. Air signs are known for their communication and analytical skills. Many believe air signs are prone to continually pursue their goals, rarely taking time to stop. At the same time, these are personal goals, prompted by their curiosity and intelligence. While decisive, air signs don't have an interest in controlling or generally judging others.
What is Libra's personality type?
Libra's are known for their friendly personality and their ability to get along with others. They love balance and try to promote peace and well-being amongst groups of people. They're deeply interested in justice and value connecting with others. Many like Libras because a Libra desires to make others feel happy and connected. They also value beauty. Though sociable, they do have flaws. They can be a little unreliable and are also persuasive. With their ability to persuade others, they can lie more easily than other signs. However, there's a slight difference if you get deeper into astrology. Some look not only at their birth months, but also their sun sign, moon sign, and rising signs.
Libra Sun Sign
A Libra sign loves beautiful things, especially art. Their artistic side may be expressed through performing art, visual art, and fashion. You're able to get along with almost anyone, but some people may find the Libra sun sign as someone hard to trust because of this very characteristic.
Libra Moon Sign
Those with a Libra moon sign are always seeking to balance out their strong emotions. They are hesitant to show their emotions with strangers but insist on deeper emotional connections with their partners.
Libra Rising Sign
Those with Libra as their rising sign are charismatic and make friends easily. They are also creative, with an artistic eye and an appreciation for beauty.
Who is a Libra compatible with?
Libras are generally thought to be most compatible with Leo, Gemini, Aquarius, and Saggitarius. While Libra appreciates beauty, their soulmate is someone who shares intellectual interests. They love intelligence and others who express a degree of confidence in themselves. Best friend matches for Libra include Aires, Gemini, Leo, Aquarius, and Saggitarius. Enemies are thought to be Capricorn and Cancer.
Are birthstones by month or sign?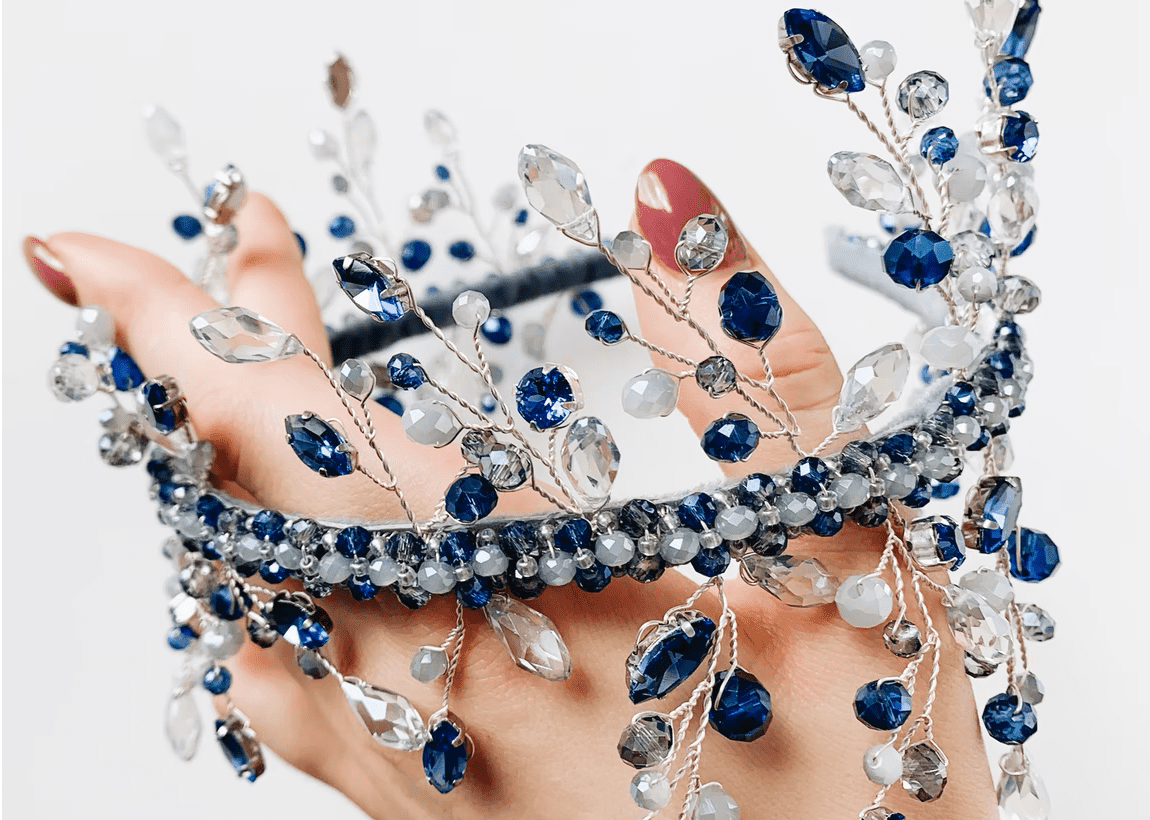 Ever since my mom purchased me a birthstone necklace when I was a little girl, I've found them both striking and meaningful. Birthstones are commonly given as gifts, but how they're being worn and used is only expanding in 2022.
Where did birthstones come from?
It's hard to say where birthstones originated, but many point back to the Book of Exodus in the Bible. Aaron, Moses' older brother, is depicted with a breastplate that is adorned with 12 gems, each symbolizing one of the 12 tribes of Israel. However, the practice and recognition of birthstones likely began in Poland. Though the period is uncertain, birthstones were likely first popularized during the 18th century.
Are birthstones expensive?
Birthstones have a reputation for being expensive, but it depends on the month or sign. There are birthstones as expensive as rubies (which are more expensive on average than diamonds) but also very affordable birthstones. Cost also depends on the quality of the gemstone.
Can a birthstone be an engagement ring?
Something I love seeing is people becoming more open to using birthstones in unique ways. Rather than classifying birthstones as only useful for costume jewelry, I've seen birthstones used for beautiful engagement rings. However, some birthstones are far more durable than others. Many birthstones can be worn every day, and others scratch too easily to be seriously considered for an engagement ring.
What is the birthstone for Libra?
Since Libra includes the months of October and September, you have a choice of four main birthstones. These birthstones are pink, blue, and multicolored hues. I love how these birthstones showcase an array of creative colors but also somehow balance each other out– very much like the Libra sign itself.
Does September have two birthstones?
September's main birthstone is the sapphire. This beautiful gemstone dazzles with its blue hue and is the most commonly recognized birthstone. However, September has a second birthstone. This birthstone, the lapis lazuli, is a bit more unique and lesser-known.
Is October's birthstone opal or pink?
Likewise, October has two birthstones for Libras to fall in love with. These include pink tourmaline and the mystical opal gemstone.
What is so special about sapphire?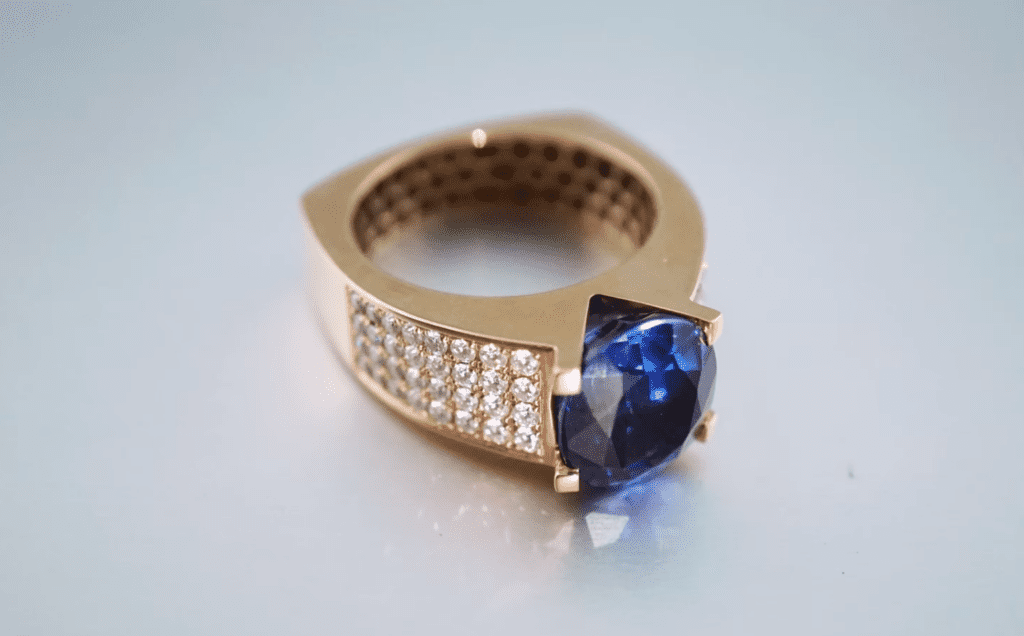 Of all the birthstones for Libras, I admit I love the sapphire most. The color is deep and enchanting yet timeless. But it goes beyond beauty with a sapphire. Sapphires are among the most durable naturally occurring gemstones. A sapphire likewise is rich in symbolism. It's associated with long life, beauty and wealth, and peace.
What does sapphire look like?
The most valuable color is blue, but sapphires can also be found in green, yellow, purple, and orange hues. For blue sapphires, colors include icy blue, cornflower blue, peacock blue (blue with green undertones), medium blue, royal blue, and midnight blue. The best and most valuable sapphires are a vivid blue. The more saturated and velvety, the better. You want to look for blue and violet undertones, while very dark sapphires or sapphires with gray undertones are of lesser value.
Why is sapphire so expensive?
Poor quality sapphires are quite cheap, but the great the saturation and clarity, the more valuable a sapphire is. Natural sapphires are quite valuable because they are rare. Sapphire prices vary widely from as little as $30 per carat up to $10K for the rarest. That said, there are so many options for lab-grown sapphires that you can find a ring at a reasonable price.
Can sapphires be worn every day?
Perhaps the most compelling reason to consider a sapphire for your Libra birthstone ring is that it's the most durable of the four choices. Sapphires can certainly be worn every day. Genuine sapphires won't discolor or become easily damaged.
What can damage a sapphire?
They don't scratch easily though they can scratch over time or chip if directly hit. They're a 9 on the Mohs hardness scale which is second only to moissanite and diamonds. If you do scratch your gemstone, it's quite possible to restore it by resurfacing it. As is true for all precious stones, avoid any harsh cleaning agents.
What are the characteristics of lapis lazuli?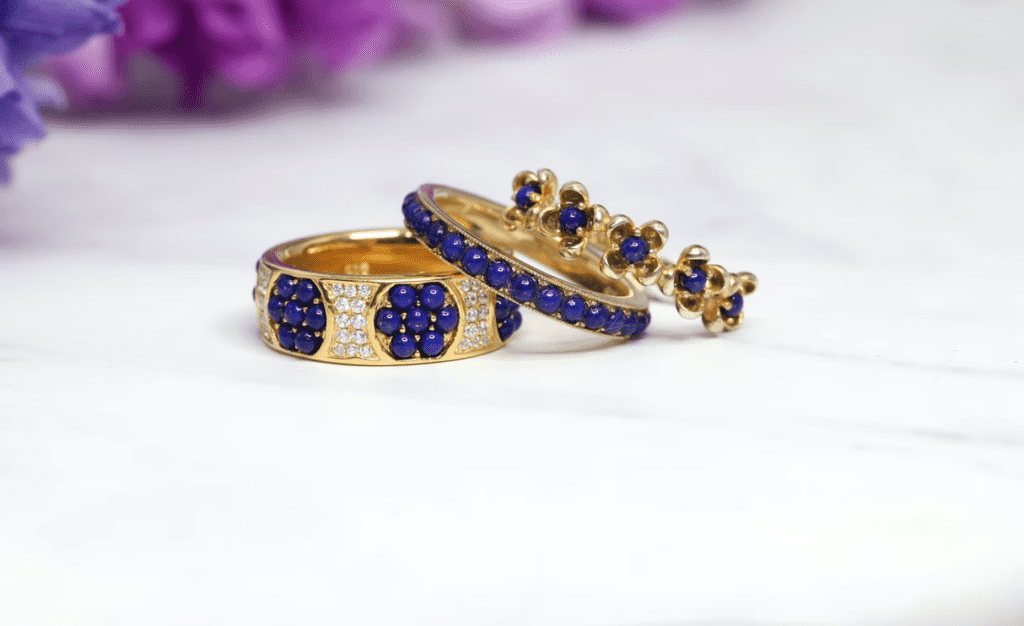 Lapis Lazuli is the alternative birthstone for September. This unique Libra birthstone is a dark blue metamorphic rock that is less usual for rings. Colors range from indigo to royal blue to midnight blue. However, unlike sapphires, lapis lazuli has a unique texture, with prominent swirls and veins. Lapis lazuli may be transparent or opaque.
What is lapis lazuli used for?
This unique Libra birthstone is not often seen on rings, but it is used for its purported connection with mindfulness and spirituality. Many believe it can protect against mental attacks and bring balance. Known as the wisdom stone, lapis lazuli is used to express truth, awareness, and candid expression.
Does lapis scratch easily?
I like the unique appearance and symbolism associated with lapis lazuli. Sadly, it's not a very durable gemstone. Real lapis lazuli is a 5 to 5.5 on the Mohs Hardness scale. This means it is easily scratched and damaged, even by everyday wear. There's a reason why it's more popular as decor vs for jewelry.
Is lapis lazuli fragile?
This Libra birthstone is sadly also quite delicate. It can easily be chipped or even split. Lapis lazuli must be treated with care and worn lightly. It's not considered suitable for everyday wear. As such, unique as this gemstone is, it wouldn't be something I'd pick for a ring.
What is tourmaline stone good for?
Pink tourmaline is the traditional birthstone for October. Like lapis lazuli, tourmaline is connected with spirituality. It's thought to protect against evil and negative powers or energy. In feng shui, this Libra birthstone acts as balancing energy. It's also noted for its striking hues.
What color tourmaline is the rarest?
The rarest, most expensive form of tourmaline is called Paraiba. This type of tourmaline is electric blue with touches of green. However, pink tourmaline is the proper birthstone for October. Pink shades include hot pink, icy pink, and medium pinks.
Why is tourmaline so expensive?
Tourmaline becomes more expensive and is worth more the more vivid and saturated the color. Some tourmaline is quite affordable. Something like Paraiba tourmaline is so rare that it's very expensive, fetching over $1,000 per carat. Pink tourmaline is not nearly as expensive, and it's also available as lab-grown, further taking down the price.
Can tourmaline be worn every day?
Tourmaline is a 7 to 7.5 on the Mohs hardness scale. Unlike lapis lazuli, tourmaline may be worn every day– but it's not nearly as durable as sapphires. It must be worn carefully and can become scratched by everyday activities. This Libra birthstone also cannot as easily be resurfaced vs sapphires. It will work fine for a fashion or cocktail ring, but I hesitate to recommend it as an engagement ring.
What is opal good for?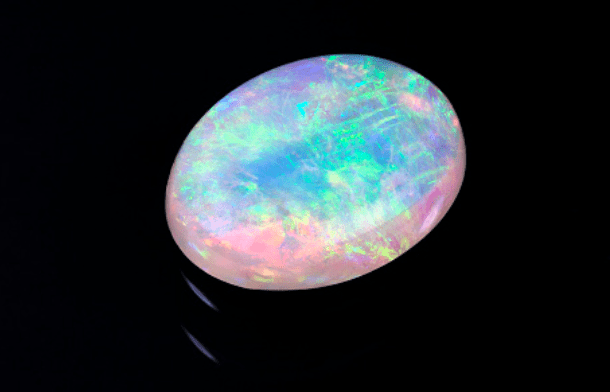 Your final choice for a Libra birthstone is opal. Opal is a unique but affordable gemstone that symbolizes confidence and faith. This birthstone is used by some as a form of protection and is supposed to provoke soul searching and deep contemplation. It's commonly used for every day and costume jewelry, though occasionally you'll find opals in fine jewelry as well.
How would you describe Opal?
Opal is truly unique. Nicknamed "Queen of the Gems," opal showcases nearly every color when exposed to light. Since it's an amorphous stone, it lacks a definitive crystal structure. With this play of colors, there are several types of opal. White opal is the variety that most closely symbolizes the October birthstone. White opal is also the most common. With white opal, you can expect a translucent to opaque, cream to the white or gray primary color. Black opal is the most valuable, although fire opal is well-loved.
How much is an opal worth?
Opals range from $10 to $6,000 per carat. Black opal, rare as it is, can fetch nearly double that. However, even high-quality white opal is fairly affordable. Opal grading is a bit different. Opal is categorized into commercial, commercial, good, fine, and extra fine. The higher the grade, the more valuable it is. It may also be rated on a letter scale, which I'll discuss in the next section. Quality is determined by the base color and the play with light.
Can you wear an opal ring every day?
As much as I love the unique play of color, this Libra birthstone isn't the best option for a ring you want to wear every day. Opal is a 5.5 to a 6.5 on the Mohs Hardness scale. Even at its best, it's easily scratched. It's only a bit harder and more durable than lapis lazuli. It is acceptable to wear for special occasions, but it wouldn't be a wise choice for an engagement ring or anything you plan to wear every day.
Do opals break easily?
Genuine opals are comprised of up to 6 percent water. Unfortunately, this means that opals are fragile. Not only can they break, but they also crack under pressure, quick temperature changes, and very dry or humid conditions. Opals must be stored in a dry, cool place to retain their condition and beauty.
How do I find the best Libra birthstone rings?
Now that you know all of your options, I want to discuss the best way to buy a gorgeous Libra birthstone. I'll rank the birthstones for durability, explain how to find the highest quality gems, and what you should be looking for when selecting a metal band.
Which Libra birthstone is best to wear?
All Libra birthstones are beautiful. From the striking blue of sapphire to the play of colors from an opal, none make poor aesthetic choices. However, when you're looking for a ring, you need to consider how often and heavily you'll wear it. I'm summarizing my findings in the chart below, ranking the birthstones from best to worst for a ring.
Libra Birthstones For Rings, Ranked From Best to Worst
Libra Birthstone
Colors
Durability Ranking
Suggested Use

Blue Sapphire

Icy Blue, Cobalt, Indigo, Midnight Blue

#1

9 on Mohs Hardness

Engagement Rings, Cocktail Rings

Pink Tourmaline

Icy/ Light Pink, Medium Pink, Hot Pink

#2

7 to 7.5 Mohs Hardness

Cocktail Rings. Possible for Engagement if Very Careful

Opal

Primary Colors: White to Gray, Red to Orange, Black

#3

5.5 to 6.6 Mohs Hardness

Occasional Cocktail or Fashion Rings

Lapis Lazuli

Deep Blues with Veiny Patterns; Translucent to Opaque

#4

5 to 5.5 Mohs Hardness

Very Occasional Fashion Ring or Display
If you're searching for a diamond engagement ring alternative, the only Libra birthstone I can fully recommend is September's blue sapphire. Some may be able to wear pink tourmaline, but it's better suited as a cocktail ring. Opal may be worn cautiously as a cocktail ring. Sadly, I can't fully recommend lapis lazuli.
What are the grades of gemstones?
But even if you're confident about which Libra gemstone is right for you, you must select carefully. Gemstones are rated by color, clarity (how many inclusions or imperfections, which impacts brilliance), cut, and carat. Of these, color grade and clarity are exceptionally important. While the grading standards are similar to finding the best diamonds, it's also a bit of a different system. Oftentimes, you'll see gemstones graded with clarity, color, and cut together and expressed either in descriptive terms or corresponding with a letter grade.
You should always look for evidence of grading (by the GIA or AGS) and an official grade. Note that the most valuable color varies by gemstone, as I mentioned in previous sections. However, the general rule of thumb is that you want to look for a more vivid, saturated color with as few inclusions as possible. Gray or yellow undertones (except yellow for fire opal) are generally the least desirable.
(Note the chart below refers to natural gemstones, but the grading can be applied to lab-grown.)
Colored Gemstone Grading For Finding Your Best Libra Birthstone
| | |
| --- | --- |
| Grade | Description |
| AAAA to AAA | Vivid Color and Few Imperfections; Top 1 Percent |
| AA | Saturated Color and Minor Imperfections; Top 10 Percent |
| A | Expressive Color But Not As Vivid. Minor But Notable Imperfections. Top 20 Percent |
| B | Top 50 Percent– Should Not Be Used For Fine Jewelry |
You don't need to buy a AAA gemstone for a beautiful ring, but it is an excellent choice if you have the money. Never buy below an A grade. For engagement rings, stick to AA or AAA.
Is it worth buying lab-grown birthstones?
I see a lot of misinformation about lab-grown vs natural gemstones. The problem is that some companies have used the term lab-created. Lab-created means that the gemstones are simulants and entirely manufactured. Lab-grown gemstones, on the other hand, share the same physical properties as natural gemstones. While not as valuable, lab-grown gemstones are more environmentally sustainable and cheaper. You also have more variety to choose from. I would say it's worth buying a lab-grown birthstone ring unless your main concern is value.
What ring metal lasts the longest?
One of the most common mistakes people make is selecting a great birthstone– only to buy a metal ring that doesn't last. If you want a ring that won't easily tarnish, avoid sterling silver, copper or brass. Gold plating should also be avoided. There are many durable metals you can choose from, but the most common choices remaining are gold and platinum. Platinum lasts the longest and has a beautiful luster. That said, it's also expensive. 10K gold is quite durable but has a dull appearance. I recommend platinum, 14K gold, or 18K gold. Stainless or surgical steel is not common but is also durable.
Where to Buy Libra Birthstone Rings: My Ideas
Now I'll share my favorite birthstone rings. To select the best, I've focused on gemstone quality, both natural and lab-grown. None of these birthstones are simulants, and all are offered by companies with a history of transparency and excellence. All rings are made with precious metals and thoughtfully crafted.
I've focused on the finest blue sapphire, pink tourmaline, and opal birthstone rings. I'll include a few lapis lazuli rings under my final buying recommendations since they are the least durable. My ideas for the best Libra rings are categorized by birthstone. If you want an entire collection of birthstone rings, I recommend the Angara. You can shop by gemstone, price, carat size, and more. All rings are crafted with 14K or 18K gold as well as platinum. Shop All Angara Gemstone Rings Here.
Blue Sapphire Birthstone Rings
If you want the most valuable and most durable Libra birthstone ring, look no further. Blue sapphires are enchanting and work for both cocktail and engagement rings. Deep blues with velvet undertones and vibrant hues are the very best. Icy blue isn't considered as desirable, and anything with gray undertones devalues it further. If you want a unique look, violet undertones can also be beautiful. Spend a little extra on the color and size down if you need to. At their best, blue sapphires are undeniably stunning.
0.57 to 1 Carat Vintage Style Cushion Sapphire Solitaire Ring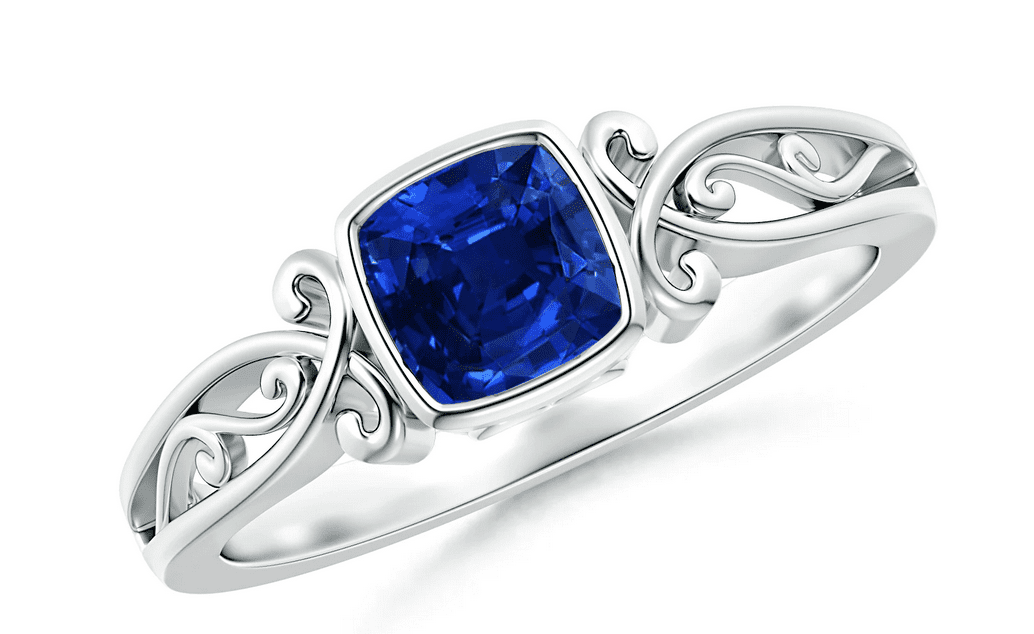 This gorgeous sapphire ring is at once classic and captivating. Channel your charming Libra personality with unique scrollwork on the gallery on the ring. The center cushion cut sapphire is secured with a bezel setting. Touches of vintage and royal appeal make this ring a gorgeous option. Select from 14K gold (rose, yellow and white) or platinum. Buy Here.
Pros
Vintage Appeal

Elegant Scrollwork
Cons
0.88 to 1.88 Carat Sapphire and Diamond Twisted Vine Ring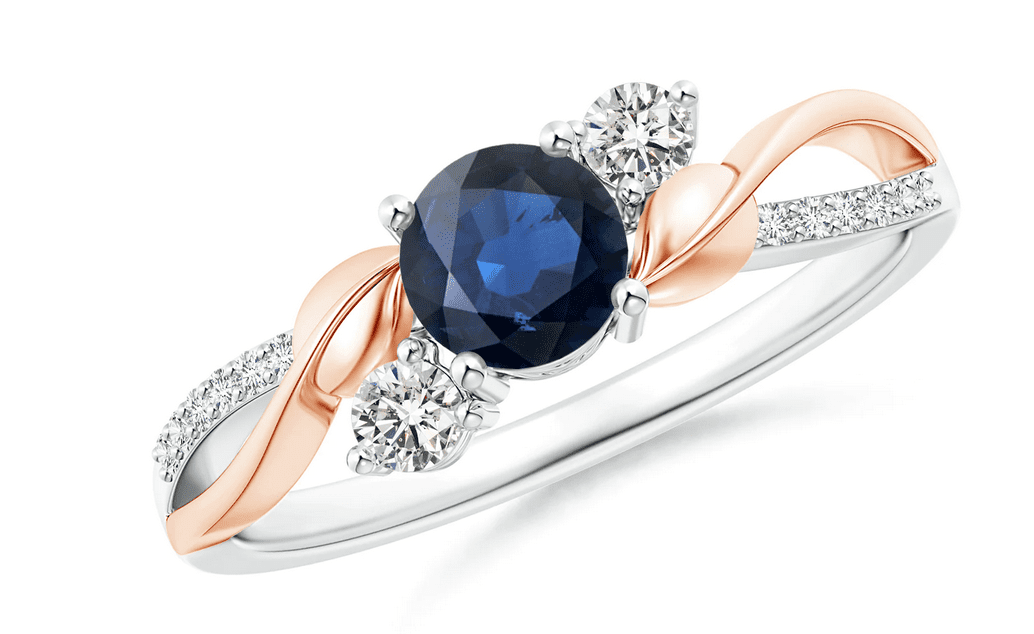 This unique ring is artistic and one of a kind, just like Libras. A prong-set blue sapphire is set on an intertwining shank. Round diamonds flank the round sapphire on either side. The unique twisted shank features a stunning leaf motif on the gallery. The band is crafted with your choice of 14K yellow gold, 14K white and rose gold, 14K white and yellow gold, 14K white gold, or platinum. Buy Here.
Pros
Leaf Motif

Gorgeous Twisted Shank
Cons
0.27 Carat Pave-Set Sapphire Cushion Bolo Ring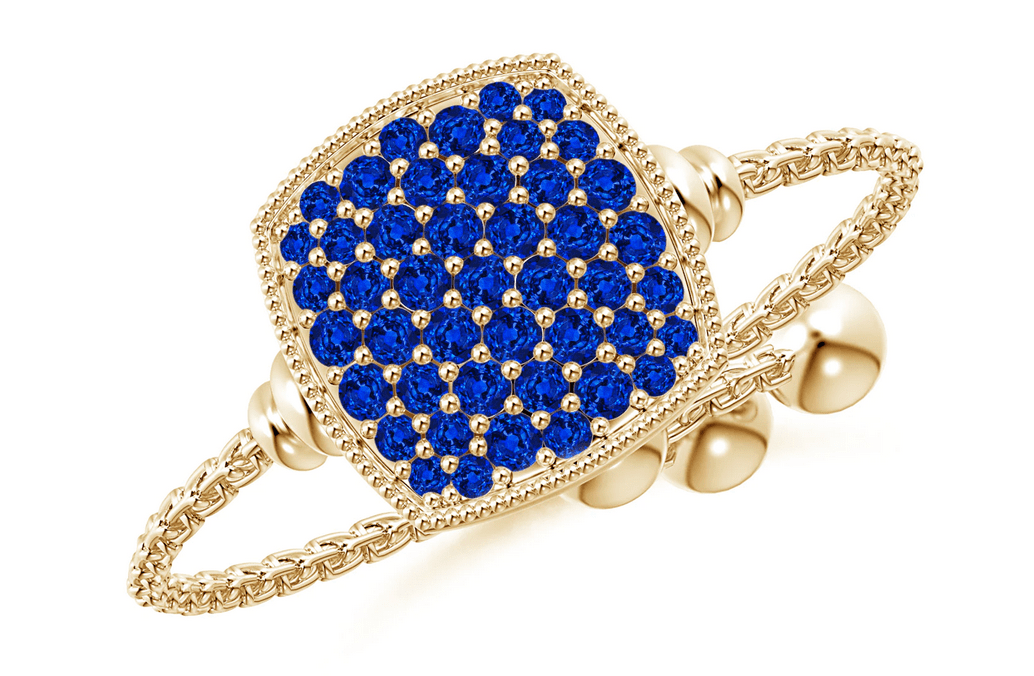 If you're searching for a playful cocktail ring, this is a great idea. This Libra birthstone ring sparkles with pave-set blue sapphires. The encrusted detailing is unique and certain to stand out. This ring is accented with miligrain details song the edge. The bolo clasp makes this adjustable and will fit almost anyone. This ring is crafted in your choice of 14K rose, yellow, or white gold. Buy Here.
Pros
Adjustable Bolo Clasp

Miligrain Edging
Cons
Not Available in Platinum
1.11 to 1.61 Carat Five Stone Blue Sapphire and Diamond Band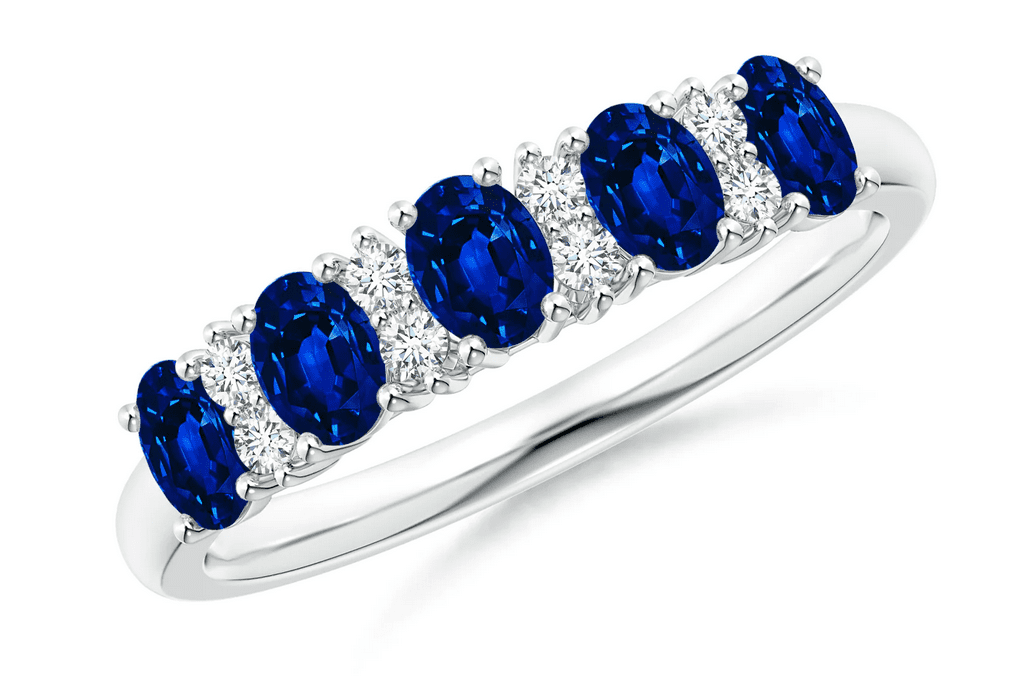 This Libra birthstone ring can be worn as a cocktail ring or even a unique wedding band. Five blue sapphires are secured with prongs across a classic band. Sparkling round diamonds add glamorous accents. The pattern is at once unique and timeless. Choose from 14K rose, white, or yellow gold, or platinum. Buy Here.
Pros
Doubles as Cocktail or Wedding Band

Gorgeous Diamond Accents
Cons
Some May Not Like Band Style
1 Carat Sapphire and Diamond Virgo Deconstructed Feather Ring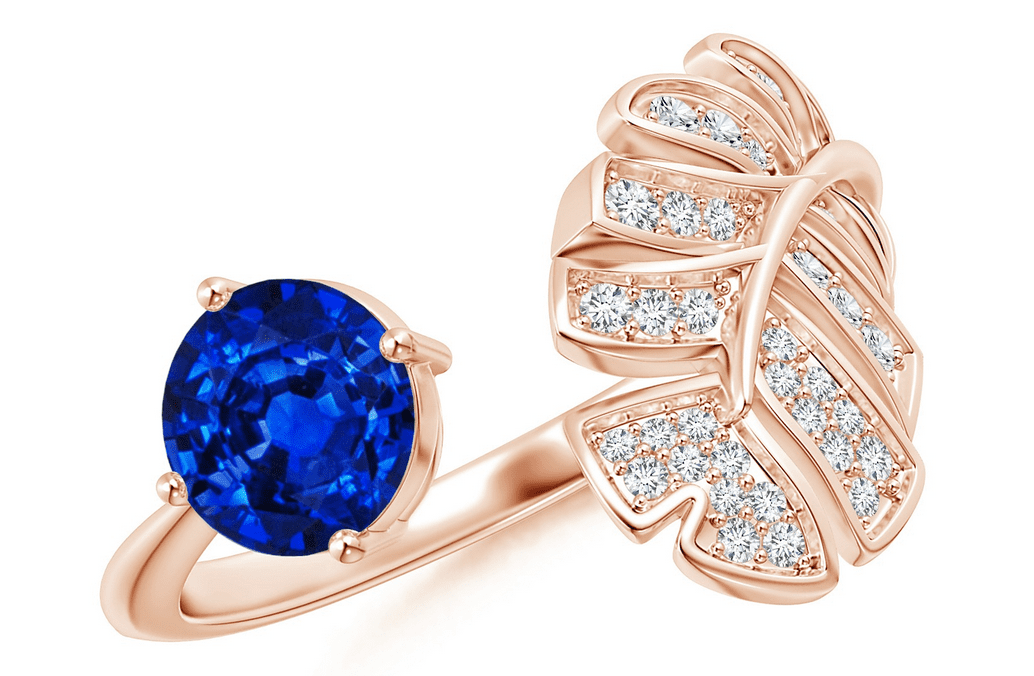 One lesser-known trait about Libras is that they are in tune with their natural environment. I love how this Libra ring expresses that, all with breathtaking and innovative craftsmanship. You'll be feeling connected with nature with the modern design. A sleek band is accented with a beautiful feather. Round brilliant diamonds add an enchanting sparkle and complement the round blue sapphire. This ring can be purchased in 14K rose gold, yellow gold, or white gold. Buy Here.
Pros
Unique Feather Motif

Round Brilliant Diamonds
Cons
Eclectic Style is Less Versatile
1.16 Carat Art Deco Inspired GIA Certified Sapphire Floral Halo Ring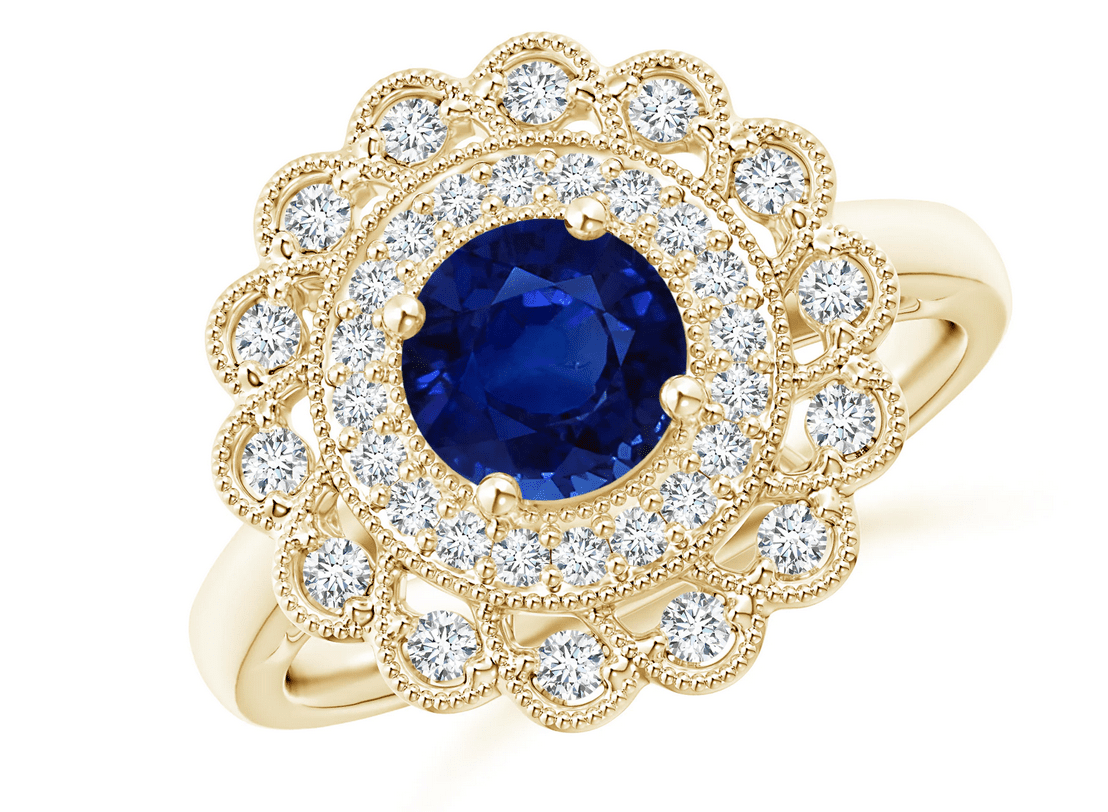 This ring is one of my most expensive ideas for Libra birthstone rings. However, the exceptional exquisite design cannot be overlooked. This ring presents an Art Deco aesthetic with powerful floral motifs. The dazzling design features a blue sapphire surrounded by a double halo of sparkling diamonds. This mesmerizing design also features miligrain edging and scalloped edges. Choose from 14Kor 18K white, yellow, or rose gold. Buy Here.
Pros
Art Deco Style

Diamonds and Floral Motifs
Cons
0.28 to 0.78 Carat Nature Inspired Round Blue Sapphire & Diamond Vine Band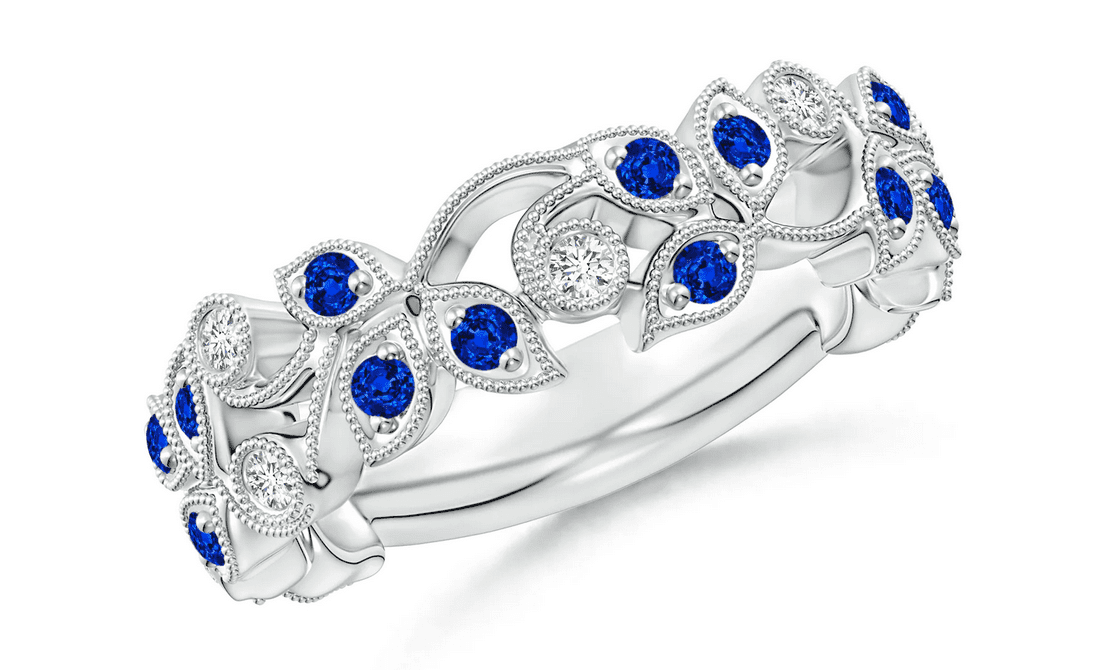 This is another nature-inspired ring that is worthy of Libra's unique personality. Worn as an elegant accent ring or even a wedding band, miligrain edging adds texture to the vine design. Bezel set diamonds and pave-set blue sapphires alternate along with the band. This ring is available in 14K white, yellow, or rose gold. Buy Here.
Pros
Nature Inspired

Miligrain Edging
Cons
More Diamond than Sapphire Focused
0.60 to 1 Carat Solitaire Round Sapphire Celtic Knot Ring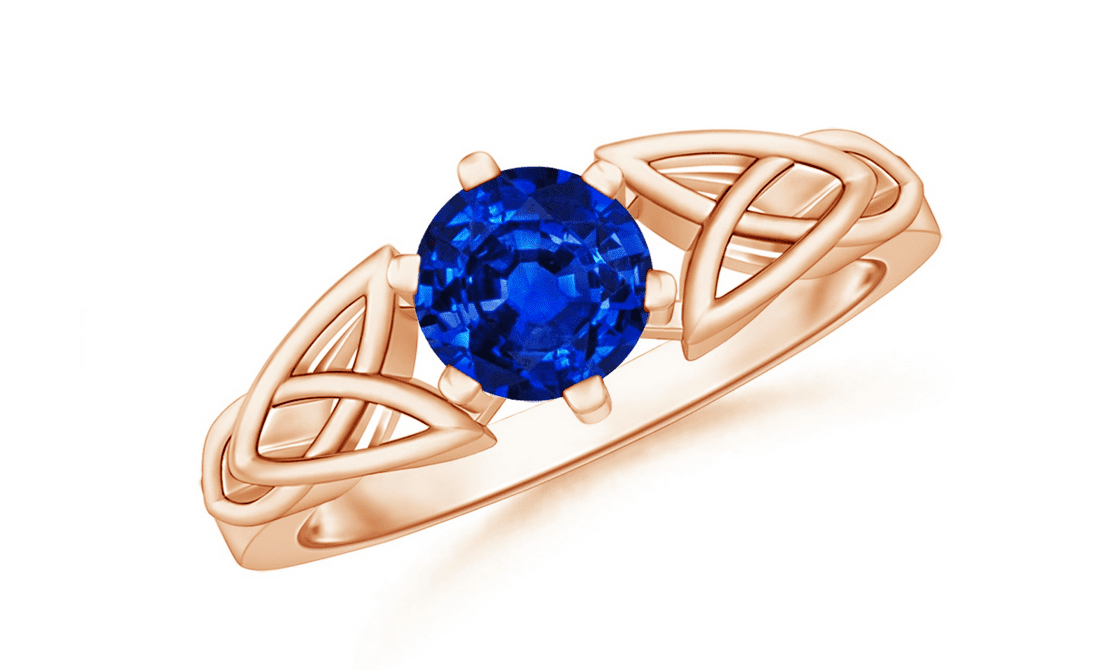 Libras value deep emotional connections. They also are known to value equality, beauty, and symmetry. This ring manages to express all of that. The Celtic Knot, long a symbol of eternal love, gets a sleek modern upgrade. A round blue sapphire is secured with a six-prong setting. A Celtic Knot symbol is engraved along the stunning shank. This ring is crafted in your choice of 14K rose, yellow, white gold, or platinum. Buy Here.
Pros
Celtic Knot Symbol

Sophisticated Shank
Cons
May Be Too Traditional For Some
Pink Tourmaline Birthstone Rings
Pink tourmaline is expressive and has more variety than you'd think. From icy pink to hot pink, these stunning gemstones show off the warmth and expressiveness that Libras are known for. It's up to you, but the more vivid the pink, the more valuable it is considered. This Libra birthstone is perfect for whimsical cocktail and fashion rings. Treat it well, and it may work as an engagement ring. It's popular to add small diamond accents.
0.26 to 1.89 Carat Tapered Shank Pink Tourmaline Ring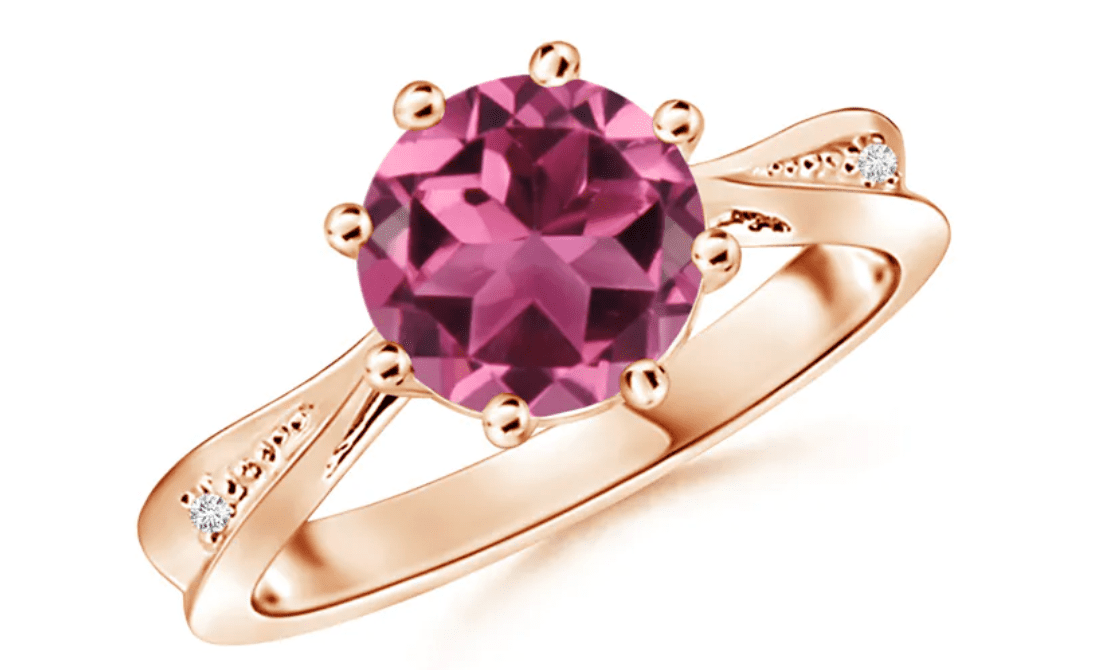 This dazzling pink tourmaline ring showcases Libra's love for art and beauty. A round pink tourmaline is centered on a tapered ring. The band is modern and sleek and perfect for a cocktail or even engagement ring. This elegant ring is crafted in your choice of sterling silver, 14K rose, white or yellow gold, and platinum. Buy Here.
Pros
Tapered Shank

Sleek and Versatile
Cons
Setting Offers Less Protection For Gemstone
0.45 Carat Bezel Set Round Pink Tourmaline Stackable Ring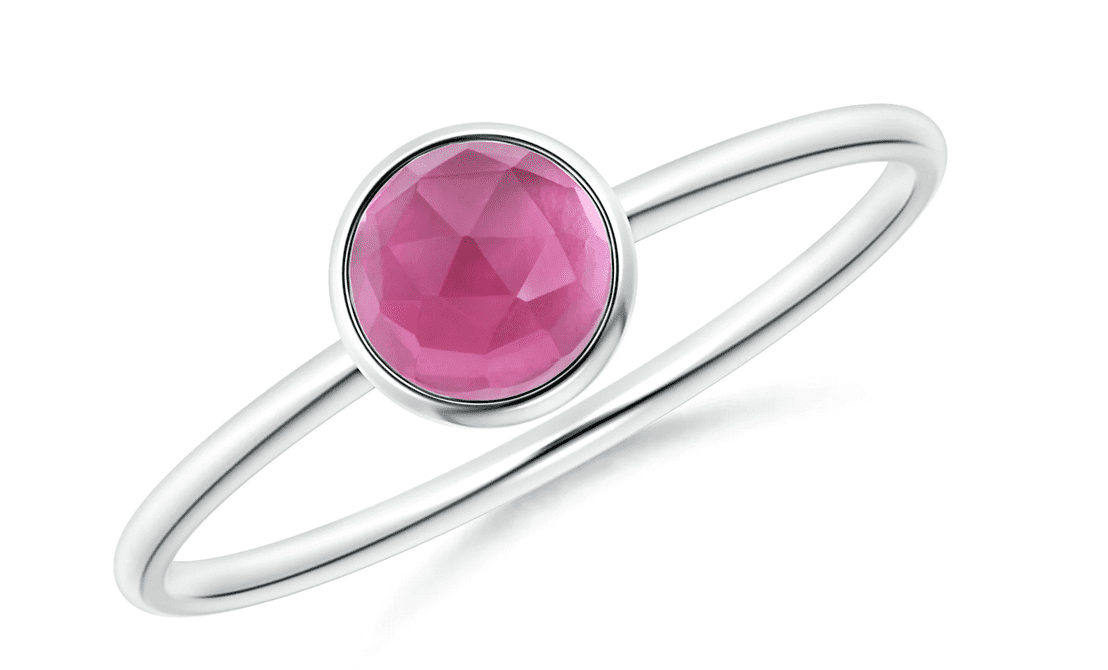 Libra's style is fashion-forward by romantic with a touch of elegance. This ring is romantic and elegant, but with a versatile and modern appeal. This ring features a AAA natural round tourmaline stone in a simple bezel setting. The thin, sleek band is perfect for stacking with other rings. This ring is made in your choice of silver or 14K rose yellow or white gold. Buy Here.
Pros
Stackable

Modern and Versatile
Cons
Can't Select Quality of Gemstone
0.25 to 0.80 Carat Solitaire Pink Tourmaline Infinity Shank Ring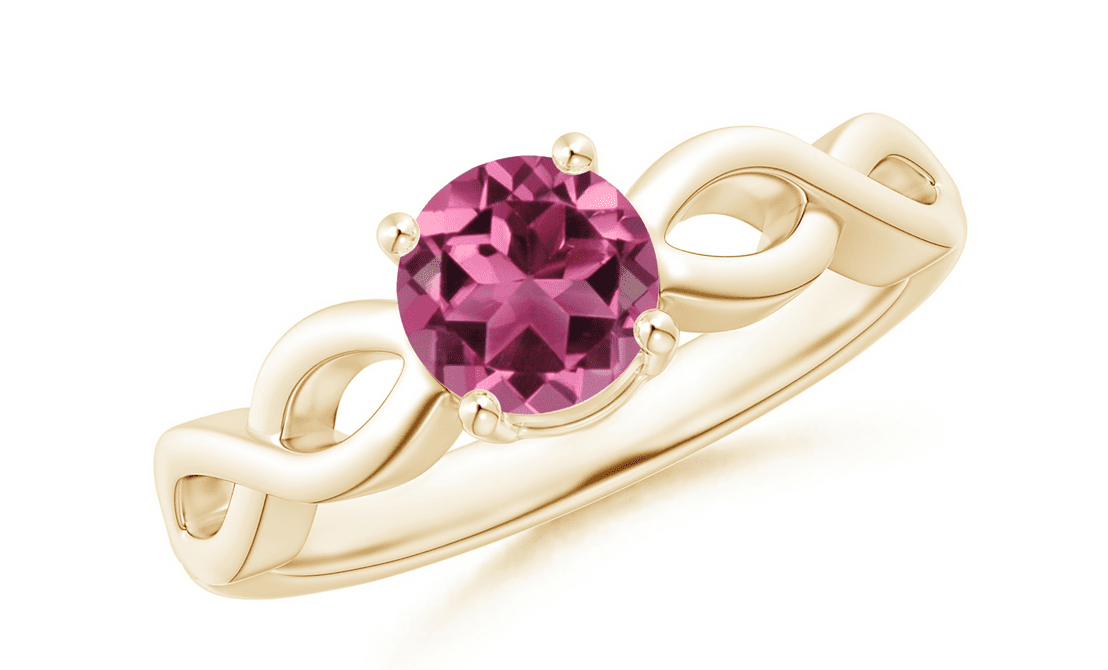 The affectionate Libra will love this dreamy infinity ring. This birthstone ring features a timeless, elegant design. A vibrant pink tourmaline gemstone is secured with a classic prong setting. The allure of this ring is accomplished by a shank ring with an infinity design. Buy this symbolic Libra birthstone ring in 14K rose, yellow or white gold, or platinum. Buy Here.
Pros
Infinity Design

Timeless Appeal
Cons
0.51 to 1.37 Carat Vintage Style Oval Pink Tourmaline Ring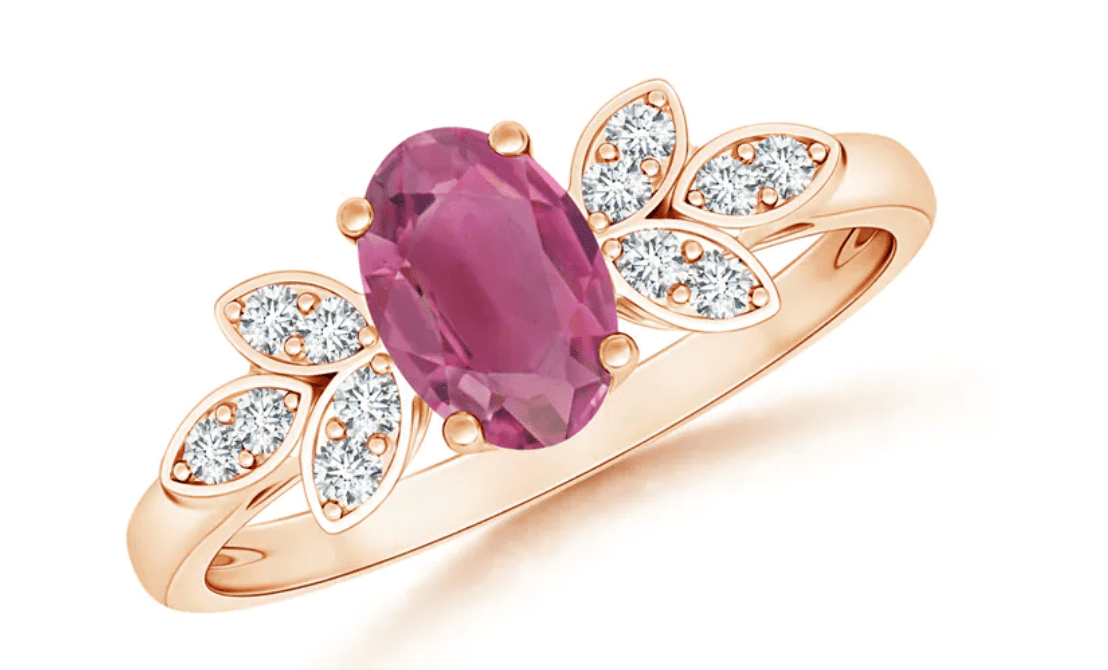 This pink tourmaline ring features an oval gemstone with a four-prong setting. The vintage-style feature leaf designs at the shoulders of the ring. The touch of nature and elegance make this ring stand out for an engagement ring or cocktail ring. This elegant ring is crafted in your choice of 14K rose, yellow or white gold, or platinum. Buy Here.
Pros
Nature-Inspired Motif

Vintage Appeal
Cons
1.17 to 2.50 Carat Cushion Pink Tourmaline Ring with Floral Halo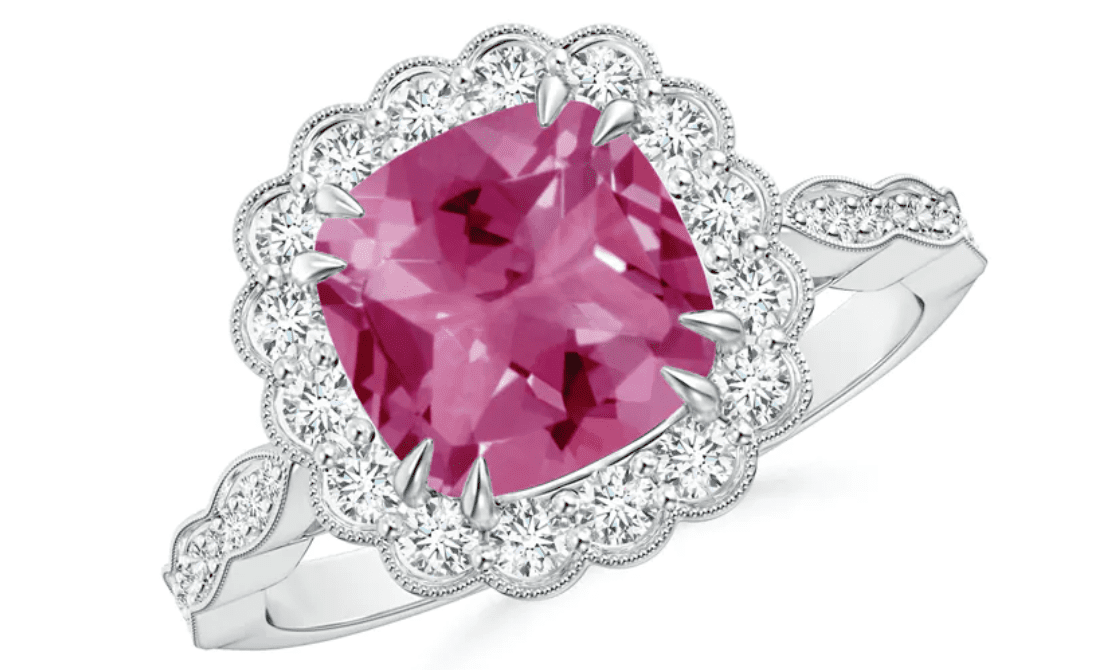 The elegant ring is truly breathtaking. A double claw prong secures a pink tourmaline stone. Floral patterns and a halo of sparkling diamonds make this stand out. I love how the petals of the flower are designed to sparkle in the sunlight. The scalloped shank and miligrain edging are also exceptional details. This ring is available in 14K white, yellow or rose gold, or platinum. Buy Here.
Pros
Unique Scalloped Shank

Halo Floral Pattern
Cons
0.45 Carat Solitaire Pink Tourmaline Ring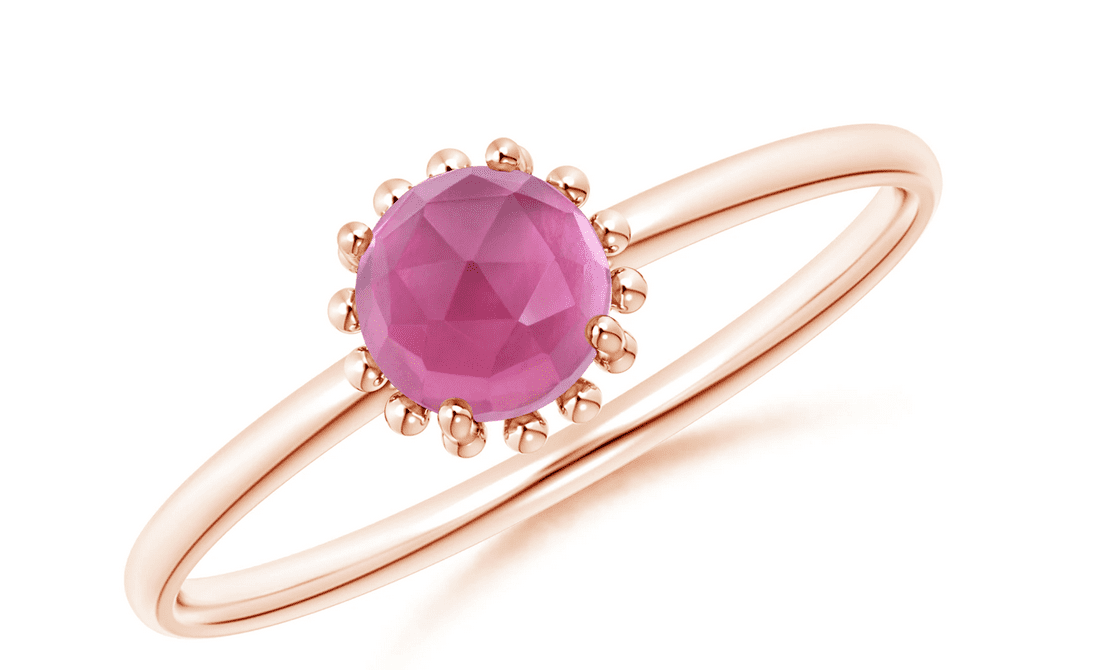 For Libra looking for a modern ring, this is a stunning idea. The pink tourmaline gemstone is faceted for optimized sparkle. Beads frame a hollow design for a unique, artistic look. This ring is minimalist and stylish. Select from silver, 14K yellow or rose gold, or platinum. Buy Here.
Pros
Unique Bead Frame

Modern and Striking
Cons
0.09 Carat Bezel Set Pink Trio Cluster Stack-able Ring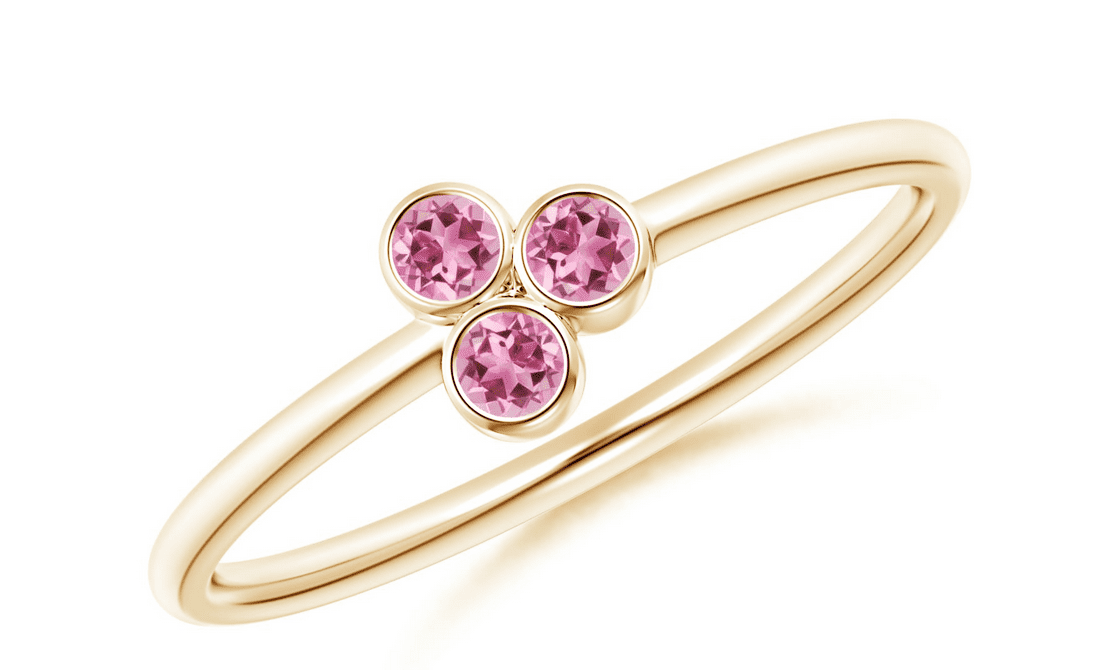 This stack-able ring is a great idea if you want an accessory for parties. The minimalist design features three bezel-set pink tourmaline gemstones, The cluster is versatile but eye-catching, proving that you don't need a larger carat stone to make an impression. This ring is crafted in your choice of silver or 14K rose yellow or white gold. Buy Here.
Pros
Versatile and Stackable

Playful Design
Cons
Opal Birthstone Rings
Looking to stand out? Opals are in many ways the symbol of what the Libra sign is known for. This beautiful birthstone appears versatile and balanced at first glance but dazzles with its creativity once it's put out in the light. Most of my picks have white or cream as the base color, as this is the most commonly represented for the birthstone. There are far more white opals to select from. Shy away from cooler gray undertones and opt for the highest quality (AAA and AA) for optimal rainbow play with light. I did sneak in two examples of brilliant fire opal gemstones. The more vivid and more red, the higher the quality for fire opal.
0.26 Carat Pear Shaped Opal Beaded Ring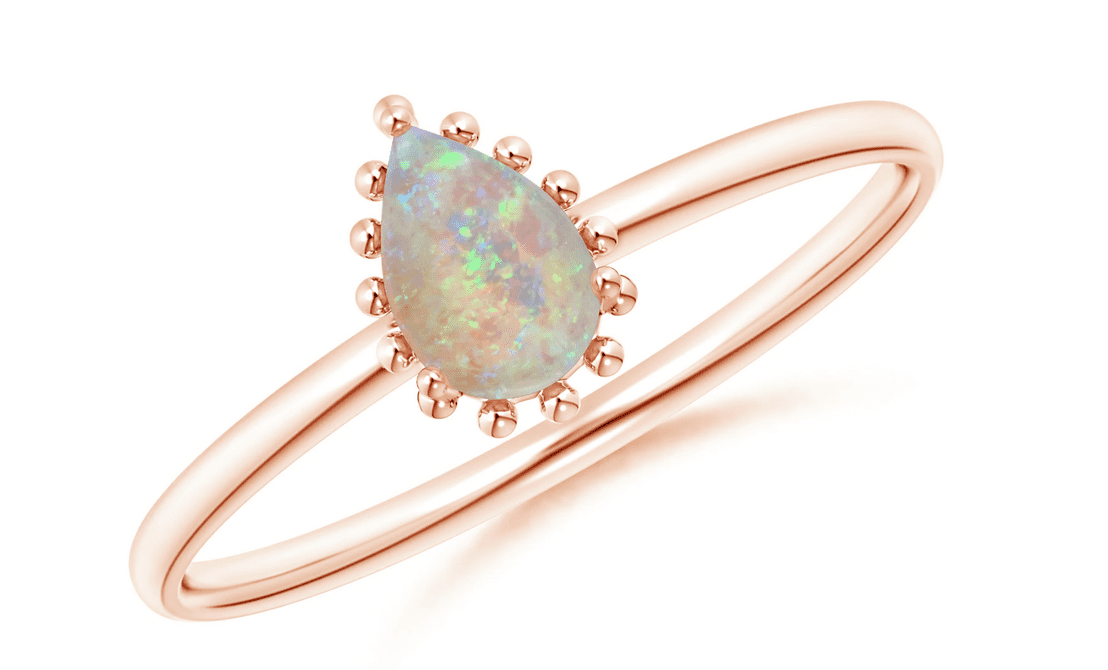 This Libra birthstone ring features a pear-shaped opal gemstone. The cabochon opal is secured with a classic prong setting. Small beads form a halo around the gemstone. The metal shank is sleek and sophisticated. This ring is available in silver or 14K white, gold, or rose gold. Buy Here.
Pros
Cabochon Cut

Sophisticated
Cons
0.66 to 1.98 Carat Vintage Oval Opal And Diamond Halo Ring with Bezel Emerald
This stunning ring would be perfect for a Libra who has a close connection to someone born in May. The center oval opal stone is set on a band with miligrain edging. Sparkling vibrant emeralds add an exquisite finishing touch. The leaf motifs are also a beautiful nod to Libra's nature-loving personality. This ring is available in 14K rose, yellow or white gold, or platinum. Buy Here.
Pros
Stunning Emerald Accents

Miligrain Edging
Cons
Not Suited For Anyone Who Dislikes Emeralds
0.53 to 1.22 Carat Vintage Style Oval Opal Ring with Diamonds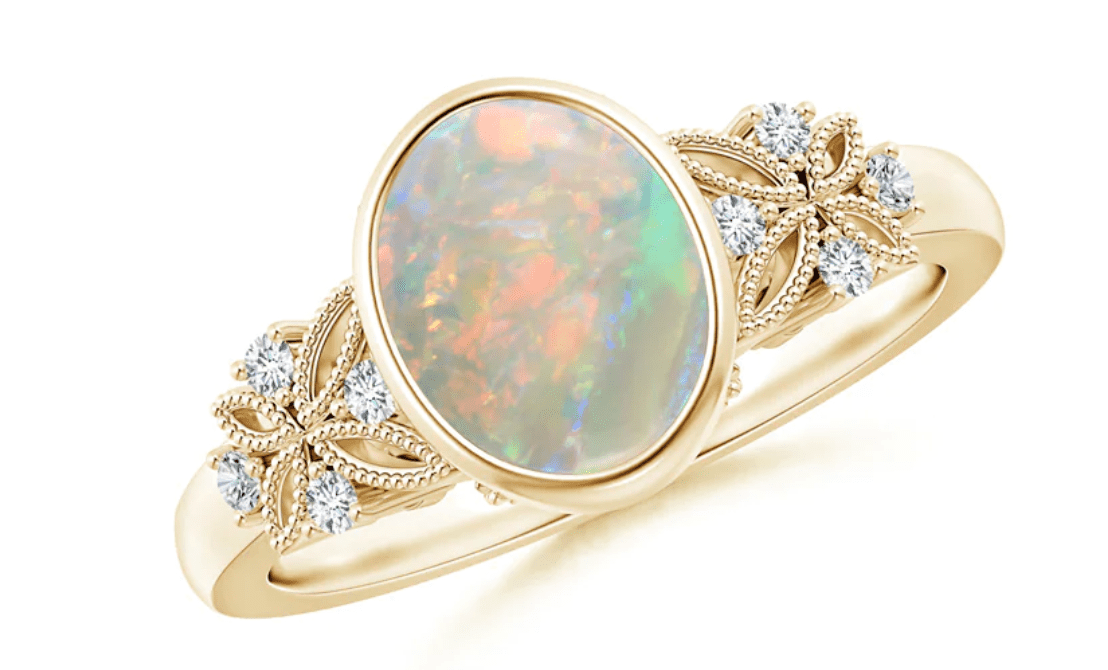 The artistic and romantic Libra will love this gorgeous vintage-inspired birthstone ring. An oval opal features glamorous iridescence and is situated in a bezel setting. But it's the stunning band that carries this design. The intricate band is expressive, with butterfly symbols and miligrain edging. Round diamonds sparkle on either side of the center stone. Choose from 14K rose, yellow or white gold, or platinum. Buy Here.
Pros
Butterfly Symbols

Glamorous and Artistic
Cons
0.16 to 0.50 Carat Solitaire Opal Infinity Knot Ring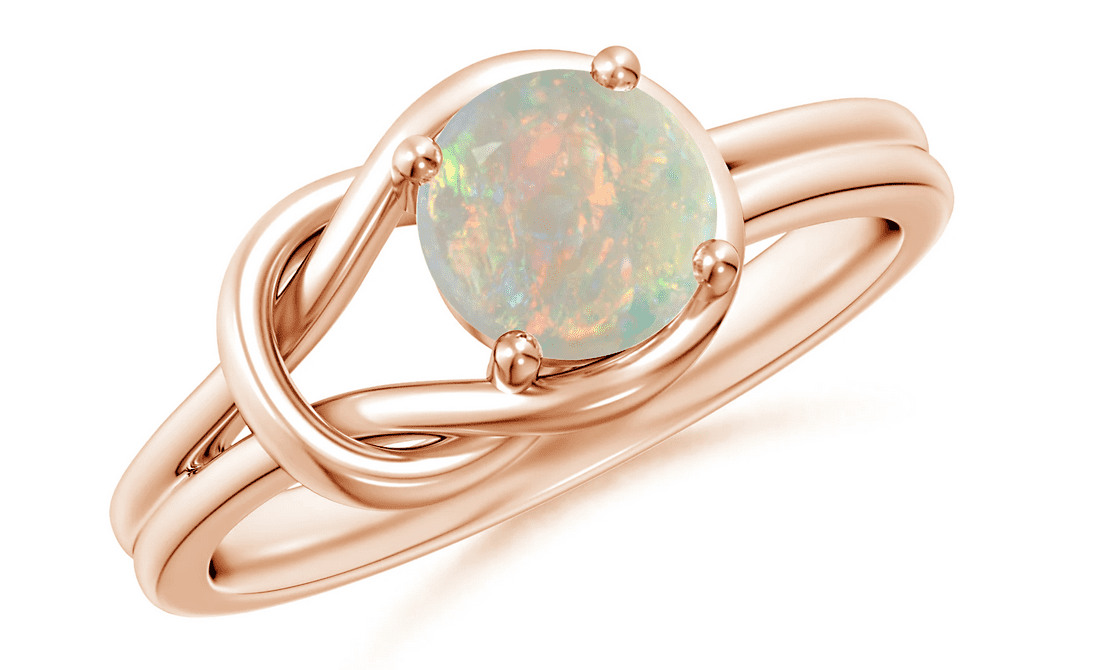 The infinity knot symbolizes a bond that cannot be broken. Libras can be hopeless romantics when they open up, so this is a great idea for a meaningful design. A gorgeous opal is set in a classic prong setting. The band features an infinity knot design and is simply sophisticated. This timeless ring is crafted in your choice of 14K yellow, white, or rose gold, as well as silver or platinum. Buy Here.
Pros
Infinity Symbol

Timeless Appeal
Cons
O.08 Carat Bezel Set Opal Libra Floral Ribbon Ring with Diamond Accents


Yes, you read that correctly: this ring was designed specifically for Libras! The design is meant to express balance, symmetry, and a sense of ease. Meanwhile, the sleek intertwining bands showcase Libra's love for beauty. The ribbon is structured with an abstract take on a floral motif. Diamonds accent the band and pair with a bezel set round opal. This ring is available in 14K white, rose, or yellow gold. Buy Here.
Pros
Expresses Balance and Beautiful Symmetry

Designed for Libras
Cons
1.40 to 2.42 Carat Round Oval Triple Split Shank Ring with Alternating Halo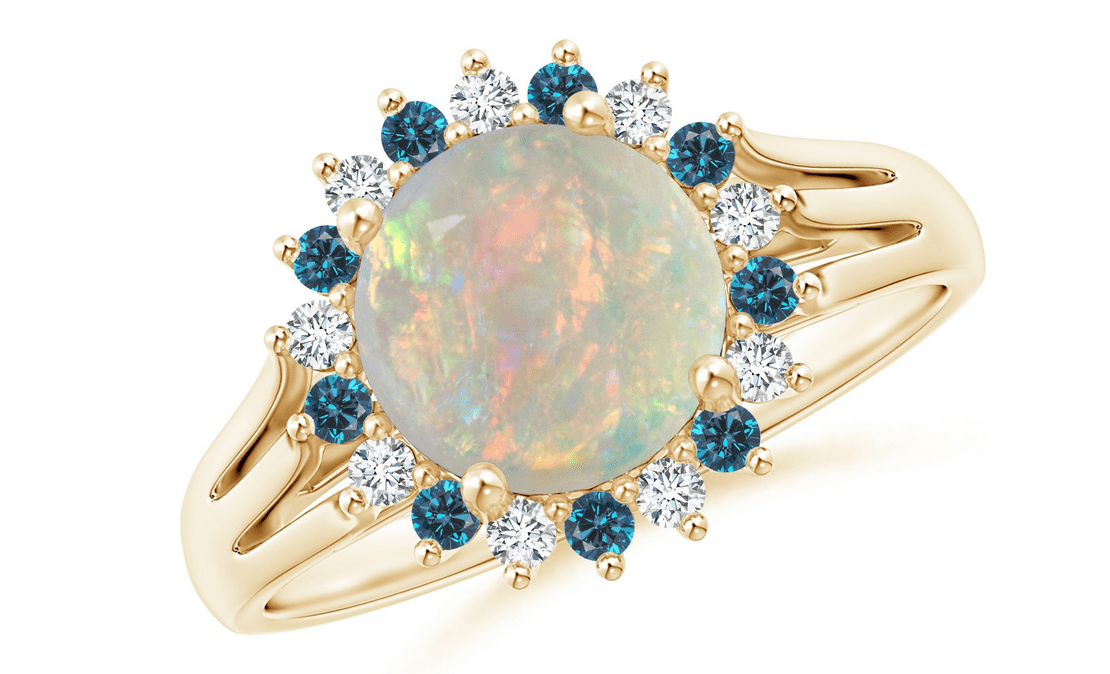 Can't decide between the iridescent glamour of opal and a blue hue? You don't have to with this dazzling design. This cocktail ring features a triple split shank, crafted with beauty. A round opal is adorned with a halo of white and blue (enhanced) diamonds. This ring is charming and outgoing, not unlike Libra. This ring is crafted in your choice of 14K white, yellow, or rose gold. Buy here.
Pros
Beautiful Diamond Accents

Brilliant Halo Design
Cons
Diamonds Are Treated/ Enhanced
0.45 Carat Bar-Set Solitaire Round Fire Opal Bypass Ring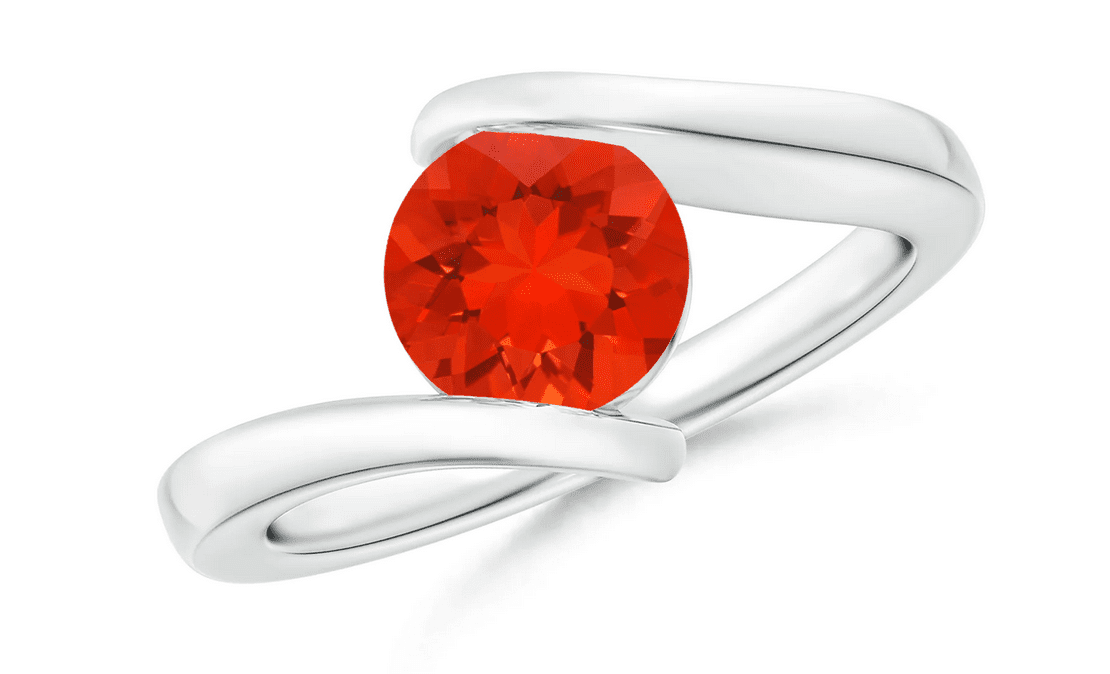 While I wanted to focus on white opal, I'd be remiss if I didn't sneak in a fire opal ring. For Libra who wants to make a bold statement, this design is stunning. The sleek band features an intertwined, modern take. The simplicity of the band allows the round fire opal to shine, no diamond accents are needed. This ring is available in silver, platinum, or 14K white, yellow or rose gold. Buy Here.
Pros
Modern and Versatile

Beautiful Craftsmanship
Cons
0.32 Carat Round Fire Opal Cocktail Ring with Floral Diamond Halo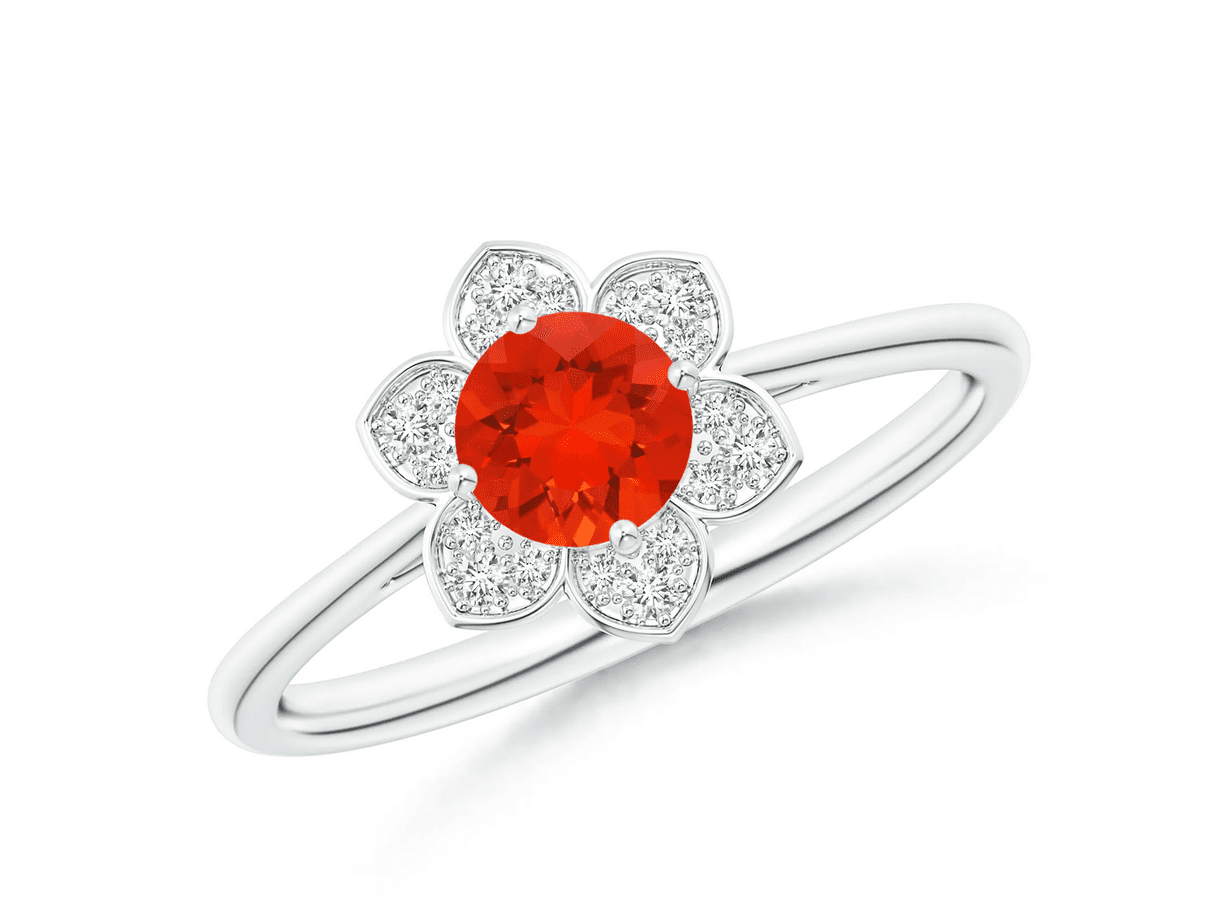 I simply love this ring idea for a Libra. The fiery opal is surrounded by a halo of diamonds. The floral motif provides a romantic and nature-inspired touch that fits perfectly. This ring is enchanting and has a beautiful accent for formal attire. Select from platinum or 14K rose yellow or white gold. Buy Here.
Pros
Beautiful Floral Motifs

Stunning Romantic Design
Cons
Frequently Asked Questions
Question: How can I tell if my sapphire is real?
Answer: Be wary of simulants. Very cheap sapphires– under $10 per carat– are likely simulants. Read the description. If you see the word "lab-created," this means it's manufactured. You should see that the sapphire is either natural or lab-grown. Sapphires should come with official grading from the American Gem Society or the Gemological Institute of America if you're buying within the United States. If you've already purchased a sapphire, a fake will behave differently. If it scratches like a fingernail, it's fake. If it floats to the top of the water, it's also fake. Always buy from reputable companies or sellers with extensive history and descriptions of their gemstones. If the deal seems too good to be true, it probably is.
Question: Who should not wear lapis lazuli?
Answer: Lais lazuli is the most fragile of Libra birthstones. I don't recommend buying it if you aren't careful with your jewelry. However, some believe that those who have problems with self-expression should also shy away from this birthstone.
Question: Why are opals beautiful?
Answer: Beauty, of course, is in the eye of the beholder. However, opals are beautiful because of their play with light. When exposed to light, opals flash a full spectrum of colors, transforming them from seemingly simple gemstones to an unparalleled appearance.
Question: Can I wear my opal in the shower?
Answer: You should never wear opal jewelry of any kind in the shower. Opals can crack under pressure and temperature changes. That isn't to say that opals will become ruined if they get a bit of rain on them. It isn't some water exposure that hurts them, but prolonged and continual exposure. Showers are a bad idea due to pressure, temperature changes, and any soaps and shampoos.
Question: What celebrities are Libras?
Answer: Notable celebrities that are Libras include Kim Kardashian, Eminem, Simon Cowell, Snoop Dog, Will Smith, Serena Williams. Gwen Stefani, Bruce Springsteen, Avril Lavigne, and many more. Click Here For The Top 40 Libra Celebrities.
Final Thoughts
Libras have some beautiful birthstones to choose from. The array of hues and signature plays with light expresses the sign. While vibrant and creative, the collection of these birthstones comes across as balanced and versatile. While it's true that some of these birthstones are more durable than others, it's also about knowing what to wear and when. If you're buying an engagement ring, I can only fully recommend sapphires. If you want a playful ring you wear occasionally, your options are open. Shop wisely and shop for the birthstone that most expresses your inner Libra.
Final Buying Recommendations: Lapis Lazuli Rings
I played down this gemstone, but that doesn't mean you can't buy it. If you love the look of this Libra birthstone, the upside is that rings tend to be affordable. Fine jewelers don't often sell lapis, so my recommendations come from sellers on Etsy. However, these Etsy sellers all have a history of customer excellence, as well as descriptions for their products and a solid sales history. Don't spend too much on these rings. Find a ring that follows this criterion but is aesthetically pleasing. These rings work for a fashion ring, but don't buy them for something you plan to wear every day. Shop All Etsy Lapis Luzuli Rings Here.
Mimimalist 14K Gold Vermeil Hexagon Natural Lapis Lazuli Ring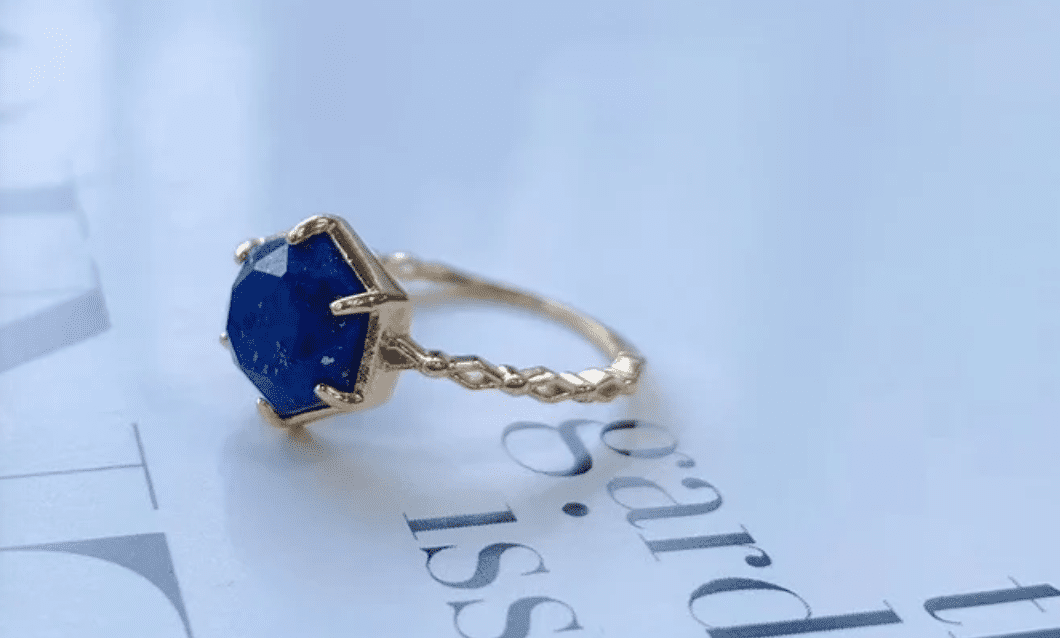 Gold vermeil is a type of gold plating that lasts longer. It provides a gorgeous look and makes for a very affordable ring. Gold plating is placed over 925 sterling silver. The minimalist style is gorgeous, with a medium blue lapis lazuli gemstone. Buy Here.
Pros
Gold Vermeil is Stronger than Typical Gold Plating
Handmade
Cons
14K White Gold Natural Lapis Lazuli Ring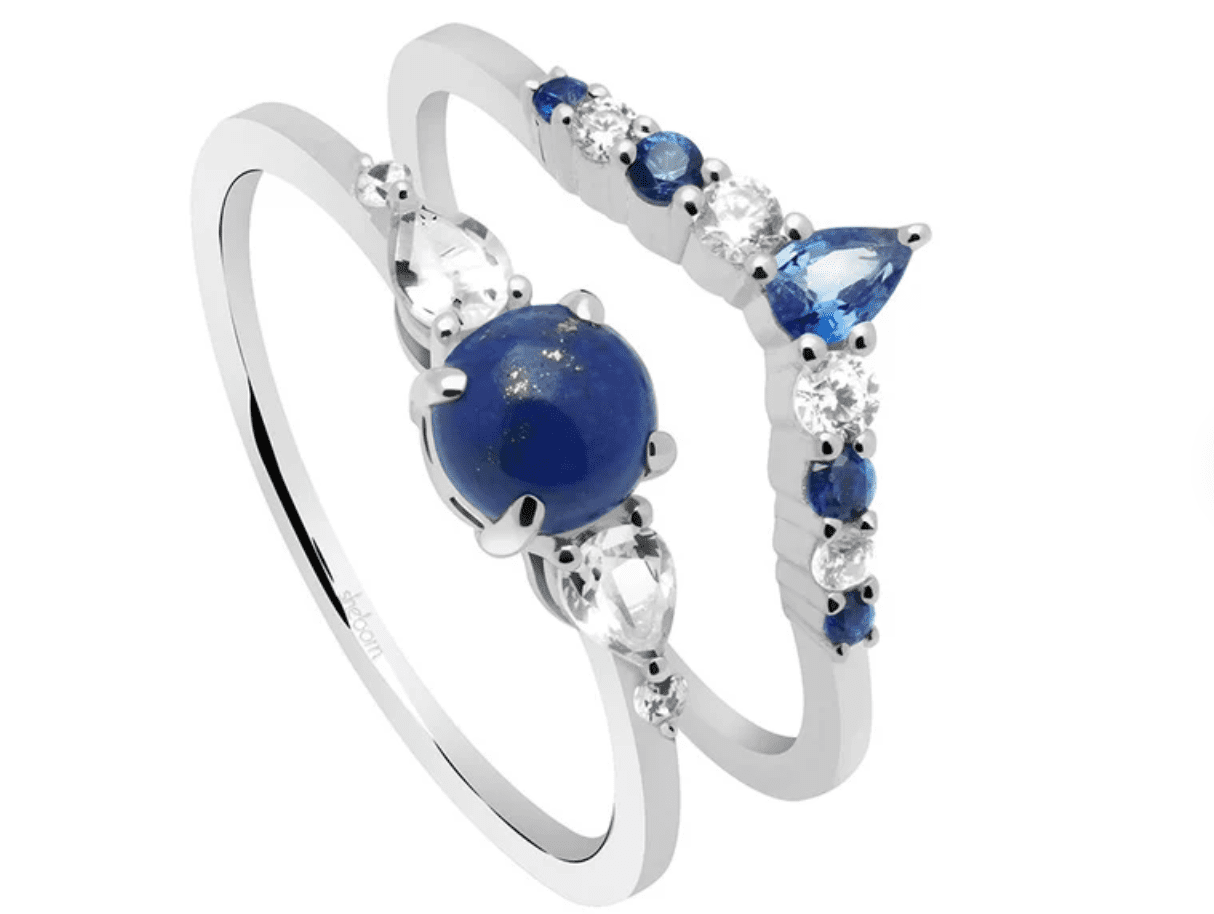 This handmade ring features natural lapis lazuli stone. The design is modern, clean, and sleek. The style is versatile and still eye-catching. You can order this ring in silver or 14K white gold. Buy Here.
Pros
14K White Hold
Handcrafted
Cons
Can't Select Gemstone Quality
Looking for more interesting readings? Check out: