Latest posts by Kristen Swain
(see all)
You are looking for an Engagement Ring, but are you looking for an alternative stone to a diamond? Learn about everything Opal and get inspired by the Best Opal Ring ideas.
All about Opal Engagement Rings
Opal is a silicate mineral gemstone that can flash every color of the rainbow. There are several varieties of Opal, from Fire Opal, Precious Opal, and Black Opal. Several varieties of Opal are named for the shape of the play-of-color they display, such as Boulder, Crystal, and Matrix.
Opal is primarily mined in Australia but is found around the world in various countries. Brazil, Mexico, and the Western US all produce Opal, but about ninety-five percent of the precious opal market is mined from Australia.
Opal is the national gemstone of Australia. It is also the birthstone for the month of October. Opal is relatively soft and is between five and six on the MOH gemstone hardness scale.
Opals should be carefully cleaned, only using soft cloths and soapy water. This gemstone has a high percentage of water content and can dry out, keep them out of prolonged direct sunlight and high heat. Otherwise, your Opal can develop cracking throughout the gemstone.
Types of Opal
Water Opal
A water opal is a blue-gray stone with a light play of color. It has a look that is described as gelatinous. Another description could be that it looks like a plastic bag of water inside the stone. The play-of-color changes depending on the stone and is often not very bright. The colors that display in a water opal are amorphous and without distinct edges.
Black Opal
Black Opal is found in only one country, Australia, and almost all of them have come from a single town, Lightning Ridge. Black Opals have a black backing to the clear layer of silica that reflects the prismatic colors of an opal. This backing, called potch, allows the colors in the Opal to reflect out of the gemstone more vibrantly. Black Opal is extremely rare and, because of this, is valued at a high price per carat for stones that display the best and brightest colorations.
Fire Opal
Fire Opal is formed from the deep underground ancient volcanos in Mexico. They were revered by both the Aztecs and the Mayans and were found in ancient burials sites of both cultures. Fire-Opal differs from Precious or Common Opals in that the background ranges in color from deep yellows to bright red backgrounds. The play-of-color inside the stone is dulled because of the vibrant background coloration. Fire Opals are very valuable when the coloration and the play-of-color are exceptional and valued more than Precious Opals. Lower values occur when the color is yellow-toned, and the coloration inside is less brilliant.
Common or Precious Opal
The term Precious Opal applies to any opal that shows a play-of-color. Generally, the white Opal is considered the standard of Precious Opal and is the Opal that is referred to the most when Opal is mentioned. Precious Opals display their colors when the light is moved over the Opal, when the Opal is moved under the light, and when the person viewing the Opal changes their perspective.
Boulder and Matrix Opal
Both Boulder and Matrix Opalit refer to Opal that is so intertwined into a sandstone or ironstone rock that it is shaped as part of the gemstone. Boulder Opal generally is veins or pockets of Opal that form in the rock, and Matrix Opal refers to Opal that is distributed finely through the sediment grains. These Opals are typically referred to in measurements of size instead of carat weight.
Opal History and Understanding the Lore of Bad Luck
At one time in history, back in Ancient Rome, Opal was prized as the most valuable stone, worth more than diamond. Opal was so valuable because of the rainbow play-of-color that the stone displayed; the Romans considered Opal the combination of all gemstones. Opal brought good luck to those who owned it.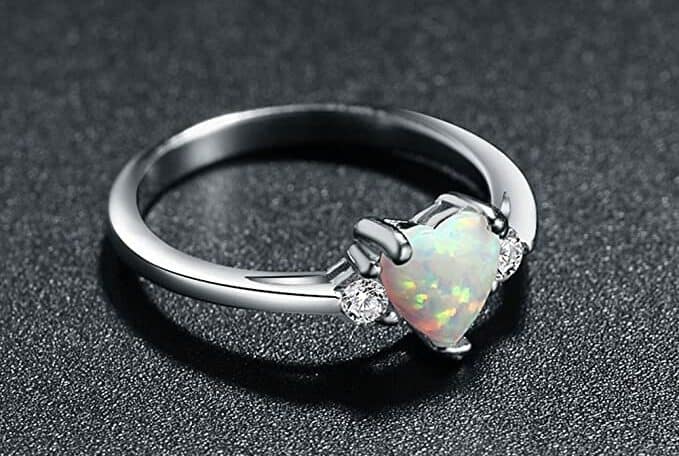 In the middle ages, Opal was thought to enhance eyesight and was known as the eye stone. That, in turn, became the lead-in on the stone being associated with the evil eye. It became closely associated with animals with evil eyes like cats and goats, and that was the association of bad luck with owning Opals.
During plague times, Opal was thought to lose its color when the owner of the gem died. Opals are notoriously fragile to shape and cut into gemstones. Many lapidaries refuse to work with the stone as the stone is easily ruined because of its innate brittleness.
Later on, in the 18th and 19th centuries, diamond sellers were worried that newly discovered Australian Opals would threaten their diamond sales, and they actively spread negative beliefs that Opals were bad luck.
Opals are fragile stones, and Double and Triple Opals- Opals that have been spliced together- are held together with glue and can be damaged by chemicals or even from soaking in water. Opals are about as hard as glass and do require special care.
Alternatives to an Opal Engagement Ring
Moonstones
This milky gemstone displays adularescence or a shimmer from inside the gem. The gemstone is named for the display of moonlight on the water, and the soft blue-white glimmer from inside the stone is what makes it similar to Opal. If you are looking for a gem that moves with indirect eye lighting, this gem is a definite find for you.
Labradorite
This mineral is made of feldspar, the most abundant natural material on earth. Labradorite is colored with bright swaths of color, in colors as rich as the rainbow. However, Labradorite does not have a play-of-color in such that the colors do not change as the stone is moved. The most popular Laboradorite coloration is a blue-green coloration, but red, yellow, purple, and orange color show are not uncommon.
Rainbow Lattice Sunstone
Rainbow Lattice Sunstone originates in Australia, in a region called the Mud Tank Zircon Field. This feldspar mineral displays a rainbow lattice iridescence. Strips of hematite reflect rainbow coloration through the host mineral. The effect is iridescent as you move the stone, making it a similar example to opal.
Mystic Topaz
This rainbow fire gemstone displays a rainbow of colors. While it is a transparent stone, the display of colors from the stone can display many colors, while green and purple are the dominant colors. This gemstone is chemically treated to achieve this color effect, and it is a surface coating. While considered permanent, it can be scratched and damaged by stone chemicals.
Opal Engagement Ring Inspiration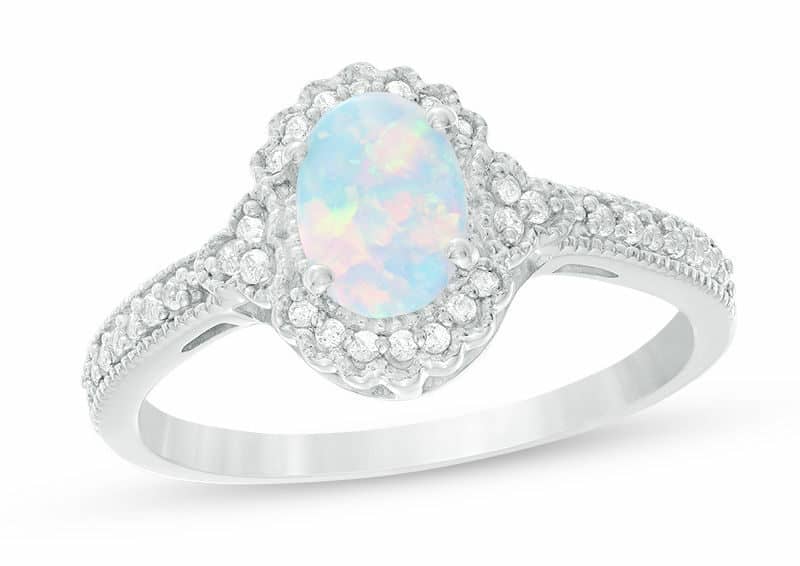 This white gold filigree halo ring features a three-quarter carat, Oval Opal. An eighth-carat weight of diamonds accents the Opal, in pave setting around the Opal on the halo and also down the shoulders of the band. The white gold setting highlights the color play in the Opal and allows the diamonds to sparkle out from the white color while giving the Opal a base to shine. This lovely band and Oval give vintage inspiration to an engagement setting.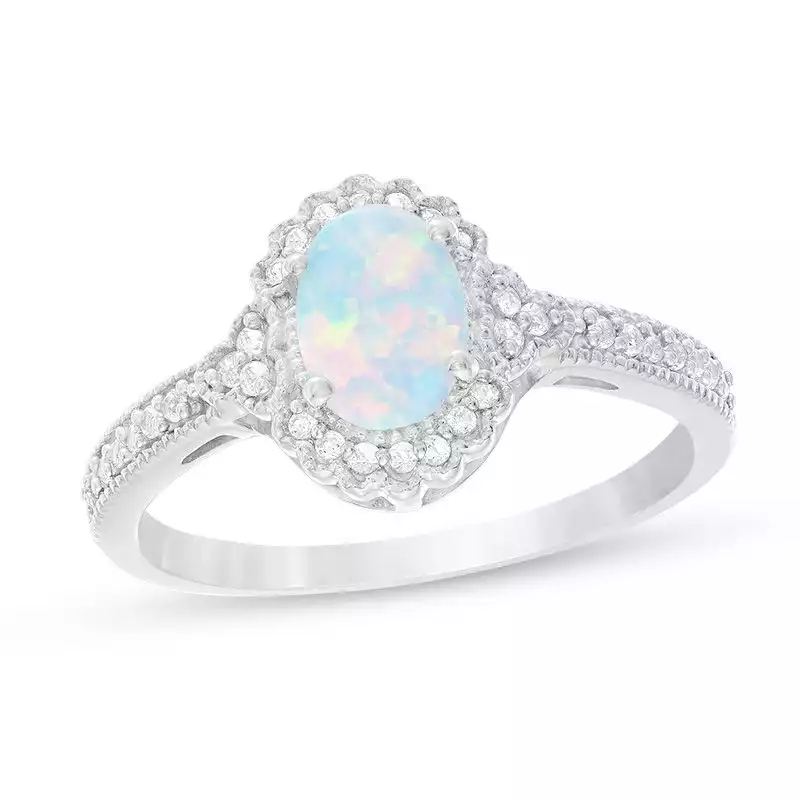 Oval Lab-Created Opal | Zales
Boasting the perfect touch of sparkle, this vintage-inspired ring is destined to be adored.
Check Price
We earn a commission if you click this link and make a purchase at no additional cost to you.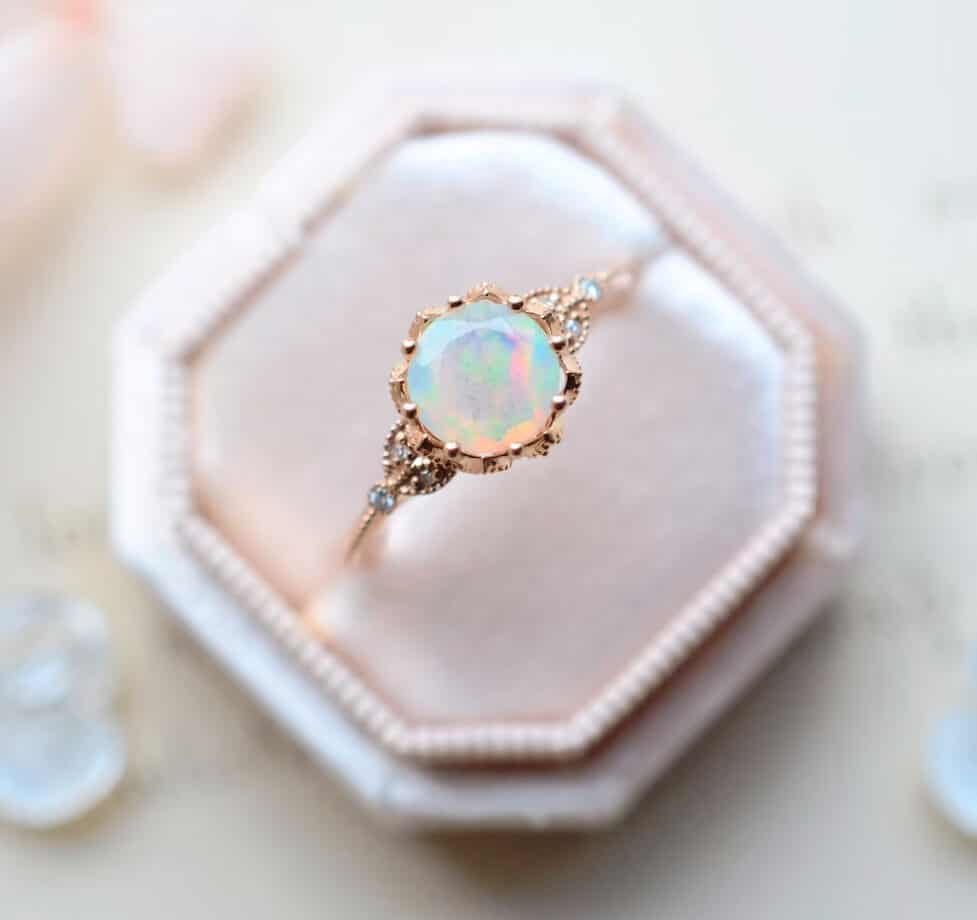 A large one-point three-carat Ethiopian fire opal is nestled into the bezel of this ring. The rose gold prongs wrap over and form between leaf shapes to hold the cabochon Opal in place. A diamond accent decorates the front and back of the setting. Additionally, three small diamond accents decorate the shoulders of the ring. The ring comes in a choice of metal coloration but is shown as rose gold, and the rose color makes the Opal stand out in the setting.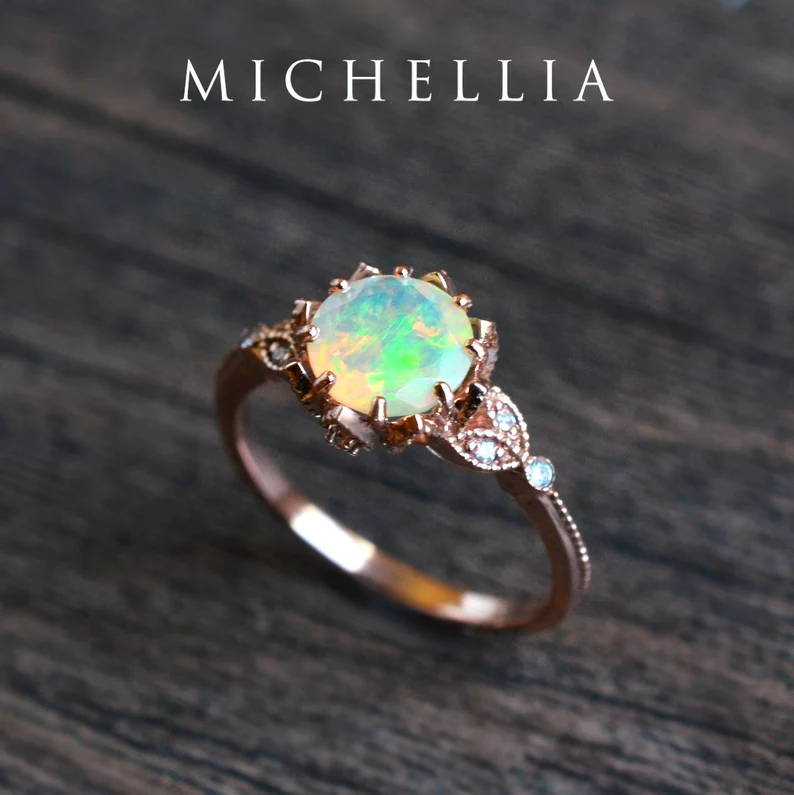 Evanthe Opal Engagement Ring | Etsy
Inspired by the goddess of flowers, this timelessly beautiful design lives up to its name "Evanthe", meaning "fair flower" in Greek.
Check Price
We earn a commission if you click this link and make a purchase at no additional cost to you.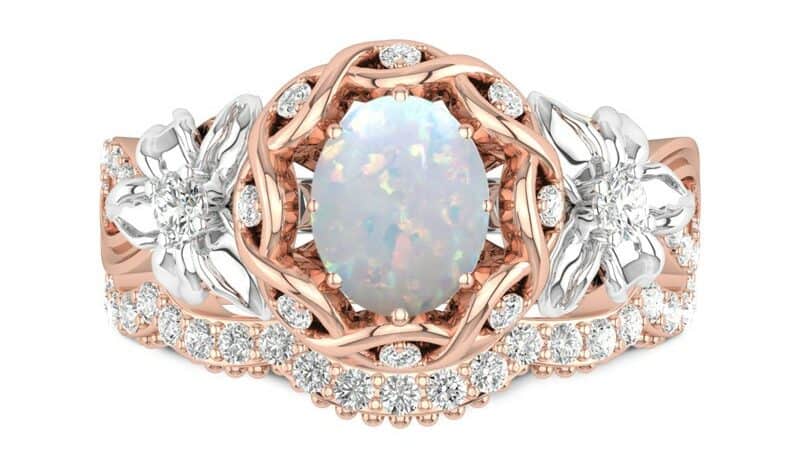 A one and a half carat Opal cabochon is surrounded by a twisted rope halo with accent diamonds. Two lilies accent the band shoulders in silver, and additional diamonds enhance the split band. This ring has an accompanying wedding band adorned with diamonds in a rose gold setting. The two lily flowers also have accent diamonds in their center point. This beautiful set is elegant, and vintage-looking with modern accents like a rose gold setting.
Vintage Floral 1.5 Carat Cushion Cut Fire Opal Engagement Ring in White Gold
A cushion-cut one-carat Opal set into a flower setting. Each petal of the flower is adorned with a three-diamond trio. Pave diamonds and millwork accent the shoulders of the band, giving glitter from the side of the ring. The Opal choice in this ring is Ethiopian or Black Opal; choosing either would be stunning to accent this gorgeous vintage look ring. This setting has a full half-carat of diamonds to glitter in the light, while the Opal displays the stunning coloration that they are known for.
Side Stone Ring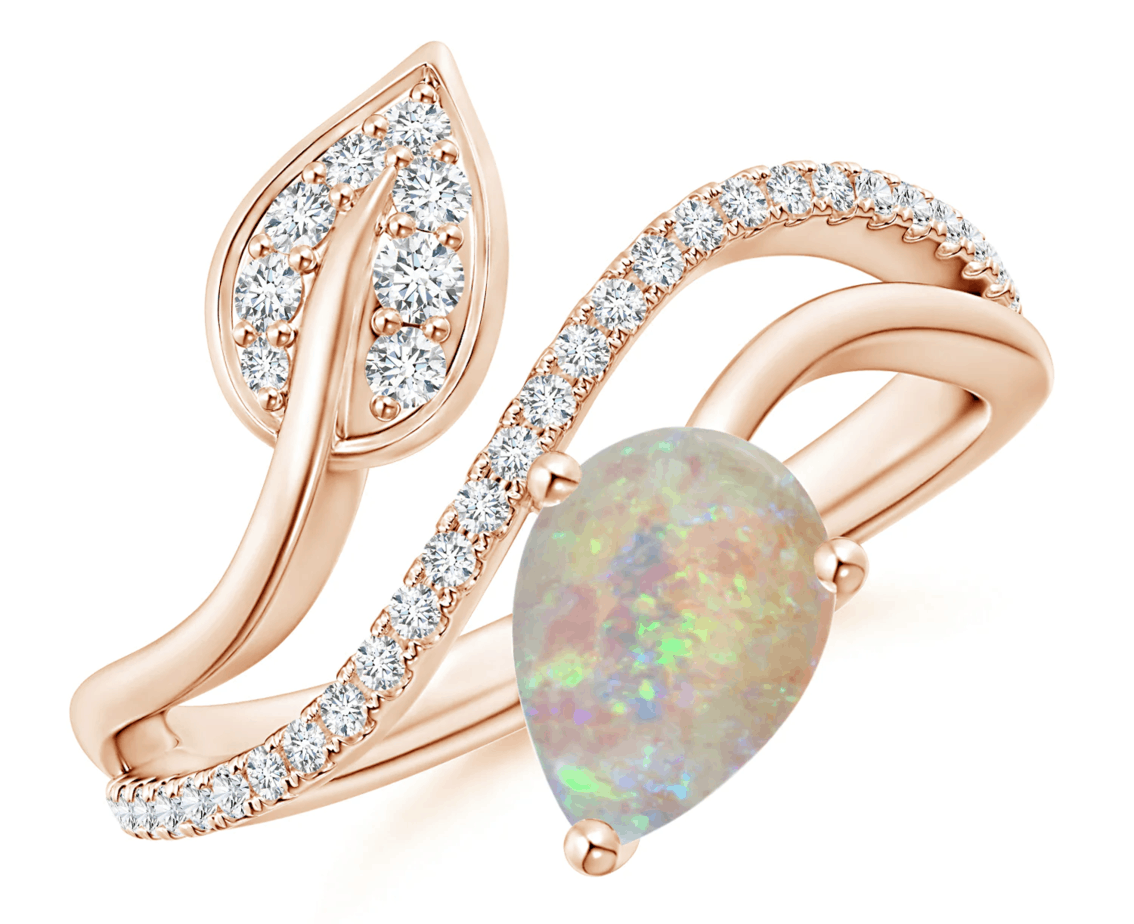 This swirling design has an Opal as the main stone, but the Opal is not centered in the middle of the ring. The two leaf shapes are equally showcased on the ring. The Opal stone sizing is available from about a half a carat to almost a full carat weight. The Opal quality is also changeable to display the best play-of-color. The ring is a Rose Gold setting with a white diamond accent leaf, as well as a row of diamonds along the shank of the ring. The Opal is teardrop-shaped and held in place within the prong setting.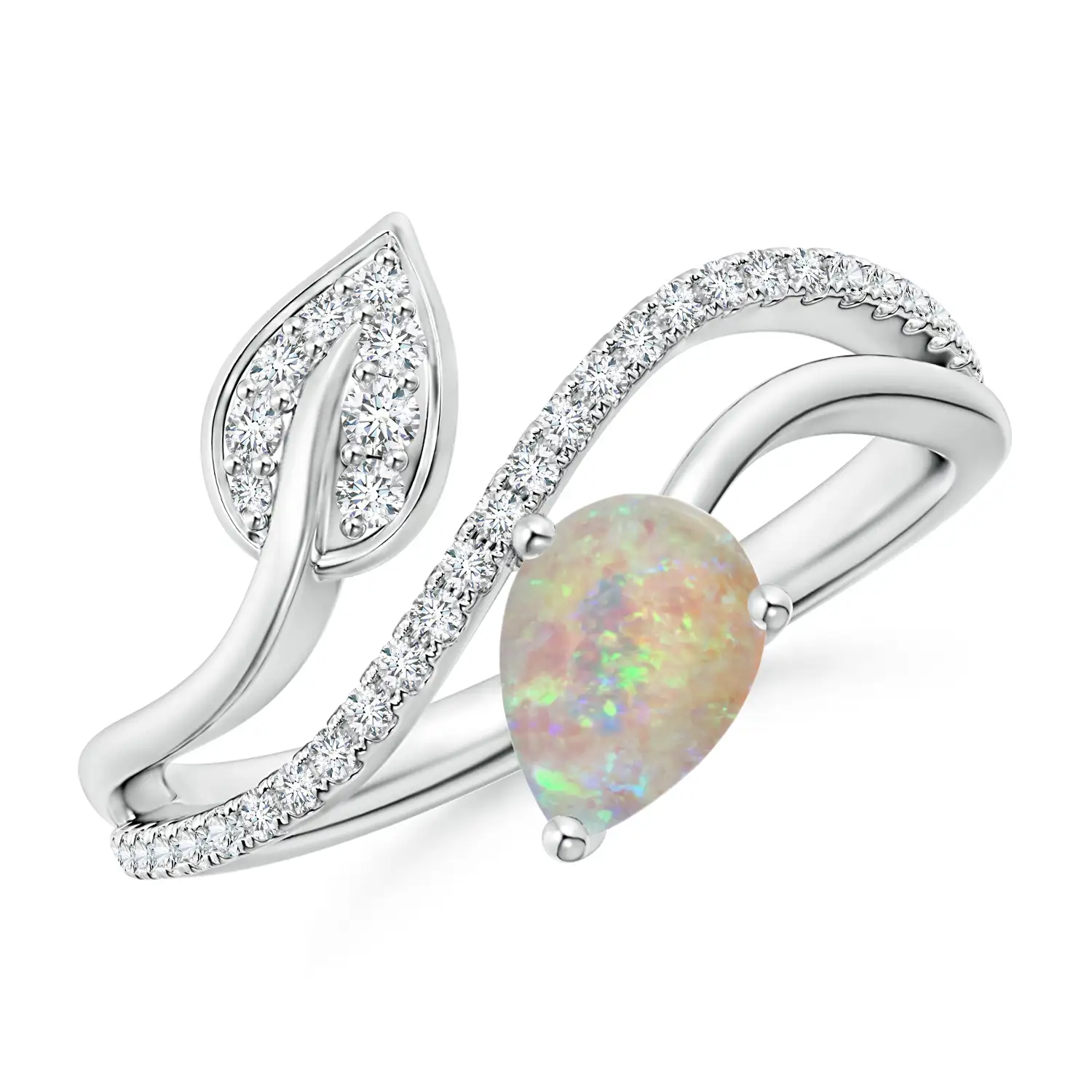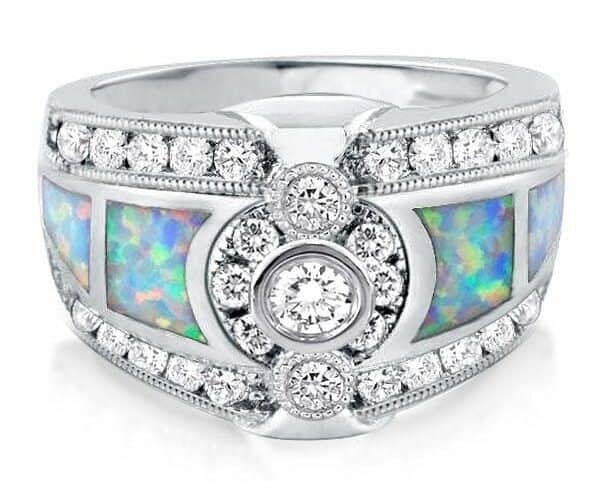 The inset Opal on this ring ensures that your Opal engagement ring will last you a long time without damaging a cabochon opal. The center stone is a quarter-carat White Sapphire surrounded by a sapphire halo, and additional sapphires decorate the clip style overlays on the top of the ring. Side millwork and glittering sapphires along the side edges of the ring give the ring sparkle, while the deep blue Opal inlays will change color and shimmer in the light. The Sterling Silver setting allows the colors of the Opal to shine brightly.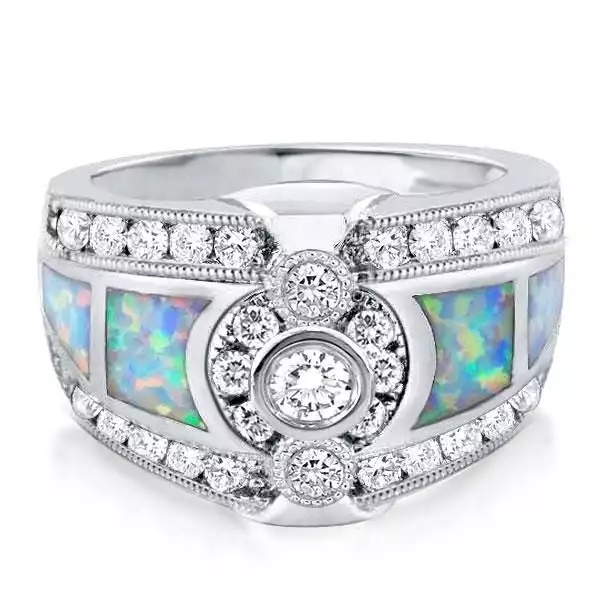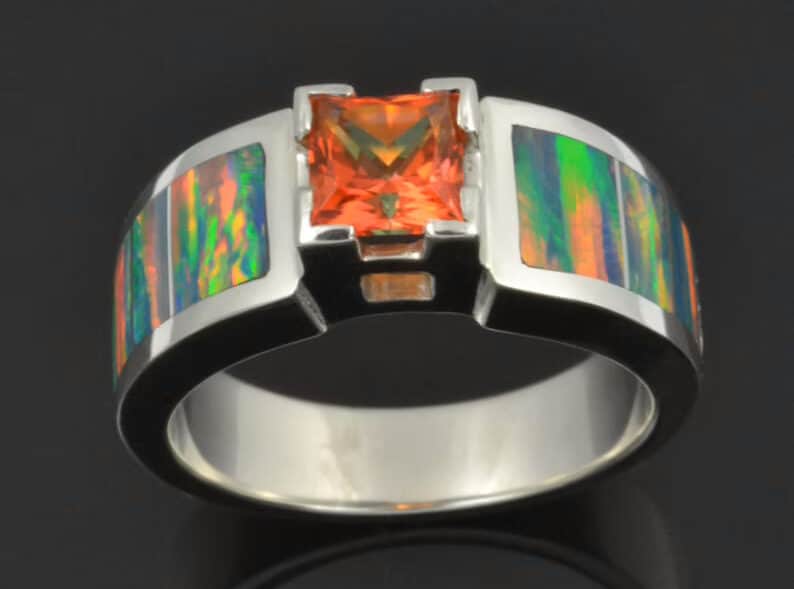 An orange Princess cut topaz is the center stone on this beautiful ring. The inset fire opal blends into the setting, smoothly transitioning to each piece of orange-toned fire opal. The orange topaz sits atop a simple bezel with corner prongs. This is a bold style ring with plenty of colors to show off both gemstones while keeping the opal inlay inset and less prone to bumps and knocks.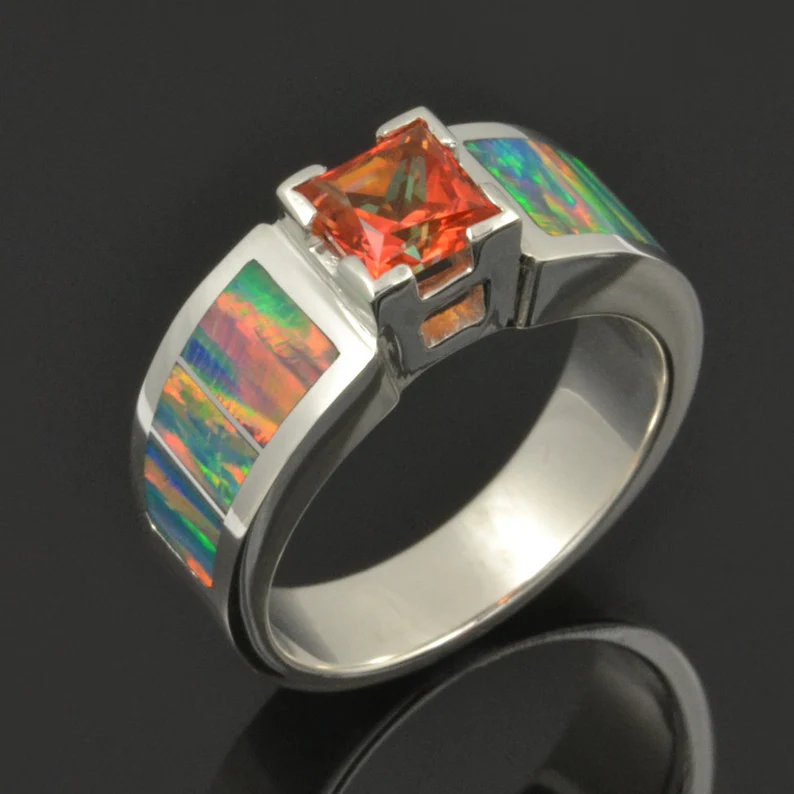 Lab Created Opal Ring | Etsy
Colorful lab opal engagement ring with a princess cut orange topaz set in sterling silver.
Check Price
We earn a commission if you click this link and make a purchase at no additional cost to you.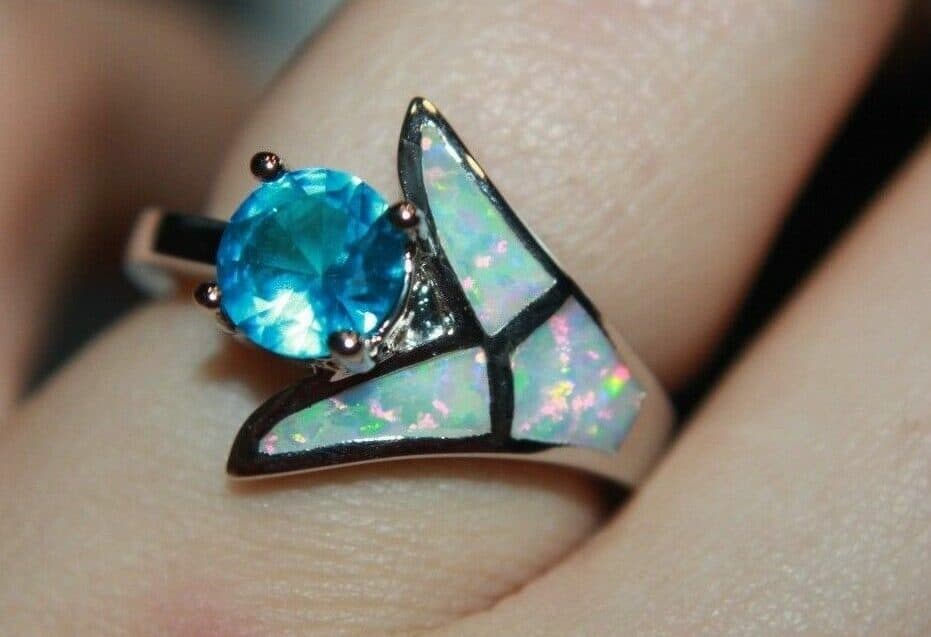 While I disagree that this Common Opal doesn't look like the red-toned Fire Opal, the ring is still a uniquely beautiful piece. Reminiscent of a tulip, the center stone is a Blue Topaz. The topaz color is repeated in the lab-created inlaid Opal. The side-decorated ring is unique with the leaf shapes of the inset opals. The ring is a total of twenty-one carats and is a sweet engagement ring idea.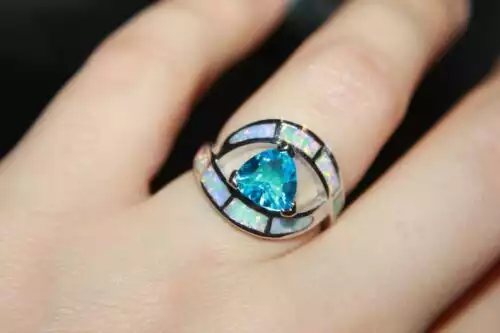 Other Opal Rings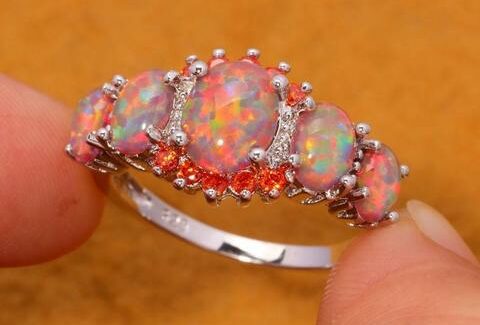 Bright red-orange Fire Opal is the star of this ring, and five beautiful oval Fire Opals in descending sizes center on this ring. The largest oval Opal is highlighted by orange garnets in a crown on the top and bottom of the Oval. Ten small round garnets are set in a semi-circle above and below the Opal, in the coordination of the coloration of the Fire Opal. This ring would make a unique engagement ring as red-orange color gemstones aren't usual. Be cautious about the care of the Fire Opal, as they are delicate stones.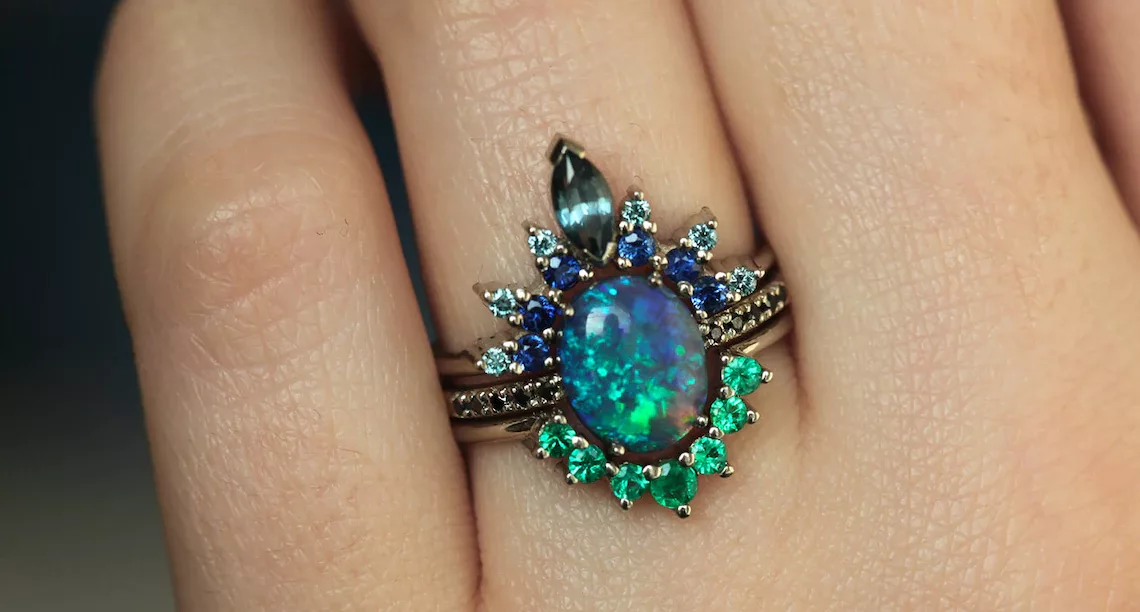 This Black Opal ring set is absolutely stunning. The large oval Black Opal is a full two carats in weight. The center ring is an oval solitaire with Black Diamond pave stones along the shoulders of the ring. The secondary rings are an upper crown and a flower crown, and the mix of colors and gemstones creates a gorgeous peacock coloration that is so lovely. The flower crown has seven round emeralds that curve along the bottom edge of the Opal. The upper crown features a teal tourmaline in a marquise cut at the point of the ring and has feathers of sapphires and blue diamonds that form a crown shape along the top of the Black Opal. This is an amazing set that features many gemstones in a beautiful combination.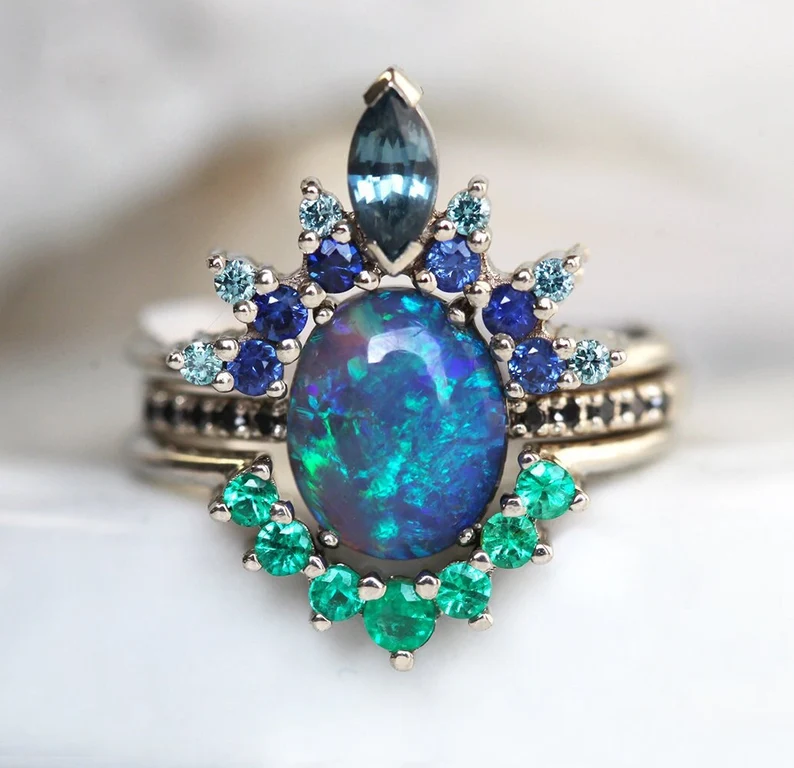 Black Opal Ring Set | Etsy
Black opal ring set with an oval-cut Australian opal, marquise-cut teal tourmalines, round-cut green emeralds, blue sapphires and diamonds that create a unique engagement lagoon ring set.
Check Price
We earn a commission if you click this link and make a purchase at no additional cost to you.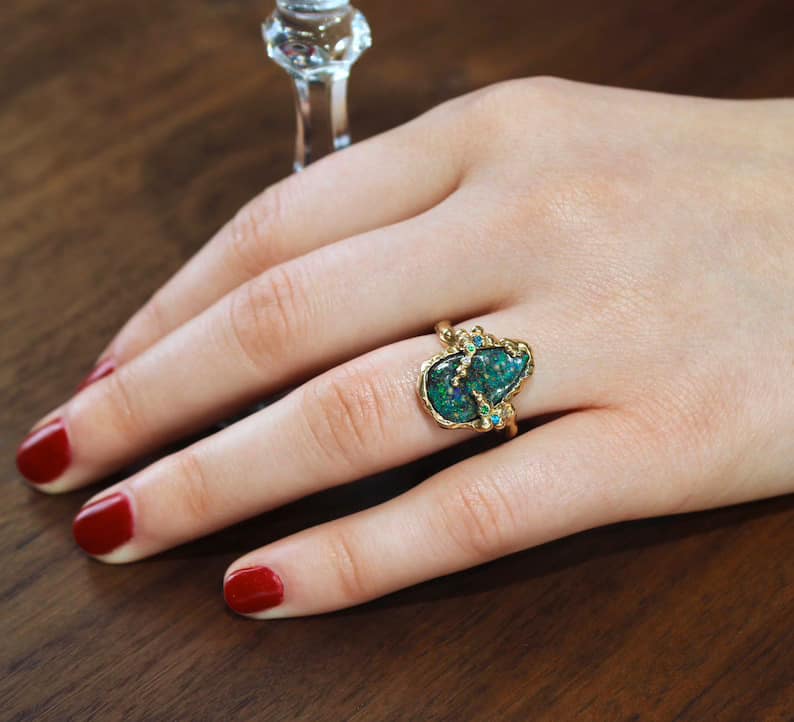 In a setting that wraps around the Boulder Opal, this unique-looking ring features hammered gold wrapped around the gemstone and two cross-over holding prongs that are decorated with diamond, blue topaz, and garnet. These small stones repeat the coloration of the Boulder Opal in strong blue-green play-of-color. The twig shape created from hammering the metal makes this bohemian style ring a fun and unusual idea for an engagement ring.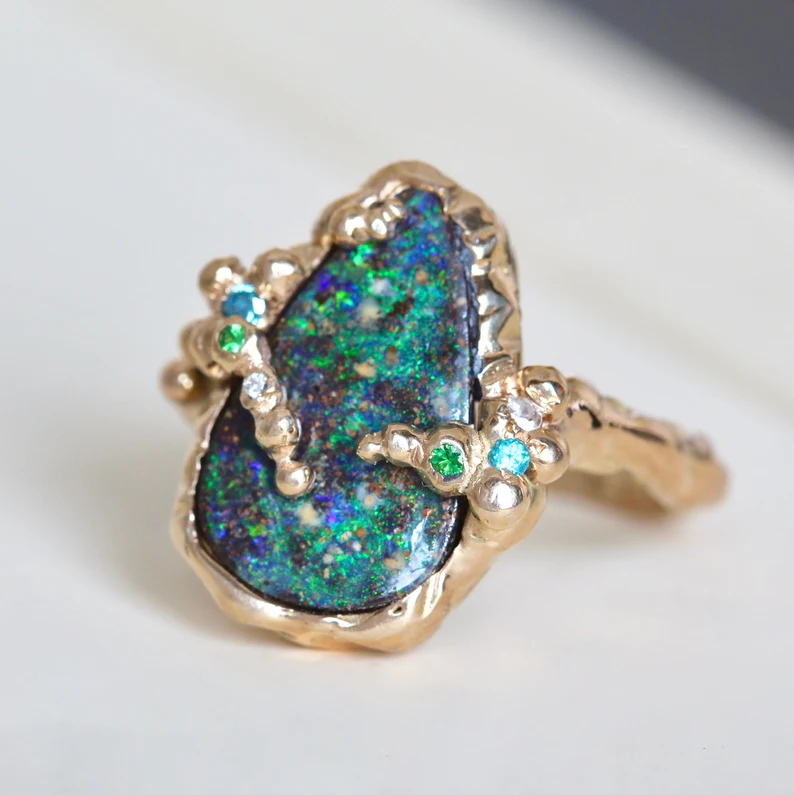 Organic Style Boulder Opal Branch Ring | Etsy
Our one-of-a-kind 14k yellow gold boulder opal ring celebrates the natural beauty of this incredible gemstone with a gracefully undulating branch band and hand-hammered texture that emphasizes its rustic nature.
Check Price
We earn a commission if you click this link and make a purchase at no additional cost to you.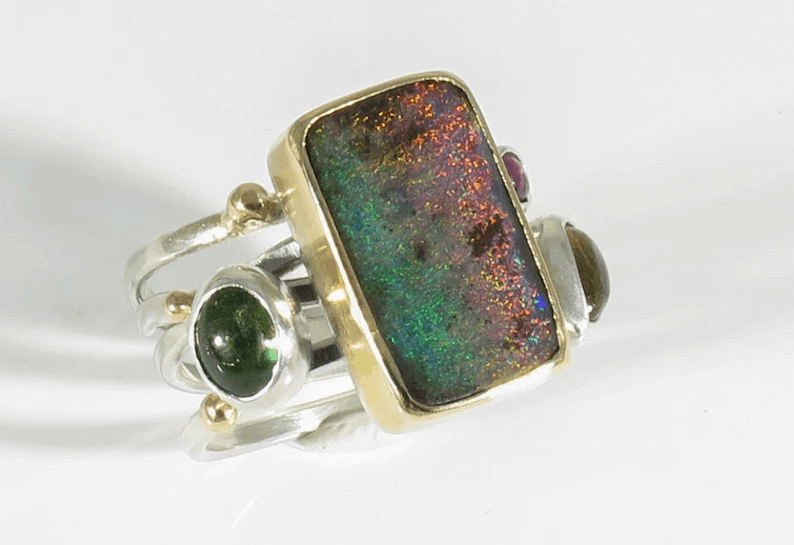 Unique and bohemian, this ring features several stones alongside a large rectangular wrapped Boulder Opal. The ring features several bands that cross over and wrap around your finger. The Boulder Opal is wrapped in yellow gold and is accented with two tourmalines and a single rhodolite gem. One deep green, another olive green, and a purple Fuschia gem. The gems are placed randomly onto the Sterling Silver bands and are accented as well with small round gold ball accents. The play-of-color in this ring is matrix-like as it is interspersed in the stone in strips of bright color. This is a fun and unique style ring, an engagement ring meant for a unique couple.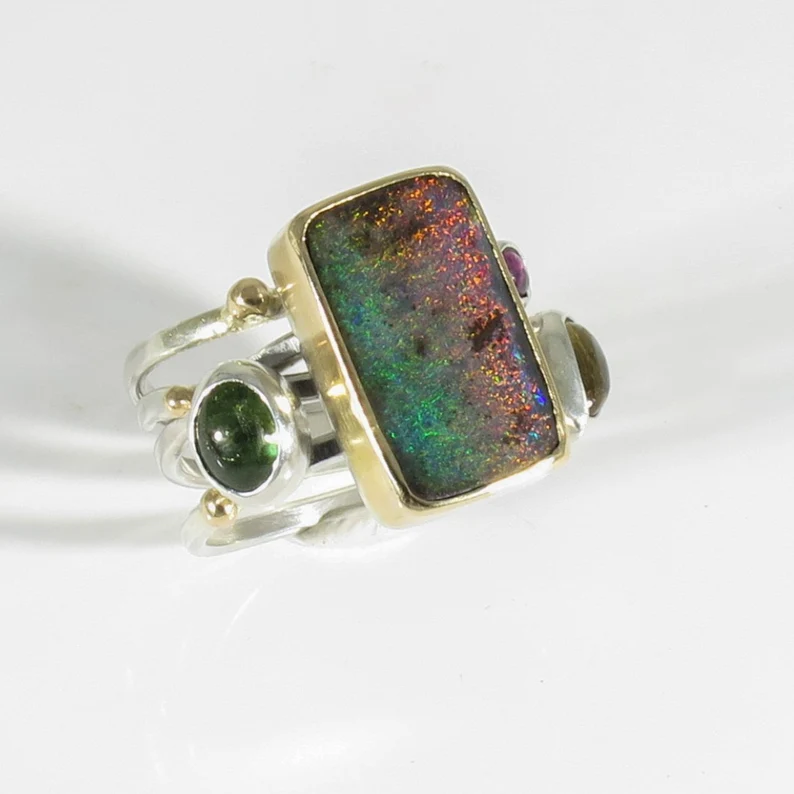 Opal Tourmaline Gold Silver Swirl Ring | Etsy
his organic ring is a nice combination of two tourmalines and a rhodolite wrapping and playing with the colors of a gorgeous colorful Australian Boulder opal.
Check Price
We earn a commission if you click this link and make a purchase at no additional cost to you.
FAQS
Question: Why has my Opal gone cloudy?
Answer: Opals have high water content and should be kept from drying out in a high dry heat environment or prolonged exposure to sunlight. Immersion in water can also damage an Opal; in man-created opals, the water penetration can cause the glue that holds layers together to break down, and the Opal will cloud and turn foggy or grey. 
Question: Why are opals considered bad luck?
Answer: Opals are considered to be bad luck to wear in recent history. In the Middle Ages, Opal was believed to be the ultimate gemstone and that it held the powers of all gemstones. However, unscrupulous diamond sellers are much at fault for the negative press the stone has received in modern times. The Opal is also a soft stone and is usually glued into a bezel, which means that caution and care must be taken when wearing and cleaning the stone not to damage it. 
Question: Is Mystic topaz a real stone?
Answer: Mystic Topaz is a real stone; it is a chemically enhanced white Topaz. The stone is coated with Titanium on the bottom stone to enhance the coloration of the stone. It is not coated on the top to avoid easy damage to his coating.
Question: What is the least expensive Opal?
Answer: White opals are usually the least expensive unless you also compare faux Opal, which are lab-created stones. Doubles and Triplet Opals are thinly sliced segments of Opal that have been layered with solid backing and topped with either White Topaz or Epoxy to create an Opal stone. These stones are much more affordable than solid opals. 
Question: Why is Moonstone so expensive?
Answer: The most beautiful examples of Moonstone came from Myanmar, but unfortunately, this gemstone had a limited amount to be mined and has been basically mined out. The blue-toned gems of the best grade are now being repurchased on the market and are essentially going up in price as they are becoming rarer. 
Opal Engagement Rings – The Bottomline
Caution should apply when considering an opal engagement ring. Engagement rings are typically worn daily and are subject to sometimes rough treatment, occasionally accidental knocks, and chemicals. When ranked by hardness, an Opal is a five or six on the MOH scale, where a diamond is a ten. Wearing Opal as a solitaire or center stone for a daily wear stone is a potential for a damaged stone. I would highly recommend having Opals as side stones or forgoing the stone as an engagement stone, but perhaps it could be part of another special ring or jewelry purchase.
Further, read: