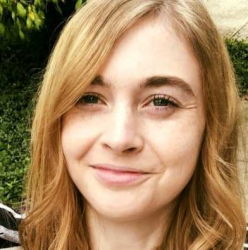 Latest posts by Erin Jamieson
(see all)
Whether you're looking for a statement cocktail ring or a beautiful necklace, pink gemstones make for a unique and beautiful statement. And no pink gemstone is more famous – or precious– than a pink diamond. Just how glamorous and expensive can a pink diamond be? That's on a show for a Spring 2021 auction in Hong Kong, where the purple-pink diamond is predicted to auction for an eye-watering $ 38 million.
Named after a Japanese cherry blossom, the Sakura diamond weighs in at 15.81 carats, with the claim to fame of being the largest carat flawless diamond ever to be placed on auction.
The colossal price point is not without merit: this gorgeous pink gemstone is internally flawless and classified as a "fancy vivid diamond" – a standard that purportedly applies to a meager four percent of all pink diamonds, as reported by CNN.
But as undoubtedly stunning as the Sakura diamond is, the good news is that you don't have to have a multi-million dollar budget, or even a large budget, to find the best pink gemstone for your engagement ring or special occasion. In this guide, I'll give you my suggestions for the 9 best pink gemstones for fine jewelry, including information about wearability, cost, and examples of where to buy each.
Top 10 Best Pink Gemstones (with Examples)
Now, let's dive right into my selections of the 9 best pink gemstones you can buy online or from a traditional seller.
Amethyst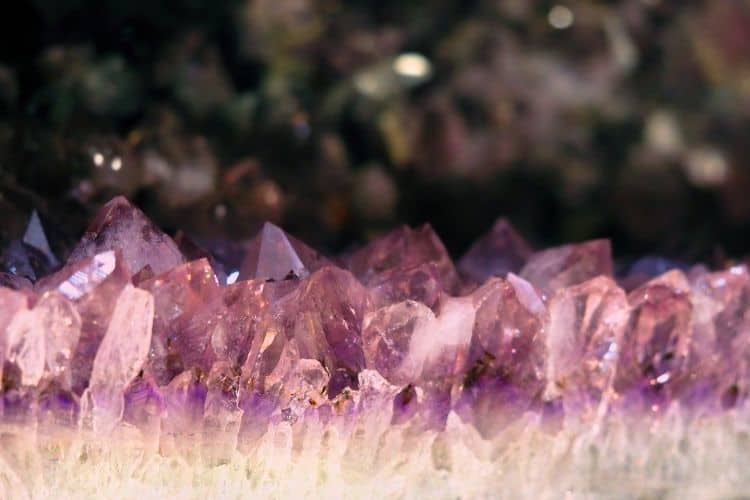 Normally known for its purple hue, amethyst actually also comes in pink, or Rose de France, making a unique pink gemstone for those not quite sold on bold pink hues.
Wearability
Amethyst has a Mohs hardness scale out of 7 (diamonds are a 10), and is considered to be fairly scratch-resistant and durable for special occasions. It is, however, prone to discoloration from sunlight exposure, and cannot withstand extreme temperatures.
Amethyst is not suited for harsh chemicals. Overall is a great option for special occasions but can be worn daily with some caution.
Color and Refractive Index
While amethyst is known for its signature deep purple hue, a more rare form of amethyst is pink. Even pink amethyst typically exhibits light to prominent purple undertones. Depending on the cut, amethyst tends to present more pink hues towards the surface, and purple tones within the gemstone.
The Refractive index of amethyst ranges from 1,544 to 1,553, compared to 2,417 – 2,419 of a diamond, meaning some light passes through, but even the finest cuts won't present the same brilliance.
Cost and Availability
Amethyst is generally among the most affordable pink gemstones. As far as availability, amethyst itself is widely available, but pinker hues are a bit rare.
Bottom line
While not as durable as some gemstones, amethyst is a great option for special occasions and for those who love purple but aren't sold on solidly pink gemstones.
My Picks / Where to Buy
While there's no one place that specializes in pink amethyst, some of my favorite individual picks include this Oval Rose by France Amethyst from Zales ; a beautiful engagement ring alternative on 14K gold from Heizberg ; and, for a statement ring, this Blue Nile 14k Rose Gold option .
Diamond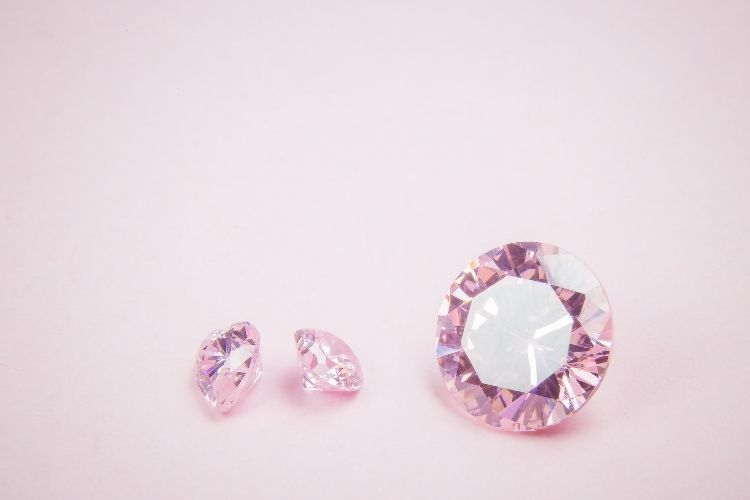 Pink diamonds are the most precious pink gemstones on this list, and stunning. Not widely available and not especially affordable, you can opt for lab-grown diamonds to capture this beautiful look.
Wearability
Pink diamonds are, like all diamonds, the hardest gemstone you can buy, with a Mohs rating of 10, meaning they are as scratch resistant as you can get, beautifully durable, and suited for everyday wear. Diamonds are unlikely to chip or break and can withstand both pressure and temperature fluctuations.
Color and Refractive Index
Diamonds, at their finest, especially round brilliant cut diamonds, can refract and scintillation that no other gemstone can match, though pink diamonds are not as brilliant as clear or nearly clear diamonds.
Pink diamonds range from faint pink to very light, light, fancy light, fancy, fancy intense, and fancy vivid, with the deepest hues being the most valuable. In lab-grown pink diamonds, you'll see that same range of just a hint to deep pink.
Cost and Availability
Natural pink diamonds are extremely rare and enormously expensive – with a 0.6 carat ranging from $ 10k to $ 50k as a median price, and the price varies greatly depending on clarity and cut. Lab-grown pink diamonds are still hard to find, but Brilliant Earth has a selection of far more affordable options.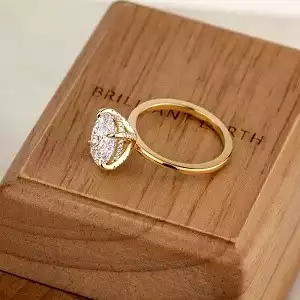 Planning a Proposal?
Make that proposal happen! Get started designing and create an engagement ring as unique as the wearer. To help pull off the perfect engagement, head over to Brilliant Earth's proposal guide.
Check Prices
We earn a commission if you click this link and make a purchase at no additional cost to you.
Bottom line
Pink diamonds are show stoppers, but if you don't have a celebrity's budget, you should stick with lab-grown options– still expecting to spend a good deal.
My Picks / Where to Buy
Pink diamonds are rare, but not impossible to find. Brilliant Earth offers a collection of lab-grown pink diamonds in nearly any cut and hue you can imagine, for as low as $ 1K for a half-carat.
Kunzite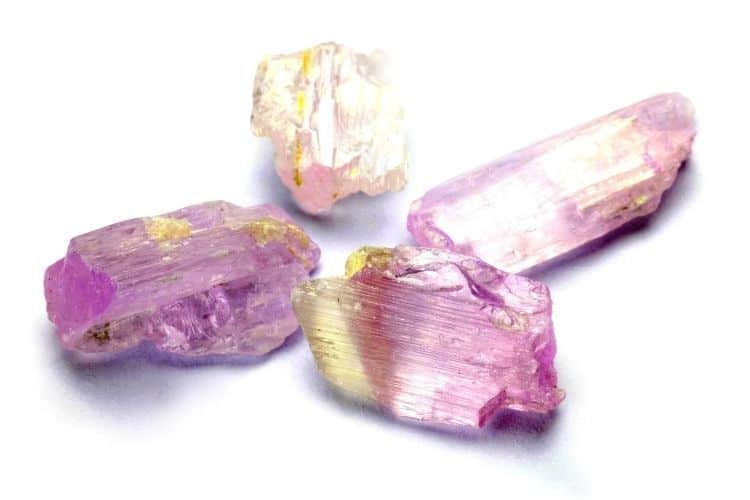 Kunzite may be a less familiar name to many, but it still makes my list for the top 10 pink gemstones for all occasions. Kunzite is known for its dazzling color range and is considered a relatively newer gem– the first cited discovery was in 1902.
Wearability
In terms of wearability, kunzite is not too far from amethyst, with a hardness rating of 6.5 to 7. Reasonably resistant to scratches and everyday environments, like amethyst it can fade from too much sunlight and should not be worn in harsh environments – including greatly fluctuating temperatures or harsh chemicals.
Color and Refractive Index
Kunzite ranges from pale but distinct pink to violet, with the deepest hues considered the most valuable. Some of the most popular colors are actually the medium pinks, which have slight purple undertones, but not as distinct purple as you would see with amethyst. The refractive quality, at 1,660 to 1,667, is also quite similar to amethyst
Cost and Availability
Kunzite rates as one of the very most affordable pink gemstones, priced at around $ 20 to $ 60 per carat for less desirable cuts, and $ 60 to $ 180 per carat for the most brilliant cuts. As it's still not especially popular in the United States, availability is a bit limited– Ross Simmons is the main known retailer.
Bottom line
Best for special occasions, kunzite shares many of the pros and cons as pink amethyst, but with more true pink and less purple hues, if you're looking for a more medium pink.
My Picks / Where to Buy
For kunzite, your best bet is Ross Simmons, who offers rings, pendants, and earrings, with medium to lighter pink hues, set on 14K white and yellow gold; prices range from a little under three hundred dollars to $ 22K. Shop the 10 piece collection Here .
Morganite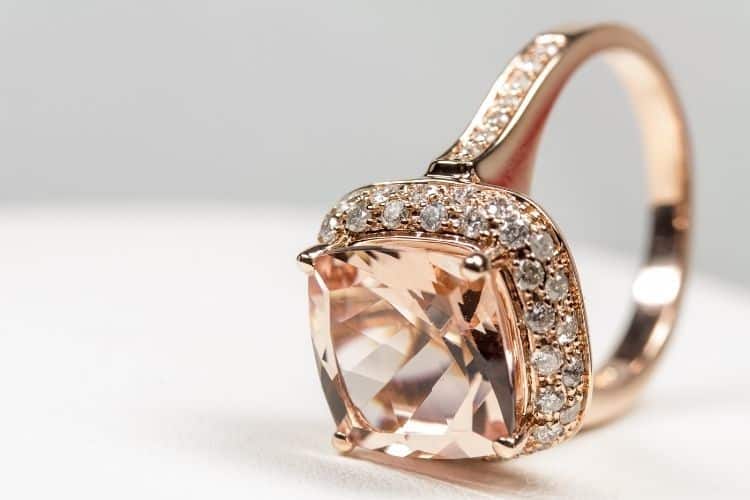 This playful pink gemstone is known for its enchanting orange undertones but also for its connection to emeralds and aquamarines– all of which are in the beryl family of gemstones, and beloved for their beautiful and distinctive colors.
Wearability
At a Mohs hardness of 7.5 to 8, morganite is more wearable for everyday use than amethyst or kunzite– it also can be easily cleaned, is known to be durable for everyday wear, and generally is a wearable option. The one downside is that morganite can become cloudy, as it gathers dirt or oils. Luckily, regular cleaning can mitigate this.
Color and Refractive Index
Morganite has a refractive index of 1.57 to 1.58, allowing for some beautiful light to pass through, but far from the same level as a diamond. Colors vary from fair to deeper, but most all feature pink with peach to orange hues.
Cost and Availability
Morganite is likewise considered reasonably affordable, though a good deal more expensive than kunzite. You can expect to pay an average of around $ 300 per carat. In terms of availability, morganite, like other members of the beryl family, is relatively easy to find through fine jewelers.
Bottom line
If you aren't looking for a diamond, morganite is easily one of my favorite pink gemstones– it's a great balance of durability, price, availability, and features a unique hue. Of course, if you don't like orange or peach undertones, it may not be for you.
My Picks / Where to Buy
If you like morganite, you're in luck. The Blue Nile has a beautiful collection; my favorites include earrings with a diamond baguette halos ; an elegant milligram pendant ; and a modern, round fashion ring . You can shop the collection here .
Honorable mentions go to the Angara Collection and the Brilliant Earth Collection .
Opal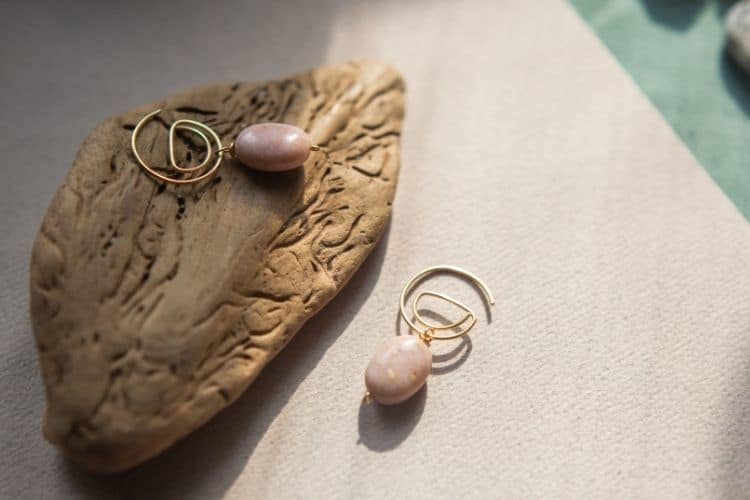 Opal is unique for its explosive color range, with such an array of vibrant colors that the Beuodins, nomads of the Arabic desert, believed that this gemstone fell from the sky during a thunderstorm and contained lightning. It started being mined in earnest in the early 1900s in Australia.
Wearability
Of the pink gemstones on my list, I am the most cautious about wearing something like an opal on a daily basis. At a Mohs hardness scale of 5.6 to 6, it's not suited to everyday use and can pick up scratches easily.
That said, there are versions of opal being sold that feature protective casing, or commonly, metal settings and harder gems to protect the central gem. Not the softest gem you can buy, it is possible to take proper care of opal– but you need to be cautious.
Color and Refractive Index
For many, the color of opal is going to either be especially appealing or a turn-off. The reason I included opal is not that it is a purely pink gemstone, but rather that it is undeniably unique: color options are nearly endless, from pearly white and blush to blue and green tones.
Opals are almost always present with a few hues per stone, giving an almost ethereal look. Opal is a more opaque look, with a refractive index of an average of 1,450.
Cost and Availability
Opal is among the most affordable pink gemstones, with an average cost of $ 10 to $ 75 per carat. While opal itself is not uncommon, it's trickier to find an oval that is prominently pink.
Bottom line
Opal isn't the most durable pink gemstone, but if you are looking for a unique look that'll stand out and have a tight budget, it can make a great accent as jewelry for a black dress.
Where to Buy
Pink opal is a bit hard to find, but I do like this with diamond accents from Ross Simmons.pink opal and sapphire ring
Sapphire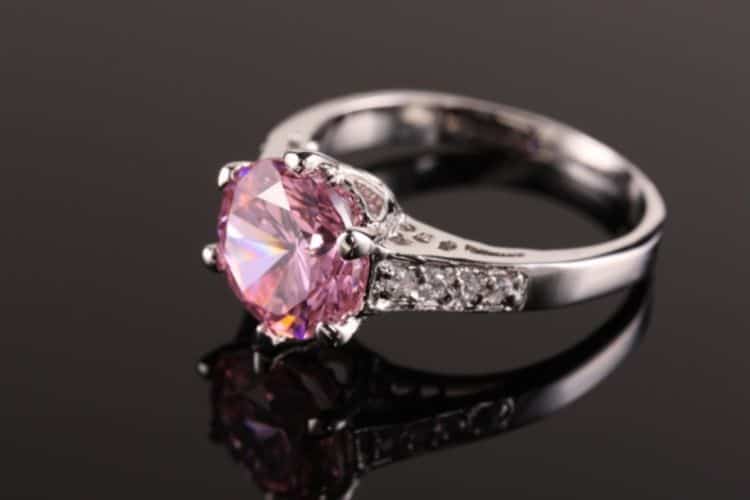 Normally known for a rich blue hue, sapphires actually come in other colors, including pink. At once elegant and classic but easily modern, pink sapphire is a spin on a classic and beloved gemstone, as and a member of the conundrum family– the same family as the ruby.
Wearability
Sapphires are known to be among the best diamond alternatives , prized for their durability and beauty. With a Mohs hardness rating of 9, sapphires are scratch-resistant and even though they can chip or fade with quite heavy use, can be polished and resurfaced.
They are suitable for everyday wear, just as diamonds are– just use common sense and don't wear in harsh chemical environments.
Color and Refractive Index
Though the most prized sapphires are blue, sapphires come in almost every color aside from red hues. Pink sapphires trend towards a medium, creamy pink and are a great hue for anyone who wants to fully embrace pink gemstones. At a refractive index of 1,762 to 1,770, they are closer to diamonds than other gemstones on this list.
Cost and Availability
If there's a gemstone that varies greatly in cost per carat, it's sapphires. Rare or precious and ideal cuts can cost as much as $ 10k per carat and as little as $ 25 per carat, but the average is $ 500 to $ 1,500 per carat.
However, pink and other color sapphires tend to be cheaper. Notably less expensive than diamonds but more expensive than other gemstones on this list, you'll find that sapphires are sold by many, but pink sapphires are a bit trickier to find– although the Angara has a nice collection.
Bottom line
If you're looking for a diamond alternative or a truly durable pink gemstone, sapphire maybe your best choice.
Wear to Buy / My Picks
Angara has a nice collection of pink sapphire jewelry . The collection ranges from a few hundred dollars to eight thousand dollars, with many great options, including a diamond and sapphire tennis bracelet ; nature-inspired earrings , and many cocktail rings.
Spinel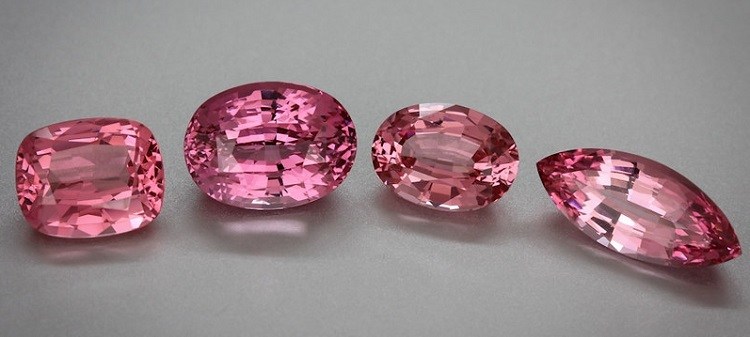 Spinel, which is also a beautiful option for the best red gemstones , is slowly by steadily gaining popularity as a durable gemstone that once was prized by emperors in Ancient Asia. Though a little less conventional, spinel is a great choice for a unique pink gemstone.
Wearability
Spinel has a respectable Mohs hardness of 8, with a rating of excellent wearability for everyday use. It also can withstand everyday chemicals and light, though extreme heat can cause the color to fade some. Overall, it's one of the best pink gemstones in terms of durability, just behind pink sapphires.
Color and Refractive Index
Spinel can be pastel or deep hues, and encompasses lavender to purple; red to red-orange; and blues. But in pink shades, there is just as much variety, from light baby pink to medium pinks, bright pink, and pink with red accents.
Spinel has a lovely refractive index of 1,718, making it of course notably lower than diamonds but still offering appeal to those who don't want an opaque gem.
Cost and Availability
Spinel's cost depends on the hue and how rare the stone is. Expect a cost of around $ 3k to $ 5k for the best cuts for two to five carats. Notably more affordable than diamonds but also more expensive than other pink gemstones, spinel still is a bit tricky to find, but certainly not impossible. Brilliant Earth is a notable retailer that sells a collection of pink spinels.
Bottom line
Spinel offers, if you can find it, an excellent variety of pink hues and is durable and unique, but also a little pricier than other pink gemstones on this list.
Wear to Buy / My Picks
For spinel, I recommend Brilliant Earth loose spinel gemstones. These are all conflict-free and exquisite, priced between $ 800 and $ 4,500. Shop the collection here .
Topaz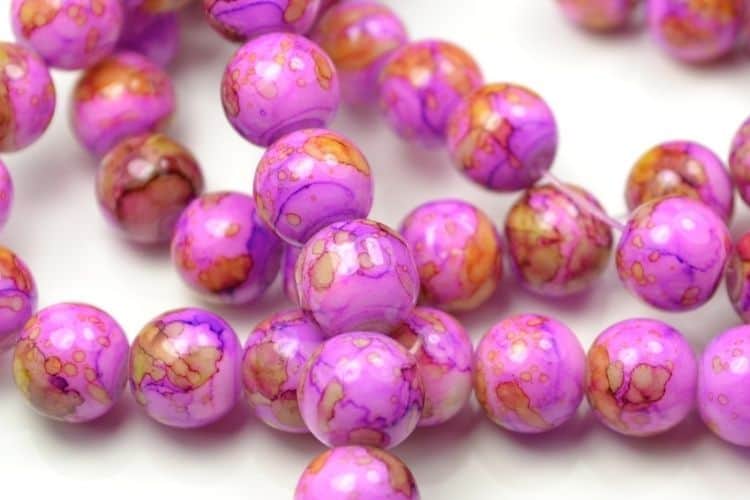 If you're looking for a pink gemstone with brilliance and a cooler tone, consider topaz, the gemstone that Ancient Greeks believed provided strength, and during the European Renaissance was associated with protection from magic – just a few notes in its long, mythical oriented history.
Wearability
Topaz, like spinel, has a Mohs hardness rating of 8, and considered durable for everyday wear. It does not scratch easily and holds up to everyday environments. However, it is true that color-treated topaz can fade, especially if constantly exposed to higher temperatures or light.
Color and Refractive Index
While many know topaz for its warmer hues, like honey and bold orange, it also has cooler tones, including "icy" pinks. Cool tone pinks are a strong contrast against many other pink gemstones on the market, though there are some richer pink hues that are more desired. Topaz has a moderated refractive index of 1,619 to 1,627.
Cost and Availability
Topaz can cost as much as over $ 3k per carat for warm pinks, while less desired colors can be as little as under $ 50 per carat. Pinks will overall run you higher, but you can actually find topaz rings when used as an accent for an affordable price. Pink topaz is hard to find– the most notable retailer is Ross Simmions.
Bottom line
Topaz is a beautiful take on pink gemstones, but you won't have a ton of selection. It's suited for everyday wear if you can find something that suits you.
Wear to Buy / My Picks
Ross Simmons offers a playful collection of pink topaz, from garnet and topaz rings to heart stud earrings and countless fashion rings. Shop the collection here .
Tourmaline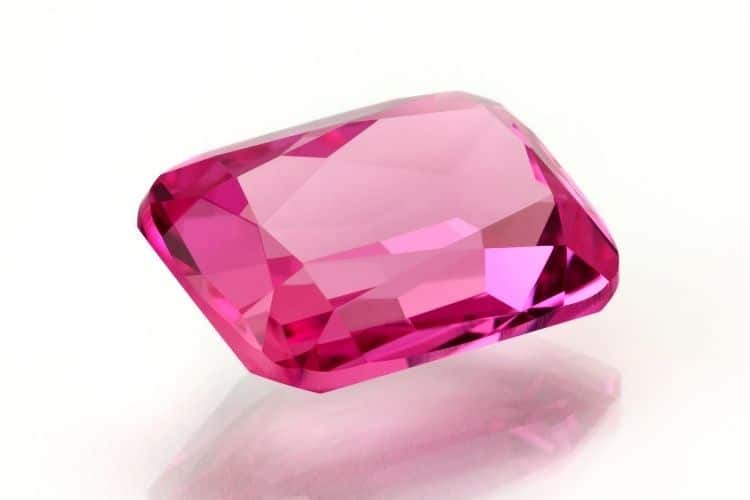 Tourmaline is noteworthy for its range of color, which covers every color and is the most extensive in terms of variety of all gemstones on this list, and likely all gemstones on the market. Pink tourmaline is also often referred to as rubellite.
Wearability
Tourmaline has a Mohs hardness rating of 7 to 7.5, making its uitred to moderate use but not a replacement for harder gemstones unless protected with a metal setting or specially treated. It's not a soft gemstone and does hold up under reasonable conditions, but you need to shy away from using it near chemicals and avoid extreme light or heat.
Color and Refractive Index
Colors are about anything you can imagine. Pink tourmaline, or rubellite, is also sometimes classified as a red gemstone and can be anything from violet to shocking bright pink. Another option for a pink tourmaline is watermelon tourmaline, which has green hues on the exterior and a pink interior, hence its name. It has a refractive index of 1.624 to 1.644.
Cost and Availability
The colors of tourmaline that are most expensive are the most vivid and bright hues. There is no easy way to say how much you'll spend – with the least desired yellows fetching only $ 50 per carat and the most precious Paraiba Tourmaline, an aqueous hue, costing as much as $ 10k per carat.
While tourmaline is not uncommon on the market, finding the hue of your choice can be tricky. For pink tourmaline, you can find quite affordable options from Angara.
Bottom line
Tourmaline is an alternative pink gemstone that is suited for special occasions and as an anniversary gift, with some unique colors, like watermelon, that makes it stand out.
Wear to Buy / My Picks
Angara offers rings, earrings, pendants, and bracelets, with some vintage and modern looks, ranging from a few hundred dollars to $ 18k for a pink tourmaline and diamond necklace . You can shop the collection here .
FAQs
Question: What is the name of the pink birthstone?
Answer: Tourmaline is the October birthstone. PInk tourmaline is known as rubellite, which is a popular red gemstone .
Question: Is Pink Topaz rare?
Answer: Topaz comes in many hues, and, while some, like yellow and blue are fairly common, pink topaz gemstones are considered tate, as are red and golden orange.
Question: What precious stones are light pink?
Answer: While there are many gorgeous pink gemstones, a few that are light pink or blush-hued include the rare pink diamond, tourmaline, and spinel. Occasionally you can also buy pink pearls. Pink gemstones are a beautiful choice for jewelry for special events .
Final Thoughts
Pink gemstones are a unique and beautiful way to accessorize your look– or can even work as a diamond alternative. To select the best option for you, make sure you weigh wearability and cost and only buy through reputable sellers.
I've included both natural and lab-grown gemstones. Natural gemstones are man-made, and have more natural inclusions, while lab-grown shares the same chemical properties but are more affordable. Just stay clear of stimulants if you want a real gemstone– simulants are best if you're just interested in low-cost, costume jewelry.