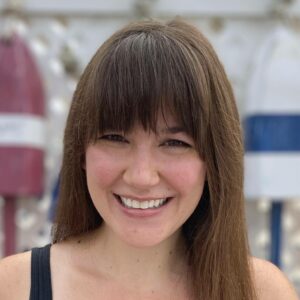 Latest posts by Lauren Vigdor
(see all)
Shopping for jewelry online can be stressful, especially when you're shopping for something as significant as an engagement ring. The internet is a big place and there are a lot of online retailers out there.
The sheer volume of choices can be overwhelming. Luckily, I'm here to help! A common comparison is Diamond Nexus vs Brilliant Earth, both of which have made names for themselves by carving out their niches in the online jewelry market. In this article, I'll take a deep dive into both online retailers and discuss what exactly they offer, what I like and dislike about each of them, and how the two retailers compare.
Diamond Nexus vs Brilliant Earth – Bottom Line Up Front
While Diamond Nexus may be your best option in terms of affordability, of the two I personally prefer Brilliant Earth. Although it is pricier, you can't beat the variety, customization options, and customer service at Brilliant Earth. Diamond Nexus is a great choice if you're looking for their specific brand of simulated diamonds, but if you'd prefer a real diamond, moissanite, or any number of gemstones, Brilliant Earth is the way to go.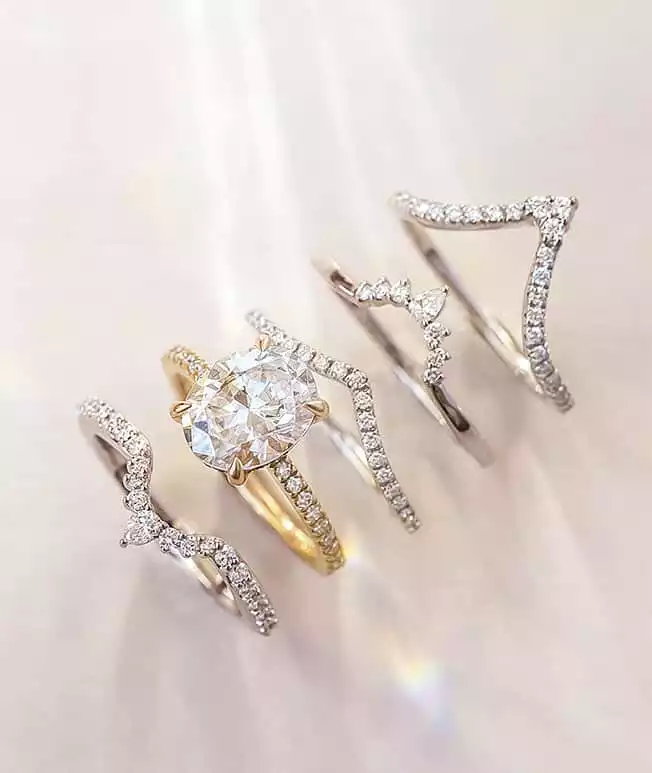 Main Differences
Brilliant Earth features jewelry made with various sustainable, ethical stones and metals, whereas Diamond Nexus focuses on jewelry made with their own sustainable, ethical, proprietary lab-grown diamond simulate.

Brilliant Earth emphasizes customized engagement jewelry, whereas Diamond Nexus' engagement rings are only customizable via help from customer service or through their sister company, Forever Artisans.

Brilliant Earth provides 360 degree views and videos of their stones and jewelry, whereas Diamond Nexus only has photographs.

Brilliant Earth has both natural and lab-grown stones in over a dozen colors, whereas Diamond Nexus only sells their own lab-grown stones in colorless and less than half a dozen other colors.

Brilliant Earth's jewelry tends to be more expensive than many of their competitors, whereas Diamond Nexus is significantly cheaper

In addition to selling ethical and environmentally-responsible jewelry, Brilliant Earth also supports various charities and causes, whereas Diamond Nexus also sells ethical and environmentally-responsible jewelry, but doesn't mention any charitable donations.
As a company, Brilliant Earth focuses on ethics and sustainability. They were founded in 2005 and they carry a large selection of diamonds, gemstones, engagement ring settings, and jewelry. All of Brilliant Earth's natural diamonds go beyond the ethical standards laid out by the Kimberley Process, are environmentally responsible, and promote ethical labor practices and community development. They also sell lab-grown and recycled diamonds and ethically obtained gemstones.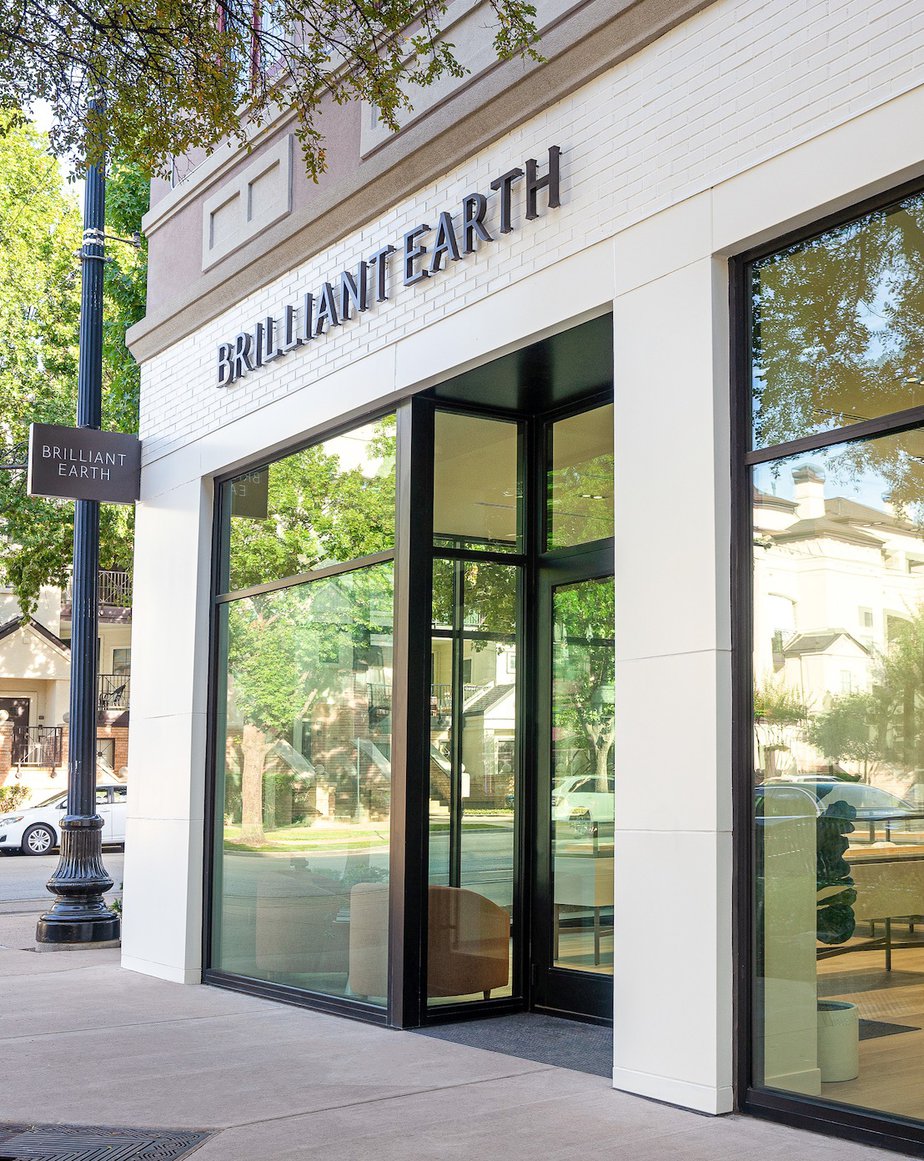 The company is also certified carbon-free and offsets its carbon emissions by contributing to rainforest conservation in Brazil.
Pros
Huge selection of loose stones and jewelry, including a variety of types of

gemstones

, natural and lab-grown diamonds, and

moissanite.




Focus on ethical labor practices, sustainability, and environmental responsibility.

Men's, women's, and gender-neutral engagement and wedding ring styles.

24/7 customer service is available via phone or chat.

More than a dozen brick and mortar jewelry stores if you prefer to shop in person.

Quality photos, HD video, and 360 views of both engagement rings and gemstones.

Cons
More expensive than many of their competitors.

Does not carry preset diamond engagement rings. (but does have some selection of preset moissanite and gemstone rings)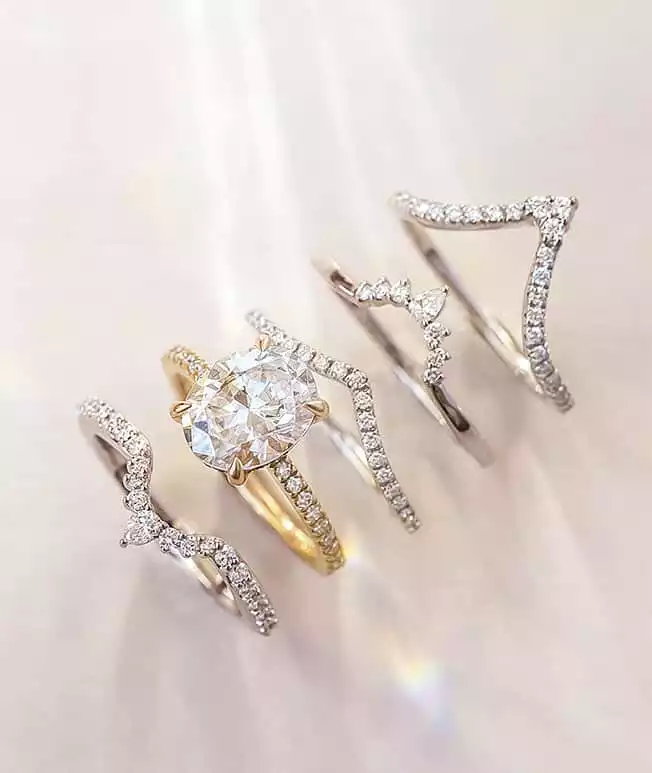 Diamond Nexus was also founded in 2005. The online-only retailer sells its own patented lab-grown diamond simulants known as Nexus Diamonds. These stones are not the same chemical composition as a lab-grown diamond, but are made from a unique "proprietary formula and patented coating material." Nexus Diamonds are a great, affordable alternative to diamonds, and they're grown to always rank at a D (completely colorless) on the color scale and IF (internally flawless) in clarity.
They're cheaper than diamonds or even moissanite and aren't doubly refractive the way moissanite is, which makes them look even more similar to a diamond. It's worth noting that Nexus Diamonds are not as hard as a diamond or moissanite. Pros
Very affordable

Colorless, flawless stones that make great diamond alternatives

Lab-created stones are ethical and eco-friendly
Cons
Jewelry can't be customized on the Diamond Nexus website, save choosing your metal color and the size of your stone. If you'd like to create a custom engagement ring you need to get in touch with customer service or do so through their sister company,

Forever Artisans

.

No brick and mortar showrooms

Only sell jewelry made from Nexus Diamonds — no variety of stones

Not as hard as diamond or moissanite
What Does Brilliant Earth Sell?
Loose Stones
Brilliant Earth specializes in helping you craft a custom engagement ring. They offer a huge selection of loose diamonds and other gemstones that can be purchased on their own or paired with a Brilliant Earth setting.
Natural Diamonds
Brilliant Earth has christened their natural diamonds "Beyond Conflict Free Diamonds." All of the diamond center stones that they source are not only compliant with the Kimberley Process (meaning they won't fund the criminal operations of rebel groups in places like Angola and Sierra Leone,) they also minimize environmental degradation, protect against human rights abuses, and maintain community development.
They're a great option for someone who might want a natural diamond but is feeling uneasy about the ethical and environmental cost of some mining practices. Brilliant Earth has over 50,000 natural loose diamonds in their online store.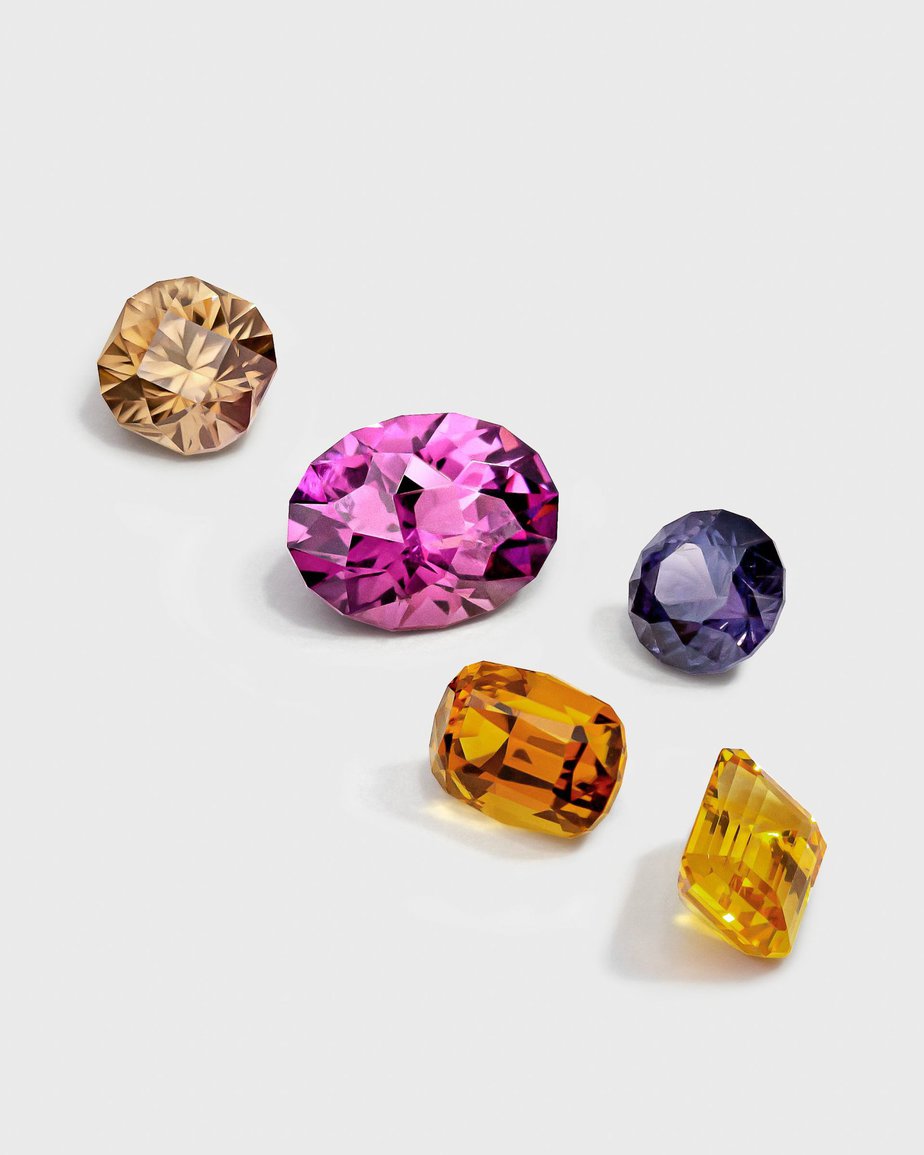 Recycled Diamonds
Brilliant Earth also stocks a selection of recycled diamonds. They have even less environmental impact since they've already been mined. Think of purchasing a recycled diamond like buying vintage clothing — every stone purchased is one less new diamond that has to be mined.
Lab-Created Diamonds
Brilliant Earth has one of the largest selections of lab-created diamonds on the market. They have over 100,000 loose stones listed. Lab-created diamonds are chemically identical to natural, mined diamonds, but because they aren't mined they don't have the same negative environmental and ethical impacts as many natural diamonds.
Colored Diamonds
There are nearly 500 loose lab-grown colored diamonds available through Brilliant Earth. They are just as hard and durable as colorless diamonds and can be found in virtually every color of the rainbow. Although they have a very large selection, they don't carry every color of diamond in every popular cut.
Moissanite
I think that moissanite is such a great gemstone for jewelry, especially engagement rings. It's almost as hard as a diamond and even sparklier, and it originally came from space! Natural moissanite is extremely rare, so pretty much everything you'll find for sale is grown in a lab, which means it's eco-friendly and ethical as well! Brilliant Earth carries over a hundred different loose moissanite stones that can be purchased alone or used to create a custom ring on their site.
Colored Gemstones
In case diamonds aren't your thing and you'd prefer a less conventional stone for your engagement ring (maybe a birthstone?) Brilliant Earth has over a dozen different types of loose gemstones such as emeralds, aquamarines, and sapphires that can be used with their engagement ring settings.
Settings
Since Brilliant Earth specializes in custom engagement rings, they have hundreds of choices of settings to pair with your center stone. They can be sorted by metal type or style, and have both men's and women's styles available.
Wedding Rings
Brilliant Earth sells wedding rings for women, men, and gender-neutral rings. They are broken down into easy-to-navigate categories such as "diamond rings," "stackable rings," "matte rings," "textured rings," and "eternity rings." There's also a feature on the site that I really appreciate where you can select your Brilliant Earth engagement ring and they will show you options for coordinating wedding bands.
Preset Gemstone Rings
If you'd rather leave the ring designing to the professionals, you can shop Brilliant Earth's selection of preset gemstone rings. There are hundreds of sapphire, aquamarine, morganite, and moissanite rings available in a variety of styles, though they don't sell preset diamond rings.
Fine Jewelry
For those of us who also appreciate jewelry beyond the realm of weddings, Brilliant Earth sells fine jewelry as well.
Their selection is huge and includes earrings, rings, necklaces, bracelets, charms, enamel pieces, and pearls. If you're shopping for a gift, Brilliant Earth makes it easy on you by grouping things into convenient categories such as "birthstone jewelry," "symbolic and religious jewelry," "engravable pieces," and "jewelry that gives back" — a subcategory of jewelry where purchases support conservation and social justice causes. There's also an option to create your own earrings and necklaces using their loose stones.
What Does Diamond Nexus Sell?
Engagement Rings
Diamond Nexus sells hundreds of rings in a variety of classic and contemporary styles. Nearly all of them feature their colorless Nexus Diamonds as center stones, though they do carry a handful of engagement rings made with lab-grown sapphires as well as yellow or pink stones. They do not have a separate category for men's engagement rings.
Wedding Bands
There are just under 200 wedding bands available on Diamond Nexus, and each can be customized with your choice of metal. They are broken down into over a dozen helpful categories such as "Glam," "Nesting and Stacking," "Semi and Full Eternity Bands," and "Matte Men's Wedding Bands."
Jewelry
In addition to their wedding and engagement jewelry, Diamond Nexus sells a collection of just under 500 earrings, necklaces, bracelets, and non-engagement rings. Most of the designs feature their diamond simulants, though there are a handful of all metal pieces and pieces made with colored lab-grown gemstones such as emeralds and sapphires.
Loose Stones
Diamond Nexus also sells their lab-grown diamond simulants loose in a dozen different shapes with a range of carat weights. Most of the loose stones they sell are their colorless Nexus Diamonds, but they do also sell loose yellow nexus diamonds and lab-grown emeralds, rubies, and sapphires. Some of their stones are labeled either "classic series" or "certified series."
The only difference between the two categories is that the "certified series" stones come with a certificate of authenticity and the stones are laser engraved with an identification number. Other than that they're the same type and quality of stone. All of Diamond Nexus' new engagement rings are all made with certified stones, and it seems that they may be the standard for the company going forward.
Selection Winner: Brilliant Earth
I have to say, when it comes to the selection of both loose stones and jewelry, Diamond Nexus doesn't really hold a candle to Brilliant Earth. Diamond Nexus is a great place to buy Nexus Diamonds, but if you're looking for anything else you're probably going to want to check out Brilliant Earth.
Customer Experience Head to Head
Brilliant Earth
Brilliant Earth's website is

easy to navigate

and has categories to

shop by stone shape, style, or jewelry collection.

They offer

24/7 customer service

via phone or webchat.

Each item comes with

free shipping

, a

lifetime warranty

, and

30 day free returns

.

They offer

free ring resizing

within 60 days of purchase.

If you prefer to shop in store, Brilliant Earth has more than a dozen

brick and mortar showrooms.

Brilliant Earth offers

12 month financing

with approved credit starting at 0% APR, as well as layaway plans.

Brilliant Earth offers a

free diamond upgrade

. If you have purchased a loose natural diamond from Brilliant Earth, you can exchange it for full credit as long as the diamond you exchange it for costs at least 50% more than the original diamond. Lab-grown diamonds are not eligible for the upgrade program.
Diamond Nexus
The Diamond Nexus website is

easy to navigate

with

clearly marked categories

. Each listing is posted with

several photos

but

no videos or 360 degree views.

I like that each engagement ring includes

suggestions for matching wedding bands

that can be added on to your order.

Diamond Nexus has a

customer service

team that can be reached via phone or chat during

extended business hours

, but not 24/7. You can leave a message during their off hours.

Nexus Diamond simulant stones are all covered by a

lifetime warranty

. Diamond Nexus also offers free

30 day returns

and

free shipping.

They offer one

free ring resizing

within one year of purchase.

Diamond Nexus is

online only

with

no brick and mortar showrooms

, so there's no way to see your purchase in person before you buy.

Diamond Nexus offers

financing options

via several

third party programs

such as Affirm and Paypal Credit.

Diamond Nexus offers a

trade-in program

similar to Brilliant Earth's. You can exchange your Nexus Diamond as long as the new piece costs at least 50% more than the original.
Customer Experience Winner: Brilliant Earth
I have to go with Brilliant Earth when it comes to customer experience. The 360 views and videos of listings definitely make me more confident about purchasing from them, and their customer service and policies are all very similar to Diamond Nexus', but they're a little more accessible with 24/7 support.
Cost Comparison Winner: Diamond Nexus
It's a little difficult to compare the cost of these two companies, since they don't sell the same types of center stones, but no matter how you look at it, Diamond Nexus is more affordable. They sell solitaire engagement rings starting at around $500, whereas most rings that Brilliant Earth sells are in the thousands, even for cost-effective aquamarine rings.
Comparative Summary Table
| | | |
| --- | --- | --- |
| | Brilliant Earth | Diamond Nexus |
| Diamond Selection | Thousands of ethically mined and lab-grown diamonds | Only sells patented diamond simulants, not real diamonds |
| Other Gemstones | Large selection of precious, semi-precious, and lab-grown stones | Limited selection of lab-grown stones |
| Variety of Jewelry | 9/10 | 5/10 |
| Price | 7/10 | 9/10 |
| Descriptions/Photos | Video, 360-degree views, photos, grading report | Photos, certified stones come with a certificate |
| Social Responsibility | 9/10 | 8/10 |
| Customer Service | 24/7 customer support | Limited customer support hours |
| Transparency | 10/10 | 5/10 |
| Warranty | limited lifetime warranty | limited lifetime warranty |
| Return Policy | 30 day free returns | 30 day free returns |
| Unique Features | Specializes in customization, huge selection, charitable contributions. | Sells patented, proprietary diamond simulates |
One note: I ranked Brilliant Earth a 10/10 and Diamond Nexus a 5/10 in terms of transparency because while I feel Brilliant Earth does a great job of explaining their product sourcing, Diamond Nexus has struggled in the past with the confusing term "Nexus Diamonds" that they've given their product. They make a great alternative to diamonds but they are very much not diamonds or lab-grown diamonds.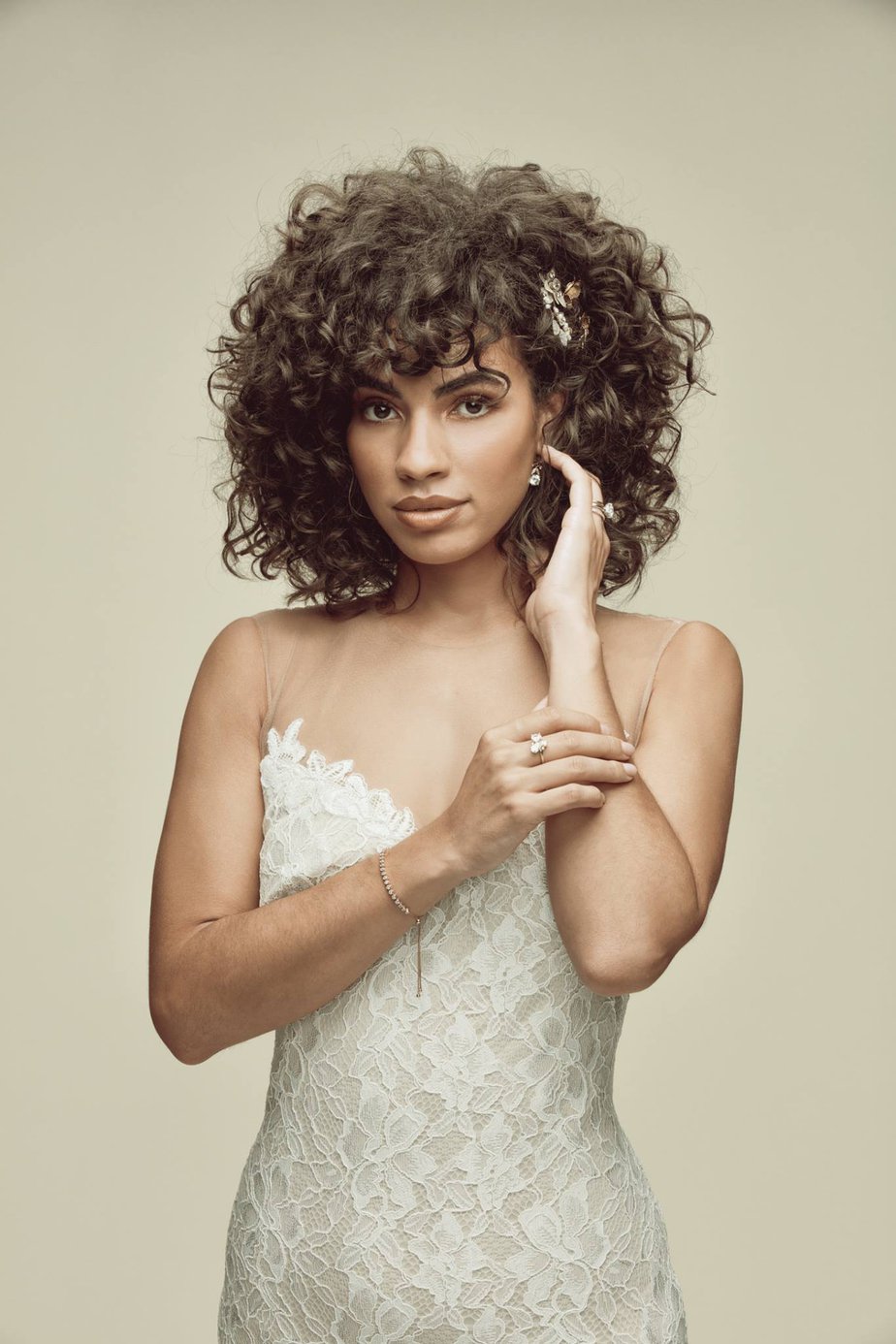 Other Alternatives
If neither of these sites seem like they'll have what you're looking for, I suggest checking out some of the following online retailers.
FAQs about Diamond Nexus vs Brilliant Earth
Question: Is Diamond Nexus a real diamond?
Answer: Diamond Nexus is not a real diamond or a lab-grown diamond. It is a diamond simulate, which means it is a completely different stone created to appear as similar to a diamond as possible.
Question: Are simulated diamonds worth it?
Answer: Simulated diamonds have very little resale value, but they're much less expensive than real diamonds. If you want a sparkly stone that looks like a diamond and costs a lot less, simulated diamonds are worth it. Just make sure you do your research — not all simulated diamonds are created equal.
Question: Is Brilliant Earth legit?
Answer: Brilliant Earth is an industry leader when it comes to ethically sourced diamonds and jewelry. They offer a great selection of jewelry and gemstones, and have excellent customer service. 
Question: What are fake diamonds called?
Answer: Fake diamonds are known as simulated diamonds. They are not the same thing as natural diamonds or lab grown diamonds. There are a lot of different types of simulated diamonds on the market, and some are better than others. Make sure you do your research before purchasing, or get your simulated diamond from a trusted retailer such as Diamond Nexus. 
Diamond Nexus vs Brilliant Earth – Final Verdict
Although Diamond Nexus is the more affordable option, I personally prefer Brilliant Earth. They have a much wider variety of gemstones and jewelry to choose from, as well as more stock of each type of piece. Their customer service is excellent, and their website features are easy to use and informative. If you're worried about the cost and are looking for a classic, colorless center stone however, Diamond Nexus is definitely worth checking out.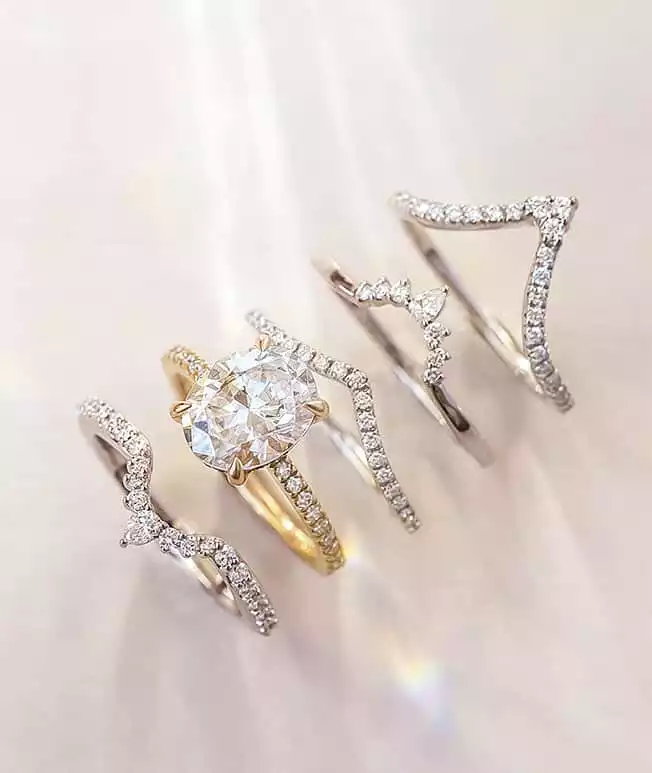 Further Reading on Diamond Retailers