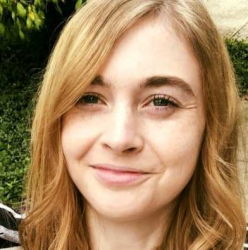 Latest posts by Erin Jamieson
(see all)
You don't need to be a jewelry expert to know that some diamonds are precious– but red diamonds are especially rare, and valuable– making them just one of the most impressive and best red gemstones in jewelry. A red diamond made headlines when a sale set a word record in Genova. The diamond in question is set on a beautiful ring and weighs just over 1 carat. The auction price was a record-smashing 2.77 million U.S. dollars.
While the price may seem astonishing, it's important to keep the context in mind. While for many, a clear diamond is the most desirable for an engagement ring, fancy colored diamonds are among the rarest and valuable diamonds of all, and especially stunning.
But even amongst fancy colored diamonds, the red diamond stands out. In fact, red diamonds are among the rarest diamonds, and so the combination of this, the presentation, and clarity rating all in part explain the pricey purchase, made by Tiara Gems and Jewelry. The purchase was especially celebrated at a time where the world is still in slow motion from a global pandemic.
But you don't need to have a two-million-dollar budget to make the best of red gemstones. From rubies to red garnet and many more, red gemstones can make for beautiful and bold jewelry for any event.
Consider this your guide to the best red gemstones you can buy, what you need to know about each one, and where to buy each.
What does red jewelry go with?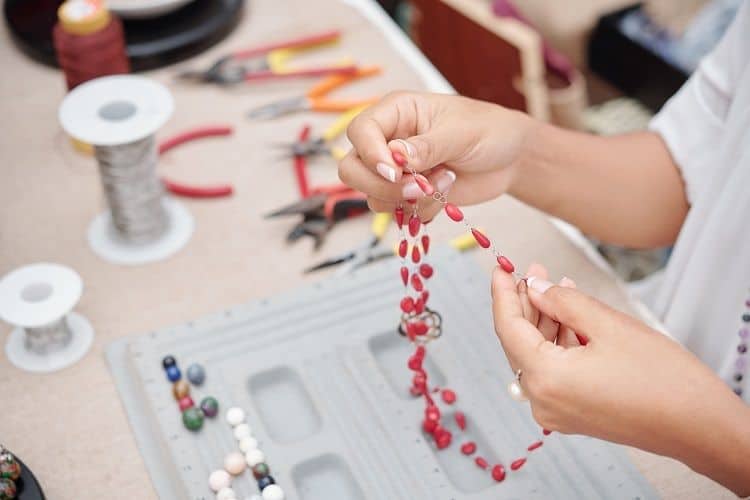 The first thing you need to consider when shopping for red gemstones for jewelry– whether that's rings, bracelets, or necklaces— is what you're going to wear it with.
While the great thing about fashion in 2021, and even bridal fashion in 2021, is that there are no real rules and more people are expressing themselves as they wish, sometimes it's helpful to come up with some great ideas.
Both red and gold tones–those with warmth– actually will "pop" most against cooler clothing. Purples, browns, and beiges look nice with red gemstone jewelry. I also love brighter, warm red gemstone jewelry with a black dress.
Another rule of thumb for making the most of your red gemstone jewelry is to determine the primary color of your outfit. Now take that color and find its compliments on a color wheel (see below).
Using this color wheel, you can see reddish tones are complemented generally by cooler tones. Of course, there is a degree of variation within red gemstones. One I will mention is almost pink, which will pair a bit differently. Keep in mind that you truly can wear red gemstones with anything you like– these are just some tricks to make it stand out a bit more.
What is the meaning of a red stone ring?
Red, in general, like all colors, has many symbolic meanings attached to it. For its more positive connotations, red embodies love, passion, good fortune in some cultures, and is even connected to marriage, especially in Asian culture. Red makes a powerful statement and is not for the shy.
A red stone ring depends on the stone itself, but little is as steeped in symbolism as perhaps the most well-known red gemstone, the ruby. The ruby symbolizes passion, nobility, power, and even wealth. Interestingly, a lesser-known connotation of the ruby is also purity and wellness. Some associate the color of red gemstones, in general, with vitality and even spirituality.
How do I find the best red gemstones?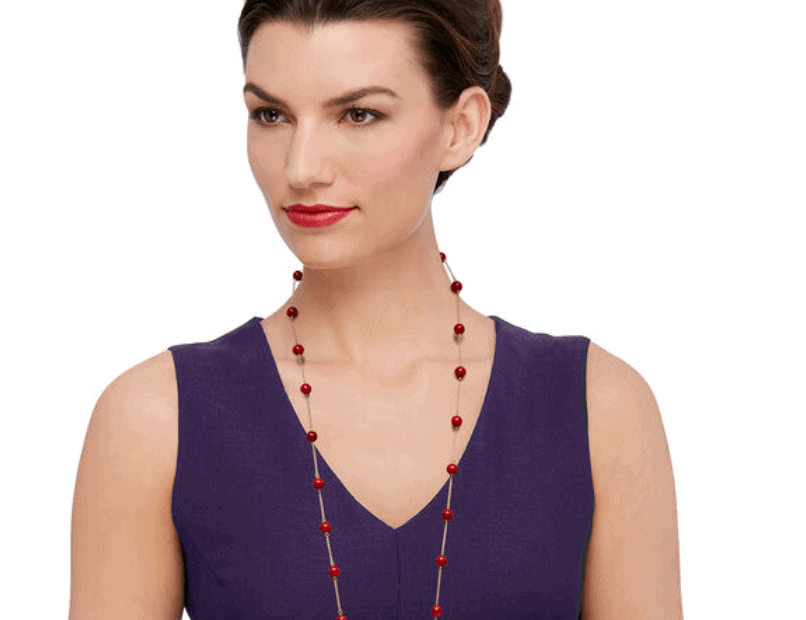 One problem with red gemstone jewelry is that, while there are many red gemstones available in theory, many are also quite rare. Unless you're interested in buying a gemstone simulant (which tends to be more affordable, but also not very durable and not valuable), there are a few main gemstones you'll really be able to buy.
This guide will cover the top gemstones I recommend, and where to find them. Before buying any gemstone, however, you need to pay attention to the following key factors.
Carat, Cut, and Clarity
Both carat and cut play a factor in all gemstones, of course. Carat size tells you the actual dimensions of the gemstone, whereas cut will impact the degree of brilliance and scintillation. Do keep in mind that red gemstones won't have a level of brilliance that a diamond typically has. However, you do want to consider this factor if you're buying for a formal occasion or an engagement ring. Some of my ideas will not have these as key factors.
Company Reputation
Make sure that you're buying from a reputable seller, and you understand what you are buying. Are you buying a stimulant or a real gemstone? You can check customer reviews on external websites like TrustPilot, and also consult the Better Business Bureau.
Gemstone Hardness and Durability
Gemstone durability may play a big role in which red gemstone is right for you. Some gemstones are more susceptible to breaking and chipping than others, while some may not do well under certain conditions. Durability factors include hardness (how easy it is to scratch, with a 10 rating the hardest); toughness (how easy it is to break or chip), and stability (how prone it is to corrosion with chemical and temperature exposure).
For these factors, consider what you plan to use it for. A red gemstone for an engagement ring– or anything meant to be worn daily– needs to be durable. Red gemstones for a special occasion here and there can be less so.
Color and Personal Preference
Of course, part of your decision should come down to personal preference. Perceived color does come in part by the level of clarity. Red gemstones range from pinkish-red to deep garnet red, with some warmer and cooler tones. You'll want to consider what you plan to wear your red gemstone jewelry with.
Top 6 Red Gemstones for Jewelry: My Picks
Without further ado, here are my top picks for stunning red gemstone jewelry for your next event. All of these gemstones have different pros and cons, so you'll have to decide what makes sense for you, your budget, and your personal preferences.
Ruby
Rubies belong to the corundum family, the same family as the sapphire, and are considered to be the most valuable within that family. As a downsize, this means they can also be quite expensive. Generally speaking, they are quite durable, and, while not as brilliant as diamonds, have notable refraction.
Colors can range from bright, warm red, to dark red with purple undertones
Common Cuts include mixed cuts, step-cuts, and brilliant cuts
Hardness is a 9 out of 10 on the Mohs scale, making them second only to a diamond
Stability: Temperature resistance is high- rubies can withstand temperatures up to 2,000 degrees celsius. Everyday Chemicals can be used, but rubies should not be worn in industrial settings. Try to also avoid too much direct sunlight, which can cause the stone to fade.
Where to Buy
The Angara has a stunning collection of rubies, from an affordable (under $400) bezel set pendant, to vintage-inspired round halo stud earrings, dazzling dropped ruby and diamond halo earrings, and even a bezel-set ruby bolo bracelet with diamond halo. I also like that you can select different ruby color quality to fit your preferences and budget.
Garnet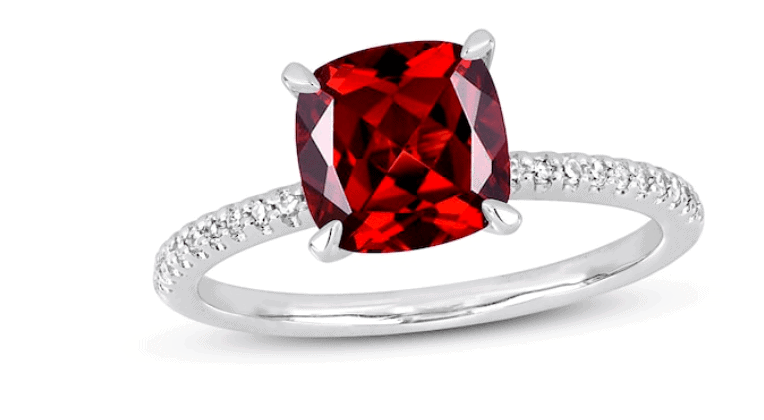 Garnet actually comes in many colors, but red garnet makes for a stunning choice for red gemstone jewelry. Though not as durable as the ruby, it's still safe for wear and still more durable than some other gemstones, or stimulants. Compared to many red gemstones, it is also more impressive in its fire, or light dispersion– making for a great statement piece.
Colors range from green, yellow, orange, blue, and even purple-black, and gray. However, garnet is most well known for an intense, deep red.
Common Cuts include standard shapes used for jewelry, from round to heart-shaped, marquise, rectangular, and more.
Hardness is a 6.5 to 7.5 out of 10, meaning they are suited for wear but susceptible to everyday scratches
Stability: Rated as suited for everyday wear, you'll need to be a little more cautious about direct contact and avoid harsh chemicals or extreme temperatures, but garnet is otherwise fairly durable.
Where to Buy
Kay Jewelers had a collection of garnet necklaces, engagement rings, and earrings for special occasions. Some of my favorite options for this red gemstone include a 14K yellow gold heart necklace; and a unique garnet engagement ring, set on 14K white gold with accent diamonds.
Jasper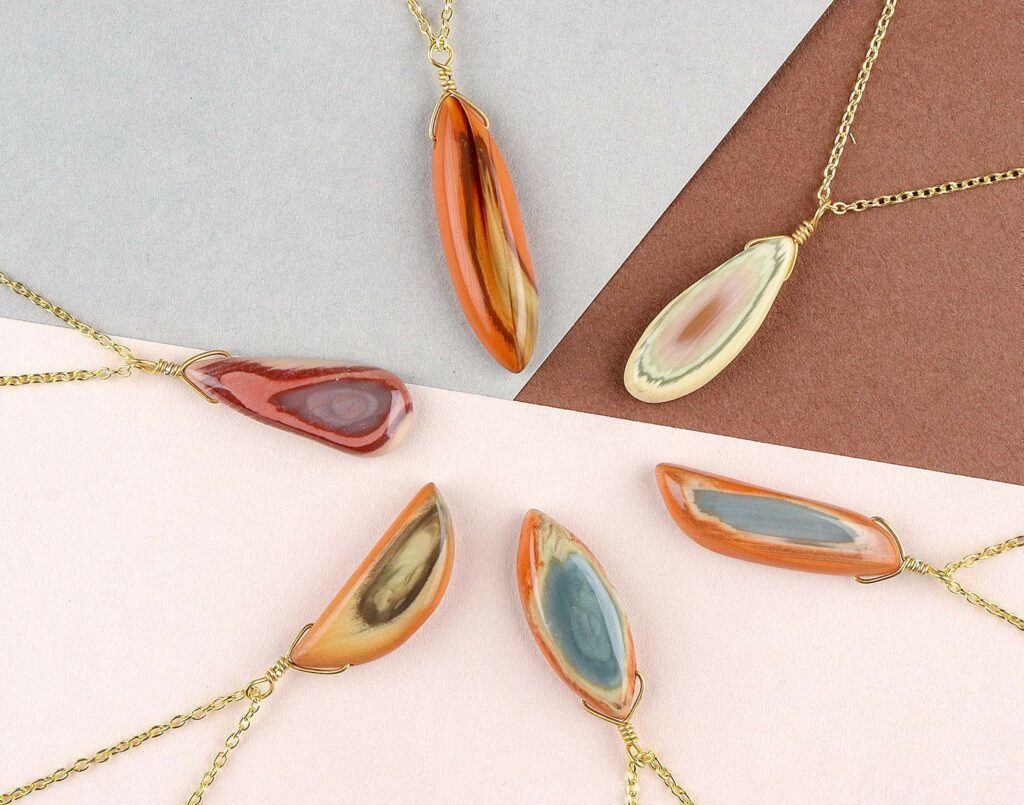 Jasper is an excellent option if you're looking for red gemstone jewelry for everyday wear, and not as concerned about brilliance.
Rated as excellent for wearability for the International Gem Society, jasper is very common– meaning it is less valuable, but also more affordable. This also means it is not too hard to find jasper, although if you want a red hue, you will have a more limited selection.
Colors include everything you can imagine. Red jasper tends to have brown undertones, making it suited for more casual outfits and pairing with neutrals.
Common Cuts include standard shapes used for jewelry, from round to heart-shaped, marquise, rectangular and more. It is also used in clusters for chunky necklaces and bracelets.
Hardness is a 7 out of 10, meaning they are suited for wear but susceptible to everyday scratches
Stability: Rated as excellent for everyday wear, it has a high toughness rating as well as fair resistance to temperature changes. Avoid harsh chemicals.
Where to Buy
NOVICA is the largest 'Impact Marketplace' online, with a mission to partner with individual artisans around the world to support Fair Trade labor practices and local economies.
They also have a very unique and signature collection or red jasper jewelry for everyday wear. Some of my favorites include a handmade beaded necklace, a signature cocktail ring from Peru, artisan-crafted leather and jasper drop earrings, and this floral inspired multi gemstone necklace.
Red Diamonds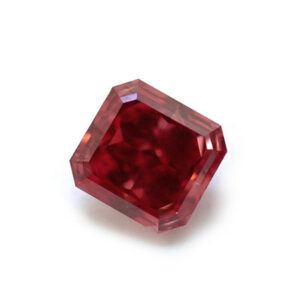 Red diamonds are especially rare- and you'll need a sizable budget in order to buy one. Red diamonds, of course, are also not sold by many.
On a positive note, red diamonds are simply dazzlings, very durable, and of exceptional value, making it one of the most beautiful alternatives to a typical diamond engagement ring.
I won't go into detail about durability, as the durability is the same as regular diamonds– with a hardness of 10, though slightly less tough than a gemstone like moissanite. Everyday wear is excellent, but of course, you need to avoid harsh industrial chemicals.
Where to Buy
When buying a red diamond anywhere, you absolutely need to ensure an official certification of authenticity from the GIA or AGS. Be wary of buying red diamonds from third-party sellers on places like eBay, and also be wary of any red diamonds that seem to be especially affordable.
Your best bet for red diamonds you can buy online is through Leibish. Leibish specializes in rarer gemstones, like red diamonds, which are all GIA certified. Shop loose diamonds here.
Opal
Opal, or fire opal as its red variety is called, is a common and affordable red gemstone suited for a special occasion, but less advisable for something like an engagement ring, as it is more susceptible to temperature and environmental fluctuations and factors. It's set apart by its unique 'firey' hue, for a playful and unique look. It also has unique scintillation, as it will reflect colored light.
Colors include everything you can imagine, from yellow to black, and white, as well as fire- and orange-red.
Common Cuts include standard shapes used for jewelry, from round to heart-shaped, marquise, rectangular, and more. It is also used in clusters for chunky necklaces and bracelets.
Hardness is a 5 to 6 out of 10, meaning you need to be especially careful. While still suited for wear, it should not be worn daily.
Stability: Opal is fairly susceptible to heat and chemicals. While it can withstand normal temperatures, make sure it is kept in a safe and temperate place.
Where to Buy
Angara has a collection of unique fire opal jewelry, including cocktail rings, stud earrings, bracelets, and more. Most pieces are classic or vintage styled, with options for white and yellow gold. From this collection, my favorites include a rope framed solitaire pendant necklace, a gorgeous but simple linear tennis bracelet, and vintage-inspired opal studs.
Carnelian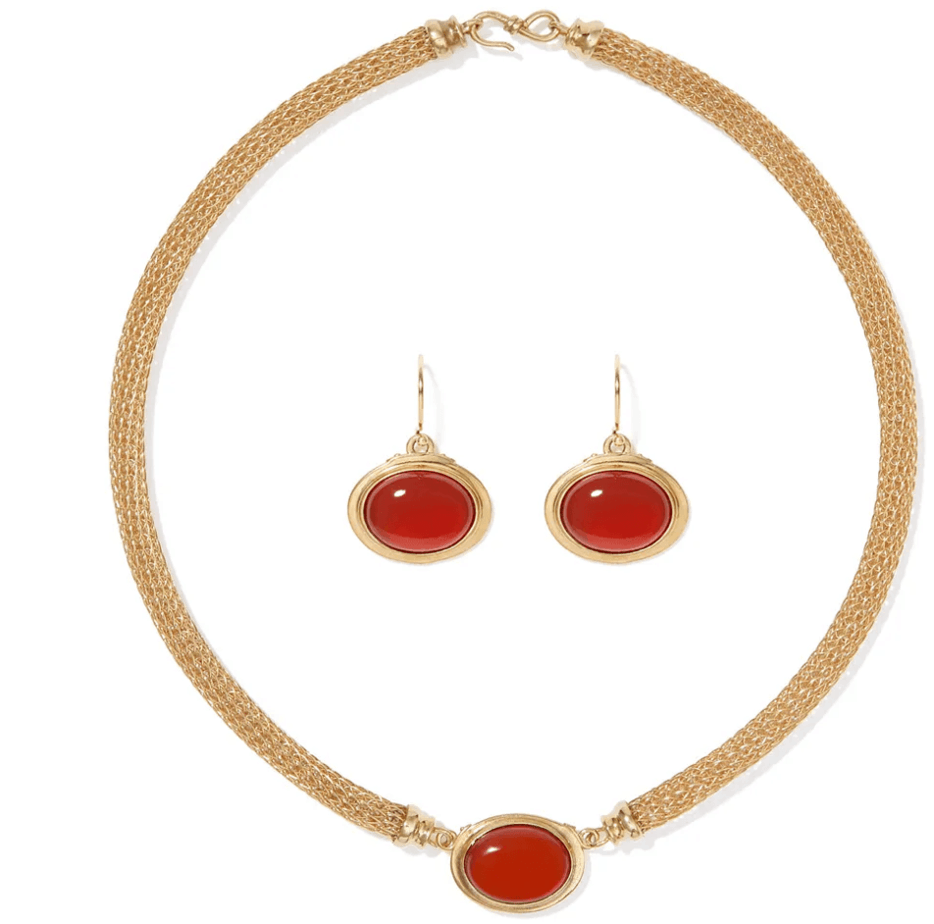 Carnelian may not be as familiar to most, but I recommend it as one of the best gemstones for everyday jewelry. Rated by the International Gem Society as having excellent wearability, this stone features a classic hue and fluorescent luminescence for a unique look. While a little less popular and trickier to find, it can be an alternative if you like the look of a deeper ruby but can't afford one.
Colors include red and orange hues.
Common Cuts include standard shapes used for jewelry, from round to heart-shaped, marquise, rectangular and more. It is also used in clusters for chunky necklaces and bracelets.
Hardness is a 6.5 to 7 out of 10, meaning you can wear it fairly well on a daily basis, though they are more susceptible to everyday scratches than moissanite or diamonds.
Stability: Carnelian is resistant to a range of temperature fluctuations and chemicals; avoid excessive harsh chemicals or extreme temperatures.
Where to Buy
There is not one source to buy Carnelian, so you'll need to shop around for individual pieces. Also, make sure that you're buying from a reputable supplier. Some of my finds include this heart necklace on 14K yellow gold; these vibrant and colorful multi-stone drop earrings in 18kt gold and sterling silver; a unique Hellenistic gilded mesh necklace and earrings set from The Metropolitan Museum of Art; and these beautiful drop earrings with white topaz.
Honorable Mentions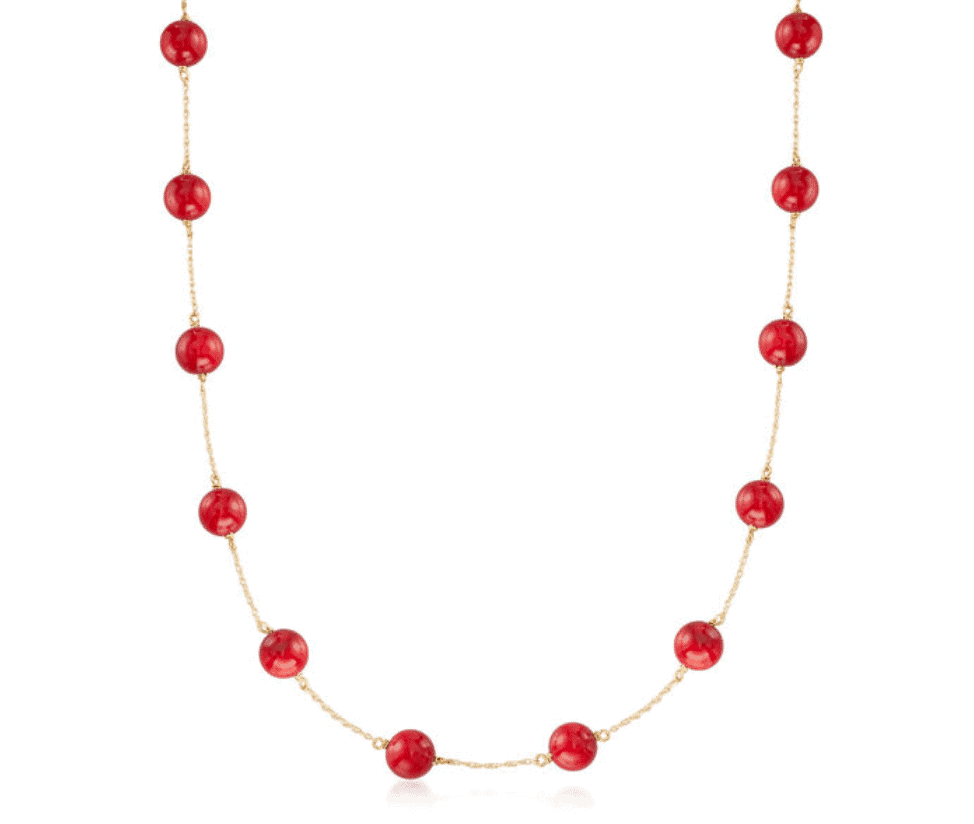 Of course, there are countless other red gemstones that are used in jewelry. These include red tiger's eye– a less valuable but interesting gemstone featuring a striped appearance– as well as red coral. If you like the look of red gemstones but are open to other hues, you can also branch out into pink and orange gemstones.
Where to Buy
Ross-Simons has a red coral bead necklace with 14K yellow gold, as well as a tiger's eye bracelet in 18K gold over sterling, and tiger's eye earrings.
FAQs
Question: What color Ruby is most valuable?
Answer: Color plays, in fact, a primary factor in determining the value of this unique gemstone. Red hues are valuable, with pure red among the most valued, while purple or orange undertones are less so. Of course, if you do want purple, there are many beautiful purple gemstones you could opt for instead.
Question: What does Jasper symbolize?
Answer: Jasper symbolizes protection, positive energy, and has been used as a way to reduce stress by cultures, as well as balancing out yang and yin.
Final Thoughts
Whether the ruby catches your eye, or you can a playful splash of orange with fire opal, there are countless red gemstones that are perfect for jewelry for any event.
Interested in buying loose gemstones? Here's where to buy loose gemstones online.