Latest posts by Jeanette Kierstead
(see all)
In our previous guide, we talked about statement necklaces. These type of necklaces can make you feel incredibly confident. While many statement necklaces are large and over-the-top, others are not.
This type of jewelry is all about making a statement, whatever that may be to you. Some women like massive necklaces with large baubles, others like to stick with beautiful, simple pieces that call attention to them, but that are not overly large.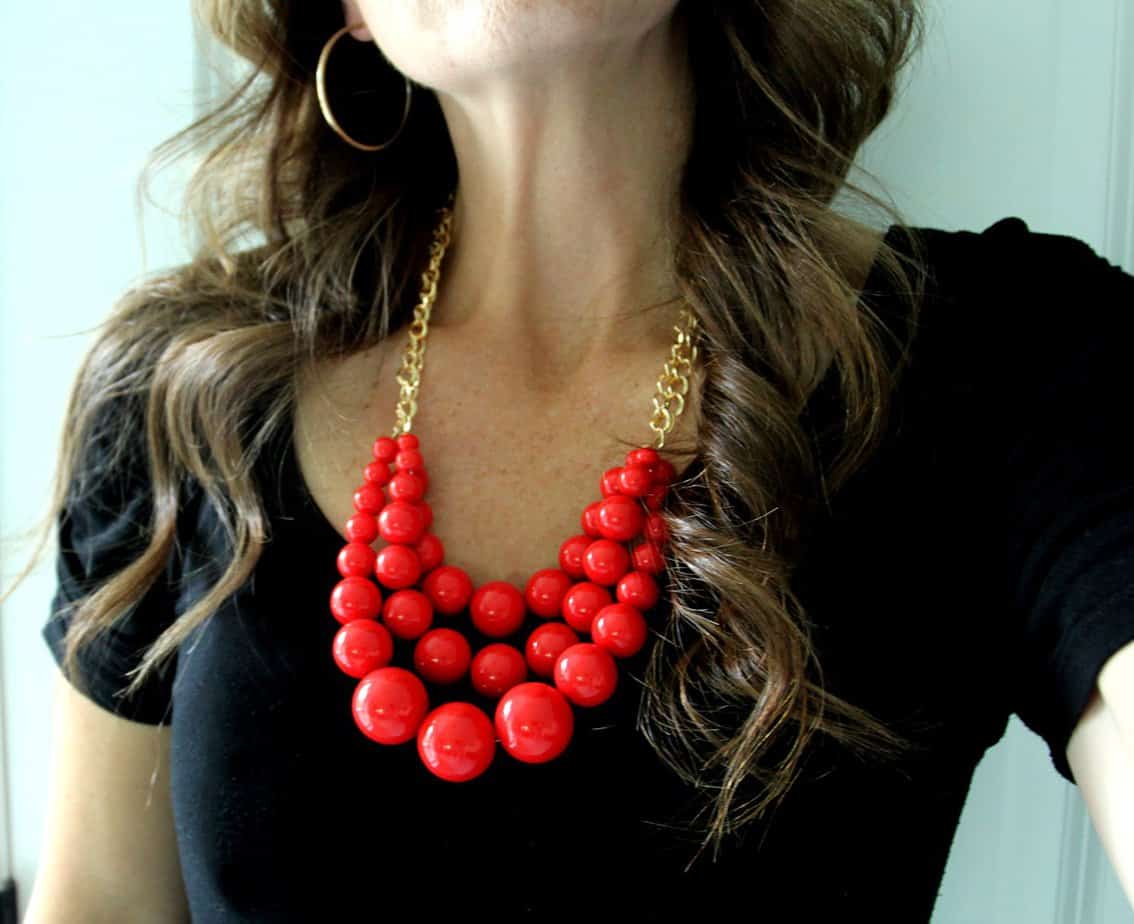 We're including a few different types. Many women like to have a variety of necklace styles to suit their mood. On the way out for the night, you might want to wear a stunning fringe piece with your little black dress. For a day at the office, your jewelry might need to be chunky or multi-layered. The great thing about statement jewelry is that the statement you make is entirely up to you!
Yellow Gold Cushion Garnet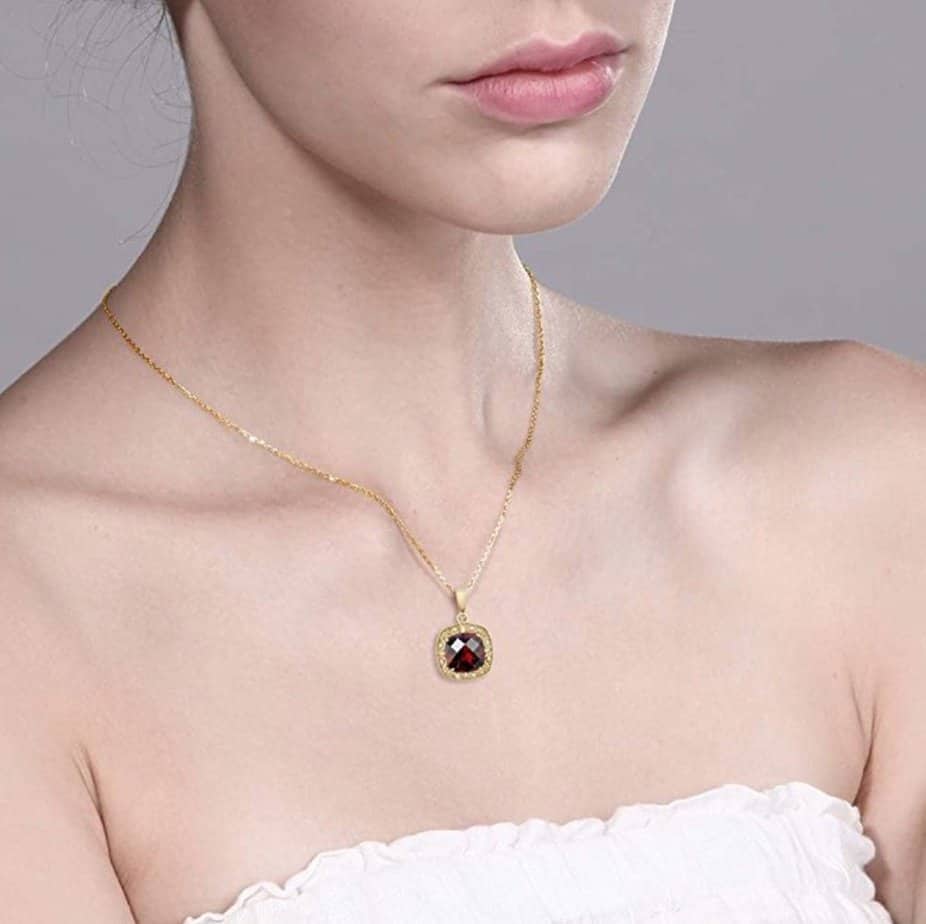 This 8mm garnet is a cushion checkerboard with a clarity of VS. It's natural, untreated, and surrounded with 2.4 carat weight of diamonds. While it's a bit more subtle than a normal "statement" necklace, you'll still be saying something with this design. If you're wondering what event warrants this beauty, you shouldn't be limited by where you think it should be worn. Whether it's the office or a night out with your special love, this necklace will look amazing. It comes with a chain in case you're purchasing this for your special someone. It's immediately ready for gift-giving.
---
Doublet Necklace and Pendant
When you think of statement jewelry, you're likely picturing a piece more like this one. It's a teardrop of red coral. This incredible gemstone is so unusual that everyone will ask you about it. In fact, you shouldn't wear this incredible piece unless you want to be stopped to have a conversation about it! The necklace is .925 sterling silver and measures 18 inches long. The pendant itself is an inch long. The entire necklace will cover approximately 3 inches from the base of your neck.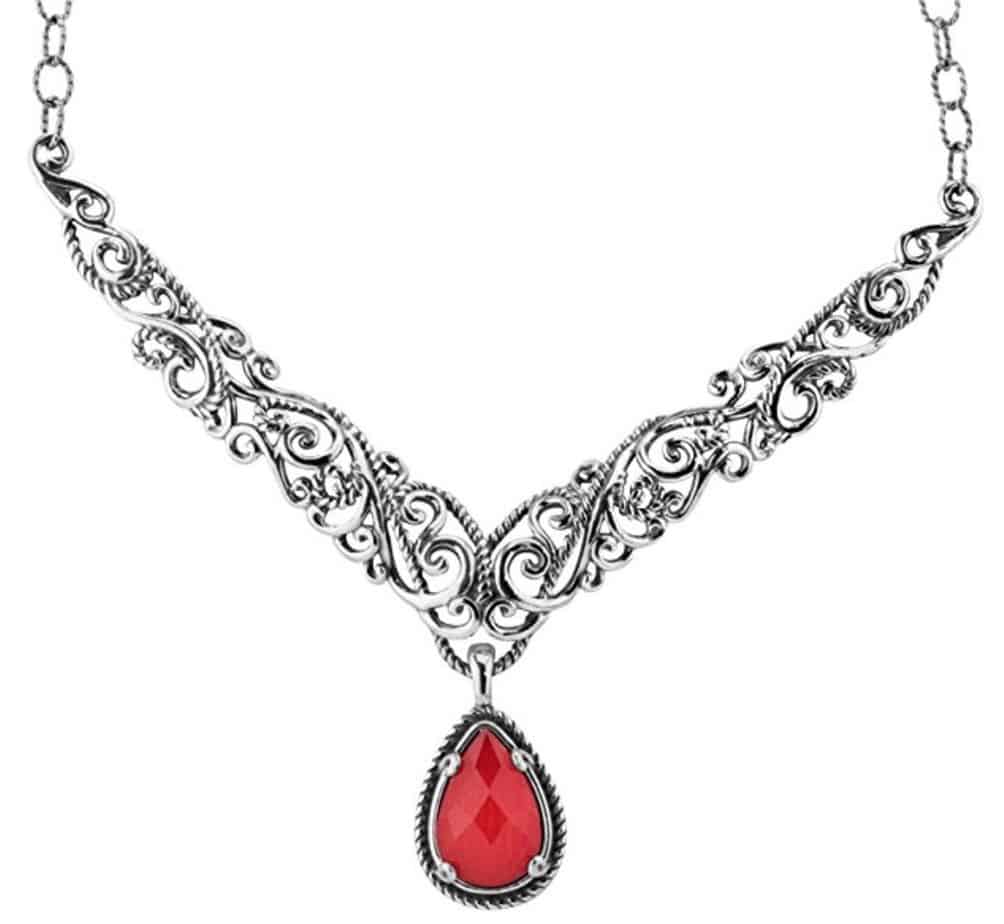 ---
Platinum Bridal Set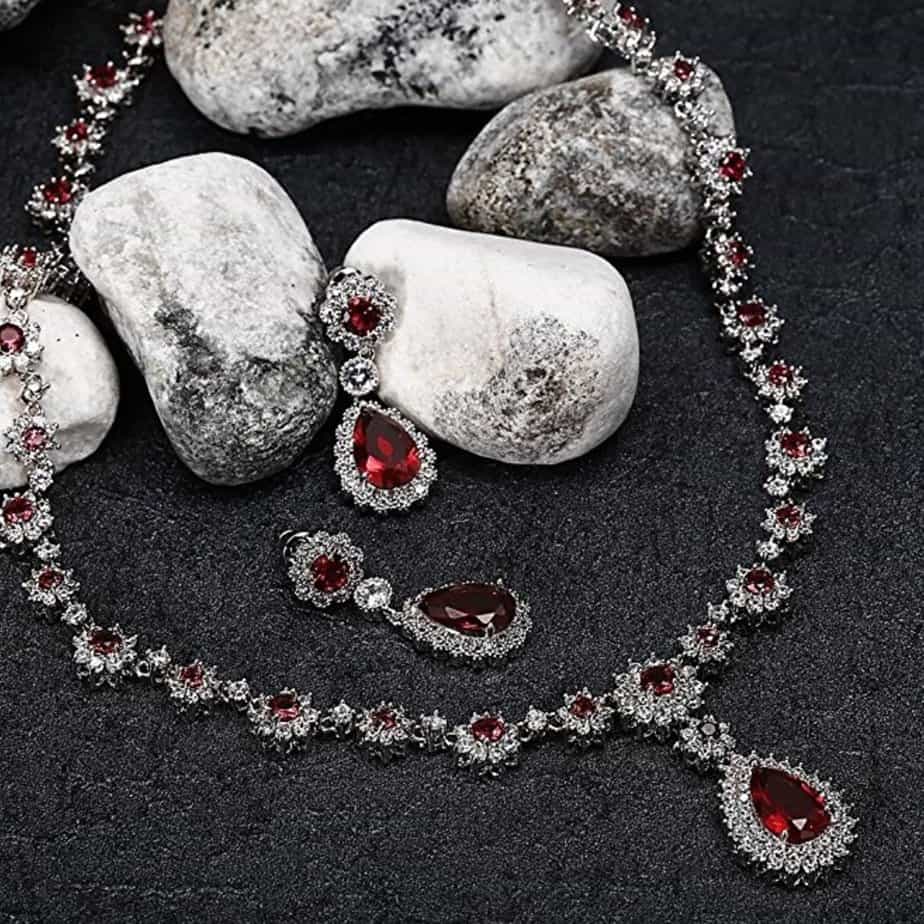 This statement necklace is one that instantly brings to mind elegant occasions, so it's no wonder that it's called the bridal set. Just looking at the picture of this stunning piece of jewelry, you can imagine a beautiful bride walking down the aisle wearing this beautiful red crystal and platinum set. The pave stones are cubic zirconia and the main red stones are crystals. This fashion set measures 43.20 cm in length and 1.30 cm in width.
---
Red Glass Crystal Bib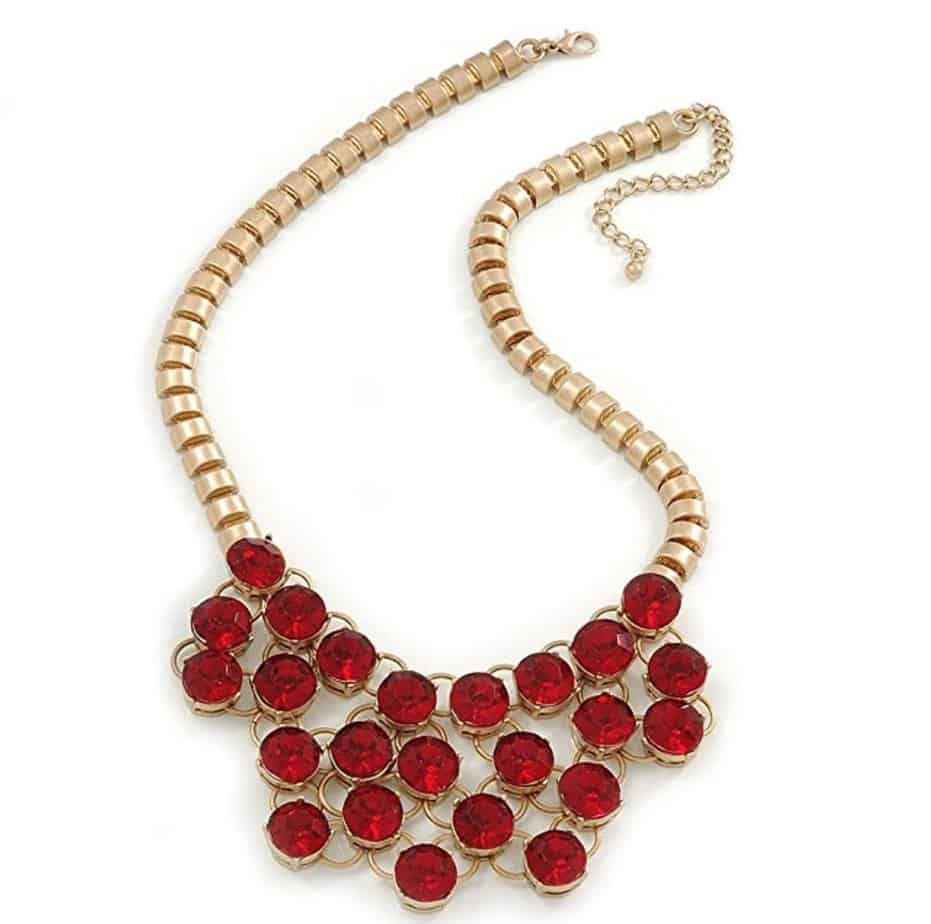 This is a stunning crystal necklace that features 24 crystals that cascade down the front of the piece. The metal is gold plated, which means you shouldn't wear this piece constantly, but it's a statement for certain events like a night out at the club or a dinner party with friends. The crystals cascade down the front of this bib necklace to a length of 42 centimeters.
---
Eternal Red Coral and Malachite Stone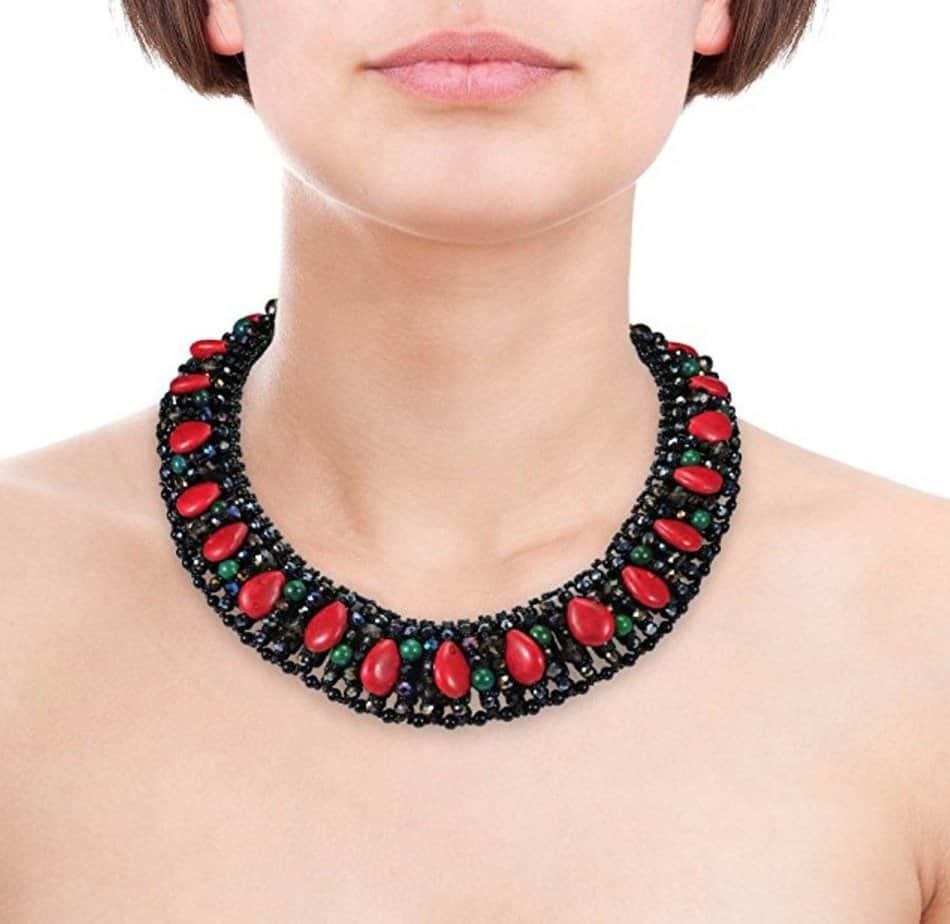 This weighty piece has reconstructed red coral and malachite beads. The black and red alternates to form a beautiful circle that measures 18 inches plus 2 extra inches in the clasp if needed. This handmade piece is great to add to your necklace collection. It's perfect for a variety of occasions from dinner parties to charity events or a night out dancing with friends.
---
Kate Spade Pearly Mix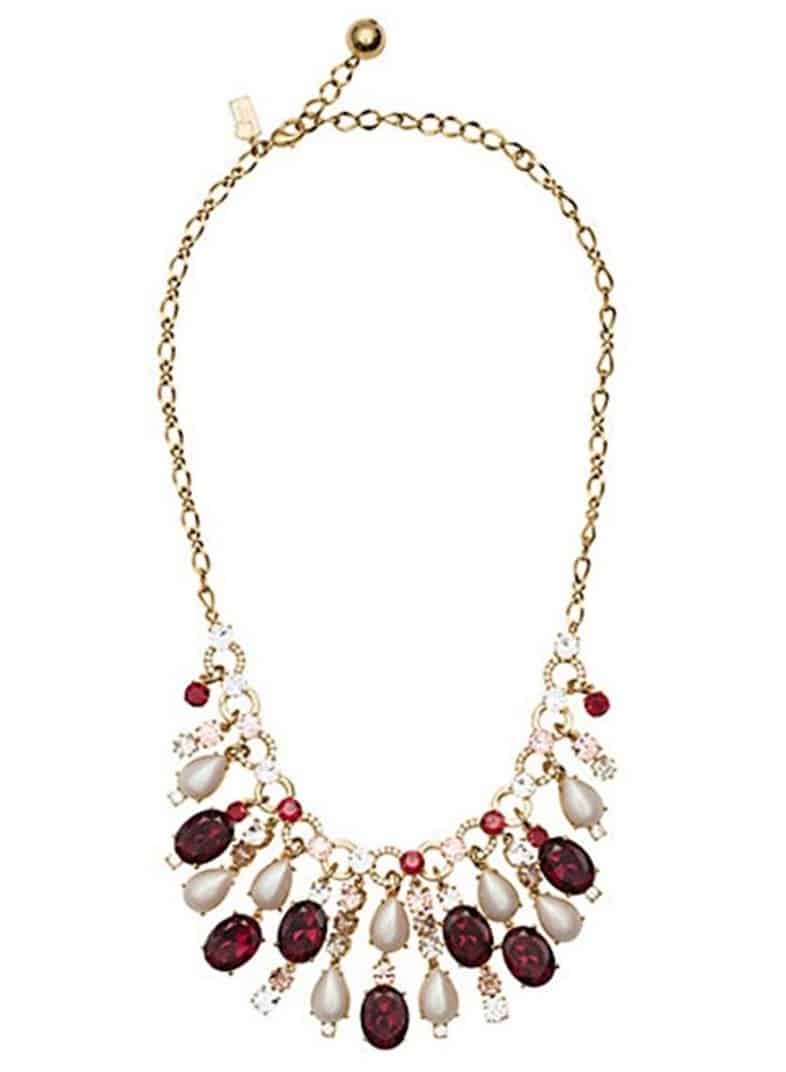 This statement necklace is a mixture of faux pearls, crystals and ruby colored stones. The metal is brass, and the necklace itself measures 17 inches in diameter and 2 inches in length from the front of the neck. The chain is links that come together in the back to a lobster claw clasp closure. While this necklace can't be worn for long periods of time, it's perfect for events where you need to be in your best. For example, imagine this stunning piece worn with a little black dress and red platform heels or slim stilettos.
---
NOVICA Waterfall Pendant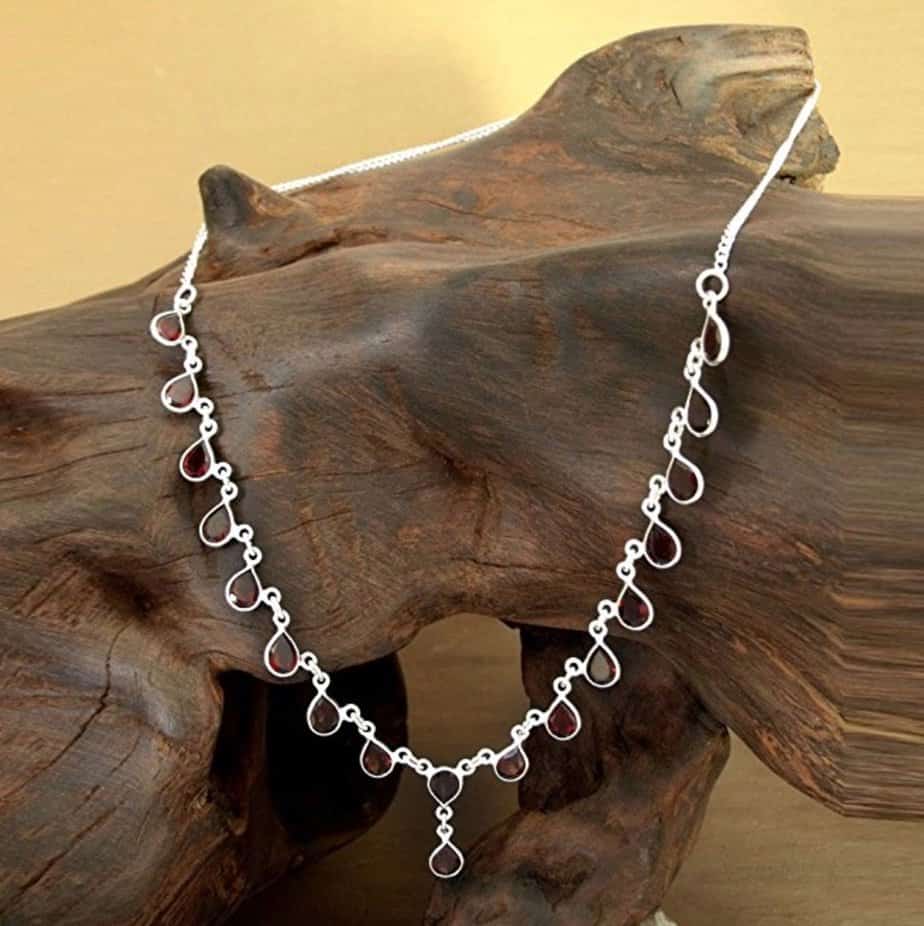 This is one of our favorite statement necklaces. NOVICA worked with National Geographic to produce this piece. National Geographic works with artisans from around the globe to create stunning jewelry. This necklace of scarlet droplets was designed by Bhavesh who is an artist in Jaipur. There are 18 pear shaped or teardrop garnets on this sterling silver necklace. The stones have a total weight of 13.50 carats. It's a piece that many women have worn on their wedding day, so it certainly can be a stunning addition to your bridal set. You might want to wear them for a less formal occasion, and they'll fit in perfectly.
---
Statement necklaces are meant to bring about a certain mood. You might be trying to get noticed, create some drama with your look, or feel bold and confident. The beauty of statement necklaces is that they come in so many different styles that you can find the perfect one for any outfit or occasion.