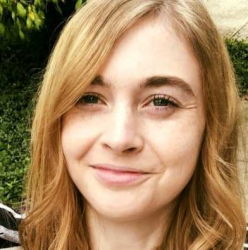 Latest posts by Erin Jamieson
(see all)
Weddings may look different for some time in 2022, but that isn't just limited to unique reception spaces and changes in online wedding planning— but also opting for beautiful and surprising engagement rings with old European diamond cuts.
As one of the more surprising trends and ideas for weddings in 2022, jewelry insiders are seeing an upswing in interest in old European cuts as an alternative to the modern brilliance of lab-grown diamonds from companies like James Allen.
Eva Zuckerman, the creative director of Eva Fehren opened up to the Zoe Report about the increasing interest in what she called "non-traditional shapes and cuts," while other insiders cited the increased versatility of personality of a unique diamond-cut like old European.
Unique cuts place a focus on the geometry, rather than a hyper-awareness about the color, clarity, or brilliance– all of which play key roles in finding the best diamond normally.
But what exactly if an old European cut, and is this unique diamond-cut right for your engagement ring?
In this article, I'll tell you what an old European cut diamond means, the pros and cons of an old European cut diamond, and my picks for the best old European diamonds you can buy online.
What does an old European diamond cut mean?

As the name suggests, an old European cut is old– that is, this vintage cut harkens back to the late 1800s through the early 1900s (it declined in popularity around the time of the Great Depression).
Commonly associated with the Art Deco era (not to be confused with Art Nouveau rings), this cut was thought to have been the harbinger to the popular brilliant-cut diamond. In fact, the brilliant-cut is now the most popular cut for diamonds today.
When did old European diamond cuts stop?
Though there is no firm stop date for when the old European cut faded, most experts think that the late or mid-1930s marked the transition to other cuts. Today, the old European cut is not still practiced, but it is enjoying a resurgence as the most in-demand antique diamond cut for vintage rings, and especially among those looking at an Art Deco style.
How many facets does an old European diamond cut have?
One defining aspect of old European cut diamonds is the number of facets. There are 58 facets in an old European cut, which explains how it may have influenced the popular brilliant-cut diamond, with 57 to 58 facets. However, a few things about this cut, and the way it's been done, it quite distinct vs a round cut diamond.
What makes an old European diamond cut distinct from other cuts?
Perhaps the most interesting thing about an old European cut is the way it was executed. While modern cuts, especially the round cut, tend to be designed to optimize both brilliance and scintillation– the amount of sparkle and shine from light interaction– this is not the case for an old European cut.
An old European cut diamond, instead, has been cut weight carat weight in mind, first and foremost. As such, an old European diamond displays less bright scintillation. The most common were polished for a softer effect and meant to exhibit at their best under more dim lighting. There are other differences as well, which include
More variations in cleavage and cut, due to being cut by hand vs machines or more precise modern technology. This also means no old European cut diamonds are perfectly symmetrical, and each is unique.
A top surface that is notably smaller than a round cut, but a longer bottom facet, giving an elongated appearance
A more opaque appearance, due both to the less precise cut and a circular rim joining the top of the diamond to the Pavillion
A prominent diamond tip that can be seen without a microscope
What are the pros and cons of an old European diamond cut?
Now that you know the difference between an old European cut and its modern counterpart, the round, there are several things you should keep in mind before you decide to purchase. There are both pros and cons to this unique, antique cut.
Why should you buy an old European diamond cut?
An old European cut diamond is great for many reasons. Unique, elegant, and perfect for a vintage Art Deco ring style, this cut is fascinating for a number of reasons.
Since they are rare and antiques, they bring forward history, romance, and ambiance in a way many modern cuts do not. Rather than aiming for the bright brilliance and scintillation of modern diamond cuts, the softer light that reflects creates a gentler beauty and looks lovely by candlelight.
Finally, an old European cut diamond is worth more than many cuts, due to its rarity. For anyone wanting a diamond ring that is especially unique, precious, and valuable, with old-world prestige, an old European cut may be a great pick.
Since it's cut by hand, I also love how unique each diamond is. Unlike lab-grown diamonds, which are often more consistent in quality but also uniform, you can truly say that your diamond ring is one of a kind.
Why shouldn't you buy an old European cut diamond?
That said, some of the upsides of an old European cut diamond are related to the downsides. For once, while it is true that old European cut diamonds tend to be more valuable than many cuts, that also makes them quite expensive, and also hard to find.
You've had a fairly limited selection, and need to have a pretty healthy budget in order to opt for a true old European cut diamond.
In addition to the expense and less overall selection, you'll have to be less picky in terms of cut, clarity, color, and carat. In addition, you may have to buy from less traditional sellers. Popular diamond sellers, like James Allen, Blue Nile, and Ritani won't have a hearty selection of old European cut diamonds.
Finally, if you're looking for a brilliant diamond or one with little imperfections, I don't recommend an old European cut. While old European cut diamonds do sparkle, it is a softer sparkle than modern brilliance you may be used to. They appear more opaque and have a softer brilliance that is far more subtle. You'll notice imperfections and a lack of symmetry.
As a side note, of course, this cut is especially suited for vintage or Art Deco style rings, but it will never be classified as modern.
My Picks: Old European Diamond Cut Rings
Now that you know the reason you should– or shouldn't buy an old European cut diamond, here are my picks for diamonds.
Since it's quite difficult to find these antique cuts I've included one antique seller that offered a collection of old European diamonds, as well as some individual options for rings. While I normally also try to include more budget-friendly options, my selection for or less reflects a typical price range for this rare diamond cut.
Abe Mor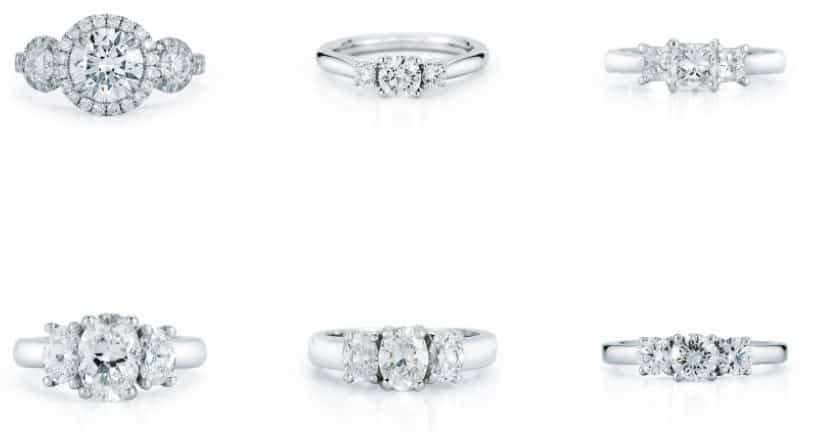 Abe Mor is the most prominent source of old European cut loose diamonds that you can buy online. You can select by carat, price range, color, polish, symmetry, and clarity. At the time of this article, they have a collection of just over 140 old European cut diamonds, starting at a 0.42 carat and doing up to just over 5 carats.
I love that Abe Mor has GIA-rated diamonds, and partners with prominent organizations like the World Federation of Diamond Bourses, which was established in 1947 to better organize the diamond trade. They are also accredited by the Better Business Bureau with an A-plus rating.
With a long history in business, Abe Mor is one of the more reputable sellers and also a nice place to shop if you are particular about your carat and color. One thing of course, is that these are loose diamonds. That means you'll still need to have it set on a band– which can add hassle and cost.
Individual Engagement Rings
If you'd rather not mess with loose diamonds, here are some sources for engagement rings featuring old European cuts. These come from a variety of different sellers, and you'll need to make sure you fully understand what you're purchasing.
I did steer away from sites like eBay– where it's difficult to know the reputation and variety of the diamond and the seller in question. Always make sure you ask questions before buying, and the more information you can get, the better. Also, keep in mind that some of these engagement rings do get pricey– but that is par for the course for a rare diamond cut.
Also keep in mind that you can have rings resized, often within three sizes one way or another.
Barbone Cadence Diamond Ring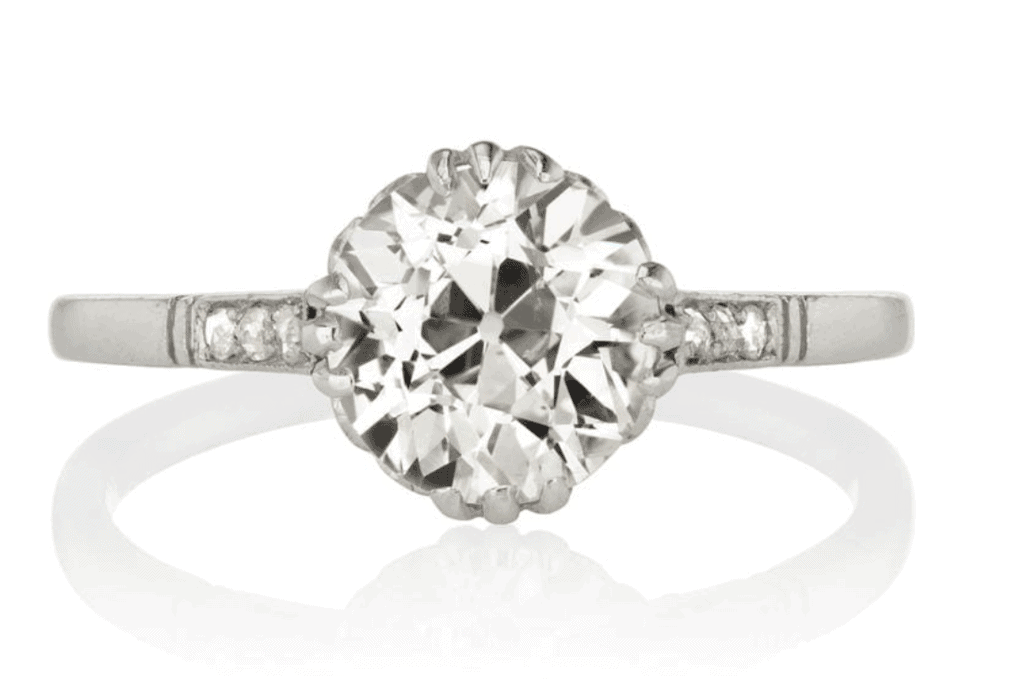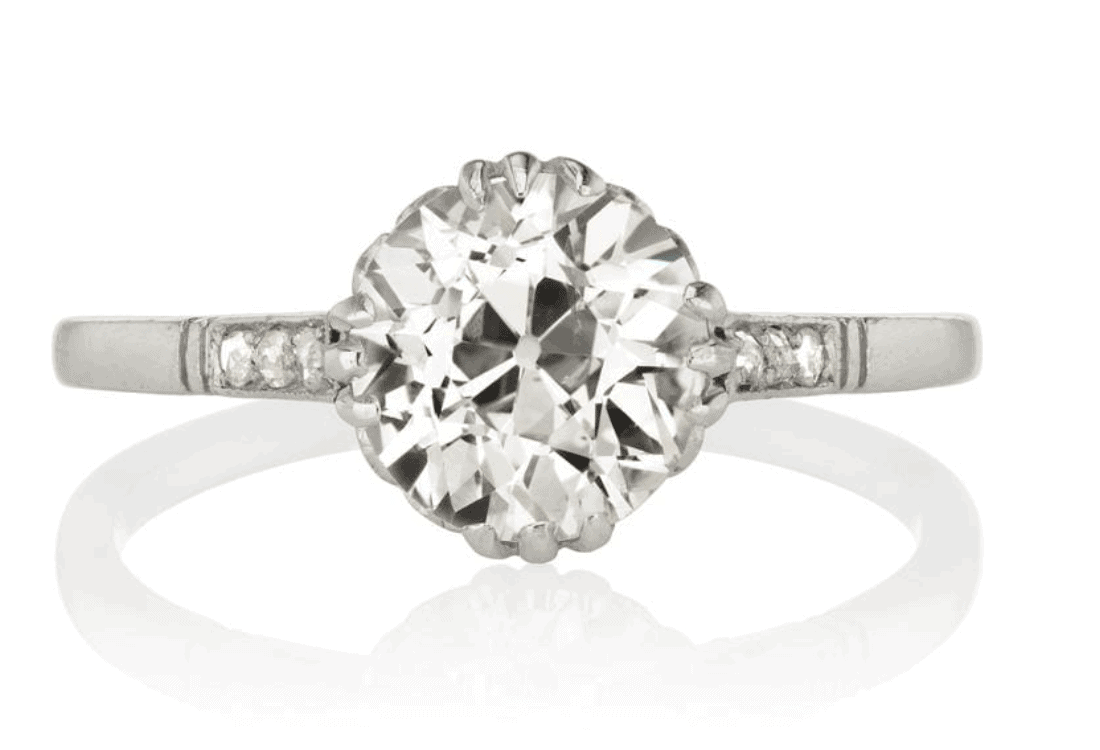 Available in sizes 6 through 10, this 1.7-carat old European diamond is truly elegant. For the utmost of romance and elegance, the Cadence Ring is GIA certified with beautiful color and high clarity rating.
Set on a triple prong platinum ring, the center is accompanied by three rose-cut diamonds. I love the added diamonds for that extra shine, without taking too much attention away from the center diamond. Buy Here.
Jack Weir & Sons Art Deco Diamond Ring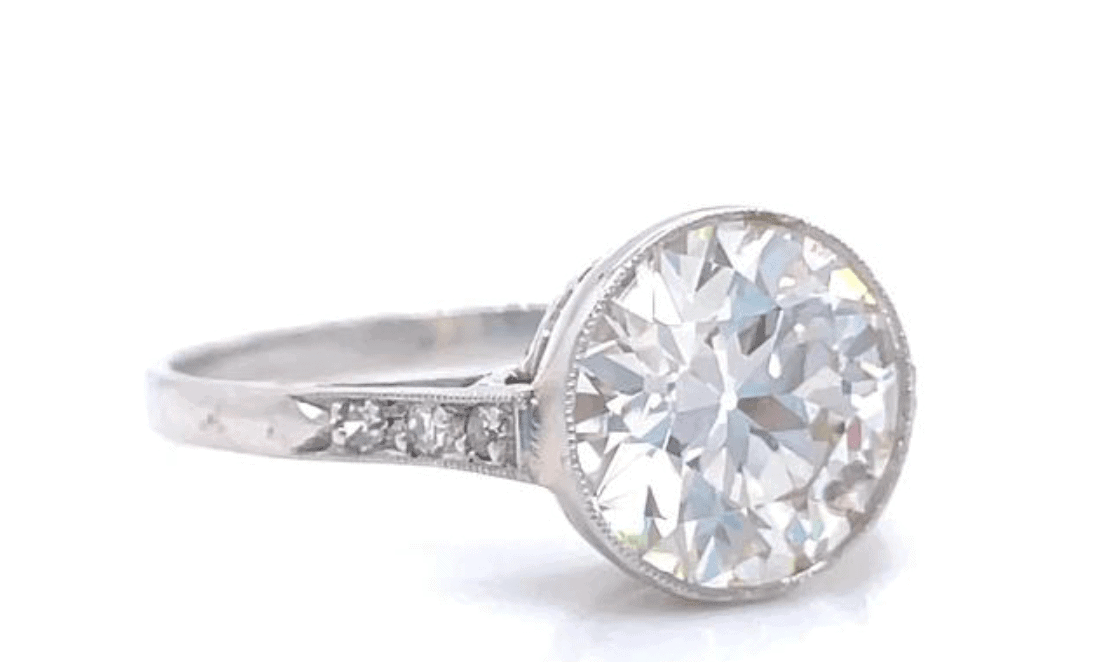 This exquisite old European cut diamond captures the drama of the Art Deco period and presents supremely refined and elegant. Exhibiting a more symmetrical design, this stunning option dates back to the 1920s and will make impressive 2.23 carts with an S12 clarity.
This antique exudes opulence without calling too much attention to itself–with glamour that modern rings cannot quite match, plus smaller diamonds for added sparkle. Available in a size 6 ¾, the company offers resizing to fit. Buy Here.
Velvet Society The Ares Old European Cut Diamond Ring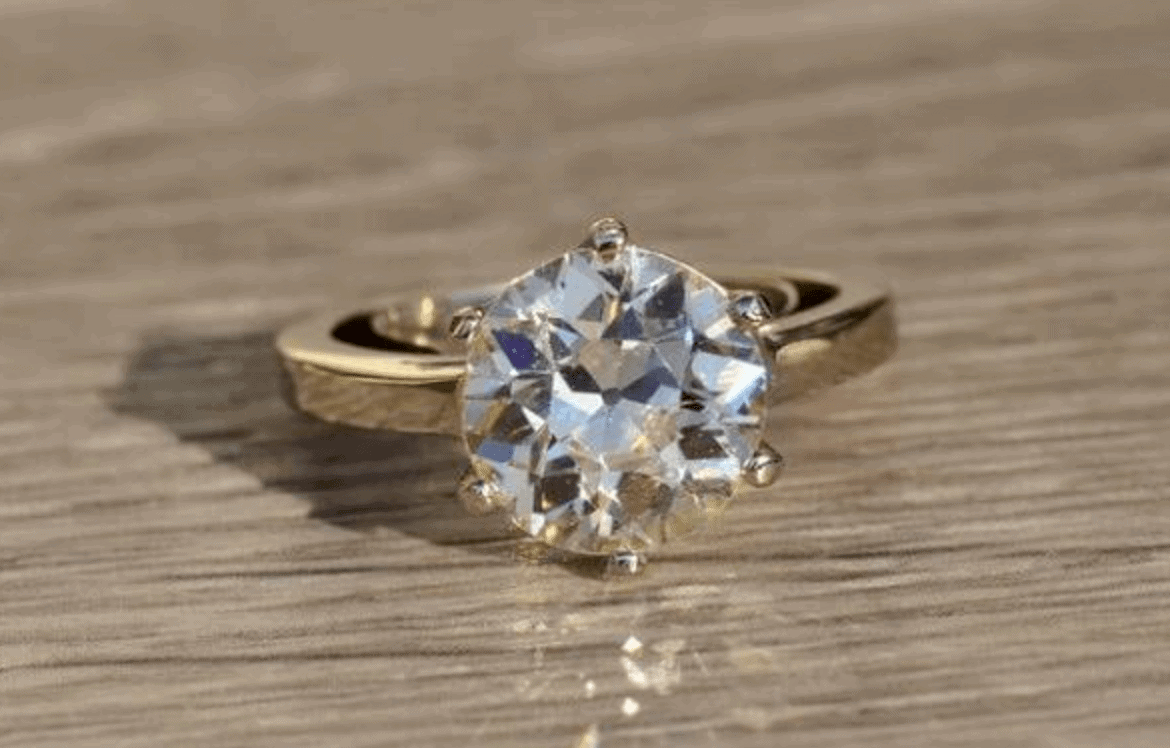 The Velvet Society is a member of the GIA alumni and offers expensive and unique cuts, including this $18K diamond ring.
Featuring a 3-carat cut ding on a six-prong center, the 14K white gold is a beautiful accompaniment to the look. It's also made for comfort, with a spring bar for extra adjustment. While intended to fit a size 5 ½ to 5 ¾, the spring bar design makes resizing easier. Buy Here.
Jessica L Jewelry Platinum Old European Cut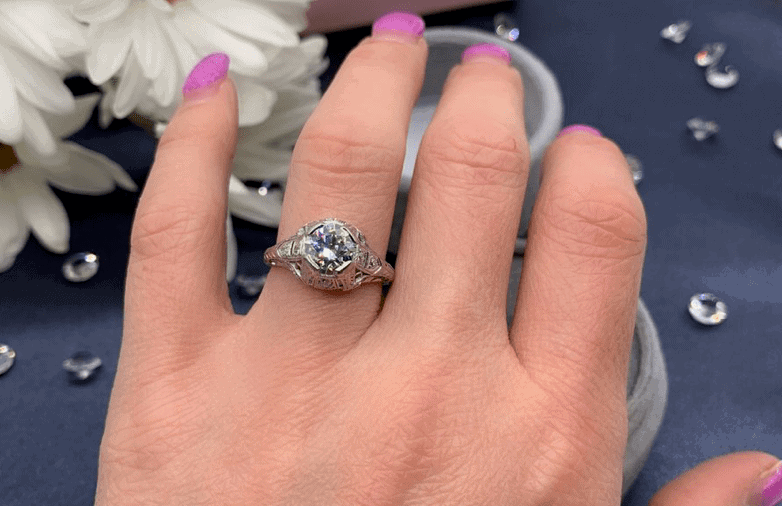 Have a tighter budget? This diamond engagement ring comes in at under $5,000, making it among the most affordable options out there.
Exhibiting an elegant Art Deco style and dated between the 1910s through the 1920s, the diamond weighs in at 1.3 carats with a color of G and a clarity of VS1, as rated by the GIA. Six single cut round accent diamonds weighing in at 0.08 carats. The original size is a ring size of 6.25, but the company offers additional sizing with an added fee. Buy Here.
Yates Jewelers Rory Vintage Ring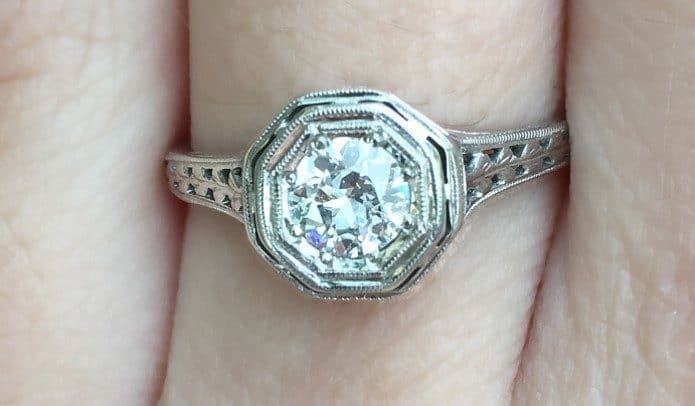 Another old European cut diamond ring that is great for a smaller budget, this ring comes in at under $2,000– a rare find for this cut of the diamond. In the 1930's era, GIA-certified diamond is notably smaller, at .037 carats, but an understated option that is utterly elegant.
The diamond is set on an 18K white gold band with a VS2 clarity level and a J color rating. They also offer flexible payment options, connections with GIA-certified experts, and a 30-day return policy for rings in their original condition. Buy Here.
Greenwich St. Jewelers old European Engagement Ring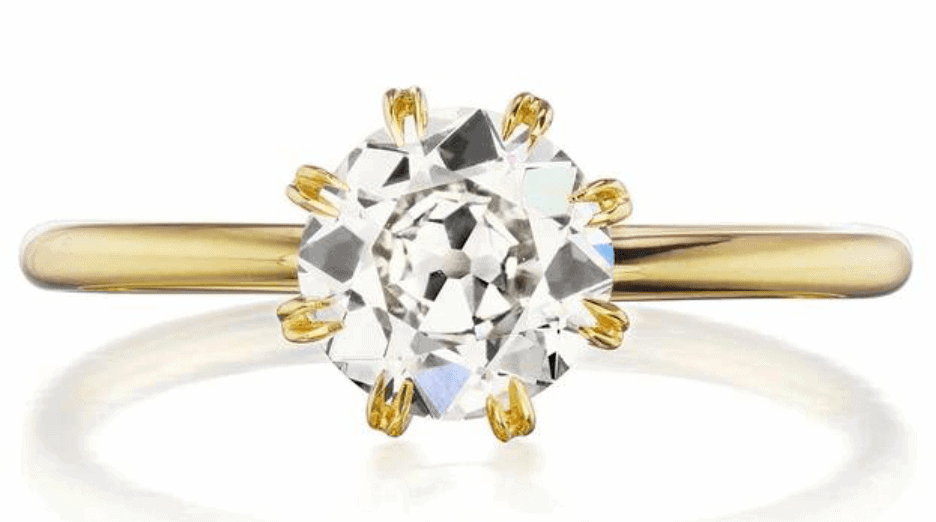 Set on 18K yellow gold, the solitaire ring style is perfect for a classic look with an almost modern appeal crossover. The 1.08-carat old European cut is GIA certified and set on 8 double prongs, set on recycled metal for a more eco-friendly solution. This vintage diamond is a K color and S1 clarity, and original at a size 6, with resizing available. Buy Here.
Earagem 1930's old European Cut Diamond Engagement Ring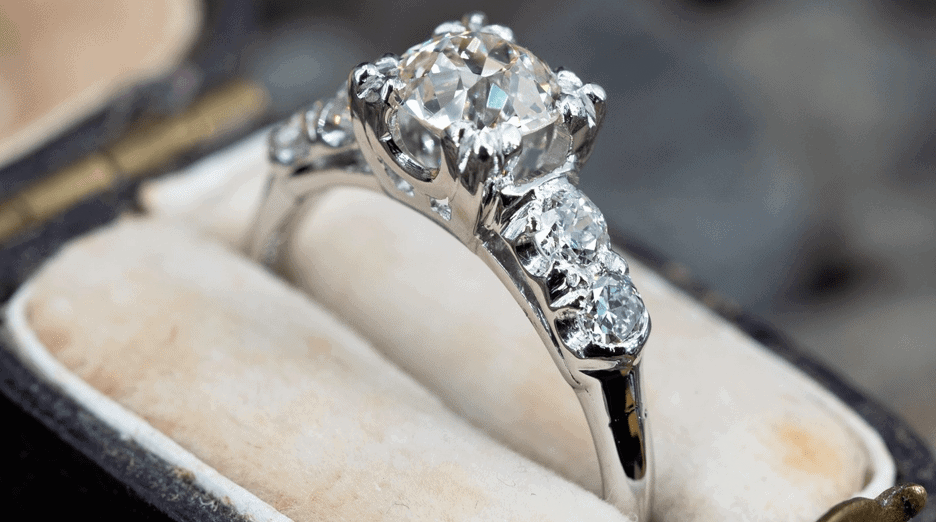 A later era old European cut, dated in the 1930s, this old European cut engagement ring weighs in 0.93 carats, set beside four smaller diamonds. The platinum band is a beautiful compliment, and the accent diamonds on either side add a sense of greater symmetry. It's priced at just under $5,000 and comes with complimentary resizing. Buy Here.
Antique Buttercup Engagement Ring old European Cut Diamond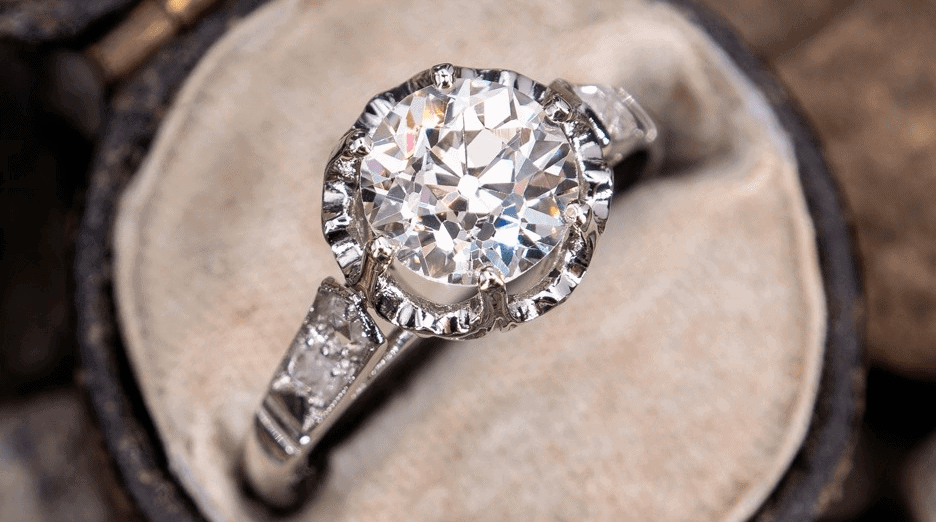 This ring dates back to the 1910s, with a one-carat diamond centered on a six-prong head. GIA certified, the diamond features accent diamonds on either side and it is set on a platinum band.
From the same company as the ring above, I recommend this for someone who wants a truly vintage ring with a bit more glamour be still refined elegance–and someone who is looking to spend around $10K on a ring. This engagement ring also comes with complimentary sizing. Buy Here.
FAQs about the old European diamond cut
Question: What is the difference between old mine cut and old European cut diamonds?
Answer: Technically, the terms old mine cut and old European cut can be used interchangeably. Both feature a number of similarities, but the old mine cut is a bit older. The old European cut is closer to the modern brilliant cut diamond, in terms of a number of facets and tendency towards greater levels of symmetry vs old mine.
Question: Which is the most expensive cut of diamond?
Answer: The most expensive cut of diamond also happens to be the most popular: the round brilliant cut. Known for its ability to reflect light and offer the greatest level of scintillation, it is considered the modern cousin of the old European cut and regularly used for both natural and lab-grown diamonds. Of all the diamond cuts regularly used today, it also has the highest number of facets, for that sparkle and fire in every direction.
Question: Which diamond cut looks biggest?
Answer: Carat size, of course, is the detriment factor but if you want the illusion of a larger diamond, a diamond cut does play a role. Oval cut diamonds tend to appear a bit larger than some cuts due to their elongated shape, whereas fancy cuts like princess or pear may give the illusion of a slightly smaller diamond.
Old European Diamond Cut – Final Thoughts
An old European cut diamond is a truly unique and elegant option for vintage rings. Though you'll have fewer options for variety, this diamond cut can be a way to stand out from the crowd— and could even make for a surprising wedding anniversary gift.