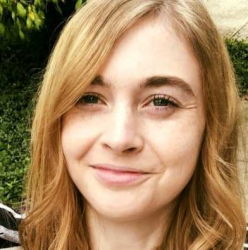 Latest posts by Erin Jamieson
(see all)
If you're like me, you like to analyze your buying decisions, and while that can be a good trait initially, it can also make it incredibly difficult to select something as important as an engagement ring. But for those of you who are torn between an understated setting and the glamor of a halo setting, there's a great middle-ground.
Hidden halo engagement rings give you the best of both worlds: a classic, clean style, with the illusion of a larger gemstone and more sparkle. And Brilliant Earth just so happens to be one of my favorite sources for hidden halo engagement rings that are conflict-free and ethically and sustainably sourced.
After you see these gorgeous ring ideas, you'll see why there's so much to love about the hidden halo engagement ring setting. From modern and sleek to vintage-inspired, these beautiful rings elongate the allure of your ring, all with a radiant effect. Read on for my favorite ideas for this trend.
Bottom Line Up Front Summary: If I had to select just one hidden halo engagement ring from Brilliant Earth, it would be the Pave Wrap Engagement Ring. This diamond engagement ring is fully customizable and features beautiful craftsmanship. The classic solitaire style is elevated with a hidden halo that provides just a touch of sparkle and light.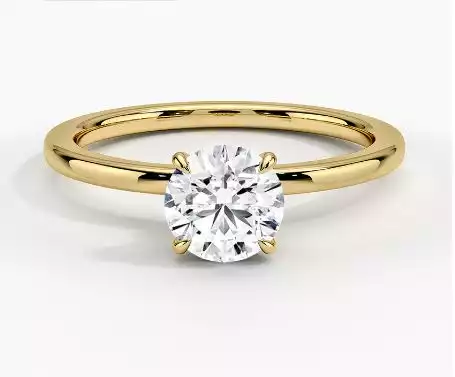 Pavé Wrap Diamond Ring | Secret Halo | Brilliant Earth
This elegant engagement ring features a glittering hidden halo of diamonds that wraps around the center gem while a petite band complements the gallery for a chic look.
Check Price
We earn a commission if you click this link and make a purchase at no additional cost to you.
My Top Picks
How I Selected these Brilliant Earth Rings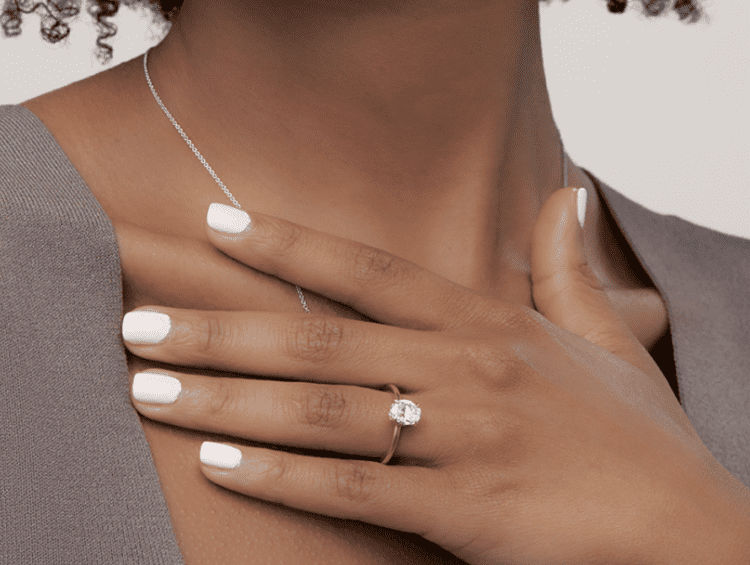 So before I show you my favorite styles, I want to explain the meaning behind them. And if you want to make your ring from scratch, you can also use the Design Your Engagement Ring Tool. This is cool because it allows you to start with a hidden halo setting and visualize different diamonds.
Every Ring is Customizable
These hidden halo engagement rings all have several things in common. They're all available in 18K white gold, yellow gold, and rose gold or platinum. For most rings, I also love that you can choose from nearly every diamond shape. That includes round, princess, oval, cushion, pear, emerald, marquise, Asscher, radiant, and even heart shapes. That means the focus was on the setting, the shank, and overall design.
Every Ring Exhibits Beautiful Craftsmanship
I looked for variety. I included a whisper-thin band, but also a thick-cut band, all crafted for daily wear. The detailing of the shank, careful cuts, and well-constructed settings were all factors. Customer reviews, prong settings, the quality of accent stones, and matching recommendations for bridal sets all went into my selection criteria.
My goal is to provide you with ideas for modern, classic, and vintage-inspired ring settings which showcase the hidden halo in classic but also innovative ways.
Accent Diamonds Are High-Quality
Color and clarity are especially important for a center stone. But they're also important for accents for a hidden halo setting. That's why I made sure I only selected hidden halos that feature diamonds that are colorless or nearly colorless, with very slight inclusions.
Stunning Hidden Halo Engagement Rings You Need to See
Here are my favorite Brilliant Earth hidden engagement rings. Remember that the price– aside from my blue sapphire ring idea– includes only the setting. That means you'll also have to factor in the cost of the center stone of your choice. If you're not sure what diamond cut to pick, here's a helpful Guide to Wedding and Engagement Ring Cuts.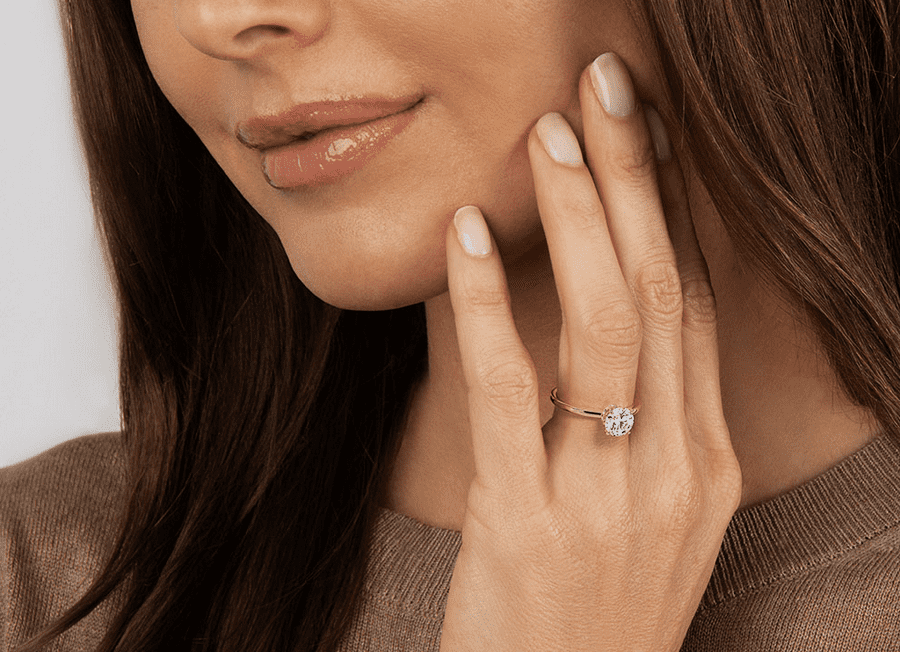 Not all of the best rings are the boldest. Sometimes, it's the subtle details that matter the most. My mother's engagement ring is a simple classic solitaire, yet its beauty holds today. This is true for both style and carat weight. If the craftsmanship is refined, then it's going to stand the test of time.
There's something to be said for a timeless style that's practical and versatile. Brilliant Earth always produces understated rings well, with an eye for touches of craftsmanship that transform simplicity. This hidden halo engagement ring is crafted as a petite, glossy band. The gentle curve of the band pairs with a classic four-prong setting.
Accent diamonds wrap just behind the center for a bit of sparkle that's enchanting but understated. The unique wrap-style to the hidden halo adds a touch of modern elegance that's sure to be beautiful for years to come. Buy Here.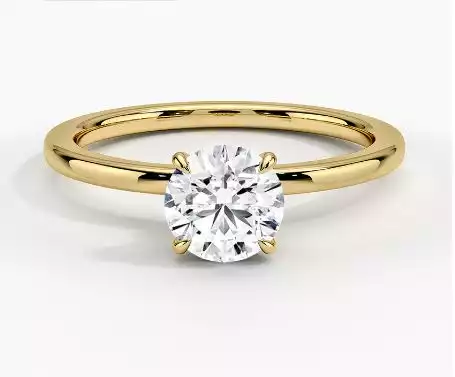 Pavé Wrap Diamond Ring | Secret Halo | Brilliant Earth
This elegant engagement ring features a glittering hidden halo of diamonds that wraps around the center gem while a petite band complements the gallery for a chic look.
Check Price
We earn a commission if you click this link and make a purchase at no additional cost to you.
Pros
Versatile

Elegant and Understated

Easy Care
Cons
Fairly Plain

More Subtle Than Other Styles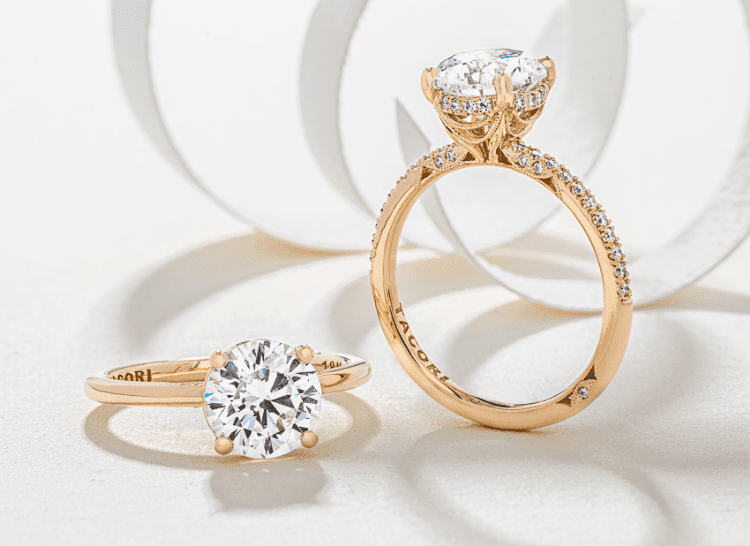 Tacori rings are handcrafted in California, with an eye for creating captivating details that can be seen at every angle. Known for their signature crescent-shaped silhouettes, every ring they produce balances details along the shoulder with modern, clean plays with geometry. Soft detailing, hidden halos, and a touch of glamor are all on show here.
The classic solitaire setting is paired with a hidden halo of sparkle and milgrain details. Not to be confused with filigree, milgrain details consist of small beaded rows for an elegant look. Though this style is found amongst antique rings, there's been an exciting re-emergence of this type of detail– and it pairs beautifully with the soft, inner band of accent diamonds.
What I love about this engagement ring is that it's very subtle, blending vintage and modern styles. In many ways, it shows the story of styles emerging to create something new and beautiful. Buy Here.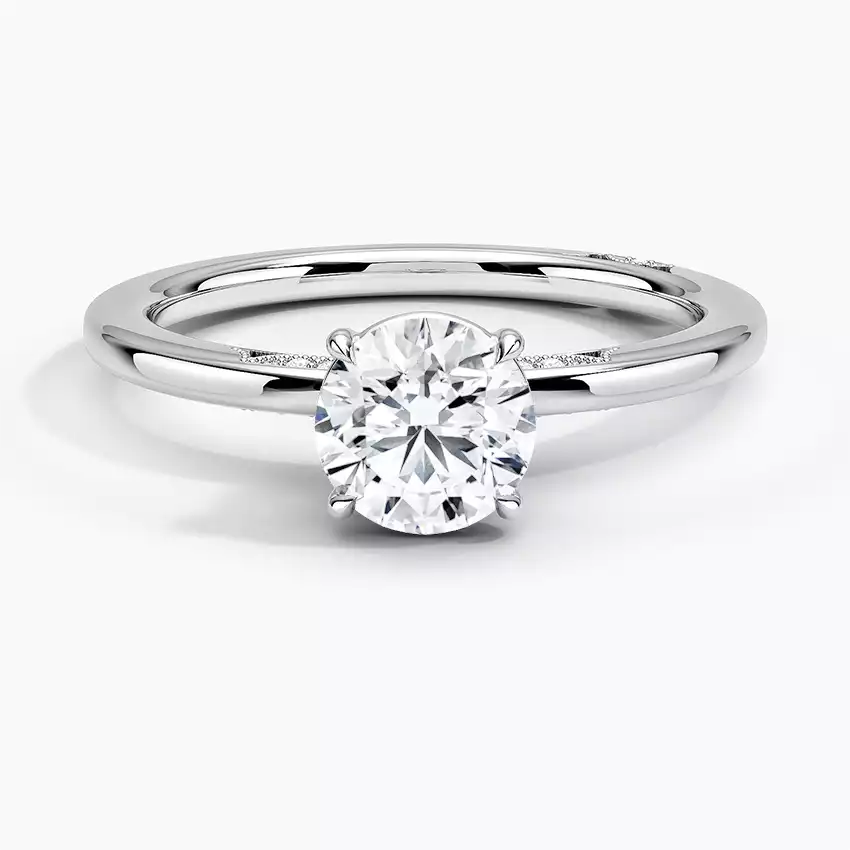 Pros
Miligrain Detail

Play with Modern and Vintage Styles

Classic Solitaire
Cons
Miligrain is Subtle

Sparkle is Subtle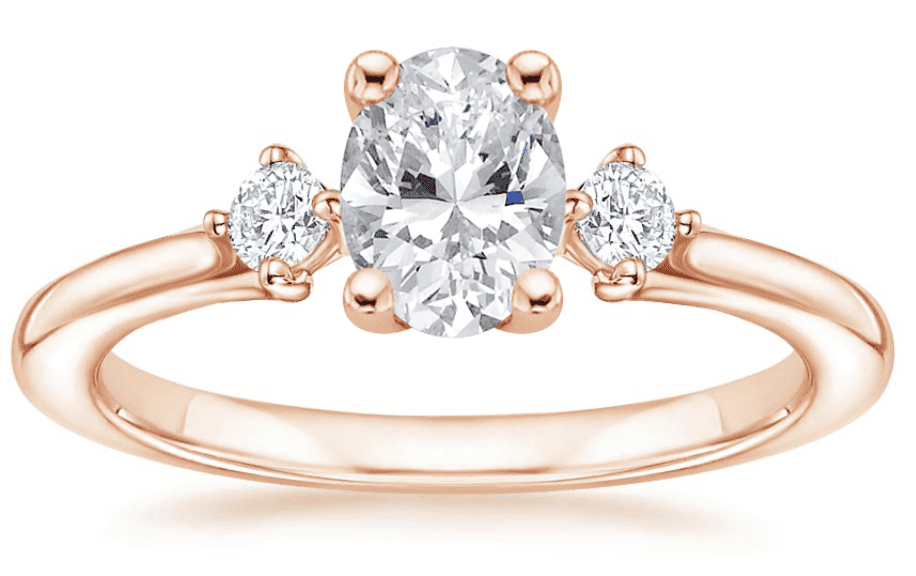 I'm not sure why I've always been drawn to a three-stone engagement ring style. Maybe it's my love for symbolic jewelry. Ever since I inherited some of my relative's jewelry, I've been fascinated by different jewelry styles and meanings. While there's nothing wrong with buying an engagement ring based purely on aesthetics and comfort, buying a ring with meaning can be truly special.
Three stone engagement rings gained popularity in the early 2000s, so they don't have as long of a history, but they are meaningful. The three-stone design represents love, a close bond, and also the connection between the past, present, and future. This means that a relationship is strong across time.
And as someone like myself who is religious, it has even more meanings. Here, the iconic three-stone silhouette is given a glow-up with an open gallery. By opting for an open gallery, more light hits both the floating diamond and the hidden halo underneath. The effect is ethereal and enchanting. Buy Here.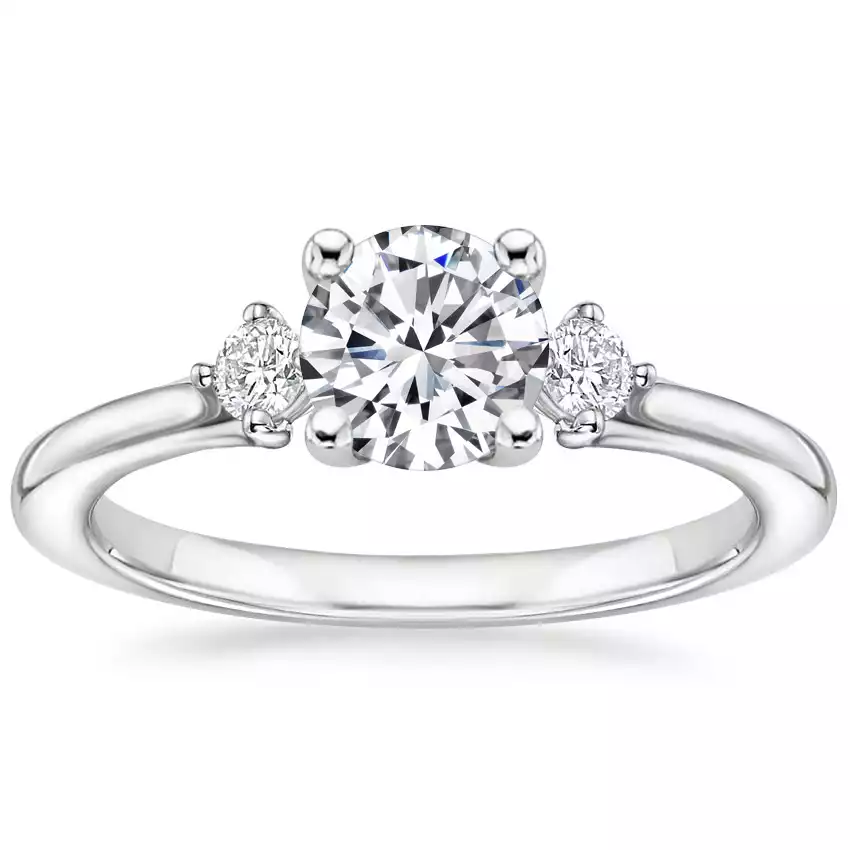 Pros
Meaningful Three Stone Setting

Open Gallery

Ethereal
Cons
Easier to Dislodge

Tricky to Clean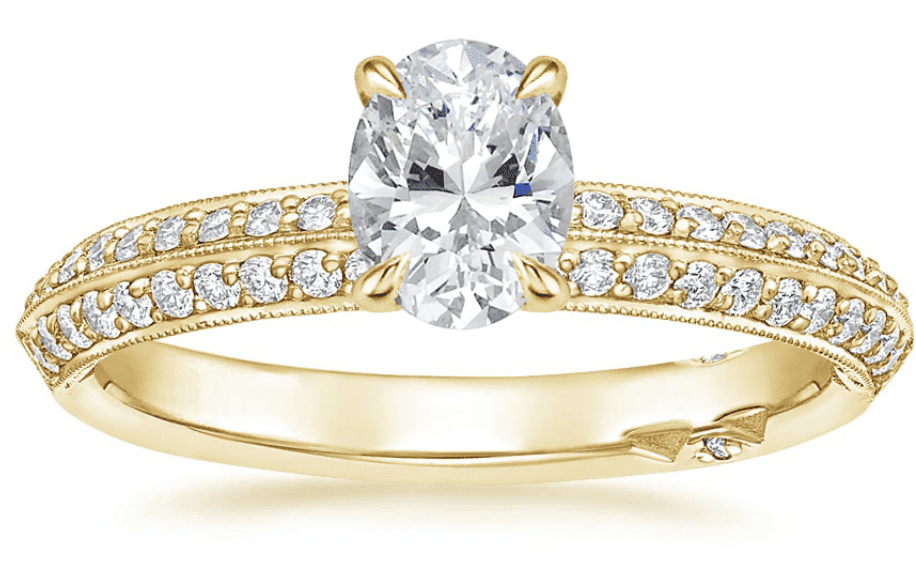 I have a perhaps unpopular opinion about engagement rings. So many pay attention to the center stone- without ever exploring what a difference a distinct shank style can make. Don't get me wrong: the diamond or center gemstone is very important. But sometimes it's good to explore different shank styles, too.
Knife-edge shanks are a modern take of a plain band, with a sharper edge. The angles provide the illusion of a larger center stone while adding a slightly edging but elegant detail. This ring pairs a modern knife edge with Tacori's classic sculpted crescent.
This all pairs with twin rows of accent diamonds for dazzling allure. But it's the hidden halo along with the inner band that adds the final wow factor. Buy Here.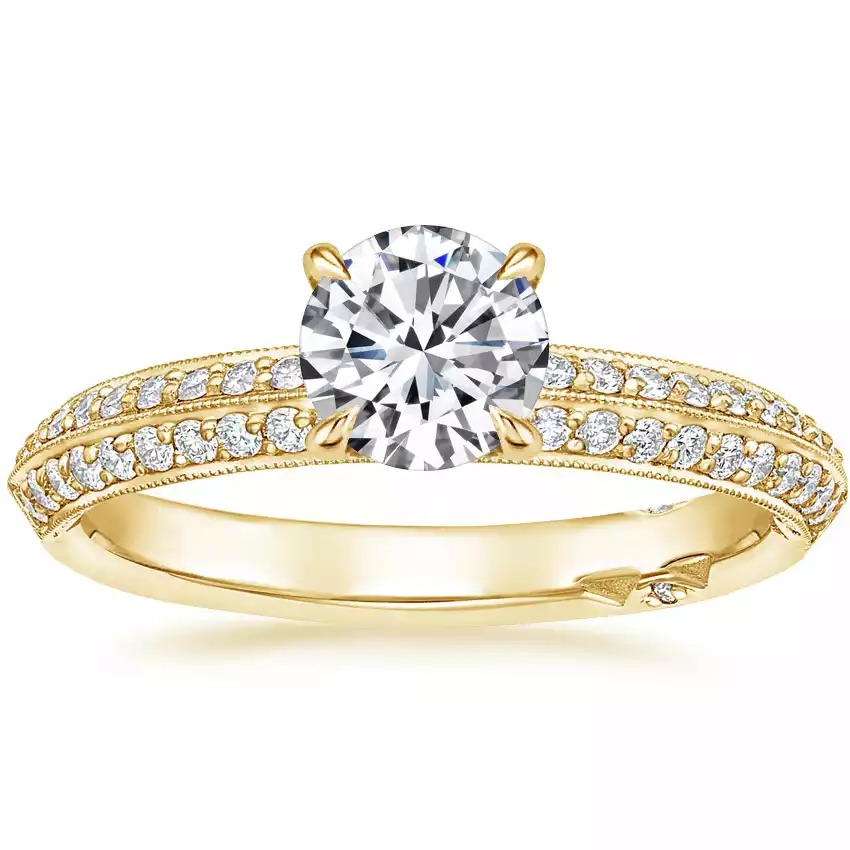 Pros
The illusion of Larger Diamond

Bands of Accent Diamonds

Sleek Knife Edge
Cons
Knife Edge is Easier to Damage

Some find Knife Edges Less Comfortable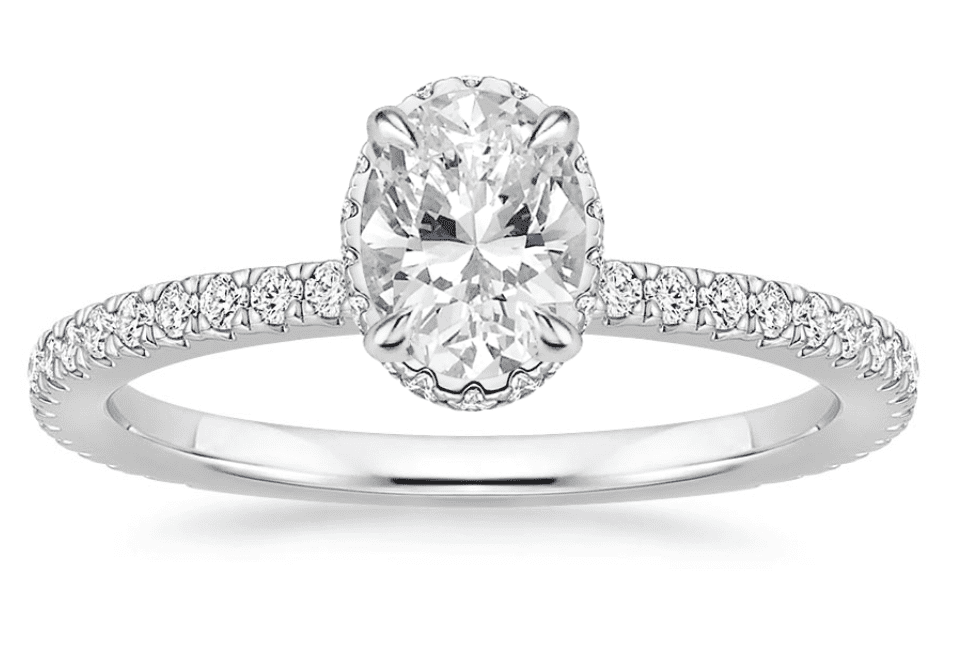 A year before I graduated with my MFA, my university held a gala for the second time, and I was lucky enough to attend. I found a used dress from a thrift store, threw a coat over it, and made the long walk across campus to the conference center, where the event was being held. While it was comparatively understated to a charity event, it's a memory that stays with me.
The elegance of the event alone was remarkable, and this ring does remind me of both the meaningful experience and the touches of stunning elegance. The Gala diamond engagement ring from Brilliant Earth features an elegant, petite band. The craftsmanship is classic, drawing attention to the slender band of beautiful round diamonds.
Not one, but two bands of accent diamonds provide the double hidden halo setting, for a total of ⅖ carats. The effect is stunning, with an excellent play of brilliance from every angle. Buy Here.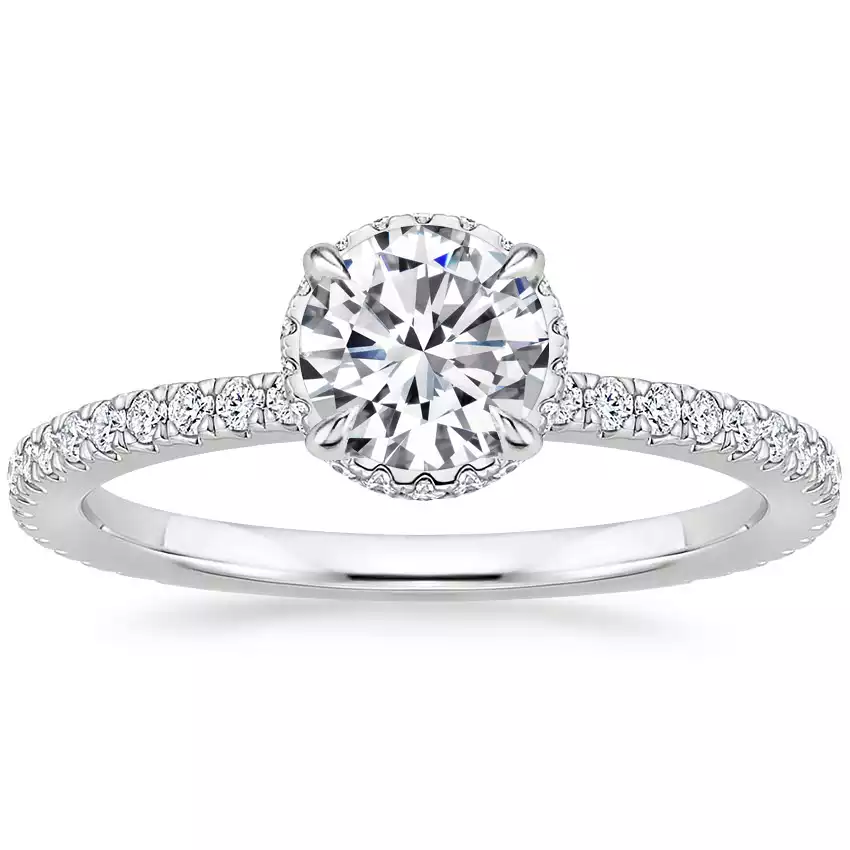 Pros
Double Hidden Halo

Sparkle from Every Angle

Petite and Practical
Cons
More Expensive

Harder to Clean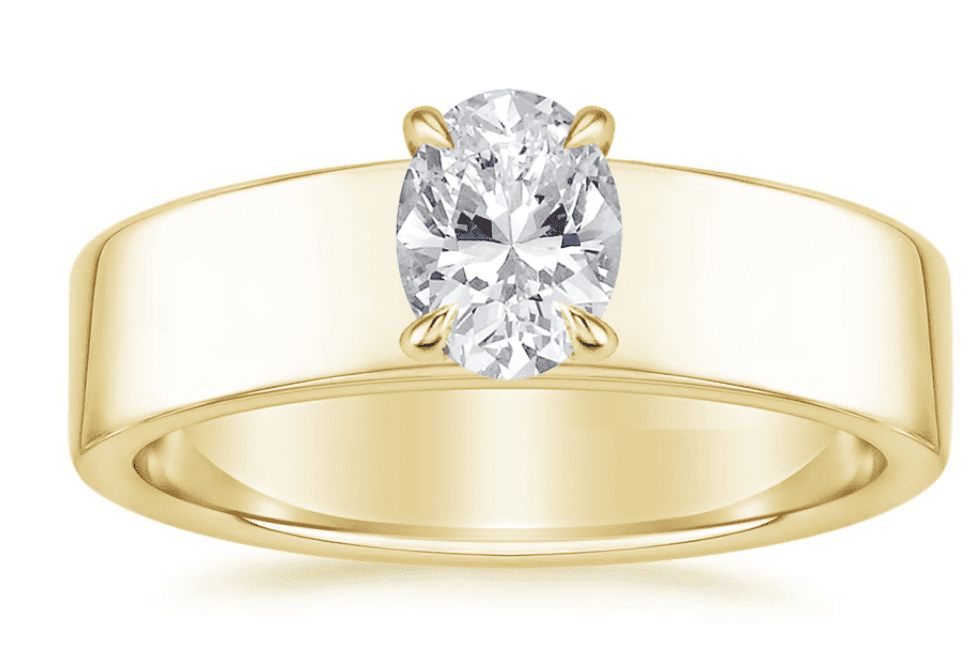 While I love the elegance of a slim band for an engagement ring, there's something to be said for going more maximalist. Something I love about engagement rings is that there's no longer one right style or a set of rules. The advantage of a thicker band is that it's less fragile and it sometimes can be more comfortable. In the case of this Brilliant Earth ring, that's the case.
The generous shank is designed for comfort, with sleek, smooth construction that beautifully highlights the glossy gold. A hidden halo of diamonds sits around the gallery, providing sparkle and a light effect to balance the thicker band. This ring displays how a hidden halo can be used to balance airy and bigger statements. Buy Here.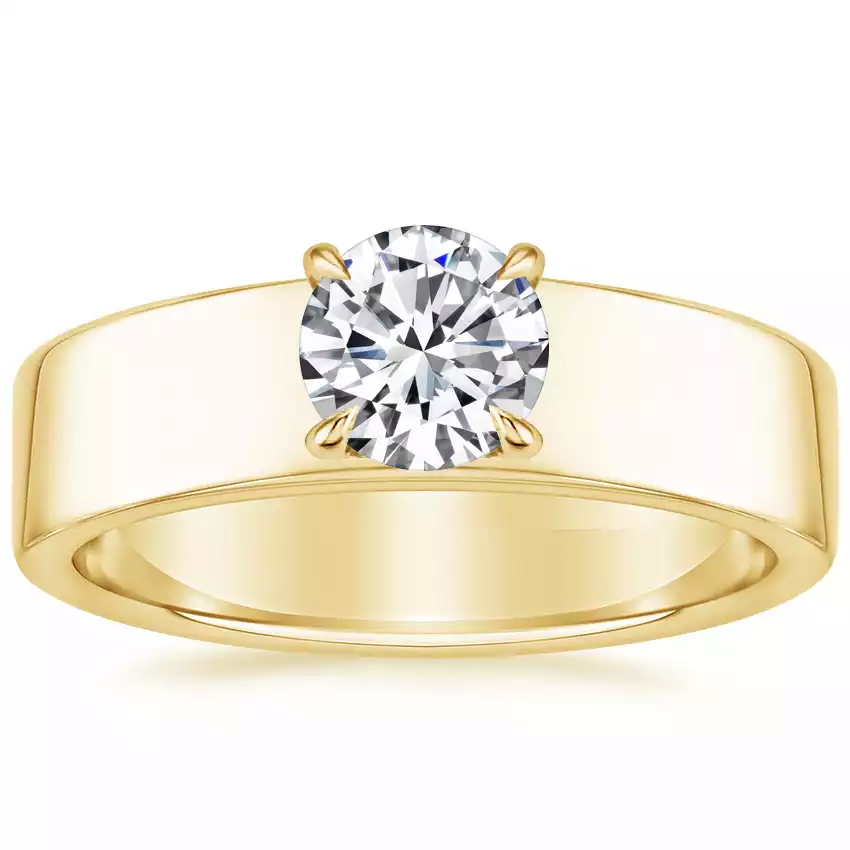 Alden Diamond Engagement Ring | Brilliant Earth
A shimmering hidden halo of diamonds wraps the gallery in an aura of light while a thick, comfortable band adds a unique flair to this eye-catching design.
Check Price
We earn a commission if you click this link and make a purchase at no additional cost to you.
Pros
Comfort Band

Unique Shank

Subtle Sparkle
Cons
May Not Suit Petite Fingers

Slightly Heavier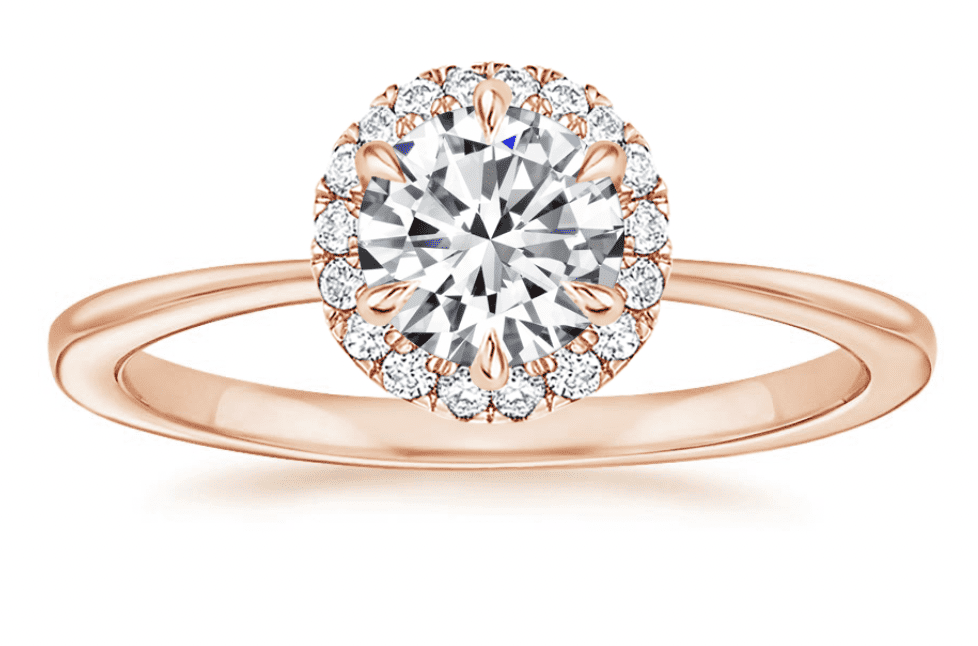 Adelaide is a dazzling city in Australia, known for its array of signature dishes, lively festivals, and gorgeous wine regions. In many ways, this Brilliant Earth hidden halo diamond ring captures the spirit of that city with stunning craftsmanship. Energy radiates with a halo of diamonds wrapping around the center diamond.
Light shimmers along with the band, but also from within. Dazzling light is given dimension, as a hidden halo is situated inside of the tapered band. While this ring is immediately radiant, it's only all that much more because of the hidden halo. It's spectacular at first glance, but multidimensional the longer you look. Buy Here.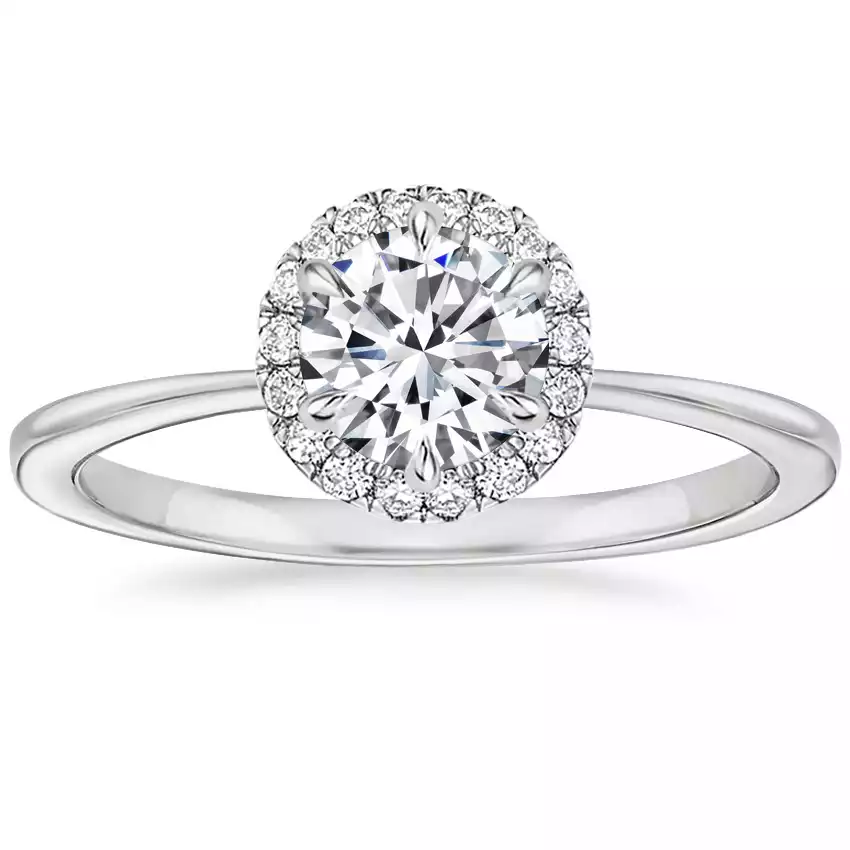 Pros
Elegant Tapered Shank

Bold Halo with Hidden Halo

Subtle and Vibrant Sparkle
Cons
Only Round Cut

14K, not 18K Gold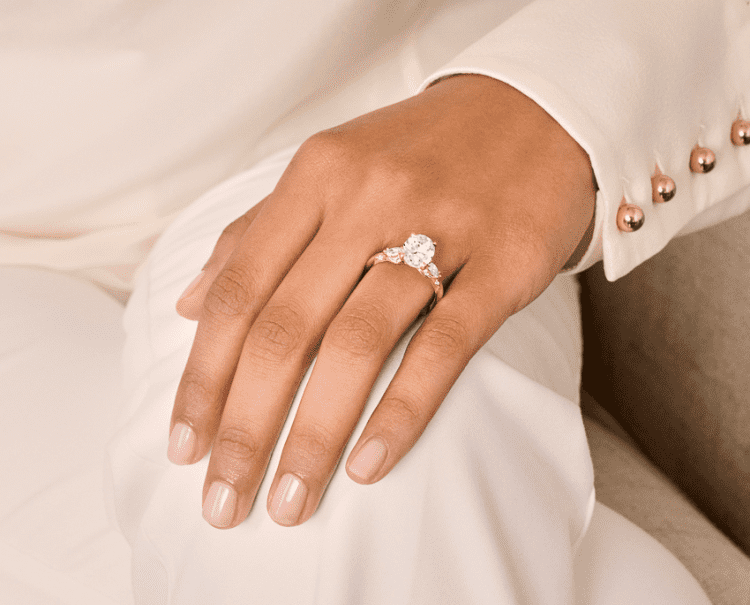 Marquise diamonds deserve more attention. They may not be as brilliant as round cuts, but they are more affordable, still beautiful, and add vintage appeal. As side stones, they add geometry and an artistic touch.
What I love about this hidden halo diamond engagement ring from Brilliant Earth is that it balances vintage and modern touches, in a way unique even for Tacori. Since it's from the Simply Tacori line, clean lines and the classic but modernized crescent silhouette are emphasized.
The three-stone diamond setting is exquisite, with marquise diamonds flanking either side. That's given even more allure with milgrain details along the cathedral-style shoulders. Elevating the look further is the soft halo of hidden diamond accents just behind the gallery. This makes the marquise accents diamonds sparkle all that much more, and completes the elegant but unique design. Buy Here.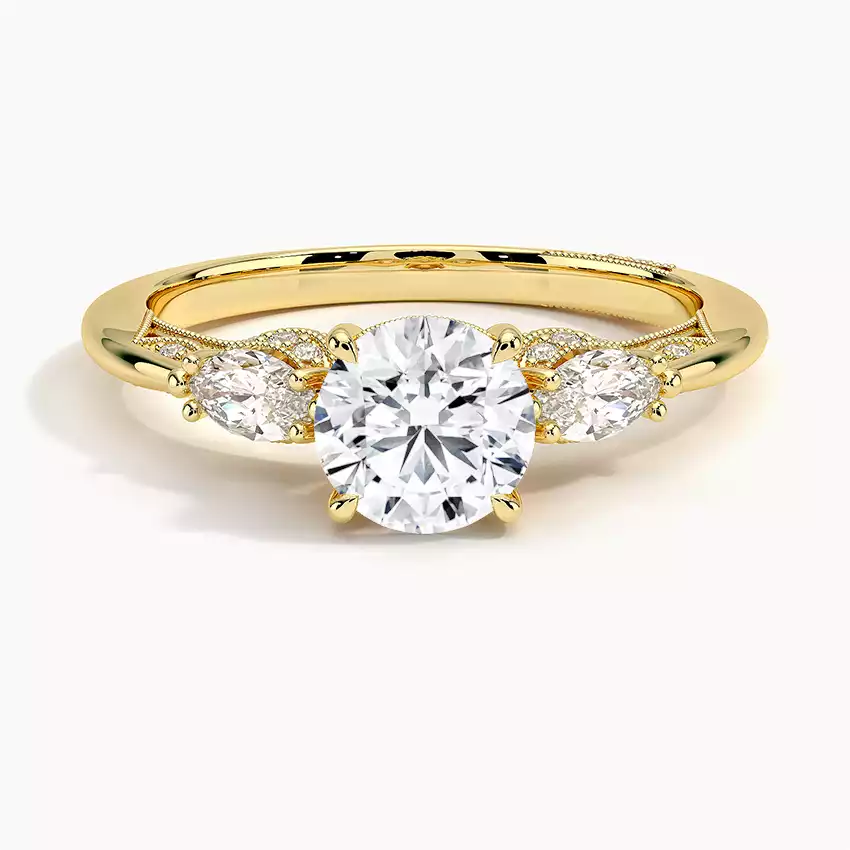 Pros
Modern and Vintage Details

Cathedral Shoulder

Unique Marquise Diamonds
Cons
Harder to Match

Tricky to Clean
Aquamarine is my main birthstone, but I've always loved sapphires most. It's not just the saturated, enchanting blue hue, either. If you're looking for an alternative to a diamond for a center stone that adds color, sapphires are one of the best diamond alternatives. Beyond providing a timeless look, sapphires are fairly durable, with a Mohs hardness rating of 9, just below the 10 scores for diamonds.
This striking sapphire engagement ring presents with a slender, polished band. Sparkling accent diamonds adorn the exterior band. Meanwhile, a hidden halo of diamonds adds sparkle and light from the inner band. The effect is modern and elegant, but with timeless appeal. Buy Here.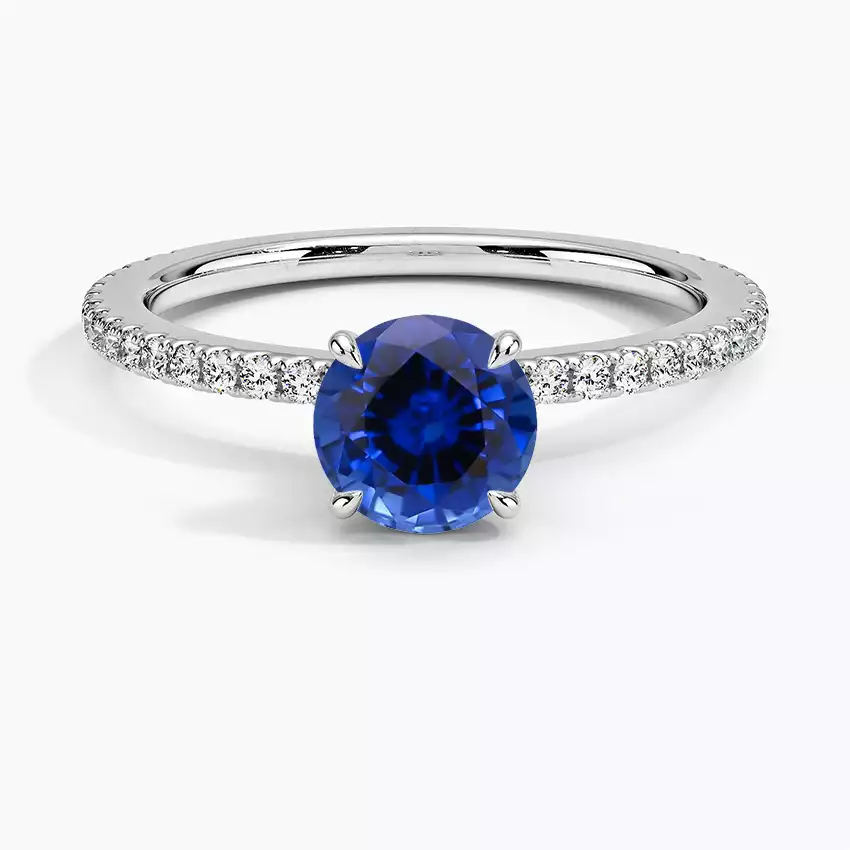 Pros
Beautiful Alternative Stone

Petite Band

Sparkling Interior and Exterior Halo
Cons
Only Round, Cushion, and Oval Cuts

Sapphire is Treated
Frequently Asked Questions
Question: Does a Hidden Halo Make a Ring Look Bigger? 
Answer: Hidden halo settings are a simply clever way to get more out of your center stone. If you love the illusion of a larger carat but prefer a more subtle style vs halo rings, demi or hidden halo rings are the best options. Because the halo is beneath the stone, it's not immediately as noticeable. Yet it still serves a similar purpose, framing your gemstone.
The additional sparkle adds dimension, no matter the carat weight. But, at the same time, it's good for keeping a classic, slightly more understated look. 
Question: Does a Hidden Halo Add Sparkle?
Answer: Of course, aside from adding the illusion of a larger gemstone, a hidden halo setting also adds exquisite sparkle. It does so in a subtle but brilliant way, with accent stones sparkling directly underneath.
While you may not notice the hidden halo at first, the gorgeous effect provides sparkle from many angles. So, a hidden halo setting acts as a halo setting would, just from a slightly different angle and without the outward, immediately recognizable design. 
Question: Should I add a halo to my engagement ring?
Answer: While it's ideal to buy a halo setting for a ring at first, I do understand changing your mind. In some–but not all- rings you can add a halo setting. That said, I'd never take this on lightly, and I recommend only ever going to a reputable jewelry store. It's one of the most popular additions to engagement rings to spice up the style, according to the Gemological Institute of America (GIA).
This is mostly done for simple solitaire rings with a simple band setting– and diamonds are the best, as some gemstones may not do well with altering. It's an expensive set to add, but it can elevate your ring by adding sparkle and providing the illusion of a larger gemstone. 
Question: How do You Clean a Hidden Halo Engagement Ring?
Answer: I admit that, while I've always found the hidden halo setting an elegant option for engagement rings, the idea of cleaning this style of ring intimidated me. Luckily, it's not too different from other ring settings. You'll still want to use warm water and a professional jewelry cleaner or very mild dish soap.
To clean under the grooves, a soft toothbrush does the trick. Just make sure you dry your ring and aren't too rough with the bristle. You're very unlikely to hurt the diamond itself, but you could make the setting lose. When it doubt, take it to a professional and ask for cleaning tips. 
Final Thoughts
Neither halo nor hidden halo engagement rings are tacky. Some don't like the extra sparkle– and that's perfectly fine. But hidden and halo settings can be truly beautiful. If you're worried, modest carat size and opting for a hidden vs regular halo setting can provide a both more subtle and more versatile look. But halo and hidden halo settings remain among the most popular styles– and this selection of gorgeous hidden halo rings from Brilliant Earth shows just how elegant they can be.
I love Brilliant Earth's collection of hidden halo engagement rings, but, if you want to compare, there are several other places you can look. For handmade, unique hidden halo engagement rings, you can try Etsy's Collection. For a traditional shopping experience, consider Jared Jewelers or James Allen.
Tiffany & Co has a few designers' hidden halo rings, while Blue Nile, like Brilliant Earth, offers online service with ethical gemstones. There are affordable hidden halo rings elsewhere, such as Amazon, but for a setting like this that requires precision, stick with a professional jeweler.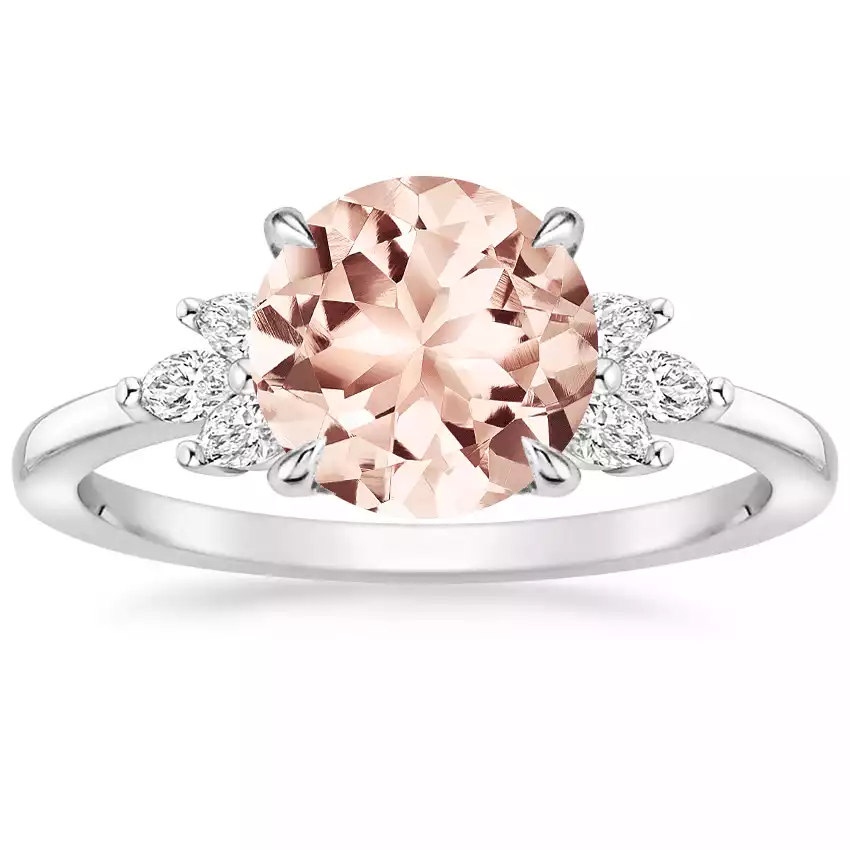 Further Reading on Diamond Retailers