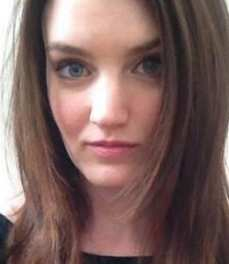 Latest posts by Crystal Schwanke
(see all)
I've looked at a lot of wedding jewelry throughout my life and career, and I'd personally be considering an oval moissanite engagement ring if I were hoping to get married soon. These stones are brilliant and there are all kinds of settings that hold them. The oval shape is a classic that looks beautiful in such a variety of ring styles.
Oval Moissanite Engagement Rings –

Bottom Line Up Front
Long story short: If you're looking at diamond alternatives for your engagement ring, moissanite is the way to go. The stones look the same to the naked eye, but you'll spend less.
The moissanite will sparkle for decades to come, and an oval-shaped stone is a classic that'll never go out of style. You can get oval moissanite engagement rings in sterling silver, white gold, yellow gold, rose gold, platinum, etc. No matter what your preference is, you can find it.
As for color grades, moissanite comes in colorless (D, E, or F), almost colorless (G, H, or I), and yellow-tinted (J or K), so you'll have some flexibility in price based on what you prefer. Colorless is generally considered the ideal, but they'll all look beautiful. Inclusions you can see aren't an issue with moissanite.
Best Online Moissanite Retailer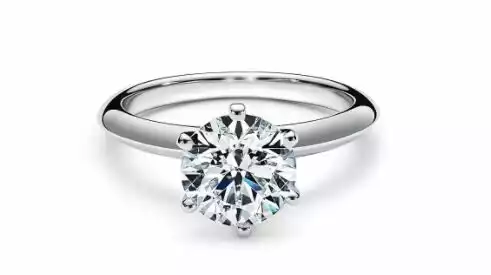 Oval Moissanite Engagement Ring Selection Criteria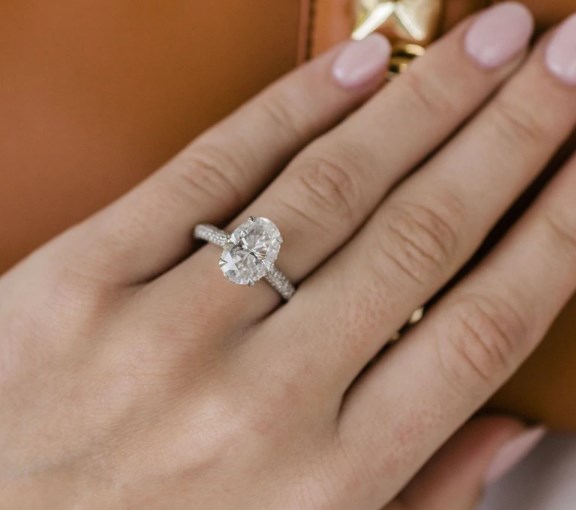 How did I decide which oval moissanite engagement rings to share here?
The beauty of the designs. I chose a variety of styles, so there's (hopefully) something for everyone. Some will look more like natural diamonds than others. Still, not everyone wants their moissanite to pass as a diamond. Some just want a stunning engagement ring. I didn't want to exclude options that were just beautiful stones on their own, without taking diamonds into account at all.
What didn't factor in? Since these are just suggested styles, I did not worry about whether they'll come with a certificate, the price, or the color grade. You might miss out on some gorgeous options in that case!
There are rings here that you can click on and purchase from a site on the spot, but the rings featured here are mostly to show you what's possible. You'll get ideas for what you like or don't like. Of course, there's still a chance that your perfect ring will be on this list, and that will make shopping a breeze.
What to Consider While Shopping for an Oval Moissanite Engagement Ring
You can't really go wrong with a moissanite engagement ring. They're more affordable and less controversial since they're made in a lab, but they're just as beautiful and free of inclusions you can see with the naked eye. Here are some things to keep in mind as you shop, though:
Balance Budget and Size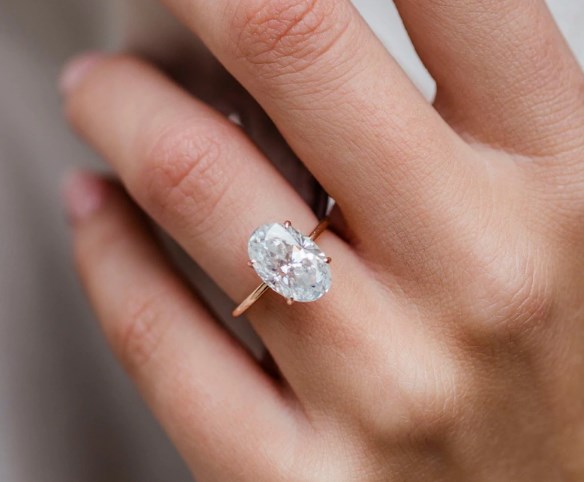 You'll be able to get a bigger stone with less money if you go with moissanite. Still, if you want your engagement ring to pass as a diamond, it may be best not to go too large unless there's a story about winning the lottery to accompany it. If there's no desire to have it masquerade as a diamond, however, go with as many carats as you'd like.
Pay Attention to the Metal
Moissanite can be set in everything from sterling silver to platinum. You can get rose, yellow, or white gold settings. What you don't want to do, if you can help it, is choose plated jewelry. Read the descriptions carefully. Choosing solid gold over plated will keep the ring looking new.
Do You Plan to Upgrade in Several Years?
Some people like to wear their first engagement ring forever. In contrast, others are fine–thrilled even–with the idea of upgrading periodically.
Suppose you and your significant other are more in the "same ring forever" camp. In that case, you'll want to consider simpler, timeless styles that will never look outdated.
If you're both excited about the prospect of a new ring in several years, something a little more "right now" or flashier might be more your speed.
What Is Most Important?
What is more important, a colorless stone or the size of the stone? You can't go wrong either way, but knowing what you're looking for will help you find a ring with a center stone in your price range.
Maybe the mantra is "the bigger, the better," and you choose a more significant, almost colorless stone.
Want the clearest stone possible? You can choose a smaller center stone (don't worry, it won't have to be tiny) and a higher color grade.
Do You Need a Matching Set?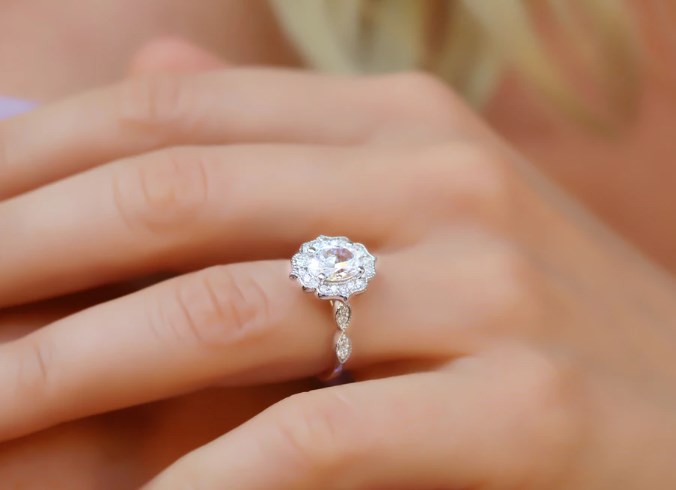 Matching sets may be the way to go depending on the styles you like and your willingness to keep the shopping experience going after choosing the engagement ring. This takes the frustration out of shopping for a wedding band later when your engagement ring has anything but a modest-sized stone and a simple band.
17 Stunning Oval Moissanite Engagement Ring Ideas
Here are some of the most beautiful examples of oval moissanite engagement rings I've found so far:
Oval Cut Moissanite Engagement Ring with Hidden Halo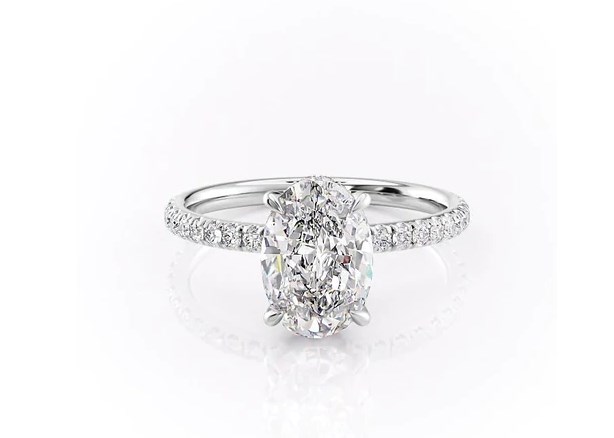 I love this one because of the hide-and-seek aspect of that hidden halo of diamonds under the center stone. It's like carrying around a little secret.
The Oval Cut Moissanite Engagement Ring, Hidden Halo from Flawless Moissanite is available with a center stone from .75-carat to five carats. You can choose more moissanites as your side stones or opt for diamonds. This timeless ring design is available in white, gold, and rose gold, as well as platinum.
2-Carat Oval Engagement Ring from Keyzar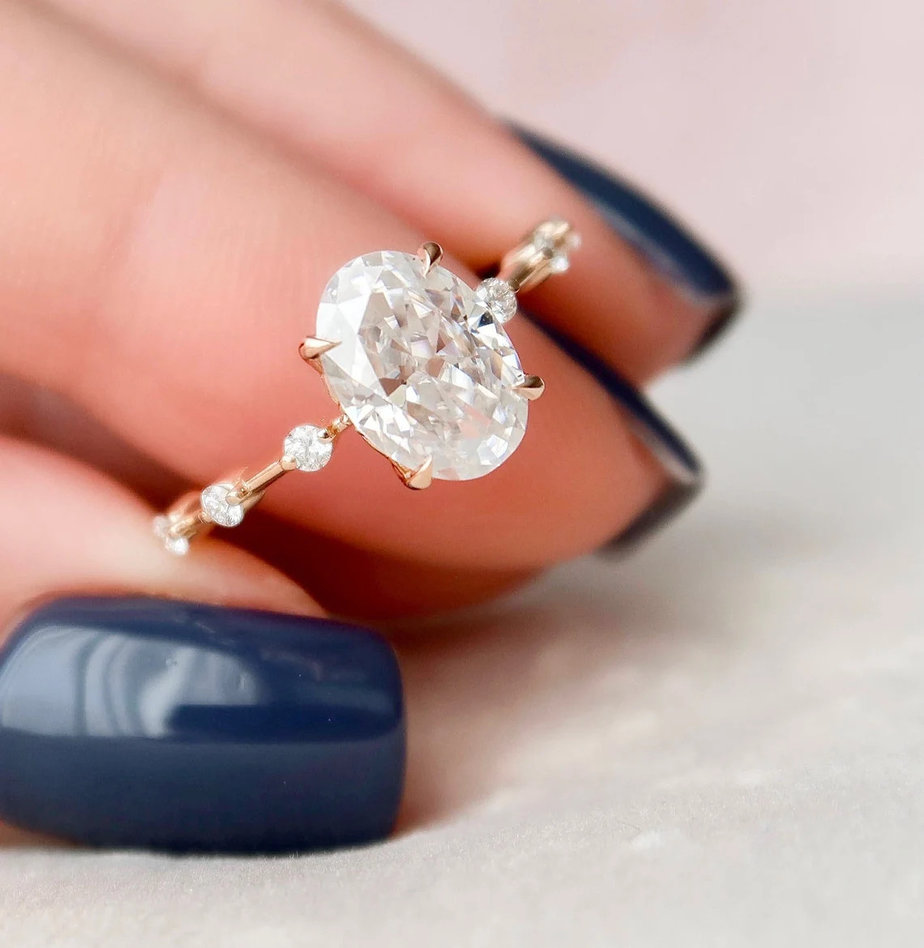 This one made the list because of its interesting band. It's as if the metal is interrupted by tiny diamonds. At first glance, they seem less decorative and more a part of the band itself.
For something dainty and unusual, there's the 2-Carat Oval Engagement Ring from Keyzar on Etsy. Choose from yellow, rose, or white gold, or go all out and get platinum. These are made to order and can be personalized.
My love for this one is based on personal experience. Sometimes, finding the perfect band for your engagement ring is quite an exhausting feat when you're left to your own devices and need to hop from store to store, trying on countless bands that just aren't quite right.
A matching set makes things easy. GigiRingDesign on Etsy takes that hassle off your plate with the Oval Moissanite Engagement Ring Set. The engagement ring design might seem simple enough at first glance, but trying to find the right band could prove challenging, but this art deco set takes the guesswork out of it for you.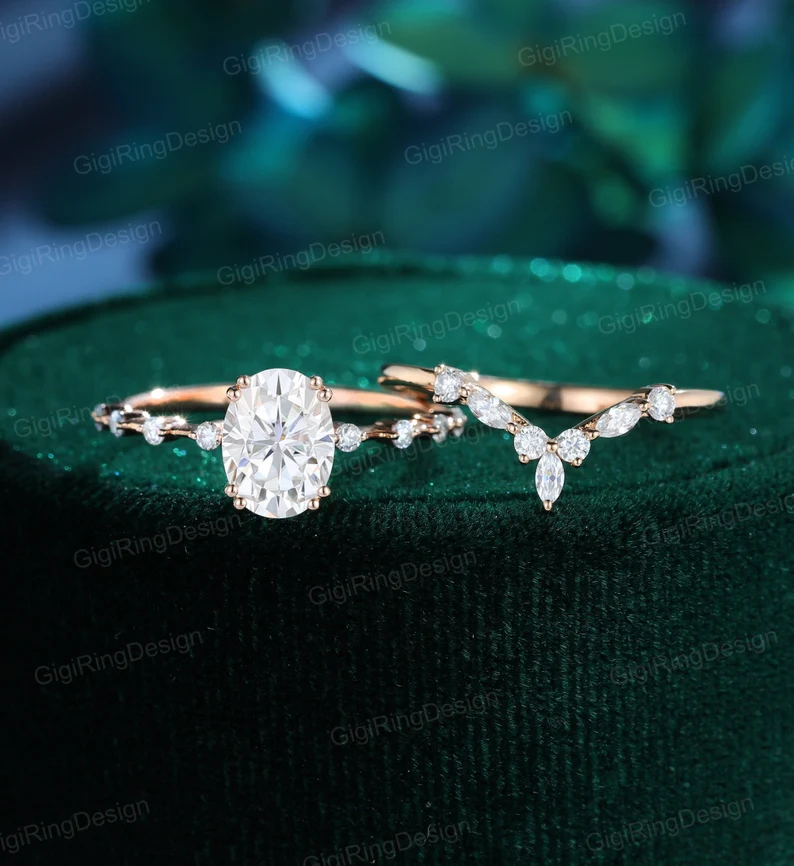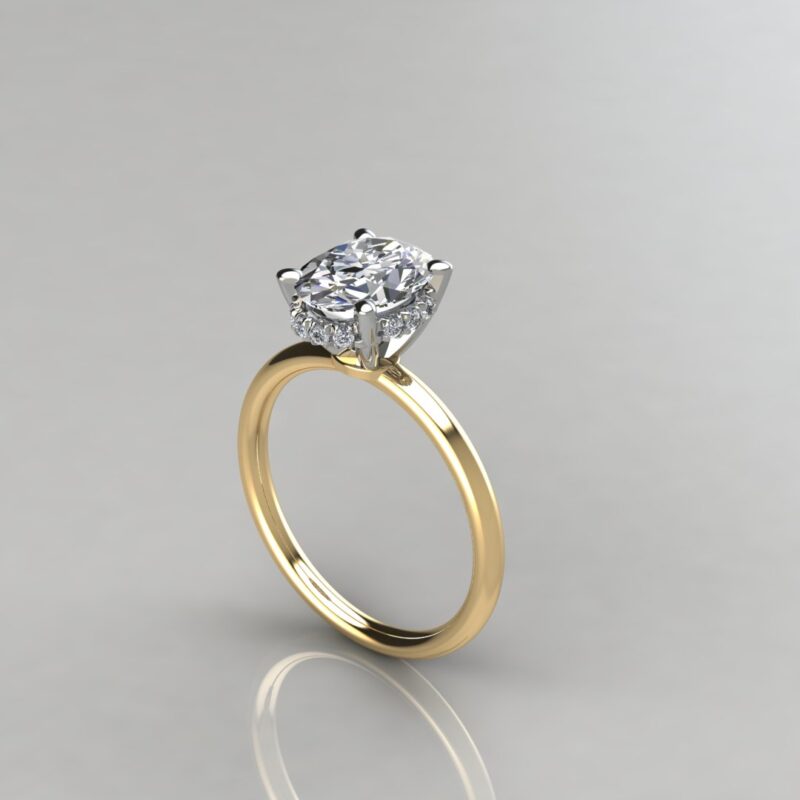 I love how simple this ring is! The band is simple and dainty. It really leaves all of the attention on the stone! Plus, I love how Forever Moissanite added to the side stones onto this ring. To me, the 14 small side stones (which add 0.10 carat to the ring) look like small little bubbles. I love this ring!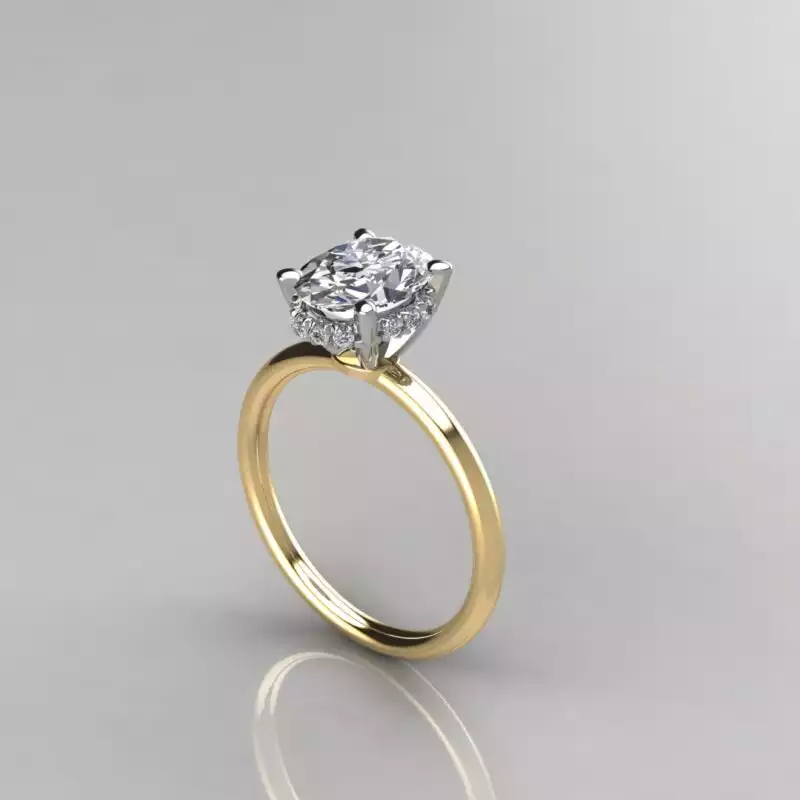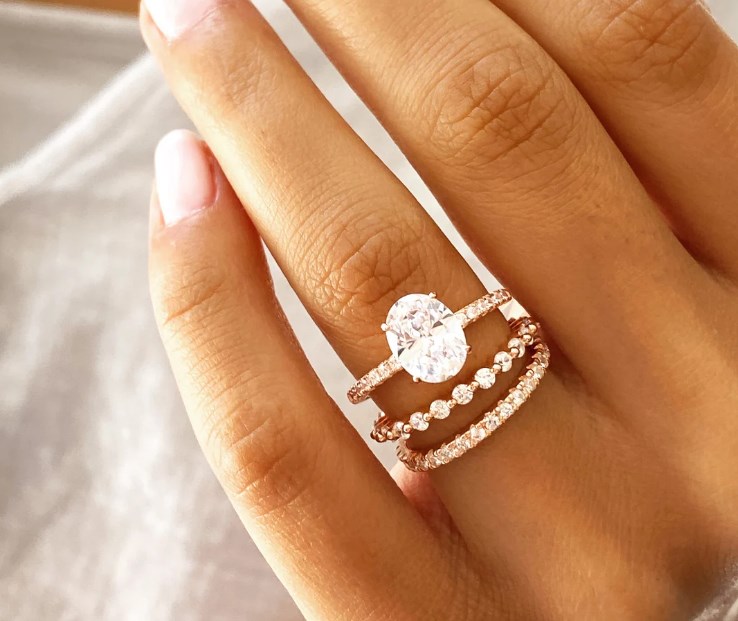 Speaking of sets, this 4.0 CTW Oval Wedding Ring Set from Jadorelli has three rings instead of just two. I love how, even stacked, they still look so delicate. You could choose to wear only one band, both bands without the engagement ring, or the whole set, depending on what your day calls for. This set is available in silver with rose gold or rhodium plating.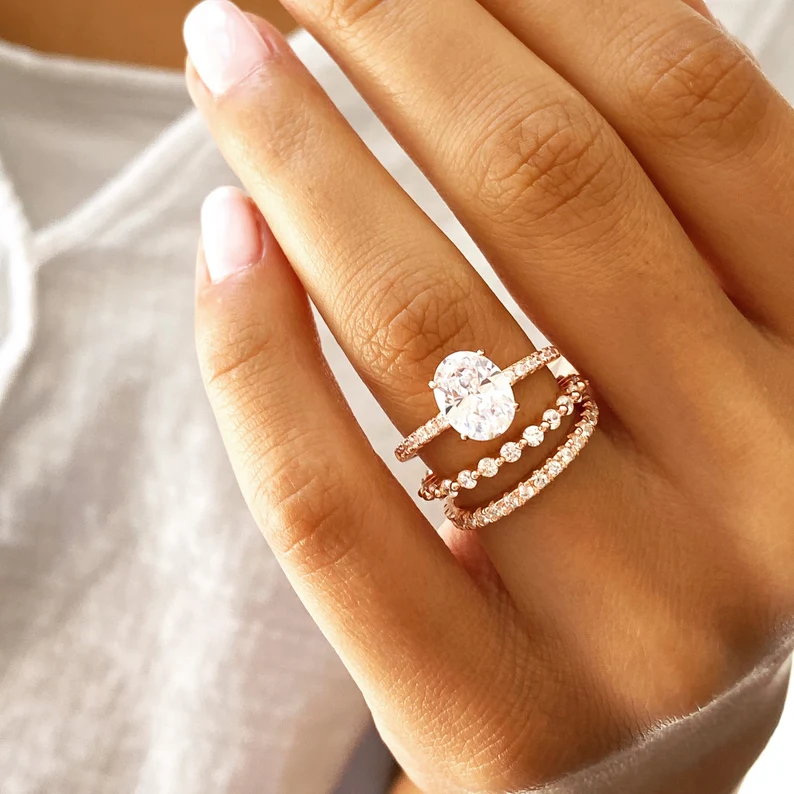 4.0 Ctw Oval Wedding Ring Set | Etsy
We use the finest quality materials in the industry to create each Jadorelli piece so that your jewelry can be treasured for many years.
Check Price
We earn a commission if you click this link and make a purchase at no additional cost to you.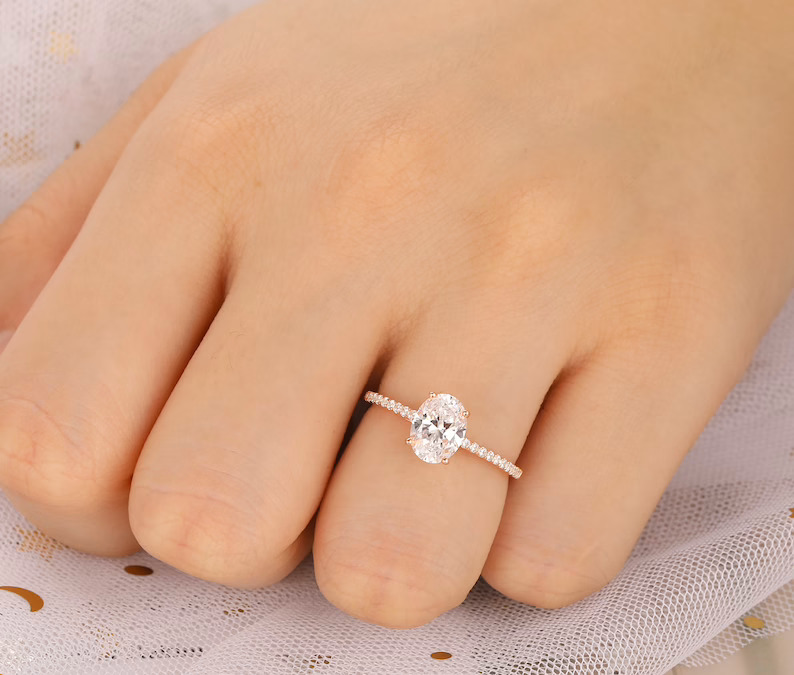 This one caught my eye because it's a relatively simple style that exudes immense beauty and looks like it could last lifetimes without ever falling out of style. Classic, sophisticated, and no-frills–but still with more sparkle than a simple solitaire–this Oval Moissanite 1.5 Carat Ring from DenverStudio on Etsy can definitely withstand shifts in fashion preferences and the ever-changing trends of decades to come. Get it in rose, yellow, or white gold.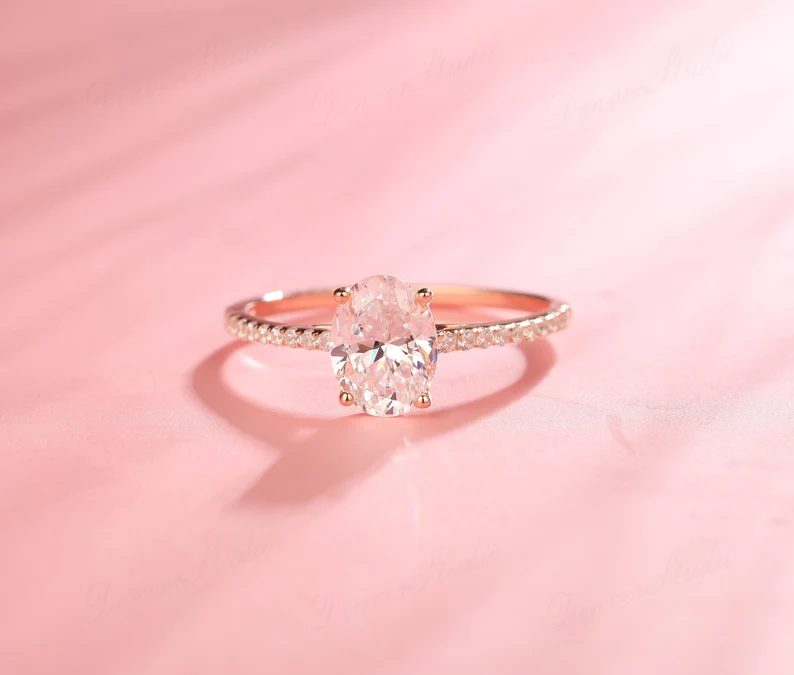 Oval Moissanite Bridal Ring | Etsy
Oval moissanite bridal ring, 1.5ct diamond bridal ring, rose white gold matching ring, moissanite engagement ring, or anniversary ring gift.
Check Price
We earn a commission if you click this link and make a purchase at no additional cost to you.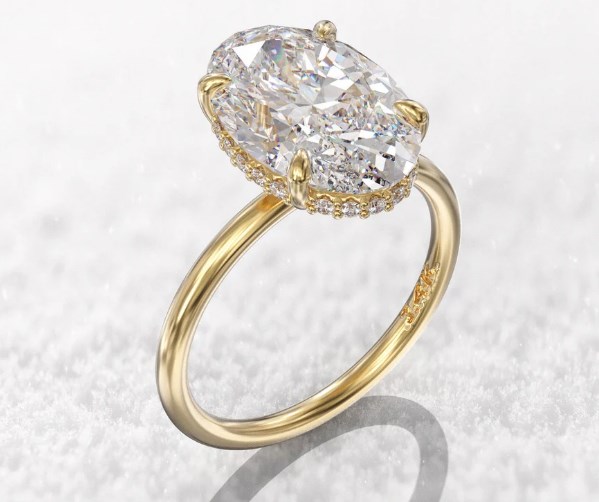 This one made my list because, again, that hidden halo detail is one of my favorite things. At first glance, it looks so simple (though with a stunningly large center stone), but from the side, there's so much more to love about it.
This Hidden Halo Engagement Ring 3-Carat Solitaire Oval Moissanite Ring from GioielliRings has a vintage vibe to it. Yet, it still manages to look modern at the same time. What's a hidden halo? Looking down at the ring from above, you won't see the ring of tiny round stones that hug the center stone. From the side, you do. This particular ring is available in white, rose, and yellow gold.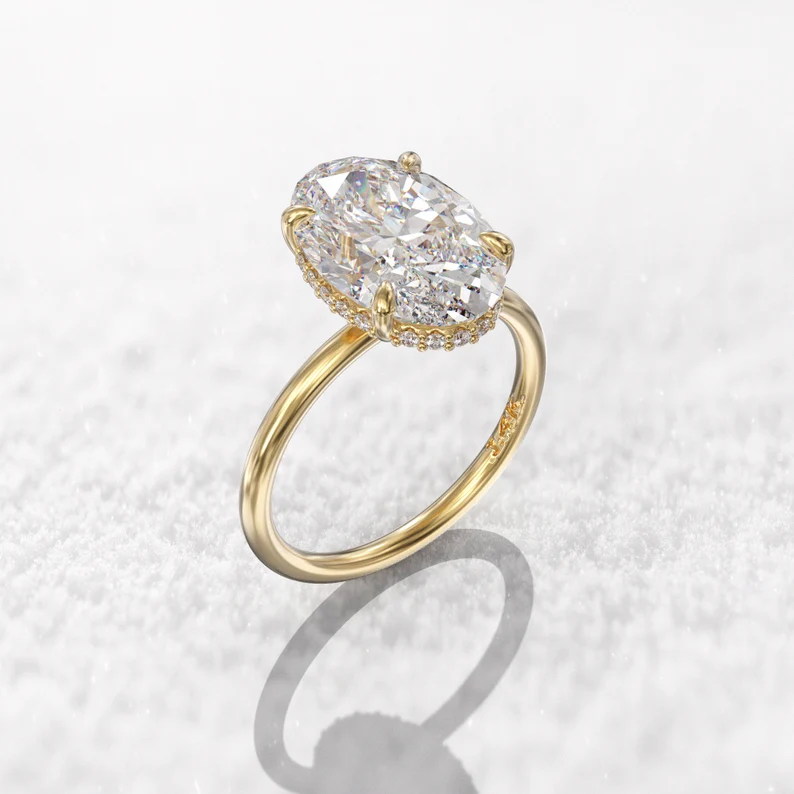 Hidden Halo Engagement Ring | Etsy
Hidden halo engagement ring 3-carat solitaire oval moissanite ring 12x8 mm oval 14k 1.5mm thin band & 0.11 ct Hidden halo diamond.
Check Price
We earn a commission if you click this link and make a purchase at no additional cost to you.
This one made the list because it's not your average diamond (moissanite) ring, at least not these days. The shapes of the smaller round and marquise diamonds on either side of the center stone will almost look like they're hugging the finger they're on, due to their artful placement.
Love a little more pizzazz with your oval center stones? The MollyjewelryUS Oval Moissanite Engagement Ring might be the one for you. It, too, has a vintage, art deco look to it. Get it in rose, white, or yellow gold in your choice of three stone sizes.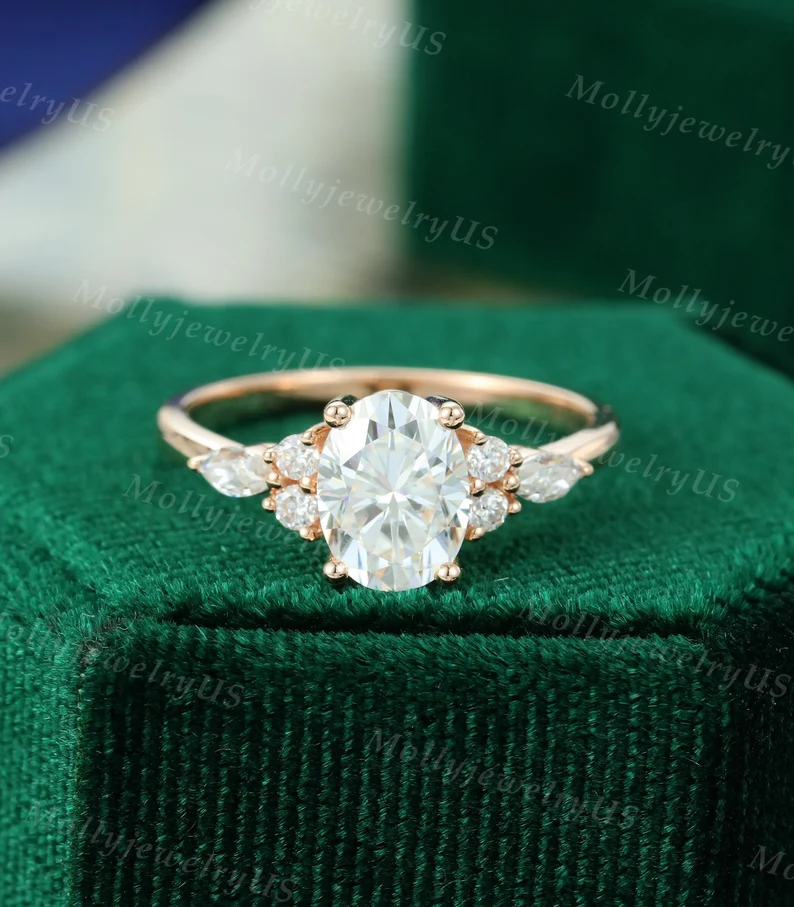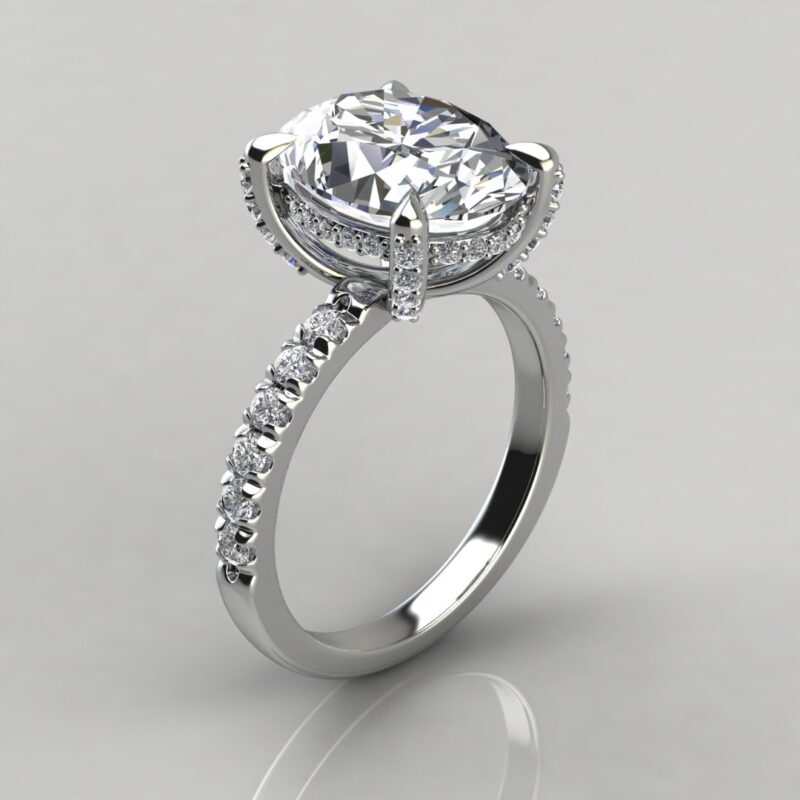 Looking to make a statement when you walk into the room? I think this 3 carat oval ring will do plenty of talking for you! Personally, I love the balance of this ring. While the 3 carat stone makes a huge statement just for the ring itself, the additional 48 side stones really help to support the statement that this ring is. The additional stones add 0.48 carats to this ring, putting you close to 4 carats in total!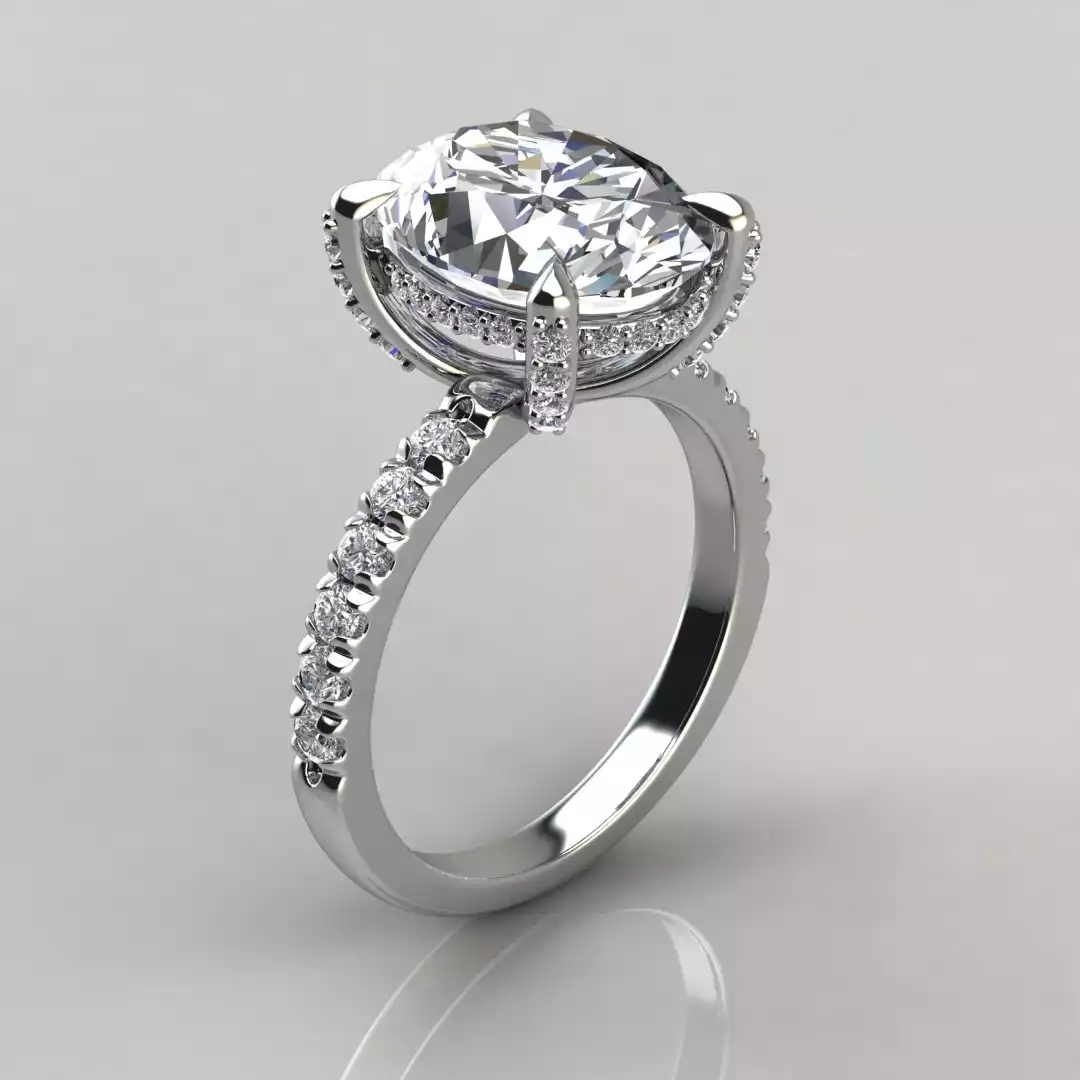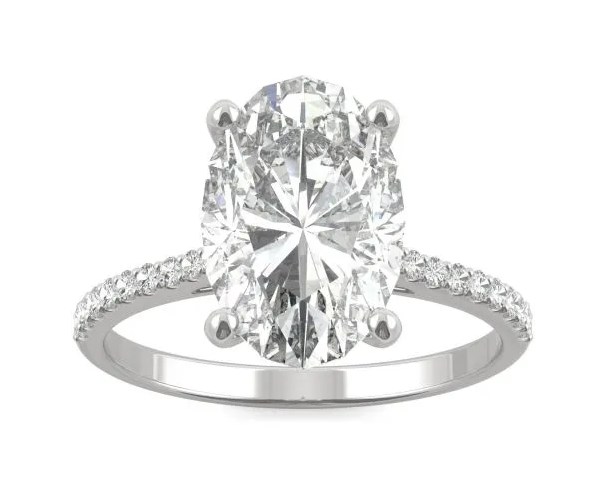 This is a standout option that immediately grabbed my attention because of its 4.39-carat center stone. It's ideal for those who want all eyes on their ring. I love that the simple, classic band style and stone shape combine with the size of the stone to create something that'll raise eyebrows and drop jaws.
Charles & Colvard know their moissanite jewelry–it's all beautiful, plus you'll never have to search for color grade information. This 4.58 CTW DEW Elongated Oval Forever One Moissanite Side-Stone Engagement Ring in White Gold is absolutely breathtaking with its combination of a sizeable center stone, cathedral setting, and bright round accent stones along the band.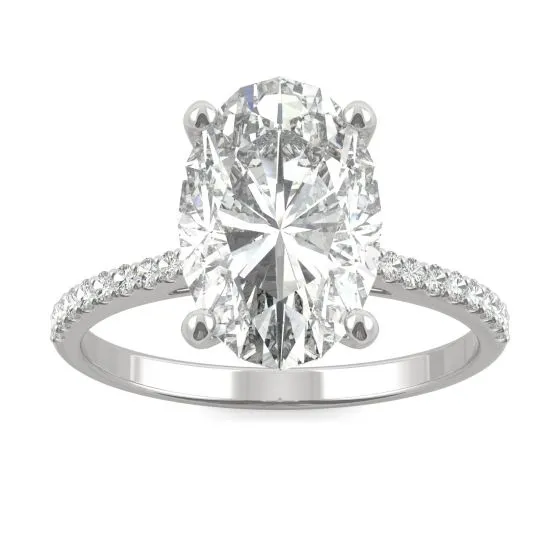 Ben Garelick Jewelers Solitaire
There's just something about a simple, beautiful solitaire. It's unassuming, stunning, and gets attention without trying. You can dress it up with a sparkling band or continue the minimalist vibe with a shiny metal band. It will fit right in with almost any style you want to wear (jewelry or clothing), too, so as your tastes evolve, your ring will blend in with them.
Ben Garelick Jewelers shared a photo of a simple solitaire, demonstrating how clear and beautiful a moissanite can be. The ring is an attention grabber with just a single stone on a metal band–no extras.

Icebling_Jewel Fancy Oval Shape White Moissanite Ring
This one made the list because I love a good non-traditional engagement ring, whether that's a totally different type of stone or an unusual style with a diamond or diamond lookalike.
Perhaps the complete opposite of a solitaire, this ring, shown by icebling__jewel, has three oval moissanites of almost equal size, snuggled together on a simple gold band. If more is always better, in your opinion, and you're not that into the minimalist look, this could be your perfect match. This could be an engagement ring or anniversary gift.
Tokyo_da_jeweller Fancy Oval Shape Ring
I'm a sucker for vintage style. This one's not vintage, per se, but it does have that kind of feel about it. It's different from the ring with three oval moissanites above, less of an attention-grabber–even with multiple oval moissanites–but just as beautiful.
If you love the idea of vintage and art deco-style rings but want something unexpected, you'll probably like this option shared on Instagram by tokyo_da_jeweller. Instead of one or even three central stones, this is more of an engagement ring and wedding band hybrid. Oval stones surrounded by round accent stones wrap the entire circumference of the band in an unexpected design.
Diamondrensu Moissanite Ring with Half-Bezel Setting
Ever since I was a little girl, I'd take an art assignment and do something quirky with it to make it my own. Mine never matched the others in class, and it was a conscious decision to make it that way. That's what I feel this ring designer did. This takes the usual oval center stone position and gives it a (literal) twist.
While most oval engagement rings have the stone perched vertically, this one from diamondrensu on Instagram is set horizontally. It's still a classic, timeless design, but it shakes things up a bit and garners attention with its simple beauty.
Stepup_Jewels 2.0 CT Bezel Set Oval Cut Moissanite Solitaire Ring
It took a little while for bezel settings to grow on me, but now I'm mildly obsessed. I like how safe and secure the stone looks and love that it's unlikely to catch on fabrics or scratch skin. This isn't all about practicality, but it's definitely a perk that contributes to my love for this type of ring.
There's something special about bezel-set stones, and this two-carat option from stepup_jewels on Instagram (and Etsy) calls for attention with its minimal design (and sizeable rock, of course).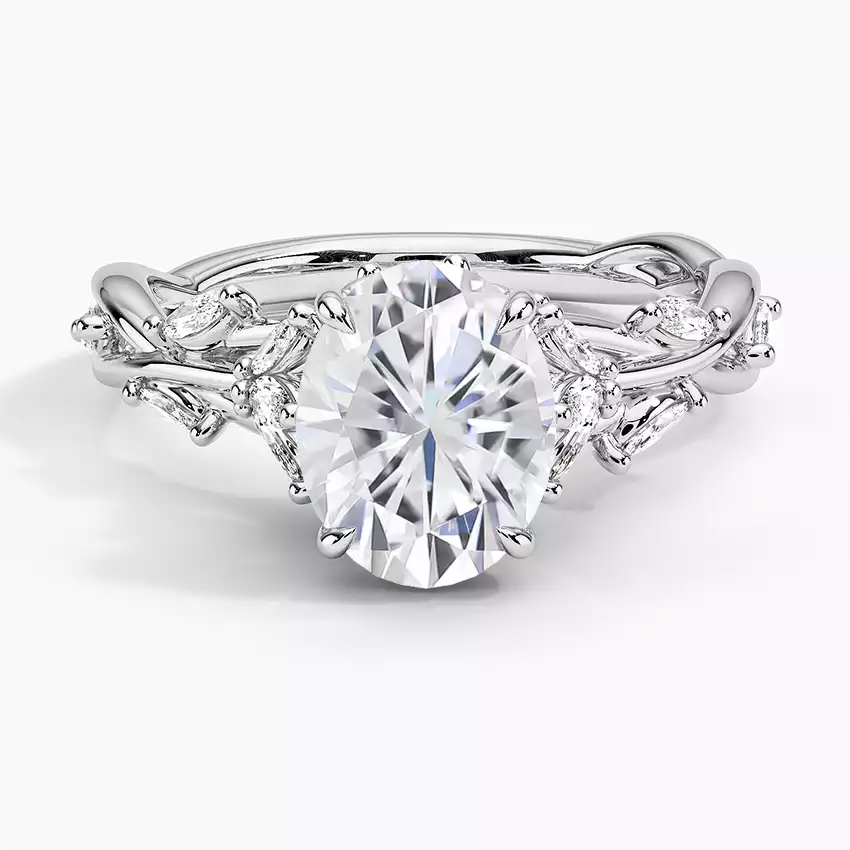 It's funny that the name of this ring has "Secret Garden" in it because that's exactly the book it reminds me of. I also think of Anne of Green Gables for some reason. Either way, this one makes me nostalgic for a time I've only experienced through beautifully-written stories about girls who lived many, many decades ago, and I love it for that.
If intricate floral detail screams your name, you may love this Moissanite Secret Garden Lab Diamond Ring from Brilliant Earth, available in four different metal options and four stone sizes. There are twisting, turning "vines" accented with smaller marquise-shaped stones along the band. As I mentioned before, it can be challenging to find bands for unusual rings, but they have you covered with a few recommendations.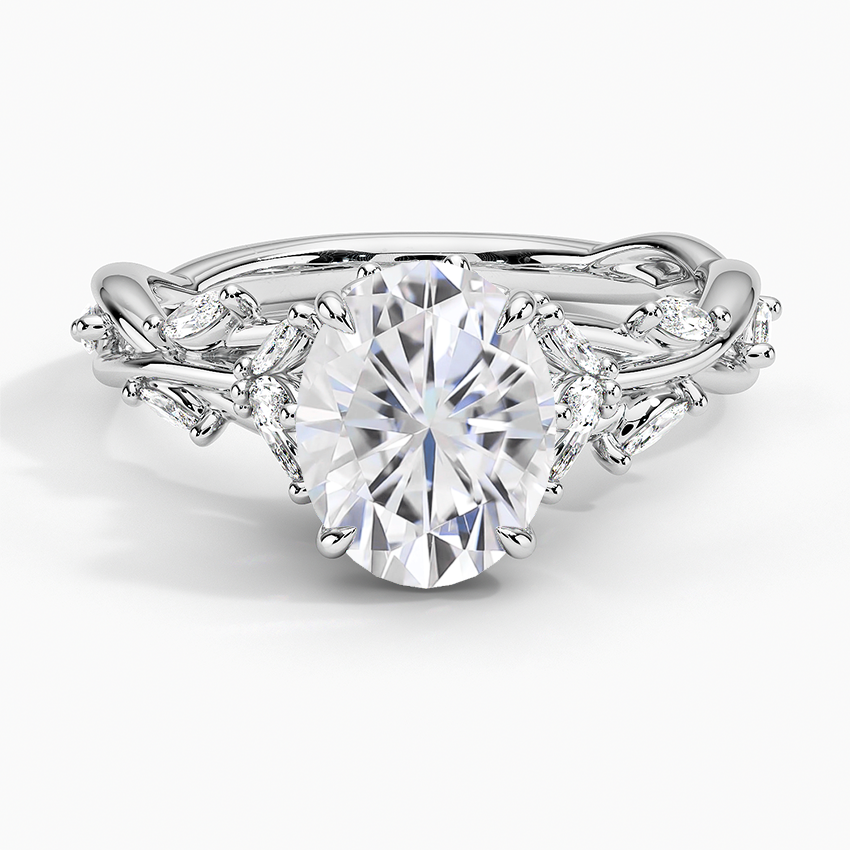 This one snagged a place on the list because of its similarity to the ring above as well as the ways they contrast. It still has that whimsical vibe, but less so than the Secret Garden ring (maybe it's more of a Diana Barry than an Anne Shirley?). The moissanite placement feels more predictable; it seems like a more straightforward style that still doesn't completely adhere to the current norms.
The Moissanite Winding Ivy Lab Diamond Ring, also from Brilliant Earth, comes in four sizes and four metals as well. In this case, instead of winding vines, it appears (from the top, looking down) that the band is a vine accented with diamond leaves. It, too, has recommended bands on the site. That could come in handy for a band with this amount of detail.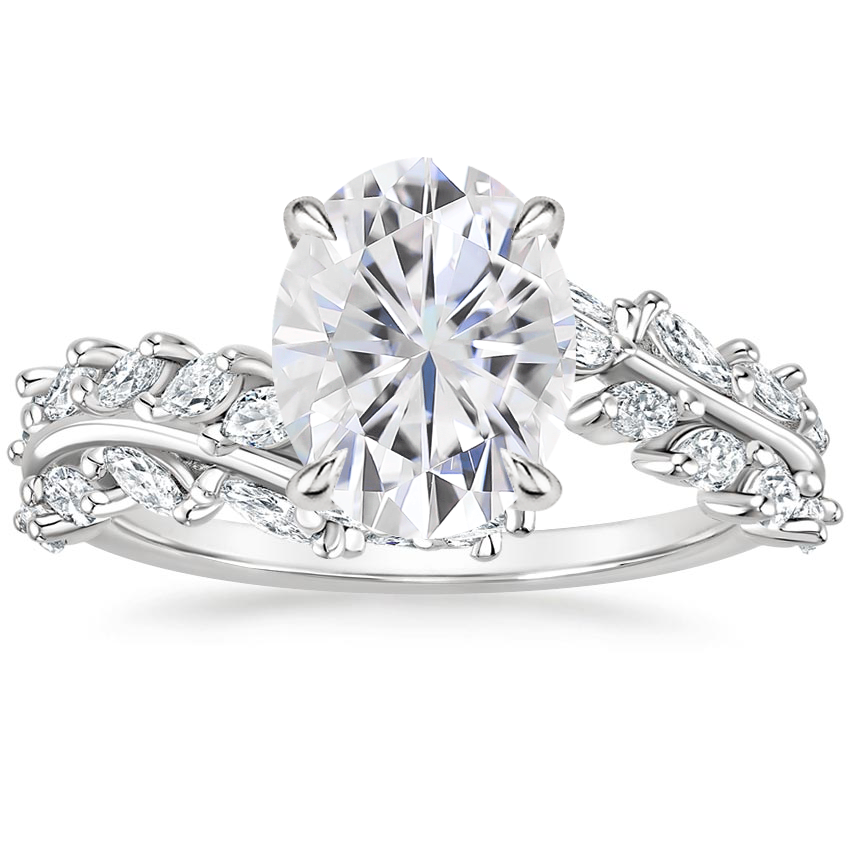 FAQs about

Oval Moissanite Engagement Rings
If you're still unsure about a moissanite engagement ring, that's okay. Some of these frequently asked questions might help you decide if a moissanite ring is the best thing for you. If not, you can still take some of your favorite features from the examples above and have a custom ring made with different stones:
Question: Is moissanite good for an engagement ring?
Answer: Yes, absolutely. The stone is almost as hard and durable as a diamond, so it should last just as long. They cost less, so more money can be spent on the wedding, honeymoon, or other expenses. They never lose their sparkle and they're easy to maintain.
Question: Is there a noticeable difference between moissanite and diamond?
Answer: No, especially not to the untrained eye. They are so similar it'll be next to impossible for anyone to know you have a moissanite instead of a diamond. 
Question: Why shouldn't you get a moissanite ring?
Answer: If you really want a diamond or other gemstone, either research moissanite more (until you're comfortable with it) or opt for what you really want. You don't want to regret your engagement ring decision since it'll be worn daily for decades.
Question: Can most people tell moissanite from diamond?
Answer: No, so if that's what's holding you back, enjoy your gorgeous moissanite ring and the extra money in your bank account.
Question: Can I wear a moissanite ring every day?
Answer: Absolutely. These stones behave almost exactly like diamonds, so you shouldn't have any issues wearing your moissanite ring daily.
Question: Does Moissanite Last a Lifetime?
Answer: Yes, just like your love, your moissanite ring can be expected to last a lifetime.
Question: Does Moissanite Lose Its Sparkle?
Answer: No, it doesn't. You may need to clean the surface from time to time because of a build-up of dirt and oils if it looks cloudy or dull, but the stone itself is difficult to damage. 
Conclusion: Moissanites Are Worth It!
Don't overlook the moissanite options on the market. They're strong, durable, and available in all the styles and shapes you'll find in diamond rings.
From borderline over-the-top blingy art deco styles to minimalist bezel-set solitaires, there's something for everyone interested in foregoing the diamonds in their engagement ring and embracing something different, less expensive, and better for the world.
Use the designs above to steer you toward the perfect ring for you. If you find aspects of several that you like, save the photos and take them to a jeweler to have one custom-made.
Oval moissanite engagement rings are a beautiful way to commit to forever.
Best Online Moissanite Retailer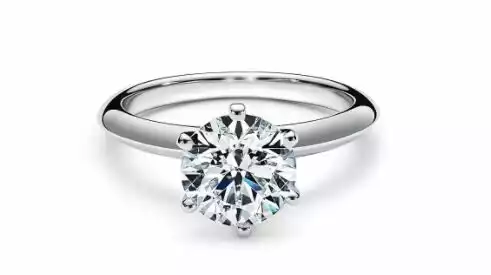 Looking for more inspirational readings? Check out: