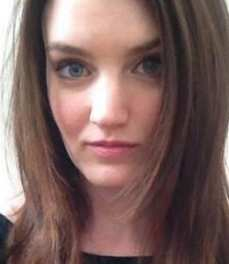 Latest posts by Crystal Schwanke
(see all)
I've been a long-time fan of rose gold jewelry and saving money while still buying what I really want instead of settling. Because of that, I instantly fell in love with several rose gold moissanite ring ideas.
A moissanite ring will cost less than the diamond equivalent, and you still won't have to worry about it becoming dull, cloudy, or losing its sparkle over time. You can get 14k or 18k rose gold with either stone, so there's no difference on that front.
Best Online Moissanite Retailer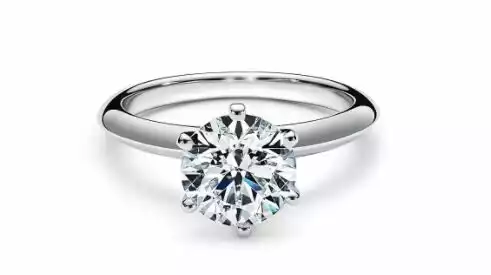 What's not to love? If you find a rose gold moissanite ring you really love, you'll be:
Getting a stone that will sparkle all its life (you'll have to clean the outside from time to time, obviously, but the stone won't be damaged from everyday wear)

Getting a durable option that can last decades

Saving money that you can use on other things or buy a ring with a larger stone

Choosing a stone that automatically won't have inclusions that are visible to the naked eye
Bottom Line Up Front
If you love rose gold and sparkling stones, you will do well to skip the diamond, save some money (maybe thousands of dollars), and buy the moissanite. That is, of course, as long as you're not primarily concerned with having a diamond. Rose gold moissanite rings are gorgeous and designed to last for decades, and you won't need to wonder if people can tell they're not natural diamonds (they can't).
Moissanite is available in so many sizes, cuts, and shapes, you should be able to find what you're looking for and purchase a stone that's less expensive, less controversial, and just as radiant as an actual diamond.
Selection Criteria
Because these photos are meant to serve as inspiration, I wanted to find a range of sizes and styles of rose gold moissanite rings for you to consider. Mostly I looked at:
Beauty

Creativity of design

Overall style (

vintage

, modern, minimalist, etc.)

Variety (I wanted to address everyone's tastes here)
I factored how much they cost into the equation because you'll never want to overpay. Still, the pricing information wasn't always available, so it didn't play an enormous role in the selection process for this list.
What to Consider in Your Rose Gold Moissanite Ring Search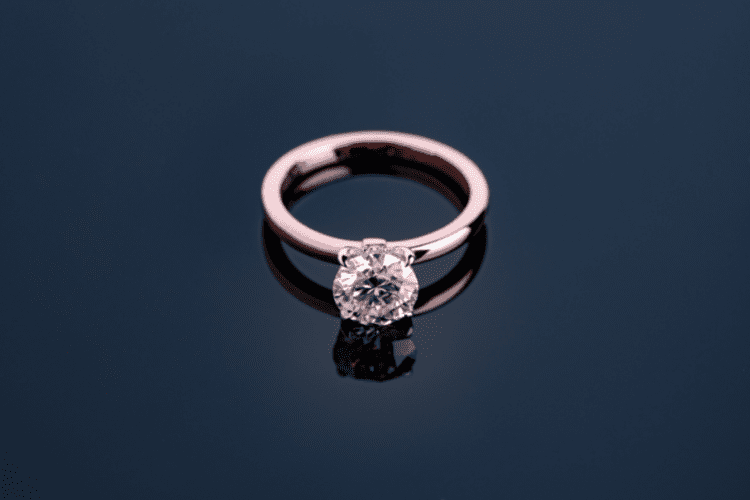 Even though moissanite rings cost less than diamond rings, it's still a big purchase. In many cases, it's a sentimental one, too (especially if an engagement, wedding, or anniversary ring). Here are some things to keep in mind while you shop:
The Stone
Because moissanite is made in labs, you won't have to worry about inclusions you can see in the stones with the naked eye. They also maintain their brilliance rather than becoming dull or cloudy over time.
However, there are three grades of moissanite. Here's the short rundown:
D-E-F are colorless

G-H-I are almost colorless

J-K will have a hint of color
You can find more information about the grading scale under Color & Clarity at CharlesandColvard.com.
The Band
If you're looking for an engagement ring or anniversary gift, you'll want a metal that will hold up to daily wear for years to come. Consider 14k or 18k rose gold rather than rose gold plating for longevity because the plating can wear off over time.
The Style
Even if you have a pretty good idea of what you want, consider other styles of rings with an open mind. You may find something you love but never thought of or discover details you wish to incorporate into your perfect ring.
If nothing else, looking around at other options could solidify your decision to get something like the ring you already had in mind.
Do You Need Certification or Have Set Standards in Mind?
If there's a color grade you're after, use that to narrow your search.
If you want a certificate with your moissanite, find out if you'll be provided with one before you get too far into the process. If you trust the jeweler or shop and don't feel the need for a certificate, you won't need to worry about this one.
Budget
Though moissanite rings cost hundreds or even thousands less than their diamond lookalikes, you'll still need to keep your budget in mind. Sometimes you'll be able to balance cost with the color grade. For example, a trade-off may be a larger stone with a GHI color grade instead of a DEF. Is it worth it to you, or would you prefer the colorless DEF in a smaller stone?
Similarly, in many cases, you'll be able to choose between 14k and 18k rose gold. Decide early where you're willing to compromise and what's most important to you.
The Top 11 Rose Gold Moissanite Ring Ideas
Here are the top rose gold moissanite ring ideas I've found:
Like a Flower or Snowflake
Look at this stunner from stellamoissanite on Instagram. It's an explosion of radiance from the sizeable oval center stone to the smaller stones along the edges. The setting is just present enough to add warmth to the overall design without competing with the intensity of the moissanites.
Two-Tone Beauty
This two-tone design from tigerstoneco is brilliant in more ways than one. The band is rose gold and wrapped in tiny moissanites, but the simple round center stone is surrounded by white gold, so the prongs and stone colors match.
Vintage Style and Made-to-Order
Love that vintage style and want a made-to-order piece? Midwinterco can create this moissanite style for you. Its large centerstone is wrapped in smaller round stones, accented by glints of rose gold between them all.
Elegant Oval
If you just want the largest stone possible, you may love something like this one jeannahovies showed on Instagram. The large oval moissanite is nestled in the center of a wreath of smaller round stones. To enhance the sparkle even further, the band is wrapped in glistening round stones, as well.
Floating Halo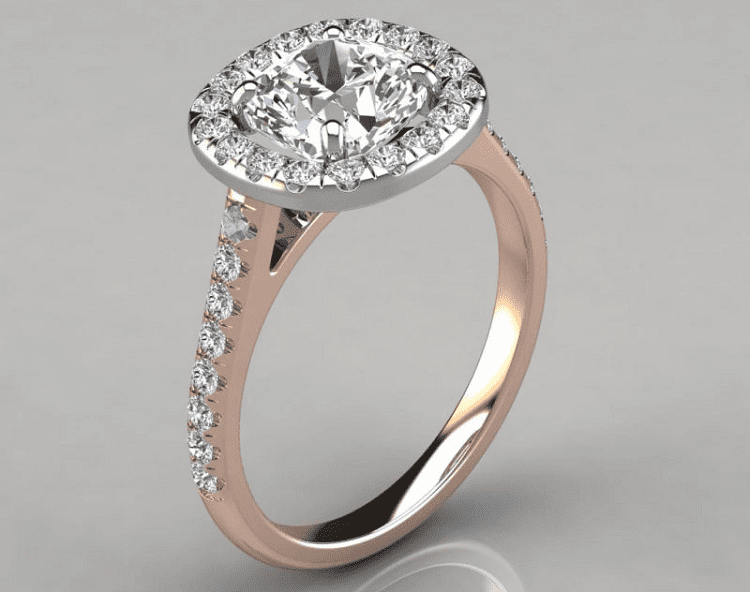 The Floating Halo Cushion Cut Moissanite Gold Engagement Ring from Forever Moissanite comes in 14k and 18k solid rose gold. Center stone sizes range from one carat to three, and all are color D (colorless). In addition to the center stone, there are 34 round brilliant-cut stones surrounding the center stone and trailing down the band (the total carat weight of the side stones is .45 carat).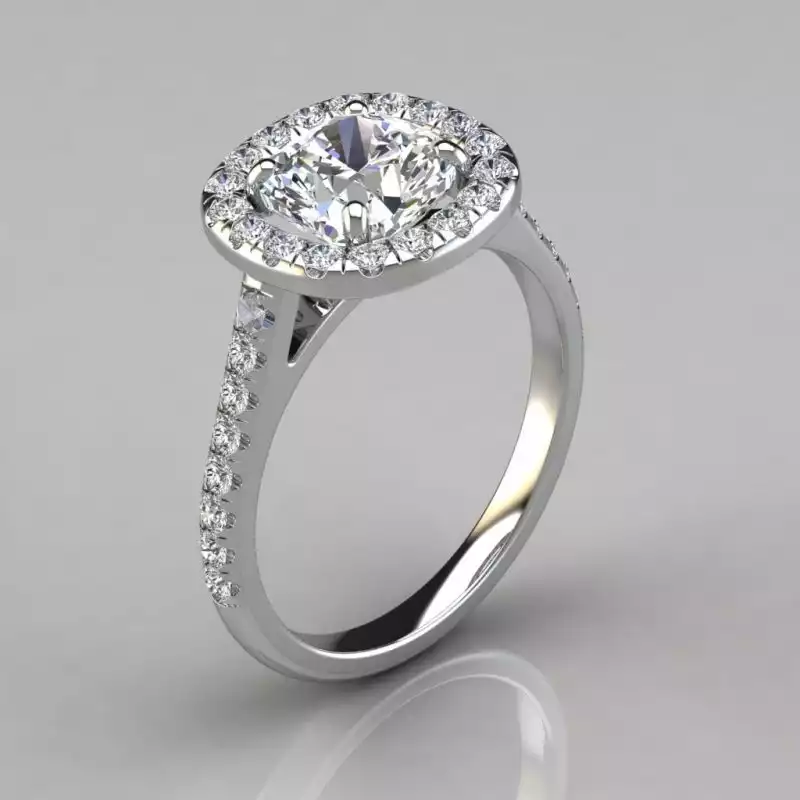 Minimalist Princess Cut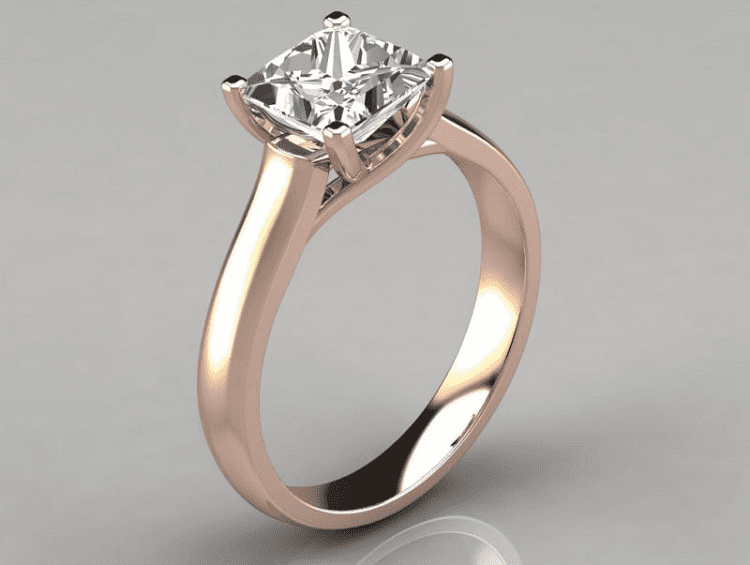 If it's a simple solitaire with a front-and-center stone to catch people's eye, you might love the Solid Gold Princess Cut Cross Prong Moissanite Engagement Ring (or something like it) from Forever Moissanite. Take your pick between 14k and 18k rose gold and then select your center stone size, anywhere from one carat to three.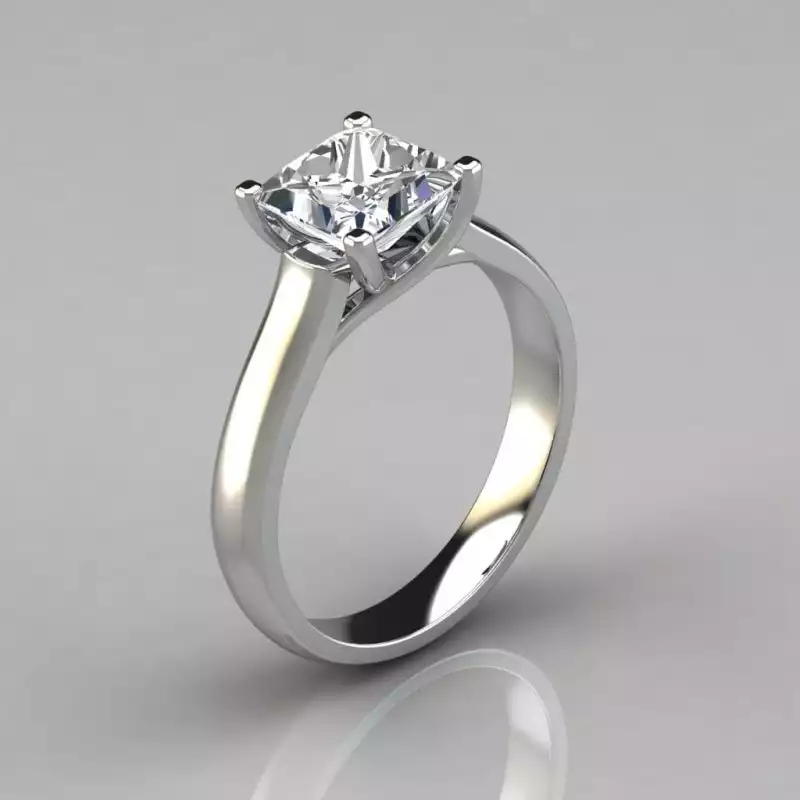 Simple, Sizeable Oval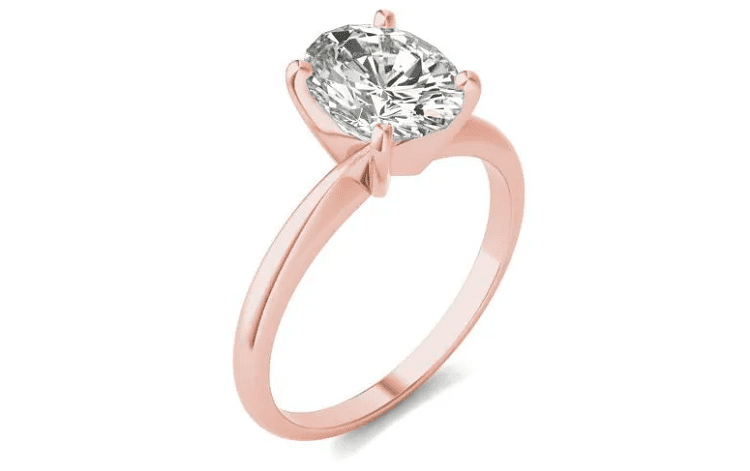 For another solitaire option–this time with an oval stone–there's the 2.10 carat weight DEW Oval Forever One Moissanite Solitaire Engagement Ring in 14K Rose Gold from Charles & Colvard. You won't be able to choose the stone's size or whether you get 14k or 18k rose gold in this case, but you can choose between DEF and GHI color grades. This is one of my favorites because of its simple elegance. The stone is large, but not so large that you'll get the side-eye from friends and strangers alike as they wonder if it's "fake."
Brilliant Band

Need a band? This 0.13 Carat Weight DEW Round Forever One Moissanite Prong Set Band in 14k Rose Gold is also from Charles & Colvard. I love this one because it can add a little flair when paired with a simple solitaire.
It could be the right balance between simple and sparkly to fit in with an engagement ring with more intricate details. My engagement ring didn't come as part of a set, and I had difficulty finding a band that struck that balance; the one I chose is a lot like this one.
Halo Bridal Set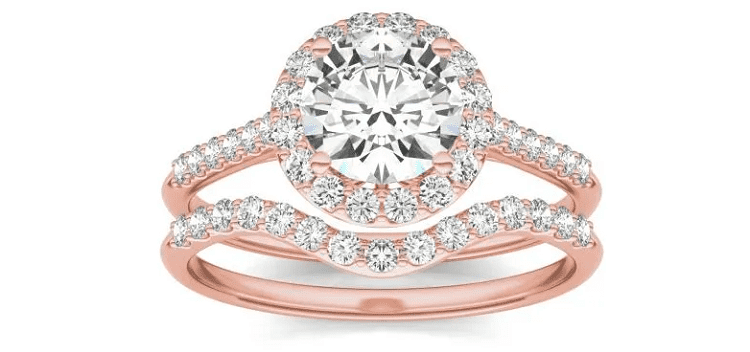 Suppose you're looking to avoid that entire debacle and just buy a set that fits together perfectly. In that case, you'll love this 1.49 CTW DEW Round Forever one Moissanite Signature Halo Bridal Set Ring in 14k Rose Gold. The stones are DEF color grade, and the band flawlessly hugs the engagement ring for a stunning, sparkling combination.
Shimmering Twist Band with Oval Moissanite Centerstone

Has your love story been full of twists, turns, and adventures that just kept bringing you closer together? Something like the 1.11 CTW DEW Oval Forever One Moissanite Twist Engagement Ring in 14K Rose Gold could become the symbol of your romance. Choose from DEF and GHI color grades. The main stone is just shy of one carat, and the additional round stones along the band are 0.21 CTW.
Emerald-Cut Eternity Band

This 2.90 CTW DEW Emerald Forever One Moissanite Eternity Band in 14k Rose Gold is quite different from the rest. Emerald-cut stones aren't as common as oval, round, and even pear. These are available in DEF or GHI color grade. This could be just the wedding band you're looking for, or it could be a gift for another special occasion, like Valentine's Day, Christmas, a birthday, or an anniversary.
FAQs
Buying a ring is a big decision, so you probably still have questions. Maybe these FAQs will help:
Question: Are Moissanite Rings Tacky?
Question: Are Moissanite Rings Worth It?
Answer: Because they cost so much less than diamonds, are almost as hard and durable as diamonds, and can be set in 14k or 18k gold, I would say yes, they're definitely worth it. Unless you have your heart set on a natural diamond and will always be bothered that your ring has a moissanite instead, you probably won't regret choosing moissanite over a diamond or other gemstone.
Question: What is the Best Color for Moissanite?
Answer: The clear/white ones are obviously beautiful, but you can get moissanite in almost any color that diamonds come in. In that case, the best color of moissanite is the one you love. It's the one you'll want to wear for years, the one that reflects your personality, favorite color, or general jewelry preference.
Question: Is Rose Gold Tacky for an Engagement Ring?
Answer: Not at all, as it seems to have found a home next to white gold and yellow gold as an option that's here to stay in all types of jewelry. It doesn't seem to be the fleeting trend some people expected it to be when it really took off around 2010. It won't be everyone's preference, of course, but it's not tacky.
Question: Is Rose Gold Still in Style in 2022?
Answer: Yes, rose gold is still in style. It may never leave its position next to yellow gold and white gold, which means it will be in style for years to come. 
Question: Is There a Fake Moissanite?
Answer: Unfortunately, yes, you could potentially purchase "fake moissanite." In some cases, the stone could be cubic zirconia, not moissanite. There's no shame in sporting either, but you'll want to make sure you're getting what you're paying for, as moissanite costs more than cubic zirconia.  
Question: Is Moissanite Lab-Created?
Answer: Some is. What you'll find in jewelry is almost guaranteed to be lab-created. There is a such thing as natural moissanite, according to Swede's Jewelers, which is rare and formed by meteorites that have fallen to earth. You're unlikely to find anything but lab-created moissanite in jewelry stores, though.
Question: Does Moissanite Come with a Certificate?
Answer: Not all moissanite jewelry will come with a certificate, but there are certainly jewelers (Forever Moissanite and Charles & Colvard, for example) that will offer them. This can give their customers peace of mind about their purchase. 
Conclusion: You Won't Regret a Carefully Selected Rose Gold Moissanite Ring
If you love rose gold and the look of a diamond, you can't go wrong with a rose gold moissanite ring. They are a beautiful, durable option for those who want to save money or just prefer not to buy a diamond ring.
There are so many shapes and sizes to choose from–just like there are in diamonds–you won't be missing out when you opt for moissanite. You can put some of the money you save by choosing moissanite over a diamond toward a larger stone if desired.
Best Online Moissanite Retailer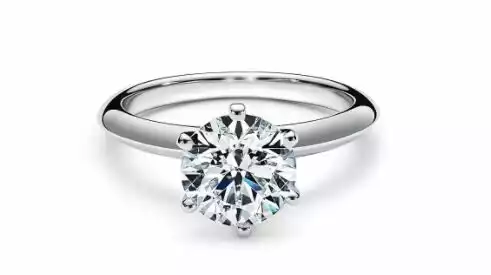 Here are some other articles you may be interested in: