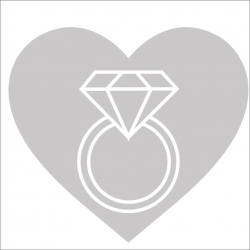 Latest posts by Love You Tomorrow Team
(see all)
Rose gold rings are incredibly versatile, and we absolutely love them. Today, we've brought you some affordable rose gold stackable rings that we think you'll love. You can easily purchase all the rings on this list for an affordable price, too.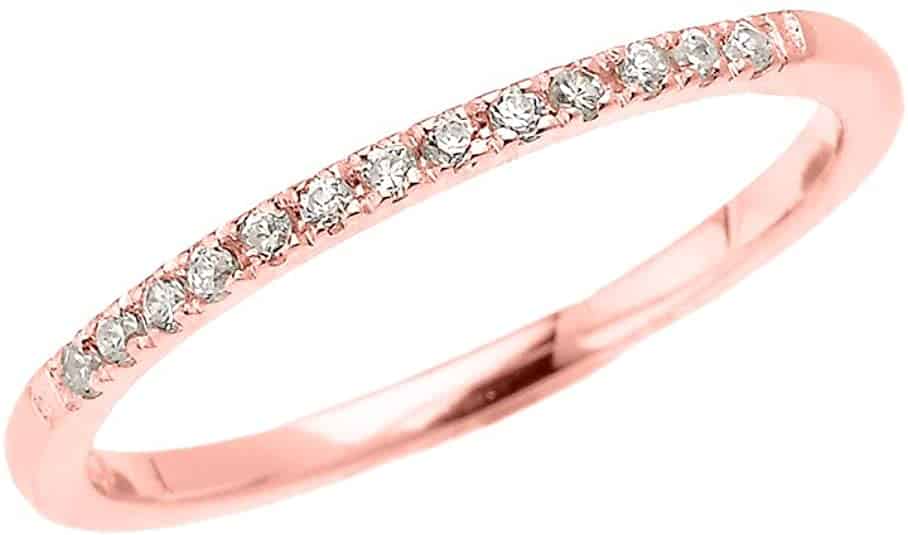 Usually we save the ones we love the most until the end. It's going to be hard to do that since all of these are incredible choices for rose gold stackable rings. The ring is set with 13 round diamonds in a channel on the band itself. The total gem weight of the diamonds is 0.03 carats with a color of K-M. It'll fit snugly against other rings on the same finger. It has a fine polished finish around the diamond channel. A huge plus for this ring is the range of sizes. It comes in sizes 4 through 12, but it's available in quarter sizes. For example, size 4 has a range of 4, 4.25, 4.5, and 4.75. This is true of the other sizes, too. The manufacturer sends a small presentation box with this ring, so you can also give it as a gift.

This delicate ring is small enough to be worn with others in a set of stackable rings. It has a unique, unusual texture that makes it visually interesting. The facets are polished and in a rounded rectangle shape. There's a raised ridge between the rectangles because the rectangles are pressed into the band. The rose gold stackable ring is available in sizes 6 through 8, and it comes with a deluxe presentation box from the manufacturer. As mentioned previously, the ring is quite delicate and thin at 2 mm wide. If you're buying this for a gift, you might want to consider whether you'll need another ring to accompany it in the gift box.

We mentioned in the last product review that the ring is quite delicate, and needs to be placed with another ring during gift giving. This is a good choice of ring. This one is as visually interesting as the last one. It looks almost like a watch band with square boxes linked together. It's a solid piece with the lines embedded as a design in the rose gold. You don't have to worry about the links breaking because they're not actual links. It comes in sizes 6 through 8. It has a stamp with 14k to prove that it's real gold. The manufacturer includes a deluxe presentation box for gift giving, too.

This simple, yet intricate rope band will look great next to any other stackable ring on your finger. While some styles might clash, this style is classic, and will stand against any other stackable ring. It's a slim 1 mm, which makes it perfect for a spacer between other rings like a wedding set. It weighs 0.90 grams, so it's super lightweight. It comes in sizes 6 through 8 and is resizable in case you are a higher or lower size than what's provided by the manufacturer. This rose gold stackable ring comes with a beautiful, deluxe box for presentation purposes.

While the band under this ring is sterling silver, it's covered in a beautiful rose gold layer that makes it an affordable alternative to pure rose gold. It's a curve that's designed to stack with other curved bands, so keep that in mind when ordering this ring. It's 1.5 mm wide with a lovely wheat pattern on the exterior of the ring. It's available in sizes 5 through 9, and comes with a custom gift box for presentation. If you like, you can purchase this ring to be used as a thumb ring since it will sit low on the finger. Not all stackable rings need to be placed with others. You can mix and match for a variety of looks and styles.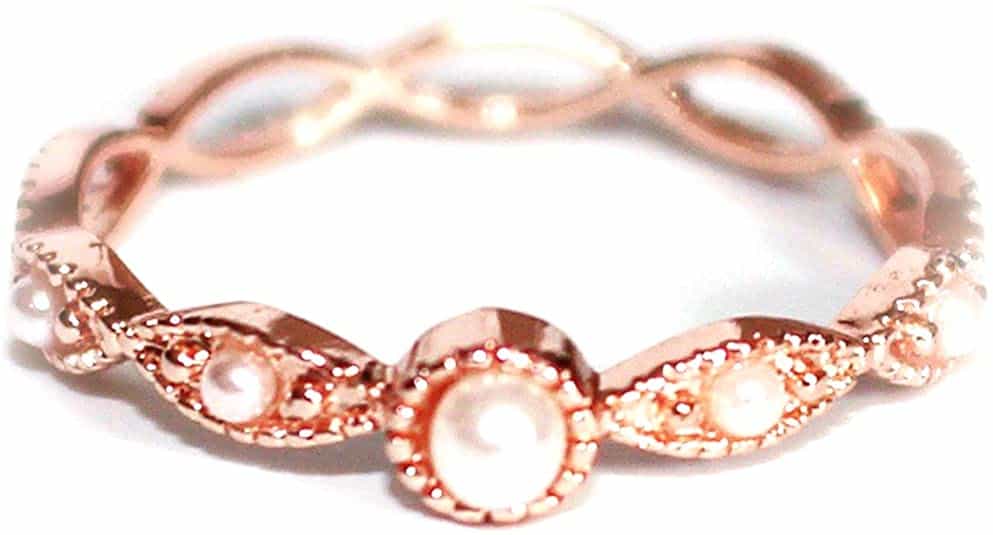 This ring is plated with rose gold and finished with rhodium to keep it shiny as well as protected from losing the rose gold finish. This delicate ring would look perfect with any other the other rings on this list. Each segment of the ring has a tiny simulated pearl in its center with detail that makes it an art deco style of design. It's really a beautiful, little stackable ring. It's available in sizes 5 through 9, and includes a lovely gift box.
Rose Gold Stackable Rings – Final Thoughts
We're a huge fan of stackable rings. They give the illusion of a large ring without the price tag. They can be interchanged for a new look everyday. You can stack them all on one finger or pepper them over both hands. Rose gold is an interesting and not very common color for rings, which will make them stand out from what everyone else is wearing.
Here are some other articles you may be interested in: