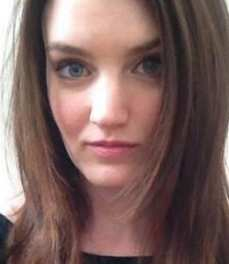 Latest posts by Crystal Schwanke
(see all)
The best saffron diamond ideas are beautiful examples of yellow diamonds, set in white, yellow, or rose gold. Some alternatives may be set in sterling silver, making even more affordable options for people who love yellow stones.
Celebrities like Kelly Clarkson, Paris Hilton, and Victoria Beckham have probably helped increase the interest in yellow diamonds over the years with their gorgeous engagement rings featuring the rare stones.
The Selection Criteria
I chose to share some examples of the best saffron diamond jewelry I could find based on:
Color: I looked for the most stunning yellow-orange stones I could find, in various shapes and settings.
Price: There's not much I could do about the high prices of saffron diamonds as a whole, so I included some pricier options here. To mitigate that, I added some non-diamond options with the same look, but not the same cost.
Style: I chose loose diamonds so you can let your imagination run wild and create something truly special with a jeweler, but I also included ideas for engagement rings and anniversary gifts.
Availability: Because saffron diamonds are so rare, they're not widely available. I included a few options you can order online and have sized if necessary, plus back-up options with different stones for a similar look when what you want just isn't available with saffron diamonds.
In addition, I've included a "middle ground" option that is easier to get your hands on, as well as non-diamond options that offer the look of the expensive and elusive saffron diamond without the price tag.
Bottom Line Up Front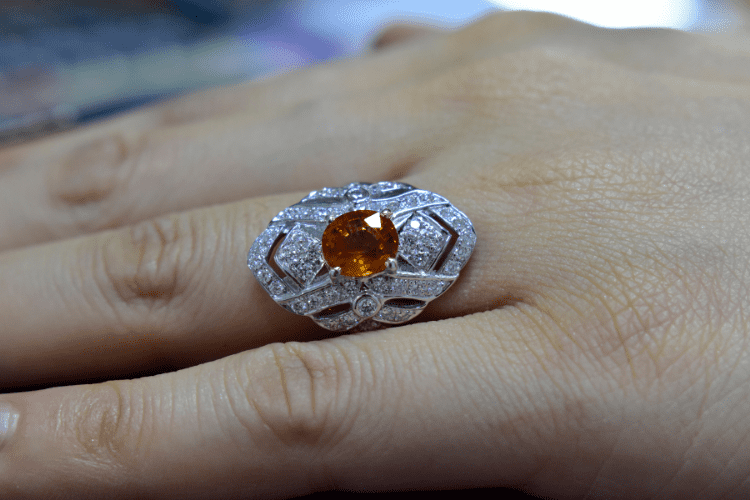 I have good news and bad news.
Let's start with the bad news: Saffron diamond jewelry is somewhat rare and expensive compared to white diamonds. They're also not sold everywhere. Finding the perfect ring, pair of earrings, or pendant that checks all the boxes could be challenging.
The good news: If you have the budget for it and are determined, you can still probably find a seller who has what you want or a loose saffron diamond you can use in collaboration with a jeweler you trust. I've included some options here.
If you don't have the budget, a few other stones can give you a similar look without the price tag or hoop-jumping to find or design the right style, like sapphires or citrines. I've also included some of these alternatives for those who love the look of saffron diamonds but can't find or afford exactly what they want, with such rare and expensive diamonds in the settings.
My Top Picks
Langerman Diamonds Saffron Three-Stone Ring

Lilo Diamonds Johana 3.90-Carat Natural Fancy Vivid Orange Yellow Diamond Ring

The Art of Jewels 14K Yellow Gold Oval Yellow Diamonds Eternity Ring

Le Vian Sunny Yellow Diamond Ring 5/8 ct tw 14K Two-Tone Gold
What Is a Saffron Diamond?
A saffron diamond is a yellow-orange fancy diamond named after the saffron spice, which is also a vibrant yellow-orange. The intensity of the color influences the value of the stone, just like its size and purity. There's a range, and the more vibrant and deeper shades go for more.
Saffron diamonds are scarce and can be pretty expensive, but they're not the rarest of colored diamonds; in fact, they're the most common of colored diamonds.
The color actually comes from impurities or structural irregularities and nitrogen.
You may see it referred to as a "fancy diamond," which just means it's not a white diamond. Other colored diamonds will also fall into the "fancy" category.
What Does It Symbolize?
According to the Ultimate Jewelry Guide, the saffron diamond symbolizes:
Devotion

Energy

Wisdom

New Beginnings

Optimism
Why Choose a Saffron Diamond?
The easy answer: You just love the way they look.
Other answers may include:
Yellow is your favorite color.
You want a stone that symbolizes one of the qualities above (like new beginnings for an engagement ring, renewed devotion for an anniversary gift, and so on).
You love choosing rare items that not many others have. Colored stones aren't new, but they're not as ubiquitous as sparkling white diamonds, either.
My Top Picks: The 10 Best Saffron Diamond Ideas to Brighten Your Jewelry Wardrobe
There aren't a ton of saffron diamond options out there, but what's available is absolutely beautiful, regardless of the color of metal they're set in. You can even find loose saffron diamonds to have custom-made into just the piece you're dreaming of.
Here are some of the most stunning saffron diamond ideas to consider:
Loose Saffron Diamonds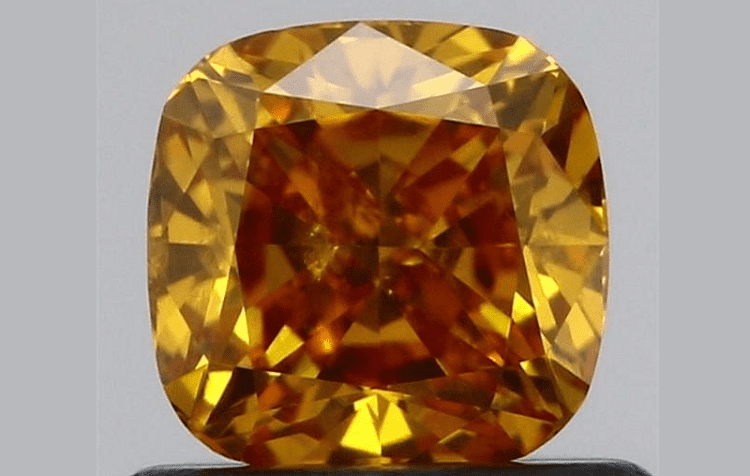 Before starting on pieces of saffron jewelry to buy, keep in mind that you can purchase loose stones and have them made into something special for yourself or your significant other.
For example, at Brilliance.com, you can get a loose saffron diamond in that glorious deep yellow-orange shade. As of this writing, they have a .70-carat cushion diamond with SI2 clarity, excellent cut, and GIA certified for about $5000.00. You can choose your own setting to add it to while you're there, if you'd like.
Pros
You can design whatever you want once you have your perfect diamond.
You can work with Brilliance to pair the ideal setting with the diamond if you're not feeling especially creative.
Cons
These are still expensive.
You'll need to work with a jeweler and at least have a vague idea of what you want, rather than picking up a finished piece of jewelry from the store in one go.
Langerman Diamonds Saffron Three-Stone Ring

This three-stone ring from Langerman has an understated style that features a not-so-understated 2.00-carat natural diamond and one white brilliant-cut white diamond on each side.
Pros
It's a natural diamond with that sought-after deep yellow-orange color.

Its style lends it to everyday wear, making it perfect for an engagement ring.
Cons
The price isn't listed, so you'll have to contact the jeweler to find out more.

There aren't a lot of details listed at all.
Lilo Diamonds Johana 3.90-Carat Natural Fancy Vivid Orange Yellow Diamond Ring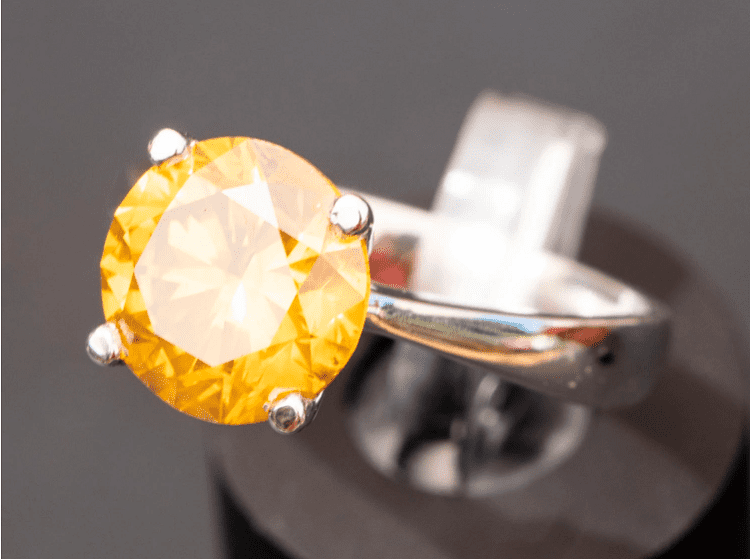 This solitaire from Lilo Diamonds is another stunner, and its simplicity of style is refreshing.
Pros
The simple solitaire design means it'll work with just about any style and make an excellent engagement ring.

Sizing ranges from 5 to 15.

It's available in 14K gold or 18K gold.

The center stone is an attention-grabbing size at 3.90 carats.

It's set in white gold.
Cons
It's pretty expensive. As of this writing, the sale price is just under $8000.00, down from over $18000.00.

Only white gold is available.
The Art of Jewels 14K Yellow Gold Oval Yellow Diamonds Eternity Ring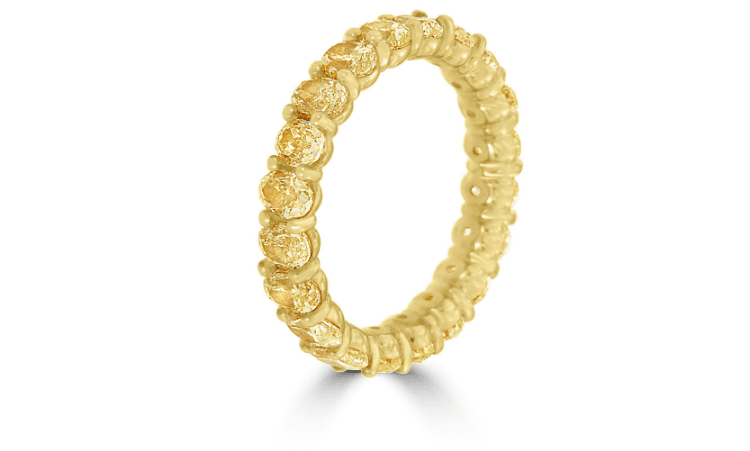 With this ring, wrap your finger in oval-shaped yellow diamonds set in yellow gold for a sophisticated, understated take on yellow diamonds. The combination of yellow diamonds and yellow gold makes a striking statement.
Pros
It has a 4-carat TW, so it's pretty substantial.

It's pricy at around $6000.00.

You can choose from ring sizes from "less than 3" to "greater than 9" and have them customize your ring for you.

You can choose from 14K or 18K gold.

There are 18-22 diamonds on this band, minimum.
Cons
It's only available in yellow gold.

Some people may prefer to have diamonds only on the top half of the band and have a smooth metal finish on the inner half. This ring has diamonds all the way around, which may be distracting for some wearers.
A Middle Ground on Yellow Diamonds
Between saffron diamonds that cost tens of thousands of dollars and citrines, sapphires, etc., you can find the Le Vian Sunny Yellow Diamonds®, a collection of yellow diamonds (rings, necklaces, and earrings are available) found at Jared. A few examples:
Le Vian Sunny Yellow Diamond Ring 7/8 ct tw 14K Two-Tone Gold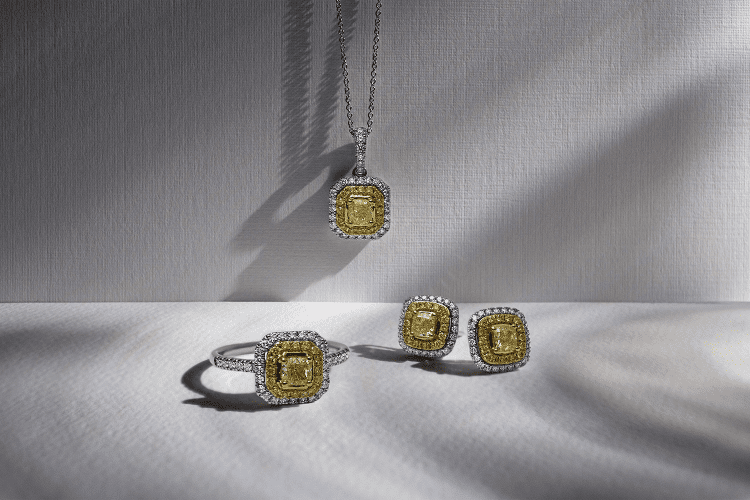 This ring could work as an engagement ring or anniversary gift. It features three yellow cushion-cut diamonds, surrounded by round Vanilla Diamonds®.
Pros
You get the look of saffron diamonds (perhaps a bit lighter and less orange) for a fraction of the cost.

If you don't wear a size 5 through 8, you can order a custom size.

The stones are set in 14K gold.
Cons
It's still expensive, at almost $3000.00.
Le Vian Sunny Yellow Diamond Ring 5/8 ct tw 14K Two-Tone Gold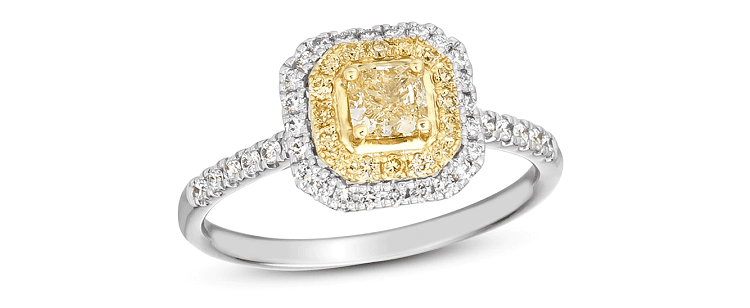 This ring is another yellow diamond option that's worth a look, with its vintage vibe and comparatively reasonable price (about $3300.00). It could be an engagement ring or an anniversary or a holiday gift.
Pros
It's set in 14K gold.

It costs less than other similar options.

Sizes only range from 5 to 8, but custom sizing is available.
Cons
It's on the smaller side at 5/8 ct tw, but the photo makes it seem like it would be larger (at least it does to me). This is most likely because of the additional, smaller, Sunny Diamonds® and Vanilla Diamonds® that surround the center stone.
There are matching earrings within the line, too.
Alternatives to Saffron Diamonds
If your heart is set on the look of a saffron diamond but they're out of reach for one reason or another, there are some other alternatives to consider. They're not diamonds, but they have that rich saffron orange-yellow color and brilliant sparkle.
Here are a few options to consider:
Shane Co. Vintage Cushion Cut Yellow Sapphire Earrings

These Shane Co. yellow sapphire earrings are simply stunning. They feature cushion-cut yellow stones in sterling silver with milgrain detailing.
Pros
They have a beautiful vintage look.

They cost less than $300.00 even though they're about .60 carat total weight.

They're simple enough to wear with various outfit styles.
Cons
They're not diamonds, of course, and if that's what you really want, you may be disappointed at some level.

They're sterling silver and not white gold.
Time Pieces USA Saffron Ring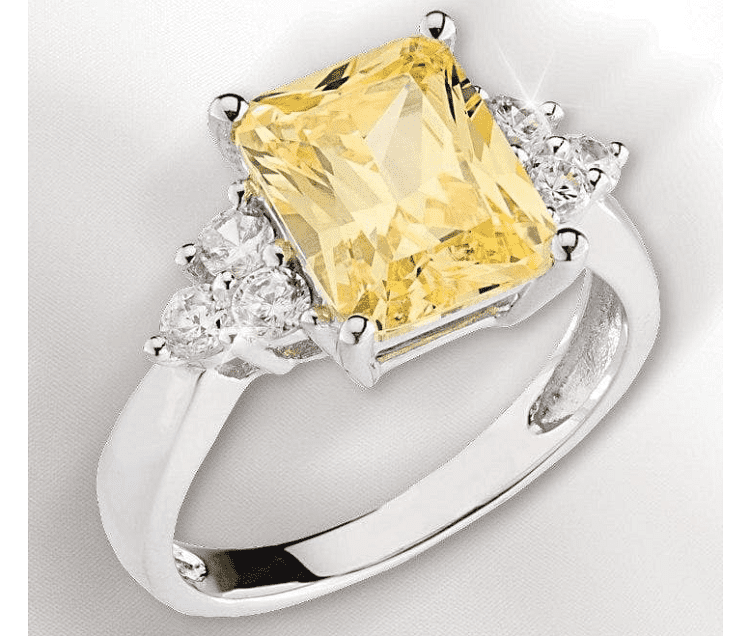 Don't let the name get your hopes up; this ring is named purely for the yellow color of the stone. The stone is actually a Diamondeau®, which is created in a lab, and it's flanked by simulated diamonds. That doesn't stop it from being mesmerizing, though.
Pros
It costs less than $100.00.

It looks much more expensive than it is.
Cons
It's sterling silver, not gold.

Sizing is limited. As of this writing, only 9 and 10 are available.
Shane Company Vintage Citrine and Diamond Earrings

These vintage citrine earrings from Shane Co. are probably the closest the average person will get to the deeper shades of saffron diamonds that are so highly prized. The approximately 2.35-carat TW citrines are oval-shaped, and the 16 brilliant round diamonds are about .06-carat TW.
Pros
They have that deep orange-yellow color of the most expensive saffron diamonds, without the price.

They're pricy at over $700.00 but still much less than their saffron diamond earring counterparts.

They're rose gold.
Cons
They're still not exactly budget-friendly, even though they cost so much less than saffron diamond ones would.
If you'd love to wear a matching set, these earrings have a matching 22-inch pendant and 14K rose gold ring (sizes 5 through 8 available, but custom sizing is an option, as well).
Jared Stackable Citrine Ring

The stackable citrine ring from Jared could make a good wedding band or anniversary ring. The band holds round citrines all the way around.
Pros
It's just over $100.00.

It's available in sizes 5 to 10.

The stones have the deep yellow-orange color of saffron diamonds.

The fact that it's stackable means you can mix and match other rings with it (assuming it's not your wedding band) depending on the day, your clothes, and your mood.
Cons
It's only available in sterling silver, which may not be everyone's first choice.

It's

online-only

, so even if there's a Jared near you, you won't be able to go there and see it in person without the commitment of a purchase. You will have 30 days to change your mind if you get it and aren't thrilled with it, though.

The stones on the bottom half of the band may annoy some wearers, but one review does say that they're positioned in a way that doesn't snag on clothing.
FAQs
If you still have questions about saffron diamonds and want answers before you start your search for the best saffron diamond ideas for you and your own pieces of jewelry, these FAQs might help:
Question: Is a Saffron Diamond Expensive?
Answer: They can be. But they can also be somewhat inexpensive. As with all diamonds, the price on a saffron diamond will depend on the size, cut, and quality. You could pay as little as a few hundred dollars or as much as tens of thousands.
Question: Are Saffron Diamonds Rare?
Answer: According to Luxury Viewer, saffron diamonds are extremely rare. However, these (along with brown diamonds) are the most common colored diamonds.
Question: Which Color Diamond is the Most Expensive?
Answer: The Gem Society names red diamonds as the most expensive. Saffron diamonds are still expensive and very rare, but they're also the most common of colored diamonds.
Question: What is the Most Expensive Cut of Diamonds?
Answer: According to The Diamond Registry, round-cut diamonds cost the most (almost 50 percent more) than other diamond shapes.
Choosing the Perfect Saffron Diamond for You
Some of the best saffron diamond ideas involve new spins on the yellow diamond due to how rare and expensive they tend to be.
Any jewelry purchase will come down to personal preference and budget, but I'll share my opinions with you. If you have the budget for a genuine saffron diamond, I would recommend the three-stone ring from Langerman for its combination of glam and simplicity.
It's more than a solitaire, but it's not attention-hogging; it simply allows you to express a tiny facet of your personality and what you like.
If you need to choose an alternative, you can't go wrong with the Le Vian Sunny Diamond 5/8 ct tw option for its vintage feel and the fact that matching earrings are available. If this ends up being your engagement ring, perhaps the earrings could come later as a first-anniversary gift.
Saffron diamonds stand for a lot of things. If one speaks to you and represents new beginnings and hope, you need one (or its likeness) on your finger, in your ears, or around your neck (or maybe all three places).
For more interesting readings check out: