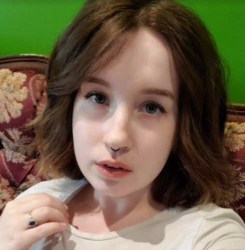 Latest posts by Katrina Dent
(see all)
Diamonds are forever, which poses a bit of a problem: what diamond should I buy for my loved one that is stylish, timeless, and cost-effective? After all, diamond rings, whether they're a gift or an offer of engagement, are worn often and should be both durable and beautiful.
It's tradition to buy a full carat diamond ring, but because it's the most popular weight, its price point is often out of reach for most of us. However, you can also get a ring that is just as stunning as a full carat ring for half the cost; you just need to shop smart.
If buying a 1-carat ring is still in your budget, you could place the cost towards its quality. A high-quality half-carat ring can cost just as much as a low-quality 1-carat ring, so it's up to you and the giftee which option they'd prefer. Regardless of what decision you make, a half-carat ring still looks stunning on one's finger, and our top ring picks and buyers guide proves it!
What is a Carat?
A carat (not to be confused with a 'karat,' which measures gold purity) measures the weight of gems. The measurement of a carat (ct.) equals 0.2 or ⅕ of a gram. Therefore, five carats equal one gram. Gemstones are also measured in points (pts.), which are smaller than carats.
One point is equal to 1/100th of a carat. Many engagement rings will typically have a larger, centerpiece stone ranging between 0.10-1 carat (although gems can be as large as 5 carats) that are surrounded by smaller stones, ranging from 1-10 points, or 0.01-0.10 carats.
Diamond Price Rises Based on Weight
Diamond prices go up as the carat weight increases, but exponentially instead of incrementally.
A diamond weighing less than 0.90 ct. ranges between $200-$2000, and a half-carat hits that sweet spot of $1000. At 0.90, you likely won't find a ring for less than $2000, even with a budget band.
From there, a 1.00-4.00 carat diamond will cost $3000-$40,000. A celebrity-sized diamond, or anything over 5 carats, could run you $60,000-$100,000.
The 4Cs and Other Factors Affecting Diamond Prices
Settling on a half-carat option is often the best decision for most people, but while shopping for our picks, you may notice that some carats are cheaper than a half-carat. What's the deal? Should I get a heavier diamond if I find one that's most cost-effective?
Absolutely! If you feel that your significant other or loved one would appreciate a higher carat, go for it! Just keep in mind that the ring may be cheaper due to other factors.
The 4Cs in diamond manufacturing stands for clarity, cut, color, and carat. These four factors affect the cost of a diamond (and the ring) the most. However, fluorescence, symmetry, polish, treatment, lab-grown, and size also affect diamond price, just to a lesser degree.
Let's take a closer look at the other 9 factors affecting your diamond ring:
Clarity:

How clear the diamond is. A diamond with few imperfections costs more.

Cut:

Diamonds can come in round, square, diamond, and other cuts.

Color:

All gems use a grade from D to Z. D is the highest grade, meaning the diamond is perfectly white and colorless. Z diamonds are yellow.

Fluorescence:

Around a third of diamonds produce a light blue glow in the light, making them milky. For D diamonds, a high fluorescence can lower the price. However, a high fluorescence L or lower diamond can cost much more.

Symmetry:

Graded as excellent, very good, or good. Excellence diamonds cost more.

Polish:

Also graded as excellent-good. Triple excellence in cut, symmetry, and polish will make a diamond cost much more than a double excellent and one very good.

Treated Diamonds:

A treated diamond will cost less than natural stones.

Lab-Grown Diamonds:

Lab-grown diamonds are less expensive. To the naked eye, most people won't be able to tell the difference between lab-grown and natural.

Size:

A larger diamond will naturally cost more. A 3-ct diamond is rare to find (about 1 in 15 million), whereas a 1-ct diamond is common (1 in 1 million). Since 0.01-0.90 carat diamonds are quite common, they cost less to treat, cut, and polish, as well.
It isn't always the case that a more cost-effective 0.70-carat diamond costs less due to its quality. Many diamond stores will put high-quality rings on sale if a specific style goes out of fashion. Timeless styles still go on sale for liquidation purposes.
The 25 Best Half Carat Diamond Rings
There are plenty of unique, fashionable, and impressive half-carat diamond rings to choose from, but we managed to narrow down our choices to 25. Let's take a look.
For Coworkers
While it may seem a little overboard to purchase a diamond ring for a coworker, there are many appropriate times to give an expensive gift.
Retiring coworkers who have stayed with the company for many years deserve something special, and a diamond ring could be the best way to show you're thankful. Either a CEO could offer a half-carat ring as a gift, or a group of coworkers could pitch in $10-$100 to the gift pool.
Let's take a look at the best half carat diamond ring options for your coworkers:
Diamondere: Saskia I Diamond and Diamond Vintage Ring in 14k White Gold (0.47 ct. tw.)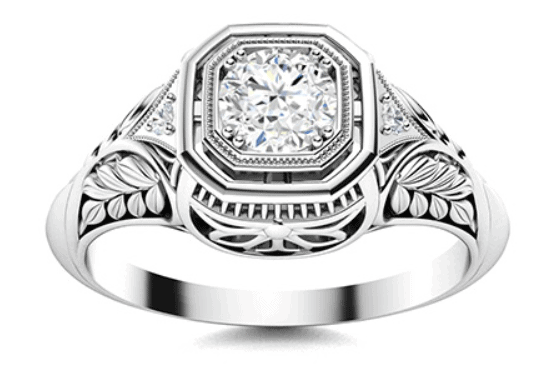 Although slightly under 0.50 ct, its beautiful setting makes up for those missing carats. The Saskia deco style pays tribute to a bygone era but still looks similar to class rings in the modern age. The rings' delicate petals complement the architectural details perfectly. Buy Here.
Jared: Diamond Promise Ring Pear/Round 10K Rose Gold (0.50 ct. tw.)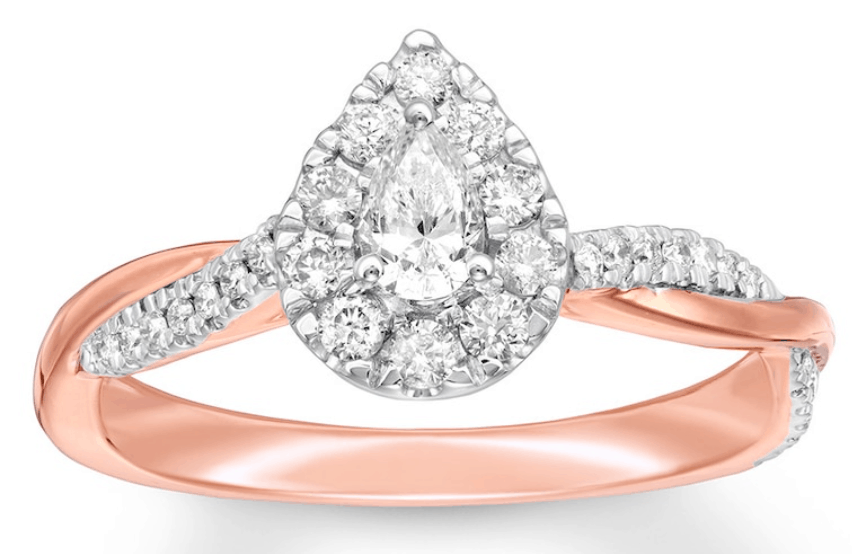 Halo rings aren't as common as the traditional round diamond ring with a simple settling, but uniqueness should often be considered when gift-giving. Every time your coworker sees this beautiful piece, they'd always be reminded of you and all the memories you shared. Buy Here.
Spence: White Gold Milgrain Halo Ring (0.47 ct. tw.)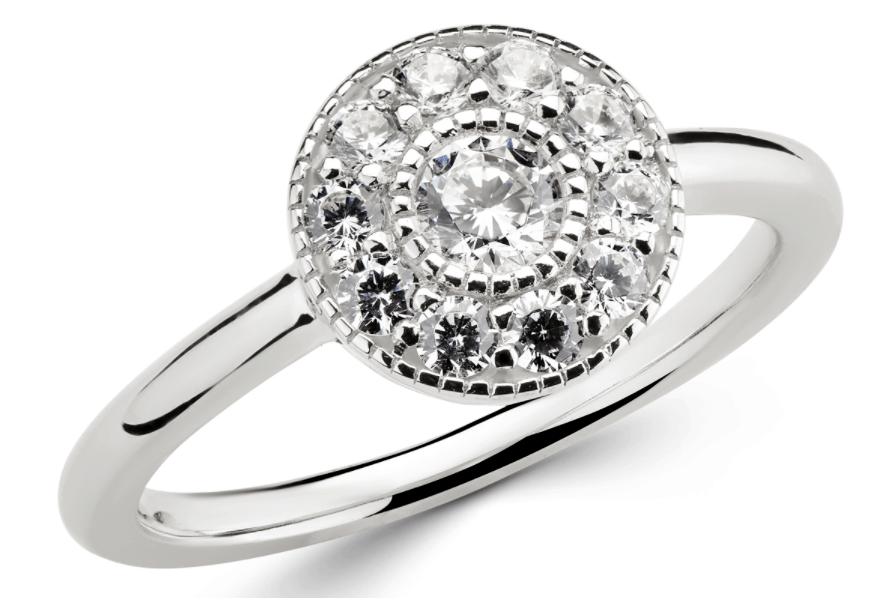 Halo rings aren't as common as the traditional round diamond ring with a simple setting, but uniqueness should often be a consideration when gift-giving. Every time your coworker sees this beautiful piece, they'd always be reminded of you and all the memories you shared. Buy Here.
Kohl's: 10K White Gold Diamond Flower Engagement Ring (0.50 ct. tw.)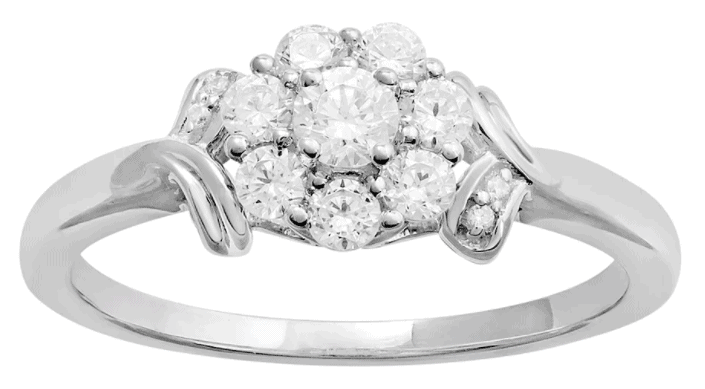 Diamonds bloom in this interestingly set ring with an asymmetrical post. I rarely see diamonds in a floral motif without more than one colored diamond, but this set looks a lot more elegant and modern. Kohl's really knocked it out of the park with this one. Buy Here.
Costco: Round Brilliant VS2 Clarity, I Color Diamond, 14kt White Gold Band (0.50 ct. tw.) (Model RG32960)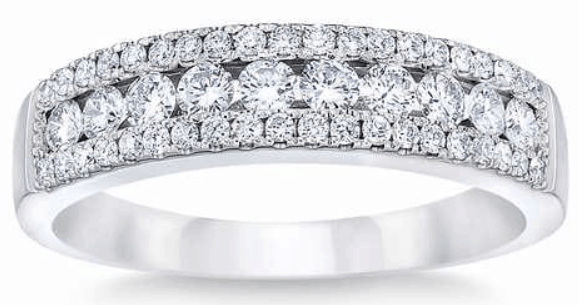 A unisex ring that looks brilliant on any finger, this piece was selected by their expert team of Graduate Gemologists. Costco praises itself for offering the highest quality diamonds at the lowest price, and they succeed by making this ring only $600, regardless of size. Buy Here.
For Friends
Friendship rings are always in style, and it's never a bad time to show your friends how much they mean to you. If your friend is always there for you through thick and thin, buy them a ring!
There are plenty of low-cost options that are appropriate to give to your friends without making the situation awkward. After all, giving your friend a diamond ring is a big deal, regardless of how long you've known each other. However, it's still touching and the perfect gift for long-time pals.
If you are getting a friendship ring rather than a gift, make sure to factor in the cost of two matching rings!
Let's take a look at the best half carat diamond ring options for your coworkers:
Kay: Black Diamond Ring 1/2 ct tw Round-cut Sterling Silver (0.50 ct. tw.)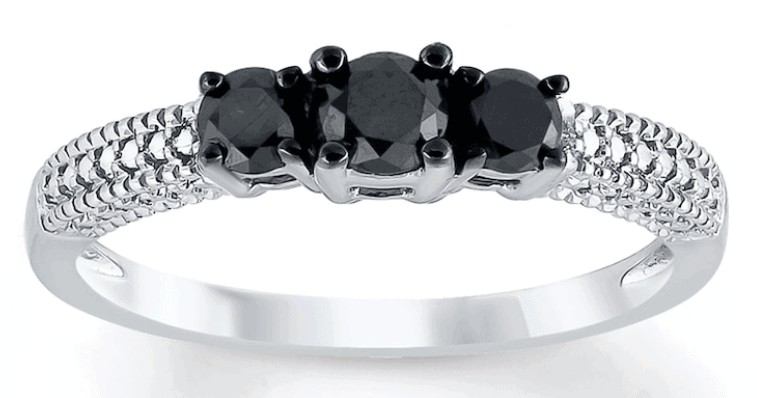 A perfect budget option for your friends that still has a 0.50 ct. weight, this black diamond ring will only cost you $650 for a matching set. What makes this ring incredibly stunning for its price is how dark the diamonds are, which perfectly hide any obvious imperfections. Buy Here.
Costco: Round Brilliant VS2 Clarity, I Color Diamond, 14kt White Gold Band (0.50 ct. tw.) (Model JM1853-8)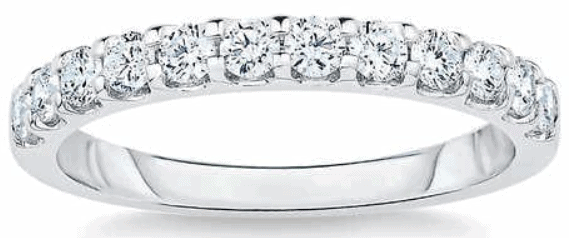 While it may come as a surprise that Costco makes rings, their team of Graduate Gemologists are very experienced and highly qualified. Just take a look at this 14KT ring that has a near-colorless rating and only costs $600. That's $1200 for a set, a fantastic deal. Buy Here.
Zales: Composite Diamond Heart Frame Ring in 10K Gold (0.50 ct. tw.)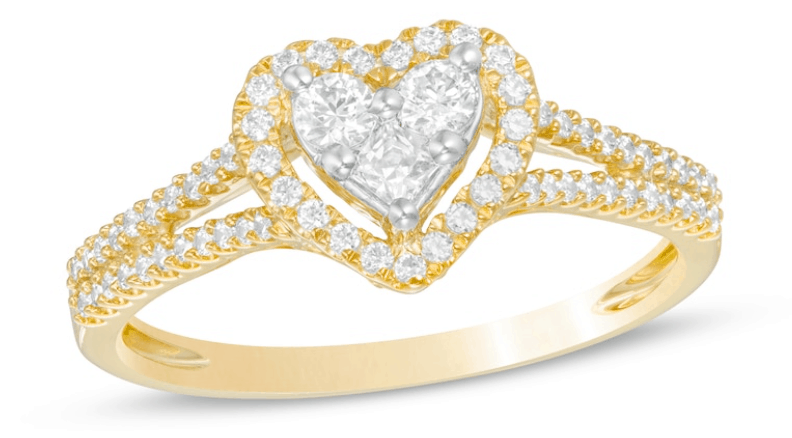 Heart-shaped rings don't have to just be for spouses! Depending on your relationship with your closest friends, you can totally show how much you love them by offering up this heart-shaped composite ring with a diamond-lined frame along a split shank for only $800. Buy Here.
Kay: Diamond Anniversary Band Round-cut 10K Yellow Gold (0.50 ct. tw.)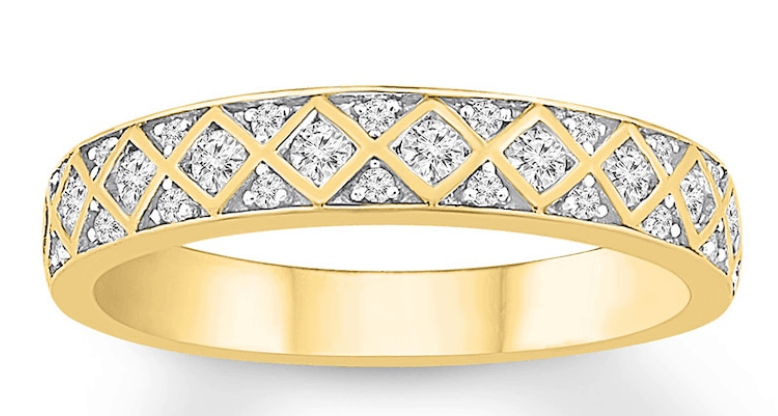 While not technically inexpensive, because both rings will cost you $2000 each, you can opt for buying one for your friend instead. The sparkling round diamonds and the 10K yellow gold cross lines make this ring flashy but won't make you stand out too much. Buy Here.
Cartier: Étincelle De Cartier Ring (0.48 ct. tw.) (REF.: B4095700)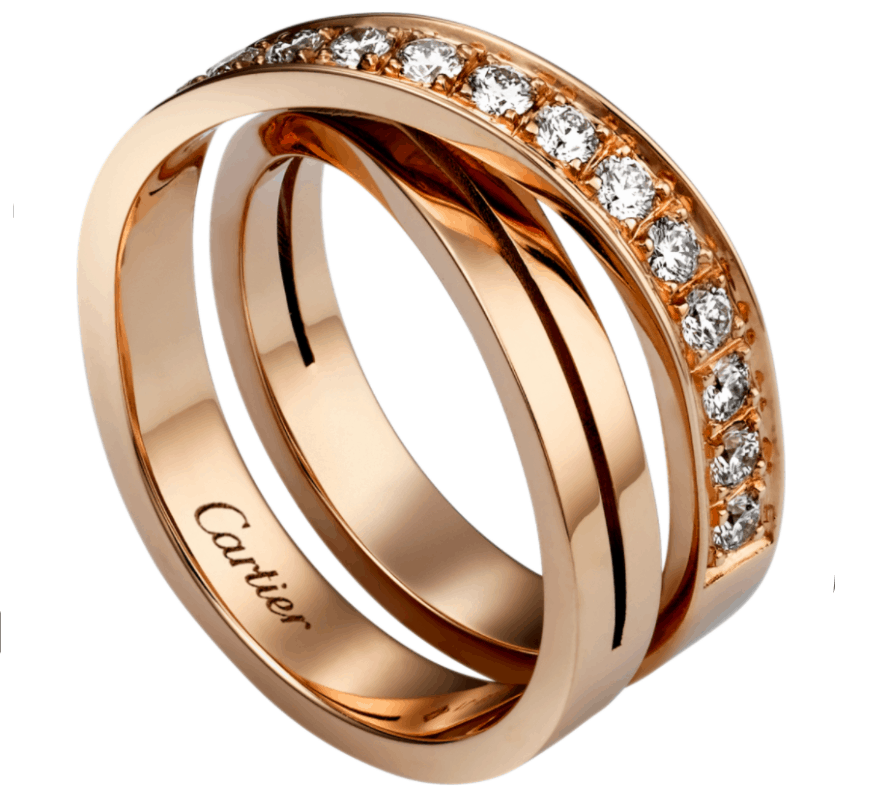 Equal parts showy and minimalistic, this ring from Cartier's elegance collection looks like two rings in one. On one band lies multiple diamonds, which lines the piece elegantly, whereas the simple, featureless band with a deep line is simplistic yet handsome. Buy Here.
For Family
It's common for people to buy jewelry for their families. Since rings symbolize eternal love, purchasing a high-quality ring for a family member is a sure bet if you're close.
Although we can never truly pay back the goodwill our parents or extended family members have given us over the years, diamonds can come close. Typical family jewelry presents come with matching sets that include earrings and a necklace or a bracelet. Many jewelry stores will offer significant discounts for sets, so keep a lookout for those sales!
Let's take a look at the best half carat diamond ring options for your family members:
Unique and undoubtedly eye-catching, this 18k yellow gold ring takes its inspiration from chains. The Bezel-Set will up your ring stack with the sun's light as an unbroken string of diamonds dance around with a shine that has to be seen to be believed, especially at this price! Buy Here.
Zales: Emerald-Cut Diamond with Marquise Shapes Vintage-Style Engagement Ring in 10K Rose Gold (0.50 ct. tw.)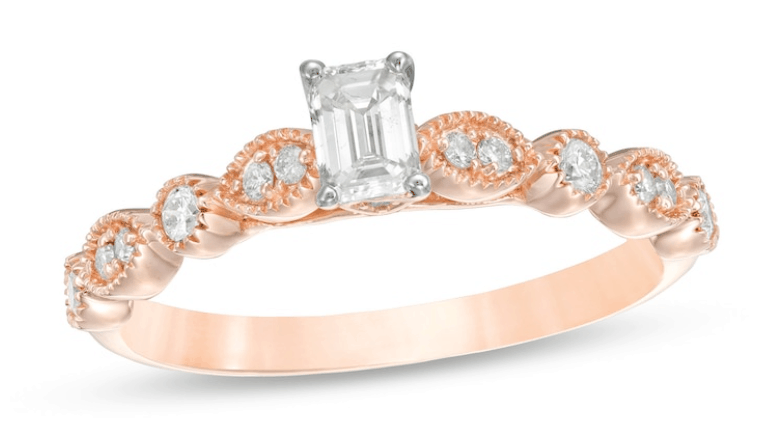 We all thought that rose gold would be a trend that wouldn't stick, but it looks like it's here to stay. It's good that it has such staying power because this emerald-cut diamond ring would look naked without this brilliant color, especially against the marquise-shaped frames. Buy Here.
Cartier: Trinity Ruban Wedding Band (0.49 ct. tw.)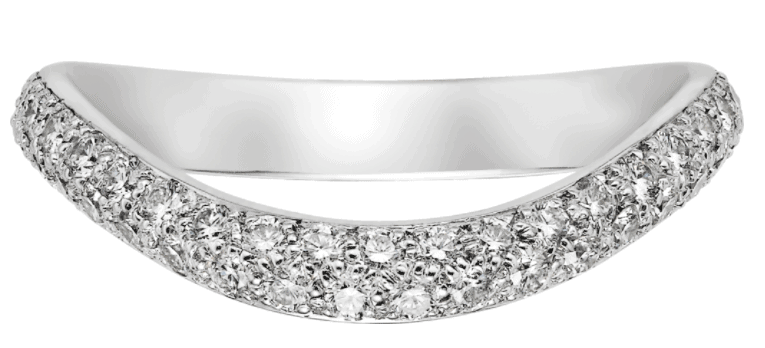 Although this piece is marketed as a wedding band, its beauty doesn't have to be contained for just such an occasion. The iconic Trinity is re-interpreted as a jeweled ribbon in this ring, perfectly combining with platinum paved coils and high-quality, natural diamond. Buy Here.
Jared: Diamond Solitaire Ring Princess-cut 14K White Gold (0.50 ct.)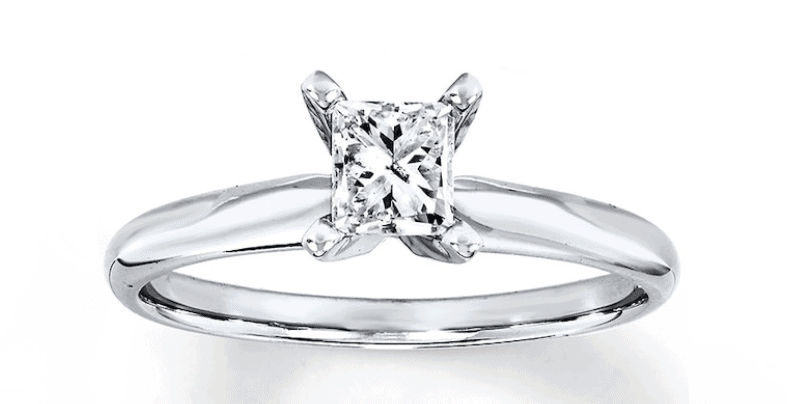 A simple ring that could cater to anyone's taste, the diamond solitaire ring is the perfect little gift that won't clash with anything the giftee owns. The prong-set, princess-cut diamond is the main attraction here, but the tiny, thin 14K white gold band is elegant and timeless. Buy Here.
Kohl's: The Regal Collection 14k Gold Certified Diamond Enhancer (0.50 ct. tw.)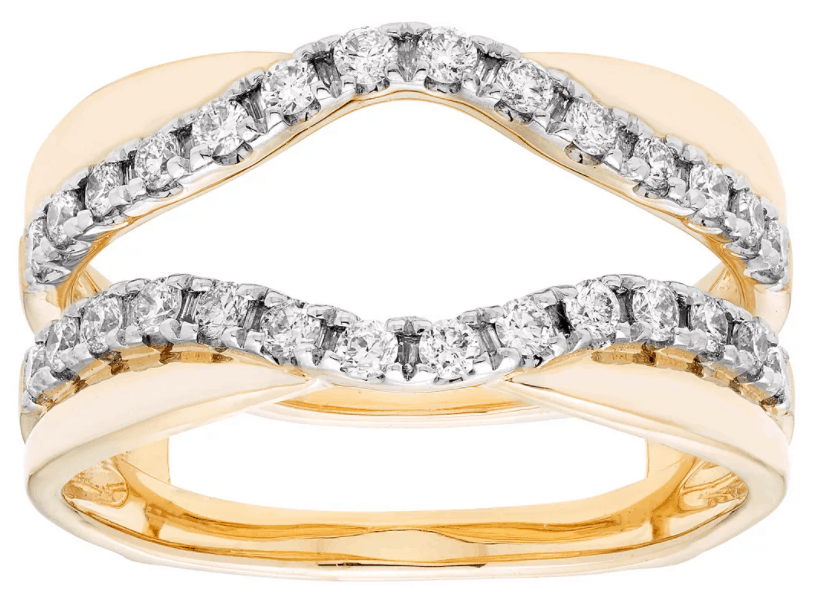 As an interesting ring that looks like an opening mouth, this wedding band is also really versatile as a gift for family members. Most smaller rings can fit in between this diamond enhancer as long as the band is thin enough. Plus, this ring does look exceptionally regal. Buy Here.
For Partners
Buying your partner a diamond ring is typically a big step. You're telling your significant other that you envision a long life together and that a marriage ceremony will soon follow. Although this gift is meant to symbolize an engagement, that doesn't always have to be the case.
Promise rings, which are more cost-effective than engagement rings, act as a promise for when you both have time, money, and/or stability in your lives, you'll officially tie the knot. An engagement ring typically follows the promise ring when both parties can provide one.
On the other hand, you can give your partner a ring as a gift without the promise of marriage. Some couples don't want to get married, but it doesn't mean you don't want to spend the rest of your lives together. A half-carat ring could just serve as a generous gift!
Let's take a look at the best half carat diamond ring options for your partner:
Spence: White Gold Ring (0.49 ct. tw.)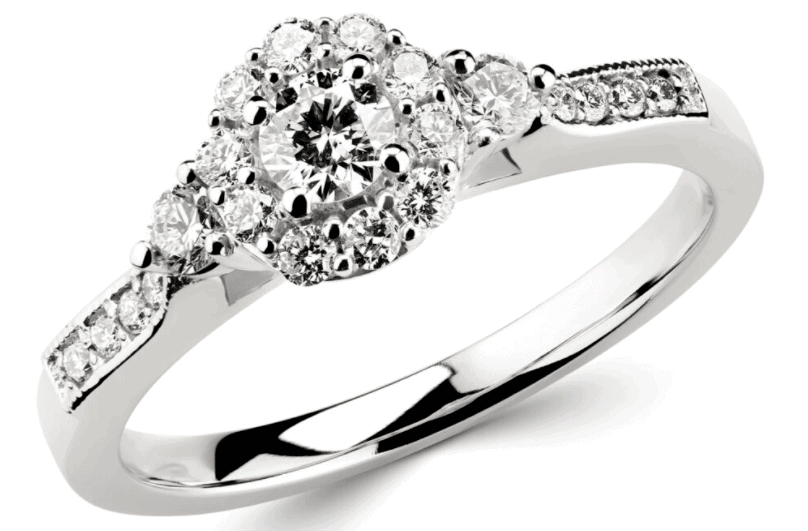 Crafted from the finest 14K solid gold you can find, this white gold ring with brilliant symmetry and glimmer isn't something you should pass up. What I love most about this ring is how the stones are set along the band, making the piece more brilliant as a result. Buy Here.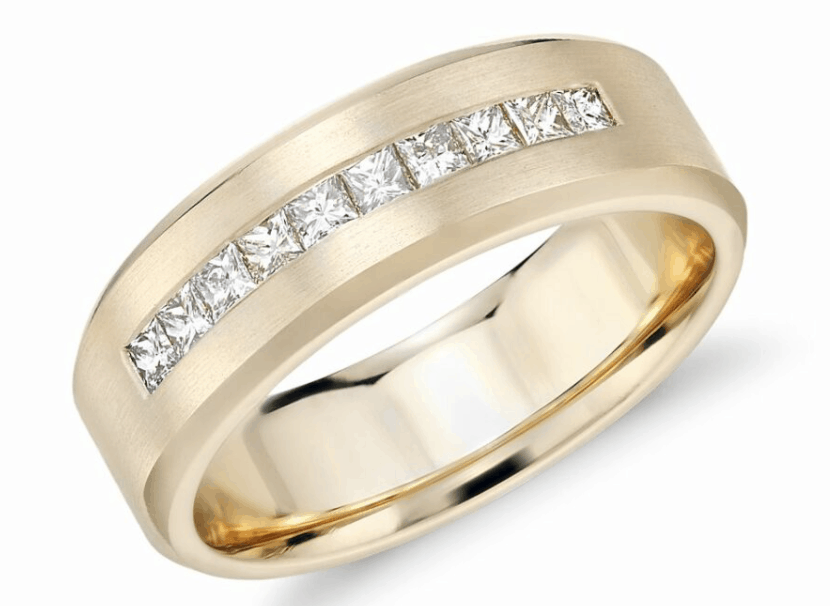 A channel of princess-cut diamonds shines brilliantly against the 14k golden post, ensuring the wearer stays sharp for a lifetime. The rounded, polished edges make it more comfortable for everyday wear but durable enough to withstand constant knocking and banging. Buy Here.
Cartier: Étincelle De Cartier Ring (0.48 ct. tw.) (REF.: B4225000)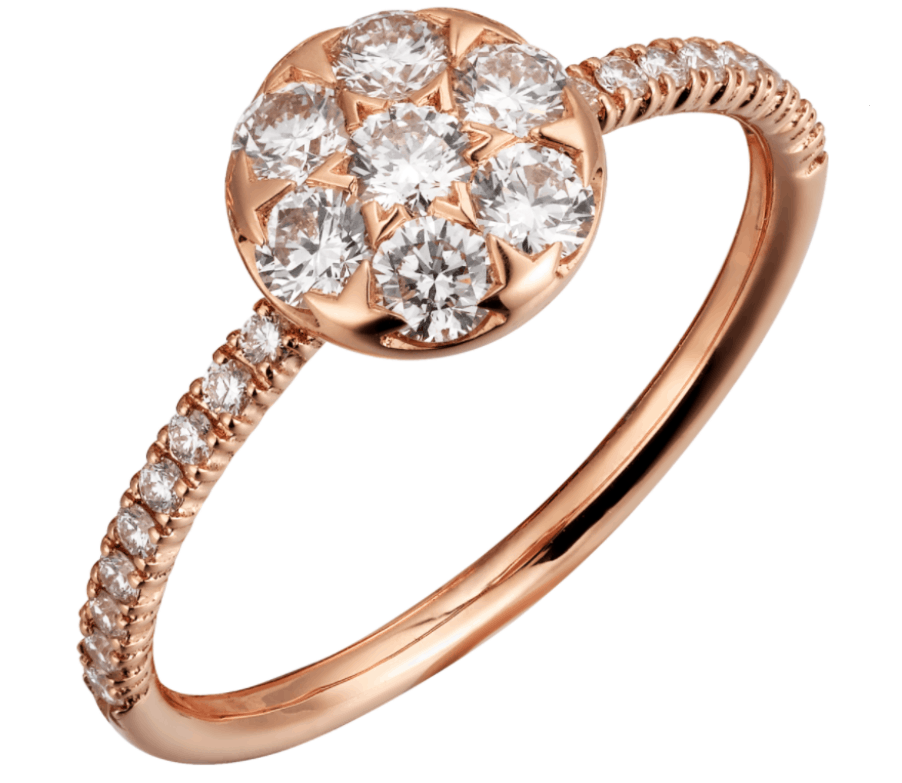 Cartier always produces quality rings, and this beauty is no exception. The Étincelle de Cartier ring, made of 18K pink gold and set with 25 cut diamonds, is an entirely unique ring. From their delicate collection, the clean lines and paved diamonds truly scream elegance. Buy Here.
Diamondere: Akka VS Diamond and Diamond Sidestone Ring in 14k White Gold (0.55 ct. tw.)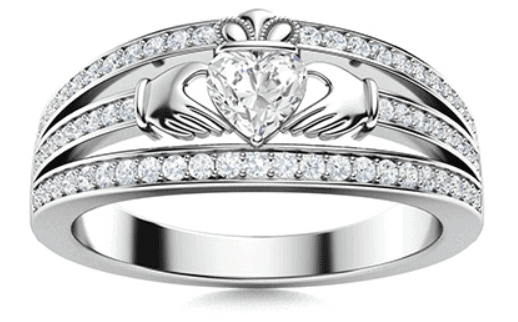 Diamondere's Akka ring is a symbol of undeniable romance. This VS 0.55 diamond ring features a heart-shaped gemstone in the center held together by two hands. Its completely symmetrical appearance portrays tenderness and a true romantic bond that can't be broken. Buy Here.
Jared: Diamond Anniversary Band Round-cut 14K Yellow Gold (0.50 ct. tw.)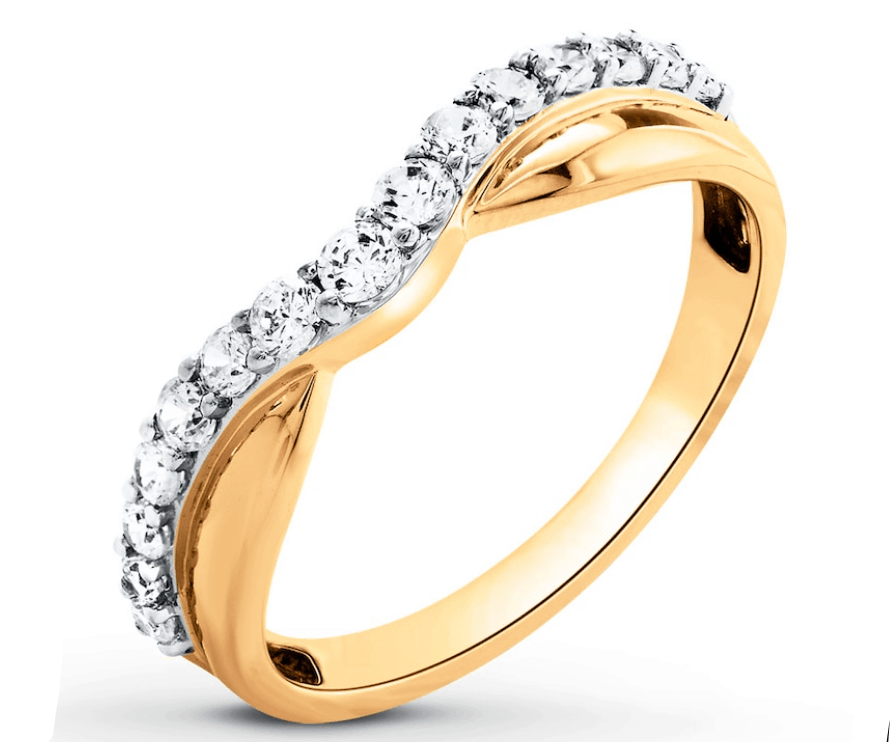 Diamonds on gold never looked so good! This ring features round diamonds that form across a brilliant wave-shaped band that overlaps another curved band of 14k yellow gold. You can give this ring as an anniversary gift, a promise ring, or an engagement ring. Buy Here.
For Spouses
After marriage, a half-carat ring can either be a gift or a replacement for an engagement ring you gave in the past. If you married young, you likely didn't have the funds to buy the ring you wanted, but that has hopefully changed after you've spent a few years together.
At this point in your relationship, you can experiment with trendier settings, colors, or cuts. Instead of a white diamond ring, you could purchase a pink, blue, yellow, or any other color that suits your fancy. Many couples will follow the Milestone Anniversary Gift Giving Guide for their purchases, making it easier to stay creative with your jewelry options.
Let's take a look at the best half carat diamond ring options for your spouse:
Diamondere: Gerraldine Blue Diamond and Diamond Sidestone Ring in 14k White Gold (0.55 ct. tw.)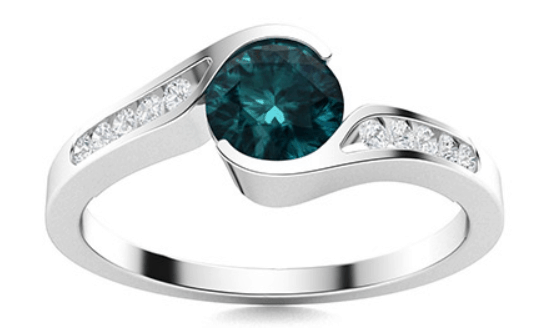 Instead of a traditional white diamond, opt for a stunning blue diamond affixed on a unique setting. The 14k white gold band makes the rest of the gems shine brilliantly, and the rhodium-plating will ensure your spouse's new ring will last a lifetime. Buy Here.
Costco: Round Brilliant VS2 Clarity, I Color Diamond, 14kt White Gold Band (0.44 ct. tw.) (Model FW41012D2C -FJ)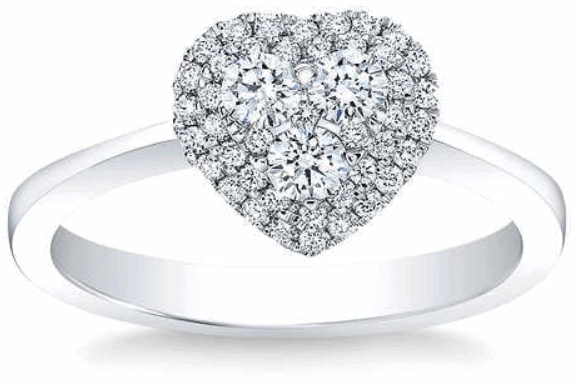 Here's another brilliant but cost-effective ring from Costco. Although it's 6 carats short of a half-carat, its beauty can't be understated and shouldn't be passed over. I love the way the 3 larger diamonds meld into the smaller ones, making it a complete piece to the eye. Buy Here.
Spence: White Gold Double Row Ring (0.46 ct. tw.)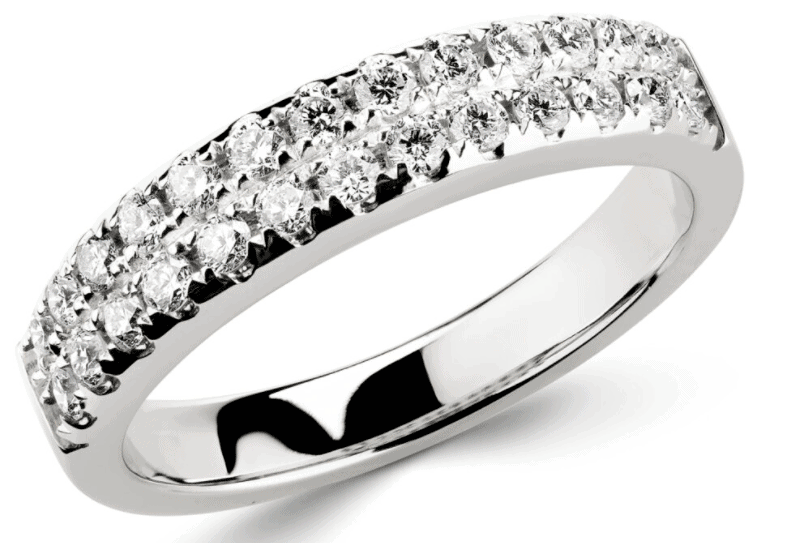 Another ring just under a half-carat, but with twice the stopping power, Spence truly knows how to make gift-giving fun! This ring is both feminine and masculine at the same time and will be a happy addition for people of all genders, even if this is their first blingy piece. Buy Here.
Zales: Diamond Double Pear-Shaped Frame Twist Shank Engagement Ring in 10K White Gold (0.50 ct. tw.)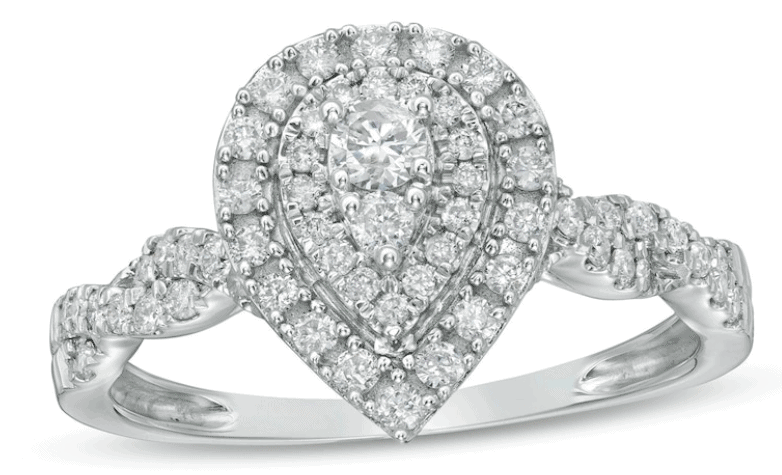 Talk about a ring with a lot of bling! This ring created in cool 10K white gold showcases multiple diamonds against the largest stone, weighting 1/20 carats. The pear-shaped composite makes the finger look elegant, and the thin shank makes the diamonds look much bigger. Buy Here.
Jared: Vera Wang WISH Diamond Band 14K White Gold (0.50 ct. tw.)
Surrounded by brilliant sapphires, this ring has a total diamond weight of ½, so we aren't skimping on your favorite colorless gems! This stunning piece made by Vera Wang adds an extra pop of color to any outfit while also being subtle enough to fit any occasion. Buy Here.
How to Save More When Buying Half Carat Diamond Rings
We're sure our diamond ring examples impressed you, but if you're still a little iffy on the price, here are some ways you can still cut the cost of your half-carat ring without sacrificing its look.
Use a Halo Ring Design:

Since diamond prices jump every ½ carat, you'd be spending a lot to make a gem bigger. You can buy a half-carat gem with a halo ring design and surround the larger diamonds with smaller, circular ones. This gives off the illusion that your ring is bigger and more expensive.

Use a Thinner Band/Shank:

By contrast, a smaller stone will look larger on a smaller band/shank. Plus, smaller bands/shanks are more cost-effective.

Use Fancy Diamond Shapes:

Marquise, pear, and oval are cheaper per carat than round or square. Fancier shapes also elongate the diamond, making it look bigger.

Purchase a Lower Clarity and Color Ring:

Most people won't be able to tell the difference between an H and E colored ring, despite them being 3 letters apart. Similarly, you can often get a 0.70-carat ring for cheaper than a 0.50-carat ring if you drastically lower the clarity. Overall, you could save 40% with a change few would notice.
Expert Tips for Buying Half Carat Diamond Rings
Besides finding the best value for your ring, there are other things you should consider when buying diamonds. Here are some tips you can use to ensure you enjoy your buying experience.
Only Buy From Reputable Jewelry Stores
Never buy from a jewelry store that gives you a bad vibe or seems to withhold information for their buyers. At the same time, don't count out online retailers that have all their certifications and offer good reviews due to fears of losing your diamonds in the shipping process.
When shopping for the best options, look for stores that offer insured shipping, lifetime warranties, and exceptional customer service that doesn't shy away from your questions.
If you're still uncomfortable with buying online, there are plenty of trusting brick and mortar establishments that can help you, although you'll have fewer ring options to choose from.
Check for Certifications and Experience
Make sure your diamonds are graded fairly by a qualified professional. The GIA and AGS are both trusted grading entities that provide certification for businesses or individuals who ask.
It's okay to ask the jeweler for these documents in person. Online retailers will typically place their gem certifications on the same page as the ring you're examining. You're also free to ask about the jeweler's experience and education if you want some extra peace of mind.
Inspect the Diamond Before Purchasing
Although you're likely not an expert in diamond quality, there are still ways you can ensure that the 4Cs are the grade stated on the certificate. For example, a D-quality diamond should be colorless, not yellow. If there's a yellow tint on a supposed D-quality ring, don't purchase from that retailer. They're likely lying about other aspects of the ring or the business itself.
Many online jewelers will give you the option of magnifying and examining each diamond, so you don't lose out on this process if you don't purchase from a store in person.
Always Get a Second Opinion
A diamond ring is a significant investment, so it's vital that you make use of other people's opinions, notably diamond experts. Buying a diamond ring can be tricky. Even the most knowledgeable buyers are more concerned with the size of the diamond, but not the post it will sit in, or the types of gems that will line the sides of the band, but not the band itself.
The customer service experts at most online jewelry stores will be able to answer your questions on what looks best. Brick and mortar establishments will have experts on staff as well, and they can also show you already made examples of the rings you're looking to buy.
Frequently Asked Questions (FAQs)
Question: Is a 0.50-carat diamond good?
Answer: Yes, many rings come in half-carat options specifically because they're an excellent option for most rings. They are classified as "not too big and not too small" and fit perfectly on most hands, though they look better on smaller fingers. A half carat diamond ring typically separates the carat into multiple stones, meaning it's big enough to accompany band or accent stones.
Question: How much should a 0.50 carat diamond cost?
Answer: You can find half-carat rings ranging from $200-$2000, but it's possible to pay $6000+ for a single 0.50 ring for a high-quality stone. Black diamonds are the cheapest of all the colored diamonds in this carat range, and you can find rings with these stones costing less than $400. Black diamonds can hide more imperfections and can get away with a lower-quality stone.
Question: Is a half-carat diamond good for an engagement ring?
Answer: Yes! Although an engagement ring traditionally uses a 1 carat stone or groups of stones that add up to 1 carat on the same ring, half-carat diamonds are still a popular choice. With a diamond budget of $1,000, you can find a durable ring that looks great and won't become loose from everyday wear and tear. Half carat rings are a real bang for your buck.
Final Thoughts
We hope that we made a convincing argument about why you should choose a 0.50-carat ring instead of a heavier diamond. As you can see from our examples, you don't have to sacrifice beauty when you minimize the cost of a diamond ring. In fact, some of these rings look better!
A word of advice: Choosing between carat weights can feel like you're swimming through a sea of uncertainty, but opting for a half-carat instead of a full carat (or higher) can help you focus more on the fine details. Now, you can fully customize your ring to what you or the giftee desires and still have some money left over for another gift, savings, or a wedding!
Further, read: