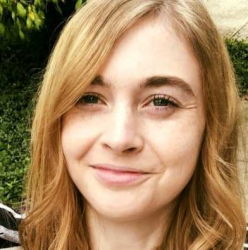 Latest posts by Erin Jamieson
(see all)
Maybe you have a pair of diamond earrings you bought for a formal occasion, or maybe you're just looking for a little extra money. If that's the case, knowing how– and the best place to sell your diamond earrings online can make a big difference in your experience.
For one woman, selling a pair of diamond earrings fetched a life-changing price. Fran Sawyer, a resident of Basingstoke in the UK, is a single mother who desperately needed funds. Her disabled son Alexander was told he would need serious and costly surgery.
Only three pounds at birth, Alexander has battled cancer and a 6lb tumor on his back. Now 16, he still faces countless health issues. Desperate to make sure her son received the care he needed, Ms. Sawyer thought of the heirloom watch and diamond earrings she still had following a split with her well-to-do ex-husband.
Runner Up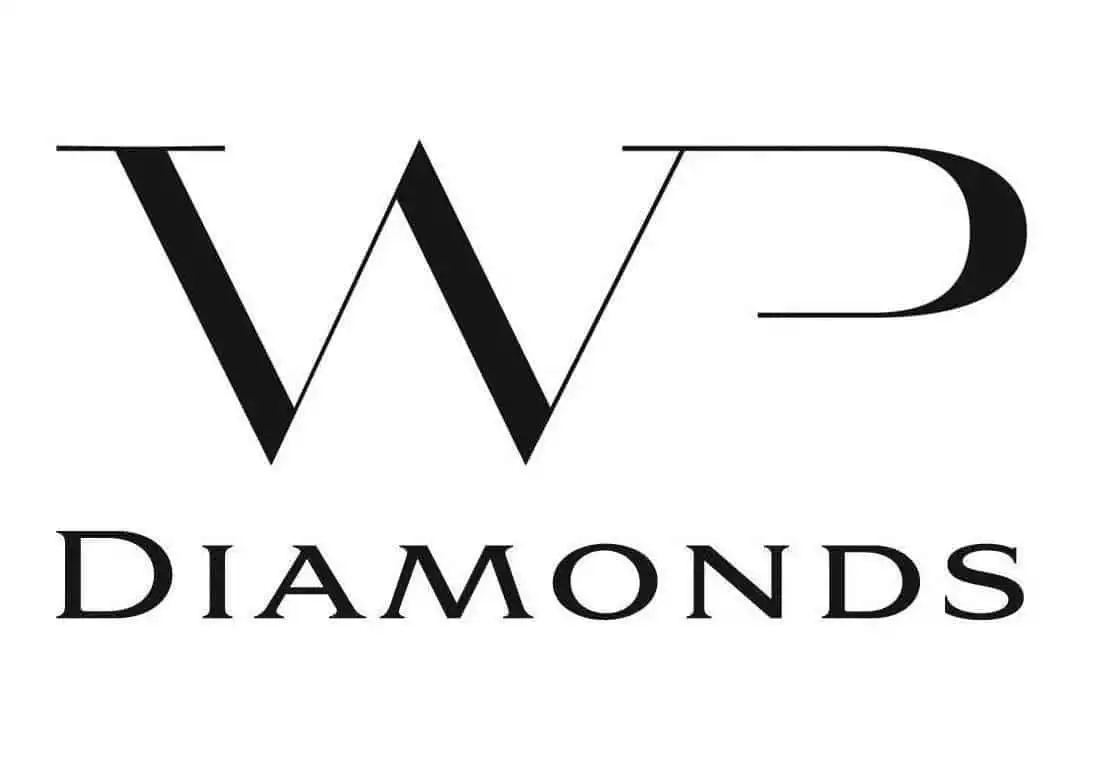 Why Sell to WP Diamonds
I'll admit to not knowing about WP Diamonds until I began looking for places to sell. First, they are FAST! Get a response within minutes. The entire process can take just 24 hours. Second, they BUY DIRECT. No fees, commissions or auctions!
Get a Quote
We earn a commission if you click this link and make a purchase at no additional cost to you.
Thinking the two fetch 17,000 pounds, she was startled when she was offered a grand 150,000 pounds– more than enough to ensure her son gets the care he needs.
For Ms. Sawyer, selling a pair of diamond earrings and a watch was one of the best decisions she's ever made– and has become a life-changing experience.
As heartwarming as the story is, I have a heavy note of caution. Many come across stories like this and expect a spectacular experience selling diamond earrings online, The truth is you'll likely fetch less than you expect to– but knowing how and where to sell can make a difference between fetching a fair price vs your earrings being undervalued– or even stolen or lost.
To help guide you to the best deal possible, I'll tell you what you need to know about selling diamond earrings online. I'll go over the basics of having realistic expectations, tips for getting the best price possible, and my recommendations for some of the best places you can sell earrings online today.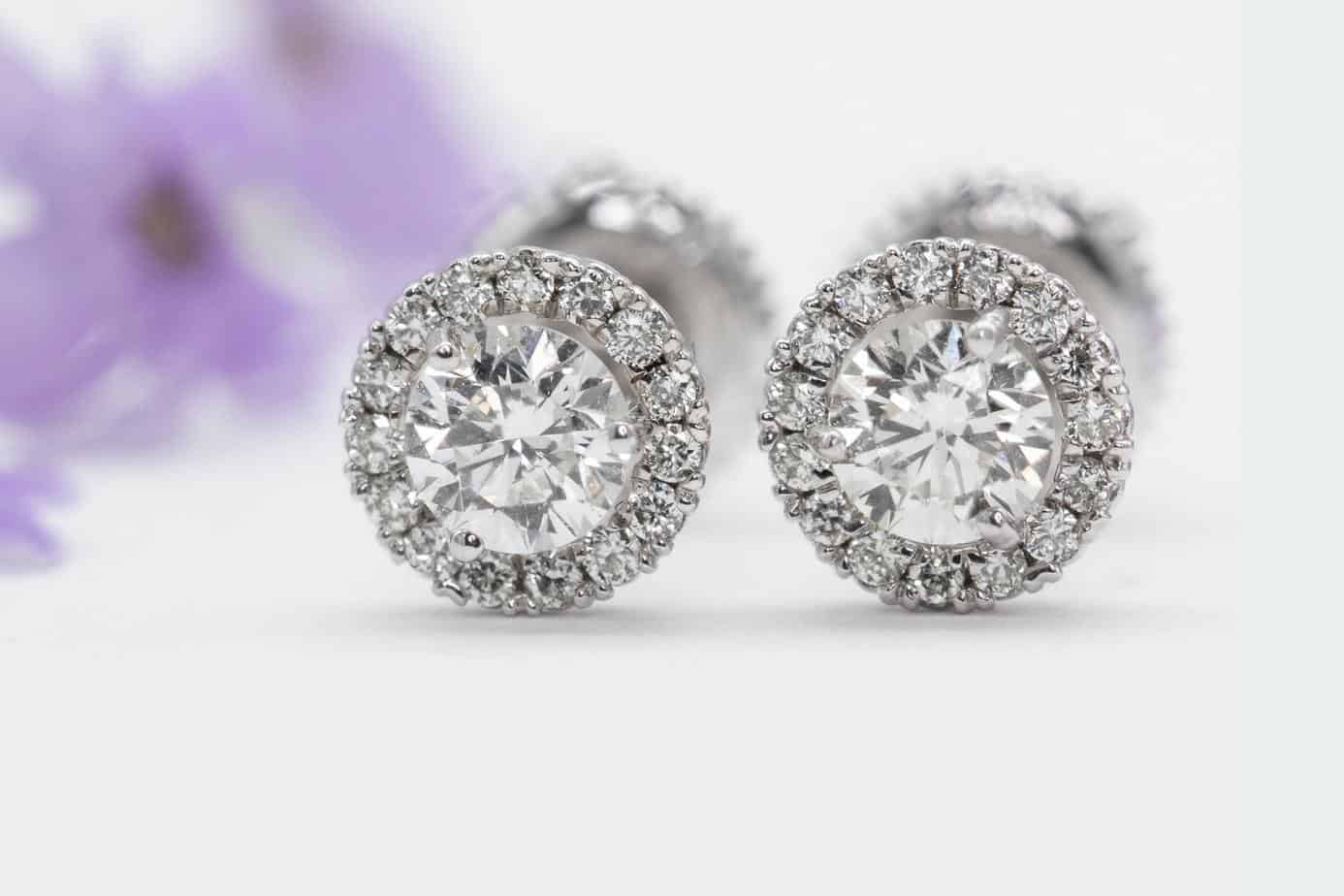 How can I sell my diamond earrings?
If you're considering selling your diamond earrings, you have many options. You can sell to a pawn shop, fine jeweler, or even list on a site like eBay or Etsy. All of these options have pros and cons, as does selling diamond earrings online vs in person. But before I discuss the pros and cons of selling online, there are few considerations you should look into before selling your diamond earrings anywhere. I also think it wise to set realistic expectations before selling– both so you won't get disappointed and also get a fair price.
Are diamond earrings easy to sell?
Diamond earrings are in demand, and diamond jewelry, in general, can be sold. Diamond earrings are always in style and timeless so you don't have to worry about chasing trends. Versatile and durable, it's no surprise that many places are willing to buy diamond earrings. Of course, being able to sell them at all is different from getting a good deal.
Can I sell my diamond earrings without a certificate?
A certificate of authenticity and/or official GIA report helps sell your earrings, though not required. The truth is you can sell your diamond earrings without these– but they're likely to be undervalued. It may be worthwhile having a professional evaluate your earrings before you sell.
Can I sell single diamond earrings?
You can sell a single diamond earring. Sometimes it will be resold as a single earring, or repurposed. Just know that the value of a single earring will be much less than a pair of earrings.
How much money will I get from diamond earrings?
Going into selling diamond earrings with clear expectations is helpful. You can advocate for the best deal possible, while also not getting your hopes up too high. It's tricky to say the exact price you can expect, but doing some research ahead of time can be helpful.
How much are diamond earrings worth?
How much diamond earrings are worth depends on the carat, cut, color, and clarity of your diamonds, as well as the metal backing. The higher the clarity and color rating, the more valuable it is. Interestingly, yellow gold has a higher resale value than white gold, but platinum is more valuable than both. Likewise, the purer the gold, the higher the value. A diamond of excellent color and clarity can fetch more than a diamond of poor quality but a larger carat.
The average current market value of a 0.25-carat stud earring is around $300. But the actual value of yours will vary greatly– and resell value is not the same, alas, as worth.
Are lab-grown diamond earrings worth less than natural diamond earrings?
The other thing you need to consider is lab-grown vs natural diamonds. While lab-grown diamonds can be of the same quality as natural diamonds, they aren't nearly as valuable. Some estimate that the average lab-grown diamond is around 30 percent less valuable than a natural diamond of the same quality. Still, you can get a decent price for your lab-grown diamond earrings, so it shouldn't keep you from selling.
What is the resale value of diamond earrings?
Of course, there's also diamond earring resale value to consider. The resale value is decently lower than the worth of your diamond earrings. While diamond earrings retain their value if, in good condition, they also sell for up to 50 percent– sometimes a bit more– of their original value.
Why is diamond resale value so low?
Diamond resale value is not low because diamonds lose value, but rather how jewelry is marked up. Diamond jewelry can be marked up as much as 200 to 300 percent by jewelers. Hence, that means you shouldn't just sell your diamond earrings to the first jeweler you find. Comparing prices and getting several quotes is a wise choice. Some companies may even offer price matching if you ask.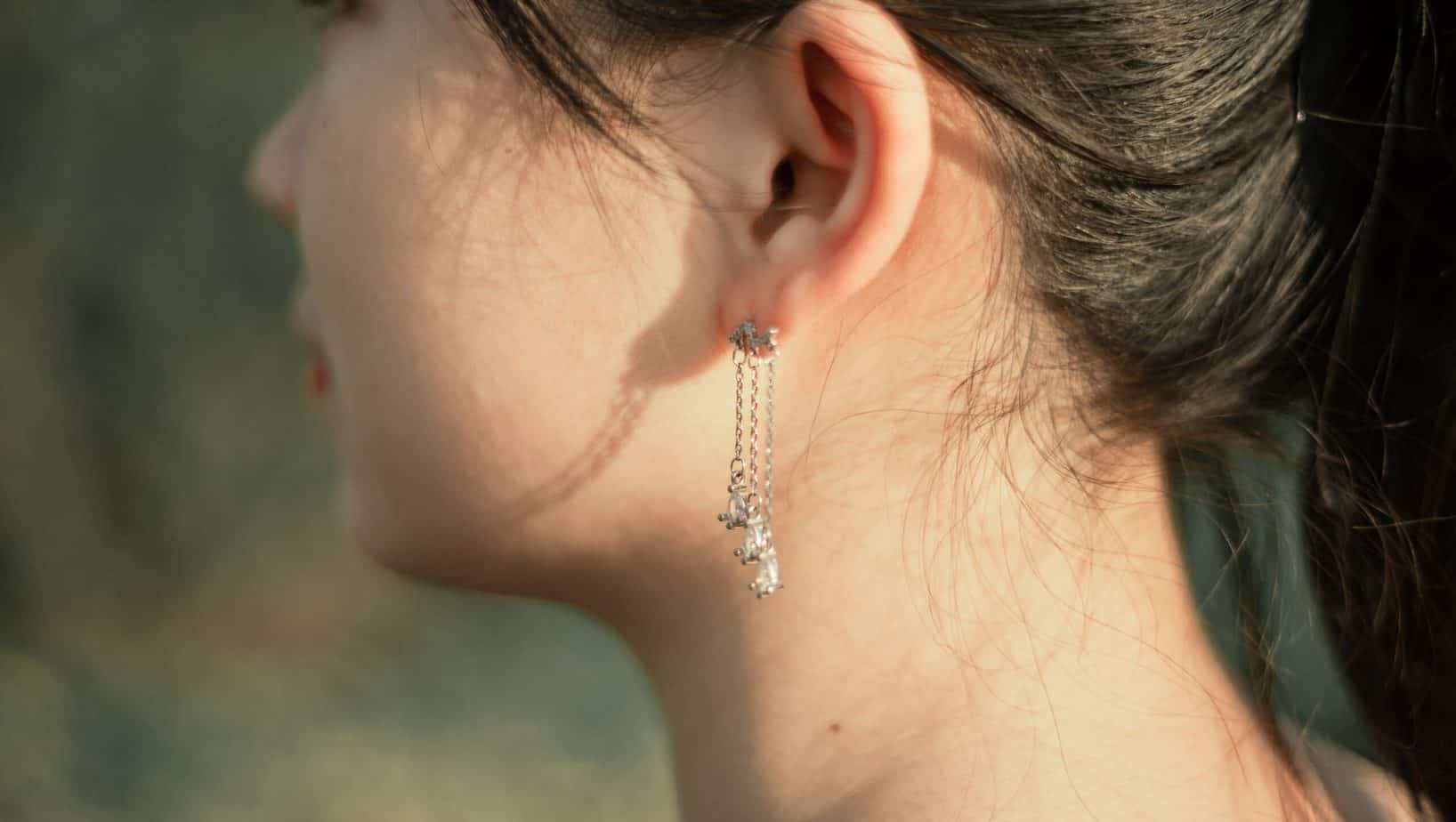 How can I sell my diamond earrings online?
There are pros and cons to selling diamond earrings online. Selling your earrings online is more convenient and allows you more flexibility for comparison pricing. Of course, you have to contend with shipping and potential delays. Ultimately, it's not a matter of whether online is better or worse– it's a personal preference. Some simply prefer the more personal experience of walking into a store. For others, there may not be many stores in proximity– if any–and online selling will be the practical option.
Is it safe to sell diamonds online?
You'll also need to be careful who you sell online too. Investigating the company– including customer ratings and a Better Business Bureau profile or similar database– can help you avoid scams. Always make sure the website is secure and that any payments are both secure and encrypted. I recommend searching for a company with a history of excellent customer service, and some professional or expertise for fine jewelry and diamonds.
How do I get the best deal on my diamond earrings?
Going in prepared is a key component to fetching the best price possible for your diamond earrings. Never contact someone who makes an initial offer binding. That is, there should be a clear policy that you don't have to accept an offer. Research how many diamond earrings like yours are going for. Keep in mind the mark-down resale value, but be aware of what kind of diamond earrings you're selling. Instead of settling for your first offer, consider getting multiple quotes to compare.
Where can I sell diamond earrings online?
Now I'll give you my picks for the best places to sell diamond earrings online. All of these companies enjoy an outstanding reputation for transparency and customer service and have expertise in the diamond industry. They also offer an easy process for offering or declining bids and make selling diamond earrings easier rather than a hassle. And, of course, all are actively looking for diamond earrings to buy.
Best For Easy, Risk-Free Selling: WP Diamonds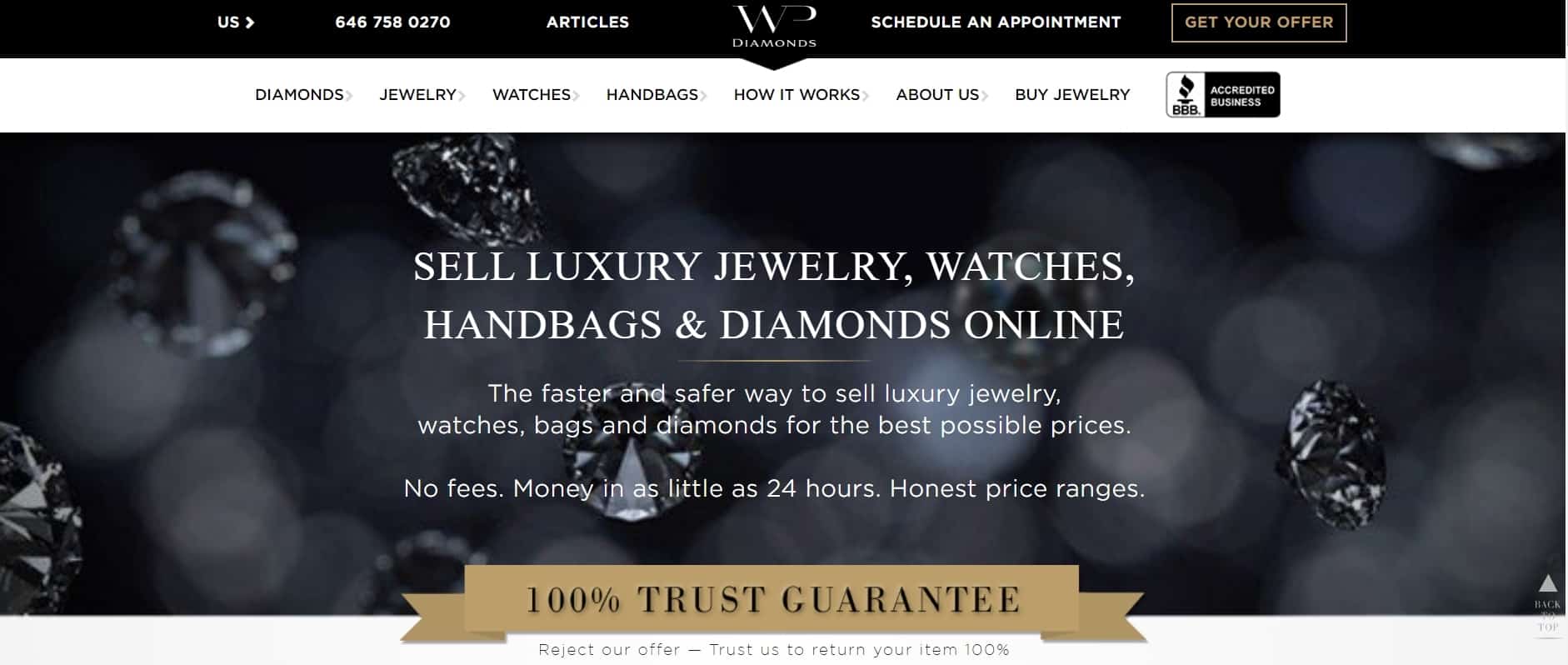 WP Diamonds, as the name implies, specializes in diamonds as well as fine jewelry and handbags. Headquartered in New York, with other locations in the UK, Hong Kong, and Japan, the company was founded in 2012 to allow customers to sell fine jewelry online. They pride themselves on no hidden fees, commitments, and an A-plus Better Business Bureau rating. Their team includes GIA-trained gemologists and they have professional memberships with organizations such as the Jewelers Vigilance Committee and the Jewelers Board of Trade.
What's the selling process like?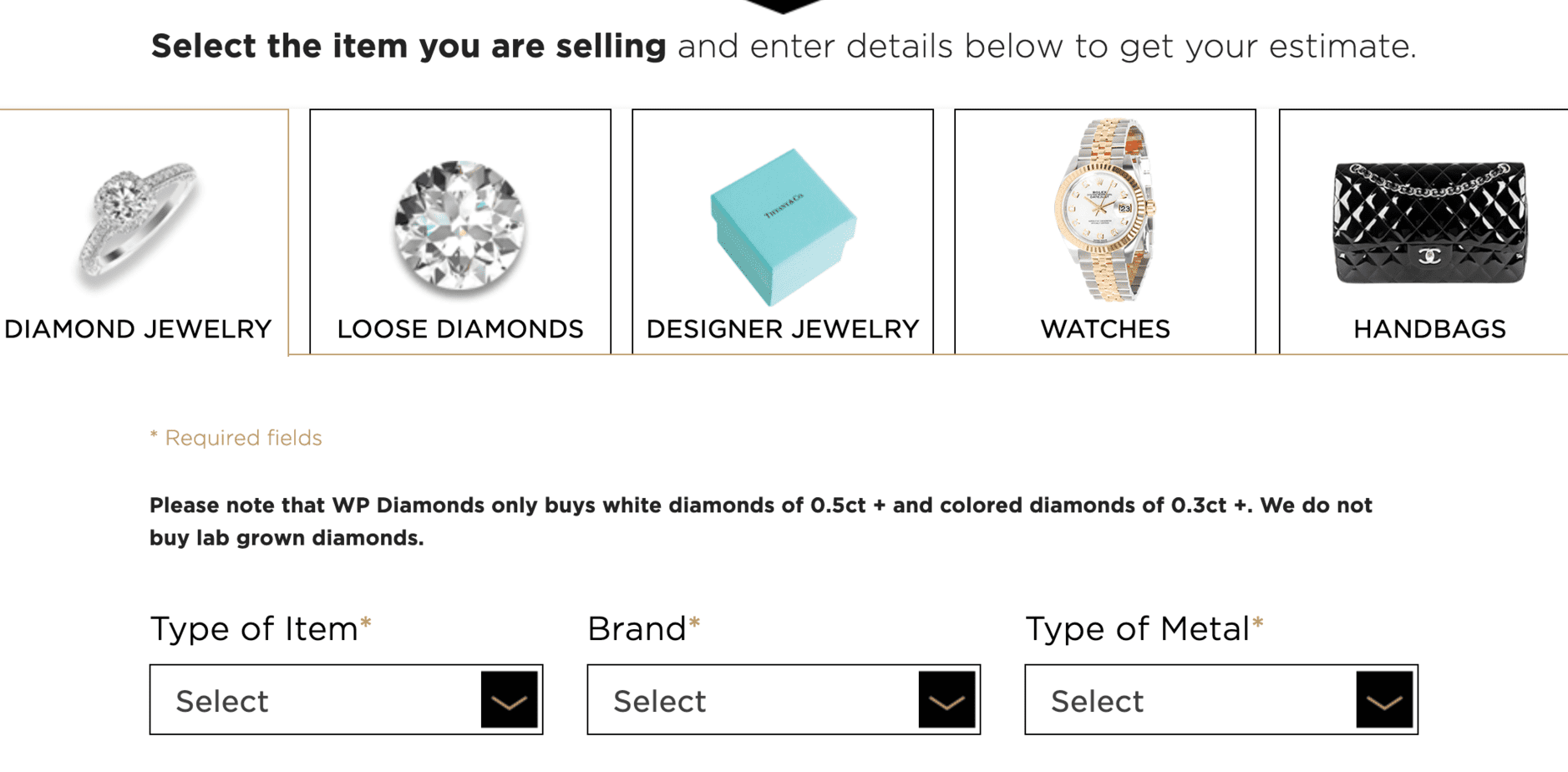 The process for selling with WP diamonds is secure and quick, but it does involve a few steps.
Start by filling out the valuation form– the more details you supply, the better.
Step One: Valuation Form
You'll be asked to specify the type of item, metal type, and brand. You can put "not sure" or "not applicable" for the second field.
You'll also be prompted to report your diamond type and shape, the total number of diamonds, and carat weight, as well as color. You can refer to their online calculator and guide to help you fill out information if you don't have paperwork. They even have a live chat feature if you need help.
Step Two: Receive Initial Valuation & Shipping
Based on your description, you'll get an estimated offer via phone or email. This saves you time if you don't like the offer. If you do like the sound of the offer, you can either visit their physical store or have your items shipped via prepaid, fully insured shipping.
Step Three: Receive Final Offer
Once items are received, the team uses expertise and evaluation to make a final offer.
Step Four: Decline or Accept
You can choose to decline or accept the offer at this time. You won't have any penalty if you decline the offer, and items will be shipped back to you, free of charge.
How does payment work?
You'll receive a payment within 24 hours of accepting the offer. You also have the option to have a check issued to you for a physical location.
Are there any fees associated with selling?
There are no fees. All shipping and insurance are paid for by WP Diamonds, and you're under no obligation to accept an offer.
What's so special about WP Diamonds?
WP Diamonds shines in its customer service, and insurance for the entire process. It's a fairly risk-free process and won't cost you a dime.
How do I get started?
Get started selling with WP Diamonds by filling out the Valuation Form Here.
Runner Up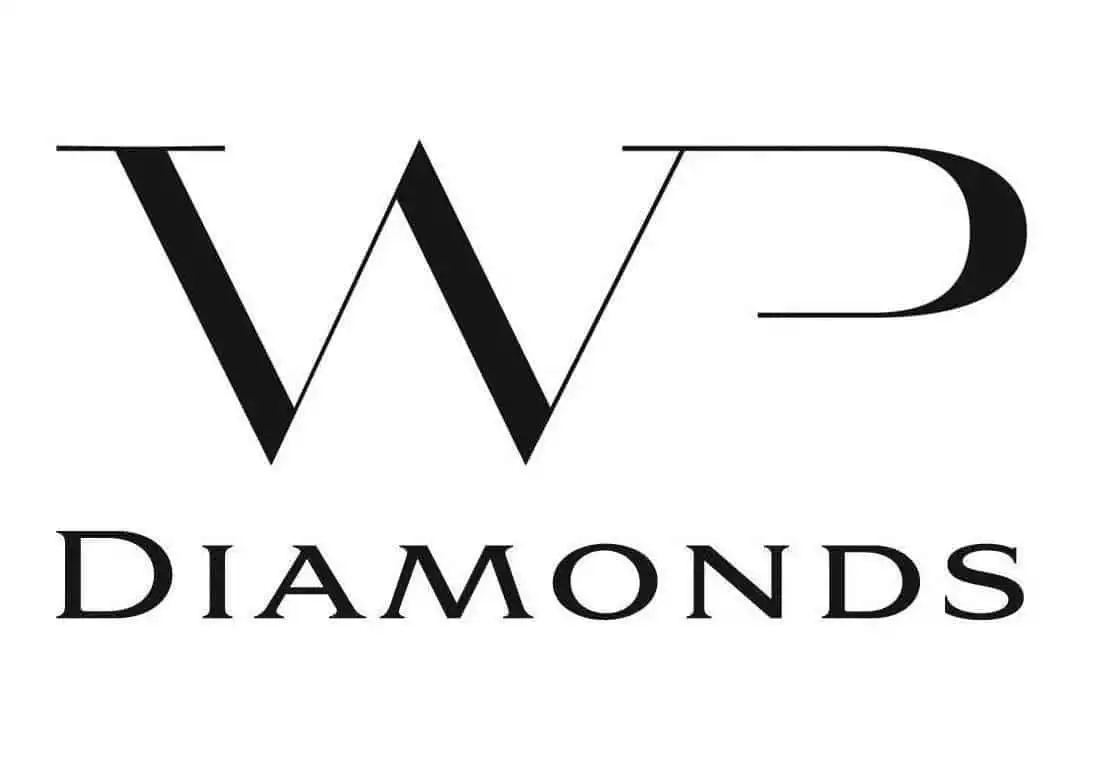 Why Sell to WP Diamonds
I'll admit to not knowing about WP Diamonds until I began looking for places to sell. First, they are FAST! Get a response within minutes. The entire process can take just 24 hours. Second, they BUY DIRECT. No fees, commissions or auctions!
Get a Quote
We earn a commission if you click this link and make a purchase at no additional cost to you.
Best For Top Price: Sell Us Your Jewelry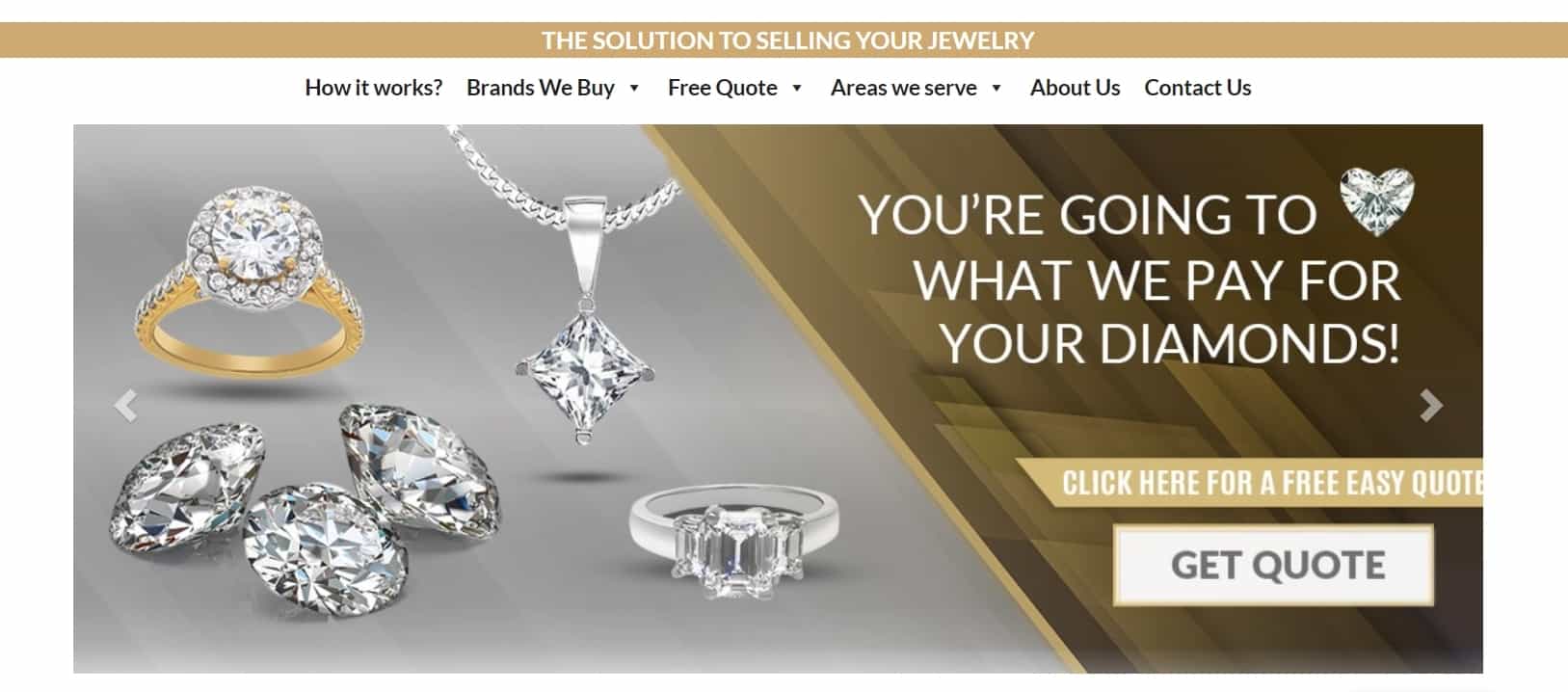 This highly rated online service is owned and operated by Gray and Sons Jewelers. It's been operating since 1980, and only continues to grow in reputation for excellence and customer service. They offer fully insured shipping, a secure process from start to finish, and a traditional approach to business, with their store location in Miami Beach as well as West Palm Beach.
They're especially interested in GIA diamond jewelry and connect with local specialists and gemologists with GIA training. They also love to buy luxury and designer brands.
What's the selling process like?

There's a three-step process to selling with Sell Us Your Jewelry. You'll be asked to start with a simple online quote.
Step One: Request an Online Quote
For this quote, you'll supply basic contact information, as well as a description and estimated color, clarity, and cut. I also love the option to upload a photo. You can also directly talk with an expert via phone or online chat.
Step Two: Request an Online Pre-Labeled Shipping Box
If the initial quote interests you, you now can request a pre-labeled shipping box. The downside is that you have to pay for insurance. UPS is recommended over FedEx. You can also visit one of their physical locations in Florida.
Step Three: Accept or Decline Final Offer
After the earrings are assessed, you'll be contacted with a final offer. Items once in their possession are secured in a vault and insured for up to $3.5 million.
How does payment work?
Payments will be processed upon a sale, but this is where it's different and requires patience. The company sells in their physical store, directly to the public. Thus, you get paid after a sale. You do have an option to withdraw your item after you've accepted the offer if it hasn't been sold within 90 days, though this does not seem like it typically happens.
Are there any fees associated with selling?
The only cost associated with this process is paying for insurance shipping to the company. They will pay for any shipping back, as well as insurance while your diamond earrings are in their possession. There are no fees for declining an initial offer or requesting a quote.
What's so special about Sell Us Your Jewelry?
Sell Your Jewelry is unique in that it sells in their store, directly to their customers. This means they are more personally invested in your jewelry, and they also cut out the middleman– which means fewer markups and better payment for you. This is one of the very few companies that allow you to sell online but operates traditionally.
How do I get started?
To get started selling, Click Here For Your Free Quote.
Frequently Asked Questions
Question: Are my diamond earrings real?
Answer: If you're questioning if your diamond earrings are real, chances are you don't have a certificate of authenticity– which you should ask for before you buy. If you've had a pair of diamond earrings for some time or inherited them, there are a few ways to tell. If sandpaper scratches the stone, it's not a real diamond. So diamonds are dense, they also sink in water; many fakes will float. 
Question: Does a real diamond sparkle a rainbow?
Answer: Diamonds — both natural and lab-grown — reflect white light. Rainbow scintillation can be seen from moissanite, with a genuine gemstone but less valuable, and also cubic zirconia, which is a diamond simulant. That's one of the easiest ways to immediately tell the difference between moissanite and a diamond. 
Question: Are tiny diamonds worth anything?
Answer: Tiny diamonds, also known as melee diamonds, ranging from as little as 0.001 carats to 0.2 carats. The average diamond fetches around $1,500 per 0.5 carats — but that's entirely variable based upon metrics of color and clarity. In other words, tiny diamonds may not be nearly as valuable, but they still have value — and total carat weight by no means is the be-all and end-all for determining value.
Final Thoughts & Honorable Mention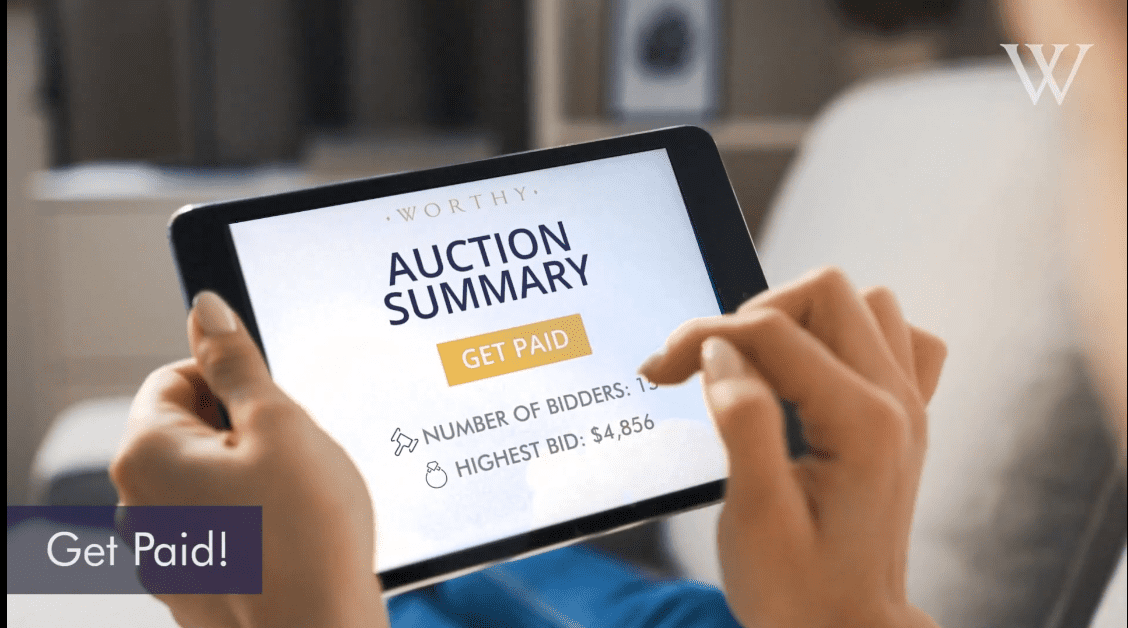 Selling your diamond earrings in of itself can be nerve-wracking and even more if you've never sold online before. Making sure the place you're selling to is secure and legitimate is your first step. Next, you need to research the earrings you're selling, learning as much as possible so you can understand what's a fair price. Of course, getting a free quote in a few places can improve your chances of a great experience.
Prefer auction-style selling? While you can list your diamond earrings on a platform like eBay, I recommend opting for a specialty platform for something as valuable as diamond earrings. Worthy is such a place.
Your diamond earrings will be appraised by trained experts, then you work with the team to agree on the lowest bid acceptable. The company does take a cut of the profits from your sale, but you're likely to get a better offer than were you to do it on your own.
My Top Pick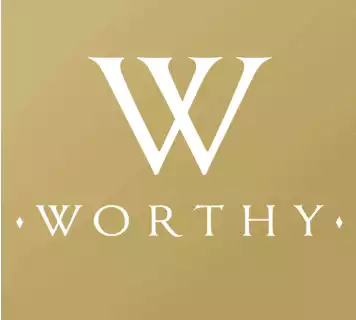 Why I Sell to Worthy
Worthy ensures you get TOP DOLLAR for your diamond ring, with a quick and easy auction process and transparent sale. They handle the messy middle, with a top network of professional diamond buyers. Without this auction format, you likely are selling at 50-60% value...
Get Started Here
We earn a commission if you click this link and make a purchase at no additional cost to you.
Looking for more interesting readings? Check out: