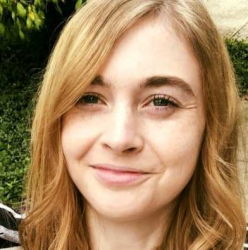 Latest posts by Erin Jamieson
(see all)
There are few accessories as iconic as diamond earrings. From red carpet events to walking down the aisle, diamond earrings have long been a favorite in the fashion world and for brides. But the process of purchasing diamond earrings has notable changed, with more opting to buy online.
Not long ago, buying something as precious as diamond earrings online was deeply mistrusted. Many assumed that diamonds, or any fine jewelry for that matter, could not be purchased safely online, or that lower prices must indicate that they were fake.

I Prefer James Allen for Earrings
James Allen has an AMAZING collection of high quality diamond earrings. You can even build your own. All diamonds are presented with high fidelity 360 degree imagery, so you know exactly what you are getting!
Check prices
We earn a commission if you click this link and make a purchase at no additional cost to you.
Add to that the experience of itself of selecting diamond jewelry in store and it's not hard to imagine the skepticism. And to be sure, there was, and still is, reason behind that wariness.
In a recent case in New York, the online diamond retailer Enchanted Diamond filed for bankruptcy after racking up nearly two million dollars in debt. Only this wasn't simple mismanagement: the company is accused from taking payment from customers not only in the United States, but countries such as the UK, Hong Kong, and India, without ever shipping off the jewelry purchased.
While the CEO is pushing back against those accusations of intended fraud, one thing is clear: not all places are safe to buy diamond earrings online.
But rather than let that deter you completely, rest assured that there are many places that are in fact not only safe to buy a diamond earring, buy a diamond stud earring, necklaces and rings from online, but also of great value. In this article, we'll provide you a guide to the best places to shop online for diamond earrings, and how to know what to avoid.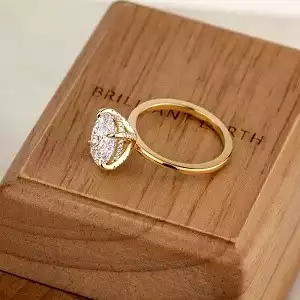 Planning a Proposal?
Make that proposal happen! Get started designing and create an engagement ring as unique as the wearer. To help pull off the perfect engagement, head over to Brilliant Earth's proposal guide.
Check Prices
We earn a commission if you click this link and make a purchase at no additional cost to you.
What are the best places to buy diamond earrings online?
Now let's look at the best places to buy diamond earrings online. While none of these places are perfect, they do offer a lot in terms of quality, selection, customer service, customization, and variety.
James Allen is one of our TOP online jewelry retailers. While best known for their extensive engagement ring collection, their diamond earring inventory is second to known compared to other online retailers.
As with their ring collection, James Allen offers full customization so you can design your own diamond earrings.
James Allen similarly offers their high quality 360 imagery, meaning that you get a true sense for what you are buying AS IF you were in a physical showroom. This is a KEY differentiator for James Allen.
Among their standard preset earrings, James Allen has the following categories:
Diamond Studs

Four Prong Diamond Stud Earrings
Three Prong Diamond Stud Earrings
Double Prong Diamond Stud Earrings
Six Prong Scallop Stud Earrings
Scallop Basket Diamond Stud Earrings
And more…

I Prefer James Allen for Earrings
James Allen has an AMAZING collection of high quality diamond earrings. You can even build your own. All diamonds are presented with high fidelity 360 degree imagery, so you know exactly what you are getting!
Check prices
We earn a commission if you click this link and make a purchase at no additional cost to you.
Pros:
Fully customizable earrings
A wide selection of premade earrings
Best in class pricing, competitive with peers
360 degree high quality imagery to view a piece as if you were there
Cons:
Better known for their engagement rings than diamond stud options
Not as well known as Blue Nile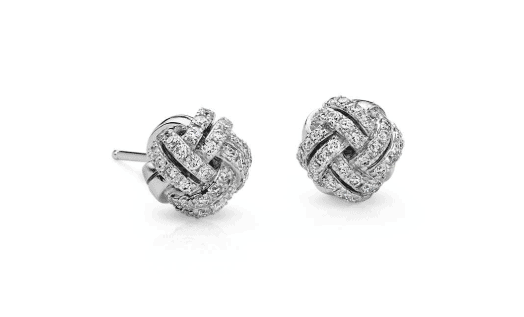 Blue Nile jewelry is an excellent and well-respected place to buy diamond earrings online. In fact, they are known to sell diamonds of all kinds for fine jewelry applications, including diamond stud options and other assortments.
There are not just an online diamond engagement ring (or other engagement ring) supplier, and in fact carry many loose diamonds and specifically diamond earrings. A true one-stop shop for diamonds and jewelry.
Blue Nile has been accredited by the Better Business Bureau for twenty years and holds an A-plus rating. On Credit Donkey, the company received high ratings, though customer rating varies quite a bit from site to site.
Nonetheless, Blue Nile offers some great features, including a diamond price matching program; free lifetime warranty; free secure shipping; buying and education guides; and thirty-day returns and exchanges.
All their diamonds are certified conflict-free (fully certified diamonds, just just discussion of the topic) and does not source any diamonds or gemstones from Zimbabwe due to recent human rights violations.
Our Top Pick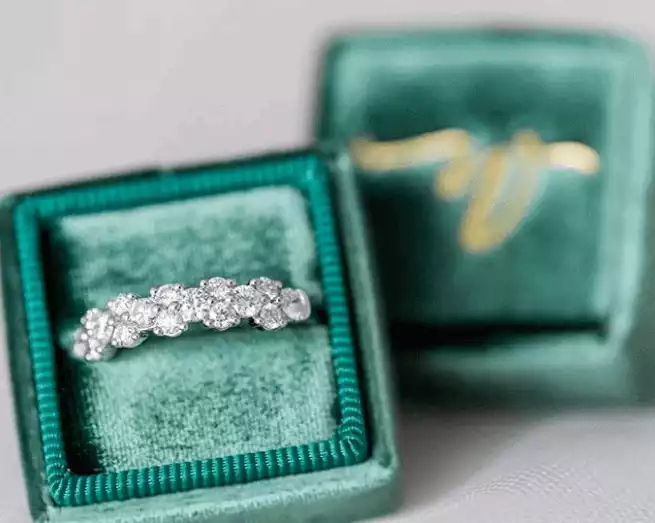 I Personally Prefer Blue Nile
Blue Nile understands online jewelry shopping. They have the deepest inventory of diamonds and settings for ALL BUDGETS. They offer 360 degree REAL diamond images online, so you know exactly what you are getting. Best of all, they've mastered the art of securely shipping jewelry and handling returns or issues with ease.
See Current Deals & Selection
We earn a commission if you click this link and make a purchase at no additional cost to you.
As with other places, you can select from premade diamond earrings or make your own. Premade diamond earrings are available in one of three categories: buy diamond stud earrings, diamond fashion earrings, and extraordinary diamond earrings.
Diamond Studs come in ¼, carat weight and so on, up to four carats. You can select from 14K yellow gold and white gold; 18K white gold; and platinum. For every option, there's a clear price guide. Some cuts on come with certain metals, and vise versa. Prices range from two hundred to forty five thousand dollars.
Fashion Earrings are available in platinum, eighteen and fourteen carat gold, with options for a few dangle and knot earrings, but most options for halo, drop, and diamond hoop earrings (in addition to studs). You can also sort by earring back, and even designer. Prices range from a little over a hundred to over fifty thousand dollars.
Extraordinary Diamond Earrings is a collection of just under forty select, rare and precious options offered through Blue Nile, featuring extravagant designs and gemstone and diamond combinations. Prices range from three thousand to one hundred and fifty thousand dollars.
Make your own diamond earrings in fairly easy steps. You start by selecting the cut (brilliant cut, round, princess cut diamond or asscher), then sort by cut, color and clarity grade (ideal diamond, etc…). You can also filter by price, then finally select your setting and metal type. Not only is there a great degree of customization but cut and clarity, but it's easy to make earrings within your intended price point.
Pros:
Excellent customization and easy to use filters
A wide selection of premade earrings
A greater degree of choice overall
Price Matching
Cons:
Mixed customer reviews
Slightly lower sourcing standards
Make your own earrings are limited to three cuts
View the Blue Nile Collections Here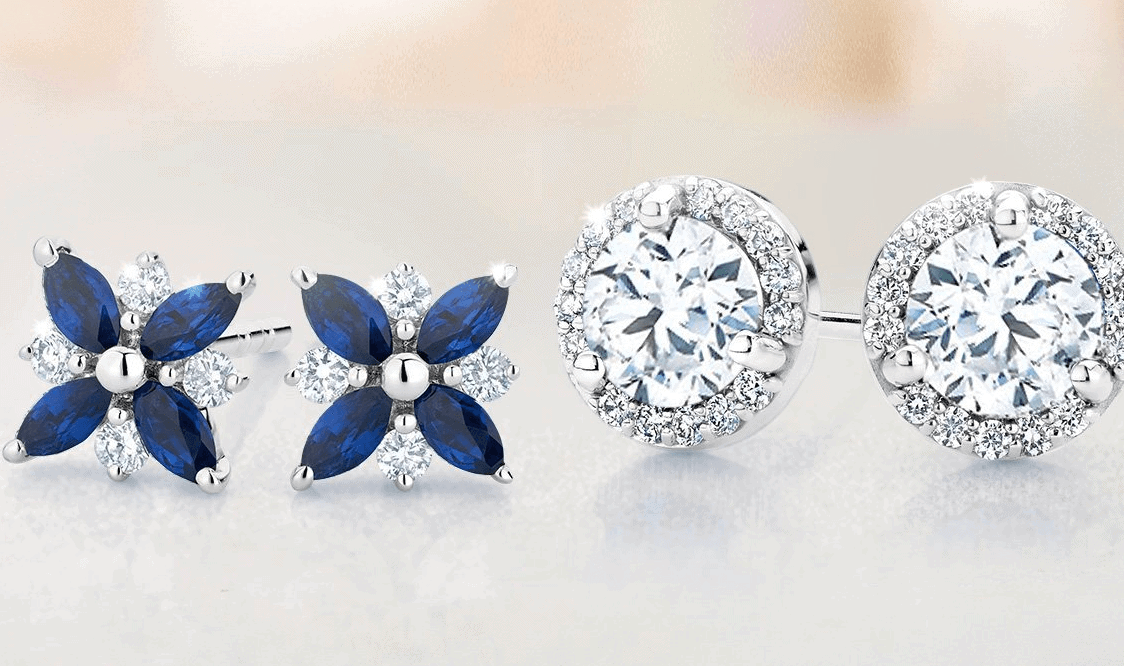 Brilliant Earth is an excellent place to buy diamond earrings online (and other jewelry online for that matter). The company boasts some of the most stringent sourcing standards for their diamonds. Not only are their diamonds certified conflict-free, but they support fair labor practices, local communities, and human rights. They also use recycled precious metals.
Brilliant Earth has been accredited with Better Business Bureau for fourteen years, with an A plus rating. On Consumer Affairs, customers rated the company an average of little over three and a half out of five stars. 30 day returns, free lifetime warranties and overall transparency are all pluses.
In terms of selection, you have two option: premade designs, or custom design. Premade earrings can be sorted by metal, gemstone, style and price. Earrings range from a little over one hundred dollars to twenty-five thousand dollars (for four carats, round cut studs. Diamond earrings are available in silver, 18K yellow and white gold, 14K rose gold and platinum. A variety of cuts are available, with halo, round, princess, paveé, and bezel being the most common.
Most earrings are modern-timeless. Studs are by far the most common, with a few other options.
Custom design earrings allow you to first select either natural or lab grown diamonds (sometimes referred to as lab-created diamonds). For natural diamonds, you then can select from natural or princess cuts, and shop by price. However, you don't have as many options for customization, and many mirror or overlap preset designs.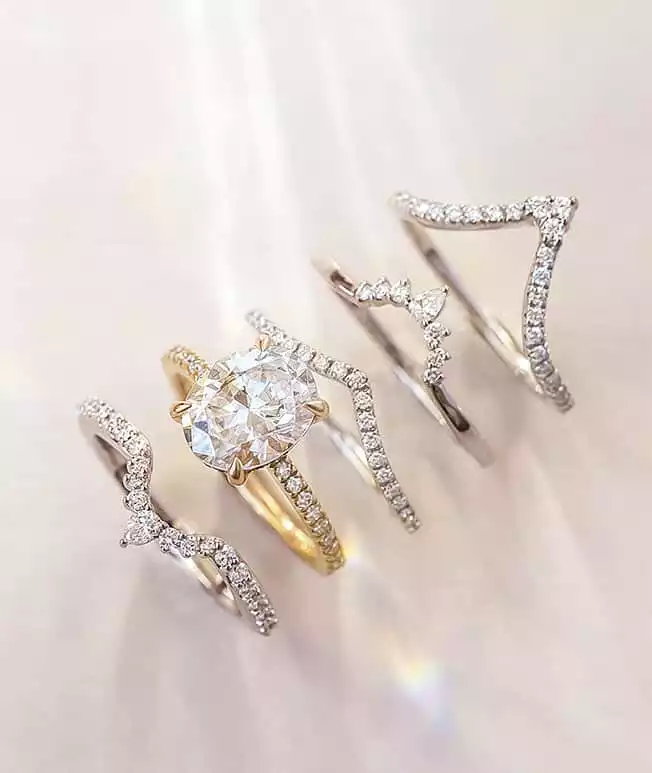 Pros:
Excellent sourcing standards, customer policies, and transparency
Classic designs
Nice degree of different metal types and price points
Cons:
Customization is more limited than competitors
Large focus on stud vs other types of diamond earrings
Can be on the more expensive side, compared with competitors
Have to work harder to see grading standards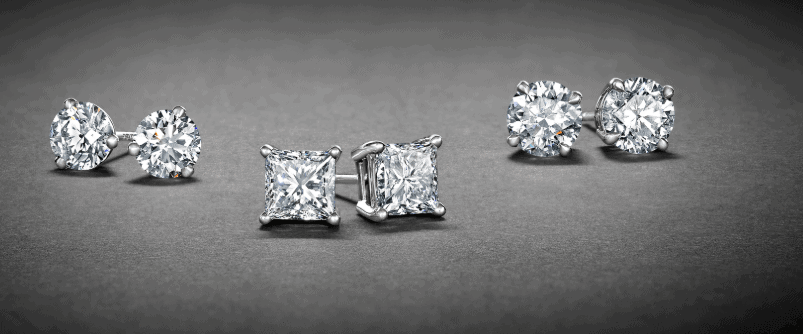 Ritani jewelry is another well known in the diamond industry, but also a great place to shop online for diamond earrings. The company has been accredited with the Better Business Bureau for twenty-seven years and holds an A-plus rating. On both Wedding Wire and Trust Pilot, customers awarded the company an average of over four out of five stars, making it for the most part quite well regarded.
Thirty day returns are offered on earrings that are not customized, and a warranty against manufacturing defects, lifetime cleaning, expert appraisal, is covered, but all require official registration. All diamonds are considered conflict free and support job creation in Namibia. In addition, Ritania has given donations to shelters for children and aspiring artists.
Ritani does not appear to offer much in terms of fine jewelry customization; however, there are many excellent premade diamond earring options. In order to find you diamond earrings, you can use one of several useful filters, including style (offered in studs, drops and hoops); price point (ranging from as little as fifty to about nine thousand dollars); gemstone type ; metal type (platinum, 18K rose/white/yellow gold, and 14K white gold) and carat (up to two carats)
All diamond earrings have a rather classic look to them, and range from simple to glamorous
You can select from around three hundred and fifty different diamond earrings, which means you still have plenty of premade options.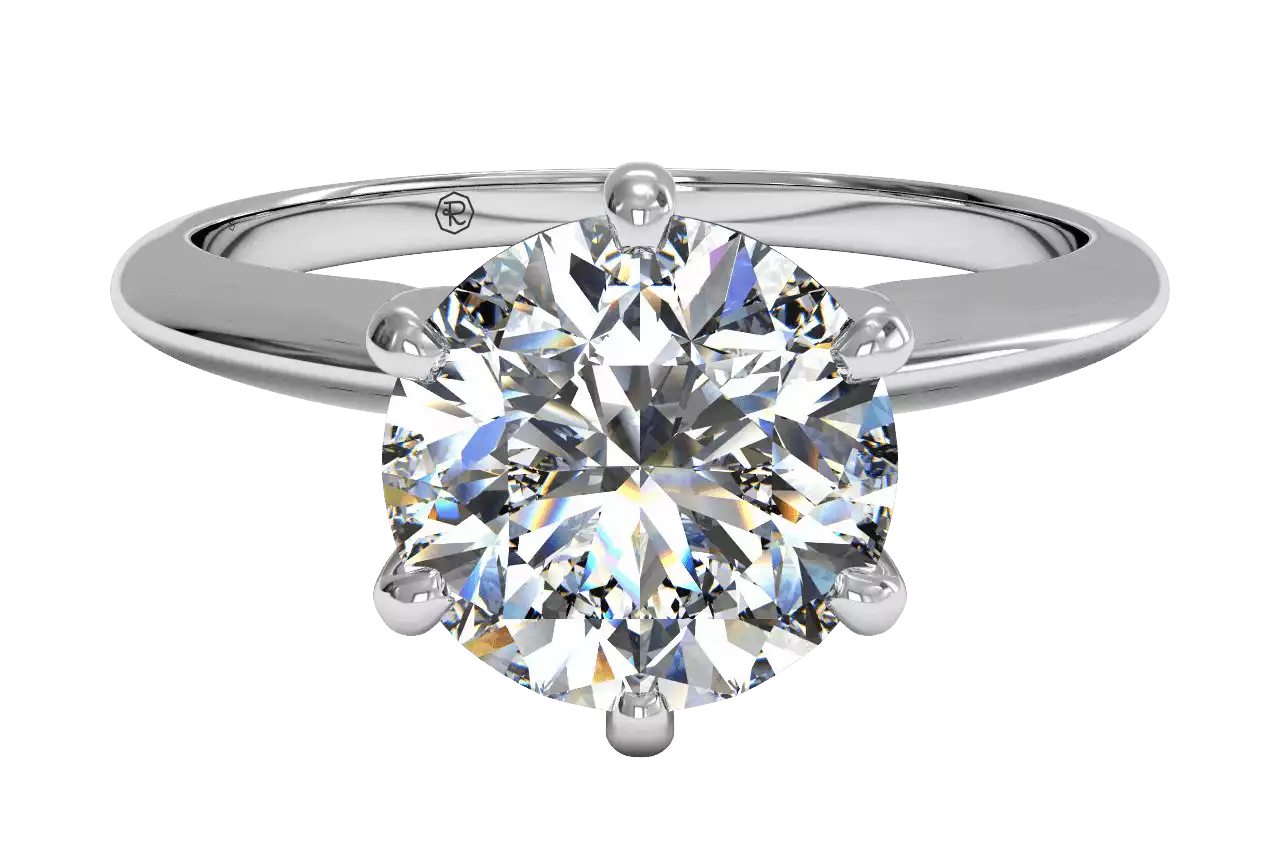 Pros:
Best customer ratings, compared with Blue Nile and Brilliant Earth, plus Better Business Bureau accreditation
Diamonds are both ethically sourced and support a local economy
Easy search filters
Diamond earrings here average out to be more affordable
Cons:
More limitations for customer service and general policies
Must select from pre-made options
Does not offer as many ultra-luxury earrings, or diamond earrings three carats or above
Why should I consider buying diamond earrings online?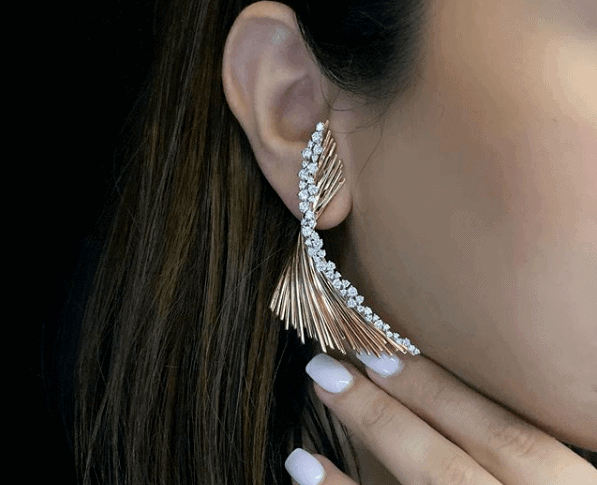 Maybe you're still skeptical about purchasing diamond earrings online. To be sure, purchase fine jewelry or diamonds can be a personal process, and buying online will not be right for everyone.
Benefits of purchasing diamond earrings online
Greater selection of fine jewelry. While it's normally possible to order beyond what you see in a physical store, most online retailers offer a vast selection of diamond and gemstone types, prices, and styles. That means it'll be more likely you'll find earrings that suit your personal style, price point, and taste preferences.
Lower prices. While it's true that you don't want to buy something just because it's a lower price, many high quality online and hybrid jewelers offer diamond earrings at discounted prices compared with what you might find in store. By some estimates, you'll slash off ten to thirty percent off, depending on the specific piece of jewelry.
Greater selection of ethically sourced options. The diamond industry, over many years, has mostly tightened its standards in concerns to ethical sourcing, but online jewelers like Brilliant Earth are going above and beyond by not only committing to sell only diamonds that do not fund civil wars but also by committing to fair labor practices and supporting sustainability.
Truly one of a kind. While it is possible with many traditional stores to order customize diamond jewelry, options for customization tend to be more affordable when you buy online. Not only that, but the process is more streamlined and the options are expanded, by allowing you customize more aspects.
Convenient and secure shopping. The best places to buy diamond earrings online also offer convenient shopping, perfect if you're trying to surprise someone and increasingly secure ways to purchase so you can shop stress-free.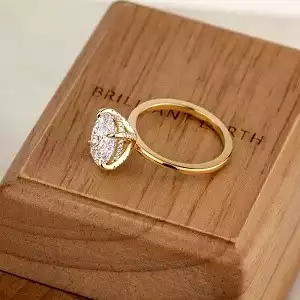 Planning a Proposal?
Make that proposal happen! Get started designing and create an engagement ring as unique as the wearer. To help pull off the perfect engagement, head over to Brilliant Earth's proposal guide.
Check Prices
We earn a commission if you click this link and make a purchase at no additional cost to you.
Are there any red flags, or signs I should avoid buying diamond earrings from a certain seller online?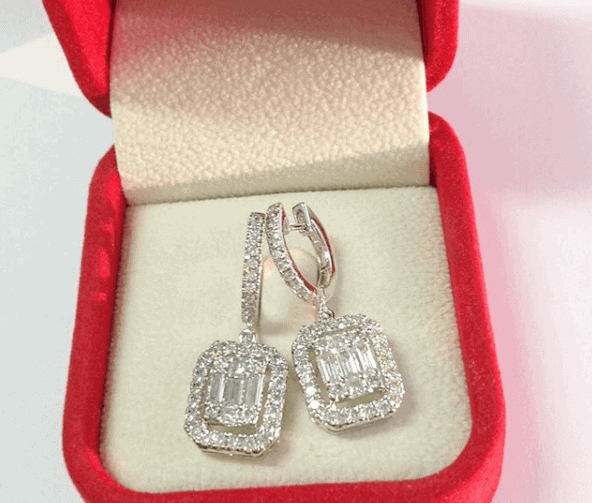 While online scams do exist, the good news is that they largely can be avoided. Many sellers that are not reputable are missing some key components, or have clues that they may not be legitimate sellers. The following are all things to be on the lookout for:
Odd web address
First, check to make sure that the web address begins with https:// . This indicates that the website provides a secure connection. Websites without this, or with some mild alteration, are suspect and should not be used. For instance, it is not uncommon for suspect websites to use http:// instead, so look carefully.
Often, scam websites will also try to mimic common domain names, or opt for a term that sounds close to a trusted name–for example, Amaz0n.net instead of amazon.com. If you're unsure, you also have the option of looking up the domain age through official databases.
No ratings or reviews
Some online shoppers make the mistake of either not looking for reviews at all, or relying on ratings or reviews found on the retailer's website. The problem is that internal reviews can be curated, negative reviews eliminated, and/ or not even true customers.
No contact information
Even if a company does business solely online, there still should be contact information, and the more the better. The bare minimum is an email address, but it's far preferable to shop for diamond earrings only from companies that are also able to provide a direct phone number and physical address. The physical address should line up with public records.
No information about the secure payment
Never compromise when it comes to secure payment. SSL is used to secure your personal and sensitive data, particularly when you're entering information like your credit card. Even if you are paying with a different method, most experts recommend you only shop on sites using SSL.
Company reputation
In addition to customer reviews, there should also be some information about the company, including how long it's been a business, if they are accredited, complaints formally filed, and more. With a site like Better Business Bureau, it's great to see if the company's information aligns with official records.
Too good to be true
We've already said that you can save money on diamond earrings, necklaces and rings if you shop online, but you do want to wary if something is so low of a price it's hard to believe. If you aren't sure, check other retailers selling a like product. There's nothing wrong with a good deal, but if the prices are well off any others, it may not be a good sign.
Grandiose claims
Along the same lines, claims that can't be verified, such as boasting the best store of diamonds in the world tends to be another warning sign.
No information about sourcing or standards
Sourcing is another important factor to consider when shopping for diamond earrings online. Sourcing refers to the origin of where the diamonds came from, which is important for a few reasons. For one, sourcing indicates the type of diamond (lab-grown vs natural or synthetic) and the country or region of origin adds transparency.
At a bare minimum, any diamond you purchase should adhere to the Kimberley Process. This standard requires that the diamonds or gemstones were not sold to fund civil wars.
If possible, look for improved standards, including adherence to fair labor practices; support for local economies and environments; dedication to sustainability, and other related standards
It's a red flag if there are no listed standards.
No, or inadequate information about diamond grading: While it would be quite rare to find a seller with no information about diamond grading, you should easily be able to access information to the following:
Cut is the most significant factor in determining diamond brilliance. Cuts are graded typically on a scale from poor to ideal cut, and are not specifically referring to the diamond shape to the naked eye. An Ideal cut is neither too shallow or deep, to optimize sparkle (a good diamond cutter being key). A mark of a good jewelry store (offline or online) is really in their selection of ideal cut inventory.
Color should be fairly apparent and normally is not a concern. Keep in mind that colorless diamond options are considered the most precious Diamonds (perfect diamond) with a "D" rating are considered colorless. Some fancy colored diamonds break the rule if they are exceptionally rare, such as the Blue Hope Diamond. It's also worth noting that color diamonds are becoming trendy.
Clarity refers to the level of imperfections, including both inclusions (internal) and blemishes (surface). Do note that there is no such thing as a flawless natural diamond, but lab-grown ones may be.
Carat most everyone knows, but the carat is actually the weight, not the diameter of the diamond. Obviously, as carat size increases, so does the value of the diamond earrings. Just keep in mind that, if custom ordering, you can save money by ordering a just off carat, because it will look approximately like a carat slightly larger but reduce costs by quite a bit. Ideally, there should be GIA certification available (GIA diamond grading report from the Gemological Institute of America), or a way to have the diamonds evaluated
Are there any specific considerations for diamond earrings?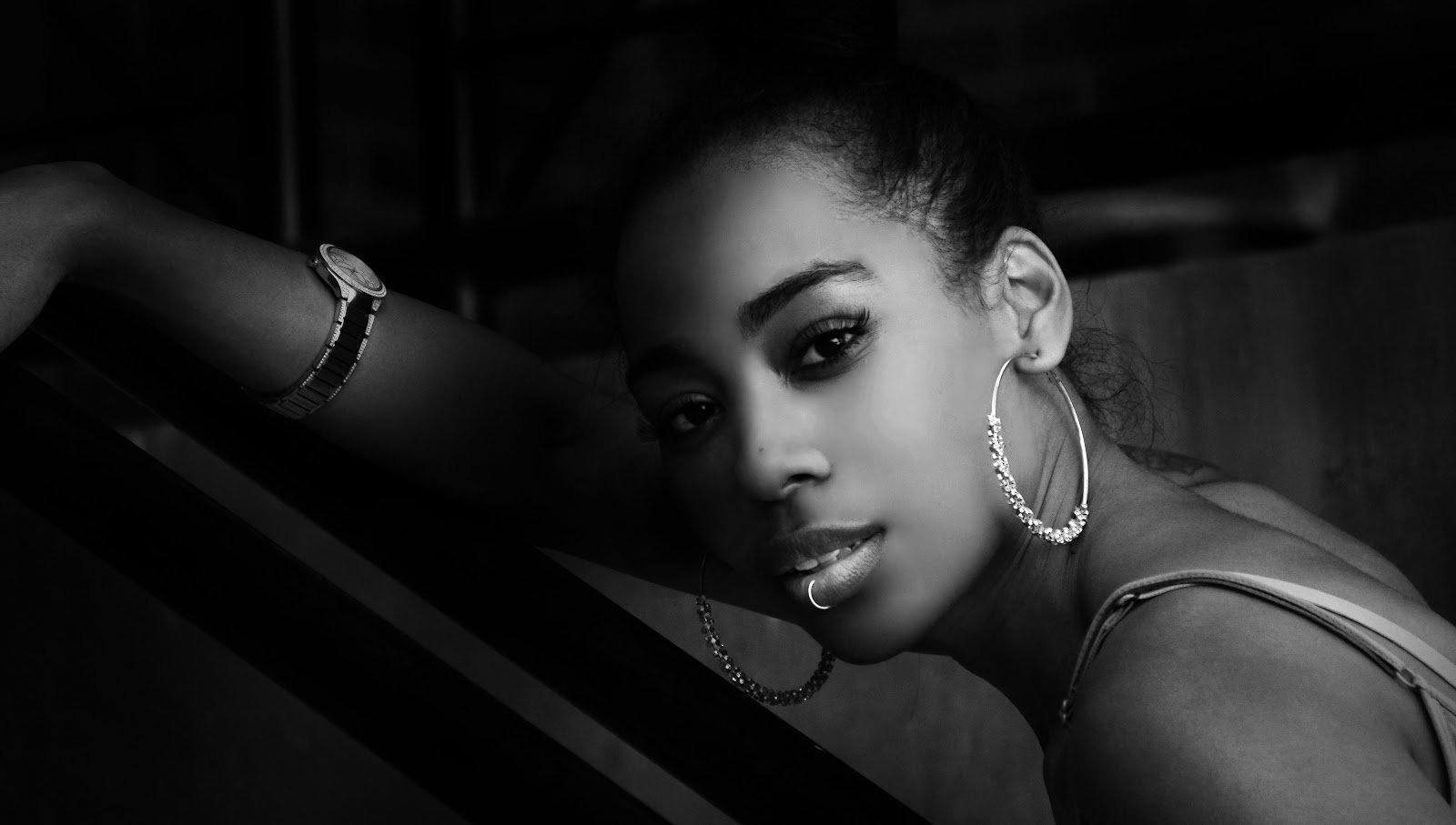 Of course, we've discussed how to spot scams (and consequently, criteria for finding diamonds online) , but what about finding diamond earrings specifically?
You're best off purchasing diamond earrings not only from a fine jewelers, but ideally one that specializes in diamonds. That way you know the seller is used to working with, and has connections to, selecting and grading diamonds. While there are some exceptions to the rule, it's the safest bet.
Here are some other features to look for:
Custom design. While not everyone is in search of custom diamond earrings, many of the best places offer both premade styles and also the ability to make your own.
Metal details. Always be sure the metal type and quality is specified, whether you're looking at sterling silver or 14K Gold.
Buying guide. The best places will provide unbiased tips as how to select diamonds, match sets, or build your own earrings.
Customer reviews and return policies. While this always applies, it bears repeating. Customer reviews are important, but so exchange policies, and even other incentives like competitive price matching. Warranties and protection plans may or may not be offered for earrings.
What if I buy diamond earrings and suspect they're fake?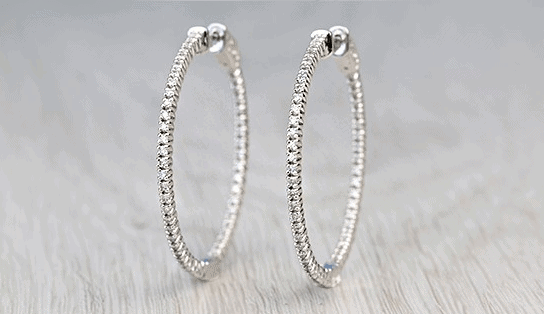 The good news is that by following our criteria, it's unlikely you'll run into an outright scam. That said, if you do, or perhaps if you've already purchased diamond earrings, there are a few steps you can take to determine authenticity:
Take to a GIA institute or GIA trained professional to have the earrings evaluated
If it's a natural diamond, there should be some signs of internal and service level imperfections.
Check the mounting. Most real diamonds sit on the earring's stem; any stamp or marking with the term 'CZ' indicates that is likely cubic zirconia cut instead
Diamonds can also be examined under a microscope, but normally by trained professionals.
Always keep your receipt of purchase and any warranty information.
So What's the Best Place to Buy Diamond Earrings Online?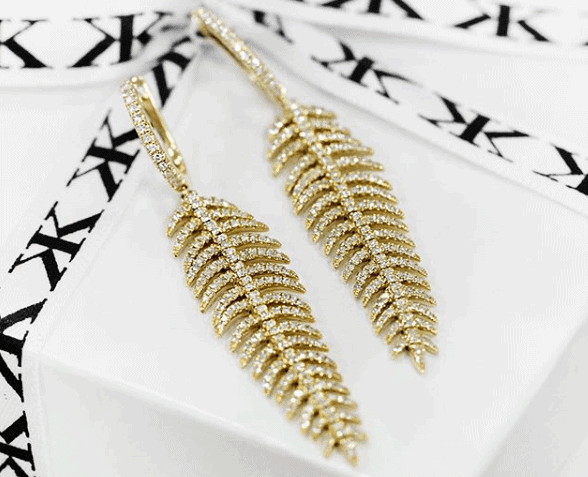 While all three places we've listed are reasonable options for buying diamond earrings online, what is best for you depends on your personal needs and preferences.
If you're looking for the best deal, go with Ritani. Ritani diamond earrings can be found at more affordable prices, and also come from a company with the most consistently positive customer reviews.
If you want the most options for customization, Blue Nile is a wise choice. Blue Nile offers some of the most advanced features for designing your own diamond earrings, at a variety of price points and styles.
If you're most concerned about ethical sourcing, consider Brilliant Earth. Brilliant Earth goes a step above and beyond in making sure that their diamonds are sourced without conflict (conflict-free diamonds) and support communities.
If you're looking for the best OVERALL experience, our pick is James Allen here. They have the best balance of quality, customization, online shopping experience, and competitive pricing.

I Prefer James Allen for Earrings
James Allen has an AMAZING collection of high quality diamond earrings. You can even build your own. All diamonds are presented with high fidelity 360 degree imagery, so you know exactly what you are getting!
Check prices
We earn a commission if you click this link and make a purchase at no additional cost to you.
Recommended Reads on How to Buy a Diamond and Diamond Jewelry: