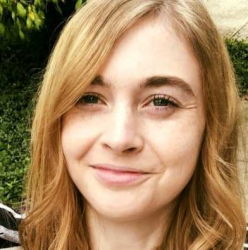 Latest posts by Erin Jamieson
(see all)
When it comes to engagement rings— and even cocktail rings– diamonds may reign supreme. But in 2021, emerald rings, including vintage styles, are making a huge comeback.
Named the "it' stone of 2021, emerald rings have been sported by influencers and celebrities. From dazzling cocktail rings to engagement rings, the green hue is capturing hearts and minds. And while some of the most statement rings were from years back– like Halle Berry's 4-carat emerald ring, this year is showing how captivating this gemstone still is.
But it's not just emerald rings that jewelers are selling more of. It's also an embrace of vintage and vintage-inspired styles. On-trend? Victorian Era and Art Deco rings are especially popular. In fact, vintage and antique rings have been cited as one of the jewelry trends from the 2000s making a comeback in 2021.
Together, vintage-inspired styles (or true vintage) and emerald gemstones make for truly iconic, elegant, and even daring rings. But even if you love the look, it's important to understand how and what to buy.
Consider this your guide to the best vintage emerald ring ideas in 2021. I'll explain how to select vintage rings and, the pros and cons of emeralds. I'll also give you some of my favorite ideas for emerald cocktails and engagement rings with a vintage appeal.
What is a Vintage Ring?
Vintage is a term that's been thrown around a lot, especially lately. First, there's a difference between vintage and vintage-inspired. A vintage ring does not have a strict definition, unlike antique rings, which usually are labeled as such when they are over five years old.
Vintage implies that a ring is from another era– but even a ring that is 20 years old could technically be labeled as vintage. Vintage rings usually are distinguished by their style, which is characteristic of the era it was made.
What Is A Vintage-styled Ring?
A vintage-inspired ring is a new, modern ring that is designed in a way to mimic a past era. This is a great option in many ways. While less valuable, you'll have way more selection, and, of course, empty your wallet far less. Vintage-styled rings achieve a similar look, but also without wear.
Sometimes, it's also a better option in terms of durability. Many vintage rings are 14Kor 18K gold, but others may be sterling silver. Vintage-inspired rings you can easily find in platinum, which is a very durable metal for rings.
Are Emeralds Valuable?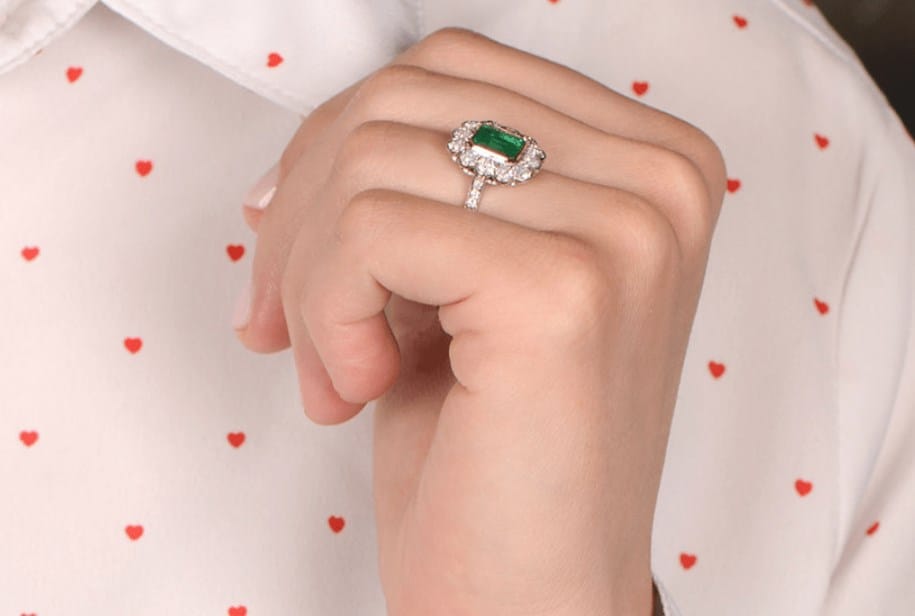 Emeralds are not only valuable– but more valuable than the average colorless diamond. Emeralds are expensive because of how rare they are. A true emerald, especially in a high-quality color, cut and clarity is worth more than you might imagine. In fact, an emerald may be as much as twenty times as rare as a diamond.
This is a little different for a lab-created emerald, which is becoming increasingly popular.
How Much Is An Emerald Worth?
How much an emerald is worth is based upon cut, clarity, color, and carat. The highest quality emeralds fetch up to $20K for a carat, while the poorest quality cost as little as $250 per carat.
What Color Emerald Is Most Expensive?
The color of an emerald plays a key role in how valuable and expensive it is. Deep green is the most prized and expensive color. But you have other options, including more bluish-green tones.
Are Emeralds a Good Choice For Rings?
Emeralds are gorgeous and distinct– but are emerald rings a good choice for you? Before buying any ring, whether it's a cocktail ring or engagement ring. Here's what I recommend you consider before buying.
Do Emeralds Break Easily?
Emerald durability is an important topic, and the truth may surprise you. Emeralds are 7.5 to 8.5 on the Mohs hardness scale, which is likely while they may seem like a durable option. They are indeed resistant to scratches. On the other hand, emeralds are also considered brittle stones.
Emeralds, if hit directly, can chip, break, or crack more easily than some other gemstones. In other words, emeralds are suited for everyday wear– but you should not wear an emerald ring if you're playing contact sports, or anything else that could cause it to be hit.
Can You Wear Emeralds In The Shower?
Emeralds can withstand some water, but I don't recommend wearing an emerald ring in the shower, especially not a true vintage ring. There's too much room for it to scrape up against something or become damaged. If your vintage ring is made out of a metal that will tarnish, that's even more argument for not wearing your ring for showering or swimming.
How Do I Select The Best Vintage Emerald Ring?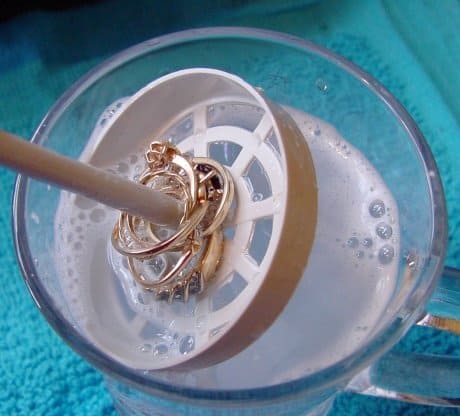 Here's some insight into my criteria for selecting some of the best vintage emerald rings, as well as personal preferences you'll need to consider before buying.
Should I Buy a Natural or Lab-created Emerald?
Man-made, or lab-created emeralds, cost less. These are not as valuable as natural emeralds, but they can be a great option nonetheless. Lab-created emeralds are real in that they share the same properties and are just as durable as a natural emerald. Of course, if you want a true vintage ring, you'll be buying a natural emerald. Lab-created emeralds are sometimes used for vintage-inspired rings.
How Can You Tell If a Vintage Ring Is Real?
If you want a truly vintage ring, it's important to take a closer look at the description. Many vintage-inspired rings will be labeled vintage, but a true vintage ring, first of all, needs to have at least the decade it was made. Another thing to consider is to examine the cut of the stone.
Today, cuts are mostly quite precise, but true vintage cuts are rougher and have more imperfections. Mine cuts, Old European cuts, and rose cuts are common. The best way, of course, is to buy from a reputable seller who has documentation.
What Is The Best Cut For An Emerald?
Obviously, eye-clean clarity will indicate the quality of an emerald–but cut matters, too. The cut is a matter of preference, but most experts point to the emerald cut (also known as an Asscher cut), aptly named, to be the most ideal for optimizing the color and hue of an emerald gemstone. Paler hues do well with deeper cuts and fewer facets, while darker stones do best with shallower cuts and more facets.
Other great cuts to consider include step cuts, brilliant cuts (great for optimizing scintillation), mixed cuts, and cabochon cuts. That isn't to say other cuts won't work–they just don't optimize color quite as well.
Vintage Emerald Rings: My Ideas
Now I'll show you some of my favorite ideas for vintage emerald engagement and cocktail rings. I've made sure to select rings from reputable, respected jewelers in the industry.
Since true vintage rings can be hard to come by, I've included vintage-inspired rings. From Art Deco to Victorian and more, these rings range from affordable to luxurious. Finally, all rings on this list are made with fine metal. These metals will not tarnish and offer beautiful sophistication to carry an emerald gemstone.
Vintage Cocktail & Fashion Emerald Rings
Cocktail rings and fashion rings are meant to be worn on formal and semi-formal occasions. A cocktail ring typically features a ring setting meant to showcase a central stone. The ring itself may be pared down, and specifically constructed to make the stone stand out so it appears oversized.
Fashion rings, like cocktail rings, exude personality but play more with form. Both vintage and vintage-inspired emerald fashion or cocktail rings look beautiful paired with shades of red, black, and white. Blue hues work especially well with emeralds that have bluish undertones.
Cluster Blue Diamond and Emerald Fashion Ring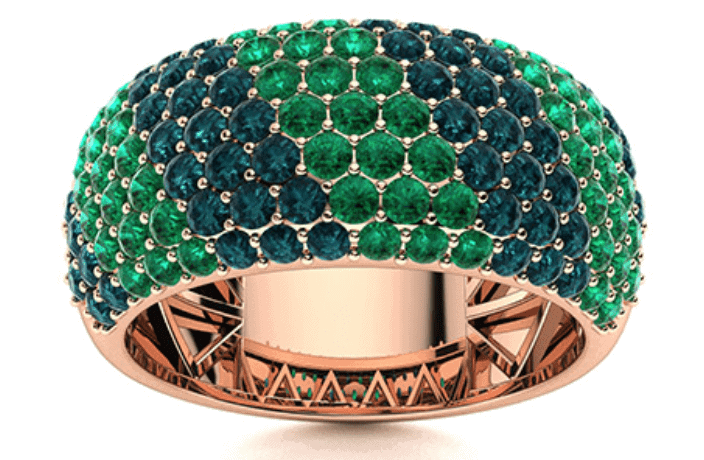 This exquisite fashion ring pairs 55 round emeralds with 55 blue diamonds. The design and hues are reminiscent of Art Deco, for a modern vintage appeal. Select from 10k to 18k white, yellow, or rose gold. You can also opt for platinum. Buy Here.
Vintage Emerald Gold Cocktail Ring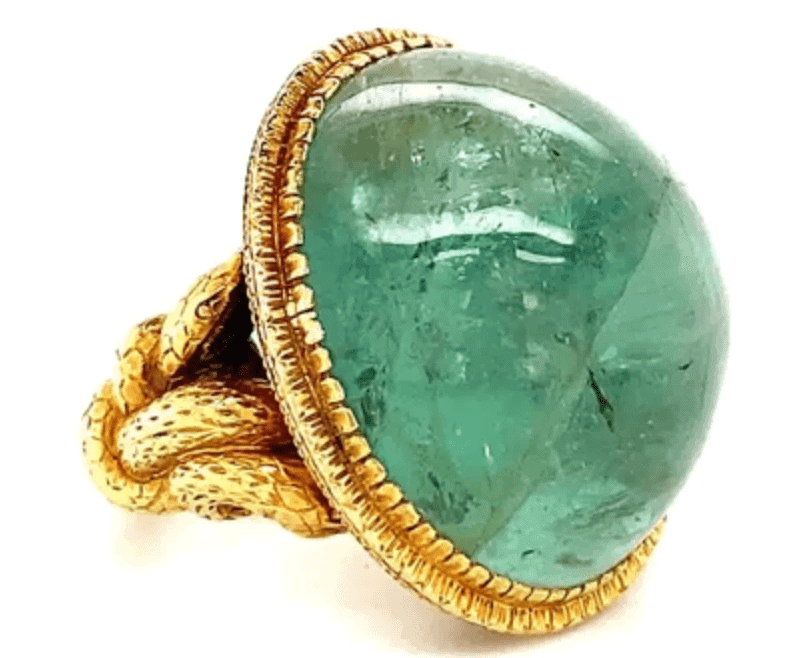 This dazzling ring is vintage from the 1980s and features a beautiful cabochon cut 56-carat emerald. The pastel green hue may not be the most sought-after color– but it's perfectly enchanting, set on a twisted 18k yellow gold band. It can be resized to order. Buy Here.
Vintage Mid Century Emerald Fashion Ring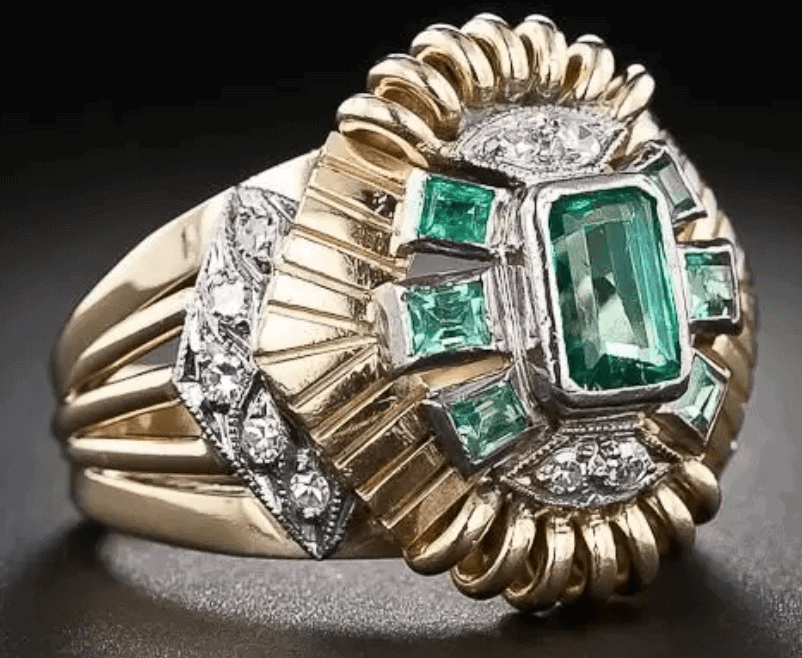 A specialist in antique and vintage jewelry, Lang delivers with this mid-century emerald fashion ring. 0.20 carats of sea green, baguette-cut emerald stones join .20 carats of single cut diamonds. The dazzling gemstones are set on a unique two-toned 18k gold band. Buy Here.
Vintage 1910's Diamond and Emerald Cocktail Ring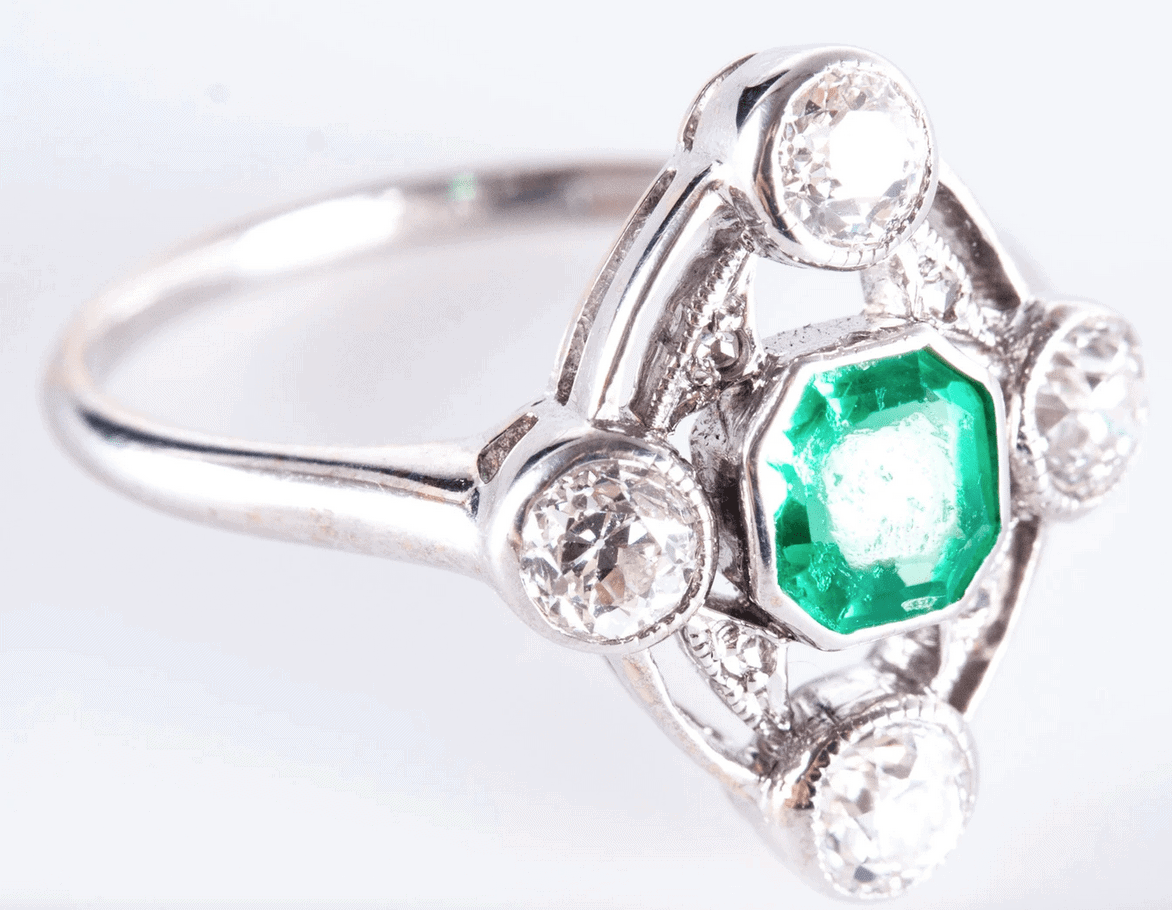 The Edwardian style emerald and diamond ring is elegant and refined. An octagonal 0.98-carat emerald is accented with 0.21 carats of Old European cut diamonds. The 14k white gold band is polished and understated, keeping all eyes on the beautiful center stones. Buy Here.
Legacy Saint Columbian Marquise and Diamond Cocktail Ring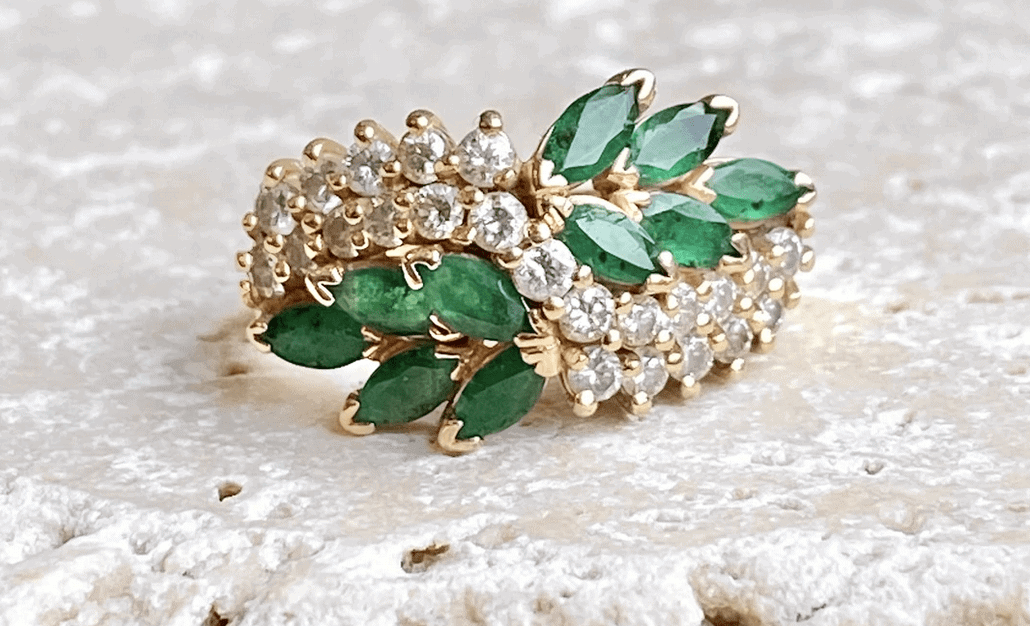 This estate emerald cocktail ring is unlike any you've seen before. 0.80 carats of tear-shaped, deep green emeralds pair with .92 carats of sparkling diamonds. Set on 14k yellow gold, this ring exudes vintage elegance, with a nod to nature-inspired rings. Buy Here.
Estate Vintage Emerald Cocktail Rings Collection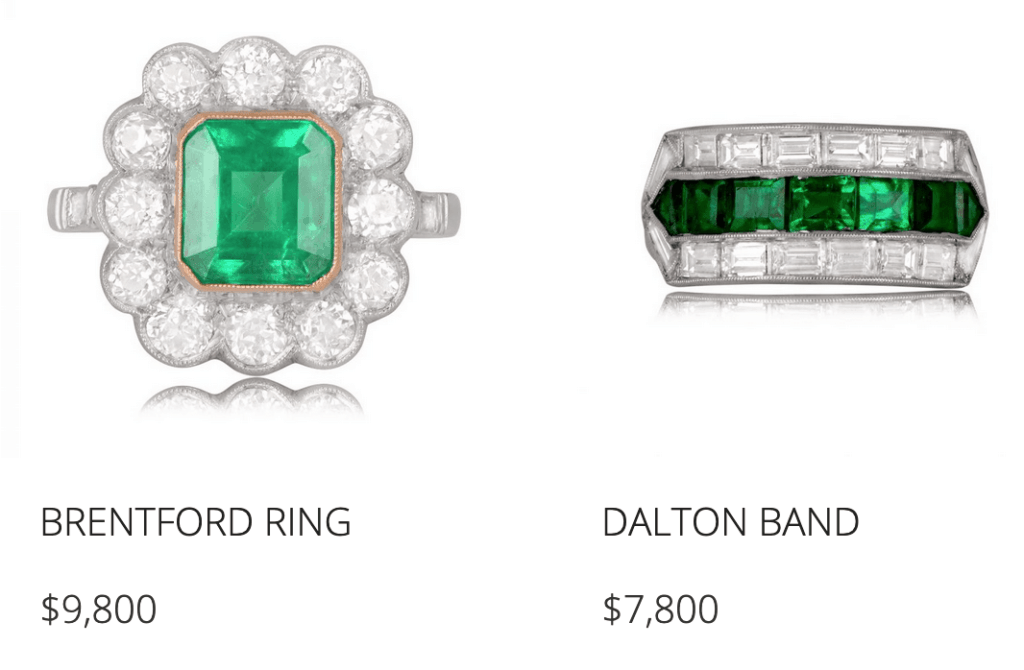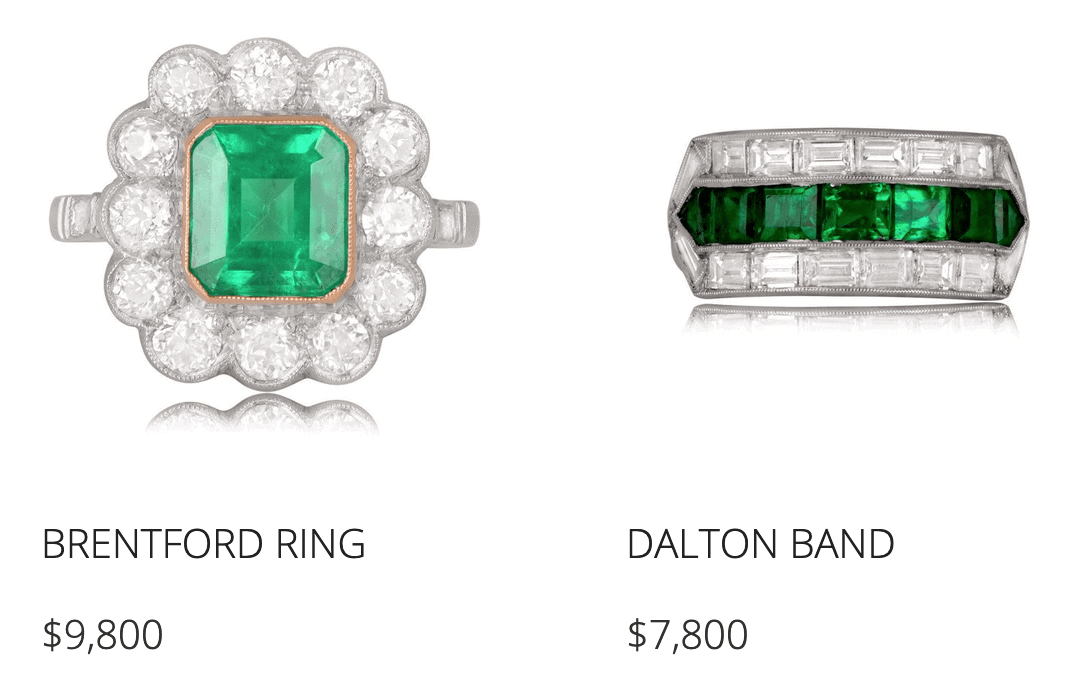 Not seeing something you like? Estate Diamond Jewelry is rated with an A-plus from the Better Business Bureau, and is respected for vintage and antique rings. Though inventory will constantly be in flux, right now you have your choice of 6 emerald rings, and you can also see designs already purchased for some inspiration.
Their collection includes Victorian, the 1940s, 1920s, 1970s, 1980s, Art Deco, and other ring styles and eras. My favorite right now is the Brentford Ring, which features a light green 1.90-carat Columbian emerald, surrounded by 1.50 bezel set mine cut diamonds. Shop the Collection Here.
Vintage Emerald Engagement Rings
True vintage and vintage-inspired emerald engagement rings are at once classic and unique. You'll stand out from the crowd with an emerald instead of a diamond as your center stone. The beauty of an emerald also is that it looks spectacular with both silver and gold medals.
For durability, I recommend a 12k to 18k gold ring or a platinum ring. Sterling silver is a beautiful choice, but it can tarnish. Note that the higher the carat gold, the more valuable, but softer the metal becomes. For that reason, since emeralds already are brittle, I don't recommend a 24k gold band for an emerald engagement ring.
James Allen Vintage- Inspired Pear Emerald Diamond Ring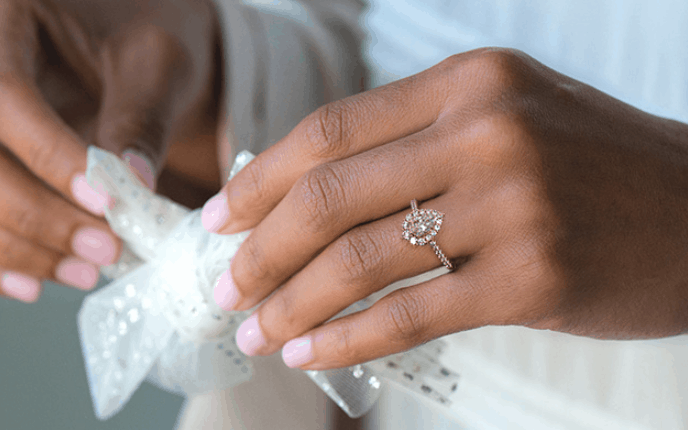 This vintage-inspired emerald and diamond ring is made by James Allen, a well-known and respected jewelry maker. James Allen offers affordable rings but only uses conflict-free diamonds and generally durable options. Made to order, the 1.58 carat, pear-shaped emerald is medium green and surrounded by a halo of sparkling diamonds–to make it appear larger than it actually is. Buy Here.
Angara Vintage-Inspired Marquise and Dot Emerald Engagement Ring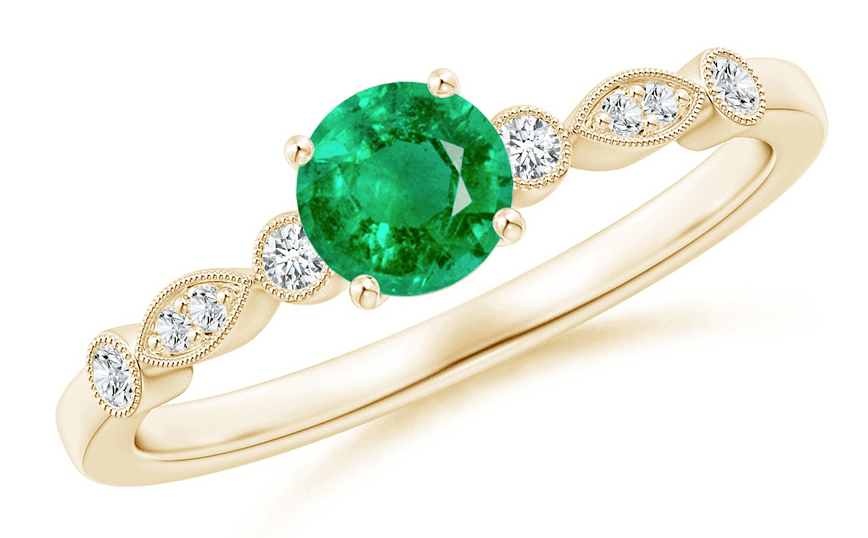 Marquise cut gemstones actually date back to the 18th century, in the court of King Louis XIV of France. Though they remain popular today, the cut has an undeniably vintage and elegant appeal. If you love a regal, vintage look but don't want to pay a heavy price, this is one of my favorite options.
You can select from a good to heirloom quality emerald (available in 0.55 to 1.35 carats). Bezel and pave set diamonds accent on a polished 14k rose, gold, or yellow band. You can also opt for platinum. Buy Here.
1950s Vintage Columbian Emerald and Diamond Ring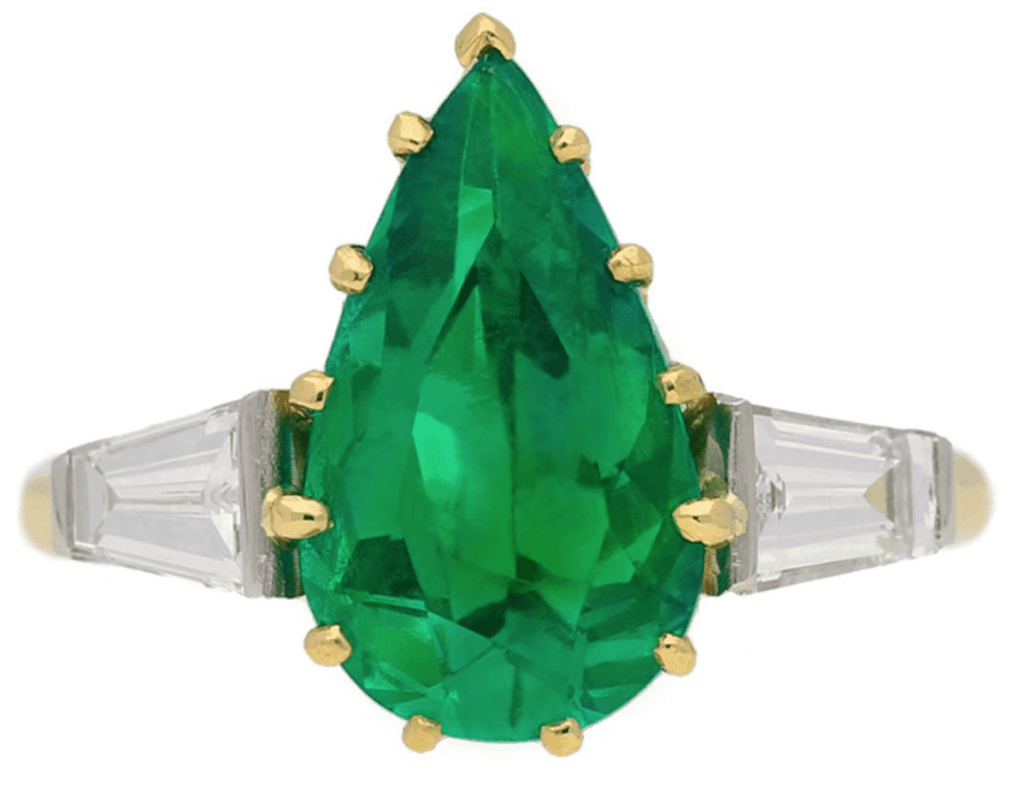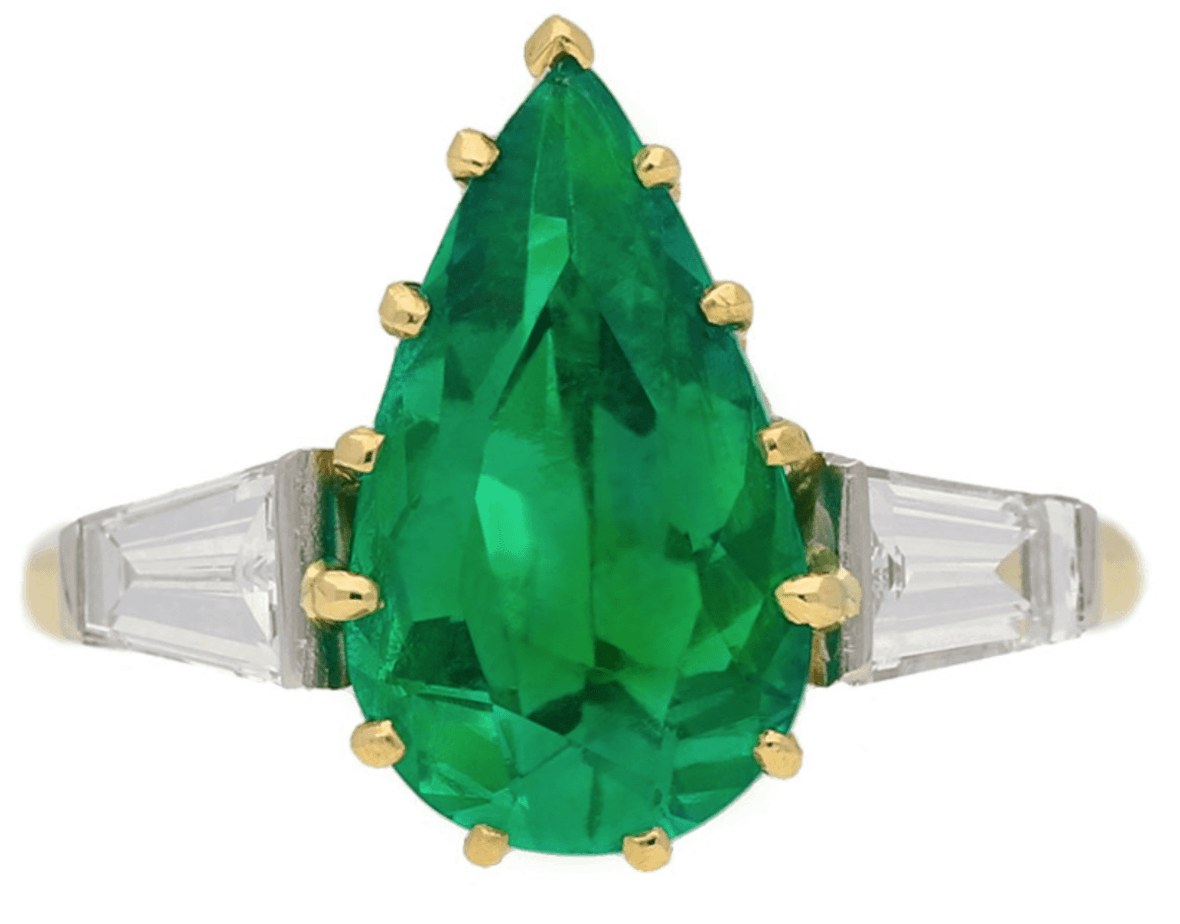 This true vintage ring has a hefty price point but is a starkly unique engagement ring. An old cut, natural Colombian 2.39 carat emerald is flanked by tapered 0.60 carats of baguette-cut diamonds. The solitaire setting features unique curved claws and a fancy backhoe opening. Buy Here.
Art Deco Cushion-Cut Emerald Engagement Ring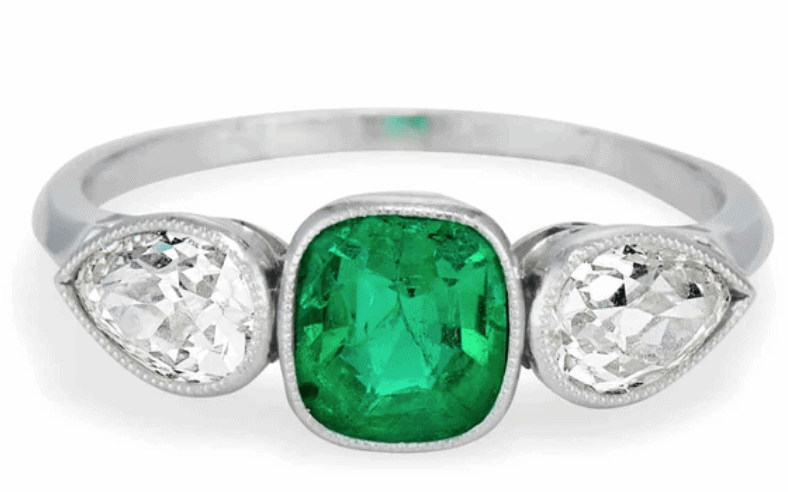 Circa from 1925, this gorgeous vintage emerald engagement ring is one of my favorites. The three-stone setting pairs 0.80 carats of GIA-certified, cushion-cut emeralds, flanked by pear-shaped, bezel set diamonds (.45 carats). Set on platinum with milgrain; Buy Here.
Late Edwardian Cabochon Emerald and Diamond Engagement Ring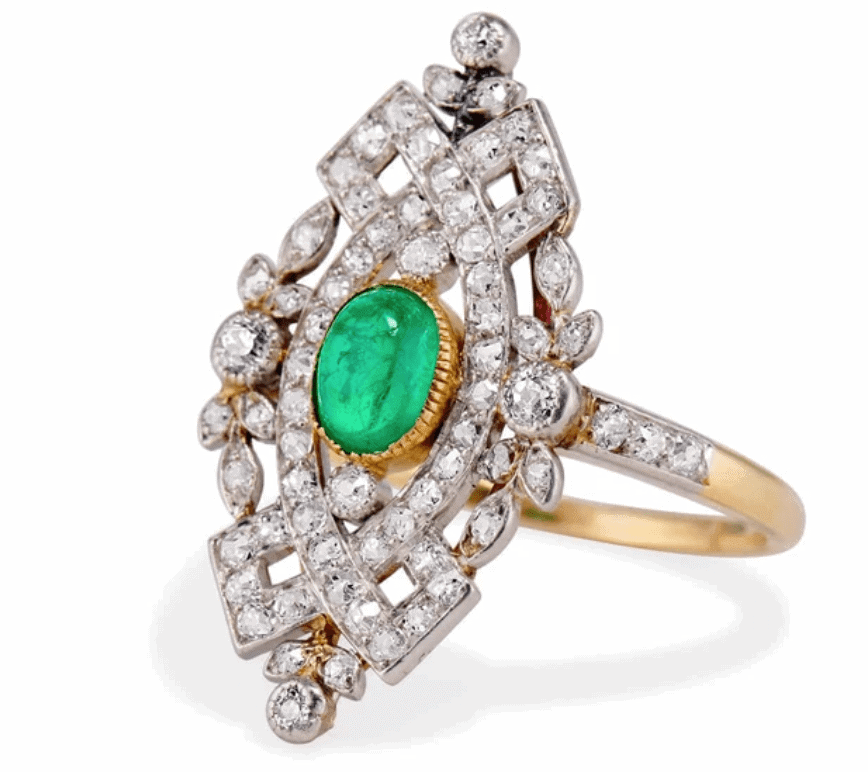 My other favorite vintage emerald ring under $10,000? This gorgeous emerald ring is circa 1905 and is from France. It would also work well as a fashion ring. 0.50 carats of cabochon-cut emerald are surrounded by European-cut diamonds (0.70 carats) with a filigree setting. Set on platinum and yellow gold; Buy Here.
Cynthia Findlay Antique Emerald Engagement Ring Collection
This Canadian jeweler has been selling antique and vintage jewelry since 1975. Highly rated by customers, you'll find a collection of emerald rings made with exquisite attention to detail. Prices range from $700 CD to $42,000 CD, with about every style you can imagine. It's easily one of the largest collections of antique and vintage emerald rings you can find. The styles lean elegant, with some understated options. Most rings are accented with diamonds, and all are dated by era. Shop the Collection Here.
FAQs
Question: Which types of cleaning should never be done for emeralds?
Answer: Whether you're buying a vintage or modern emerald ring, it's important to understand that emeralds do need to be cleaned with care. Avoid using harsh cleaning agents, or using heat, such as steam, to clean. The best way to clean an emerald is to simply use warm water with gentle soap. You should also handle the emerald with care.
Question: What does an emerald engagement ring mean?
Answer: Emeralds themselves have been associated with protection and connection to spirituality. An engagement ring today that includes an emerald is said to bring peace, luck, and a long marriage.
Question: Can you wear an emerald ring every day?
Answer: Emerald rings, at their best, can be worn every day– but with caution. Emeralds are suitable for everyday wear due to their 7.5 to 8.5 Mohs hardness scale. This means they won't easily scratch. That said, you should remove emerald rings for swimming, and you shouldn't wear them when playing a contact sport, as emeralds are considered a brittle gemstone that can shatter upon contact.
Final Thoughts & Buying Tips
Vintage emerald rings can be tricky to find, so when you're shopping, I suggest not settling for the first ring you lay eyes on. If you're on a tight budget, a vintage-inspired emerald ring, especially with a lab-grown emerald, maybe a more practical option.
If you are buying a true vintage/ antique ring, make sure you ask for official documentation with your purchase. With that assurance, you're on your way to enjoying a gorgeous emerald ring.