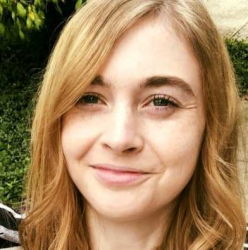 Latest posts by Erin Jamieson
(see all)
There are few pieces of jewelry more important than engagement rings. And in 2021, Gabriel and CO are making waves for bridging the best of both modern and iconic styles.
In a recent feature with Forbes, the luxury and fine jewelry industry has changed in the wake of a global pandemic. The hardest hit? Brick and mortar stores, which already were challenged by online shopping options, struggled. But what's interesting is that customers still wanted a personal experience to make selecting an engagement ring a special event.
Catching many eyes is Gabriel and Co, a luxury jewelry retailer who's carved a path by adding customized and personal options. In an interview, the Chief Executive Officer and Chief Design Officer explained that their vision was to create 'wearable art' that helps celebrate love and life.
And that's showcased both through their new collection and their exquisite engagement rings. But is Gabriel and Co worth the hype? And are they the right fit for your engagement ring in 2022?
Consider this your guide to Gabriel and Co engagement rings. I'll tell you a few things to consider about selecting an engagement ring, and what you need to know about Gabriel Co. I'll also give you my picks for the best Gabriel and Co rings.
Is Gabriel and Co a good brand?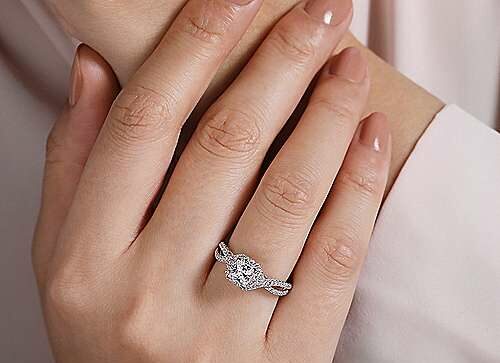 Gabriel and Co have earned a name for its artistic vision and ability to play with modern designs. Across consumer sites, it's also earned a name for customer satisfaction, with an average of 4.5 to 4.8 out of 5 stars, and holds an A+ rating (though it is not accredited) through Better Business Bureau. Of course, that's not the complete picture. Reputation aside, I wanted to take a closer look at Gabriel and Co and all they have to offer.
Are Gabriel and Co diamonds real?
Gabriel and Co sell both naturally mined and lab-grown diamonds. Lab-grown diamonds have the same physical properties as natural diamonds. Though not as valuable, lab-grown diamonds are indeed 'real diamonds' and may be a great option if you want to spend less money. Just as durable, lab-grown diamonds have exploded in popularity across jewelry producers.
Their naturally mined diamonds are also thoughtfully selected. All of Gabriel and Co's natural diamonds meet the standards for conflict-free diamonds, meaning their profits aren't used to finance civil wars.
In addition, all Gabriel diamonds are certified by the GIA (Gemological Institute of America) and officially rated in terms of diamond quality (cut, clarity, carat, and color). In short, not only are all Gabriel and Co diamonds real, but they're also respectable quality and a great option for the average shopper looking for a diamond engagement ring.
Is Gabriel and Co ethical?
Gabriel and Co natural diamonds are all conflict-free, but there are other aspects I admire about Gabriel and Co's model. They also aim for greater sustainability. All packaging for their products includes recycled materials, and they continue to strive for environmentally sound policies. While I'd love to hear a little more about their journey towards this goal, they still go a step beyond many competitors.
What's special about Gabriel and Co?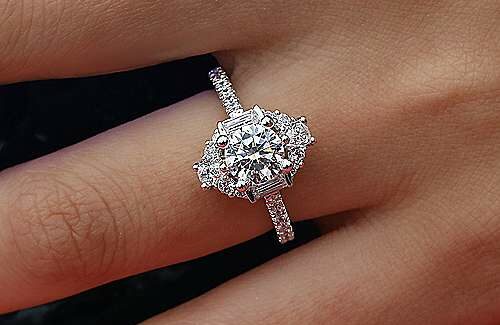 While the ethical sourcing standards are a definite plus for Gabriel and Co, perhaps what makes them stand out most is their unique craftsmanship. Options to custom design your ring is a plus, but their styles are distinct too. While there are many classics among the collections, there are details you don't find from every jeweler. You'll notice the attention to detail from their classic, contemporary, vintage-inspired, and signature engagement ring collections.
That comes from extra oversight for the production process. Gabriel and Co balance affordability with unique designs. The company oversees every step of production, which is not true of many of its competitors.
Do Gabriel and Co rings last?
One of the biggest factors in how well a ring lasts is in the craftsmanship, but also, of course, the materials used. Generally, you want to look for a metal that won't tarnish, corrode, or be susceptible to environmental fluctuations. Diamonds also are exceptionally durable, and since all engagement rings from Gabriel and Co are diamonds, that's of little concern.
Gabriel and Co use high-quality metals, including 14K and 18K gold, as well as platinum. If you take care of your ring, it should last a long while. Gabriel and Co rings are a good investment, durable, and a beautiful option if you want a diamond engagement ring that feels timeless but also artistic.
What do Gabriel and Co engagement rings come with?
You will be provided a certificate of authenticity and a unique serial number with each ring. You'll also be entitled to complimentary cleanings, a lifetime warranty on manufacturing defects, and a limited one-year warranty for wear and tear.
How do I select the best engagement ring from Gabriel and Co?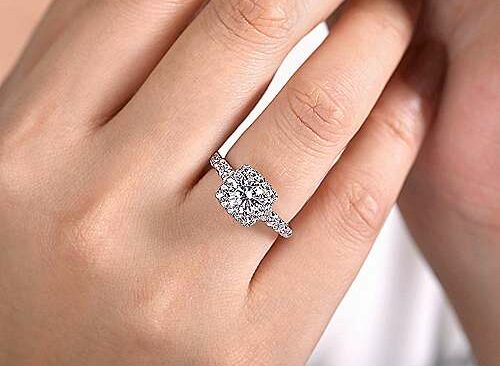 Before I give you my picks, I want to explain my thought process for selecting a diamond engagement ring. Unfortunately, there are many myths about how one should or shouldn't choose an engagement ring, and it's important to go into the process with a clear focus.
How much money do you spend on an engagement ring?
First, I recommend tossing aside the old rule about spending two to three month's salary on an engagement ring. This is not realistic for everyone, nor does it fit everyone's situation. You should spend what is comfortable to you, and make a budget that includes not only the ring, but other expenses that may come after, including down payments, wedding or honeymoon expenses, and debt. The average cost of an engagement ring in the United States is around $3,700, according to a Knot study in 2020– which is lower than previous estimates.
The point is, focus on quality and how much you can comfortably afford.
How do I know which diamond to choose?
One of the most important factors you need to consider is the diamond you select. This is true for Gabriel and Co engagement rings, but any ring you buy. Keep in mind that you don't need the highest quality diamond to make a great purchase. You need to balance out what you value vs. your budget. But there are a few tricks to keep in mind.
Which cut is best for diamond?
The round brilliant cut is widely considered to be the most desirable diamond cut, but it offers the most brilliant scintillation. Since it's also the most expensive, other excellent cuts include cushion, princess, emerald, oval, and marquise. Pear and Asscher cuts are slightly less brilliant, but still an excellent option and offer a vintage-inspired look.
What is more important, color or clarity?
Both color and clarity play a role in the surface-level appearance, brilliance, and value of the diamond. At the same time, a precious few of us can afford the most optimal cut and clarity for a diamond ring. You should prioritize the color grade first. Keep in mind that under 1 in 5,000 diamonds have a flawless clarity rating.
Which diamond clarity is the best?
Avoid any diamonds that have been treated or enhanced– this is a sign you're buying a lower quality diamond that has been artificially made to at first appear to be higher quality. While some do opt for a VVS2 clarity, I recommend two categories: either from VS1 to VS2, or SI1.
These are clarity levels that are hard to detect inclusions and will save you money. Paired with a higher quality cut or color, and you'll still have a beautiful diamond.
Gabriel and Co Engagement Rings: My Picks
Now I'll give you my ideas for Gabriel and Co engagement rings in 2021. I've included premade rings that balance quality with price for a solid overall value. I've also included several different types of styles, from classic to vintage-inspired, to make sure there's something that will suit you.
While no Gabriel and Co engagement ring is a poor choice, here are my picks, ordered from least expensive to most expensive in their respective categories. I've gone based upon style, uniqueness, usefulness, and craftsmanship. All my picks are under $7K, though they do carry some more expensive options.
Note that some of these rings are settings only– you'll need to select your center stone and pay an additional fee. Metal types include 14K gold, 18K gold, and platinum, depending on the ring. When selecting your center diamond, pay attention to the clarity and color rating. Ask if you do not see it clearly defined.
Gabriel and Co Classic Engagement Rings
If you aren't sure what style diamond engagement ring you should buy, it's hard to go wrong with some classics. The Classic Collection shines with understated elegance. There are no particular standouts, with each ring in this collection exhibiting a sense of quiet timelessness.
Paula Pear Shaped Diamond Engagement Ring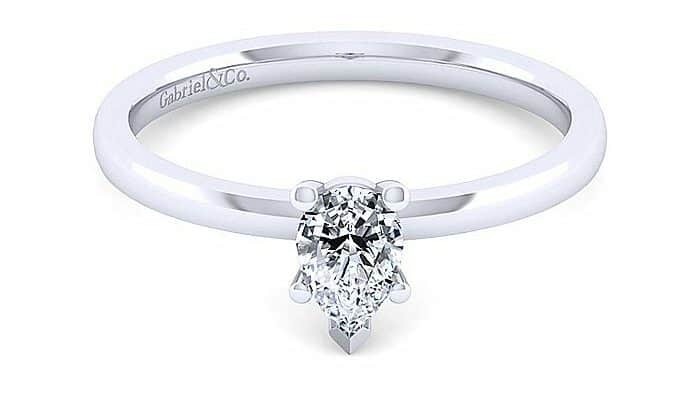 A modern classic, this ring is a streamlined solitaire style with clean lines and a simple shank setting. The 0.50-carat pear-shaped diamond balance is set with prongs and 14K white gold. Priced at just $615, this ring is a reasonable option for someone on a budget. Buy Here.
Ellis White-Yellow Gold Cushion Cut Engagement Ring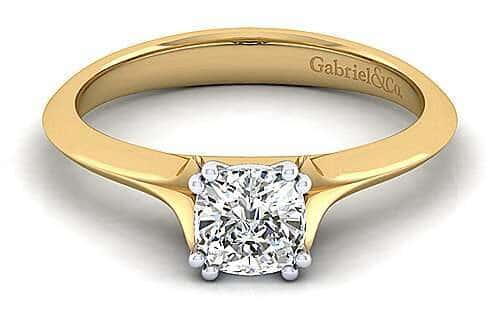 Sitting at just under $700, this ring comes in 14K white, yellow, rose, or even white-yellow gold. A one-carat cushion cut diamond is placed in a classic solitaire setting that would suit nearly anyone looking for a timeless appeal. Buy Here.
Classic Cathedral Style Engagement Ring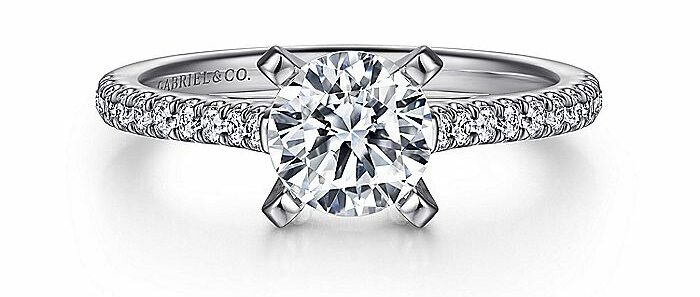 This Cathedral Style engagement ring retails for just under $1,500 and is a great choice if you want to sparkle without a big carat size. Two columns of accent diamonds are set on either side of a 14K gold band, with a round cut center stone, giving the illusion of more than 0.22 carats.
Classic Halo Engagement Ring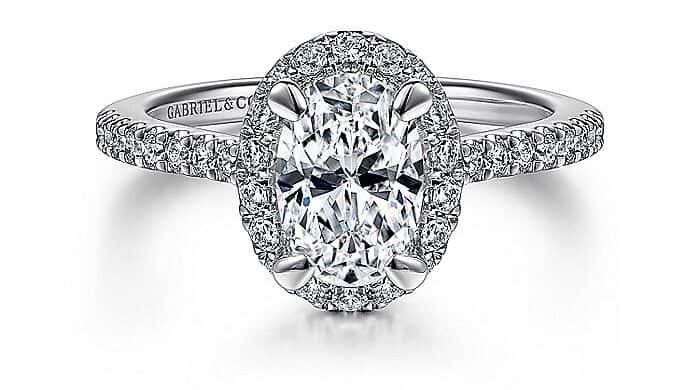 The halo setting is not only a classic but reminds people of diamond rings. This Gabriel AndCo ring retails for just over $2,000 and features a 0.32 oval diamond in a halo setting. The slender band is accented with diamonds and adds glamour for a beautiful but still affordable style. Available in 14K white, yellow, or rose gold. Buy Here.
Classic 3 Stone Diamond Engagement Ring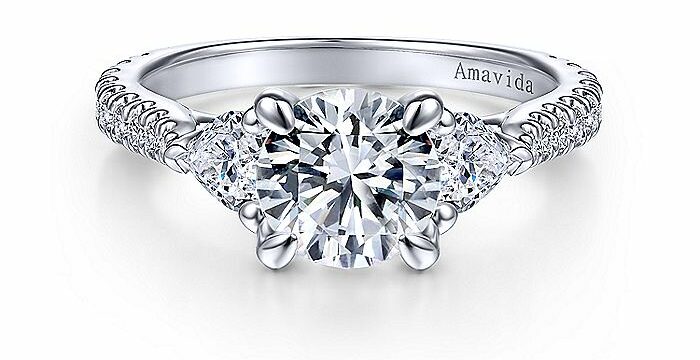 Jumping up to $5,800 (there are many rings in the $3K price point, but none that truly stand out), this price does only include the setting, but the good news is that you can custom order for your desired stone. The three-stone setting enhances round cuts best. Pavé diamonds cover the sleek 18K white, yellow, or rose gold band for a beautiful 0,.95 carats of accent diamonds. Buy Here.
Gabriel and Co Contemporary Engagement Rings
Something I admire about this collection is that the rings do feel fresh and modern– while still staying to true timeless designs. Sophisticated styles are made with contemporary, clean leans, playful curved geometry, and modern craftsmanship. Shop All Contemporary Rings Here.
Kylo Round Twisted Engagement Ring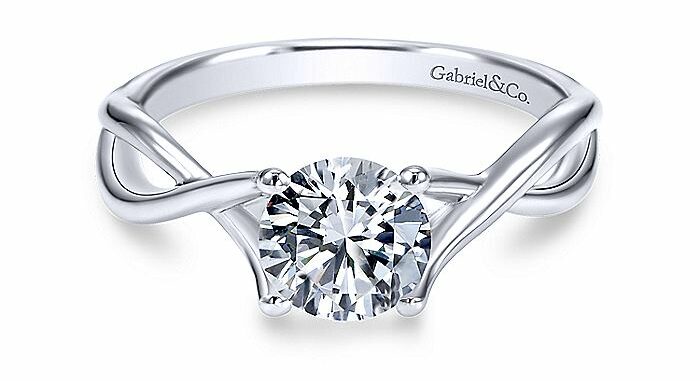 For $850, you'll get a beautiful and contemporary setting that shows Gabriel and Co's artistic tendencies. Perfect for a round or oval cut diamond, this is a modern take on a solitaire style. Retaining classic design elements, the twisted band is just the right touch to stand out. Available in 14K white, yellow, and rose gold, or for $1,450 for platinum. Buy Here.
Round Halo Sapphire and Diamond Engagement Ring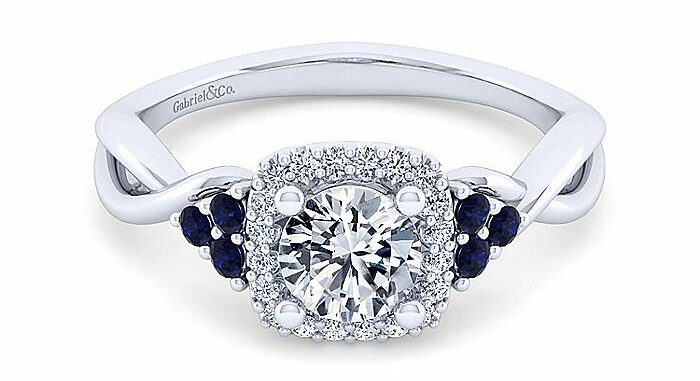 Who says a diamond engagement ring has to be just diamonds? One of my favorite Gabriel and Co engagement rings is this $1,000 ring setting. Beautiful, high-quality sapphires are the perfect accent for the halo setting. The twisted 14K white gold band adds an icy touch as a complement to the deep blue sapphires. Buy Here.
18K Classic Halo Diamond Engagement Ring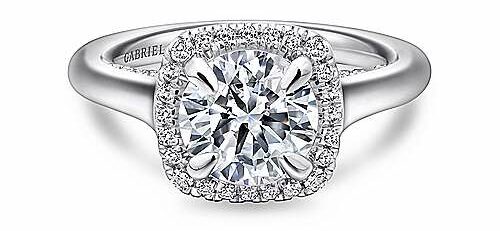 If you love the refined, polished look of 18K gold and the glamour of a halo setting, this $3,000 ring is a great buy. From the Bibi product line, this striking contemporary ring is equipped to hold a 1.05-carat center diamond in a halo setting with a round cut for beautiful scintillation.
14K White-Rose Gold Round Diamond Engagement Ring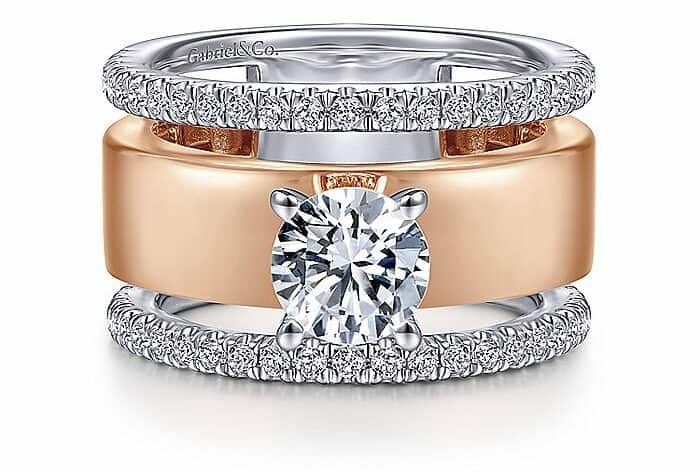 Perhaps the most unique contemporary Gabriel and Co engagement ring, this style retails for just over $4,000. Make a splash with two ribbons of white gold, accented with 0.57carats of pavé diamonds. Paired with polished 14K rose gold, this evokes contemporary romance, with a round cut setting for a memorable ring. Buy Here.
Gabriel and Co Vintage-Inspired Engagement Rings
Vintage-inspired rings are still in style in 2022, and they're an excellent choice if you love the vintage look but can't afford a true vintage ring. Gabriel and Co deliver with beautiful details. From milgrain edges to engravings, each ring in this collection has a vintage appeal with modern updates. Shop All Vintage-Inspired Rings Here.
Art Deco 14K White-Rose Gold Diamond Engagement Ring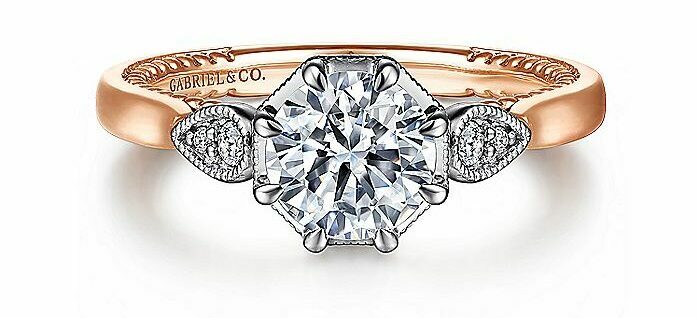 This delightful Art Deco ring setting retails for just over $1,100. 14K white gold adds a cool frame for 0.06 accent pear-shaped diamonds. A 1-carat diamond will be set on an octagonal setting. Artistic and vintage-inspired but quite stylish: Buy Here.
Vintage- Inspired 14K White-Rose Gold Diamond Engagement Ring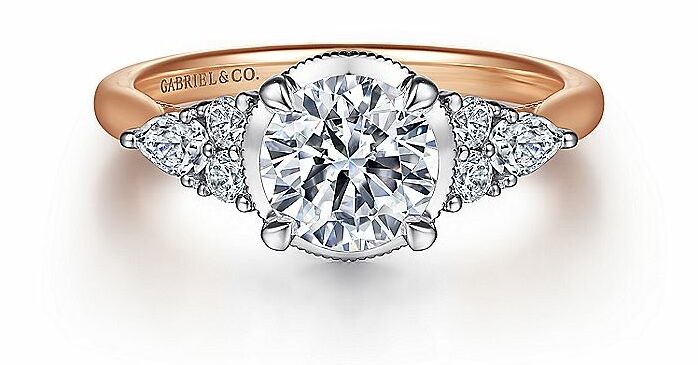 This ring retails for a little over $2,100, which shows that playing with multiple gold tones. The three-stone style holds a one-carat diamond, set with two triangular clusters of accent diamonds. The tapered shank makes for a Victorian appeal. Buy Here.
Unique Art Deco Diamond Engagement Ring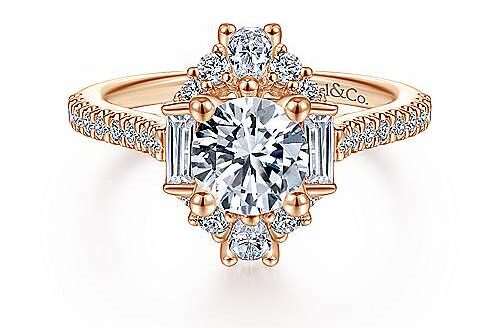 This beautiful Art Deco diamond engagement ring is available in 14K white, rose, and yellow gold. The setting features a geometrical halo, which draws inspiration from the Art Deco period, complete with side stones. The setting retails for a little over $3,300. Buy Here.
Vintage Inspired Wide Band Princess Cut Diamond Engagement Ring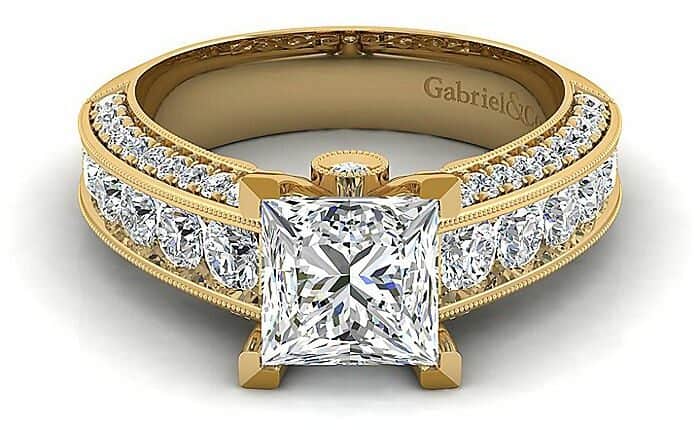 Available in 18K white, rose, and yellow gold or platinum, this ring comes from the Rebecca line; this is an elegant and timeless style. You can opt for a wide range of other cuts, but the princess cut is perfect for the two rows of accent diamonds, for a total cart weight of 1.28. This setting is priced at $5,600. Buy Here.
Gabriel and Co Novo Engagement Rings
The Nova Collection is one of the most unique. These rings are not so much modern as much as almost futuristic, with a daring play on geometric layers, stacking, and beautiful curved designs. These make a big statement, and no large diamond central stone is needed. Since many in this collection overlap both vintage-inspired and classic rings, I've included just my favorite pick. Shop All Nova Rings Here.
14K Yellow Gold Split Shank Diamond Engagement Ring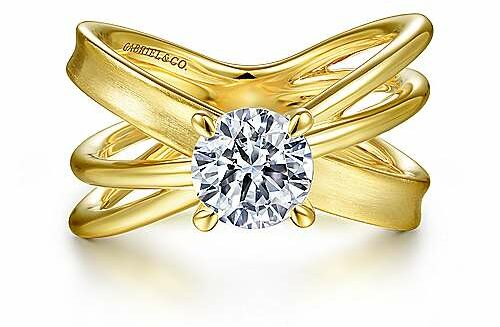 This $1,420 ring setting is eye-catching, sleek, and modern. The polished 14K yellow gold is a split shank style, paired with a wider band with a brushed finish. The criss-cross style is beautiful and contemporary and suited for a round center cut diamond. Buy Here.
Gabriel and Co Kaslik Engagement Rings
Another truly unique collection? Kaslik gets even more daring, playing on the same geometric concepts as Nova, but with a push towards angels vs. curves. These rings are fully modern, expressive, and bold. The focus is on 14K white gold for an icy finish.
14K White Gold Free Form Round Diamond Engagement Ring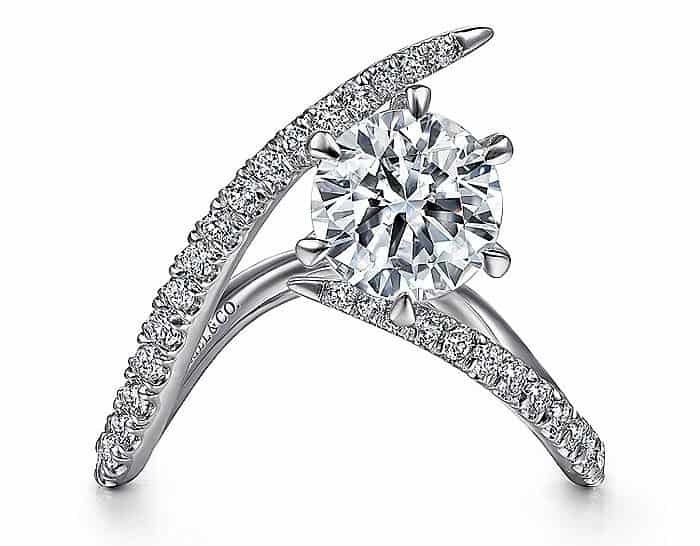 A daring style, this ring setting exhibits unique modern appeal. A 14K white gold shank is expressive, with swooped curves and a round center setting. .48 carats of pave diamonds add eye-catching finishing details. Priced at around $2,100. Buy Here.
14K White Gold Split Shank Diamond Engagement Ring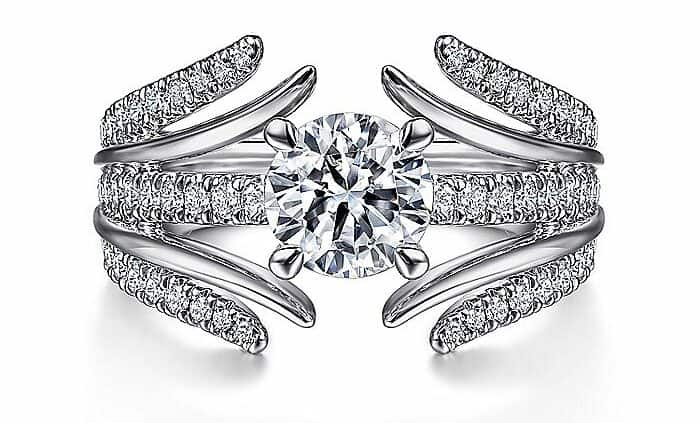 This striking Gabriel and Co ring setting is amongst their most unique. A play on a split shank setting, tapered bands of 14K white gold, are embellished with 0.78 carats of pavé diamonds. A round-cut center stone setting is accompanied by a gallery and basket with exquisite detailing. Priced at $3,600. Buy Here.
14K White Gold Round Three Stone Diamond Engagement Ring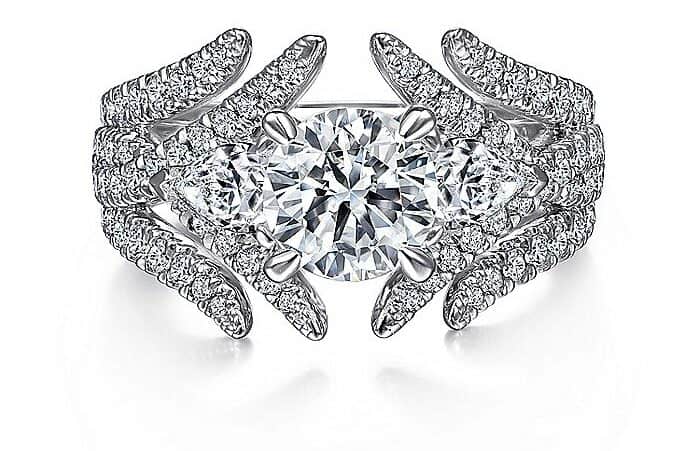 This stunning $6,000 engagement ring setting is a great way to end my picks from Gabriel and Co. Strands of pavé diamonds cross and add dimension to the 14K white gold shank. The center diamond is accented with pear-shaped side diamonds and a curved gallery and belt. Suited for a 1.30-carat diamond, this is a dazzling engagement ring. Buy Here.
Frequently Asked Questions
Question: What is bad for your engagement ring?
Answer: How you wear or care for your engagement ring will depend somewhat on the metal and stone type. Sterling silver, or any metal that will tarnish, you'll need to be especially careful with and may want to remove for showering, bathing, and swimming. All engagement rings should be kept away from harsh chemicals (aside from silicone rings). As you can imagine, chlorine, bleach, and rubbing alcohol are all poor options to have near your ring. But even hand sanitizer can damage engagement rings, something many people don't think about.
Question: Is $5000 good for an engagement ring?
Answer: The price of an engagement ring should depend on your budget. Keep in mind you need to budget not only for an engagement ring, but also wedding rings, a reception, a ceremony, and potentially other items, such as honeymoons and down payments or debts. The average cost of a ring, according to a 2020 Knot survey, has dipped just below $3,500. $5,000 is more than enough to buy a beautiful engagement ring. Focus on color first, then clarity, and prioritize carat size last if you're buying a diamond or precious gemstone ring.
Question: Why are Tiffany rings so expensive?
Answer: Tiffany is an often named competitor to Gabriel and Co, likely due to its ability to also capture contemporary but timeless designs. But Tiffany rings are more expensive than many competitor's rings. They've gained a reputation for top-quality diamonds and renowned craftsmanship. You're also paying, of course, for the name and its reputation.
Final Thoughts & Buying Tips
Gabriel and Co offer an impressive selection of engagement rings and ring settings, with many classic but also unique designs. I recommend selecting your style and then adding filters to make sure you're only shopping within your price range. Since most prices listed are for the setting alone, you'll need to set your budget lower than your overall budget for your ring.
When buying an engagement ring, check to see, or inquire about options for the official color and clarity of your center stone diamond. You can also see a recommendation for a matching wedding ring if you scroll down the page.
You can also Shop Bestsellers on the Main Engagement Ring Page.
Further, read: