Emerald Cut Diamond Engagement And Wedding Ring Designs
On Love You Tomorrow, we talk a lot about the solitaire engagement ring that he'll pick when he asks you to be his wife. When it comes to wedding bands, you'll need to find one that matches with the current style he chose. While you could entirely replace the ring he chose with a set that is created to fit together perfectly, it's not one that he picked for you. The ring he chose has meaning, and it wouldn't be the same if you replaced the entire set.
We've found some emerald cut diamond ring designs that should fit beautifully with the emerald, princess, or square cut he chose as your engagement ring. Included are a few rings in case you're picking this set out together. Some men propose then wait, so the love of his life can choose her own forever ring. Whatever the circumstances, we've got you covered with these choices.
18K Gold Diamond Anniversary Wedding Ring Brilliant and Emerald Cut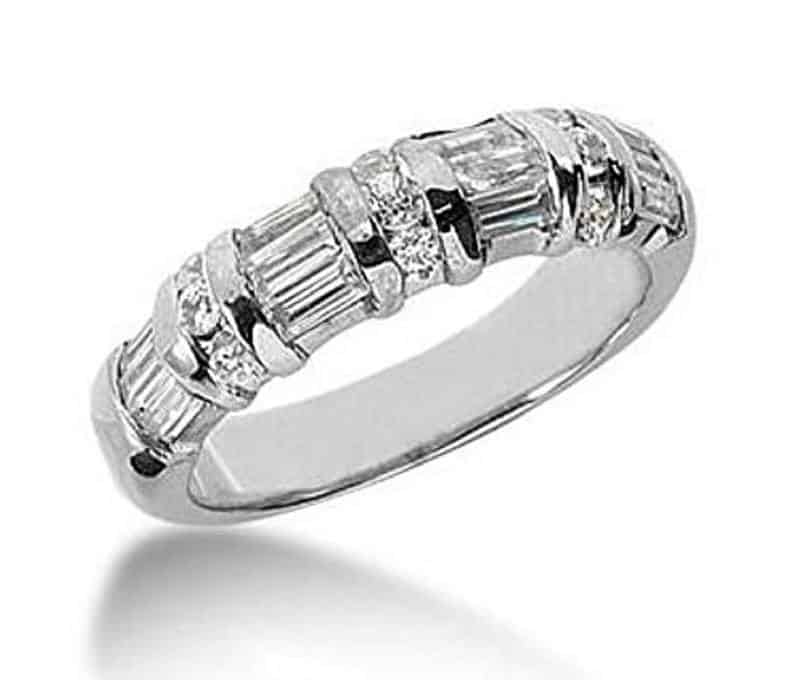 This is called an anniversary band, but to us, it's a wedding band. The emerald cut ring design is unlike what's commonly used for a wedding band. We love how it's rounded with two kinds of diamond cuts. The ring has 9 round brilliant diamonds and 12 emerald cut diamonds. They total 0.80 carats. Usually baguettes are set in a different direction, which makes these a great design that isn't seen very often. The ring is available in yellow, white or rose gold and ranges in sizes from 4 to 10.
---
Emerald Cut White Gold Baguette and Round Brilliant Wedding Band Set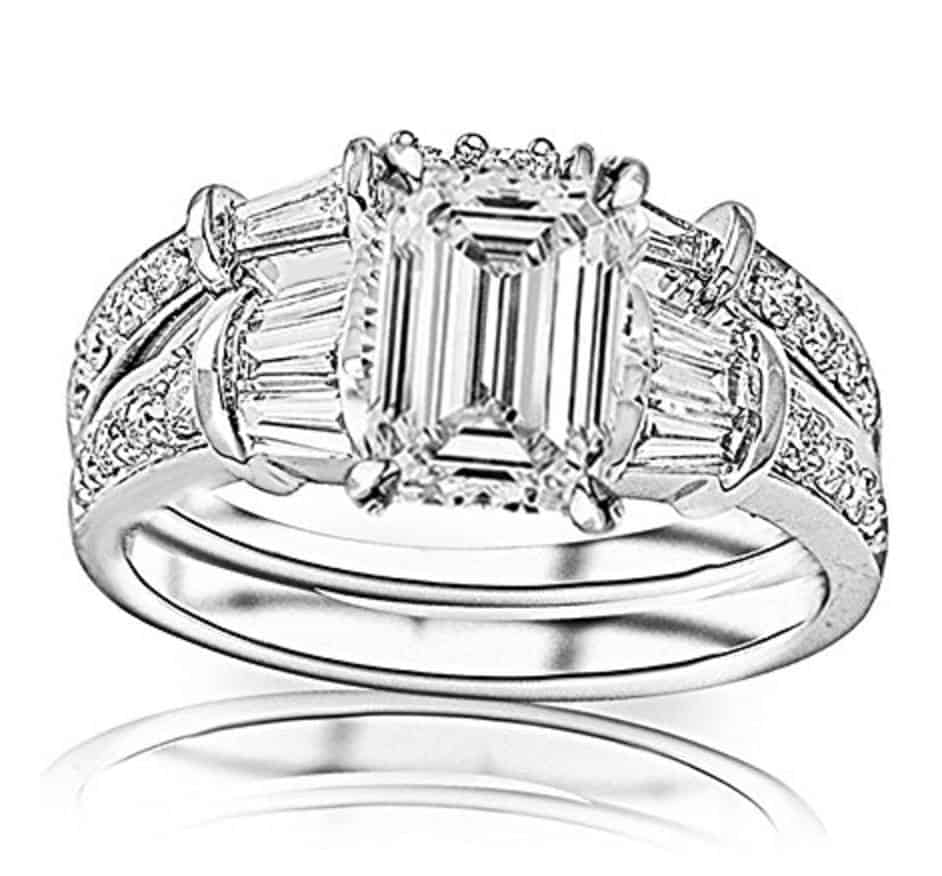 This is the wedding set design we truly fell in love with during our search for the best emerald cut diamond ring designs. There are 2 rings. The engagement ring has a 0.75 carat emerald cut diamond that tapers into baguettes before meeting the shank with round brilliant diamonds. The color of the diamonds range from I – J and the clarity from SI1 – SI2. The total weight of the diamonds is 1.58 carats. They're all natural and untreated diamonds as well as being conflict free. This stunning ring design is available in rose, white, yellow gold or platinum. The rings can be purchased in sizes 3 to 11, and they can be resized, too.
---
Emerald Cut Semi-Mount Yellow and White Diamond Two-Tone Ring
This engagement and wedding ring has an advantage over the others. With an engagement ring and band, you're spending more for two rings. With this ring, it'll feel like you're getting three for the price of one. There's a 0.50 carat emerald cut CZ diamond in the center. Down the middle channel on the top of the band, there's a row of yellow diamonds. The interior and exterior of the band also have a channel of white round diamonds. There are 20 yellow diamonds approximately .20 carats with the clarity of SI1 – SI2. The 10 white round diamonds have a color of H – I and clarity of SI1 – SI2. They're approximately .30 carats. The center setting can hold a 7 x 5 mm emerald cut stone.
---
18K Gold Diamond Anniversary Emerald and Round Band
This band will fit beautifully with a round cut or emerald cut engagement ring. It has 3 emerald cut diamonds which alternate with 2 round cut diamonds for a total weight of 1.30 carats. The setting for these diamonds isn't a traditional prong setting, the prongs are fused with the sides to hold the stones. The ring is available in yellow, white, or rose gold. The diamonds have a minimum color of F – G and a clarity of VS1 – VS2. The diamonds are natural and untreated. It's available in sizes 4 through 10.
---
Curved Emerald Cut Wedding Band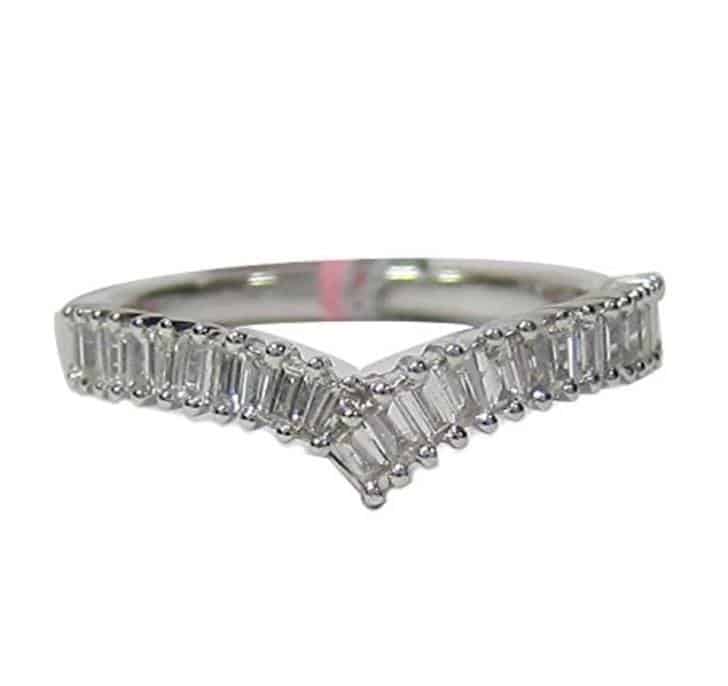 We often like to save our favorites for last. This time is no exception. The curved shaft of this wedding band will elongate and give your finger the illusion of being thin and dainty, which is never a bad thing. The emerald cut diamonds total 0.46 carats with 24 stones. They're a minimum color of F – G and a clarity of SI. They're an excellent cut in a natural stone that hasn't been treated. Each of the diamonds is in a prong setting, and the manufacturer takes pride in the fact that the ring is made in the USA.
---
With these choices of emerald cut wedding ring or band, you should be able to find an emerald diamond ring design that will fit with the solitaire he already purchased when he proposed. The wedding band is meant to complement and fit beautifully with the current engagement ring, and these are great choices for your emerald, princess, square, or cushion cut engagement ring. Some of the bands on the list have round brilliant diamonds, which make them versatile when trying to complete a set with your current ring.