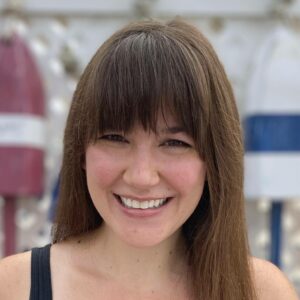 Latest posts by Lauren Vigdor
(see all)
If you're in the market for a unique, affordable engagement ring, but don't want to be limited to only one or two choices, pear-shaped moissanite is the perfect stone for you! The pear cut is an unconventional shape, but it's still popular enough that you won't be limited in your options. There are a ton of pear-shaped moissanite engagement rings on the market, and in this article, I'll break down some of the variety of styles there are to choose from.
I must admit, it took some time before I warmed up to the idea of pear-shaped stones. I've never been particularly drawn to symmetry in general, but for some reason when it came to engagement rings if it wasn't symmetrical it wasn't my cup of tea. I've long since changed my tune on that, and can appreciate pear-shaped stones now more than ever! The elongated shape of a pear moissanite is so graceful, and the unique cut is perfect for anyone looking for an unconventional (but perhaps not too unconventional) engagement ring.
Best Online Moissanite Retailer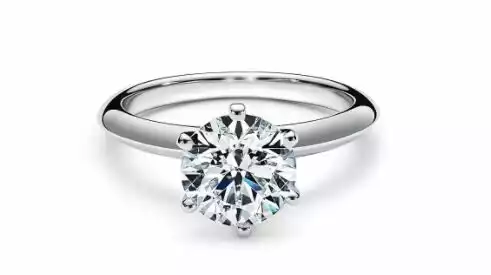 Bottom Line Up Front
Each pear moissanite engagement ring is unique and beautiful in its own way, but my favorite is the East West Pear Ring from Emily Warden Designs. It's an unconventional take on a classic ring and I love that it's both unexpected and understated.
About Moissanite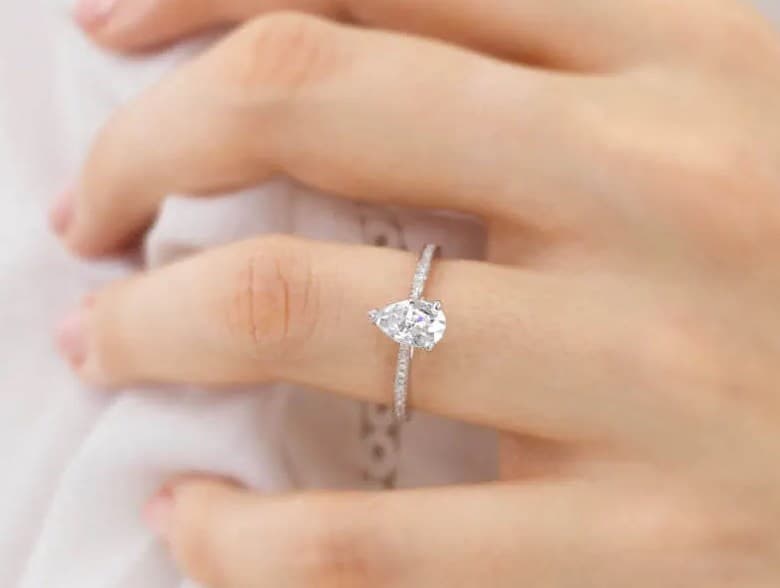 Moissanite is a unique stone that was originally discovered in a meteorite by scientist Henri Moissan. It's very brilliant and measures a 9.25 on the Mohs scale, which makes it a great choice for an alternative stone in an engagement ring. Moissanite is often seen as a substitute for diamonds, though it is not a fake diamond.
Natural moissanite is extremely rare, much more so than diamonds, so most moissanite used in jewelry is grown in a lab. This makes moissanite more affordable than diamonds, though it's considerably less affordable than other diamond alternatives such as sapphire or cubic zirconia.
About Pear Cut
Pear shaped stones are incredibly unique. They're a combination of the round brilliant and marquise cuts, and form a sort of teardrop shape with one rounded end and one tapered end.
Finding a setting for a pear cut stone can be difficult since many ring settings are made with symmetrical stones in mind.
The pear cut may look modern, but it dates back to mid-15th century Europe. During this time, polishing wheels were invented that allowed diamond cutters to cut perfectly symmetrical facets into stones, something essential to the pear shape (no one wants a wonky pear!)
Although pear cuts traditionally contain 58 facets, there's no standardization of the proportions of the pear cut. The most commonly preferred width to length ratios are 1-1:30, 1-1:50, and 1-1:70. If you see a pear-shaped stone that looks a little too pudgy or overly elongated, it's probably because it doesn't fall within one of these ratios.
How to Wear a Pear Cut Stone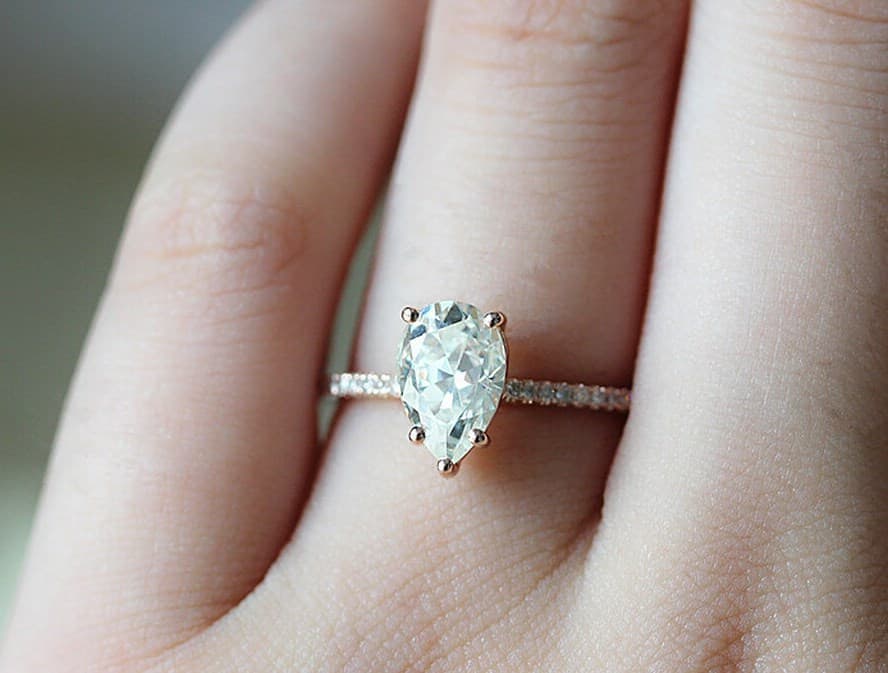 Pear cut stones can (and should!) be worn pointing in whichever direction you choose, but there is a more common orientation. Traditionally, pear-shaped stones should be worn with the tapered end pointing towards the tips of your fingers. This way, when you show off your ring the stone will be pointing down. Since wedding bands are traditionally worn closer to the body on the base of the finger, this also makes it easier to find a contour band that will fit the curved end of your pear.
Just for Fun: Some Celebrities with Pear Cut Engagement Rings
Cardi B

Sophie Turner

Katie Maloney

Paris Hilton

Zoe Saldana

Katherine Heigl

Megan Fox
My Picks for Pear Moissanite Engagement Rings
The beauty of a pear-shaped moissanite lies in its slender, innovative shape. Below is a list of some ideas for pear moissanite engagement rings that are original and varied. If you're looking for an engagement ring that's uniquely yours, you shouldn't stop at just the cut of the stone. That's why I put together a list of rings that will appeal to all different types of personalities and styles. Keep reading for some ideas for pear moissanite engagement rings!
For a list of the best places to buy moissanite engagement rings, click here!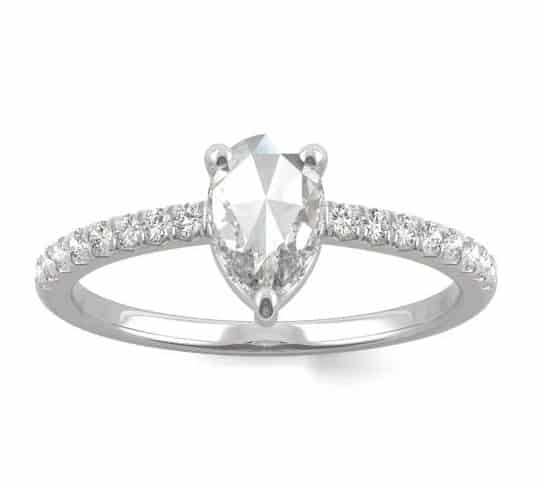 This rose cut pear moissanite from Charles & Colvard is a perfect little dewdrop! Rose cut stones are so charming, and the hidden halo setting really makes this ring shimmer. Buy here for $939
True Ring
The filigree work and diamond accents really make this halo pear moissanite ring from Olive Ave something special. The elegance of the vintage-inspired setting only enhances the beauty of the 7x5mm pear-cut moissanite. It's an ultra-romantic and soft-looking engagement ring. Buy here for $1,935
Nadia Ring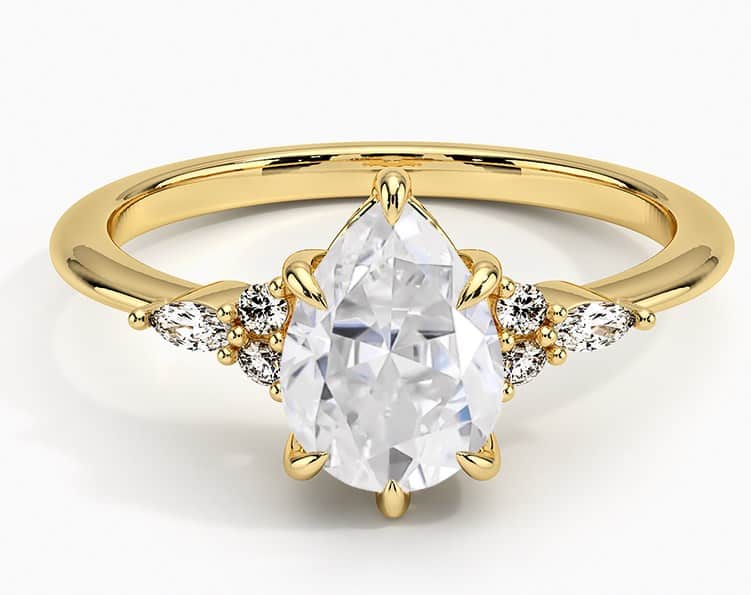 The round and marquise diamond accents on this ring from Brilliant Earth balance out the pear-shaped moissanite so gracefully. This chic ring is extra sparkly without being too lavish, perfect for someone who wants a little refined twinkle. Buy here for $2,580
East West Pear Ring
The sideways orientation of this pear moissanite from Emily Warden Designs gives this ring a little twist (pun intended) on a traditional style solitaire. It's playful and classy all at the same time! I live for a simple ring, and a simple ring with a bit of something unexpected is always inspiring to me. Buy here for $1,000
Miley Ring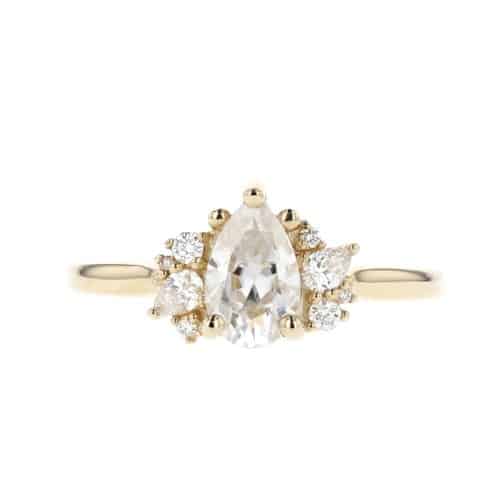 This is the pear cluster ring of my dreams! The bevy of pear and round stones on either side of this pear moissanite from Olive Ave are so celebratory! It feels like wearing a little constellation on your finger! Buy here for $1,310
Versailles Ring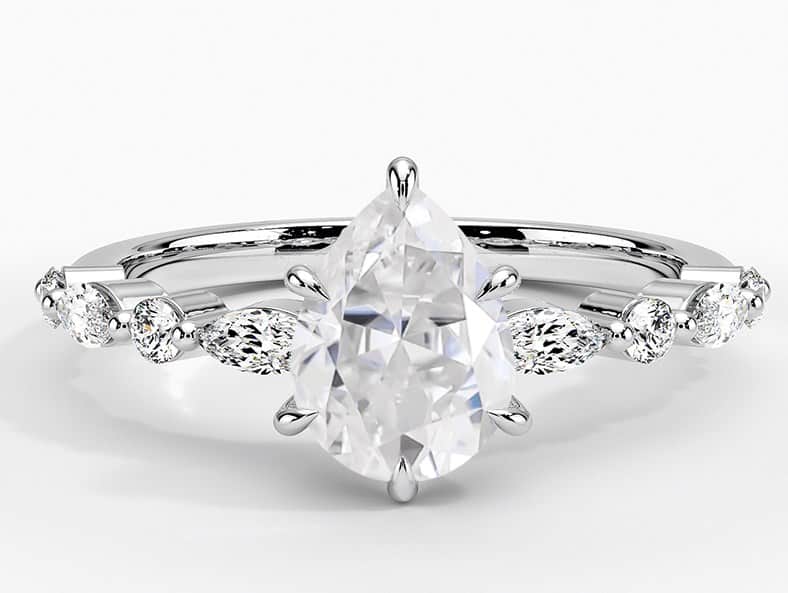 The alternating round and marquise accent diamonds along the band of this ring really make you look twice. This is another great ring from Brilliant Earth that adds an elegant twist to an otherwise simple design. Buy here for $3,180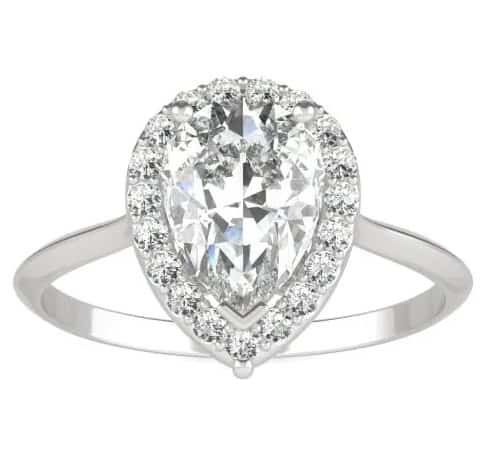 This Forever One moissanite ring from Charles & Colvard may not be as large as Cardi B's engagement ring, but it definitely gives off the same vibe! This blinding halo engagement ring is for anyone who feels they can never have enough brilliance and sparkle. Buy here for $1,869
Gray Blue Leaf Moissanite Ring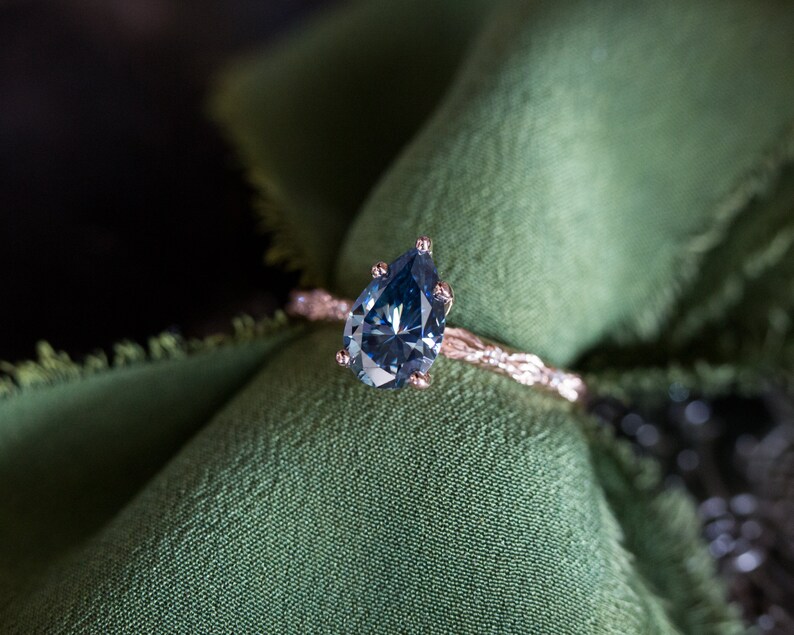 When it comes to this nature-inspired ring by Ooar on Etsy, it's all about the color. This gorgeous deep, stormy blue pear cut moissanite really pops from the delicate, leafy band. The leaves on the band are woven around tiny white diamonds, making this ring extra magical. Buy here for $1,800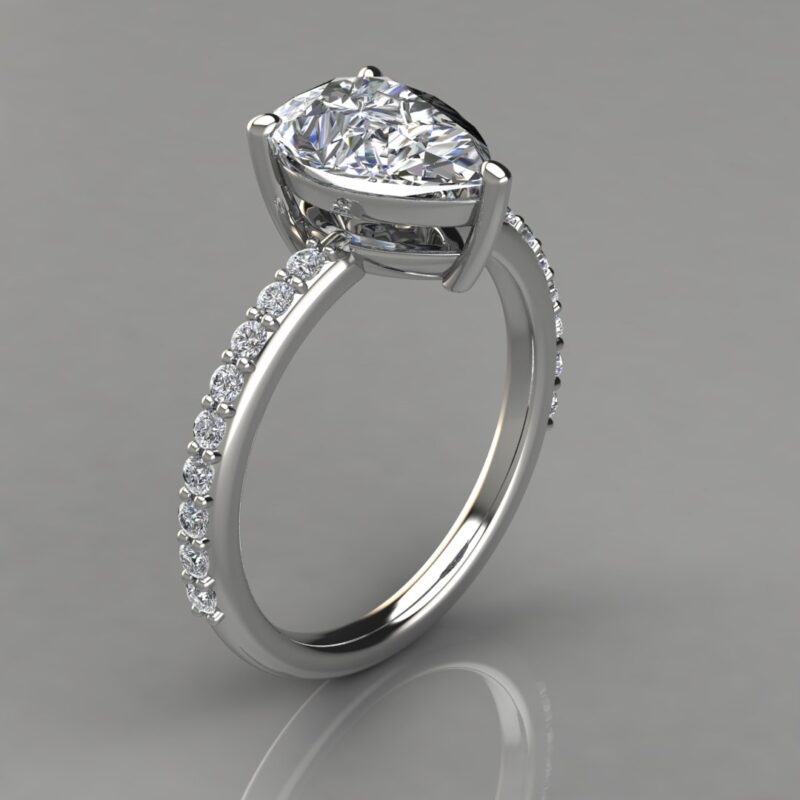 I think the appearance of this ring is so interesting; I love how your eyes are brought over the entire ring, thanks to the detail of the 18 additional side stones. While you can choose if you want 1.00 carats and up to 3.00 carats for an engagement ring, the side stones add an additional 0.23 carats. It's hard to find another engagement ring that's as elegant as this ring is. Buy here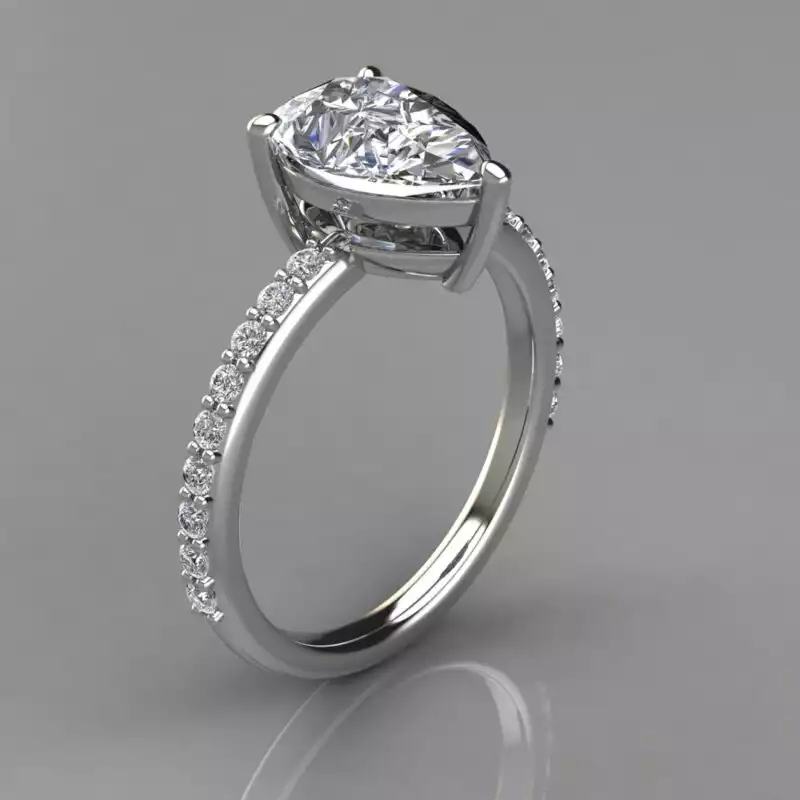 Shared Prong Pear Cut Moissanite Engagement Ring | Forever Moissanite
The ring can be customized to your exact specifications to accommodate a center stone from 1.00 to 3.00 carats and it comes as pictured with an additional 18 round brilliant cut side stones, in total carat weight of 0.23 Ct.
Check Price
We earn a commission if you click this link and make a purchase at no additional cost to you.
Filigree and Diamond Halo Ring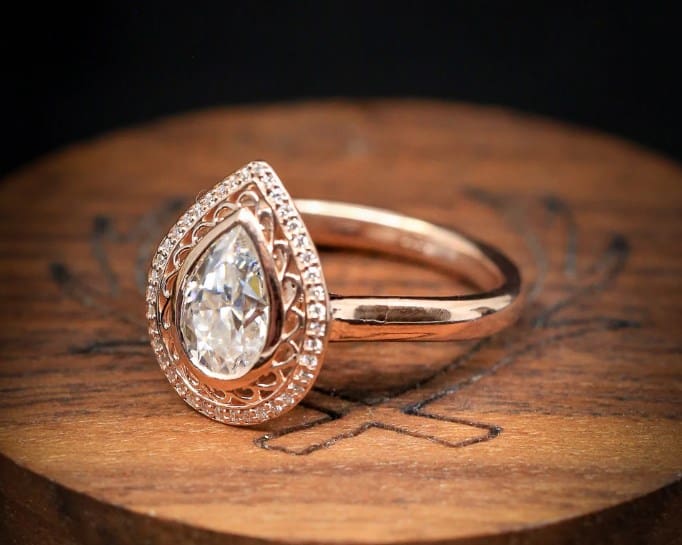 This pear moissanite ring from Staghead Designs has a wide filigree and diamond halo around the 9mm by 6mm center stone. I like the open look of the filigree on this stone. It's less glamorous (in a good way!) than other halo rings on this list, and it's certainly a unique looking ring. Buy here for $2,250
Two Stone Engagement Ring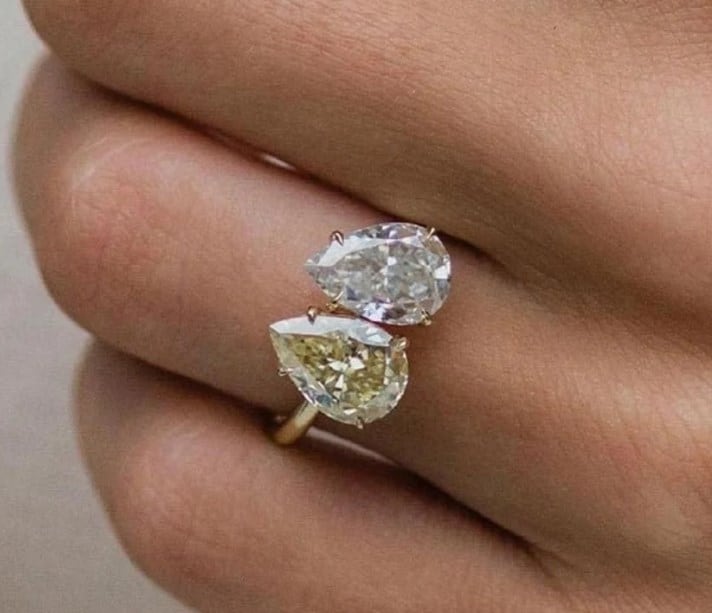 This ring from Imperial Crown Jewelry on Etsy sports not one but two pear cut moissanites! I love the look of the yellow and white moissanite pears nestled up against one another like they're in love. Buy here for $255.20+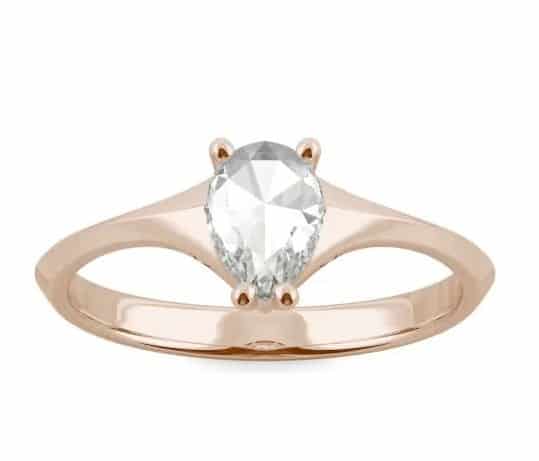 The ultra-modern band on this solitaire pear moissanite ring from Charles & Colvard is what differentiates it from other simple rings. The knife edge band is perfect for someone who is a bit of a renegade looking for a ring that's less than traditional. Buy here for $989
East West Two Stone Ring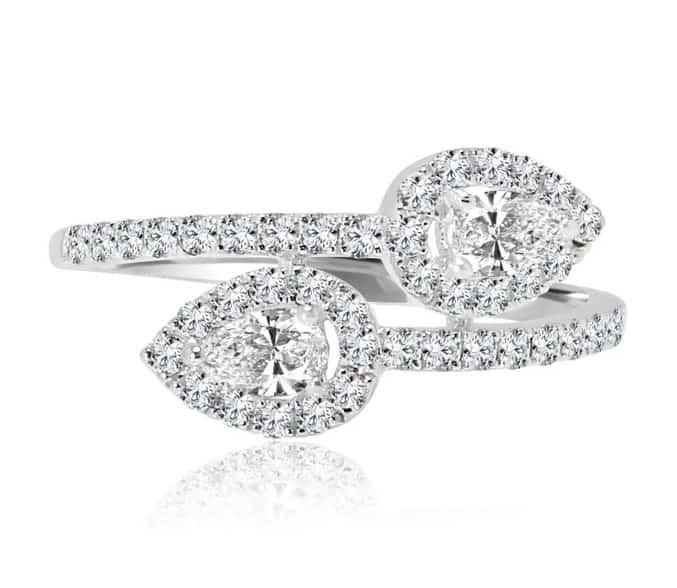 This East West bypass ring is doubly unique both for its orientation and its use of two center pear moissanite. This ring from Angaar Jewels on Etsy feels classic, but it's still unlikely that any of your friends will have anything similar. The moissanite halos and pavé band really add a lot of glamor and shine here too. This is a great option for someone who wants a ton of sparkle and a classic-feeling ring that's still uniquely their own. Buy here for $361.25+
Windsor Ring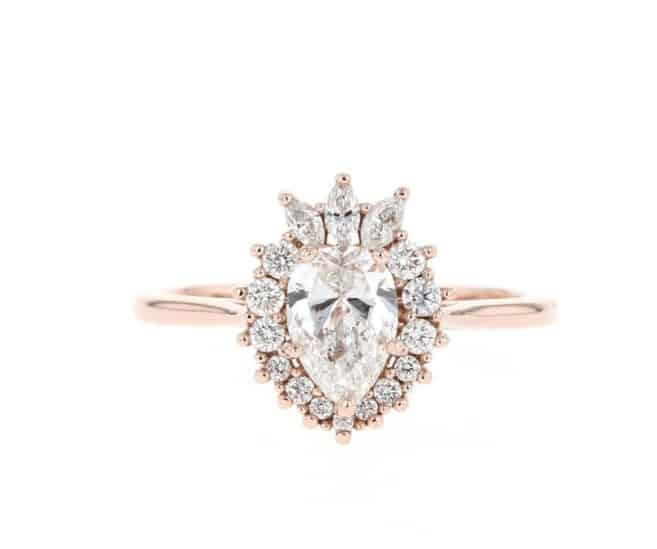 The supernova effect of the round and marquise diamonds in the halo surrounding this center moissanite is where this ring really shines. I like that this ring (another from Olive Ave) leans into the organic asymmetry of the pear-shaped stone. It's what makes pear moissanite so special! Buy here for $1,325
Black Diamond Accent Teardrop Ring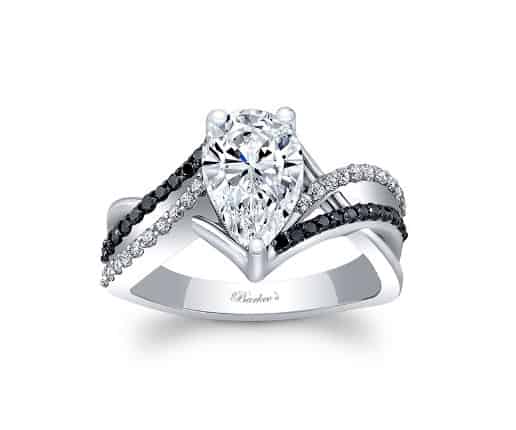 This might be the coolest pear moissanite ring on this list. The interwoven black and white diamonds on the band of this ring from Barkev's give it an edgy, graphic look. I don't know about you but I'm getting Black Swan vibes. This is the ultimate juxtaposition of radical and refined. Buy here for $4,745
Are you looking to surprise your loved one with a one-of-a-kind engagement ring? This is it! With the unique twisting in this ring, it almost looks like it's from another world. A stunning moissanite stone in the middle if supported by 20 side stones, which add an additional weight of .026 carats to the ring. But, I love how raised up the center stone is, as it really is a show stopper. Buy here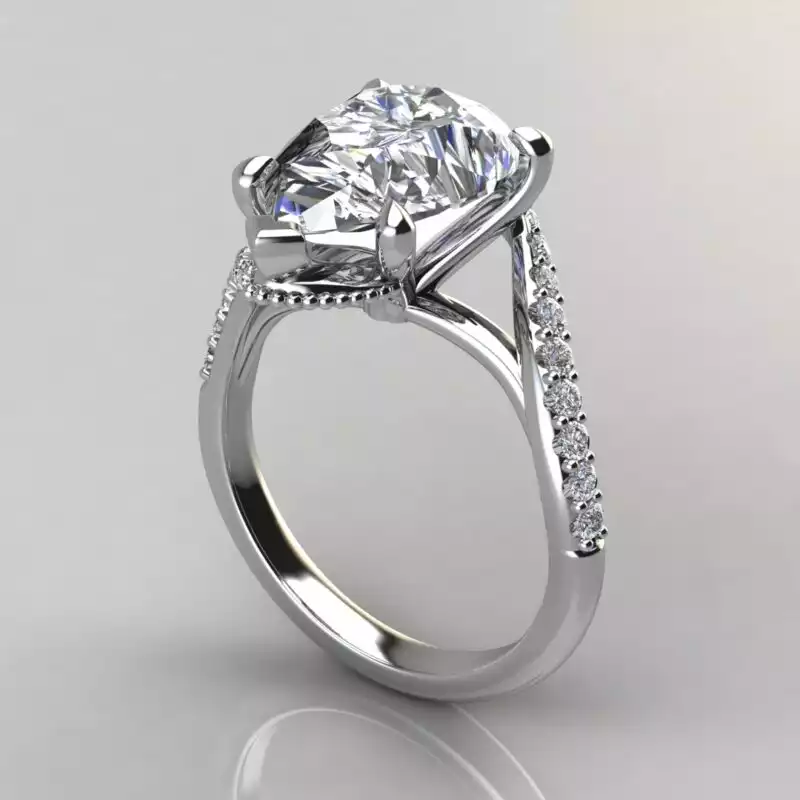 Pear and Green Emerald Cut Ring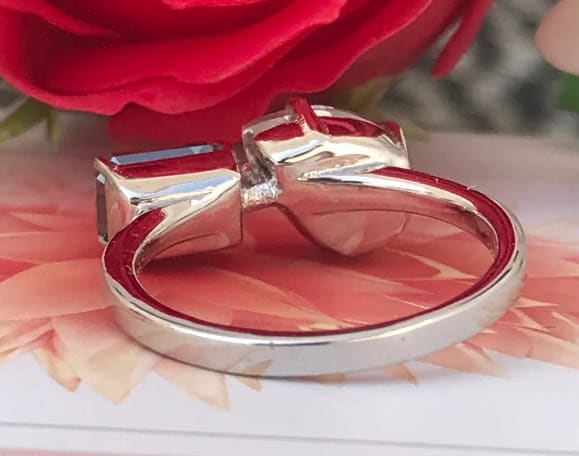 A sparkly colorless pear cut moissanite meets a refined green emerald cut moissanite and sparks fly! It's a timeless love story for the ages! Seriously though, I think mismatched two stone rings are such a quirky and thoughtful option for engagement rings. You can choose two stones as unique yet complementary as your distinct personalities! Buy here for $350+
Dark Gray Moissanite Halo Ring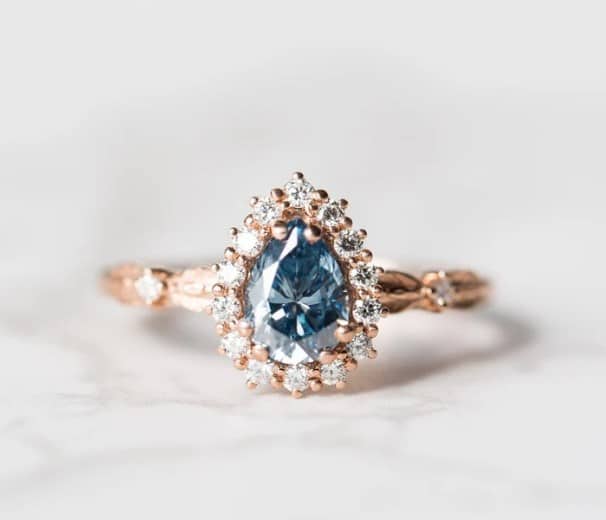 I love everything about this ring! The color of the center moissanite, the sparkly halo, the delicate leaves, and diamonds on the band. This one checks off all the boxes for charm and romance for me. As an added benefit, it's unlikely anyone else you know will have a ring quite like this! Buy here for $1,780
Moissanite Glacé Lab Diamond Ring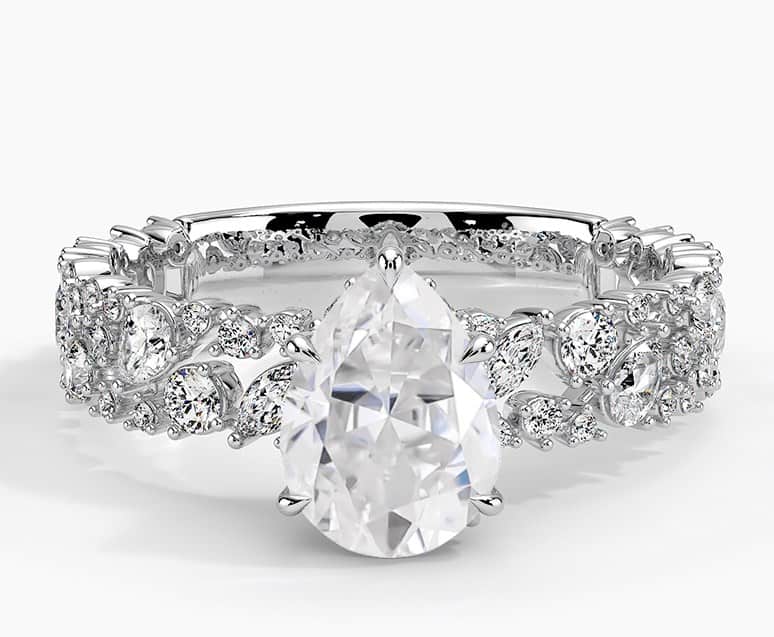 I have to say that I'm personally not normally a huge fan of thicker bands on engagement rings. I know that many people are, and I'm thankful for that — our variety of unique tastes is what keeps life interesting! That being said, I really like the wider band on this Brilliant Earth ring, which is absolutely teeming with pear, round, and marquise-shaped lab diamonds. It's a ring fit for an ice queen, and it gets bonus points for featuring the most pear-shaped diamonds of any ring on this list! Buy here for $4,280
Round and Pear Two Stone Ring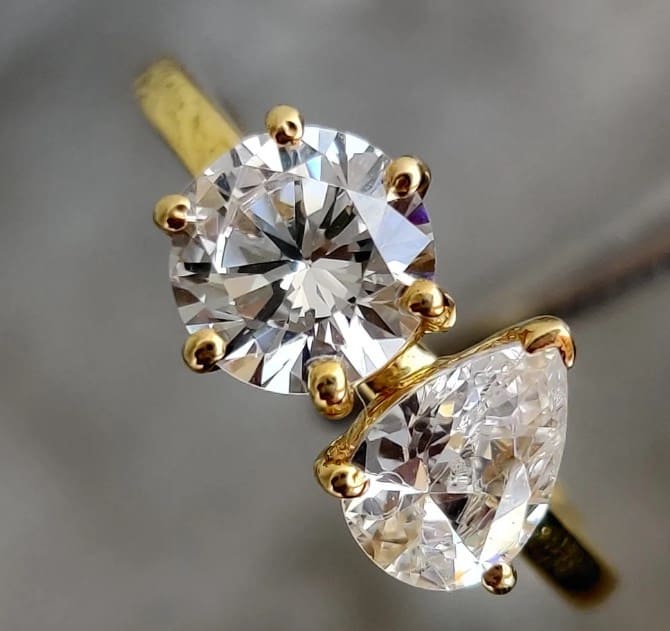 These mismatched stones look so cool together in this simple setting! The thicker prongs give this ring a vintage feel that I really like. This ring from Angaar Jewels on Etsy is another great option for anyone looking for something simple yet unexpected. Buy here for $259.25+
Pear Moissanite Cluster Ring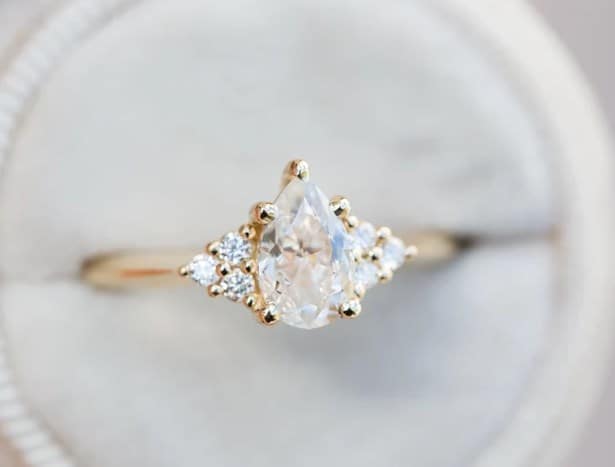 This ring from Ooar on Etsy is absolutely ethereal. It's delicate and charming and looks light-as-air. I think this is a great sweet and romantic option, and would be an especially great choice for anyone with smaller fingers. Buy here for $1,900+
Pear Moissanite with Multi Colored Side Stones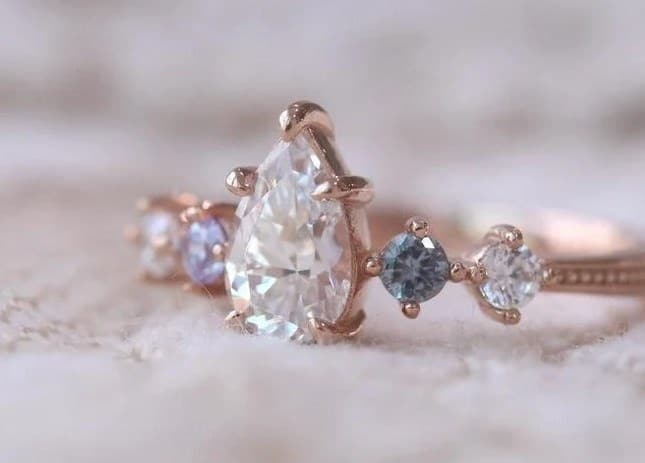 This multicolored ring would make a lovely engagement ring, but it would be equally great as a special occasion gift or worn as part of a ring stack. I love the playfulness of the colorful side stones. Buy here for $102.4+
Carter, Summit, and Royals Set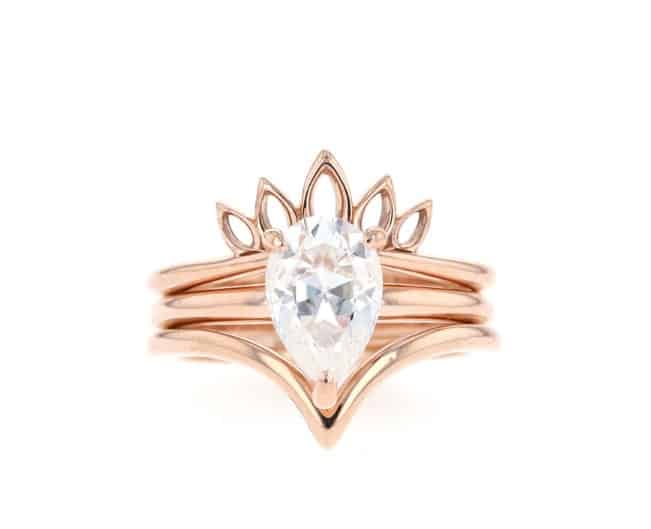 I love a good bridal set, and this three ring set from Olive Ave certainly does not disappoint! The Forever One moissanite pear solitaire is lovely on its own, but it looks absolutely stunning when stacked with the two different styles of contour bands. Finding a band that fits the tapered end of a pear shaped stone can be tricky, but the deep v-shaped band in this set fits perfectly. Bridal sets are a great option since they ensure that you'll end up with a wedding band that's a perfect fit for your engagement ring, and that rings exceptionally true here. Buy here for $1,385
Halo Pear Moissanite Bridal Set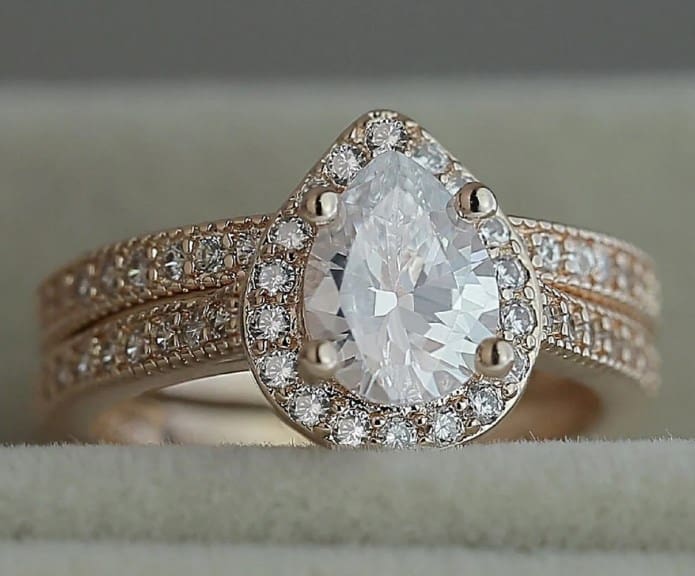 This is another lovely pear moissanite bridal set. I love the vintage look of the channel-set lab diamonds in the bands of these rings from Starlight2012 on Etsy. I think this is an extremely refined looking set, and is a great choice for anyone looking for a vintage, mid-century aesthetic. Buy here for $255+
FAQ
Question: Which way do you wear a pear shaped ring?
Answer: You should wear your pear cut ring whichever way you like, but traditionally pears are worn with the tapered end pointing toward your fingertips.
Question: Do pear cut rings look bigger?
Answer: Pear cut rings look bigger than round rings, both because their elongated shape draws the eye down and because the top surface is actually bigger per carat than a round diamond!
Question: Which cut of moissanite is best?
Answer: The best cut of moissanite is whichever one speaks to you, but the round brilliant cut is the most popular, and the emerald cut is the best at subduing some of moissanite's artificial brilliance.
Question: Are moissanites fake?
Answer: Moissanites are a real, unique stone that are found in meteors. Since moissanite is incredibly rare, most of the ones used in jewelry are grown in a lab.
Question: Is moissanite a diamond?
Answer: No, moissanite is a completely different gemstone than a diamond. It is, however, often used as an alternative to a diamond in jewelry.
Question: What is a pear moissanite?
Answer: A pear moissanite is a moissanite cut into a pear shape. It is a combination of both the round brilliant and marquise cuts, and features one round and one tapered end.
Final Thoughts
Pear shaped moissanite engagement rings are the perfect choice for anyone who is looking for something unique without limiting their options. There are a huge variety of pear moissanite rings available, which means you'll definitely be able to find something that speaks to you.
My favorite pear moissanite ring from this list is the Pear Cut Moissanite Curved Milgrain engagement ring by Forever Moissanite. It speaks to my simple sensibilities as well as my desire to be a little different. If you're in the market, I feel confident that you'll also find a pear moissanite that speaks to you!
Best Online Moissanite Retailer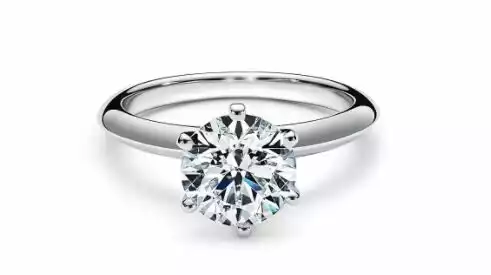 Further Reading on Pearl Jewelry: