Best Wedding Gifts for Your Sister: AMAZING and Original
Imagine just having a beautiful ceremony and heading off to a honeymoon to New Zealand. Then imagine, hundreds of thousands of miles in the air during a connecting flight, you get another surprise: cards and notes from 130 passengers wishing you well.
Fantastical as it sounds, that's precisely what happened for Bride Kelli Shultz this April when as the receiving end of one of the best wedding gift ideas from her sister.
Handing out goodie bags to all 130 passengers, she slipped in a note, explaining her sister had just gotten married and she wanted a final send-off. That's not to say that all the best wedding gift ideas for a sister have to be so grand. But it does go to show that personalization and a lot of thought go further than a high price tag.
In a Hurry? Top Options Sure to Impress (and not totally lame)
Delicious Indie Snack Box Subscription (pickles, sweets, cheese, etc…) – $50 – 60 on Mouth.com
Customized Cutting Board (with their name) – $25 – 50 on HomeWetBar.com
Epic Wine Subscription (with their favorites) – $30 – 100 on CaliforniaWineClub
Concierge Name Change Service (remove the headache of last name changes) – $30 – 50 on NameChangeKit.com
[amazon_textlink asin='B013WFOBYA' text='Samsonite Luggage Set' template='ProductLink' store='loveyoutomorrow-20′ marketplace='US' link_id='95481bef-2695-4b50-a2e8-84ba7da1ccf8′] (wanderlust) – $150 – 300 on Amazon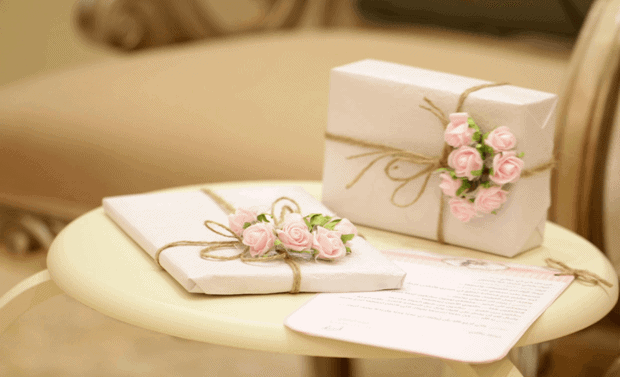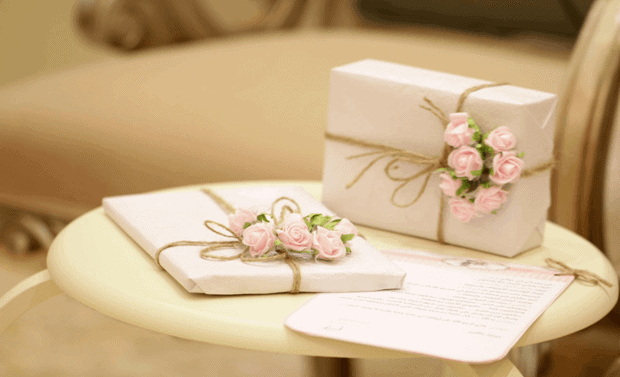 The pressure for a "perfect" gift
There's plenty of pressure when it comes to gifts in general for weddings. For the engaged couple, there's all the planning and energy that goes into picking a wedding registry. Guests might worry how much or how little to spend. And family members likely feel pressured to buy a gift that goes above and beyond the registry.
The truth? There's no such thing as a perfect gift. But there are some things family members, especially those close to the bride, like sisters, do that are big mistakes, namely:
Focusing too much on how much or how little they're spending
Write off 'practical gifts.'
Forget personal touches
Make a purchase based on others' (real or perceived) expectations)
Make no mistake: the best wedding gift ideas for your sister are the ones that reflect who she is, aside from being a bride. Whether expensive or more affordable, the best gift ideas are ones that will stand the test of time.
Gift-giving as a sister, or Maid of Honor?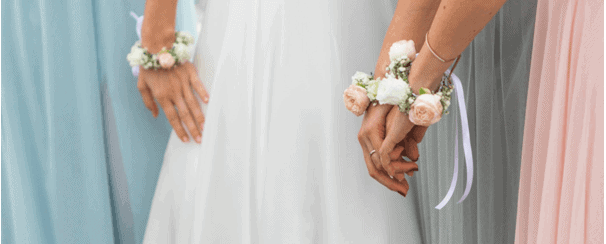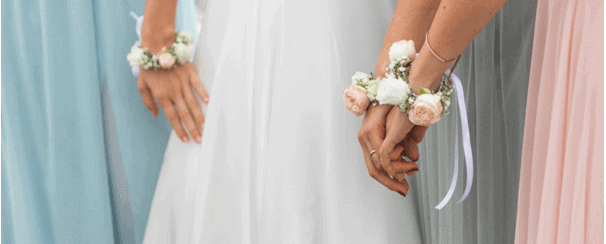 It may not seem significant, but your role in a wedding makes a difference in what gift you're giving. But here, the distinction is less clear: many sisters are also the Maid of Honor. In that case, however, being a sister still trumps being a Maid of Honor.
And sisters who aren't a Maid of Honor need not worry–their gift is still just as important. In both cases, traditional wedding gifts are excellent, but more personalized gifts help show how much your sister means to you.
A few more things to keep in mind
The best wedding gift ideas will:
still be in your budget
express your relationship (the good parts)
be your idea
It's okay to bounce ideas off of others, but ultimately you know your sister best. While this article will give you a starting point for some great ideas (and a few places to purchase gifts), ultimately you need to make sure your purchase is made with you and your sister in mind.
The Best Wedding Gift Ideas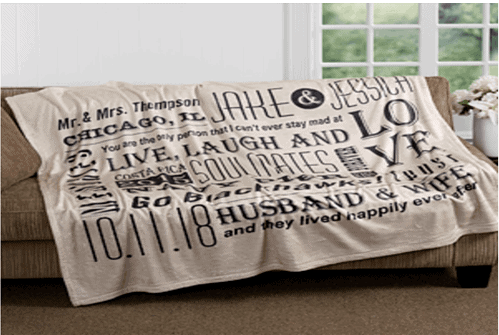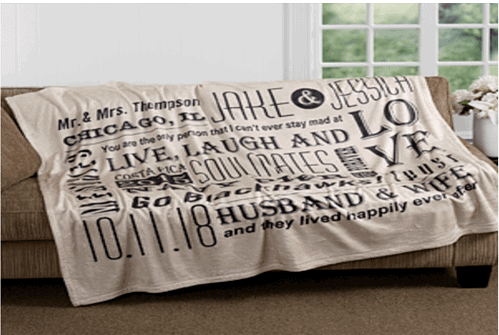 Wedding Quilts or Throws: This idea actually is a very old tradition that over the decades has lost popularity, in part because not nearly as many people know how to, or have the time, to sew anymore. But even if you're a complete novice to all things sewing related, you can still have something custom-made.
The story behind wedding quilts is the story behind many traditional wedding gifts. Primarily in Europe during the 18th and 19th centuries, family members sent young women with quilts as a form of an endowment before they got married.
Thankfully, the endowments have mostly vanished in the United States and Europe, but there is a part of the tradition that can still be touching and yet modern. Aside from its connection to a dowry, handmade quilts were often stitched with personal details and used as a way to commemorate life-changing events.
Today, you can create a personalized throw or rug that no one shows what the bride means to you, but also preserves the memory of her wedding (and keeps her warm!) Here are some of our favorite ideas:
Etsy, Custom Wedding Photo Memory Quilt; $260.00: A 50' by 65' custom designed quilt allows you to select a custom color and photos for a trip down memory lane.
Personalization Mall, Personalized Fleece Blanket; $69.99 (on sale for $48.99): Select from 4 color options, two sizes, and add 10 lines or personalized phrases to describe either the bride's or the couples' favorite things.
#1 Unique Pendant Necklaces
Fine jewelry might be appreciated by many, but selecting something with a personal flair shows how much you care. Not only are pendant necklaces still very much in style, but there's also a sense of timelessness to a piece of jewelry with personal meaning.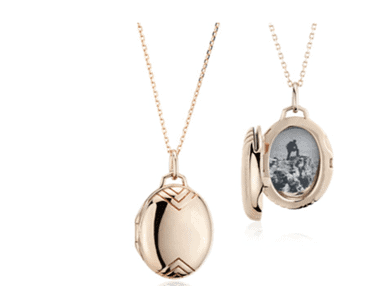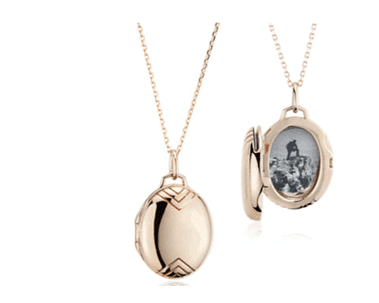 The best part? There are so many options when it comes to what you can find, or even customize. Sterling silver, yellow gold, gemstones, and tiny diamonds add that special touch worthy of a wedding.
Brilliant Earth, Birthstone Twist Pendant, $275.00: If you're a little shy of getting something over-the-top personal for your sister, this gift idea is an excellent place to start. The stunning necklace is made of recycled silver (great for eco-minded brides) and features a gemstone with a bezel setting.
The Blue Nile, Monica Rich Kosann Petite Oval Locket, $1,395.00: Not as fond of pendants? Lockets have a vintage feel, but they also are more personal. This stunning locket from the Blue Nile is made with 18K Rose Gold and decorative chevron details on the exterior.
#2 An Experience or Fund
This is a less conventional gift idea for your sister, but it's still one of the best. In fact, many couples are an option to add non-material things to their wedding registries. The most popular? Requesting funds for a honeymoon. Something like kick starting a Honeyfund is both intentional and flexible for the couple.
If you feel like you want something that feels a little more special, no worries: you can come up with your idea. Just be sure that it's something that your sister would enjoy, and if you're not sure, it's better to go with low-pressure things, like a trip to the spa, or a weekend getaway. Here are some more ideas, courtesy of Zola:
Couples Massage or Yoga
Outdoor Adventures (River Rafting etc.)
While in some ways it's the riskiest of ideas for a gift, it can also be rewarding if you know it's something your sister has always dreamed of doing and experience she won't forget.
#3 Personalized Decor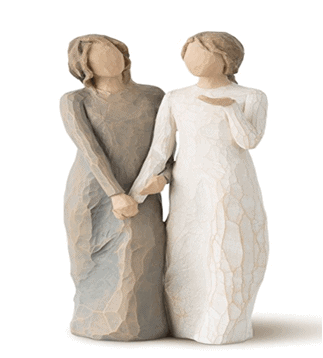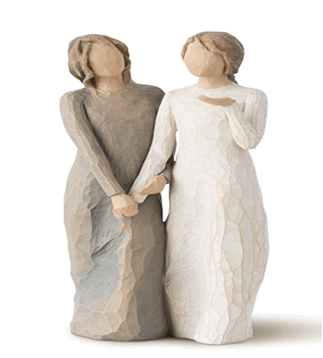 No doubt this idea won't be popular with everyone, but personalized decor for the home is both practical and meaningful and a great wedding gift for your sister.
The trick is standing out from other guests, who might have a similar idea. So instead of opting for perfunctory monogrammed towels (which some couples aren't fond of anyway) give a gift as only a close family member could provide.
That means gifts that reflect who you are as sisters, or what family means to both of you:
Things Remembered, Jeweled Family Tree, $60.000: So this might be a better gift idea for parents of the bride, but hear us out: given as a gift along with other family members, this gift could be significant, and a beautiful way to display where your family started (and for potential future family members). That said, this is only for a particular type of bride. If your sister is into genealogy, this is a unique pick.
Things Remembered, Willow Tree 'Together' Figurine, $45.00: Willow Tree makes a beautiful line of figurines that are simple but emotive. While this particular one is a great idea to honor the couple, you could also consider looking into one dedicated specifically for sisters. Add a personalized note and bottom inscription.
#5 Charm Bracelets


No, charm bracelets aren't only for kids. Charm bracelets purchased from fine jewelry are beautiful, whimsical, and wonderful keepsakes. By option for a charm bracelet, you'll be giving your sister a wedding gift that shares memories, showcases her best traits, and will be unique to your relationship with her.
Plus, charm bracelets are a time-honored gift, once meant for good luck and keeping away bad fortune. No matter if your sister believes in superstition or not, it's a fun, lighthearted nod while still staying elegant:
Kay Jewelers, Create-Your-Own, prices vary: Individual charms range from as low as $4.99 to over $1,500. With such a large selection, you'll find charms of every style, price point, and theme, from religious to fun. Sterling silver, yellow gold, rose gold, white gold, and silver and gold tone options. Sort by theme, price point, reviews, stone, and featured collections to build a one-of-a-kind bracelet for your sister.
#6 A Video or Photo Album
This is such a classic gift that many sisters might shy away from it, worried it is not unique enough to celebrate a wedding. But it's also becoming an increasingly rare gift and one that will be revisited time after time.
If you're are going this route, you might consider both a physical and digital version. And you'll want to assemble more than just photos or clips: stitch together a timeline that shares your fondest memories growing up and sneak in some she might not have gotten in all the events and preparations leading up to her wedding.
#7 A Keepsake Box
A keepsake box is not only unexpected, but it's also practical, elegant, and a great idea to give a sister.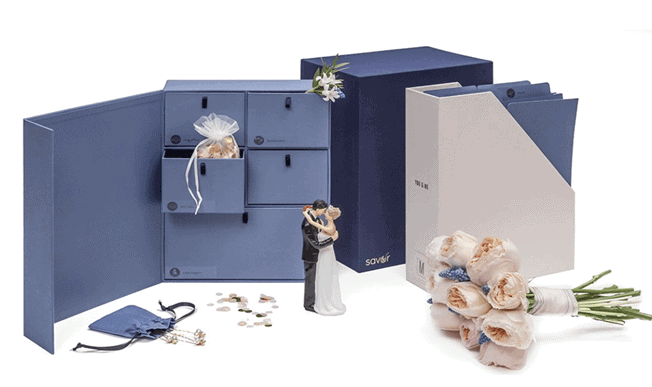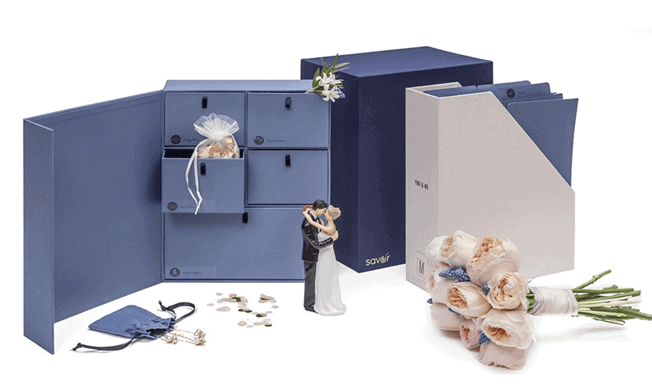 While a bride can use a keepsake box for anything she likes, it's especially great for keeping souvenirs from her wedding, like stationary, dried corsages, and a leftover gift favor (as long as it's non-perishable!).
Savor, Wedding Edition Keepsake Box, $99.95: Select from indigo or slate. Acid-free drawers illustrated frames, and beautifully stitched frames. Each box is both handcrafted and 'custom-dyed' and can even hold objects like cake toppers and ring pillows.
The Bradford Exchange, Personalized Bridal Music Box, $59.99: If you don't see your sister saving a lot of little knick-knacks from her wedding, a music box is a similar idea but an equally beautiful choice. This one includes a silver-plated lid and customized etching.
Recommended Reads: