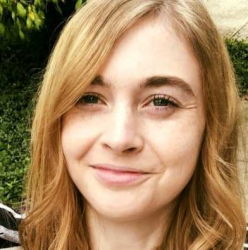 Latest posts by Erin Jamieson
(see all)
A ring bearer has long been a tradition for wedding ceremonies, and a way to celebrate the couple before they make their way down the aisle. At their best, a ring bearer can bring joy and whimsy to a wedding. But many struggles when it comes to coming up with gift ideas to thank the ring bearer for making their role.
The first problem? A ring bearer can range in age. Take Lorelei and Creighton, college sweethearts who recently married in a gorgeous Nebraska outdoor ceremony featuring lush lawns, a beautiful wedding dress, soft makeup, and rings from Zales.
Their ring bearer? A toddler who dropped the ring–but luckily was able to recover and made the ceremony that much more memorable, with plenty of laughter. On the other hand are posts on Wedding Wire, with some contemplating having a ring bearer as old as twelve, While unusual, it does go to show that coming up with gifts for a ring bearer can prove tricky, especially as interests vary.
But perhaps even more puzzling than age discrepancy is knowing how much to spend and what's appropriate. For those reasons, this guide will give you some of the best gift ideas for a ring bearer, no matter your situation. By providing gift ideas and answering your frequently asked questions, couples will have plenty of time to start planning for a honeymoon.
What are the best gift ideas for a ring bearer?
The best gift ideas for a ring bearer are generally small and simple gifts. Rather than making a grand gesture, you want to focus on something a young child would like. For most of this guide, we'll focus on gifts for a ring bearer that's of a more typical age, but also offer some ideas for a younger ring bearer as well.
Attire and Accessories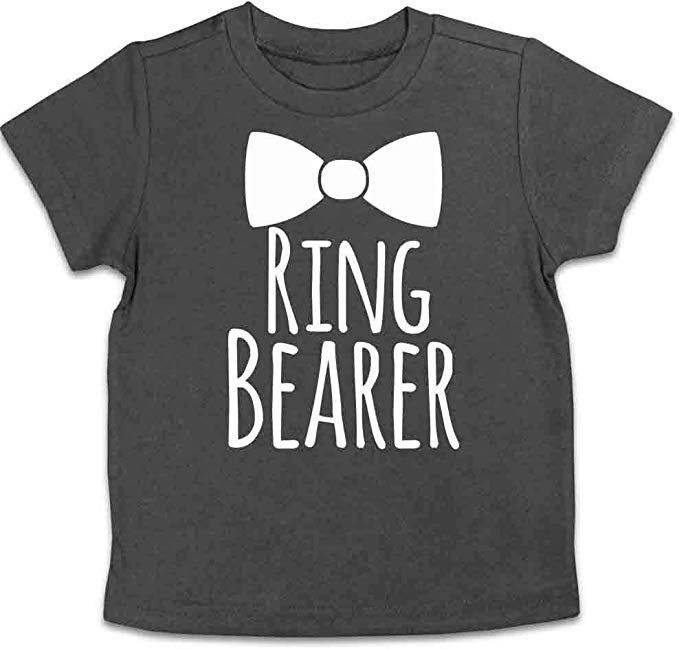 Make your ring bearer true feel truly special and part of the bridal party with snazzy or just plain fun accessories and wedding clothes. You can go quite specific or even for something they can wear for days to come.
Ring Bearer Shirt Ring Bearer Gift Ring Bearer Tee
Following the trend of graphic t's for the rest of the bridal party is this simple but well-designed shirt that a ring bearer can proudly wear during the rehearsal and before the wedding. The whimsical, digital print features a bow tie and comes in shades of black, gray and white; buy for $12.99.
Ring Bearer Funny Truck Shirts
Have a ring bearer who loves trucks or just has a good sense of humor? This more casual and comical t-shirt is the perfect gift, with a cartoony design, quirky saying, and comfortable fit. Buy for $16.99.
Ring Bearer Sunglasses
This gift idea is actually fairly popular, and you won't have much trouble finding different options. Sunglasses are not only fun but practical: perfect for sunny days, they can be worn well beyond the wedding rehearsal or wedding day. For something simple and safe for young kids, consider these Etsy glasses, which also feature an option to personalize the case (buy for $7.95).
You can also opt for a themed kit, like this Top Secret Spy Themed Set featuring aviator glasses, a suitcase, and earpiece. Not only are the glasses versatile, but this is a fun package to put together for the adventurous ring bearer and will help them feel like part of some larger 'mission'. Buy here for $22.99.
Ring Security Socks
Ring bearers needs socks too, whether it's for the big day or just for fun. These are simply designed and fit the bill; the biggest downside is that this may not be the best gift for a young ring bearer, so you'll likely want to combine socks with something else. The ability to personalize with a name ad date upgrade them to something special Buy for $14.95.
For the Ceremony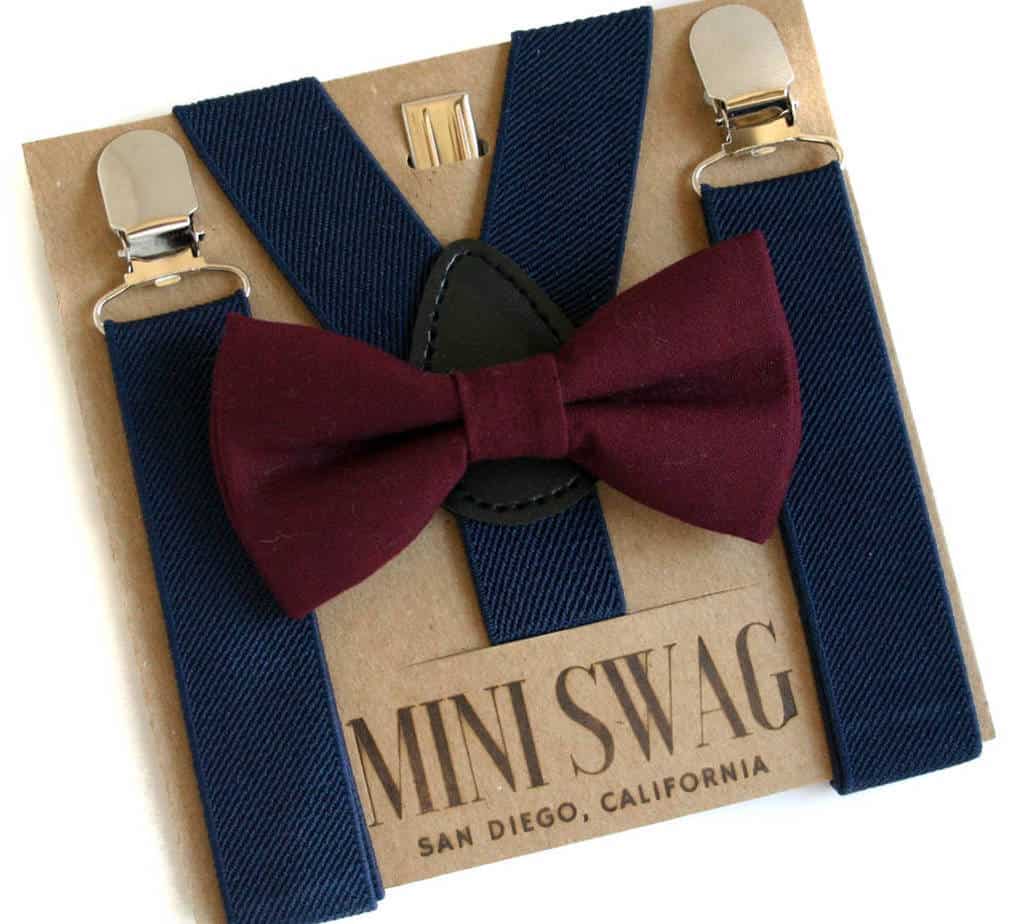 Dark Burgundy Bow Tie and Navy Blue Suspenders
This adorable set from Etsy is an example of a great gift idea for a ring bearer who may not already have something to wear. The classic colors and style would work well with most dress pants and shirts and especially for a rustic, outdoor, classic, or vintage theme; buy here for $12.00.
Ring Bearer Bowtie Suspender Set
A slightly more casual but still formal and classic look, this affordable set comes in many styles, as well as seventy unique colors, from classic ivory to dusky pink and classic gray, great for anyone who wants to coordinate with about any wedding color scheme and feel like part of the bridal party. There are also options for matching adults and customization. Buy for $12.54.
Reading Material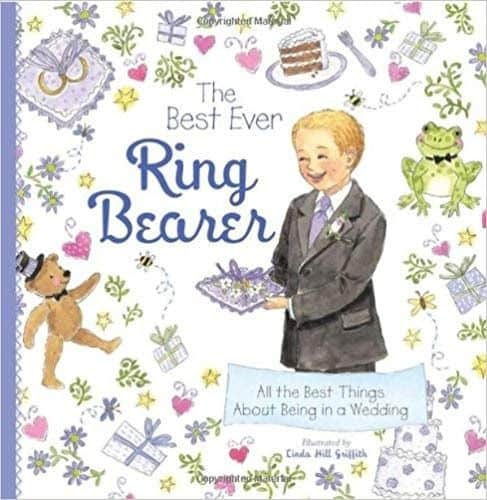 This may seem unusual, but it's one of the best gift ideas for a ring bearer who not only loves to read but could do with some instruction. A book can also boost confidence and make a ring bearer feel more invested in the wedding.
The Ring Bear
A Wedding Book for Kids by N.L. Sharp: This beautifully illustrated book follows the story of young Robert who learns about his role as a ring bearer, making it more entertaining without feeling pedantic; buy for $9.95 on paperback. Also available a hardcover and on Kindle.
The Best Ever Ring Bearer
All the Best Things About Being in a Wedding by Linda Griffith: A bit more on the instructional side, this well-designed book will also prove to be something a ring bearer can keep for years to come, with classic illustrations and advice. It does, however, have a whimsical story that will keep boys of a range of ages entertained; buy for $10.99.
Toys and Collectibles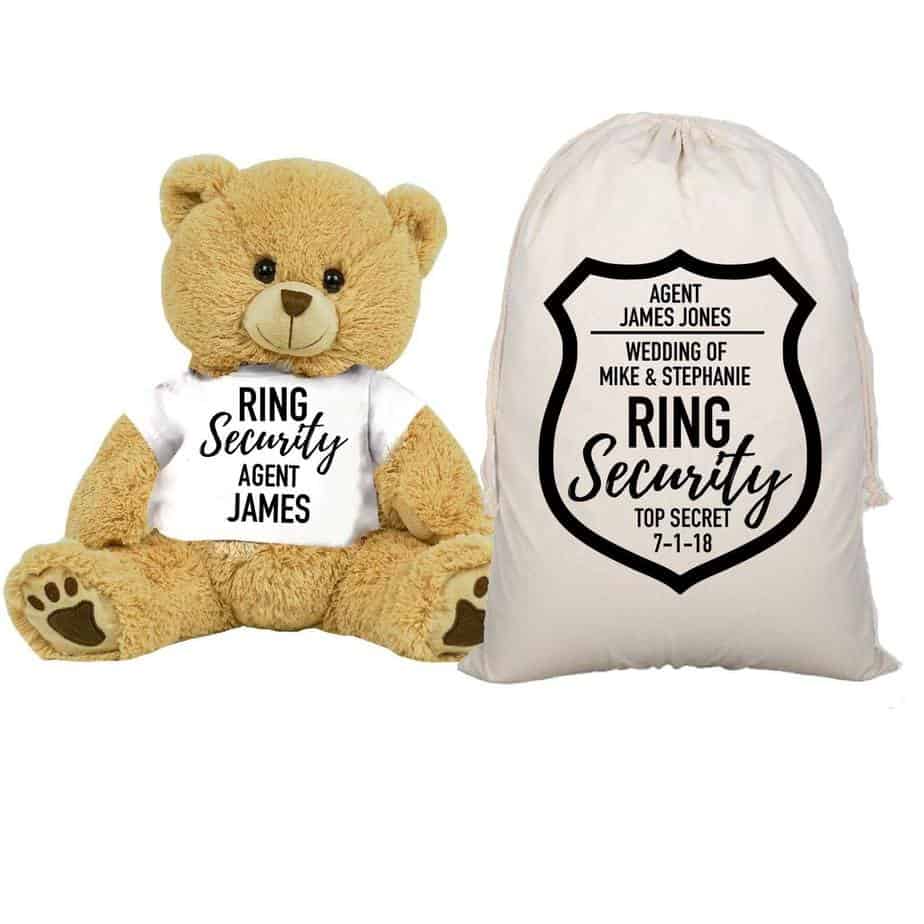 One thing that can get lost is that a ring bearer, is, at the end of the day, likely a young kid who enjoys toys and other hobbies. So why not tie those interests to a ring bearer theme?
Ring Bearer Gift – Personalized Baseball
One of the best gift ideas for a sports fan, this ring bearer themed baseball doubles as a collectible and can be customized with a personal message; buy for $15.99. You can also opt for a personalized baseball bat; buy for $15.21.
Customized Football
Though it can be personalized for other occasions as well, this custom football is a great gift idea for the ring bearer who's a sports fan or athlete themselves. You have up to three lines for a personal message of your choice, engraved in brown against a white surface and classic brown underlayer. Buy for $19.99.
Ring Security Teddy Bear and Gift Bag
This adorable gift set is sure to bring a smile to a young ring bearer's face. A plush teddy bear with a smiling face comes with a duffel bag, both of which can be used and loved well beyond the wedding. The best part: both the t-shirt on the bear and the print on the bag can be customized and feature a ring bearer theme. Buy for $19.95 and up.
Lunar Sky Rings Be Our Ring Bearer Proposal Teddy Bear
Want to make a statement when asking a ring bearer to be part of the day and have it double as a gift? That's the idea behind this charming teddy bear, which comes in three different sizes with an especially soft feel and careful stitching that's safe for younger kids. The teddy bear comes dressed in a soft white tee 'popping' the question. Buy for $36.80.
Ring Bearer Gift Box Set, Engraved YoYo, Engraved Pocket Watch
For the ring bearer that's a bit older comes this classic gift idea that should last for years to come, and is at once useful, memorable, and fun. The handmade set comes in a natural wood box, with a yoyo and pocket watch which may be customized with laser engraving. Buy here for $18.03.
Keep Them Occupied
Under this category are gift ideas best for keeping antsy or young ring bearers content. Being a ring bearer involves attending longer hours than they may be used to, and rehearsals and weddings can not be as exciting for kids. These gifts offer activities but still feel personal.
NAME Crayons in a Personalized Gift Box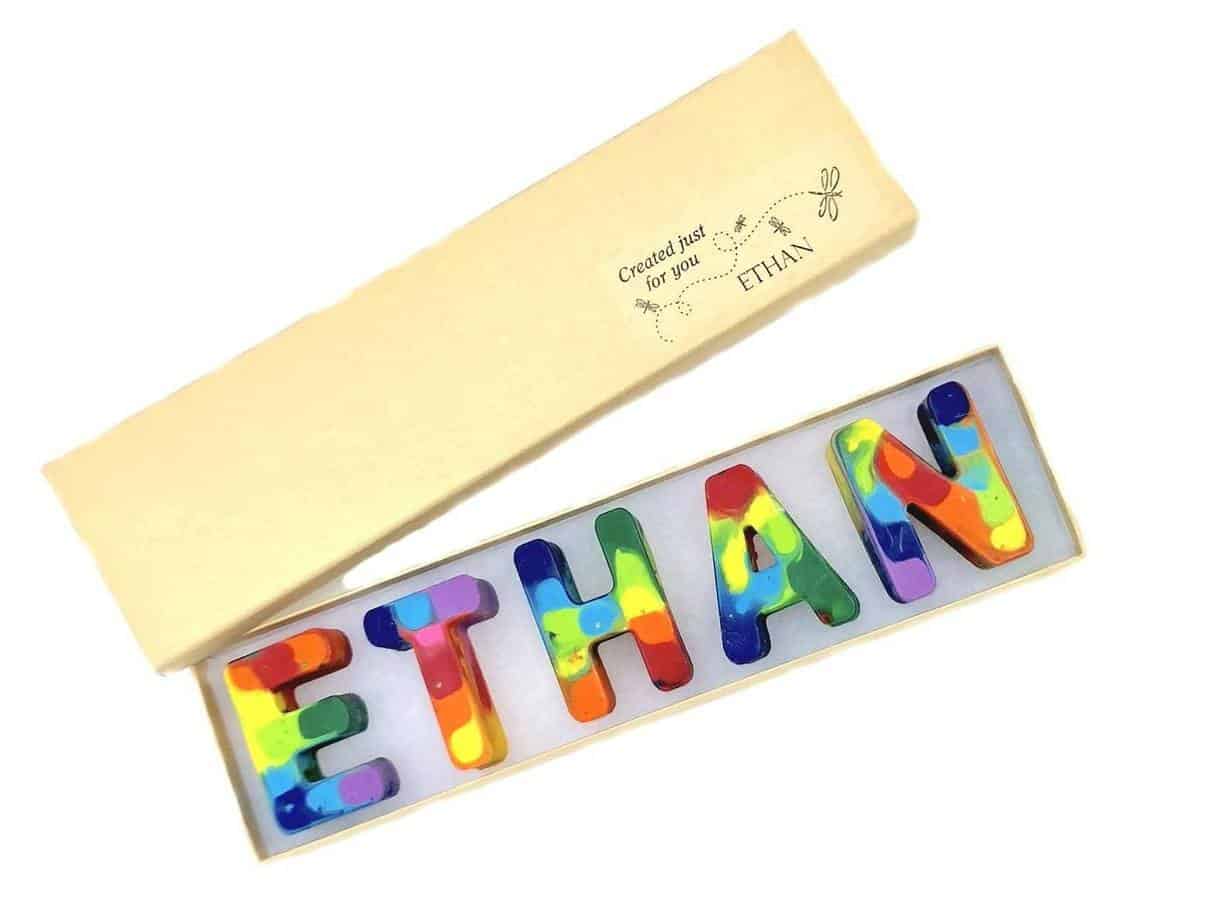 This offbeat gift is one of the best ideas if you don't want something too tied to the wedding, and maybe are looking for a way to keep a ring bearer entertained. The multihued crayons spell out the ring bearer's name and come in a personalized gift box. Buy for $13.47.
Wedding Day Busy Kit (3-8 yrs)
This quirky but thoughtful gift box is a great idea for keeping a ring bearer happy and entertained and comes with nine "mess-free" activities. After supplying a name, gender and age you'll receive a custom box with an activity book; stickers; bubbles; card game; puzzle; Play-Doh; spinning top; glue art; and more. It contains wedding themes and a personal message, all for sixteen dollars. The same creator also make a set for younger kids. Buy for $16.00.
Wedding Day Busy Box for Tweens (9-12 yrs)
As we said before, while most ring bearers will be around three to eight years of age, it is possible you have a slightly older ring bearer, or maybe just a more mature child that is not easily entertained. For that, there's this personalized busy box gift set, packed with activities such as mini pinball; Connect Four; a deck of cards; glow sticks, and even a wedding scavenger hunt, among other items. Buy for $16.00.
Where to Buy
For all the ring bearer gifts we've mentioned, we've provided links above. Outside of Amazon and Etsy, consider local gift stores; custom print shops, and asking members of the bridal party if you're really stumped. Remember: the best gift ideas for a ring bearer are b no means expensive, but a way to say thank you and add a personalized touch for the ring bearer's day.
FAQ's About Ring Bearer Gifts
How old should a ring bearer be?
Keep in mind that when it comes to wedding planning, it's helpful to be aware of wedding traditions and general etiquette, but there's always room to adjust things as you see fit. As a rule of thumb, a ring bearer is normally the same age as flower girls, around three to eight years old. It is not altogether uncommon to see younger ring bearers, as young as toddlers. Of course, you'll likely have to have someone assist the ring bearer the younger they are. Some couples who already have a child may opt for this. You can have an older ring bearer, but the further you get from eight years old, the less common. A ring bearer has the connotation of being reserved for a young boy (though again, you may mix this tradition up as you wish).
Where does a ring bearer stand?
If you plan on having a ring bearer, especially a younger one, it's important to practice, even if you aren't sold on a formal rehearsal. Based upon wedding ceremony traditions, The ring bearer and flower girl typically enter directly following the groomsmen and bridesmaids. Where they stand when they arrive at the alter varies. Some go off to the side or even sit in the front row, while others may stand beside the altar for the duration of the ceremony. All of this depends on personal preference, the age and the maturity of the ring bearer.
Is the best man the ring bearer?
This is where it gets tricky. There is indeed an option for a significantly older ring bearer. Instead of having a second ring bearer, some couples might opt to have the best man hold onto the rings. But technically he doesn't have the exact same duties as a ring bearer. This is normally done for a couple who does not have someone young to be a ring bearer, or for whatever reason does not want a ring bearer.
Can a ring bearer be a girl?
The tradition is that a ring bearer is a young boy, but modern couples are opting to upend tradition. A girl could be a ring bearer if you choose.
Do ring bearers carry the actual rings?
One concern many have with younger ring bearers is the safety of their wedding rings. To make sure your wedding rings make it down the aisle safely, there are a few different options. For one, you can opt for a ring bearer that is of older age or mature and has properly rehearsed. For another, very young ring bearers can be accompanied by someone. But the best solution in some cases is to have a young ring bearer carry down fake rings; the maid of honor and best man may hold the real rings, and it still allows the ring bearer to be a part of the ceremony.
Recommended Reads: