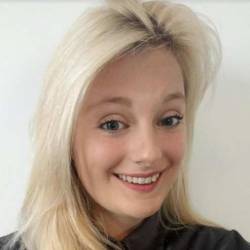 Latest posts by Rosie Greaves
(see all)
As you start choosing your bridal party, you'll eventually need to decide on a Maid or Matron of Honor. If you're close with a lot of women, this can seem like an impossible task!
This begs the question what's the difference between the two? Are the roles of a Maid and Matron of Honor the same?
Never fear, we've put this handy guide together to help clarify these questions for you.
Let's dive in!
Matron of Honor of Maid of Honor – What is a Matron of Honor?
The main difference of Matron of Honor vs Maid of Honor is:
A Maid of Honor refers to the honor attendant who is not married, whereas a Matron of Honor IS married.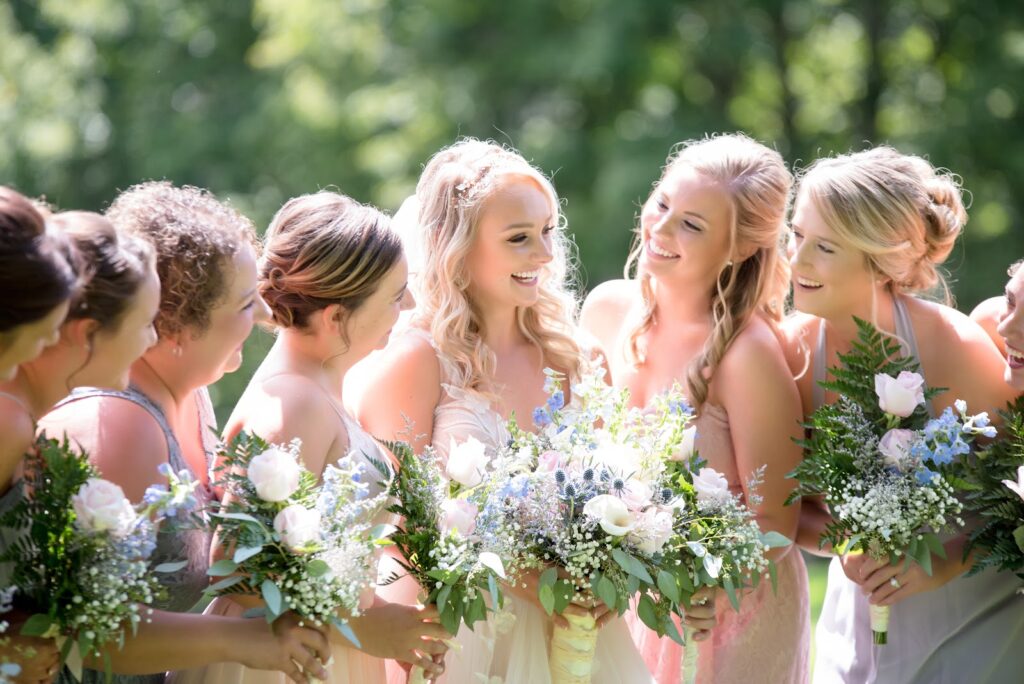 The Big Difference
Really and truly, there isn't much of a difference between a Maid and Matron of Honor. It all comes down to tradition.
Usually, a Matron of Honor is the chief bridesmaid who is already married, whereas a Maid of Honor is still single.
That's it- that's the only difference! So, don't stress about this too much.
If you don't like the idea of labeling people by their marital status, you could perhaps use the term 'Honor Attendant' instead. This phrase also eradicates any confusion over the terminology!
Who Are Honor Attendants?
Your Maid or Matron of Honor is usually a bride's sister or your closest friend.
However, despite what some people say, it's absolutely fine to have more than one Maid of Honor! Perhaps you have a sister and a best friend, and it's impossible to choose between the two.
So don't. Instead, have two Maids or Matrons of Honour.
This can be incredibly handy if you've opted for a larger bridal party. It never hurts to have an extra pair of hands on your special day to ensure everyone's ready and raring to go. This helps you all stick to the schedule and be where you need to be on time!
Plus, when you have two Maids or Matrons of Honor, you instantly split their workload. Usually, this makes it more manageable for them (especially if they have other demanding commitments like a busy job or kids of their own).
They can work together to plan your bachelorette party and bridal shower, or split the pre-wedding events (showers, rehearsal dinner, etc…) and organize one each-whatever works best!
Why don't you meet up with all your Honor Attendants and hash out the tasks that need doing? See who's up for doing what! That way, everyone knows where they stand.
Alternatively, if your Maid or Matron of Honor lives further away, physically meeting up might not be practical- so how about a group Skype call instead?
If location's an issue for one of your Honor attendants, she'll probably be restricted as to the tasks she can undertake. Again, this is where having more than one comes in handy!
How Do You Pick Your Maid or Matron of Honor?
As we've already said, choosing your Maid or Matron(s) of honor is a tough task, so be sure to keep your cool. You don't want this to be the thing that sends you soaring into Bridezilla mode.
There aren't any hard and fast rules about who should fill this critical position. Not only is bestowing this role on your best friend- a real honor, but it's also a responsibility (more on the maid and/or matron of honor responsibilities and duties involved, later).
It doesn't matter how much you like someone; if they're a flake, they're not cut out for the role.
This means taking off your rose-tinted glasses and honestly assessing whether your potential Maid of Honor will be there for you when you need her to be.
Will she be challenging when it comes to scheduling a time to go to appointments? Or to just to chat with on the phone about wedmin? Or, is there any chance she'll cause drama on your special day?
These are all major things you need to consider before making your final choice.
It's imperative your Honor Attendants know what's expected of them. Your wedding reception isn't just an opportunity for them to enjoy a free meal and a glass of champagne (although that's one of the many perks of the role!).
You only get married once, the last thing you want is for your special day to be overshadowed by any silly tiffs on the lead up to your wedding ceremony.
Top Tip: if you have a few fabulous ladies in mind, and you're struggling to narrow down the contenders- make a pro and cons list (who might be better at wedding planning, for example). This is one of the easiest ways to see who comes out best!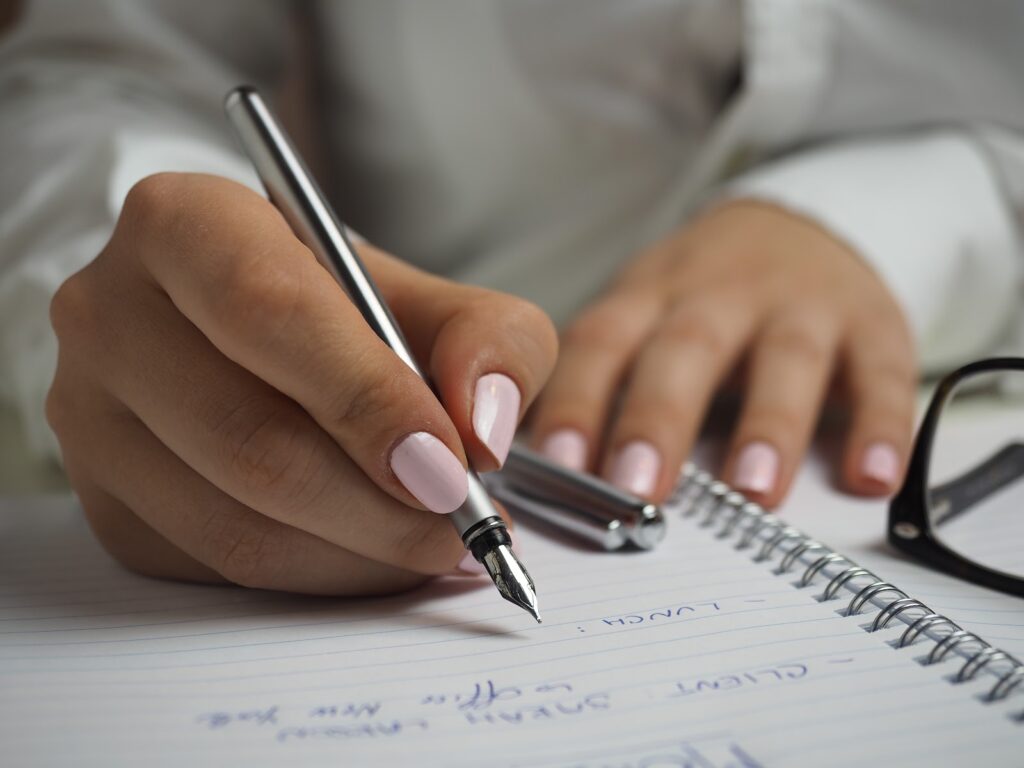 A word to the wise: only use this tactic if you're really stuck. If you have a gut feeling about who'd be best- don't ignore your instincts.
Sometimes you just know one of your friends would be a terrible choice (as much as you love her)- heed these feelings, and do everyone a favor by taking this lovely lady out of the running.
Any Other Advice?
Never feel pressured to make a decision. There's a good chance people will have an opinion about how you plan your wedding ceremony – including who should be your Maid of Honor.
If their opinion isn't wanted- block it out of your mind.
The only thoughts that matter at all, are yours and your partners. So, don't feel you have to make a choice solely to please people- because you may live to regret it!
If your mother-in-law's hounding you to pick your partner's sister or, your work bestie is laying it on thick, politely handle the situation and give yourself the time an space you need to make the best decision for you.
In short, your choice of Maid or Matron of honor is yours and yours only. Period. Don't let anyone else try and convince you otherwise!
What If You Really Can't Decide?
If you're lucky enough to have so many amazing women in your life that you really can't decide on a Maid of Honor(s)- leave it to chance.
Flip a coin, draw names from a hat- whatever, works best for you!
Not only does this method take the tricky decision out of your hands but you're also way less likely to hurt anyone's feelings- win-win.
How Do I Take the Sting out of This Choice?
Despite all the above advice, it's never nice to feel like you've not pleased people- especially those you love and respect.
If you've knowingly not gone with someone who was expecting to be your Maid or Matron of Honor, this can be tough.
The best way to handle this awkward situation is to make sure all your bridesmaids feel valued.
'How do I do manage that?' We hear you cry.
Take advantage of each of the ladies talent and gifts- everyone's good at something. Is one of them a star baker? Is another a talented musician, or a florist?
Think about what they do best, and see if you can designate them a role that suits their unique talents. This ensures each and every bridesmaid plays a fundamental role in your wedding ceremony.
You could also give each of them a thoughtful gift on your wedding day. This is a lovely way of thanking them for all their friendship and help throughout the entire wedding planning process.
Top Tip: A handwritten thank you note with a personal message, goes a long way. This is a surefire solution to making your girls feel loved and valued.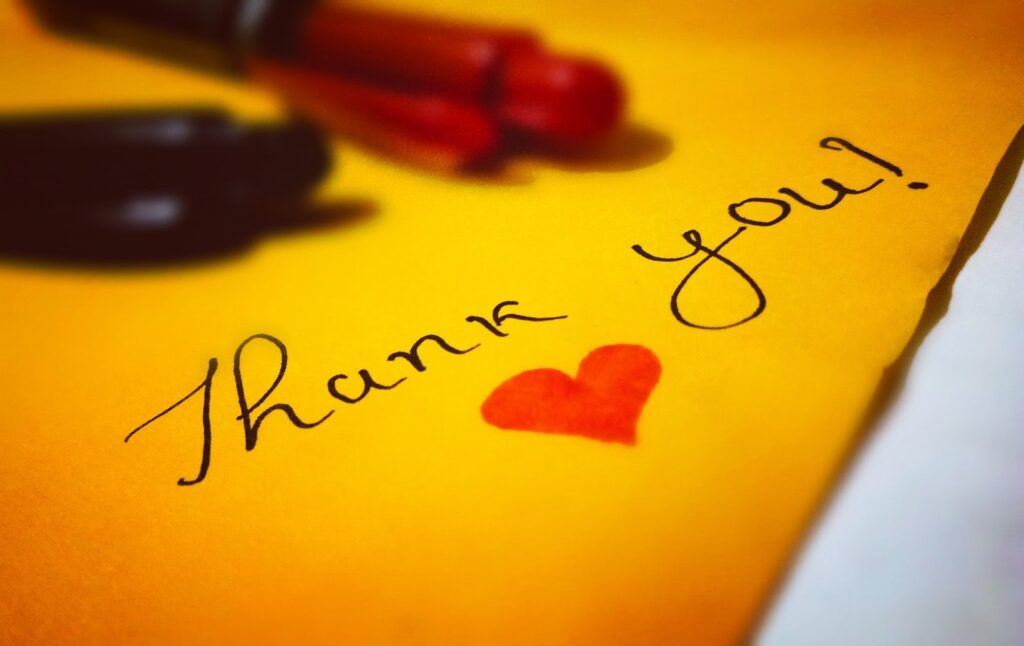 What Do Honor Attendants Wear at Your Wedding?
Some brides opt to have their Maid or Matron of Honor wear something that makes them stand out from the other bridesmaids.
There are tons of ways you can do his:
Have them wear the same style of dress

, but a different length,

Have them wear the same style of gown, but a slightly different hue that still complements your color palette,
If the bridesmaids are wearing block colors, the Honor Attendants could wear the same dress showcasing a pattern instead,
They could all wear the same gown but with slightly different detailing on the bodice,
Your Maid of Honor could carry a more elaborate bouquet,
The Matron of Honor could wear the same dress but with a glamorous belt to accessorize it.
You get the idea! Think of something that works for you and complements the overall theme of your wedding.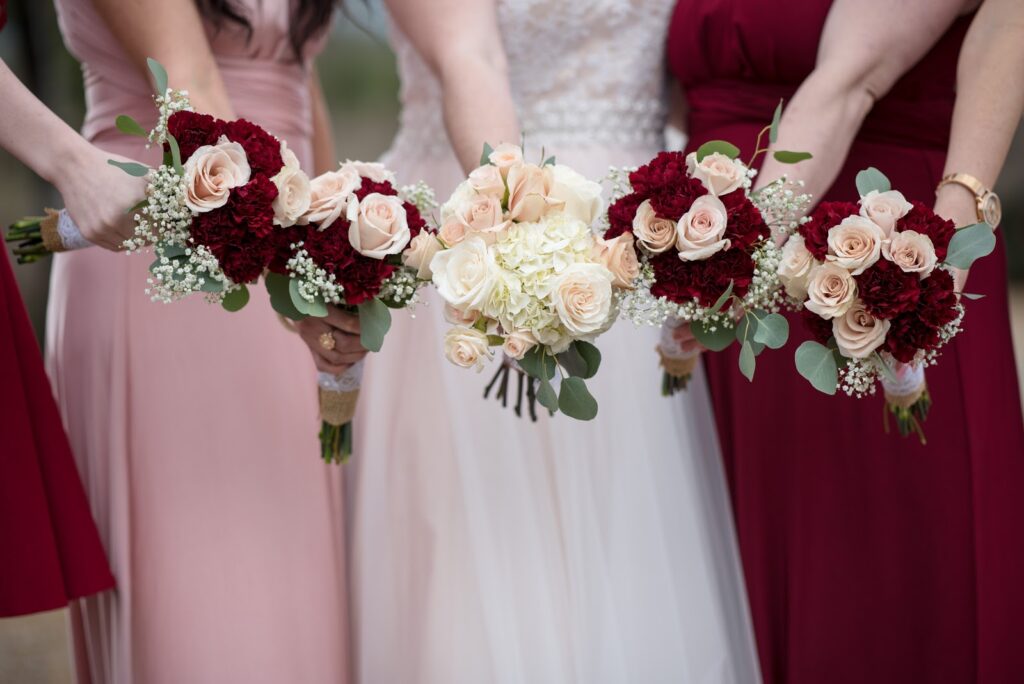 What About the Walk Down the Aisle?
The entrance of your Maid or Matron of Honor is a pretty big deal. It indicates that your guests should prepare themselves for the grandest entry of all- yours.
Typically your Honor Attendant is escorted down the aisle by the groom's best man. However, if you have more than one Maid of Honor, you could ask someone else who's very important to you, to accompany her.
Perhaps a brother or cousin of yours? Or, another groomsman?
Alternatively, it's become increasingly popular to have the Maids and Matrons of Honor walk themselves down the aisle. Not only does this give them more of a time to shine, but it also allows the groom to have his buddies around him as he awaits his beautiful bride to be.
Choose an arrangement that works best for you and your partner- who walks down the aisle and when is entirely down to you.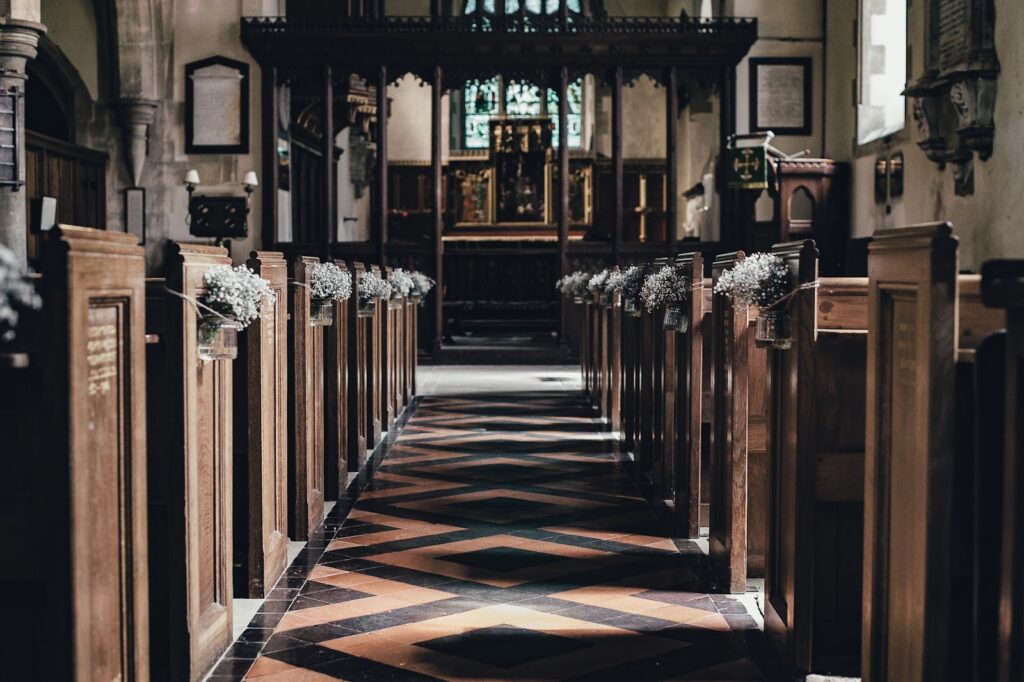 What About Standing at the Alter?
If you decide you want your bridesmaids standing behind you at the altar, there's no precedent as to whether the Maid or Matron of honor should stand closer to the bride.
If you've decided to have more than one Honor Attendant, and you're worried this could cause friction, consider having the bridesmaids seated throughout the wedding ceremony instead.
You can easily reserve them front row seats!
What Do Honor Attendants Do?
Put simply, a Maid of Honour and/or Matron of Honor helps the bride and groom plan the wedding (the extent of this varies), but most importantly, the Honor Attendant needs to do all she can to help the special day run as smoothly as possible.
Typical duties include:
Helping the bride choose her dress

,

Organizing the bridal shower,
Arranging the bachelorette party,
Assisting the bride pick her bridesmaids dresses,
Looking out for the bride's best interests, every step of the way,
In short, the role is pretty much whatever the bride wants it to be (within reason!).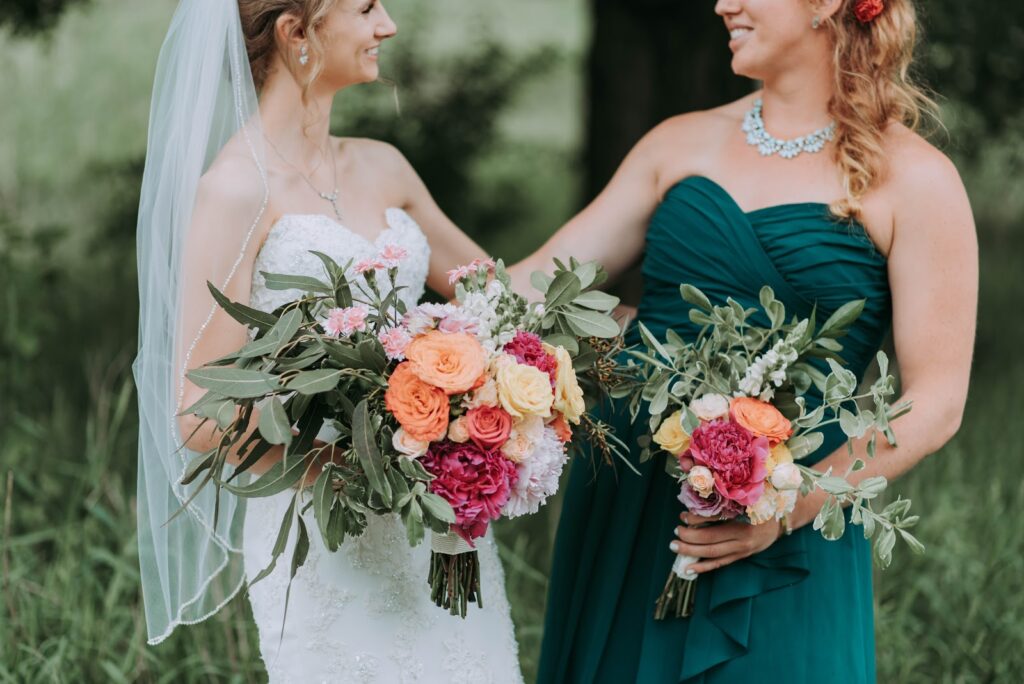 A Few Pieces of Advice for Any Maids/Matrons of Honor-To-Be
If you've been given the privilege of being an Honor attendant (and this is your first time)- there are a few tasks you should be prepared for:
Being ready and willing to help with wedding planning: This could be anything from stuffing wedding invites to helping organize the seating plan, etc.
If asked, help pick the bridesmaids dresses.
Support the bride: As incredible as weddings are, organizing one can be stressful. Be there for her as and when she needs to vent!
Plan a group-gift from all of the bridesmaids to the bride on her wedding day.
Plan a killer bridal shower and bachelorette party: Ensure they're well-organized and run smoothly.
Be ultra prepared for the wedding day: Make it your business to make sure that everyone knows the schedule, and other practicalities like who's walking down the aisle when, who's getting in which car, etc.
Anticipate the bride's needs: Try to pick up on any details the bride has spoken about, and do what you can to make sure the day's as perfect as she imagined.
Diplomatically handle any relatives or wedding guests who are running amuck.
Take care of the bride's wedding dress and accessories after she's left.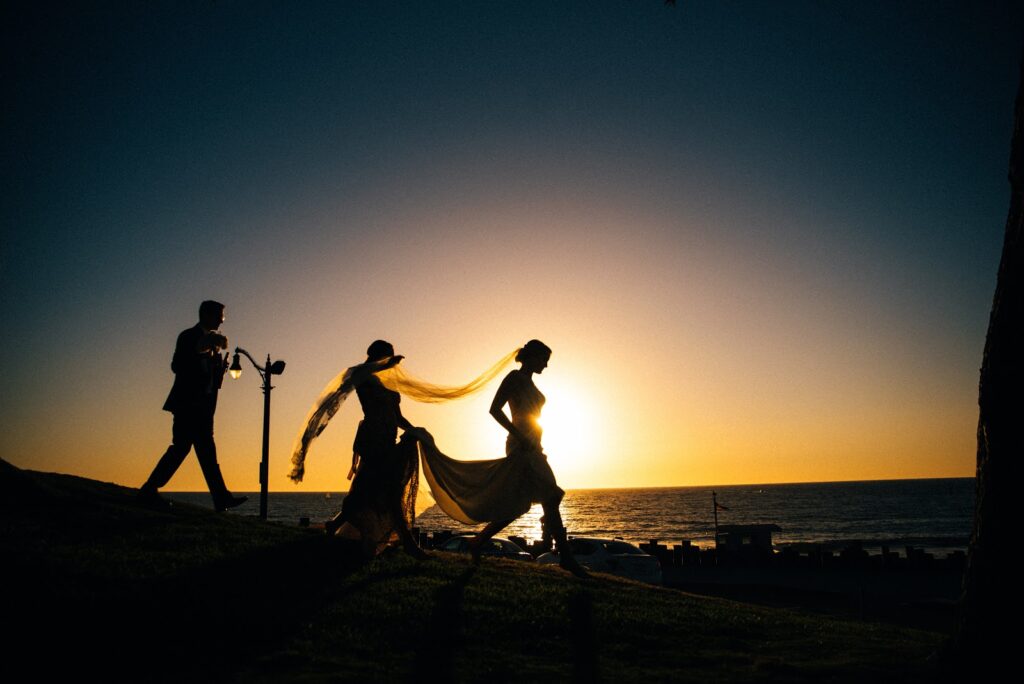 What is a Matron of Honor vs Maid of Honor –

Final Thoughts

In short, there really isn't much of a difference between the terms; Maid and Matron of Honor. All you need to do is ensure you pick a lady that'll help and support you through your journey as a bride-to-be. Trust your gut; it shouldn't steer you too far wrong!

Here are some other related articles you may be interested in: