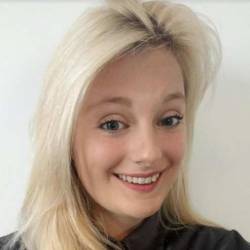 Latest posts by Rosie Greaves
(see all)
Greek islands have been a popular choice of honeymoon destination for years. They never fail to disappoint. If you're after stunning views, exquisite food, and friendly locals, Greece is the perfect place!
In light of this, we've listed our five favorite Greek islands for honeymooners. Any of these would provide the perfect backdrop for you two to celebrate your love. Let's dive in!
My Top 5 Best Greek  Islands for Honeymoon
Santorini
Santorini is nothing short of divine.
Famous for its luxurious resorts and designer brands, Santorini truly is the best place to relax and enjoy your honeymoon. The skyline is a sea of whitewashed houses and blue domes for as far as the eye can see. We're confident you'll never have seen a view as gorgeous as this!
The ocean surrounding the island is crystal clear, and the sunsets are mesmerizing. The rugged black and red-sandy shores are perfect for a spot of sunbathing, and the views are astounding. Perissa and Kamari beaches are an absolute must-see.
However, if you're not a fan of lounging around in the sun, you can visit one of the many nearby restaurants and cafes. These are perfect for enjoying a cocktail, a bowl of ice cream, and of course, soaking up the atmosphere!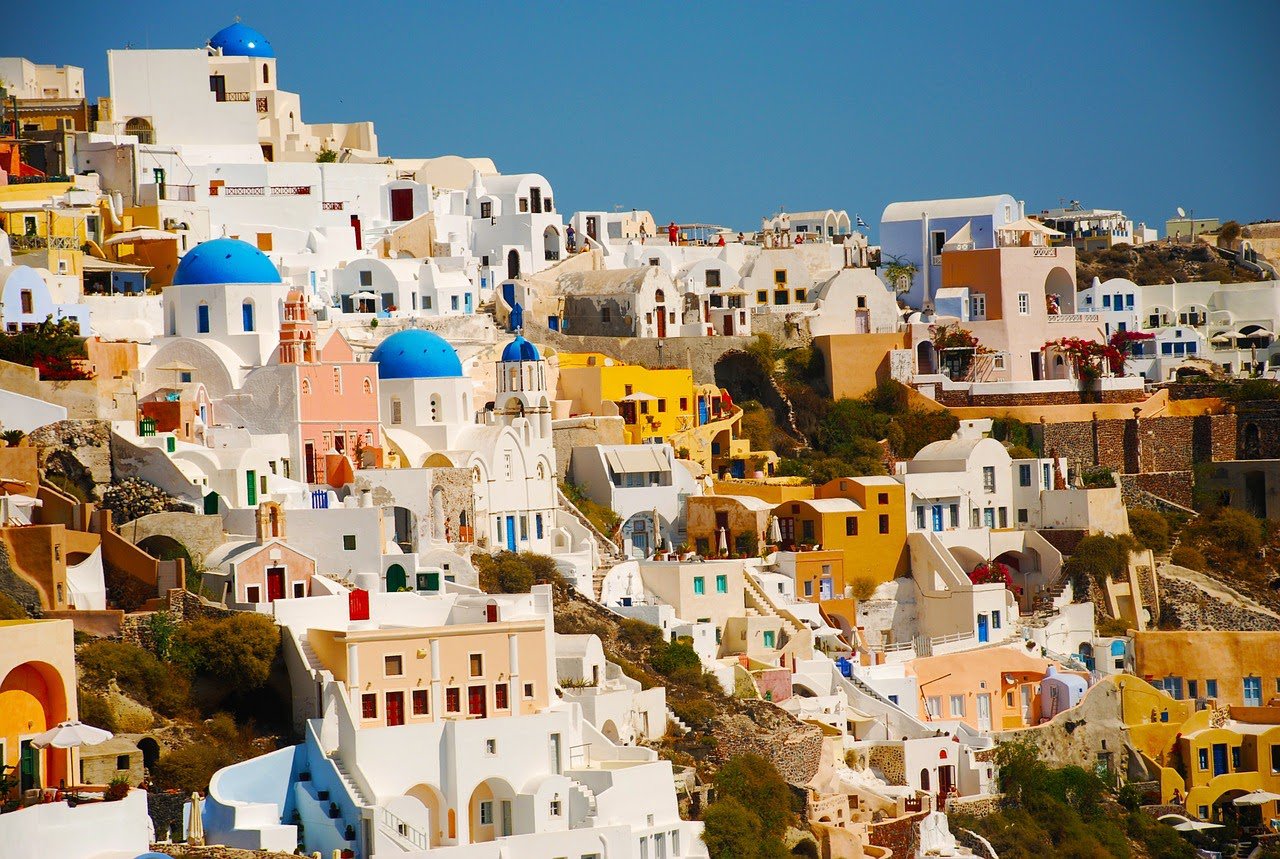 Things to Do
1. Take a Trip to Ancient Thera
Ancient Thera is an abandoned city. You can explore this site as you make your way up the Mesa Vouno mountain. Dating as far back as the 9th century BC, inhabitants stayed here until 726 AD- so needless to say, this place is steeped in rich history.
Fun Fact: This site gets its name from the mythical ruler of Santorini, Theras.
During your visit, you can explore the beautiful mosaic houses and admire the breathtaking views overlooking Perissa and Kamari Beaches. Be sure to take a few snaps to commemorate your trip!
You'll be pleased to hear this archeological site's open every day (except for Mondays) from 8.30 am to 2.30 pm; this makes it super easy to add to your itinerary and is well worth a visit if you have a free morning.
Plus, it only costs €4 to enter, making Ancient Thera ideal for couples on a tight budget!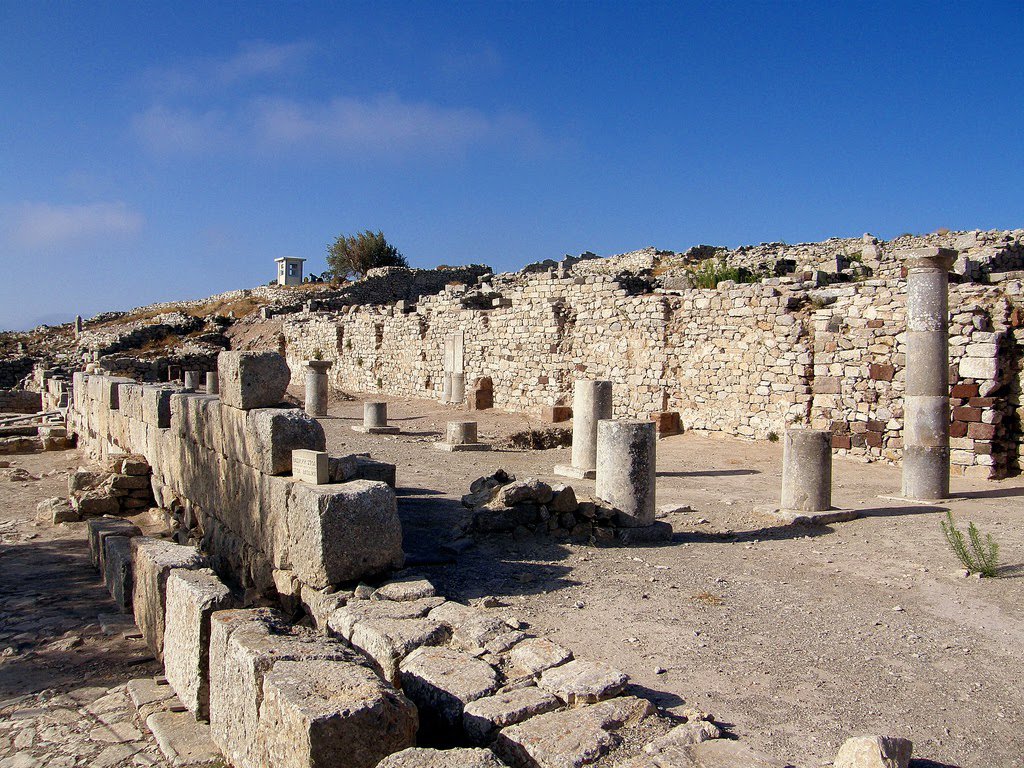 2. Visit an Active Volcano
Santorini's exceptional scenery is a magical result of volcanic activity that occurred as long as 3,600 years ago! This is better known as the Minoan Eruption and is still one of the biggest volcanic explosions the world has ever seen.
Fun Fact: The two islands Palea Kameni and Nea Kameni, are formed out of black lava- the remnants of ancient volcanic outbursts.
The Santorini volcano is known as a caldera. This is when a volcano blasts so intensely that the center collapses and forms a gigantic crater. This volcano is still considered active, however, rest assured; it's mainly dormant. You and your partner can stroll along the sides of the steaming volcano hand in hand and while absorbing the incredible views- how awesome is that?!
Once you're finished here, take a quick boat trip from the port of Fir to the nearby hot springs. This is a fabulous experience, the heat of water typically ranges between 30 to 35 degrees Celsius. Not only is this the perfect place for a dip, but sulfur-filled water is terrific for the skin- win-win!
Top Tip: don't wear your favorite swimwear because the smell's pretty intense, making it difficult to wash out!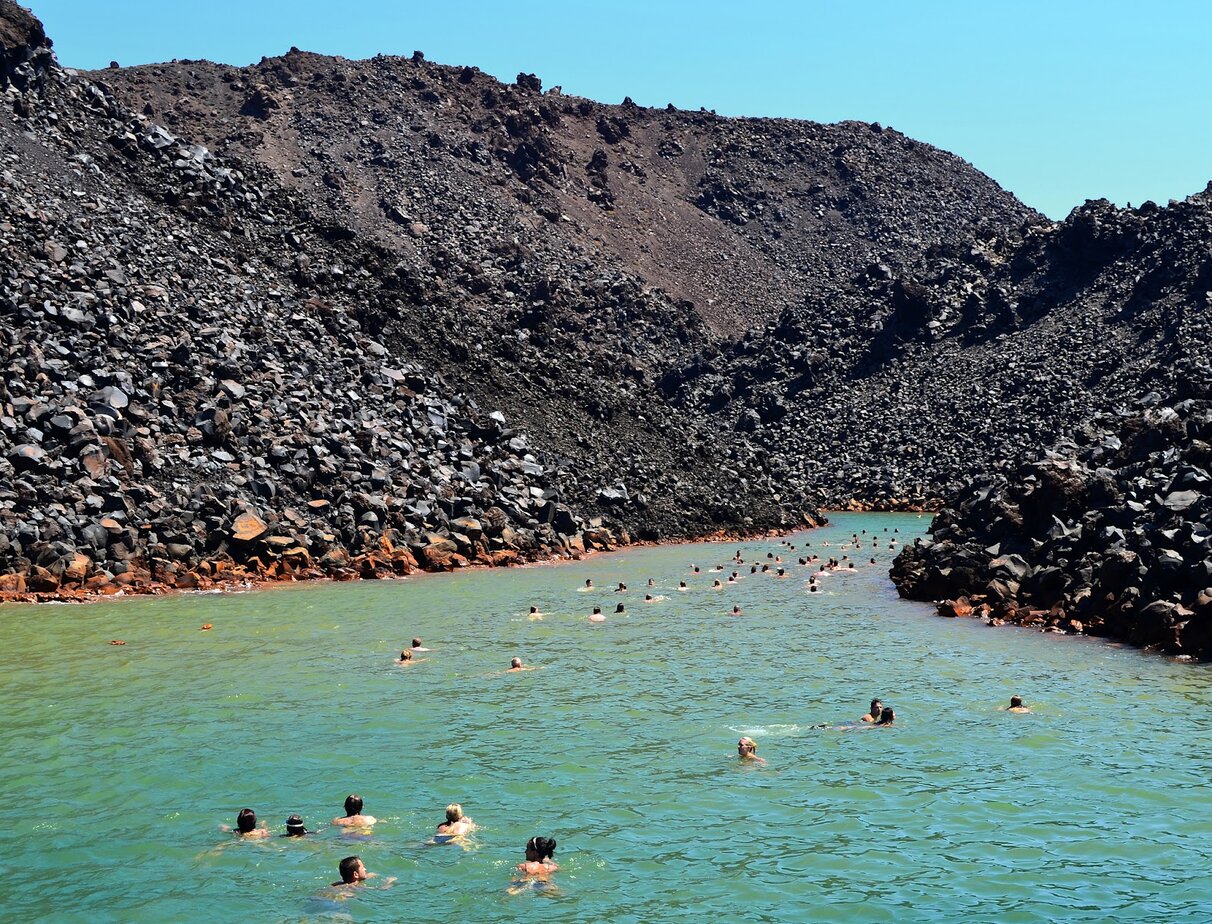 3. Ride a Cable Car to Fira
The Old Port of Fira is well worth a visit, from here you can ride a cable car that takes you up to Fira town. These come every 20 minutes, and the scenes from the top are sublime.
Best Places to Stay
Akrotiri and Oia are two of the most idyllic settlements in Santorini.
Akrotiri is home to an archaeological site where architects have spent decades excavating. If you want to see stunning frescos and intriguing relics dating back to Minoan times, this is the place to be.
Whereas, Oia is renown for its glorious sunsets. People gather from all around to see this spectacular site. Even if you're not staying here, it's well worth popping over for an evening just to get a glimpse.
To get the best view as the sun goes down, head over to the Byzantine castle ruins overlooking Amoudi Bay. Trust us; you're in for a treat- so make sure you get there in time!
Top Tip: get there early, the place gets pretty crowded just beforehand, so nab yourself a good spot to enjoy the view.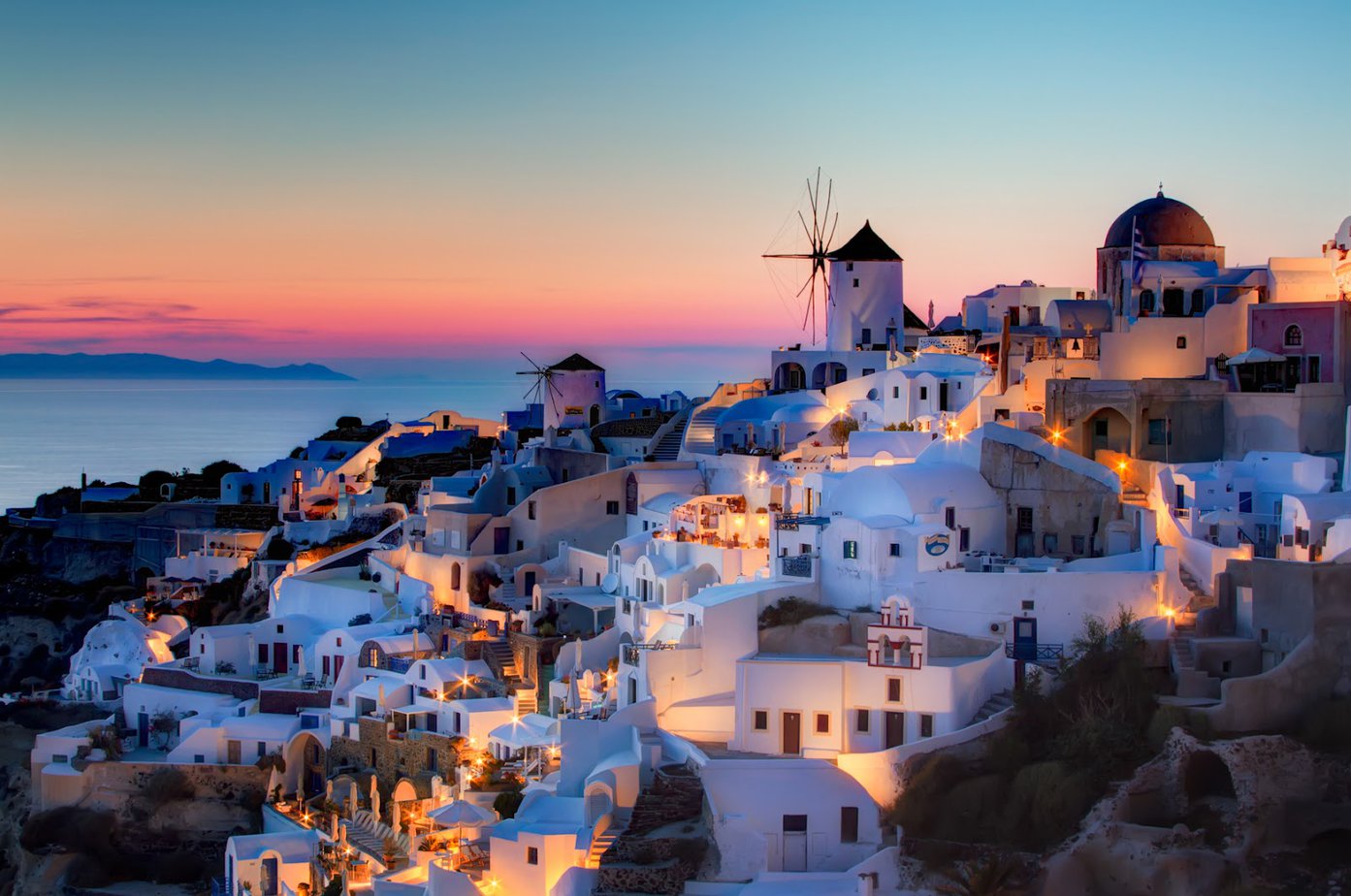 Milos
The statue of Venus proudly standing in Paris gave this island the international recognition it deserves. If you're after a honeymoon destination where you can enjoy plenty of authentic local food, Milos is ideal.
However, if you want a destination with a vibrant nightlife, full of hustle and bustle, this isn't the Greek island for you. It's a sleepy place, exuding romance which makes it perfect for spending quality time together as newlyweds.
Sarakiniko beach is an absolute must-see. The unique rock formations resemble the color of limestone; it's a haven for couples who want to relax and unwind together.
Kleftiko is also well worth a visit; the underwater caves form an intriguing maze. Once upon a time, pirates used to smuggle their stolen goods here and hide away from the authorities. Interestingly, you can still see evidence of their activity today.
How to Get to Milos
Being able to book a direct flight to Milos is rare. However, during peak season you can book a plane ticket from Athens via Olympic Air. These planes are tiny, so book in advance to avoid disappointment.
Alternatively, you can take a four-and-a-half hour boat journey from Athens or a Sea Jet boat from Santorini. This tends to be the more popular choice of transport.
The Best Time to Go
June is the best time to book a honeymoon to Milos. The days are long, and the weather's pleasant. It's the perfect combination for enjoying everything this magical island has to offer.
Top Tip: To ensure all the hotspots are open, book between April and October.
If you prefer a slightly quieter atmosphere, avoid peak season (July and August). However, if you decide to visit in August don't miss the sensational fire festival. This is held every year on the last day of August and is incredible!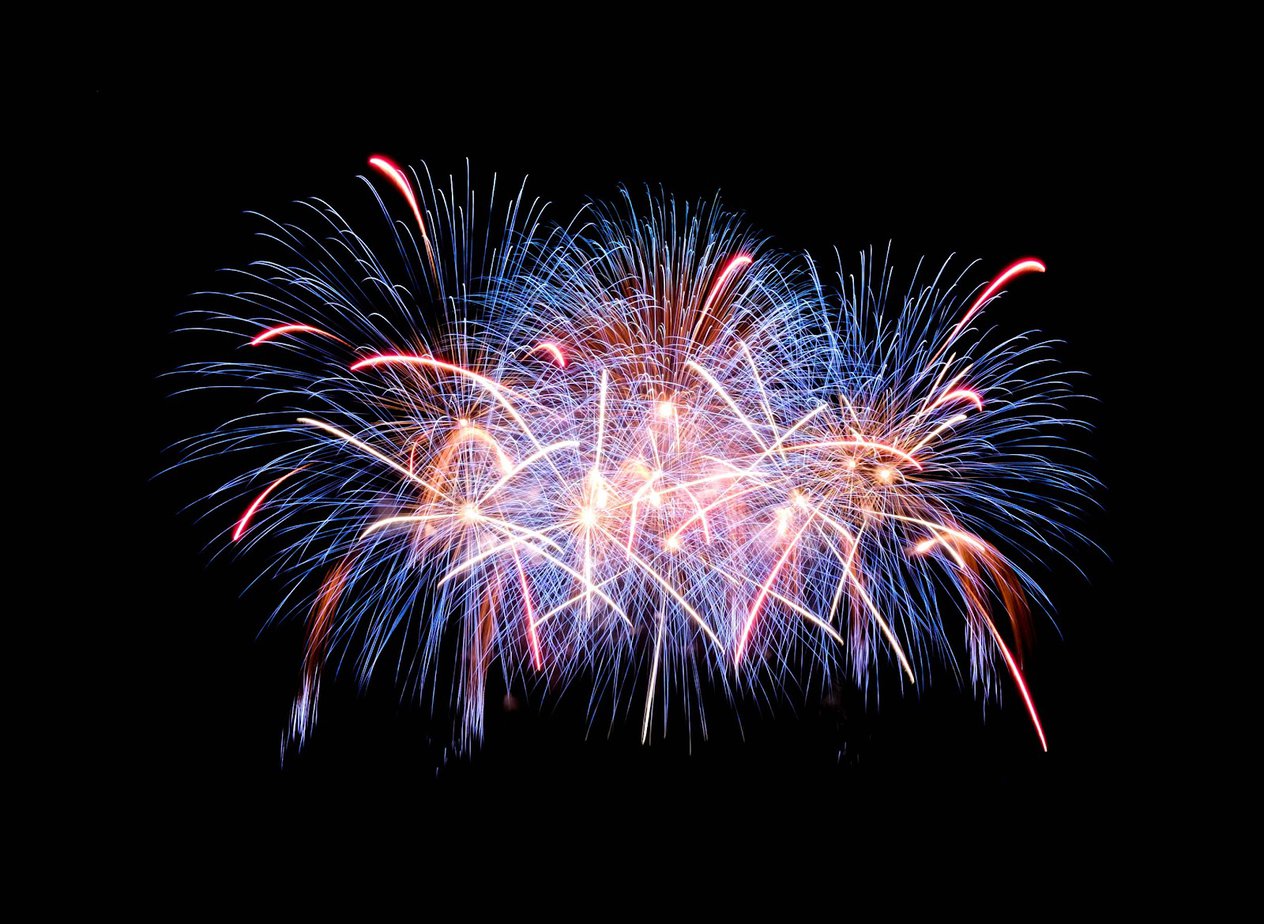 Things to Do
1. Climb the Eroded Rocks Of Sarakiniko
Sarakiniko lies towards the northeastern side of the island and is one of the most popular spots. The landscape is nothing short of unique. Some say the features resemble the surface of the moon. The snow-white rocks and tiny caves amidst the bright blue ocean are a glorious sight. It's the ideal place to go for a quick dip! Plus, you get a fabulous view of two neighboring islands- Sifnos and Kimolos.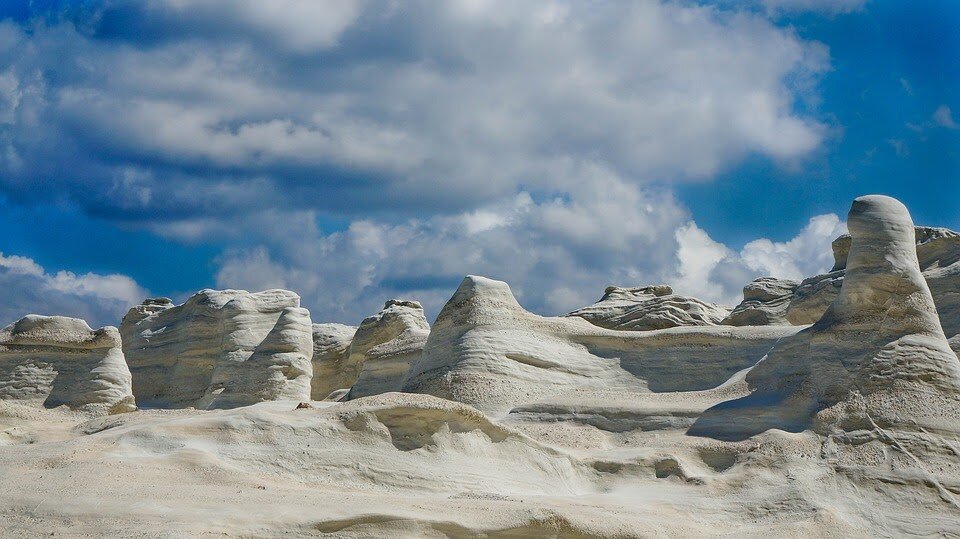 2. The Catacombs Of Tripiti Village
These catacombs showcase a series of caves and are one of the oldest monuments celebrating Christianity, across the entire globe!
It's a phenomenal place to visit if you want to see Milos' history in all its glory.  As you explore, you'll come across impressive columns crafted from volcanic stone, a rectangular burial chamber and plenty of winding corridors. There are over 100 tombs preserved here, and in some of these, you can still see frescos adorning the walls.
3. Visit The Ancient Village Of Klima
These ruins show what's left of Milos' first port. Here you can see two impressive acropolises and the remains of a temple dating back to the Hellenistic and Roman eras!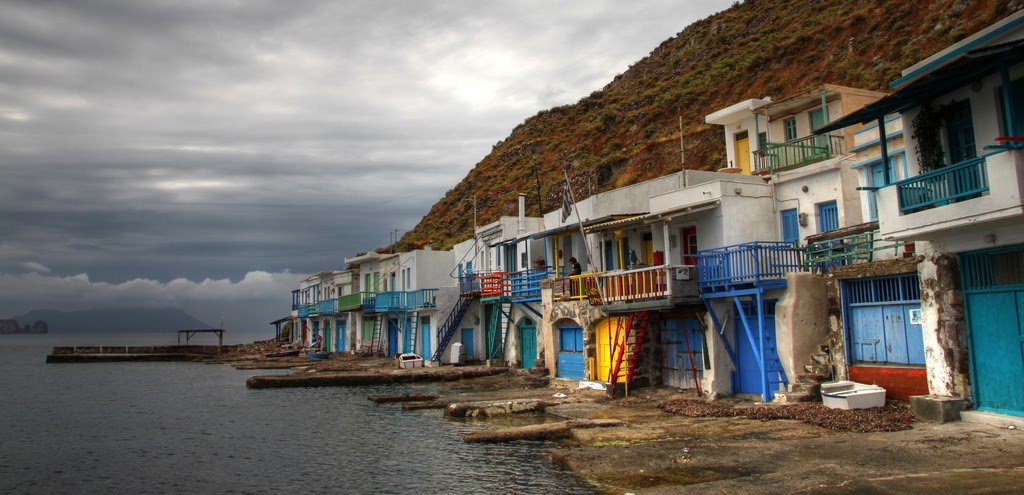 Tips for Eating Out
As you walk down Polonia beach, you'll see tons of restaurants and eateries, including Armyra. If you're a fan of seafood, this is the place to dine. They serve freshly caught fish every day and have mastered the craft of preparing fish to perfection.
Or, if you'd prefer to admire the sunset while relishing a romantic dinner, head over to Medousa. This is a delightful taverna in the village of Mandrakia. They're famous for their grilled sardines and octopus- both of which are delicious!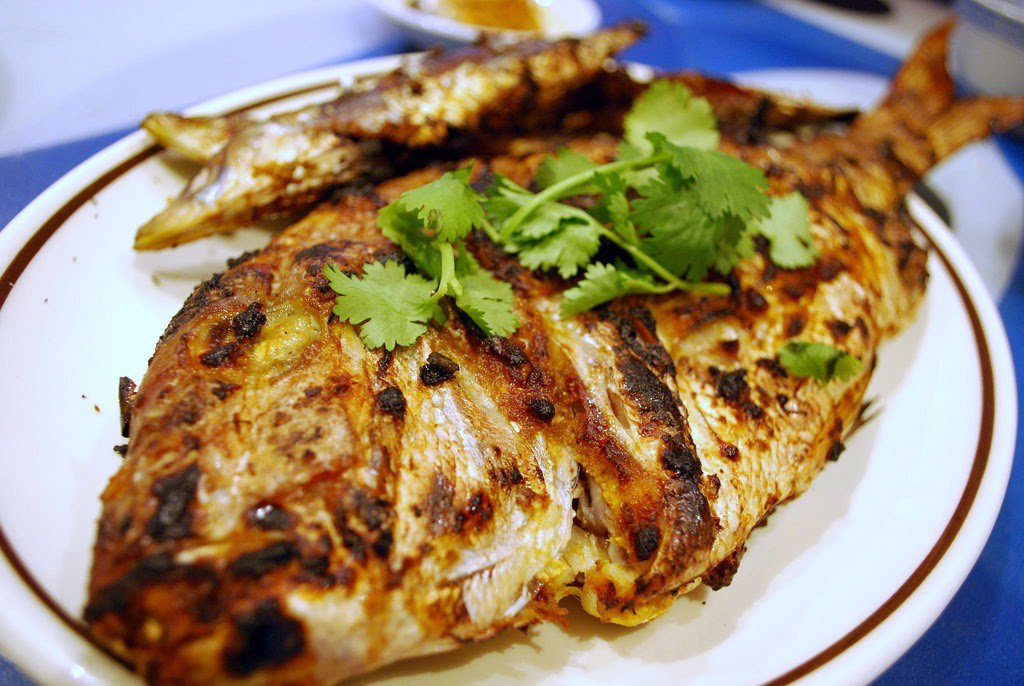 Sifnos
Sifnos is very similar to Milos. However, it has a more vibrant nightlife. Artemonas and Apollonia are the best places to go for enjoying a pleasant evening out, full of dancing and cocktails.
This a mountainous island with rolling valleys and gorgeous beaches. If you or your spouse are history buffs, you'll love this place. Sifnos boasts an extensive history; people have lived here since 3000 BC, and these ancient civilizations have certainly left their mark.
On the whole, Sifnos embodies a pretty laid back vibe. If you're after an island that isn't overly touristy, you'll love this place. On the whole, locals live off the land and abide by their own traditional way of life. Be sure to visit one of their local markets; it's the perfect way to experience typical Greek culture.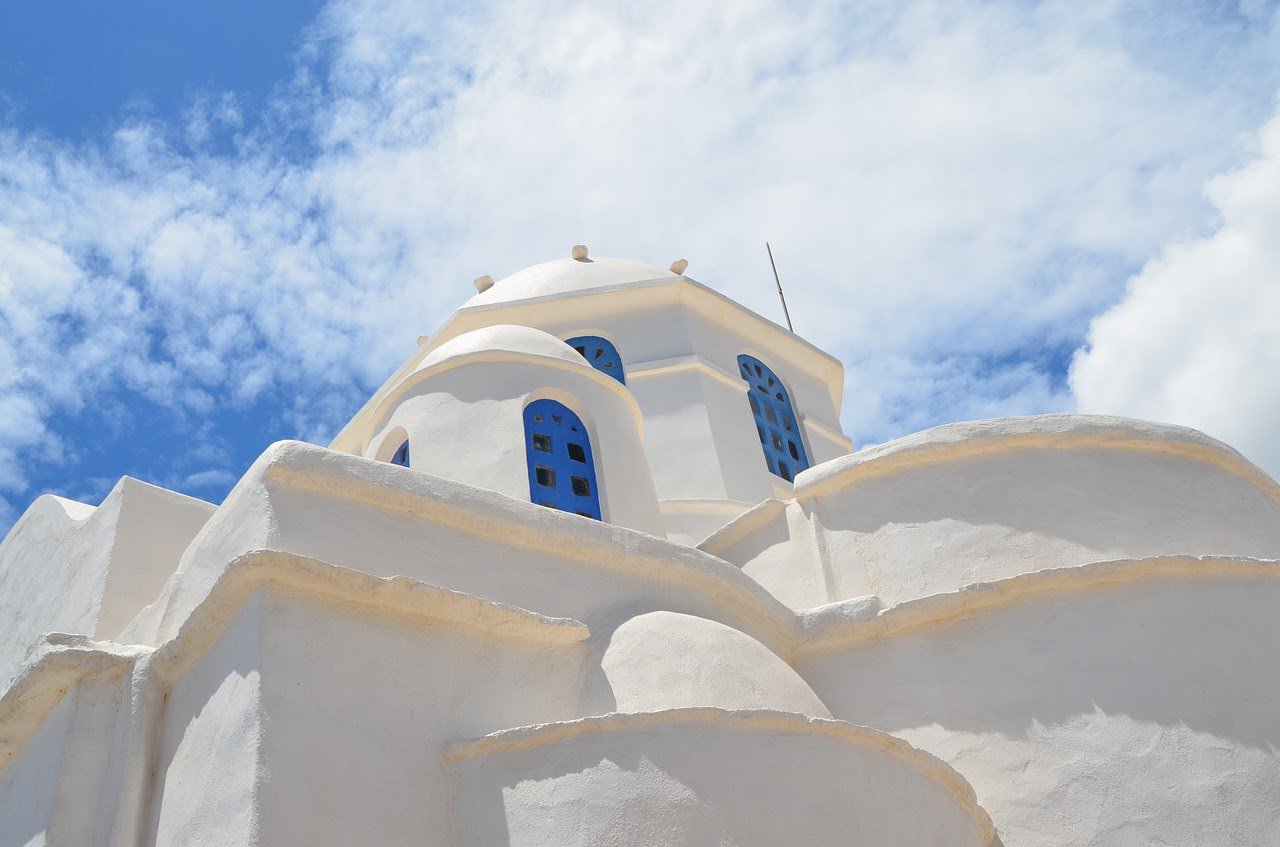 The beaches of Sifnos are divine, and they never get crowded- perfect for relaxing and unwinding beneath the heat of the sun.
Or, perhaps you want to give snorkeling a try? There are plenty of top-notch bays brimming with fish, just waiting to be explored.
If you and your partner consider yourselves culture vultures, explore some of the quaint churches dotted around the island. There are loads to choose from, in fact, as many as 365! So, take your pick and marvel at Sifnos' amazing architecture.
One of the best things about Sifnos is that it's relatively inexpensive in comparison to other Greek islands.
Fun Fact: This island is home to Nikolaos Tselementes. He was the first ever chef in Greece to publish a cookbook.
Rhodes
If you fancy a Greek Island with cosmopolitan flair, then Rhodes is a fabulous choice. This island is the perfect fusion of ancient civilization and contemporary tradition. Rhodes truly has something for everyone. From glorious beaches to fantastic archaeological sites you're sure to find plenty of activities to enjoy together.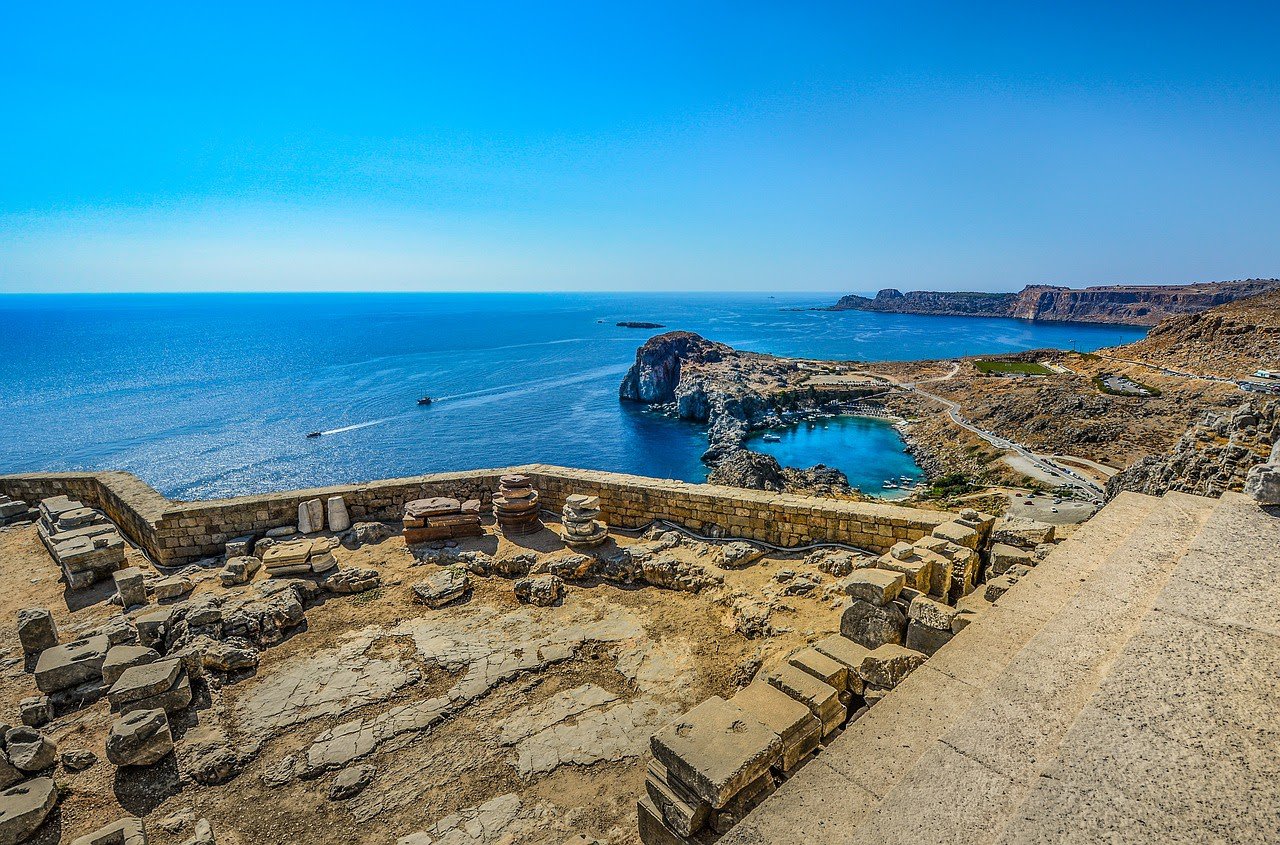 Where Should We Stay?
The two best places to stay in Rhodes are:
The Old Town,

Lindos Village,
Both these locations are dreamy!
In fact, the old town of Rhodes is officially a UNESCO World Heritage Site- so you know it's something special!
If you don't end up staying here, it's definitely worth a visit. You can quickly lose yourself exploring the winding lanes and cobbled alleys (there's roughly 200 of them!). Immerse yourself in the tranquil atmosphere and interesting architecture. You'll find everything here: museums, family-run shops, art galleries, premium restaurants, etc.
While you're there, be sure to walk along the Medieval walls. It's the best way to see panoramic views of the Old Town- honestly, this spectacle will take your breath away!
Top Tip: You can access the entrance via the courtyard opposite the Palace of the Knights.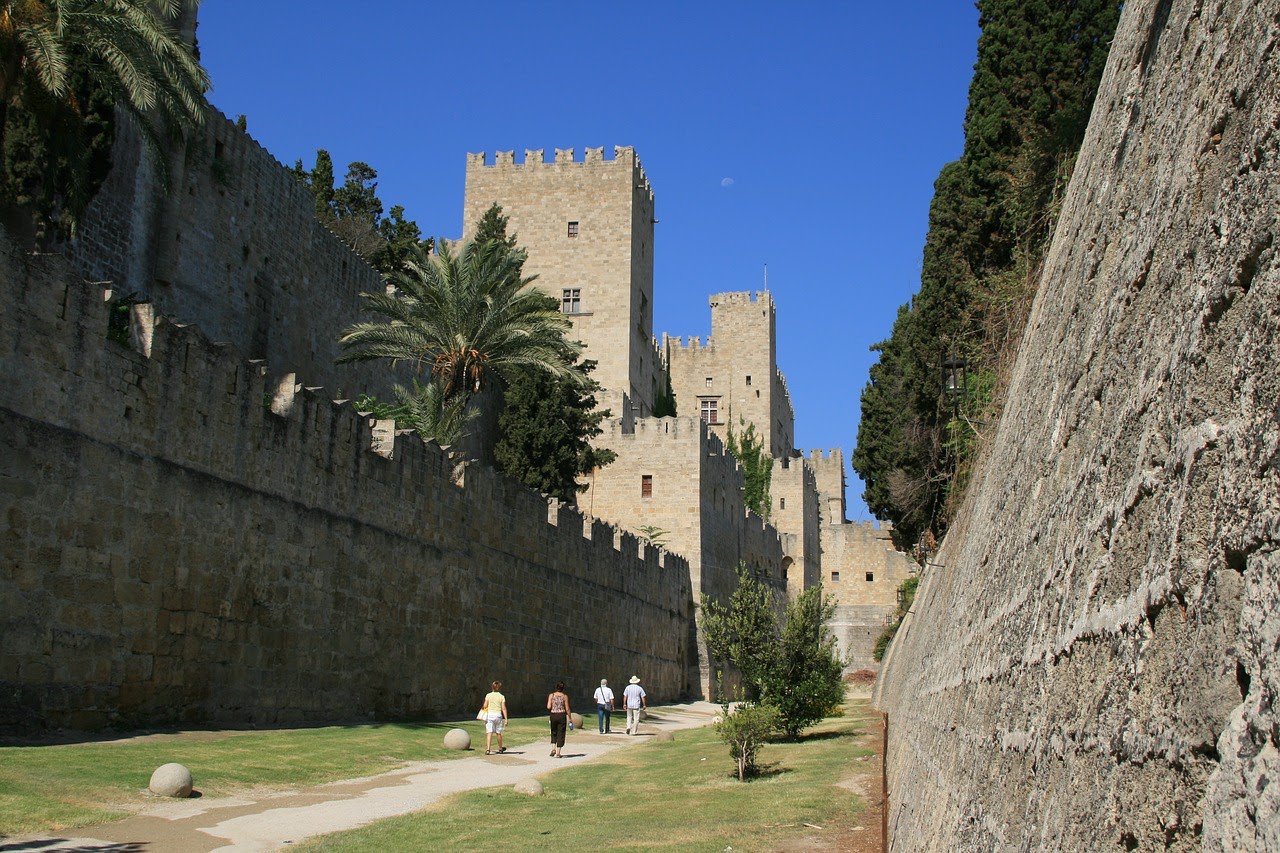 What's There to Do?
As we've just alluded to, there are plenty of beaches in Rhodes. There are tons of them dotted around the island; you're bound to come across a few remote shores on your travels.
However, here are some of our favorites to help kickstart your adventure:
Tsambika: If you prefer a quieter beach with golden sands and crystal blue waters, this is an ideal choice. You can hire both a sunbed and a parasol. Plus, there's a Taverna located on the beach, which is perfect for grabbing a spot of lunch. Also, if you fancy trying your hand at watersports, they're available here during peak season!

Anthony Quinn Beach: located roughly 15 kilometers from Rhodes Town. This is one of the best places to snorkel- you'll see loads of interesting-looking fish. Plus, you and your spouse can enjoy walking around all the romantic coves and tiny bays- divine!

Prasonisi: This cove is located towards the South of the island. It's a haven for windsurfers, so if either you or your partner fancy giving this a go, this is the place to be!
The Thermal Springs
If you like the sound of swimming in gorgeously warm spring, take a trip to Kallithea. Over 89 years ago a beautiful Spa complex was built so locals could make the most of these natural waters. The springs typically average warmth of 19 Degrees Celsius.
Paddle Surfing
If you're feeling a little adventurous, paddle surfing is a great activity. It's super popular in Rhodes because the ocean provides the perfect conditions. It's calm and mostly flat which makes staying on the board a little easier!
It's a fabulous way to absorb the stunning views surrounding the coastline. Plus, you're able to visit the more remote beaches with greater ease.
If you're new to paddleboarding, we suggest taking an organized paddleboard tour. There are a few reputable companies that organize trips around the East coast. With these groups you'll typically visit:
Anthony Quinn Bay

Seal's Cave

Ladiko Beach
Is this a fabulous experience and fun day out!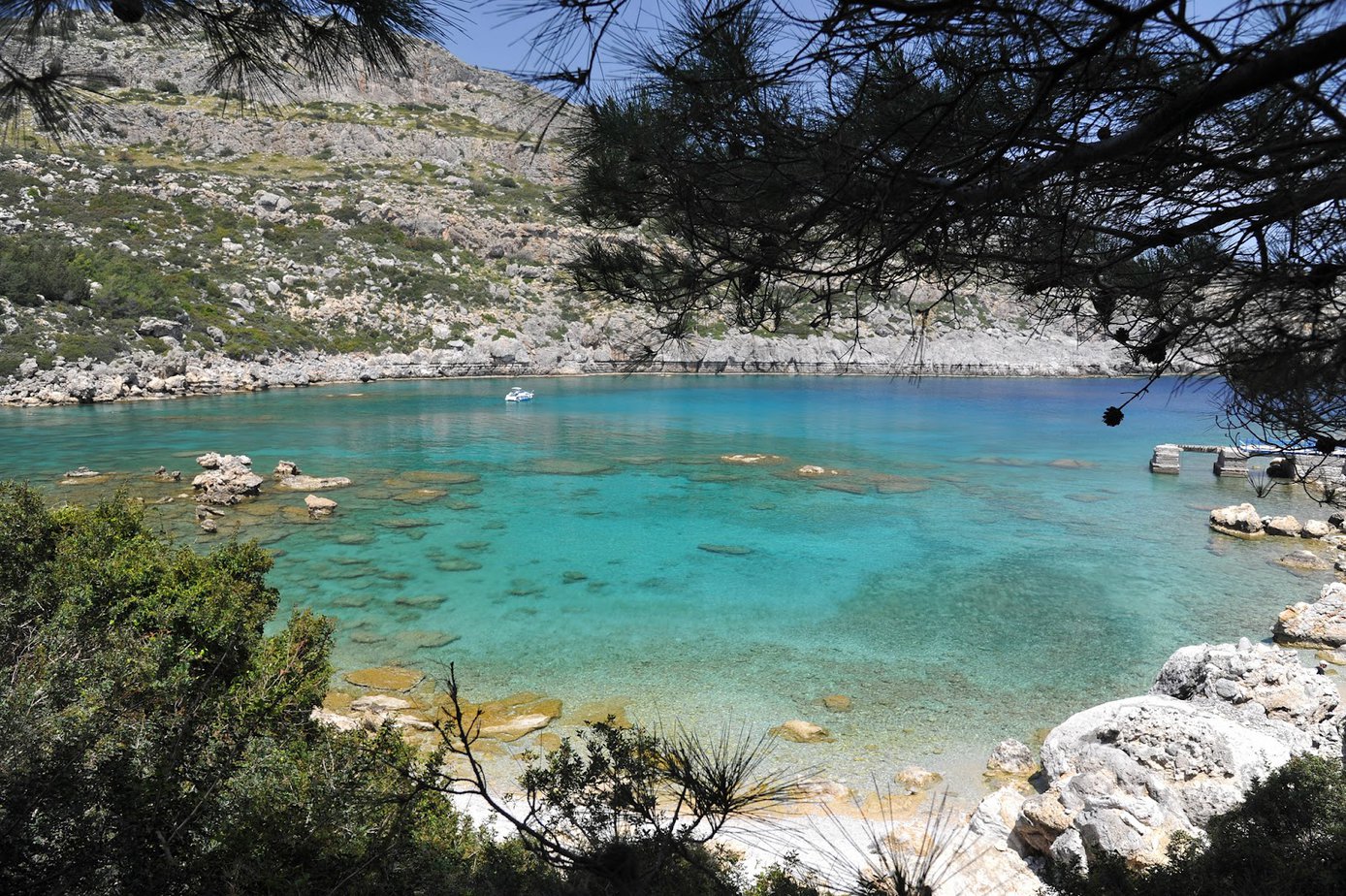 Kos
Kos certainly isn't short of magnificent views. It's famous for its friendly locals and incredible food. There are plenty of stunning beaches to enjoy, and the sight of the mysterious mountains cascading into the Mediterranean Sea is nothing short of awesome.
Plus, if you or your partner enjoy sailing,  there's plenty of opportunities for that here in Kos.
It doesn't matter if you're unable to sail yourself, you can rent a sailboat with Beneteau Oceanis. The price includes the services of an experienced skipper. They'll take you to some of the most secluded coves that only locals know about.
Alternatively, if a ride on a catamaran is more your cup of tea, then Istiion is a reliable company to book with. They offer premier service, so you're bound to have a fabulous experience out on the water!

The Best Place to Stay
AquaBlu Hotel & Spa radiates romance and intimacy. You can even book a room with a private pool for you and your spouse to enjoy.
The hotel suites here ooze contemporary design and decorative art. It's hands down one of the best places to stay on the island. The boutique spa and high-quality treatments are well worth experiencing. Perhaps you could enjoy a couples massage together? Or, a trip to the sauna and steam room? Either way, you're bound to find something to suit both of your tastes here.
Enjoy a Romantic Meal
Chances are, you'll want to enjoy a few romantic meals while you're away on honeymoon. This is where the town of Kefalos comes into its own.
You can savor a fabulous dinner surrounded by Kos' scenic coastlines and rugged mountains- you'll struggle to find a better view anywhere else on the island, especially if you come at sunset!
This district's famous for its grilled fish, making it a must-visit for seafood lovers.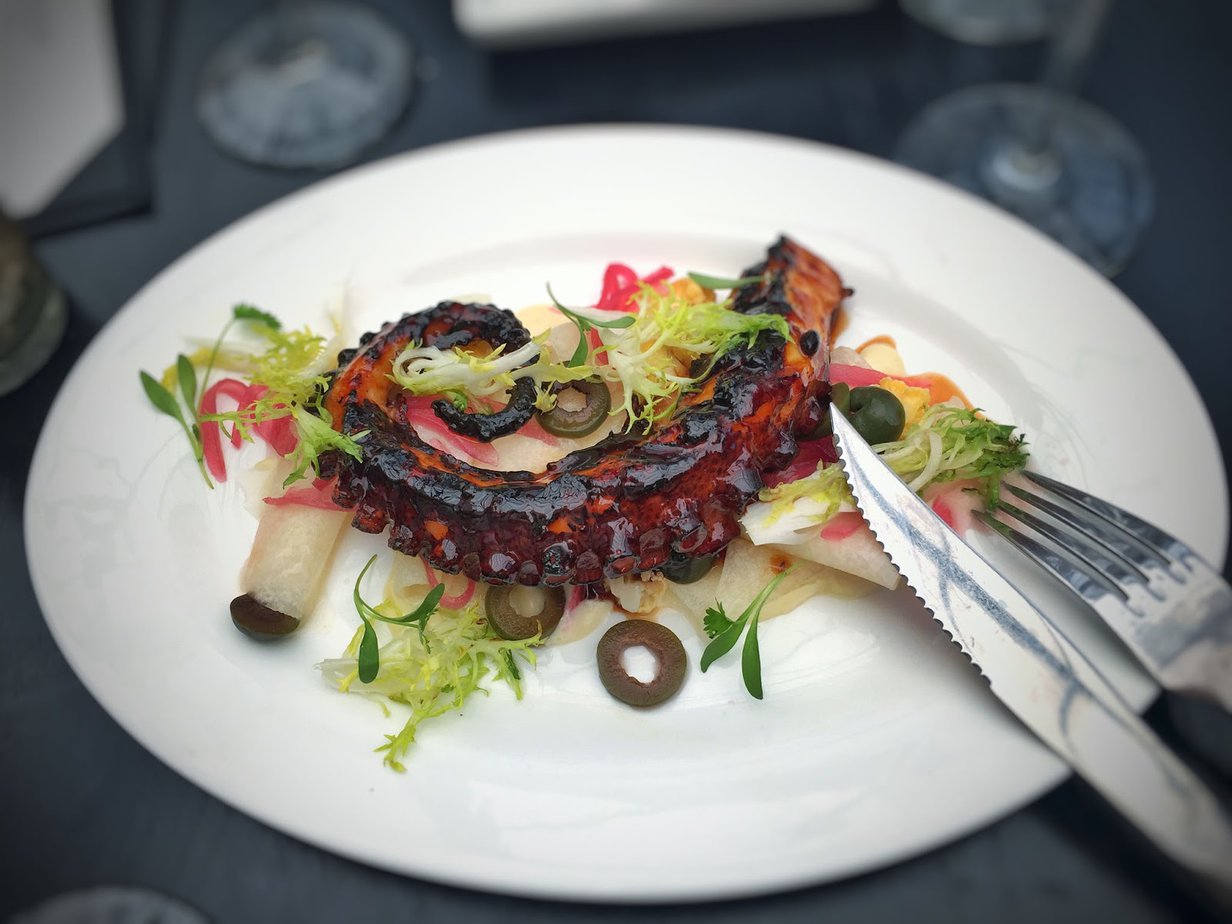 Visit the Castle of Kos
This castle's one of the most famous landmarks on the island, dating back to the 14th century; it exudes history and culture. The castle showcases architecture typical of both the Byzantine and Ottoman empires- all amidst lush vegetation and natural beauty.
In short, this place is divine!

Visit Eleftherias Square and Sit Under Hippocrates' Tree
If you and your partner want to experience authentic Greek culture in Kos, a trip to Eleftherias Square is in order. This place is lovely-  perfect for sitting, relaxing, and enjoying a refreshing drink as you watch the world go by. Plus, it's close to Hippocrates' tree. Be sure to visit this hotspot while you're there!
Best Greek Islands for Honeymoon – Final Thoughts
We hope this article's given you food for thought. In short, it doesn't matter which island you choose, they all have something unique to offer. We're confident none of these will disappoint!
From everyone here at loveyoutomorrow.com, we hope you and your partner have the best time away. Enjoy!
Here are some other related articles you may be interested in: