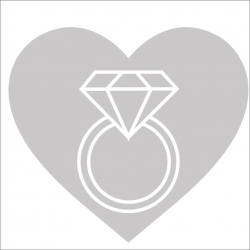 Latest posts by Love You Tomorrow Team
(see all)
Ever dreamed of a tropical, amazing location for your honeymoon? Yeah, we have, too. There is nothing better after a long wedding day than jetting off on a plane with your new spouse and heading to the beach.
Now, a lot of couples choose Hawaii for a beach honeymoon. Or maybe the Bahamas. A trip to Cuba's beautiful beaches is also something people love nowadays.
But how about choosing a more original location? Some place that your friends have not visited. Or maybe they have not even heard of?!
The Best Islands in Thailand for Honeymoons
Take your honeymoon straight over to Thailand and enjoy one of the many beautiful islands. They are secluded, romantic, and the perfect spot for a newly married couple!
We know there are so many to choose from (and truthfully, maybe you don't know what to do there), so we want to give you a guide! This is a great place to start if you are planning a beachy, tropical honeymoon in Thailand!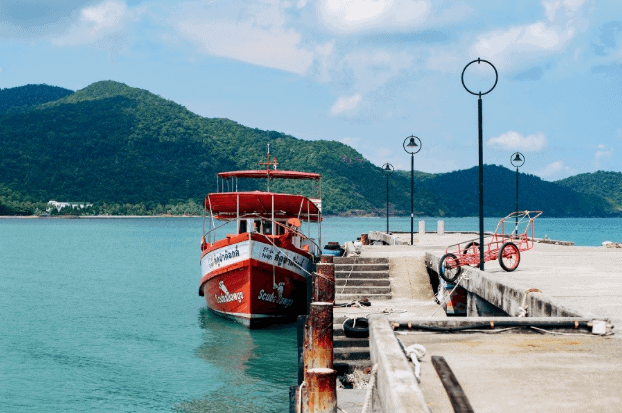 Looking for a party?
Koh Pha-ngan
Koh Pha-ngan is an island in the southeastern part of Thailand. It is not very big compared to others, however, it throws the best parties! Once a month, they have a big event, the Black Moon Party which is tied to the lunar calendar, and they stay up all night celebrating and partying. If that is your thing as a couple, then this island is for you!
You can stay at a typical hotel, but what is more romantic than staying at a beach bungalow? Surrounded by water, relaxing ocean sounds in a warm climate… that would be living your best life, for sure! If you are looking for a Bungalow, check out Sunrise Beach. It is one of the largest and most beautiful areas.
Hotels are not much more expensive than what you would find anywhere else. An average night is about $200, although you can still find decent hotels for less money.
There are no direct flights to Koh Pha-ngan so you would need to fly to the mainland and take a ferry over. That in itself is an amazing experience! The water is crystal clear and looks like out of a magazine. The ferry ride will be an amazing place for photos so keep your camera ready.
Let's talk about restaurants! The Beachhouse is an amazing location with delicious Thai food (a lot of it is fusion style). If you enjoy wine, this restaurant has an amazing selection. The setting is also quite romantic as it is a beach style (hence the name) house, and your table can literally be in the sand by the water!
Another cool location is Jumpahom Restaurant. The food is typical Thai, but the location is so cool! You sit on the floor on low tables, but hammocks surround you. After a delicious meal, take a nice little nap on one of those hammocks. They are there for you to use! A perfect spot to cuddle up to your new spouse!
Phuket Province
If you are looking for a rainforest type island, this is your place. It is full of mountains and perfect for the couple who is looking for a grand adventure! Take your hiking shoes because the sights are beautiful at the top of those mountains.
It is a lovely place to pack a picnic basket (or get yourself one of those nifty picnic basket backpacks to take on your hike) and go discover the hidden gems around the island!
You can find zip lines and waterfalls and admire all the nature hidden in this area. There are beautiful flowers, trees, and wildlife that you don't see anywhere else! The birds especially are so amazing out there.
After the adventurous days out on the island, come back to a luxurious resort and spa and enjoy a relaxing massage or facial. After that, go ahead and enjoy an exceptional dinner at a 5-star restaurant.
Speaking about restaurants, when you visit Phuket, be sure to visit Mom's Tri Kitchen Royale (inside of a Villa Royale Resort). It is in the eastern part of the island and has some beautiful gardens as you arrive. Be sure to request an ocean view to be able to enjoy the sunset! There is a large balcony that pops out over the water and you can just enjoy the sounds of the water gushing over the rocks.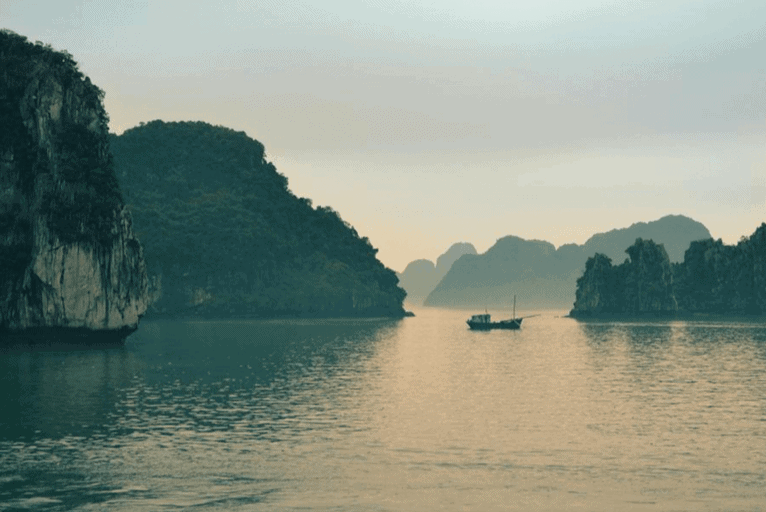 Koh Lipe
This is a perfect island for those who love to boat and snorkel. The rowboats, paddleboards, and jet skis for rent are a great way to tour the island. You can even take a ride over to a restaurant! They have boat parking. It is that amazing!
This island is near Malaysia's border and is full of coral-rich waters. The snorkeling in that area is beautiful! It also has amazing diving areas. One of the best is 8 Mile Rock. When you dive there, you end up in a large water area, surrounded by nature. It is one of the most thrilling dives you can ever do in your life!
There are many other diving sites in the area so be sure to check it all out! Also, take a look at ziplines. There are some over water which is quite the thrill. Some resorts also have ropes you can swing into the water with.
Restaurants on this island are also superb. Looking for a tropical, casual spot with great food? Go to Sunrise Beach Resort. They serve up food straight from the ocean you eat next to. Whole fish, calamari, scallops, you name it! You eat with your toes in the sand right by the ocean! What could be better?
For a fancy dinner, check out the Serendipity Resort. They have a laid-back restaurant, with perfect outdoor seating and a casual, fun menu. It has a fusion of Thai food with other unique combinations. It is the perfect place to hang out after a long day of adventuring.
Now let's Relax!
Koh Phi Phi Le
Looking for a place that is the perfect place to relax and not have to worry about anything? Check out Koh Phi Phi Le. It is full of mountains and water. It is uninhabited, so you can't stay there, but it is just 1.5 kilometers off of the tip of Phi Phi Don. It is also incredibly close to Phuket.
Stay in Phuket and then rent a boat. Boat your way over to Koh Phi Phi Le and spend the day there. Be sure to pack some food! You can have lunch on the shore. I mean, what is more romantic than a secluded island for a newly married couple?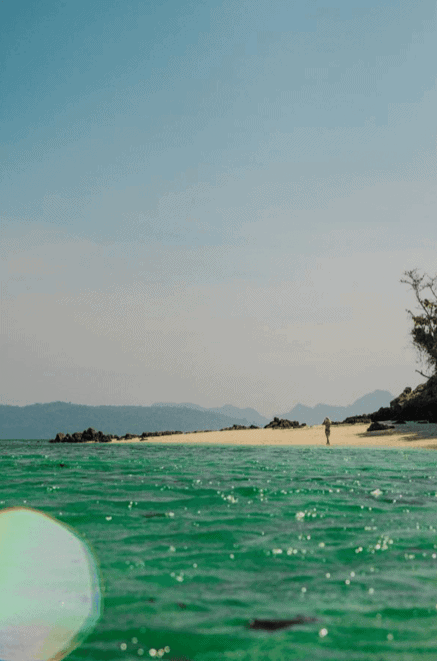 Koh Tao
So far, we have talked about small islands. Secluded little areas that are perfect for a low-key, relaxing honeymoon. If you are looking for something bigger and better, check out Koh Tao!
It is a large island, full of great hotels, resorts, shops, restaurants and more! You can spend the day shopping, then relax by the pool at your great resort. After that, head to the spa for a quick massage together, then get all dressed up and go to an elegant dinner at any restaurant around the town. Restaurants in the resorts are some of the nicest!
If you want a little bit of adventure, hop on a boat and check out the surrounding areas by water. You can go to the coral reefs and see whale sharks and rays.
There are also dinner cruises that you can spend an evening on. Go ahead and make these reservations beforehand, get all dressed up and head out to a sunset cruise. Good wine, a beautiful sunset, dinner on a cruise and your new spouse…what could be better?
A great restaurant to spend an evening at or even a casual lunch is Sairee Cottage Restaurant. The bar is right on the ocean, the sand is in your toes, you eat at a low table on the floor with an amazing skylight that has the sun shining through. If you really want something delicious get BBQ seafood kabobs. They are saucy, juicy and so delicious!
If you want one of the nicer restaurants, check out Barracuda. It is definitely more elegant so dress accordingly and be ready to pay a higher price point. It is a beautiful rooftop setting, where you can get a perfect sunset view every evening.
Be sure to fit in a little trip here if you have the time on your honeymoon. It is certainly a romantic, memorable spot for any couple to experience! It is more than likely the very best place to get seafood on the island.
Here's a quick list of everything!
Koh Pha-ngan

 

Koh Tao

 

Phuket Provence

 

Koh Lipe 
Koh Phi Phi Le

 

Party island

 

Adventure & Excitement

 

Full of spas, restaurants, and resorts

 

Full of water adventures

 

Can't stay there, only accessible by boat

 

Hotels and restaurants are average priced

 

Shopping and Relaxation

 

Many opportunities for adventure

 

Laid back restaurants

 

Great for adventure

 

So what's the best island in Thailand for Honeymoon?
We love a good mix of adventure and relaxation. A place where you can find a big island life as well as the small type. A place that has spas, restaurants, and shopping, as well as boating, beach life, and restaurants where you can dig your toes into the sand.
For that reason, our top choice would be Koh Tao. It is a beautiful location, full of everything you want in a honeymoon. We think you need a place like this to spend your most romantic and easy-going days.
If you choose this island, be sure to pack light and clothing that works for the sun and heat. However, pack a couple of really nice things because you want to be sure you are ready if you encounter the last minute, a gorgeous restaurant that you need to have dinner at before heading home.
However, if you forget that nice clothes, remember that there are a plethora of amazing boutiques you can shop at. A nice date as a newly married couple would be to go to the Ko Tao Center and buy each other a nice outfit to wear that evening to dinner.
We hope wherever you spend your honeymoon, you positively love the Thailand islands. They are a gorgeous place for a newly married couple. Be romantic, be spontaneous and go on an adventure for your honeymoon!