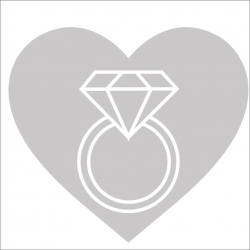 Latest posts by Love You Tomorrow Team
(see all)
Resorts have long been some of the most sought-after options for a honeymoon, but finding the best places to stay can be challenging, even in (or especially) a destination as popular as the Maldives.
Britain's Got Talent judge Amanda Holden recently brought the stunning shores of Maldives to attention when she chose it as the location to commemorate her ten year anniversary with her husband. Photos showed her lounging on a beach and in a hammock overlooking a stunning clear blue-green ocean.
In fact, Holden is among only one of many celebrities, and even royals, who have chosen the Maldives for a place to celebrate and relax. Soccer legend David Beckham celebrated American Olympian Michael Phelps, and even Prince William and Princess Kate are just a few notable tourists in past years.
So what exactly is it that draws so many to the Maldives every year?
Why should I consider the Maldives for our honeymoon? It's not just royalty or the famous that travel to the Maldives. Though tourism levels are a little down recently, it still draws in well over a million tourists a year. But what exactly draws so many people to the Maldives, and why is it considered among the best locations for a honeymoon?
Privacy and Seclusion: Despite the sizable tourism industry, the Maldives give a sense of privacy other tourist destinations don't, in part because resorts tend to be privately situated on their own enclaves.
Marine Life: The Maldives has some of the best variety of marine life, with an archipelago of over 1,000 coral reefs and over 2,000 species of fish.
Stunning Beaches: Stretches of breathtaking shoreline and cyan blue ocean water.
Culture: Local culture, and excursions so you can be as relaxed or more adventurous as you'd like.
What's the local culture like?
Even if you're staying in an all-inclusive resort, you'll get your best experience understanding, and maybe interacting, with the local culture. Whenever you travel, it's good to at least have a sense of what to expect and understand cultural values. The islands are located south of India and derive traditions from a variety of cultures, such as Sri Lankan, Malaysian, Persian, Indonesian, African, and Indian.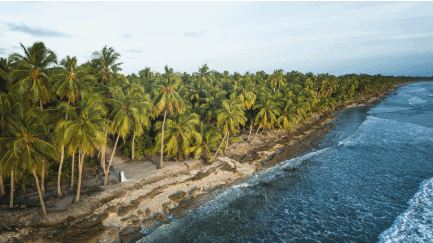 Music and Dance: African rhythms, drums, and traditional Malaysian dance
Food and Drink: if you like seafood, you're in luck. As an island nation, fish is a staple of the diet in the Maldives, but there's also plenty of different flavors and variety for everyone. Influenced by Arabic, Sri Lankan, and Indian cuisine, many dishes also incorporate Chinese, Japanese, and Italian spices. Coconuts are also highly popular. Tea is one of the most popular drinks. Do note that alcohol is offered in most resorts, but locals are forbidden from drinking it, so you should only consume alcohol in the resort.
Cultural Practices and Attire: As a sunni muslim nation, you'll come across mosques and religious practices, especially if you come during the month of Ramadan. While attire at resorts is most commonly swimwear and very light clothing, you are advised to dress more modestly if venturing out or visiting the capitol. As a general rule, shoulders to knees should be covered for both men and women. The exception is bikini beaches. While people in the Maldives are used to tourists, it is important to be respectful of their culture and traditions. If you feel uneasy about this, your better bet is to stay at locations designated for tourists.
Aside from relaxing or being pampered, what is there to do?
The Maldives, unsurprisingly, is a place where you'll likely spend a good deal of time on the beach or in the water. Not only can you relax or sunbathe; you can also partake in a number of water sports. Scuba dive to see the beautiful coral reefs, so sailing or kayaking; ride on a glass-bottom boat to see some of the beautiful marine life above the sea. You can also go jet skiing, or even fishing in some places. From peaceful to thrilling, there's a little of something for everyone.
Out of the water, you might come across bands, live music acts that travel from place to place; nightly music on some islands; and dancing. There's also dining, and, of course, local culture to explore.
I think I want to go to the Maldives for a honeymoon. What should I pack?
Weather in the Maldives is fairly consistent. It's considered a fairly dry climate, with the average high hovering around 80 degrees Fahrenheit year round. You'll want to bring, of course, swimwear, sun gear, and light fabrics and colors to stay cool. If you are venturing out in the city, you'll want to bring more modest clothing.
It doesn't hurt to pack other essentials, too, like reusable water bottles and personal items. You will probably to wait on some things, like sunscreen.
Is there anything else I need to know before deciding on a honeymoon in the Maldives?
Whenever you travel, even if you're headed to a resort, it's important you're aware and stay safe. World Nomads, a blog devoted to travel, suggests tourists keep these things in mind:
Religion: As we mentioned, the Maldives is a Sunni-Muslim nation, and this plays into the nation's laws and daily life. While you'll likely not be much impacted by this at a tourist resort, it's just important to be respectful, especially if you're venturing out. You should also avoid carrying outside of the resort: Bibles, pork products, sexually revealing material, or alcohol.
Island Hopping: Tourists are encouraged to stick to one island or their resort. Island hopping, especially to places with tourists, is strongly discouraged.
Theft: Like anywhere, theft can and does happen. Make sure you are always aware of where your possessions are.
Staying Healthy: Water sanitation is poor here, so drink only bottled water or water that has been boiled. Use bug spray to protect against mosquito-borne diseases. And, of course, bring plenty of sunscreens and protective sunwear.
Picking the 10 Top Resorts in Maldives for Honeymoon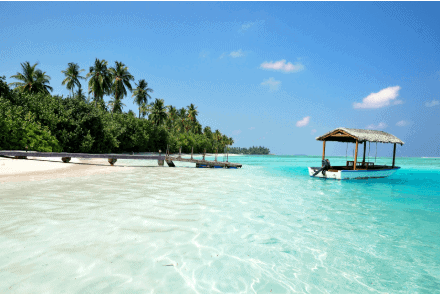 Picking the ten best resorts in the Maldives is no easy task, in part because there are so many. There are nearly 650 resorts in the Maldives, and perhaps more. Many include luxury features, such as massages, private pools, and even daily yoga classes.
To narrow down to just 10, we picked resorts that received only the highest possible rating by customers, then selected features for an accessible and all-inclusive experience. Do note that while we picked what we felt were the 10 best resorts, there are others you can look into, depending on what you're looking for. However, all of our picks have some impressive features, plus essentials like:
Air Conditioning
24 Hour Front Desk Service
Beachfront Access
Free Wifi
Non-smoking and Handicap Accessible Rooms
Room Service with Daily Housekeeping
Swimming Pools and Fitness Centers
Airport Shuttle
We felt these features were some of the most essential for a full and comfortable experience. Without further ado, here is our list of the top 10 best resorts you should consider booking for your honeymoon in the Maldives: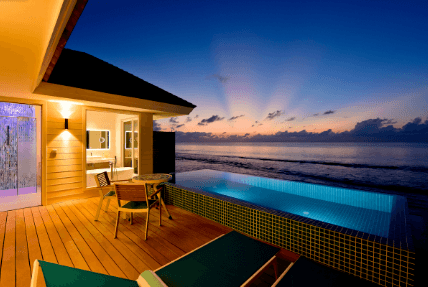 Their motto is the "New Maldives", promising an immersive and transformative experience. This resort also claims to push back against the typical resort experience, with a respect and understanding for the local culture and a large variety of different types of rooms. They also list hospitality and a playful spirit as center to the experience they offer guests.
The Living Situation: Select from villas and studios. A beach and sky villa features a lagoon nearby, and options for larger spaces, with room for families up to six. Beach pool villas come with a pool and private deck, and you can even book an aqua villa, which stands in the water, and some that come with your own private jacuzzi. Furnishing is clean and simple but modern, with natural wood or bamboo floors, modern appliances, and a small living space and kitchenette.
Dining: Select from 10 restaurants and bars, including a deli, beach clubs, Asian fine dining, smoked fish and meats, and local cuisine. Many dining options are more casual, but there are a few for nicer evening meals.
Things to do: A photo studio, spa, art studio, snorkeling platform, fitness classes, tennis, soccer, water activities, and live music are just a few events. The resort also features a festivities calendar for special events.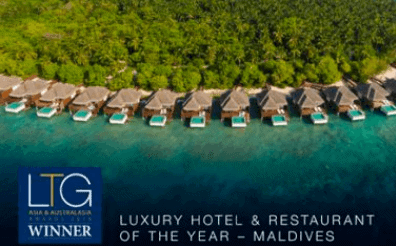 As the name implies, this resort brings Thai culture to your experience. The resort focuses on the beauty of its location, with "white sand beaches" and "marine life" alongside a "turquoise lagoon". It's situated on the only UNESCO World Biosphere Reserve and is a 10 minute speedboat travel from one of the main airports. They also highlight their infinity pools, among the largest of any offered in resorts in the Maldives.
The Living Situation: There are even more options here, from small villas to pavilions to three-bedroom beach residences. Beach villas can come with your own private pools, and many feature unique and stunning Thai architecture. The larger beach residences are a truly luxurious option, and a stand out from typical resort rooms, featuring balconies, oversized swimming pools, and even the possibility of a private chef.
Dining: Dining features "international buffets" and "Thai delicacies". A unique Borderless dining concept means that much of the dining is situated in private settings and tweaked for special occasions, and comes with fine wine and drinks. In addition to this upscale option, you'll have the choice of fresh fare from the market, sala and sandbars, and a sea grill.
Things to do: The facility offers countless things to do, including fitness centers, yoga, jacuzzi, evening entertainment, tennis, and sunset cruises. You'll also have access to water activities such as snorkeling, scuba diving tours, and sports like parasailing and jet skiing.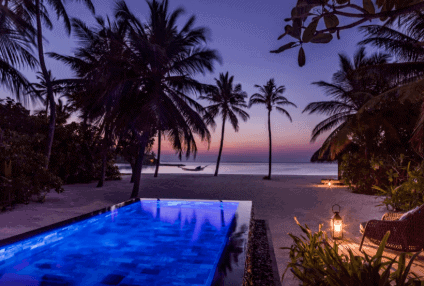 Next on our list of top resorts in Maldives for honeymoon is an all-villa resort located on one of the larger islands and about 400 miles from Sri Lanka, nestled against white sand beaches and beautiful lagoons. Right on their front page, you can see how many features and recent awards and acclaim they've earned especially Conde Nast UK's reader's choice awards. They also prominently feature luxury Thai massages with rich spices and warm oil.
The Living Situation: Select from beachfront and water villas, featuring 'expansive verandas'. The furnishings are simple but tasteful and modern; some come with private pools and decks. There is also the option for the more luxurious sunset residence, situated on the most private part of the beach, with three bedrooms, a dining area, living space, and plenty of room for entertaining.
Dining: You can enjoy private dining for any meal, or select from one of four restaurants. Options include an outdoor garden restaurant with 'garden to fork' food; Asian-French-Italian fusions; Japanese cuisine; Italian; and Middle Eastern. There are also a few beachside bars.
Things to Do: Pamper yourself with spas, manicures, and pedicures, or stay active with personal training. You can expect access to snorkeling, speed boats and parasailing, and a surf shop. They also have an on-site boutique.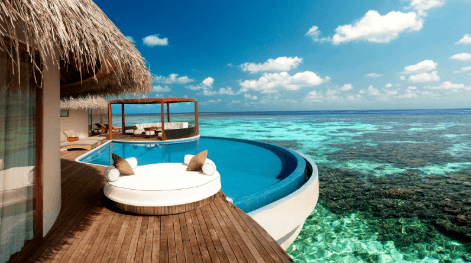 This resort has a more secluded and natural feel to it, and like other resorts, emphasizes the natural beauty lagoons and white sand beaches, as well as access to stunning coral reefs. Sunbathing, water sports, dining are the main draws. What makes it stand apart is the decks that overlook glowing plankton and jellyfish and the ability to book a secluded space for an evening.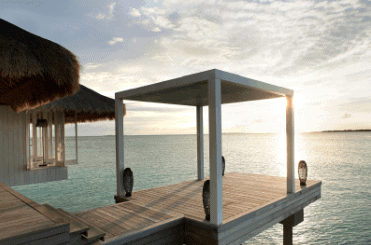 The number five of the best resorts for your honeymoon in the Maldives comes with a stunning website, complete with a music intro and breathtaking views. Ultra-modern, sleek designs, sunset dining, romantic evenings, and a variety of experiences are all featured. You can also take a look at their 'travel diary' section, which gives you a brief history of the resort and surrounding area.
The Living Situation: Villas are the main accommodations offered. Island villas are understated and private. Water villas are situated on 'traditional stilts', with wooden pontoon entrances. You can also find villas with garden entrances, and even one with its own private island. Understated and simple, these villas let the surrounding beauty speak for itself.
Dining: Five restaurants and three bars are available to you. The White serves breakfast food all day. While The White Table offers private dining only very exclusively, you can also eat at a live cooking theatre featuring Asian cuisine; an alfresco and Mediterranean restaurant; and carte-blanche options.
Things to do: Spas with specialty skin care treatment, with a separate spa island gives you ample room to relax. You'll have access to sports like tennis, water sports, and general fitness machines. Water activities include rentable dhonis, canoeing, and luxury yachts. Special events occur during the festive season.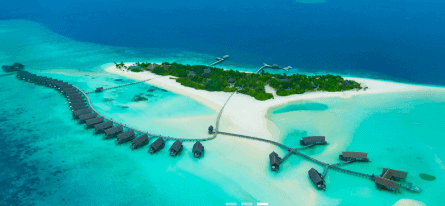 Since the concept and location are so similar, we've decided to lump these two together. The overall experience is also similar. Cocoa is a bit smaller, while Maalifushi offers more in terms of dining and accommodations.
Como Cocoa is a private resort is relatively small compared to others, with 33 units to rent at one time, making for a more personalized experience. Directly above the turquoise water, these are highly accessible for anyone who wants to spend a lot of time in or overlooking the ocean. In addition to the waterfront appeal, the resort touts its holistic wellness offerings and South-Indian cuisine. Maalifushi is slightly larger but features the small connected boardwalk concept.
The Living Situation: You'll be right above the ocean, no matter which unit you choose. Each suite or villa is influenced by dhoni boats, with a wide boardwalk connecting all of them. A private terrace comes with each room, and furnishings are more rustic style and cozier than some more modern-themed resorts. The most luxurious options, a villa, offers a private deck and bar. Maalifushi has a few more options and features beach homes and water suites.
Dining: There's a little something for everyone without being too overwhelming or over the top. Select from Indian and Mediterranean cuisine, local seafood, seasonal dining, and an organic, locally sourced restaurant. Maalifushi also offers local seafood, in addition to Turkish and Japanese dishes.
Things to do: Reef snorkeling, sunset cruises, sailing lessons, and even night snorkeling are just a few offerings. You can also enjoy sandback dinners, massages, facial care, a gym, hydrotherapy pool, and daily yoga lessons. Special at Maalifushi is UV night snorkeling, dolphin cruises, and guided kayak tours.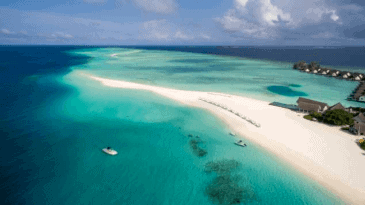 Owned by the same company, these two resorts offer similar experiences at two different locations. Landaa offers a remote island getaway, with diving, snorkeling and yacht cruises, while Kuda touts a "Maldivian Village Charm", with more immersion in local culture. Both, owned by Four Seasons, offer a variety of water activities and living accommodations.
The Living Situation: At Landaa, you can rent sunset and beach villas, two bedroom oceanfront bungalows, and spacious three bedroom suites and estates. Enjoy views of either the ocean or the lagoon. Kuda offers both bungalows and specialty suites. At both, the style is bohemian, relaxed, and roomy.
Dining: Landaa offers a cafe, grill, North African cuisine, Italian and Mediterranean fare, fresh seafood, and dining bars, with an overall relaxed and casual feel. At Kuda, expect more private dining and menus catered to your tastes.
Things to do: Cave diving and coral reef snorkeling, along with sunset fishing and even coral covered shipwrecks are the biggest draws for Kuda. Landaa offers spa and yoga retreats, as well as above sea manta rays. Both have ample water activities and ways to relax.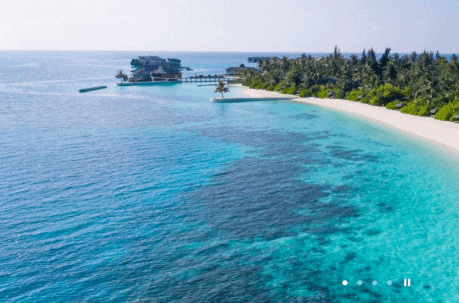 The final resort on our list is by no means our last pick. It's a mere 20 minutes from an airport but still feels secluded and lively. Upon arrival, you are given a "traditional welcome" to introduce you to local culture. Watersports, diving, and relaxing is easy here, with private pools and spas, a wine library, and access to bicycling.
The Living Situation: Enjoy ocean views in a beach villa, get your own space in a private ocean retreat, or go full out with royalty inspired three and five bedroom ocean homes. Luxury features include infinity pools with ocean slides, adjustable mood lighting, and modern technology. This is great for anyone with a very large budget, but there may be less modest accommodations.
Dining: Beach grills, over the water dining, contemporary and elegant, and romantic dinners are all available to you. Food seems to feature mostly fresh and local dishes, with an emphasis on seafood and buffets.
Things to do: This resort actually features the first ice rink in the Maldives. You can also enjoy expected water activities, like diving, and flyboarding, plus special experiences like submarine excursions, activities just for kids, coconut oil making demonstrations, and normal yoga and fitness offerings.
Here are some other related articles you may be interested in: