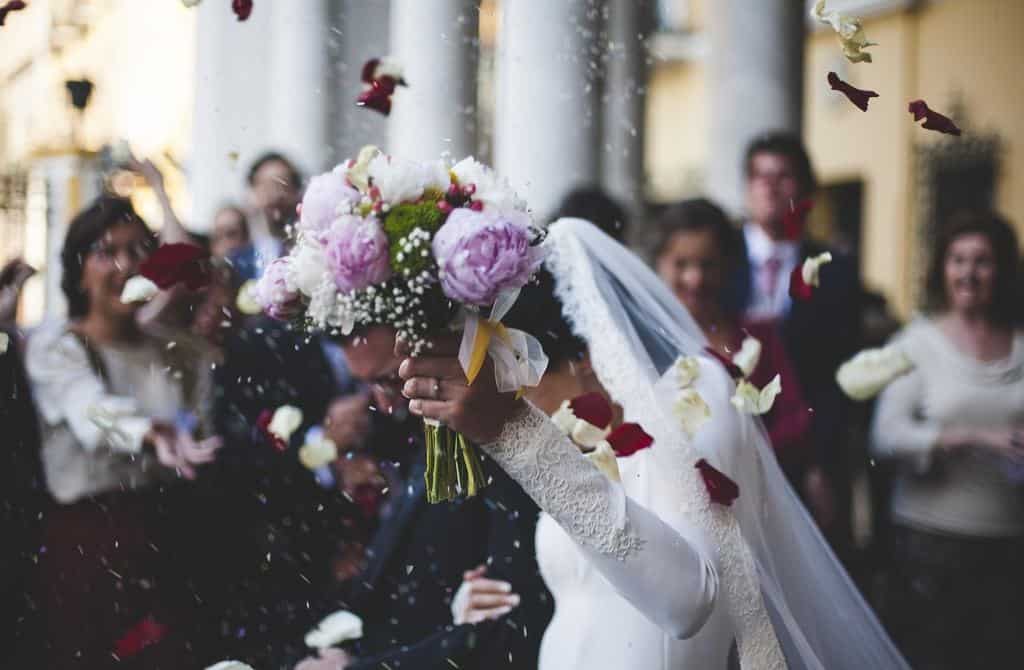 It's a long road from picking the engagement ring to heading down the aisle.
Our Mission (And we choose to accept it)
We'll be your wedding planner without the money belt under our designer blazer filled with safety pins and smelling salts. (You know you've watched the Wedding Planner. Don't try to hide it.) We want to walk you through picking the engagement ring, choosing the wedding band sets, and buying the wedding gown. We also have an idea of what to do with your wedding gown after the big day, too!
Engagement Rings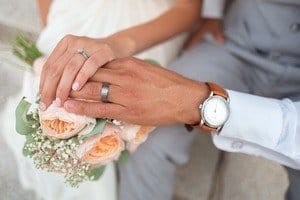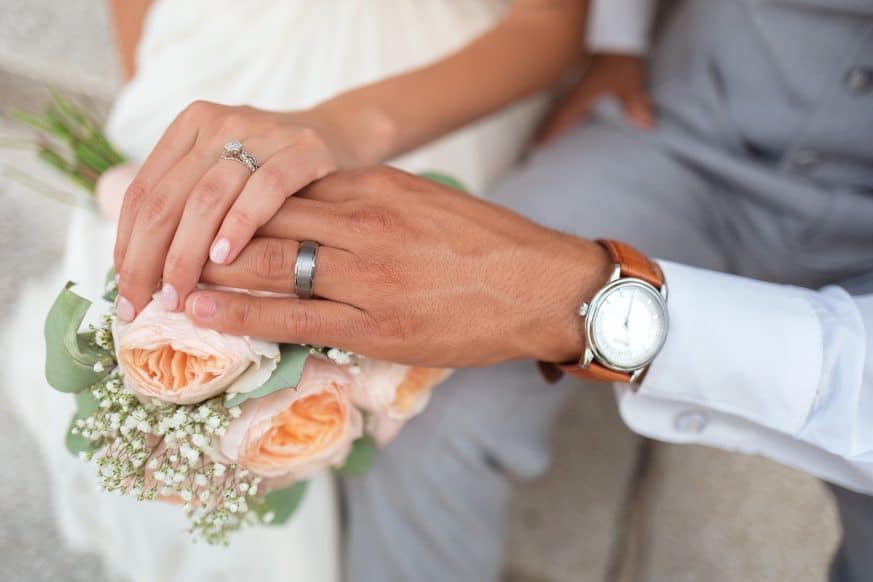 Choosing the right engagement ring is a decision that weighs heavy on every groom-to-be and couple who have decided to choose their rings together.
Should you go with a traditional round brilliant solitaire?
There are some incredible peach Morganite choices that will make your heart swoon.
What about pear shaped engagement rings in a gemstone instead of a diamond?
This is your wedding to the love of your life. You should be picking an engagement ring that will remind each other of this moment for your entire lives together. It also should be a ring that she'll be proud to flash to her best friends and the women at work.
Once she's said YES, that's when the real excitement begins. It's also when the panic starts to settle into your bones. After calling every relative you both have, you'll need to start the planning process. There's uncertainty around every bridal boutique corner, and it'll take plenty of time and research to ensure that your big day is the memorable event it was meant to be.
Have the Ring Insured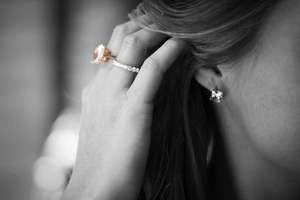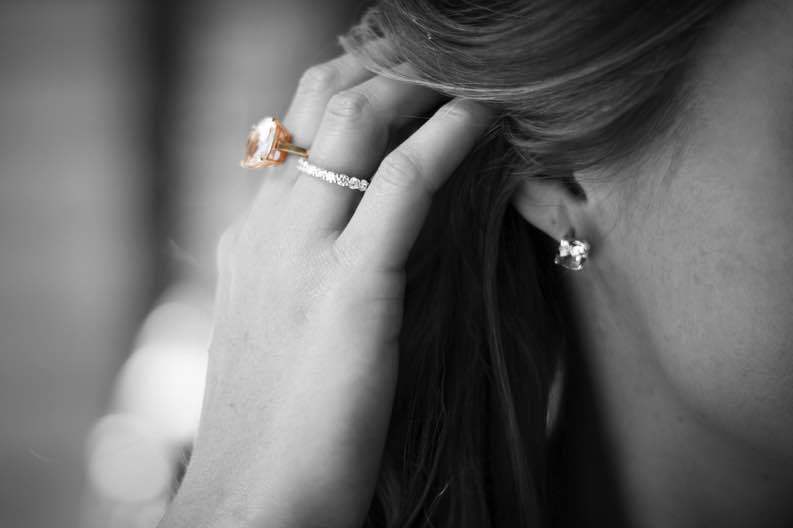 You might have to add it to your renter or home insurance policy after a complete appraisal. If you don't have renter's insurance, it's never too late. You don't want to lose this sentimental piece of jewelry, but replacing it when you don't have insurance could take a huge chunk out of your wedding budget. Besides, you'll feel terrible if anything happened to it. The costs to replace would make you feel worse.
Pick a Season
After everyone has exclaimed over your ring, they'll inevitably ask when you're having the wedding. Instead of shrugging, you can pick a season to share with them without having to settle on a specific date. Many couples like a season based on certain activities they've d
one together. For example, a couple who like to ski frequently might choose a winter wedding date, so they can go skiing on their honeymoon. Other couples might choose summer or fall based on their preferences for the activities or love of the season.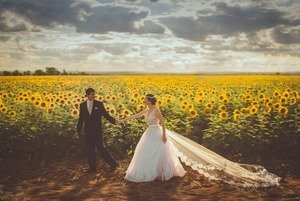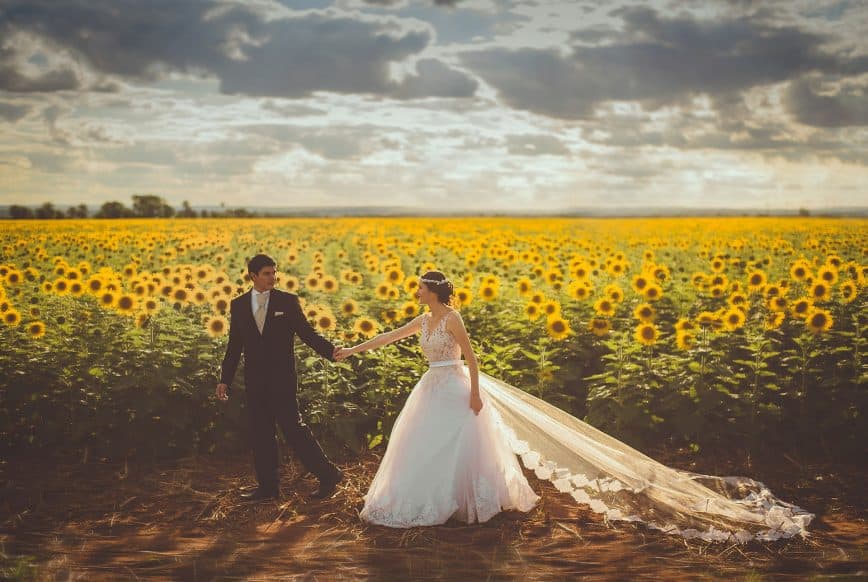 The season will influence the entire wedding from décor to location to color scheme. A winter wedding could be sleek and sophisticated with white and ice blue as the color theme. Rustic fall nuptials would be perfect in an outdoor location within sight of the turning leaves of autumn. The season will have the largest impact on the clothes including her dress.
The Dress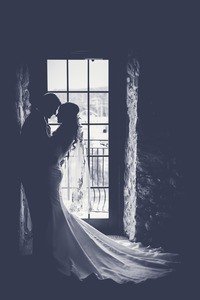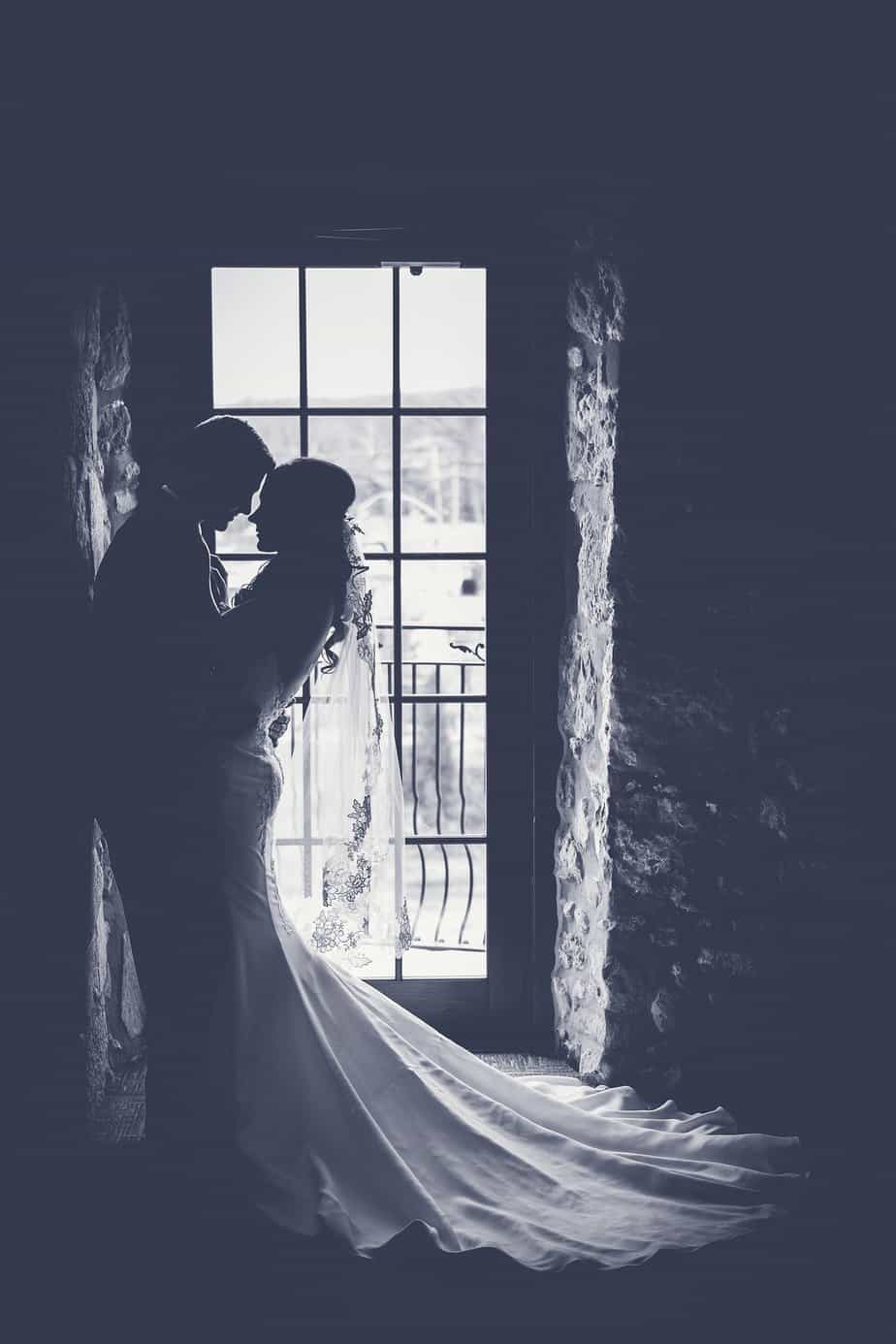 Let's discuss the dress. You'll need to decide the style of dress that fits your body type. Along with your body shape, more considerations follow like the length based on the type of wedding. You wouldn't have a beach wedding with a flowing train that drags through the dirt and sand. If you choose a winter wedding date, a short tea-length dress would leave you a bit chilled. Don't forget that you'll need a wedding set to go with the dress, too.
We give details about the shape of your body and the best choice that flatters, but this in-depth guide will tell you everything you need to know about wedding dresses from hemline and train length to sleeve style and bodice types.
Affordable, Budget-Friendly Choices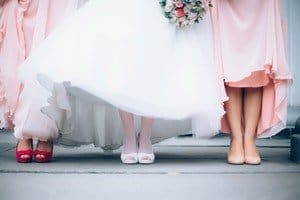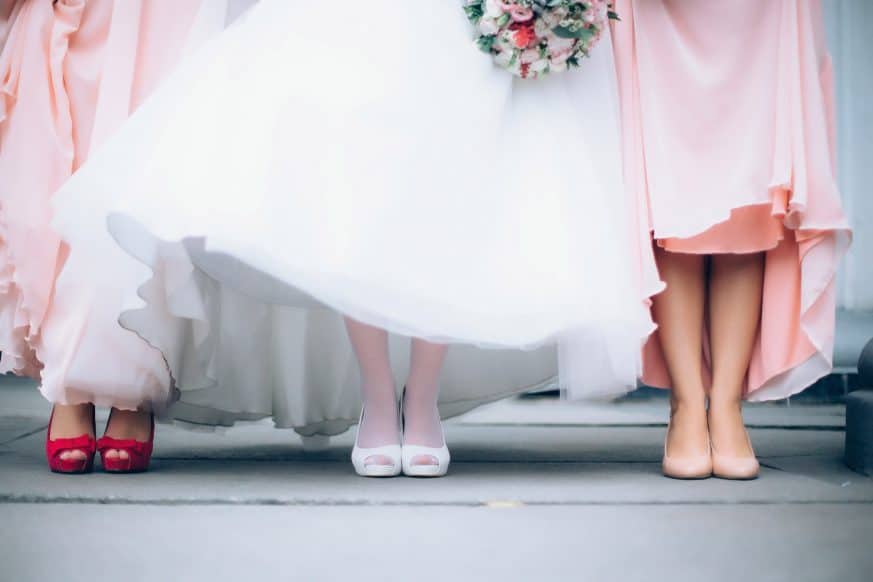 We want to help you save money on your wedding, too. While this day should be memorable, it should not leave you in debt for the next 5 years. We have you covered on all fronts from how to shop online without being able to try on the dress to how to turn your mother's old dress into a modern beauty fit for your stunning wedding.
Our guide to shopping for an inexpensive dress
7 tips for buying your wedding dress online
How do you choose a sewing professional for alterations?
The Veil and Your Hairstyle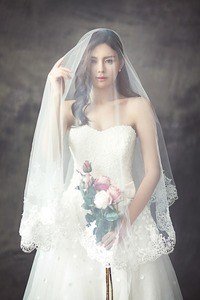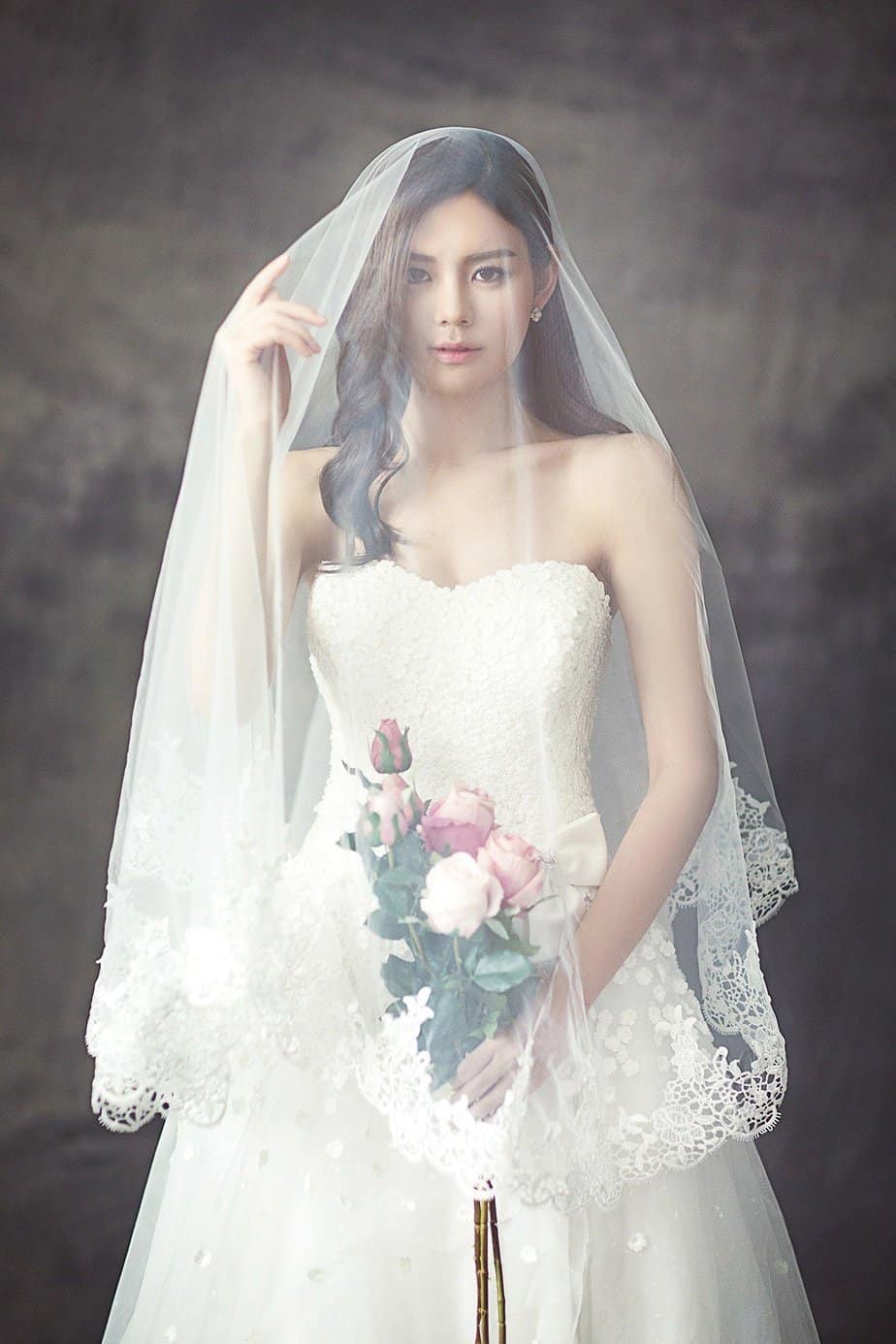 One of the first decisions to make regarding your hair for the wedding is whether you plan on having it in an updo or long. It'll depend on where you plan on holding the wedding. A wedding directly on the beach might be too windy to leave your hair long, but beach waves are incredibly beautiful with a sprig of flowers or a vine in your hair.
We've got you covered if you don't know what kind of hair accessory options you have. There are more than you may think!
If you have short hair, you're a bit more limited in terms of hairstyles, but you can have some fun with the accessories, too.
If you're hoping to keep the wedding budget under control, you can purchase a hot air drying brush for yourself as well as for your wedding party. Don't get the bridesmaids a useless gift for being a special part of your wedding. You could have a wedding party blow out before the big day to get a preview and make decisions. While everyone might love a stylist and makeup artist on hand for the wedding, it's a huge cost.
Color Scheme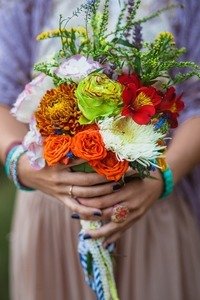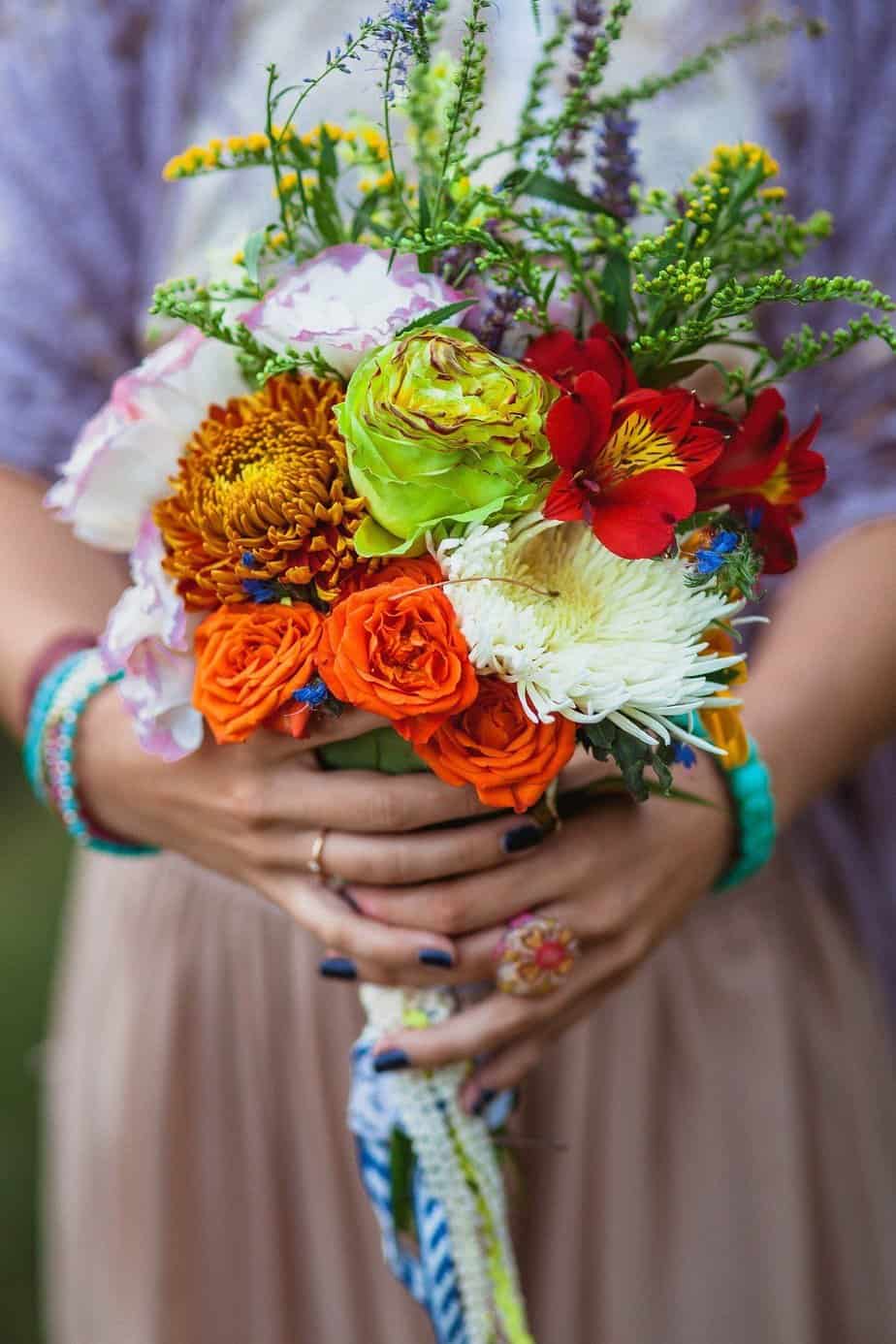 Once you have your season decided, you can begin to think about the colors you'd like for your wedding. This is something you should talk over with your groom. In fact, most of the wedding choices should be made jointly (except the exact details of the dress, of course). If he hates light pink, that's not a color you'll want to choose. It's a big choice since it'll influence the table settings, flowers, bridesmaid dresses, and the cake. Pinterest has some great inspiration color schemes whether you're having a winter or summer wedding.
Pick a Location and a Date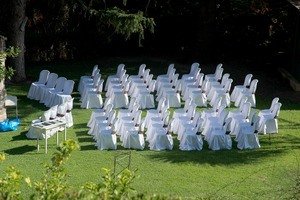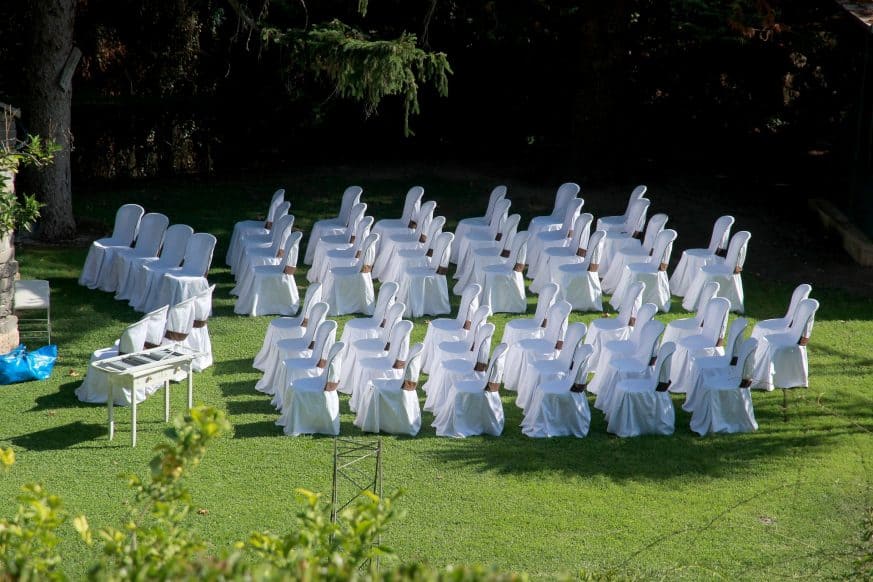 As you progress in your planning, you will eventually have to pick an exact date. This is important to choose as soon as possible. You'll need it to hire vendors for the wedding, have invitations printed, and give to the venue.
While you might have chosen a summer wedding, for example, what kind of location did you envision? Is it a tropical location for a destination wedding or a local botanical garden? Is your winter wedding going to be fancy in a luxury hotel's ballroom, or will it be an autumn wedding in a barn? You might even choose an old castle for the exchanging of your vows.
Budgeting with the Family
If parents have offered to contribute, sit down and discuss figures. You can't just wing the wedding planning without an exact number. The budget will impact everything even if your parents are buying your dress or offering to fly in extended relatives for the nuptials. While it might be uncomfortable, don't let them tell you "don't worry about it" since you don't want to bankrupt them or pressure them with costs beyond their limits.
Guest List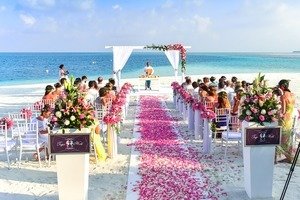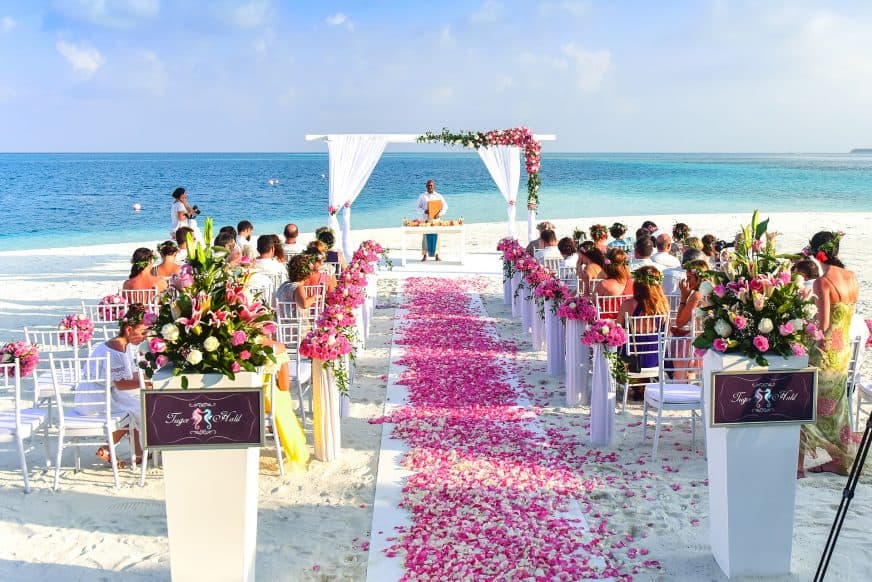 You'd love to invite everyone to the wedding and the reception, but your budget might not allow it. The venue might not hold as many people as you'd like. You'll also have to feed all these people. Caterers will charge for each head that they'll be feeding, so the budget can quickly get out of control if you plan to invite your cousin Sara twice-removed who you haven't seen since you were toddlers.
Choose the Wedding Party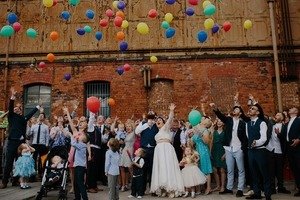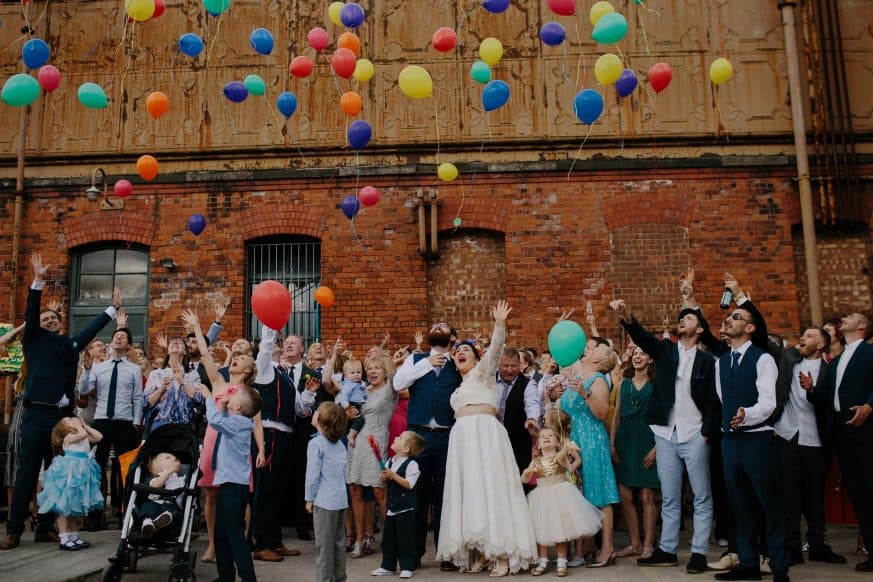 While you're thinking about people you'd like at the wedding, you should be talking about how many bridesmaids and ushers as well as who will be your maid-of-honor. Nobody said these were easy decisions! Your sister or your best friend? How can you choose? It's a tough call, but you'll make the right choice. She'll be the one to help you with many of the details, too.
Bridesmaid Dresses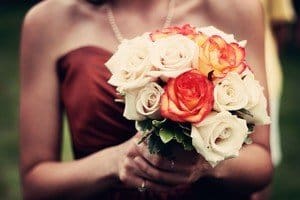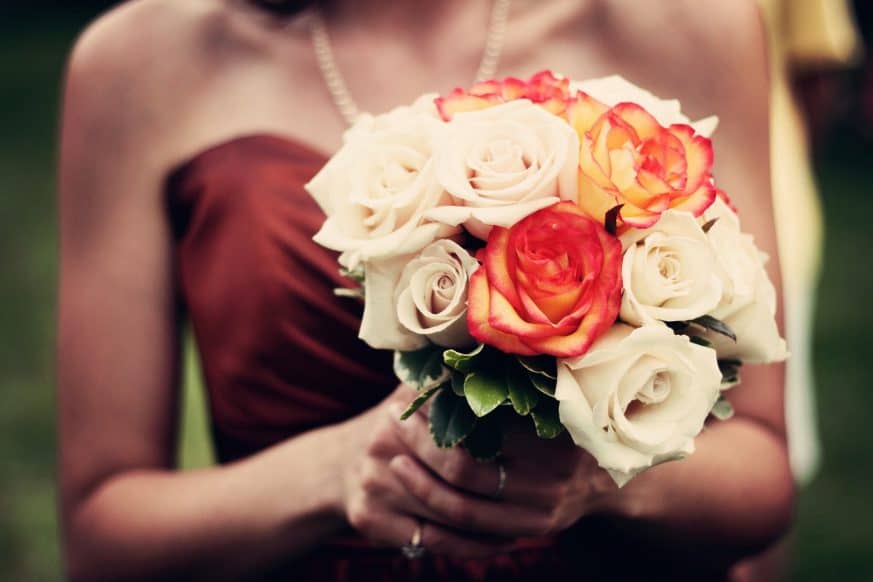 The maid of honor is the one who will help you consider what kind of bridesmaid style will look good on all the shapes in your wedding party. It's hard enough choosing a wedding gown for yourself based on the shape you know well. Imagine how tough it'll be to pick a gown that looks great on everyone. Some brides give their wedding party a color scheme and a style, but let them make their own choices while others pick the exact dress for each woman.
Pick Wedding Bands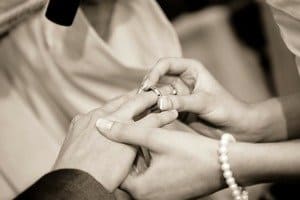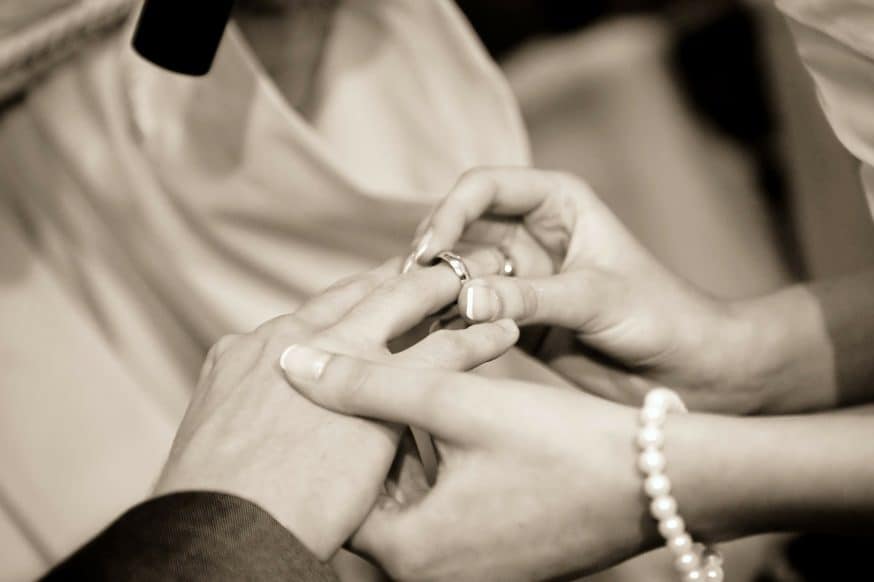 When choosing the wedding band, you'll have to decide how it will look with the engagement ring. If he chose a ring for you, it's unlikely that he chose it as a part of a set that would have come with a band for both of you, too.
You can choose the rings as part of a pair like these wedding sets, or you can pick a band she loves while choosing a more rugged band for him. This is a great option if he works with his hands and is worried about ruining the ring while she might not have that problem.
Tungsten Carbide rings are incredibly durable bands.
Women's Tungsten Carbide bands in case she needs a durable ring, too.
Unusual wedding sets made of wood.
Wedding Website or Binder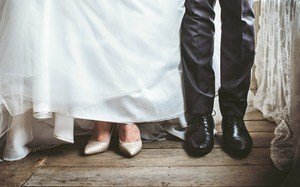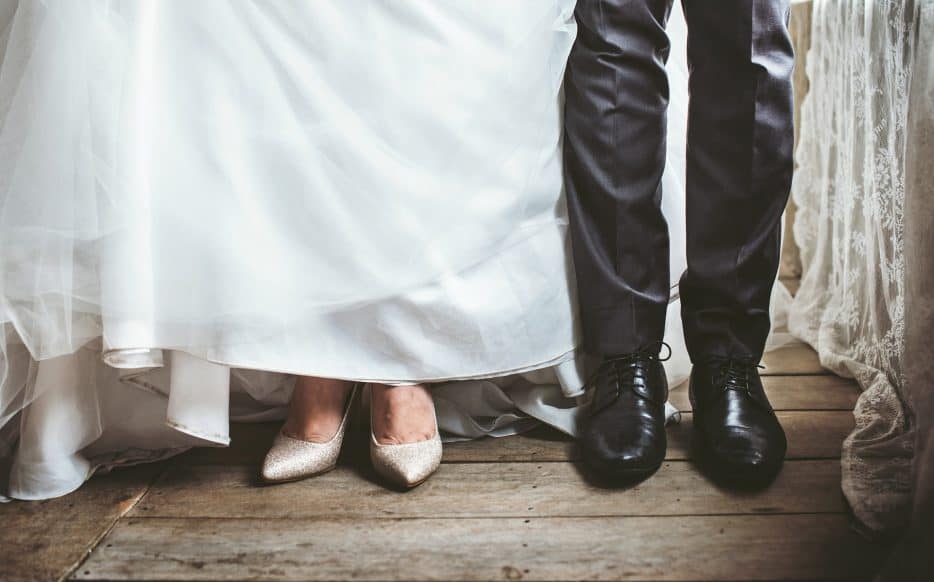 In the days before the Internet, brides would keep a binder of all their wedding details. While it can't hurt to have a binder, there are wedding websites where you can keep all your design ideas as well as the details that other people need to know, too. If you're sharing with the family, they can instantly give you feedback and help you make decisions when you can send them to the site to see what you've uploaded.
Pinterest Worthy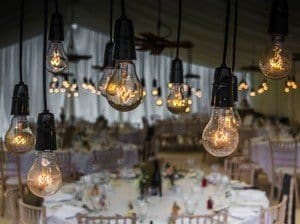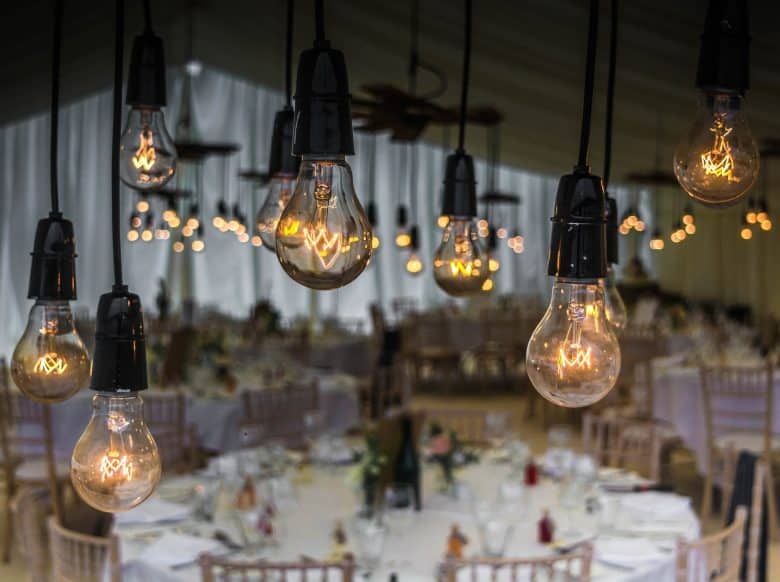 If you don't want to start a website, Pinterest is a handy tool for sharing with everyone in your wedding party. Plus, Pinterest is full of yummy, creative ideas for your big day. They also have many DIY options for décor and other inspiring pins like wedding cakes and bridesmaid dresses.
Check out Bridal Musings – which has dozens of boards and over 3 million followers
Try Wedding Chicks with over 4 million followers and plenty of DIY boards to find interesting pins.
The Broke-Ass Bride doesn't have millions of followers, but there are plenty of budget-friendly tips.
Once you slip the ring on your finger, it'll be all about budgets and guest lists. As you dig into the process, you'll understand why it takes at least a year to make all the arrangements for your special day. Don't leave anything until the last minute. You can do much of your research here from choosing the dress to deciding whether you want to get platinum, palladium or satin finish wedding sets for the bride and groom.