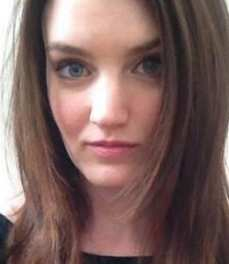 Latest posts by Crystal Schwanke
(see all)
If your definition of the perfect wedding dress falls outside of the traditional white wedding gown, where you can shop will open up. Some of the best lavender wedding dress ideas aren't designed to be wedding dresses at all, but they can easily be the perfect complement to a venue you've already chosen or your wedding colors.
Not to mention, you'll probably save a lot of money on the dress that you could use elsewhere, like the ultimate honeymoon getaway.
These dresses are the best because of their unusual designs, their ability to fit in at a variety of venues and flatter different body types, and because the prices seem fair.
My Top Picks
ASOS Design Floral Embellished Mesh Godet Maxi Dress

David's Bridal Open-Back Lace and Mesh Bridesmaid Dress

Lord & Taylor A-Line Empire Gown
Let's Define "Lavender"
When we hear "lavender," everyone doesn't picture the exact shade. It could be:
Medium purple

Light pinkish-purple

Light blueish-purple

Dusty purplish-pink that borders on mauve

Anywhere in-between
I'll show a little of everything so you can see options that will (hopefully) match the color in your mind and the one that's most flattering to your skin tone.
The Best Lavender Wedding Dress Ideas
Here are some ideas for lavender wedding dresses.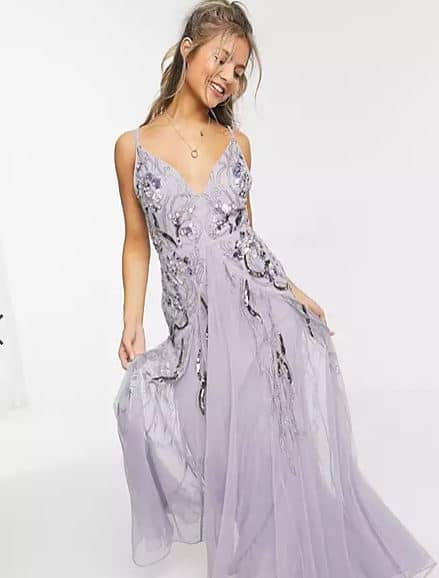 This lavender wedding dress option from ASOS is under $200.00, and it has the light-catching embellishments and flowy layers you'd expect from a wedding dress.
Pros
It's relatively inexpensive, but you can't tell by looking at it.

It will make you feel beautiful and feminine.
Cons
Some reviewers say this is best for smaller chests, so those with larger bra sizes may not get the best fit with this one.

Sizing may not be as expected, according to some reviewers, so be sure to look at the size chart as well as others' comments.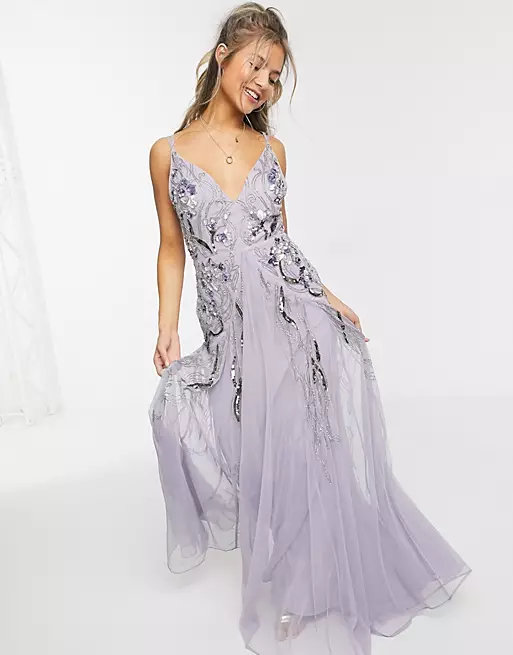 David's Bridal Open-Back Lace and Mesh Bridesmaid Dress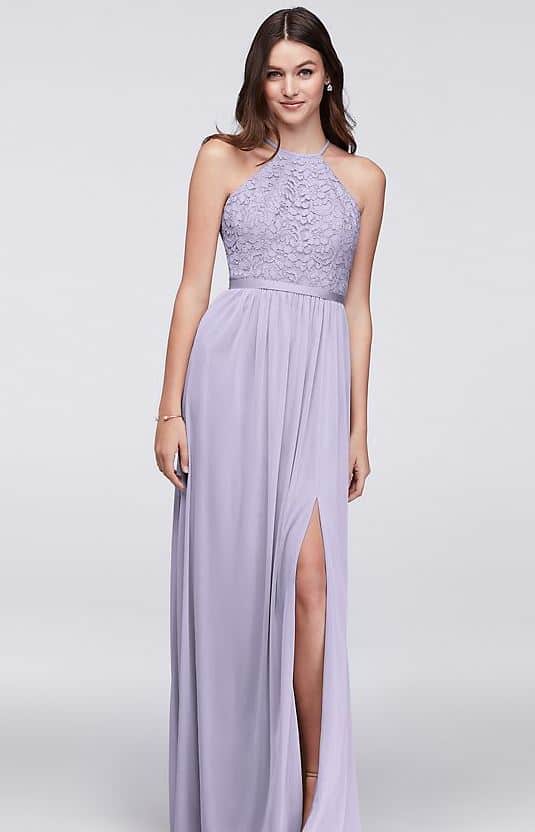 If you're going for a casual, romantic vibe, don't think of bridesmaids' dresses as just for the friends that will be standing with you during the ceremony. This option from David's Bridal is sweet and feminine, plus it'll cost you a whole lot less than a dress from the bridal gown section.
Pros
It costs less than $200.00

It's elegant enough for a simple, casual wedding if you don't want to go all-out on a dress with more intricate detail and extra layers of fabric.

Sizing ranges from 0 to 30.
Cons
Some reviews report sizing issues.

Some reviews say it's see-through (so it may require a slip).
This dress from Lord & Taylor is an absolute dream and brings fairy tales to mind. The crystals, soft color, and sheer mesh make this a delicate choice that's less casual than some of the others on the list.
Pros
It's not especially expensive at just under $800.00 (before tax), even though it's one of the pricier ones on the list.

It has a fairy tale, romantic vibe, with hints of glamour and a short train, a style that will work with a variety of venues and themes.

The A-line shape will be flattering to a variety of body types.
Cons
It's still not inexpensive, especially compared to the other options.

The size chart is somewhat limited, starting at size 2 and ending at size 16.

The sheer mesh may feel a bit too revealing for some brides' tastes.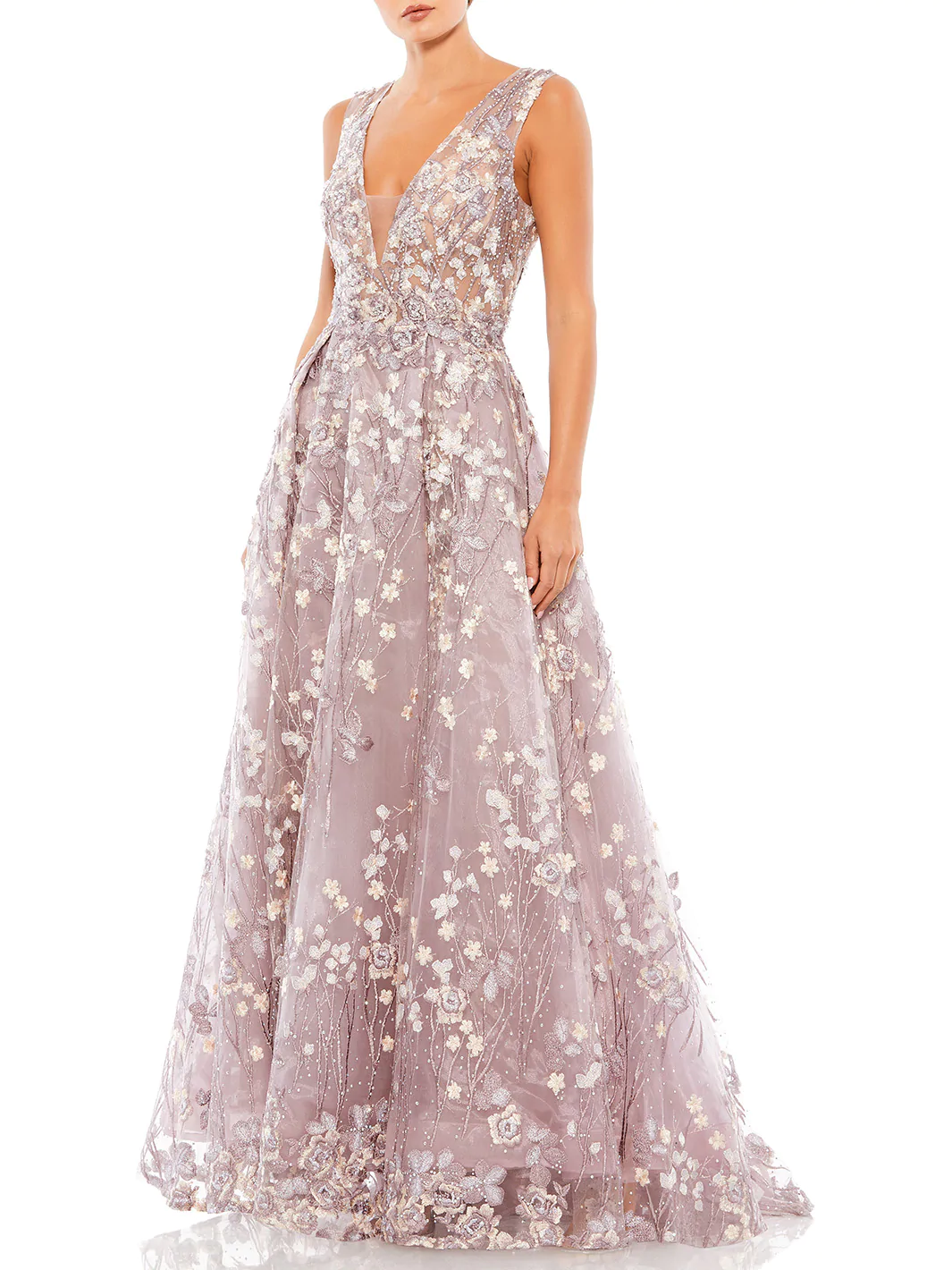 A-Line Empire Gown | Lordandtaylor
Gorgeous floral embroidered lace A-line gown, accented with crystals throughout. The neckline features sheer mesh inset mid-bust.
Check Price
We earn a commission if you click this link and make a purchase at no additional cost to you.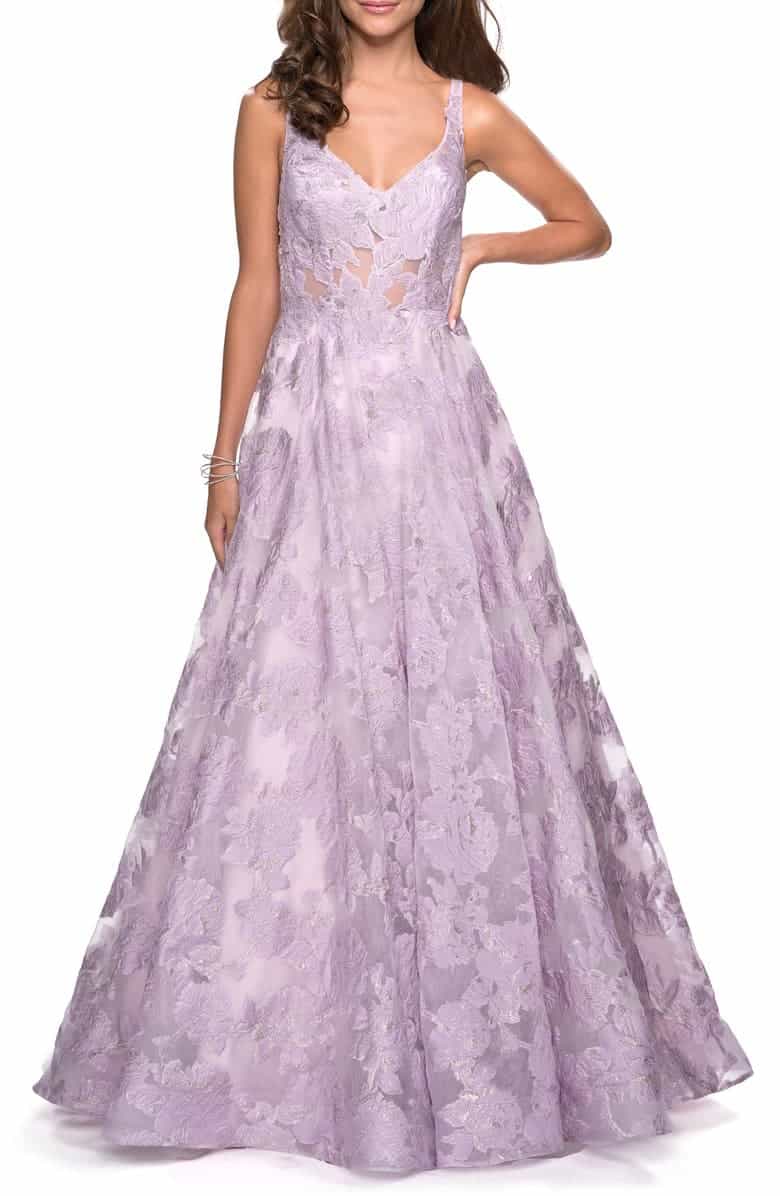 Here's an ultra-feminine A-line option from La Femme that can make your lavender wedding dress dream come true.
Pros
The semi-sheer bodice keeps it from looking too sweet.

Blooms along the length of the whole dress add visual interest without relying on crystals or beads.

It's reasonably priced at around $500.00.

The A-line skirt and V-neck flatter most body types.
Cons
Limited size options are available (0 to 14).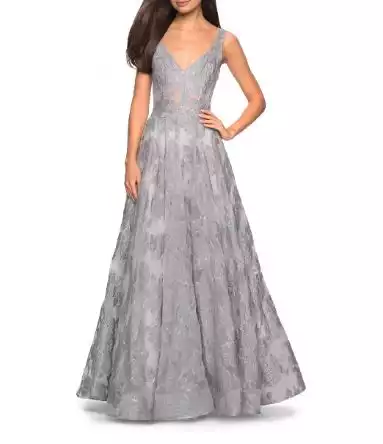 Lace A-Line Evening Dress | Nordstrom
Romantic elegance defines this floor-sweeping gown designed with a semi-sheer bodice and richly embroidered blooms.
Check Price
We earn a commission if you click this link and make a purchase at no additional cost to you.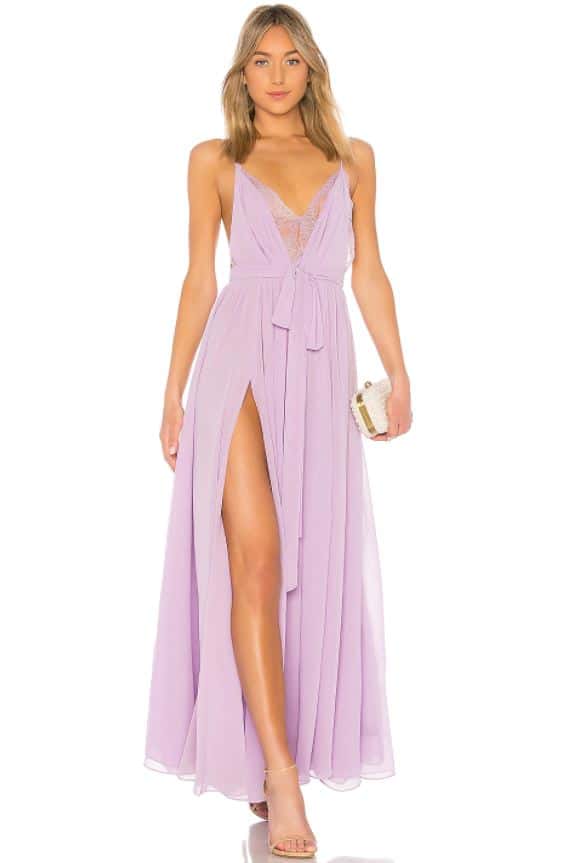 This Michael Costello design is perfect for the bold bride who wants to look stunningly sexy on her big day. The sheer lace inset open back, and thigh-high front slits ensure all eyes will be on her.
Pros
It's not exceptionally expensive, at just under $250.00.

This is one of the few lavender wedding dress ideas that embrace sexiness over romance.
Cons
You may find yourself preoccupied, worrying about accidentally showing more than you intended, between the lace and the slits.

Sizing only goes from XS to XL.
Justin Gown | Revolve
This gorgeous and flowy dress would be perfect for all wedding occasions.
Check Price
We earn a commission if you click this link and make a purchase at no additional cost to you.
Azazie Odell BG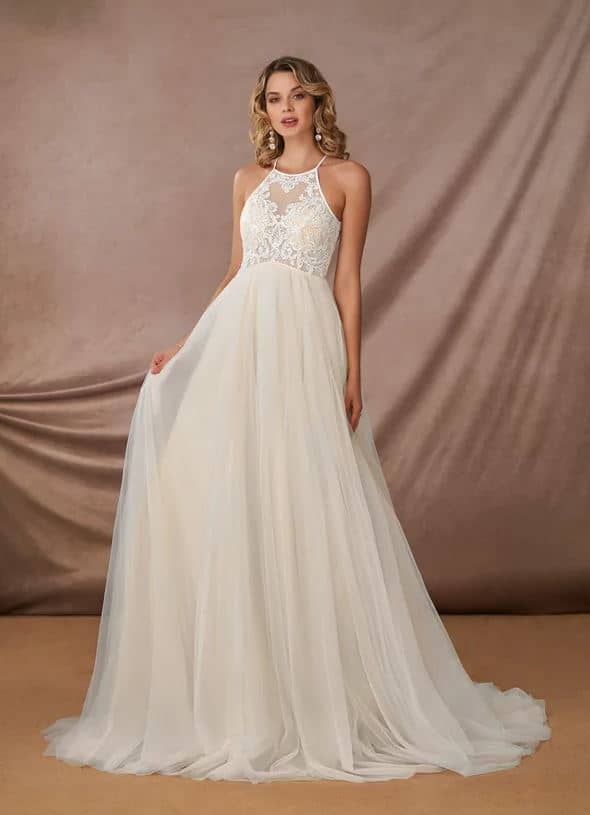 If you're looking for a more traditional wedding gown but in lavender, the Azazie Odell BG might be the one you're looking for. It has the lace, the tulle, a chapel train, padding, and boning, which checks a few boxes the others don't.
Pros
Perfect for the bride who wants to make a nod to the traditional wedding dress styles but express herself with a different color.

The halter-style flatters a range of body types.

There's a wide range of sizes, plus custom sizes are available at no extra charge.

It's unlikely to be too short because they make the dresses long to accommodate extra height (yours or your heels').
Cons
As of this writing, there's no preview of the lavender version of the dress.

Unless you're tall and/or are wearing tall heels, you'll probably have to have it altered.
Nordstrom Off the Shoulder Glitter Ball Gown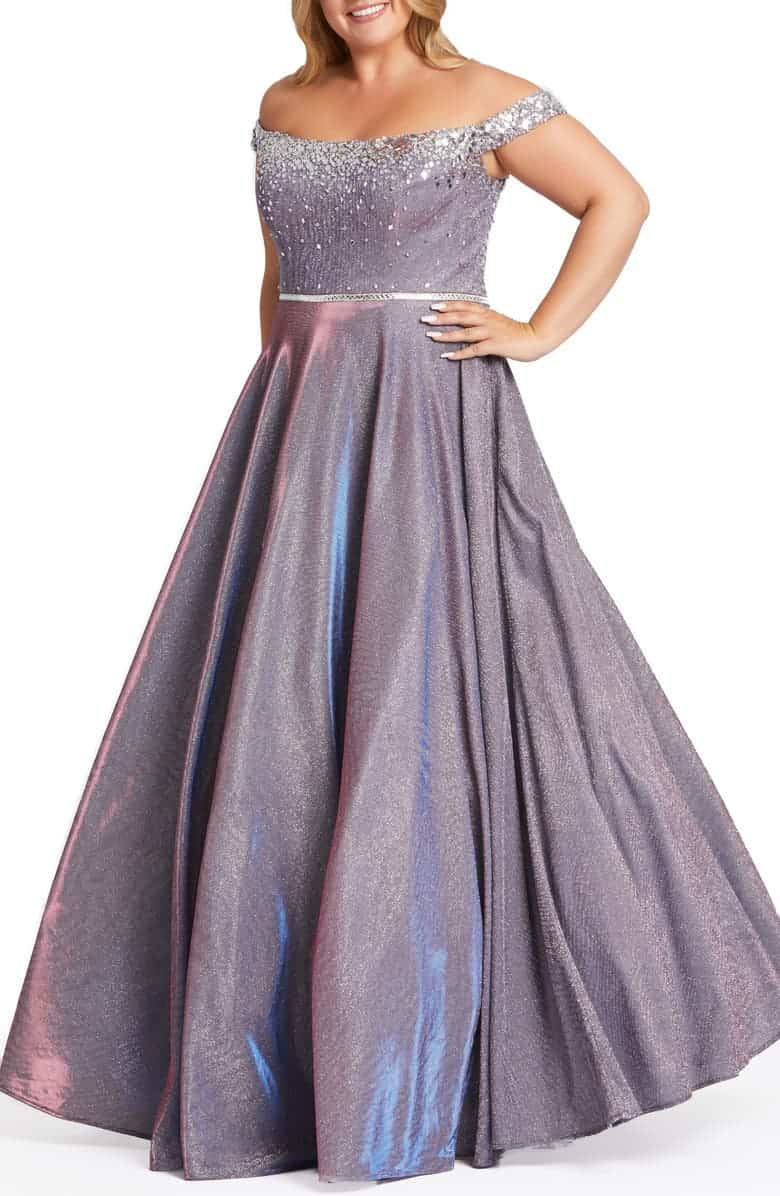 If you want to look magical, this smoky lavender, glittering ball gown might be the dress you're looking for. It's straight out of a fairy tale with the lace-up back, full skirt, and shimmer.
Pros
It's unusual and shimmery, but the more muted color balances it well.

The off-the-shoulder bodice will look beautiful with or without a necklace.
Cons
It's only available in sizes 14 to 24.

One reviewer called it too sparkly, so it may be over-the-top for some brides, even if they're looking for a shimmery option.
JJ's House A-Line V-Neck Floor-Length Chiffon Bridesmaid Dress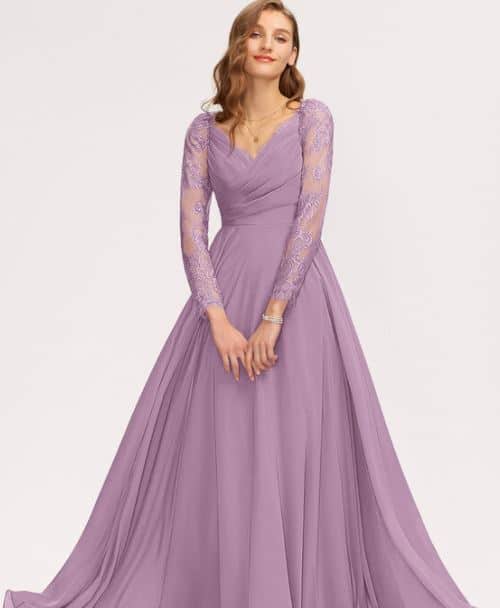 This A-line, long-sleeved option is listed as a bridesmaid's dress, but it would look beautiful on a bride who doesn't want to go the traditional white gown route. The chiffon skirt and lace sleeves are still a throwback to more traditional dresses from decades gone by, but choosing lavender makes it modern and allows you to show your personality.
Pros
The traditional style balances the unusual color.

It's inexpensive at just over $100.00.

You can choose from sizes 0 to 26 or opt for a custom size.

You can order a swatch before you commit.
Cons
This store has a relatively short return window–14 days–and the dress cannot be returned if you go with custom sizing (available for an extra $20.00).
JJ's House Trumpet/Mermaid Scoop Neck Sweet Train Chiffon Lace Bridesmaid Dress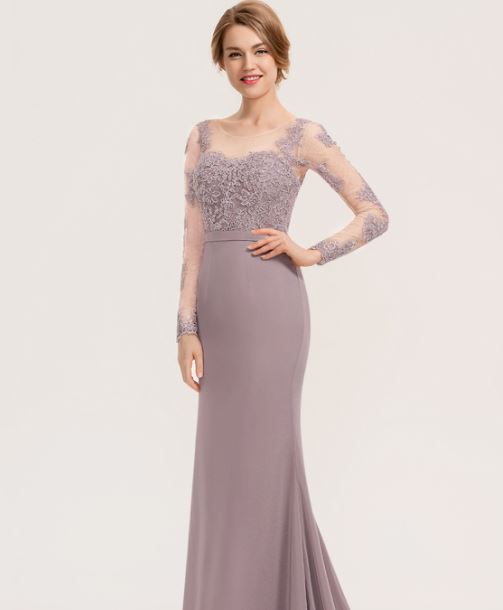 Here's another bridesmaid's dress from JJ's House that could work as a wedding gown (there's even a train!). This trumpet/mermaid silhouette is perfect for the bride who wants to flaunt her figure without revealing a lot of skin.
Pros
You could wear it almost any time of year since the long sleeves are lace.

The trumpet-style skirt will allow you to show off your beautiful curves.

Not all of the dresses on this list have a train, but this one does.

It provides a traditional wedding dress style, with a twist.

It's relatively inexpensive at just over $150.00.
Cons
The store's short return policy (14 days) won't give you much time to decide.

Sizing might be a bit off (some reviewers mentioned that their dress was too small), so it may be wise to do custom sizing (which you won't be able to return).
David's Bridal Sleeveless Embroidered Soft Net Bridesmaid Dress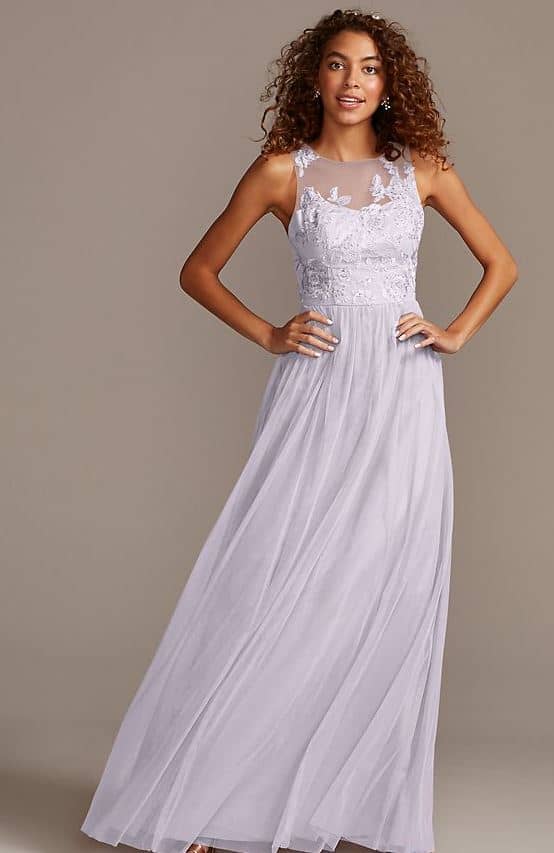 This sleeveless dress from David's Bridal feels like a combination of class and boho styles. It would be perfect for the bride who wants a more casual setting but still wants a dress that'll make her feel like a princess.
Pros
It's inexpensive at under $200.00.

It's versatile enough to work in at different types of venues, indoors or outdoors.
Cons
Some reviewers say the material seems cheap.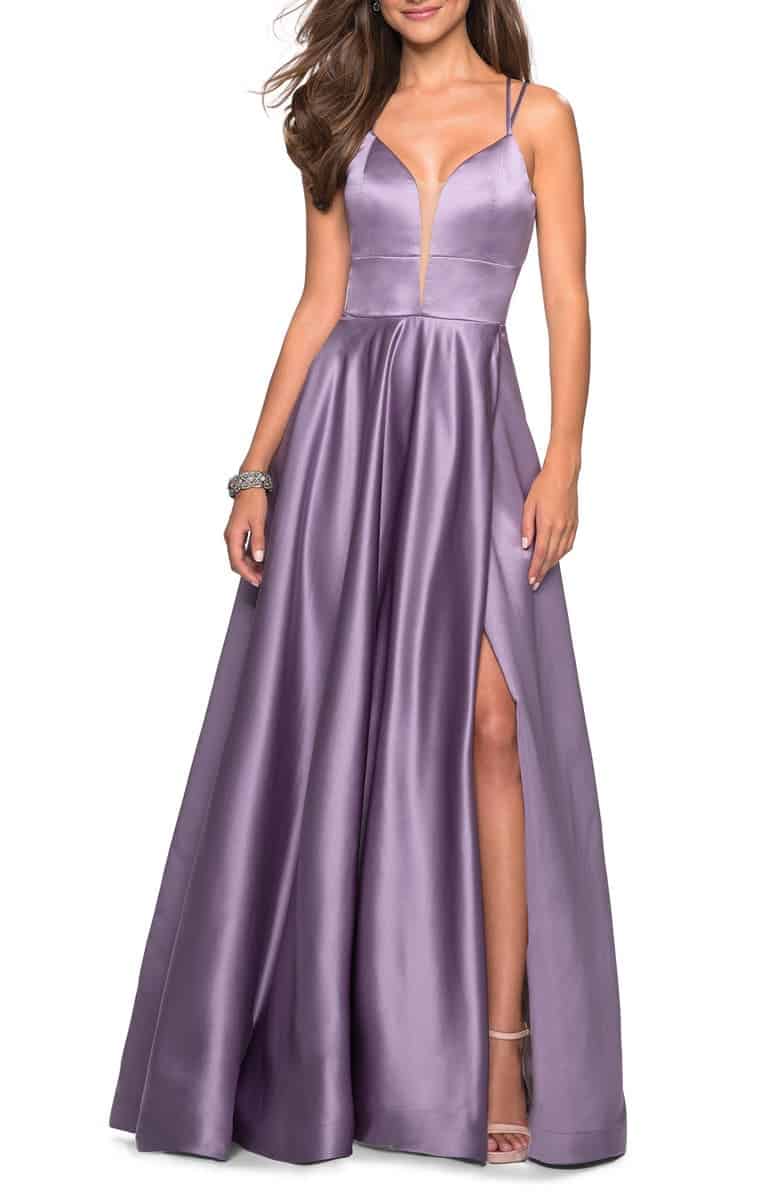 This strappy satin ballgown from Nordstrom is in one of the deeper shades on the list, and the more muted shade will be stunning in the late summer or fall.
Pros
It's shimmery but still has a simple style.

If you love the way your upper body looks, you'll get the chance to show it off, thanks to the strappy back.

The front split makes it a little sexy, but it's still a classy style.
Cons
It may be challenging to balance the simpler style with the higher price (almost $400.00) when compared to other options (but if it's "the one," it's the one, right?).

The plunge neckline may make some brides feel uncomfortable even though there's a mesh inset to hold everything in place.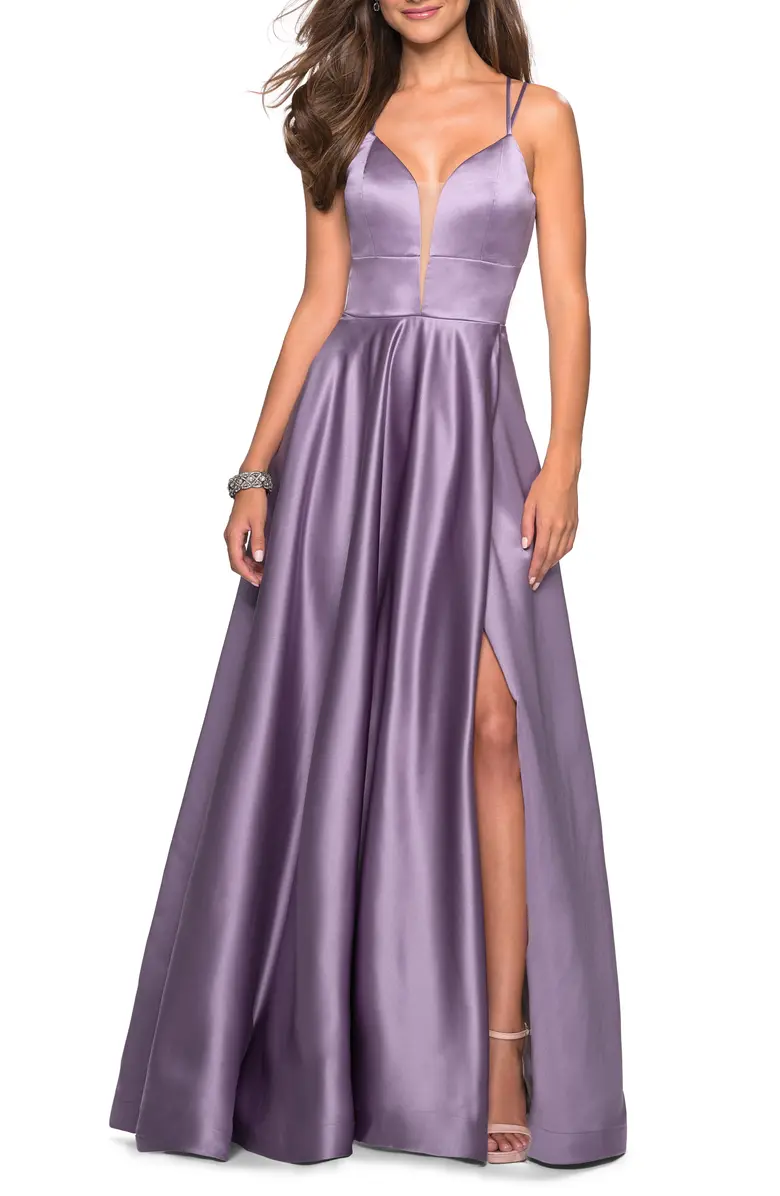 Strappy Back Satin Ballgown | Nordstrom
Liquid shimmer pours down this daring satin ballgown cut with a plunging neckline, an open strappy back and an unexpected front slit.
Check Price
We earn a commission if you click this link and make a purchase at no additional cost to you.
Nordstrom Embroidered & Embellished Tulle Ballgown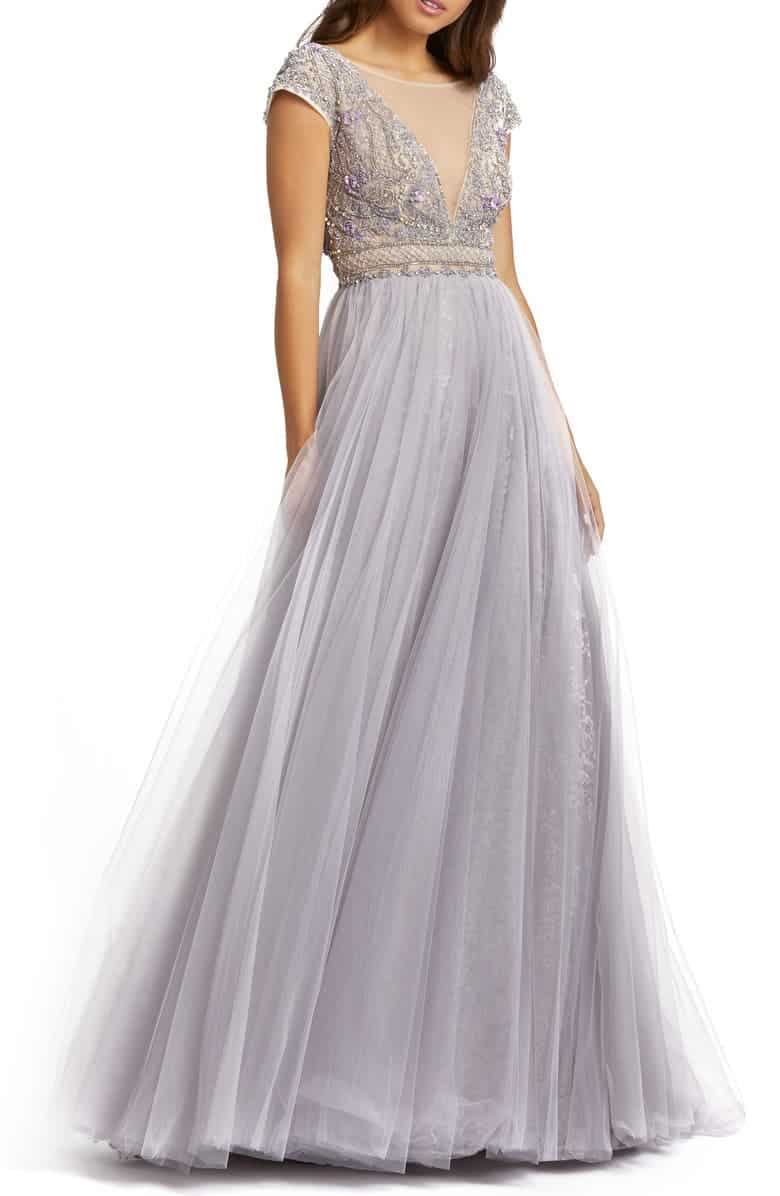 Stop your scroll here if you want to feel like royalty on your wedding day. This lavender dress design by Mac Duggal will make you look and feel like a princess.
Pros
The pale, smoky lavender and tulle make a royal, magical, romantic, and slightly nostalgic combination.

It's somewhat versatile and could be used at various venues and any time of year.
Cons
It's one of the more expensive options at about $600.00.

The colors used won't work on all skin tones (the mesh may be too light or dark for some brides, while the soft shade could wash some skin tones out).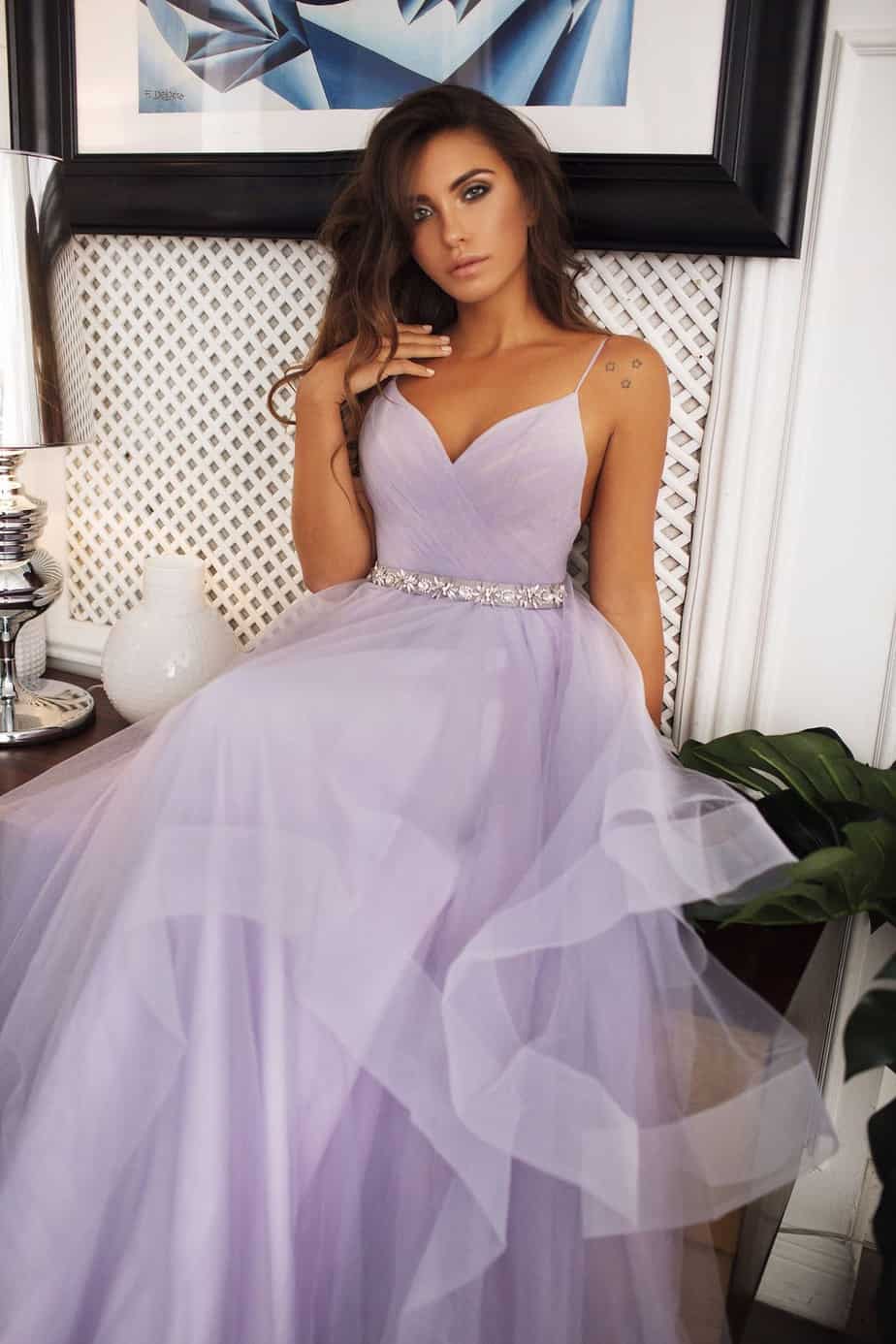 Etsy may not be the first spot that comes to mind when you set out to find the best lavender wedding dress ideas, but there are some attractive options there–and you can have them custom made to fit you perfectly. For example, this lavender tulle dress by MilaBridal offers a flattering sweetheart bodice, flowing layers of tulle, and an open back. It sparkles, but not too much–it's limited to the belt.
Pros
You can have it custom-made to fit and get exactly what you want.

It has a simple, classic design that's feminine and romantic.
Cons
You'll need to be confident in your ability to take your own measurements for a custom dress since you can't try it on first or easily have the seller alter it (she recommends budgeting extra time for tailoring by someone local, just in case).

You'll most likely be waiting a while for your dress to arrive since it has to be created and then shipped (from Russia).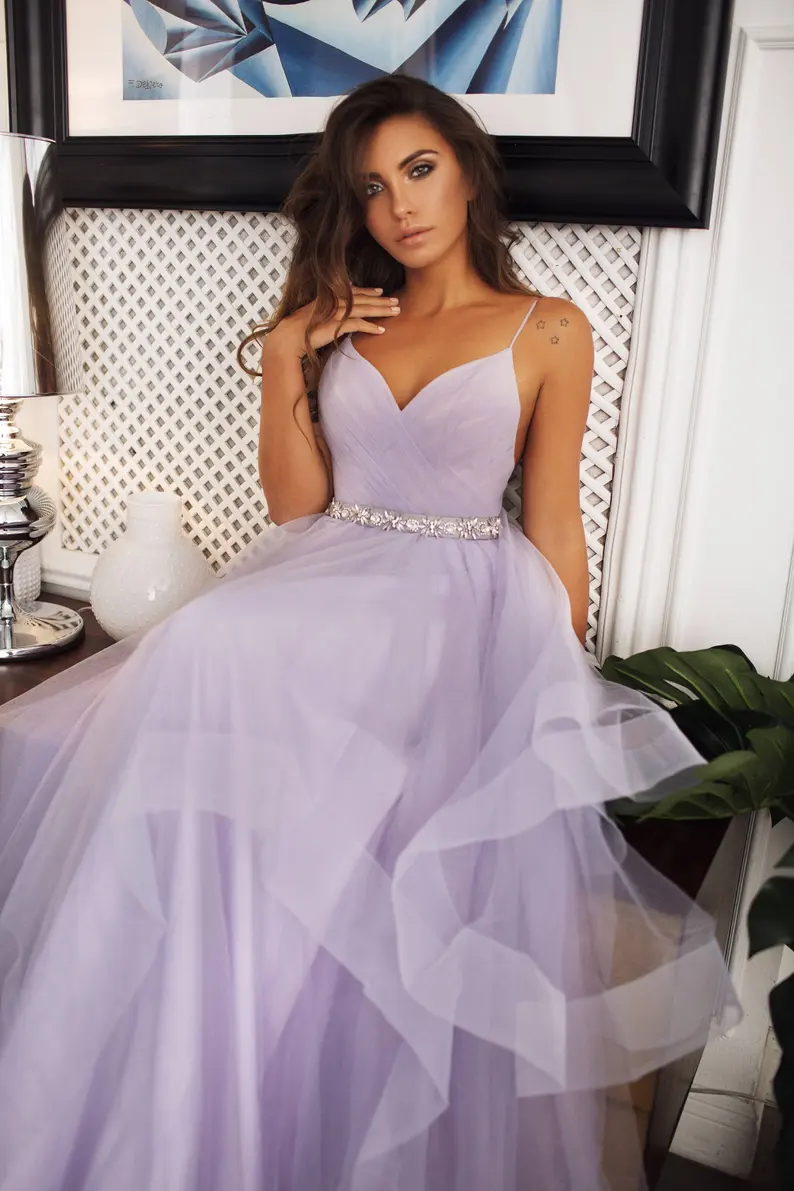 MilaBridal's Lavender Tulle Dress | Etsy
Lavender Tulle skirt horsehair trim wedding dress with crisscross sweetheart bodice, low back, cascading skirt and sparkle accent on belt.
Check Price
We earn a commission if you click this link and make a purchase at no additional cost to you.
Why Choose a Lavender Wedding Dress?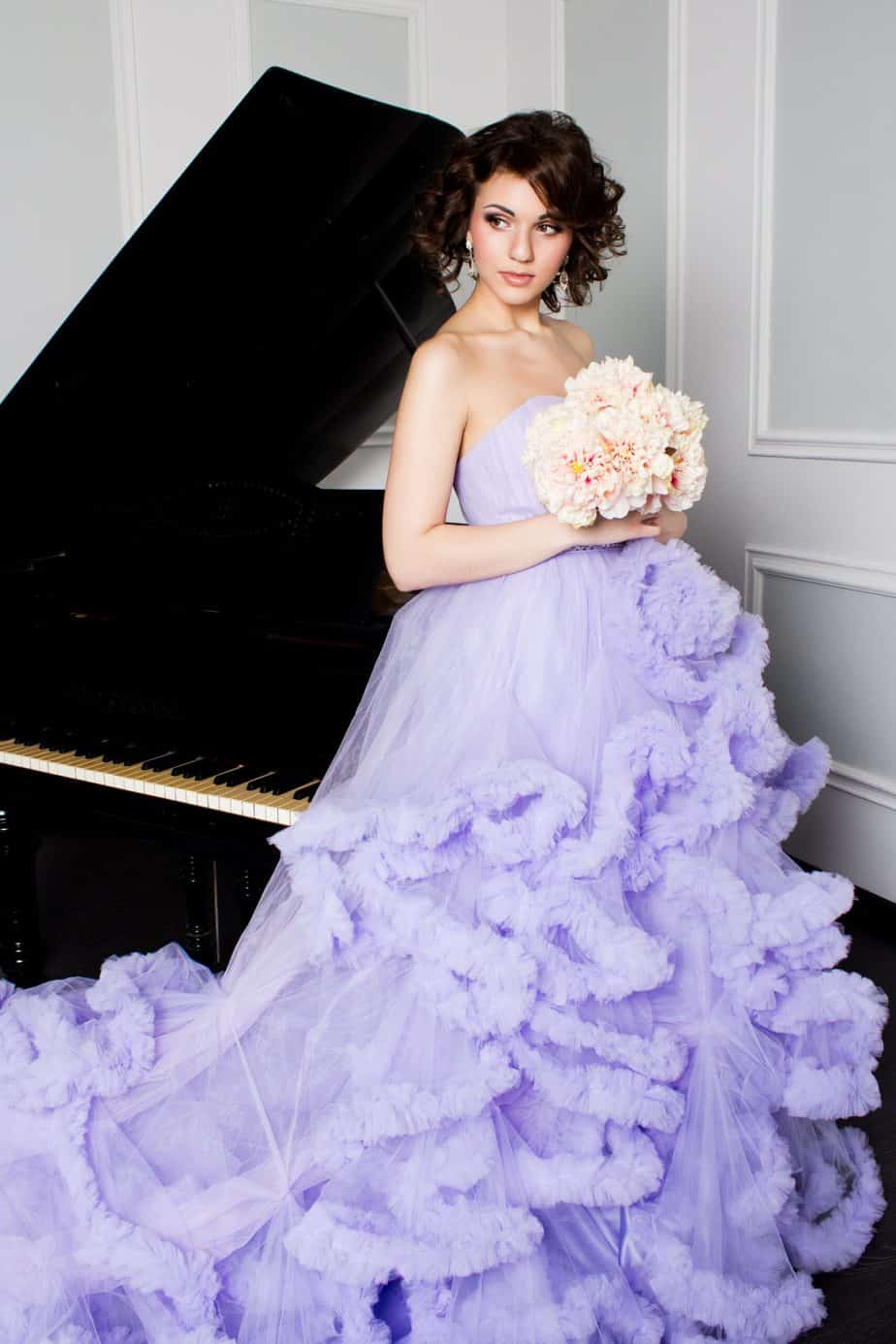 You probably have your reason for considering a lavender wedding dress. Maybe it's your favorite color or the one you think looks best with your skin tone and features. Perhaps it's so perfect for the venue you've picked out and the other wedding colors you have in mind, you feel like a lavender dress would tie everything together. Here are some reasons to choose lavender:
To stand out and show your personality

For the aesthetic (to match your venue, wedding colors, groom's attire, what you want your bridesmaids to wear, time of year, time of day photos will be taken, etc.)

For a romantic or more casual vibe

To save money, since you'll be looking at a lot of dresses that aren't traditional styles with yards and yards of fabric as well as beading, crystals, and other intricate details
Lavender Dress Downsides
If you want a traditional ballgown style of lavender wedding dress, you may run into a few roadblocks. They can be challenging to find, especially at certain times of the year.
Who Looks Best in Lavender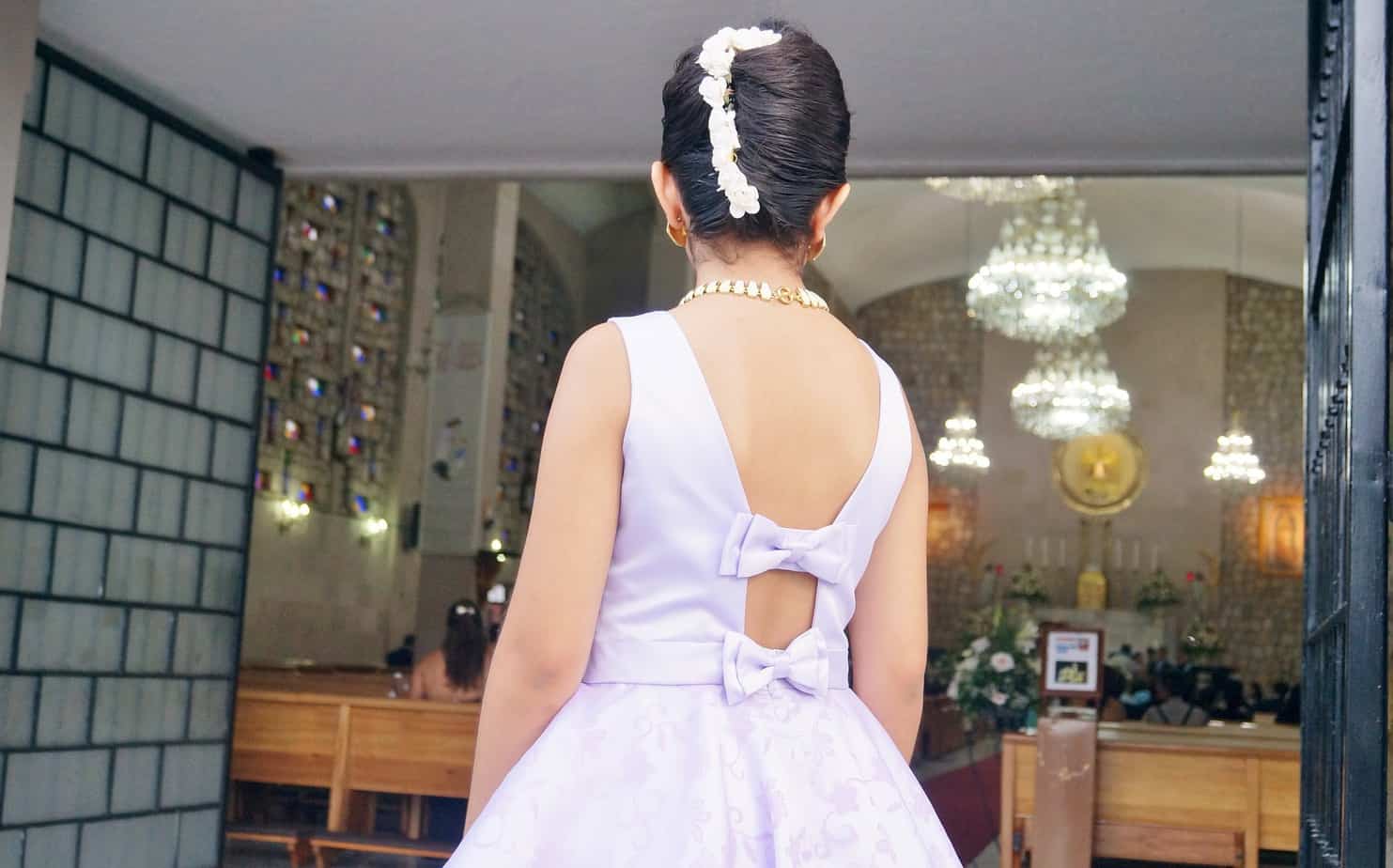 Cool-toned ladies will have the easiest time with lavender, but that's not an absolute rule. If you're looking at the lighter pinkish-purples and bluish-purples, that's usually true, and cooler skin tones can indeed pull off a wider variety of purples than warmer ones.
That said, if you see a dress you feel drawn to, consider it. If you can, try it on or order a swatch! Some lavenders lean warmer than others. Depending on your coloring, a deeper, lighter, clearer, or more muted shade of lavender could be the one that makes your complexion come to life.
When to Wear Lavender
You can wear a lavender wedding dress any time of year, but it'll look most natural during the spring and summer. Lighter purple shades are usually traded for deeper plums and eggplants when the days get shorter and the temperatures drop.
Is Lavender a Fall Wedding Color?
In the fall and winter, you can still use lavender if you anchor it with deeper, richer shades. Try those darker purple shades, navy blue, gray, sage green, burgundy, or wheat (look at Color Bridesmaid for a beautiful example of lavender and actual wheat used in a wedding).
What Wedding Colors Go with Lilac and Lavender?
Colors that look gorgeous with the lighter purples include:
Navy blue

Burgundy

Wheat

Sage

White

Taupe

Dusty aqua

White

Blush

Eggplant

Plum

Yellow

Soft peach

Seafoam green
FAQs
Still not sure about the lavender wedding dress idea? Here are some frequently asked questions that might help you make your decision.
Question: Can a bride wear purple?
Answer: There's no rule that says you have to wear white, off-white, or even blush on your wedding day. It's just tradition (and not even a worldwide one!) that you can choose to follow or divert from. In some places, red is the color to wear, while other superstitions call it bad luck. (I haven't seen purple wedding dresses mentioned anywhere as bad luck, for what it's worth.)
Question: What does a purple wedding dress mean?
Answer: Royalty, romance, with a touch of whimsy. Dream Days Bridal Wear also calls it a nod to the past, a bit of nostalgia.
Question: How many months in advance do you buy a wedding dress?
Answer: To be on the safe side, Brides recommends buying your dress nine months in advance (and choosing your venue first). Six months out is the latest you should consider buying a wedding dress. 
Question: Can wedding dresses be purple?
Answer: Of course! Wedding dresses can be any color if you're willing to skip the traditions and aren't superstitious. If you can't find one in the bridal shop that you'd love to wear on your big day, you can always branch out to consider bridesmaids' dresses or even prom dresses to get the perfect purple shade.
Final Thoughts on Lavender Wedding Dresses
Think about how you want to feel on your wedding day. Imagine yourself in a lavender gown. What style is it? Does it make you feel beautiful, feminine, sexy, lucky, special…(insert your own adjective here)? If so, there's a strong chance you need to buy the lavender dress.
My personal favorite here is the Mac Duggal Embroidered and Embellished Tulle Ballgown. Still, the one for you will depend on where and when you want to have your wedding, personal preference, and what feels comfortable on your body and makes you feel more beautiful than ever before.