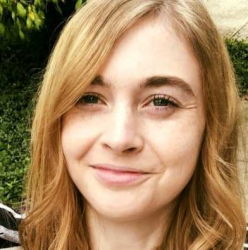 Latest posts by Erin Jamieson
(see all)
A diamond engagement ring is a true classic– but as more millennials are tempted towards diamond ring alternatives, come online fine jewelry retailers like Tacori Rings are taking time to review their strategy.
Tacori Rings are just one of many companies, in addition to competitors like Cartier, Nadine Tacori, and even Tiffany and Company, which has begun to change up their collection to offer new, unique engagement rings and wedding rings designed specifically for millennials desiring a different look.
These changes, which likely continue to evolve, were first noted at the end of December 2018 in a Forbes feature. At that time, Tacori Rings had celebrated its 5oth anniversary in business and we're looking for a change.
Tacori Rings, likely best known for their diamond and high-end jewelry appearances on Seasons one through eight on The Bachelor, decided to find new ways to appeal to millennials, including the launch of a collaboration with Who What Wear to create fine jewelry at affordable prices.
But while Tacori Rings may have expanded its inventory, it's also true that, if anything, the changes may have only expanded the spotlight of its blend of unique craftsmanship, and, of course, signature engagement and wedding rings.
In this review, I'll tell you all you need to know about Tacori Rings before you make a purchase, with a focus on their engagement rings, to tell you whether or not you should buy.
About the Company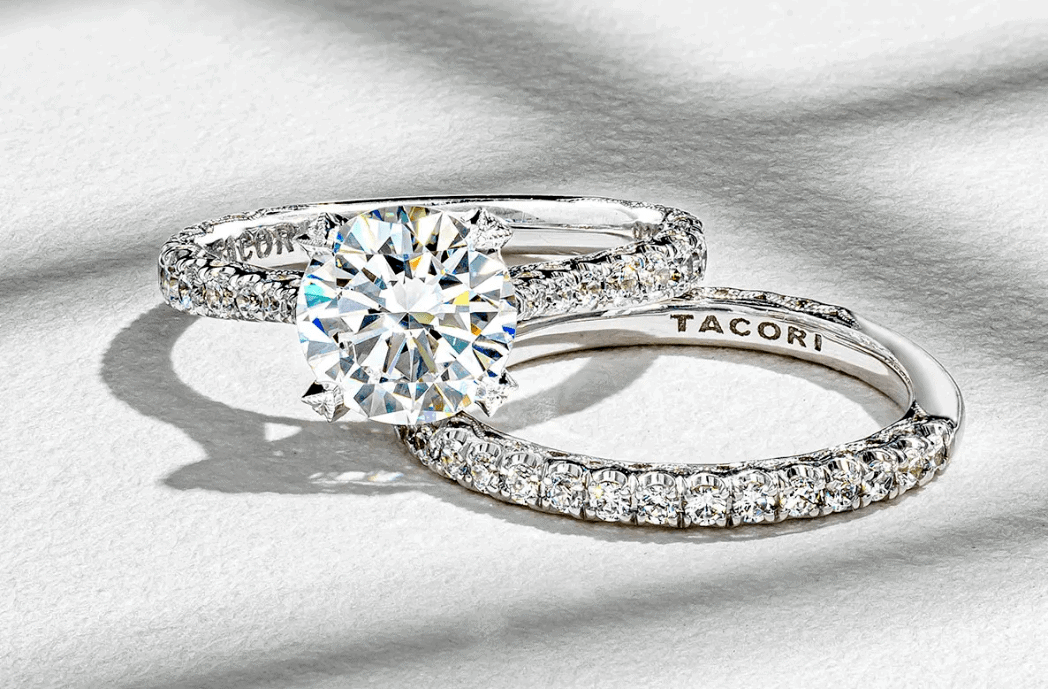 The first place I want to start is the basics– who Tacori Rings are, the mission of the company, and other factors are all important factors when shopping for any wedding or engagement ring.
Who owns Tacori jewelry?
Tacori jewelry, or by its official name, Tacori Rings, is owned and operated by husband and wife Haig and Gilda Tacorian. Gilda and Haig, the co-founders, were both born in Romania, but the communist regime during the late 1950s forced jewelers like the Tacorians to forfeit all precious metals.
Both Tacorians had American ancestry and were able to emigrate from Romania to the United States by 1970. From there, the couple co-founded a jewelry company with Gilda's father– but went on to found their own Tacori Rings, nine years later.
Where are Tacori Rings located?
Tacori Rings are located in California, in the famed downtown Los Angeles jewelry district. While they don't readily supply their address, nor do they offer in-person showrooms, you can schedule virtual video call appointments, or reach out via email or direct phone call.
What is the Tacori Rings process and mission?
I sometimes take mission statements with a grain of salt, if only because the most important factor is that the company actually delivers on its promises. Nevertheless, a company's mission can supply some information about their general standards and approach.
For instance, a company like Blue Nile emphasizes ethical sourcing, whereas Tiffany & Company places an emphasis on modern and elegant designs. Tacori Rings have several claims that supply the foundation for their ring collection.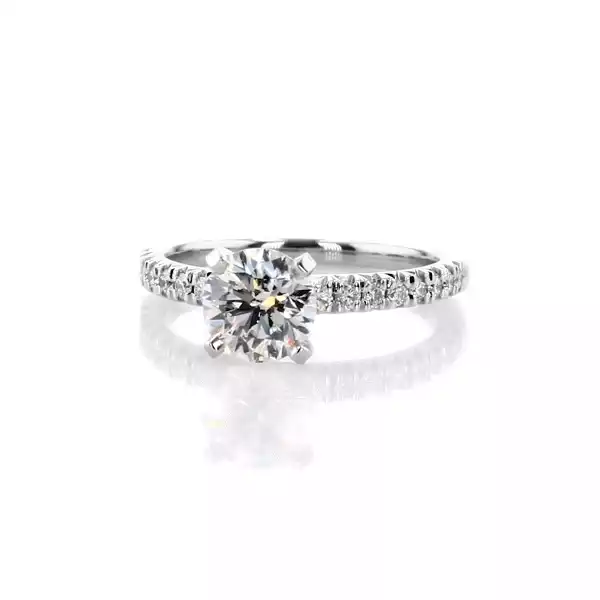 Build Your Own Ring | Blue Nile
Create a beautiful ring in just 3 steps: Choose from thousands of certified diamonds, pick your style from our large collection, and complete your ring (Plus free, insured shipping on every order).
Start Now!
We earn a commission if you click this link and make a purchase at no additional cost to you.
Designer Vision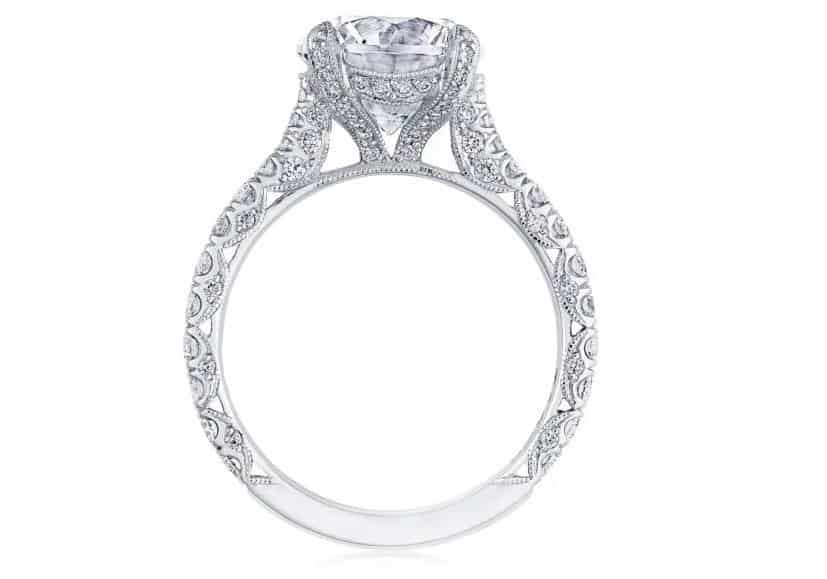 In what they term a designer's vision, ring designs are created in their own creative studio and sketched out with unique details. Especially interest is given to each facet of the ring and is predicated on what they call a distinguishing 'crescent silhouette' which appears to be the starting point for all of their rings.
Computer-Aided Design
This artistic vision is given a modern update with computer-aided design. The computer-aided design allows Tacori Ring designers to not only create innovative styles but also rings that are at their optimal proportions and dimensions.
Using computer-aided technology, Tacori Rings are created with precise angles in mind. The company also claims this design allows for consistent production.
Prototype Laboratories and Alchemy
Don't worry: you don't need to be a fine jewelry expert to understand this facet of the production process. Tacori Rings takes their original designs and uses 3D renders to create rings with consistency, and quickly. From there, these 3D prototypes are cast in precious metals in small batches.
Setting and Quality Excellence
Diamonds and gemstones are set by individual artisans, vs machines, and double-checked for quality before being sent out to customers.
My Takeaway
I really like, on the surface, the level of transparency and insight into their process. While some companies may make broad claims about attention to detail or quality, here you get a look at how they produce rings, step by step.
The blend of unique designs and craftsmanship with modern technology seems both realistic and is preferable to mass-produced rings– while still allowing for proper quality control and consistency roadblocks you may encounter with rings that are designed from scratch.
Customer Service and Shipping

You can fall in love with an engagement ring or wedding ring and still have poor customer service– a critical factor when shopping for even loose diamonds online. For this reason, I always check to see what kinds of policies, from refunds to shipping, that the company offers.
How long does it take to get a Tacori ring?
Tacori Rings offers two shipping options: either overnight (2 days) shipping, or ground shipping within the United States and via UPS. While in-stock items will ship within 3 to 5 business days, it can take up to 2 to 3 weeks for those not in stock. The good news is that you'll get an estimated date of arrival, and also have the ability to track your order via UPS with your tracking number.
Do note that, as is customary, you'll need to sign for your package upon arrival. Ground shipping is free for any order over $250.
Does Tacori Rings offer returns or exchanges?
Tacori Rings offer a full refund for a product but in a fairly tight window of 15 days. The ring or piece of jewelry has to be returned in its original condition, with no signs of wear.
You'll have to access your online account (My Account) and select the order you wish to return. From there, you follow a step-by-step process and are required to include a return authorization number. Refunds are processed within 30 days.
Does Tacori Rings offer repairs?
Tacori Rings offers some limited repairs. You can contact customer service to see your options. Do note that repairs are not free– you'll be quoted a price.
My Takeaway
Tacori Rings offers fairly standard shipping and return policies. While it is not entirely uncommon to be more limited in repair options, the impetus seems mostly to be on the customer to take care of their jewelry. While understandable to a degree, their policies are less generous than some competitors.
About the Diamonds
Of course, one of the most important factors in deciding on a fine jeweler like Tacori rings are diamonds or gemstones. Not all diamonds are alike. On the market, not only does quality vary a good deal, but you'll also be faced with a bevy of choices, from natural vs lab-grown diamonds, to even diamond stimulants, and other gemstones.
Are Tacori Rings real diamonds? Are Tacori diamonds labs created?
The good news is that Tacori Rings do feature real diamonds. In fact, all diamonds and gemstones are rated at the clarity of VS or higher, as well as G color, both desirable. Granted, this is par for the course for a reputable company.
That said, I am less than pleased that there isn't much information on their website. While you can select by carat size, there really is no information about how or where the diamonds are sourced from.
For natural diamonds, I like to see some statements about this, considering all the potential sustainability and ethical issues that still remain concerns to this day. In this sense, it's difficult to also say where Tacori diamonds come from.
One thing they are less than clear about is that they supply both lab-created and natural diamonds– I'd like to see that information upfront, as, for some, it may make a difference.
Keep in mind that lab-created diamonds are still 'real diamonds' in that they share the same properties as a natural diamond, though there are some differences (read about lab-grown diamonds here).
Perhaps more concerning to the average customer, Tacori Rings do not appear to come with an original AGS or GIA report, which would include specific details and ratings from professionals in the industry regarding factors such as cut, clarity, color, and carat. While you can reach out to the American Gem Society, for instance, yourself, I prefer that these reports come with a diamond purchase.
About the Rings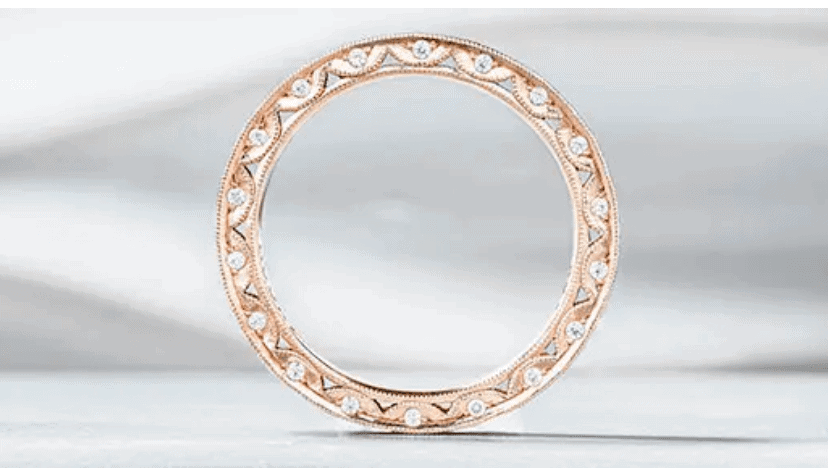 For the rings themselves, you want to pay attention to metal type, quality, and, of course, the price point.
Are Tacori rings good quality?
Tacori rings are, without a doubt, fairly decent quality– they use some of the most durable metals and materials, plus their step-by-step process adds a level of quality control other companies may bypass.
You'll have options for 14K up to 18K white, yellow and rose gold, and even platinum. Platinum is known for its exceptional beauty and durability and potentially the best metal type you can select for your ring.
There's also artisanship to consider. Due to their unique step-by-step process, these designs are not mass-produced. They also feature a crescent arch– which is not used by other fine jewelry companies.
The level of detail, artistic quality, and beauty of the engagement ring and wedding collection certainly is something that will catch many customer's eyes. I especially appreciated the stunning elegance, as well as options for stacking rings.
How much do Tacori Rings cost?
One prohibitive factor for some may cost. In part, because Tacori rings are designed individually and handcrafted, this painstaking process adds to the total cost of the ring. Engagement rings range from $1490 for a one-carat Coastal Crescent on 14K white gold to a little over $22,000 for a RoyalT Eternity diamond engagement ring on platinum.
For wedding rings, bands range from $1,590 for a Sculpted Crescent with pink sapphires on 18K rose gold, through an eye-watering over $27,000 for a RoyalT platinum and eternity diamond ring. The starting price point is higher than average, and overall, you'll spend more by carat size than you would elsewhere.
The good news is that there are options below the national average spent on an engagement ring (which, to be fair, can be a deceptive statistic, as outliers spend far more than the average). However, if you want to spend less than $1500, you'll need to find a wedding ring or engagement ring elsewhere.
Why are Tacori rings so expensive?
On a side note, part of why Tacori rings are so expensive is one of the most compelling reasons to buy one. Handcrafted in California, with creative design studios, with the addition of both mechanical settings and computer technology, there is a good deal that goes into the process of making a Tacori ring.
Beyond that, by opting for higher quality metal, you're naturally going to pay a larger price point. That said, part of the cost, as always, is also connected to the name. Earning a reputation for unique designs, many many simply are willing to pay more.
What style of rings does Tacori offer?
Of course, personal style is always an important part of finding the best engagement or wedding ring. With Tacori, the style, in some ways, feels more consistent to me than other jewelry retailers– likely living up to their statement that their process allows for consistency and quality control.
As you can imagine, this can be good or bad, depending on what you're looking for. Most Tacori rings range from classic to classic modern, with an emphasis on a sleek metal band and a center diamond.
While there are variations in terms of accents, most engagement rings focus on the glitz of the diamond itself and shy away from extra adornments. It's a relatively small selection for both wedding rings and engagement rings, but this also means you're less likely to feel overwhelmed.
You won't find any vintage-inspired engagement rings, or anything like nature-inspired rings, either. Rather, the focus is on sleek, modern-day elegance, and, of course, diamond scintillation.
What do customers think about Tacori Rings?
One of the final factors I consider for whether or not to recommend fine jewelers for engagement and wedding rings is company reputation. When it comes down to it, you can have exquisite products and a great selection, but if the company doesn't deliver on its promises, that is, needless to say, problematic.
Tacori Rings are not officially accredited with the Better Business Bureau, though it does hold an official A+ rating based upon field and closed complaints.
While it's been in business for many decades, it currently is listed as employing just a dozen employees– which I do like in terms of staying true to their mission of handcrafting, personal communication, and unique products.
There is a dearth of customer reviews– you have to search quite a bit to come across much. Across several sites, most customers seemed to impress with the quality craftsmanship and beauty of their Tacori Rings. In addition, there is just one field and closed the complaint on BBB.
My Takeaway
While I would have loved to see more reviews, Tacori Rings enjoy a fairly positive reputation for their quality, without any red flags or exceptional concerns.
FAQs
Question: Are Tacori rings made in China?
Answer: No. Tacori rings are crafted by hand, with the help of computer modeling software, in California. This makes for truly unique rings.
Question: Do Tacori rings hold their value?
Answer: Tacori rings, like any other ring, have value depending on the cut, clarity, color, and cut of the center diamond. Other factors include metal type. Because Tacori rings use high-quality metal, they tend to be more valuable than some rings. Read here if you're interested in where to sell your ring online.
Final Thoughts & My Picks
Tacori Rings offers a selection of beautiful and unique rings of higher quality than some competitors. I give this a yellow light– I do think it's a good option for those with a moderate to higher budget, and who aren't as concerned about lab-grown vs natural diamonds.
For someone who is most concerned about having a unique and handcrafted ring, Tacori Rings deserve some consideration. Here are just a few of my favorite engagement rings they offer.
For a True Classic: Petite Crescent RoyalT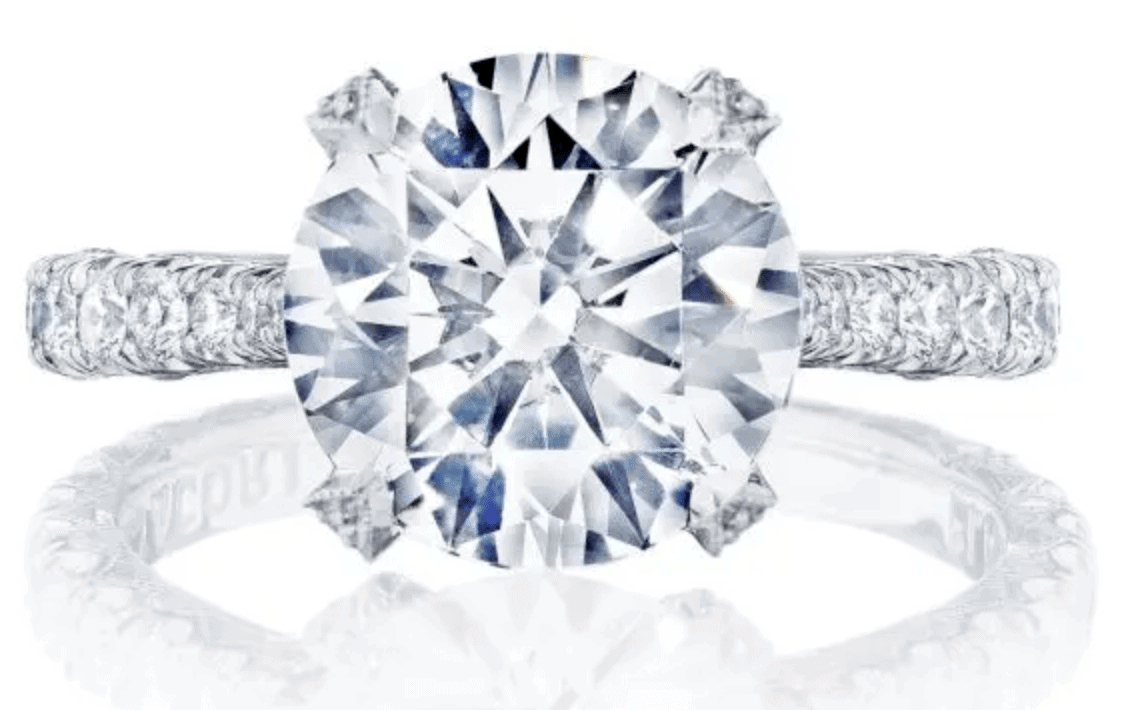 This stunning ring is a classic for anyone who loved diamonds. A beautiful diamond is on full display, set on your choice of platinum or 18K yellow and rose gold. It's both classic and still modern and a true show stopper. Buy Here.
For the Minimalist: Simply Tacori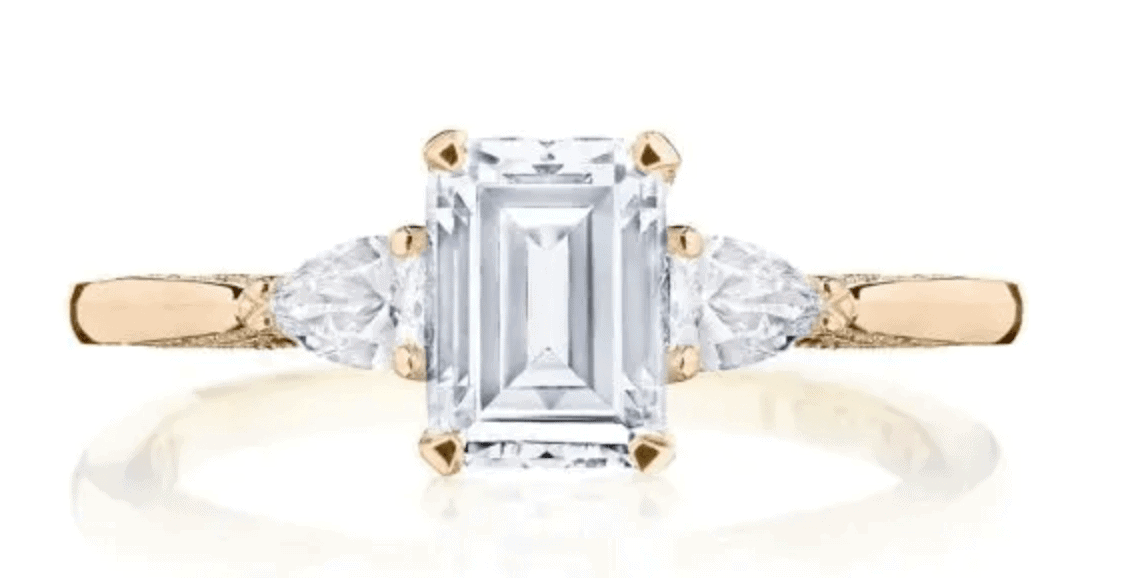 One of my personal favorites, this more minimalistic design allows you to select the diamond shape of your choice, along with platinum or 18K yellow, white, and rose gold. The sleek band places emphasis on the diamond for more understated elegance. Buy Here.
For Modern Day Royalty: Inflori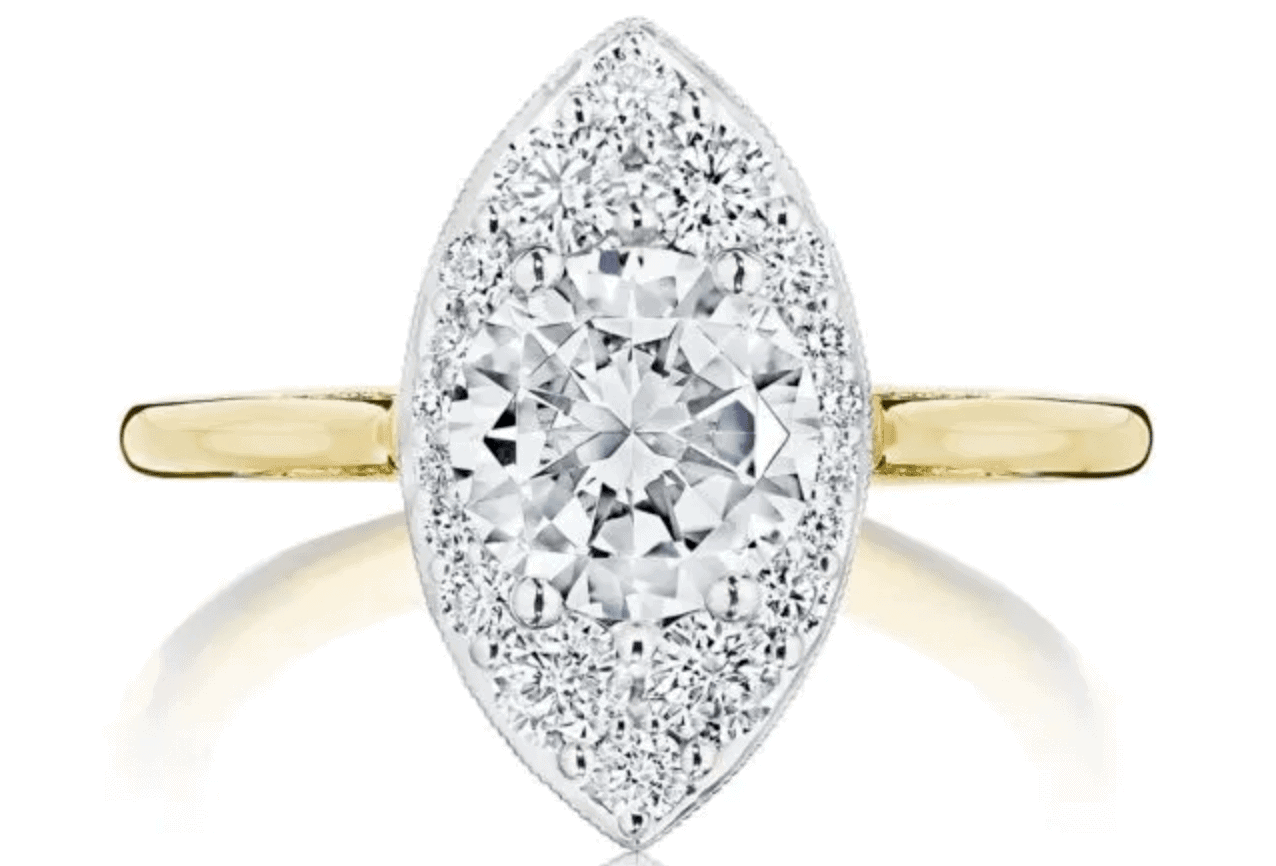 There's something about the design of this engagement ring– maybe it's the slender band, or the Marquise and Pear shapes– that feels like a modern, regal take. Elegant in execution, the 18K yellow gold offers a stunning contrast with the diamond. Buy Here.
Interested in other Tacori products? Shop Jewelry Here or Anniversary Gifts Here. If you are interested in ethically sourced diamonds, consider Brilliant Earth or Blue Nile.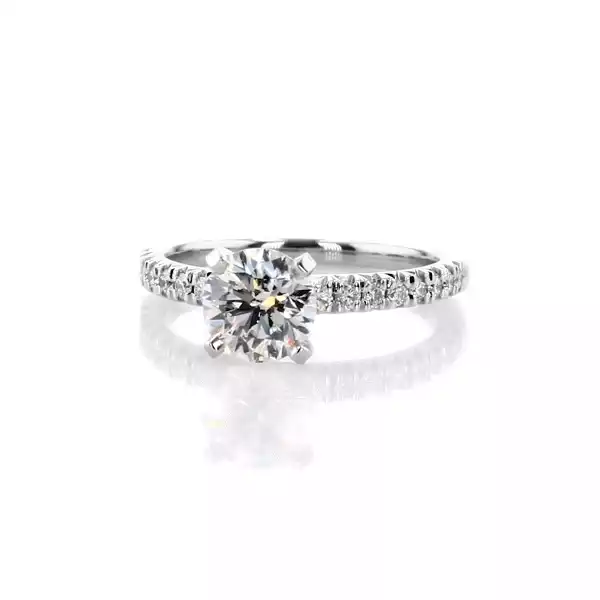 Build Your Own Ring | Blue Nile
Create a beautiful ring in just 3 steps: Choose from thousands of certified diamonds, pick your style from our large collection, and complete your ring (Plus free, insured shipping on every order).
Start Now!
We earn a commission if you click this link and make a purchase at no additional cost to you.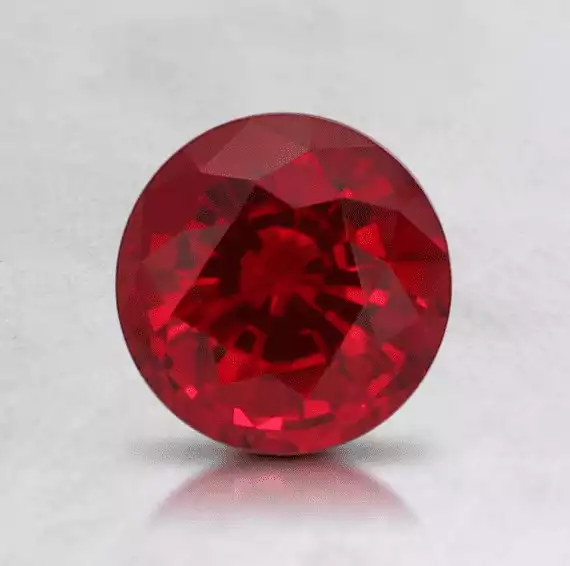 Loose Sapphires and Colored Gemstones | Brilliant Earth
The beauty and durability of sapphires have made them prized since antiquity, and they're available in blue, pink, yellow, and many stunning shades in between. Emeralds, historically the gemstone of royalty, are available in luminous green hues.
Check prices
We earn a commission if you click this link and make a purchase at no additional cost to you.