Online shoppers often have some skepticisms when purchasing items because it can be hard to know just what you will get in the mail. You may spend time researching, reading reviews for, and even googling the items you are going to buy and their sellers. This is especially true when it comes to buying things of great value, like jewelry, over the internet.
When you are looking for a good online jeweler, you want to make sure they have everything you could ask for. You want to buy from a company you feel you can trust, and someone you feel will be able to deliver what you ask for. You will want a company that is reliable, has quality products, provides good customer service, and has affordable prices and financing options.
When it comes to buying from an online jeweler, you want to be sure that you know from whom you are buying to ensure that you get exactly what you ask for. The online jewelry retailers Allurez and Blue Nile are both good options, but it can be hard to come to a final decision. From which of these companies should you choose to buy?
While Blue Nile is more affordable than Allurez, Allurez offers their customers more payment methods. Allurez has faster shipping than Blue Nile, but Blue Nile has a better return policy. So, which of these online jewelry companies would be the superior choice? Let's delve a little deeper and take a closer look at what each of them brings to the table.
Early Black Friday Offers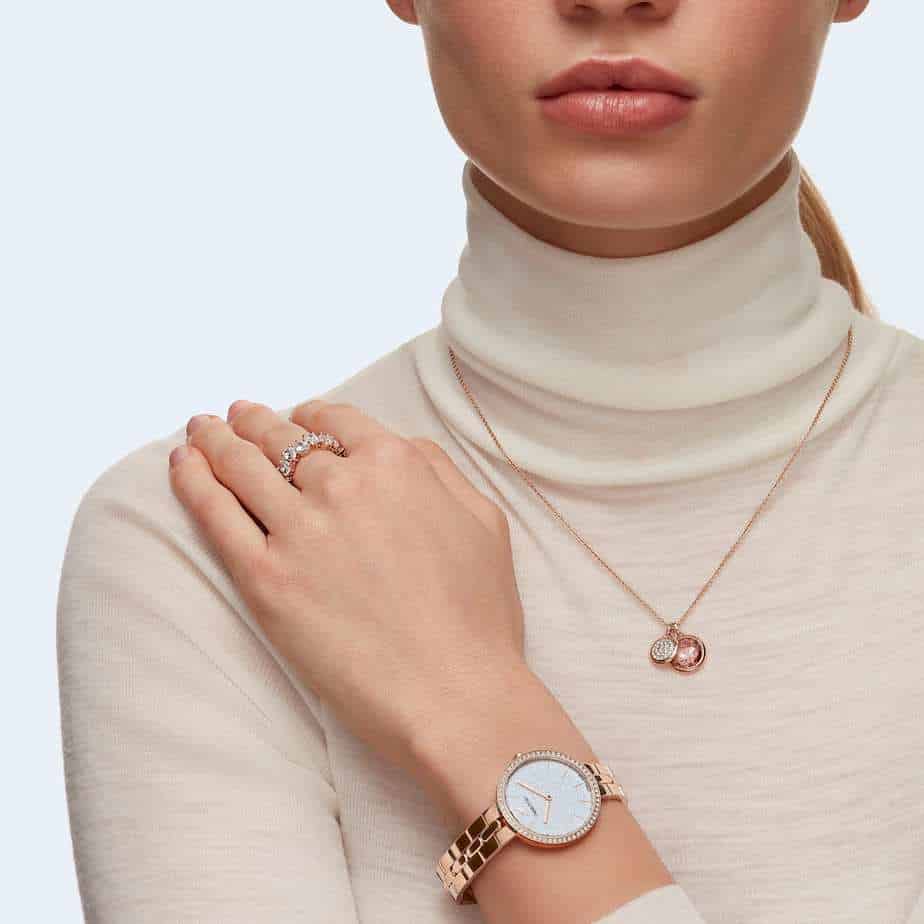 The Best Match: Swarovski + Love You Tomorrow
We partnered up with world-renowned brand Swarovski to bring you these EXCLUSIVE BLACK FRIDAY OFFERS: 25% OFF on selected styles AND 50% OFF on select watches! Just in time for the Holiday season.
(Sale starts Nov 21st until Nov 30th)
Start Saving!
We earn a commission if you click this link and make a purchase at no additional cost to you.

Main Differences Between Allurez vs Blue Nile
The main differences between Allurez vs Blue Nile are:
Allurez allows you to finance your purchase with Affirm and PayPal Credit whereas, Blue Nile offers their own credit applications.

Allurez only charges sales tax in New York whereas, Blue Nile charges sales tax in all 50 states.

Blue Nile offers a price match guarantee whereas, Allurez does not.

Allurez offers customers nearly any payment method that might work for them whereas, Blue Nile only offers a few.
Allurez Review

The online jewelry store Allurez, which was founded by Raphi in 2010, holds itself to a high standard of quality products and prides itself in having jewelry that is handmade in the United States of America. They commend themselves for their customer service, quality, and great range of both products and prices.
Anything you order from Allurez will arrive in beautiful condition and the company is very accommodating and easy to work with. They have plenty of options when it comes to engagement rings, unique jewelry, and anything else you might want.
The company sells jewelry made in the U.S.A., and uses naturally sourced gemstones in all of their products. This – along with their shipping services, prices, and customer service – allows for a wonderful online shopping experience. Allurez also offers military discounts to thank those who have served their country.
The quality of the product and the design are all original. Pricing, even without a discount, is excellent, and shipments arrive quickly.
Allurez offers affiliate and ambassador programs for customers looking to commit to the company and earn some commissions from their alliance. They also bring a loyalty program to the table, which helps you earn points that can count towards a discount when you shop at Allurez. Your jewelry can be kept for up to 365 days in store if you are not ready to pay with Allurez's layaway plan, too.
Allurez, which is listed among the top ten fastest growing online jewelry stores and has a consumer review rating of 4.65 stars, is well known for its customization options and a website which is easy to navigate. Allurez customers can select from some good financing options. Allurez also supports more payment methods than Blue Nile.
The website is easy to use and has simple, straightforward tabs you can utilize for designing and purchasing your jewelry. You can select from a multitude of gemstones for your center and side stones, and there are a wide variety of metals from which you can choose. A selection of matching sets provide you with gorgeous coupled rings, earrings, bracelets, and necklaces in many different designs and styles.
Pros
Affiliate program

Ambassador program

Customization options

Delivery of 1-3 business days

Easy purchasing process

Financing options

Free shipping

Good customer service

Insured shipping

Layaway plan

Loyalty program

Supports more payment methods
Cons
Does not offer a rewards program, unlike Blue Nile

Does not take care of return shipping payments like Blue Nile

Offers only a one-year warranty
Blue Nile Review

Blue Nile, founded in 1999 as one of the first online jewelers, is a well known, reliable online jewelry store that offers you beautiful, affordable gemstones and arrangements. They believe that their customers deserve an open, straightforward seller and buying experience.
Their service is excellent and they offer plenty of high quality options. The customer service is friendly and always willing to go above and beyond to help repeat customers find jewelry that matches their taste according to what they've purchased before.
Blue Nile gives you handcrafted, ethically-sourced, and high-quality gems and jewelry. They make sure to check that the products they send you are of high quality and crafted with care. The company also provides their customers with expert diamond and gemstone advice and education to assure that the customer is getting what they need.
Blue Nile offers you price matching and negotiation for your convenience. You can customize your orders, or order something they have already made. Shopping at Blue Nile also comes with a smart rewards program for returning shoppers and frequent discounts on their well-made jewelry.
Jewelry is durable and high quality, so they make excellent gifts. Delivery is prompt and you'll get just what you wanted at a great price.
This online store gives you plenty of reassuring leeway with their 30-day return policy, and their lifetime warranty and guarantee. You can rest easy knowing that your jewelry will be delivered securely. All Blue Nile shipments are insured and sent with care. Returns are free, and customers can sell the company diamonds.
The Blue Nile website is simple and uncomplicated, making your shopping experience quick and near effortless. With a selection of a multitude of both gemstones and metals, it is easy to get what you have been looking for. You can either build your own jewelry, or choose from the lovely selection of pre-set engagement rings, wedding bands, necklaces, bracelets, and earrings of ranging styles, builds, and designs.
Pros
Blue Nile Credit Card

Customization options

Easy buying process

Financing options

Free shipping

Frequent discounts

Friendly customer service

Gift cards are available

Insured jewelry

Insured shipping

Lifetime warranty

More affordable prices

Pays for return fees

Price matching policies
Cons
Delivery of 4-5 business days

Does not have loyalty programs

Does not support as many payment methods as Allurez
The Best Choice for Diamond Engagement Rings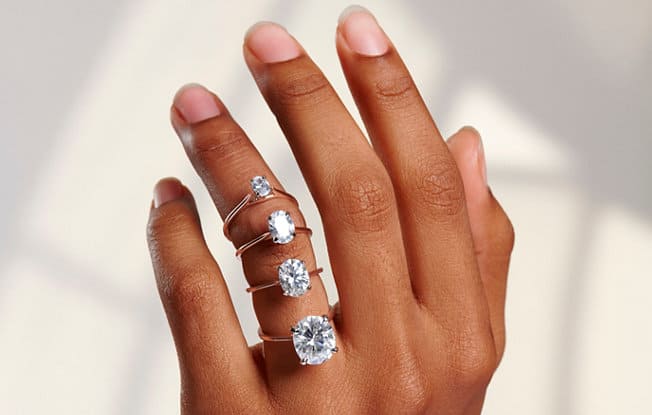 If you're shopping specifically for diamond engagement rings, you may feel some trepidation with purchasing it online. Believe it or not, Blue Nile pioneered the online engagement ring by cutting out the middle man, designing engagement rings in-house, and shipping them directly to you. They can offer the same ring for less than half of a traditional jeweler.
Blue Nile came on the scene roughly a decade before Allurez, but they're both very similar in their offerings. Unfortunately, that's not always a good thing. Neither Allurez or Blue Nile offer 360-degree views of their diamonds. Many of the photos on the website are stock photos. However, with Allurez, you can filter your search results by certification to ensure you're getting a quality diamond.
The inventory on both sites is extensive, so you have a lot of options, but if you're looking for a diamond engagement ring, Allurez generally offers more options and allows you to filter your search results for quality.
FAQ
Question: What kinds of payment methods does Allurez accept?
Answer: Allurez works with a variety of payment options like Amazon Checkout, Affirm (great for monthly payments), American Express, Discover, Visa, Mastercard, check, money order, and wire transfers. With such a variety of options, you'll find that you'll get exactly what you want in a way that works for you.
Question: Are the gemstones in the jewelry created in a lab/synthetic?
Answer: All gemstones used in Allurez jewelry are natural, so you won't have to worry about fake or synthetic stones. You won't get ripped off, your jewelry won't be lower quality than you expect, and you'll definitely get your money's worth.
Question: What is Allurez's return policy?
Answer: Their return policy allows customers to return their product within 30 days of receiving the jewelry. The customer should receive a refund within 5-7 business days after the company has gotten back and inspected the returned product.
Question: Does Allurez offer shipping insurance?
Answer: Yes, the company offers free shipping insurance on all orders, ensuring that your jewelry arrives on time and in one piece. If it doesn't, the insurance will allow you to replace it.
Question: Does Allurez charge sales tax?
Answer: Allurez only charges sales tax on products shipped within New York State, which works out great for most people. There won't be any hidden costs, unless you live in New York, in which case you'll have to allow for sales tax in your budget.
Question: What financing options does Allurez provide?
If you're looking for the best jewelry online, there are a lot of options. Allurez and Blue Nile are both excellent, but these frequently asked questions should help you learn more.
Answer: With Allurez, you can choose to pay with Affirm or "PayPal Credit" financing options. This allows you to make monthly payments in order to get the piece you want at a price you can afford.
Question: What payment methods does Blue Nile accept?
Answer: Blue Nile accepts American Express, Carte Blanche, China UnionPay, Diners Club, Discover, JCB, Mastercard, and Visa as payment methods. With Blue Nile, it's a bit harder to finance your purchase, but they still offer affordable prices.
Question: Are the gemstones in Blue Nile jewelry created in a lab/synthetic?
Answer: No, all gemstones sold at Blue Nile are natural. No fake stones or rip offs here. Only authentic, quality jewelry.
Question: What is Blue Nile's return policy?
Answer: Blue Nile allows its customers to return their jewelry for up to thirty days after the product is shipped. If you aren't happy with your order, you can exchange it or return it for a full refund.
Question: Does Blue Nile offer any shipping insurance?
Answer: Yes, Blue Nile offers free and discreet shipping for all their products. You won't have to worry about your package getting intercepted, and if it does, you'll get a replacement.
Question: Does Blue Nile charge a sales tax?
Answer: Yes, Blue Nile charges sales tax in nearly all 50 U.S. states. Make sure to work sales tax into your budget, no matter what you order.
Question: What financing options does Blue Nile provide?
Answer: Blue Nile allows you to apply for a Blue Nile credit card to determine your credit limit. You won't have to budget all of your purchases at once, as long as you qualify.
Final Thoughts
While both Blue Nile and Allurez are smart options for online jewelry shopping, Blue Nile seems to be the superior choice. The company provides you with a plethora of wonderful options. This is only one of the reasons why a company like Blue Nile is the right answer.
Blue Nile offers you both a wide variety of dazzling jewelry and affordable prices, working to give you just what you need. Customers shopping at Blue Nile can rest easy with the knowledge that the shipping of their order is insured, safe, and secure. The website is easy to use and navigate – an added bonus for a simple shopping experience.
Blue Nile is a company with their customers' best interests in mind. From the lifetime warranties on their jewelry to the insurance on both the shipping and the products themselves, this company is full of great options for your jewelry wants, wishes, and needs. Blue Nile has frequent discounts on their products, financial help, price matching, and paid returns – who could ever ask for more?
Online shopping can be scary – especially when you are looking for quality items such as jewelry. Blue Nile is a trustworthy and well-qualified company that can help you fulfill your jewelry wishes and desires. My hope is that you will be able to use this article to get out there and find exactly what you are looking for.
For more reading: