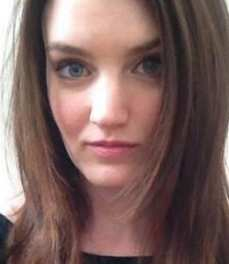 Latest posts by Crystal Schwanke
(see all)
Moissanite is becoming more popular as people veer away from diamonds (even in their engagement rings) and toward other more affordable, less controversial stones. If moissanite is good enough for your wedding rings, why not the pendant you wear at your rehearsal dinner, wedding, on your honeymoon, and beyond?
I remember when cubic zirconia was the go-to diamond alternative, but I prefer moissanite, and I'm glad it's getting more attention lately. Moissanite looks and acts more like a diamond in many ways, though it sparkles more (not necessarily a bad thing!).
The best moissanite pendant ideas are fun to look through because:
You can trust that moissanite will look brilliant in the light and be durable enough to last.

Moissanite comes in white, but it's also available in other colors, like pink, aquamarine, purple, blue, etc. (You can pretty much get moissanite in any color you can get a diamond, but for much, much less money.)

There are so many styles and, if you're like me, you won't feel obligated to pick a simple, classic style that'll look good with everything, regardless of how your fashion preferences and obsessions change over the years. With diamonds, I'd want to choose something I knew I could wear for decades and then pass it down to my daughter. I feel like it's easier to experiment and express myself with moissanite because of its relatively low cost.
Best Online Moissanite Retailer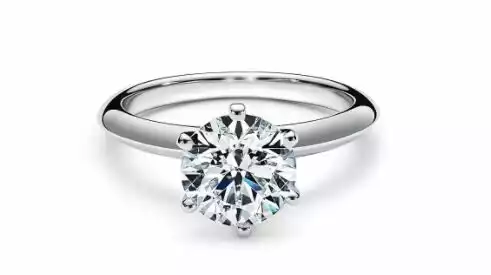 Bottom Line Up Front: Say Yes to Moissanite
Are moissanite pendants one of the best non-diamond options around? It looks that way. These are hard (almost as hard as diamonds), durable, easy to clean, and don't get cloudy over time. They can pass as natural diamonds, provided you don't go too large on the stone. The weakest link will be the chain, no pun intended. You'll want to look for quality metals and well-crafted chains if you want your pendant to last for decades.
Selection Criteria for the Best Moissanite Pendants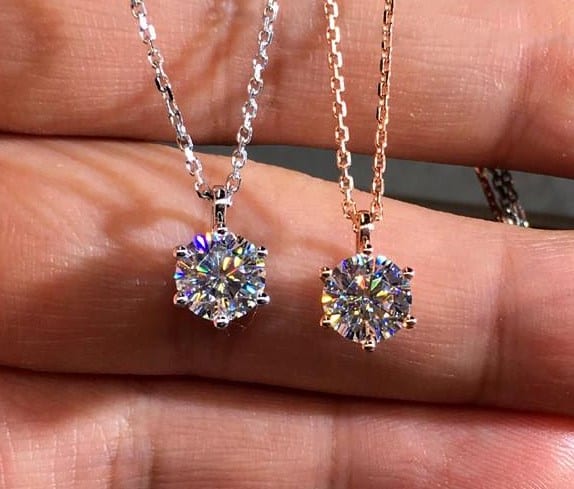 The best moissanite pendants range from vintage-inspired to unusual or trendy styles. There's a variety here that you might also find among diamonds. The difference is, you might be more hesitant to pay for the diamonds if you can't see yourself being thrilled to wear the pendant for decades even if you love it right now (the affordability is part of the moissanite's beauty!).
When I set out to find the best options with moissanite, I was looking for these:
Style: I wanted to show a range of styles. Some people will look for classic or vintage-style pieces that will last forever and possibly be passed on to children and grandchildren. Others may want something unique that shows off a facet of their own personality.

Price: Moissanites cost less than diamonds, but you'll still want to make sure you're getting your money's worth when you purchase new jewelry. Not all of these options have pricing information available. Still, it's something to think about when you're officially shopping, once you're done getting ideas of the types of necklaces you might like.

Size: The size of the stone (when listed) came into play because a moissanite that's just over one carat–

maybe

up to two carats–will be more likely to pass as a diamond. Some people will be shopping for diamond alternatives that still look like actual diamonds, while others will be interested in a radiant, beautiful stone.
What to Consider Before Purchasing a Moissanite Pendant
There are some stunning moissanite pendants on the market, so before you get caught up in the moment, pause, take a deep breath and determine what you're looking for. Here are some things to consider before you start your search or, at the very least, what to consider as you're searching for the perfect pendant for yourself or the gift recipient.
Are You Settling?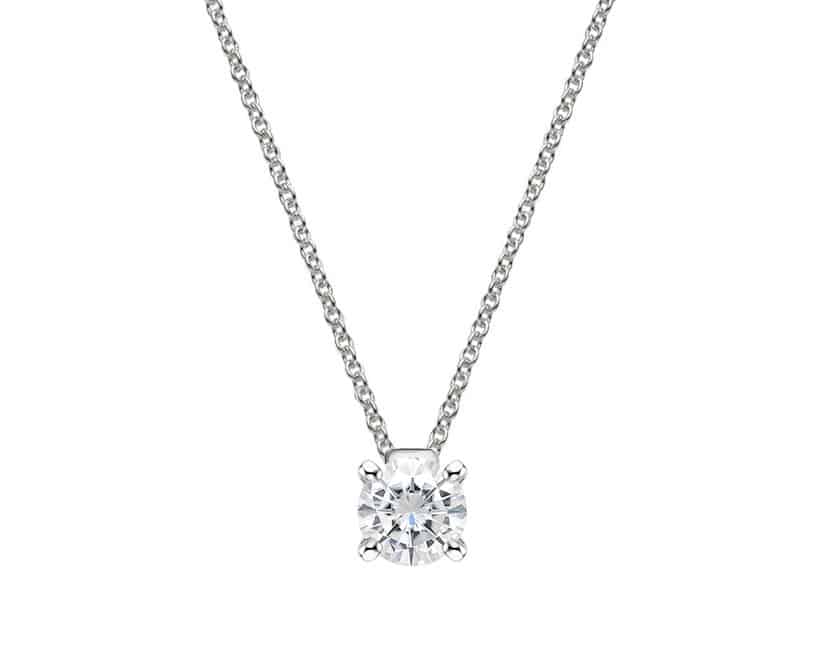 There's nothing wrong with moissanite, but if you have a nagging resistance about purchasing one because you really want a diamond, you may want to give yourself more time before making a purchasing decision. Wait until you fall in love with a moissanite option or save money for the stone you really want.
How Long Do You Hope to Wear the Pendant?
It doesn't really matter as far as stones go since moissanite is so strong and durable. Still, when you're selecting the style of the necklace and finish of the chain, you'll want to keep longevity in mind.
What's Your Ideal Metal?
Solid gold will take decades of wear more gracefully than the alternatives. Sterling silver is a good choice but may need frequent polishing. Sterling silver seems to tarnish on me almost instantly, so it's not my first choice, but that's not the case for everyone.
Do You Want It to Look Like a Diamond?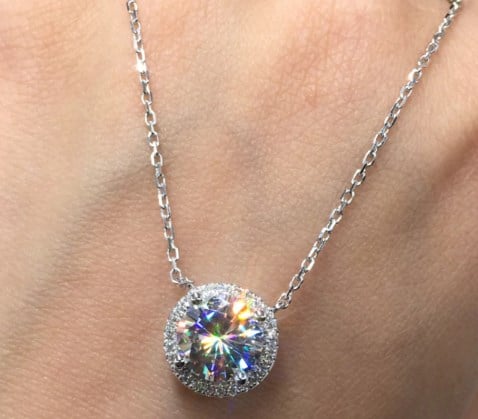 Moissanites do an excellent job at passing for diamonds, but do you care if yours does? If not, you can go for the colorful stones or larger stones that are simply beautiful on their own instead of as they compare to diamonds.
If you want people to think your moissanite is a diamond, there's no shame in that, either. Just be sure to keep that in mind as you consider color vs. white stones and the moissanite size. What I mean is, the average person won't be walking around with a five-carat diamond necklace dangling from your neck. If you're curious about what one of those would look like, you can check this one out).
The 14 Best Moissanite Pendant Ideas
Here are some of the best moissanite pendant ideas out there:
This sterling silver and moissanite pendant, shared by gemstone in jewelry on Instagram, has a vintage feel about it. It would be right at home next to diamond jewelry that has been handed down for generations. The simple style makes this type of pendant timeless; you'll be able to wear it for decades to come.
This BVL Skirt Moissanite 18K White Gold Side-Stone Necklace is another option with a vintage vibe. The stone size is one carat, so if you'd like to have your moissanite pass as a diamond and not raise too many eyebrows while garnering all the compliments, this is one to consider.
Necklaces like this one, shown by crystalgemorigin, is a simple design that features large round moissanite. It's not so large that people will automatically assume it's a "fake diamond" (if you're worried about that kind of thing). You could wear this one for the rest of your life without it ever looking outdated.
If you're looking for a cross pendant, something like this one shared by ipowell_liria on Instagram could work. It takes a classic, a simple cross, and covers it with moissanites for more sparkle.
Suppose you're looking for something unexpected but not exactly trendy. In that case, you may prefer something like this one, shown by galesjewelry.co. The interlocking circles are home to several small moissanites. Most of the moissanite options feature one main stone, with or without smaller ones surrounding it, so this is an unusual option. Even though this necklace deviates from the norm, it still falls into the classic style category.
LoniDesignGroup on Etsy has a made-to-order art nouveau style Modern Hamsa Pendant with moissanite. It's available in sterling silver, gold-plated, platinum, and 10k, 14k, and 18k yellow, white, rose, and green gold.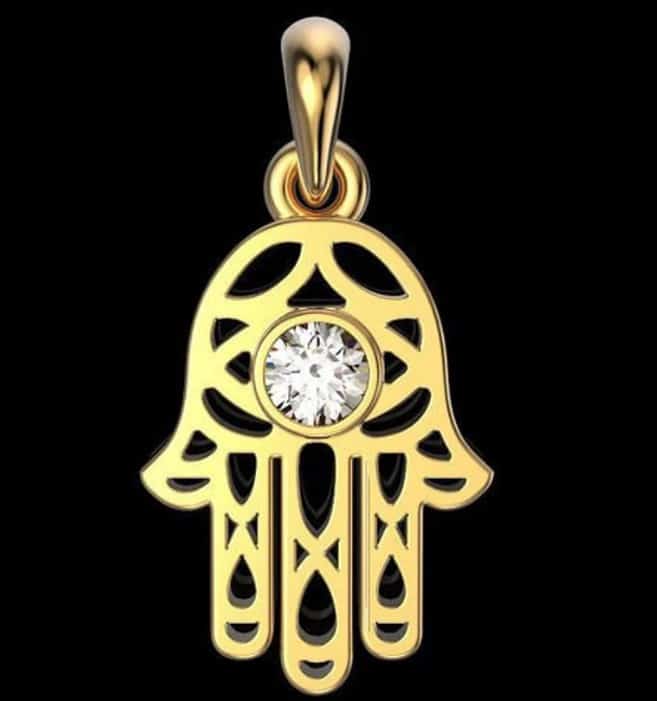 Some moissanite pendants are simple in style but stand out because of their color, and that's what this stunning Blue Green Moissanite Necklace from MoonbeamCrystal does. The aquamarine-colored stone comes on a 925 silver or gold-plated silver chain.
If it's color you want, this sterling silver pink moissanite pendant from LeMoissaniteCheri on Etsy is a gorgeous option. The stone is on the larger side–three carats–but if you're looking for an attention-grabbing statement pendant, this one or something like it could be the perfect purchase.
For a classic, clear, minimalist oval style, you'll love the 14K Solid Gold 1.25 Ct. Oval Cut Solitaire Necklace from Melchjewellery. Its delicate beauty will complement any wardrobe and will never go out of style.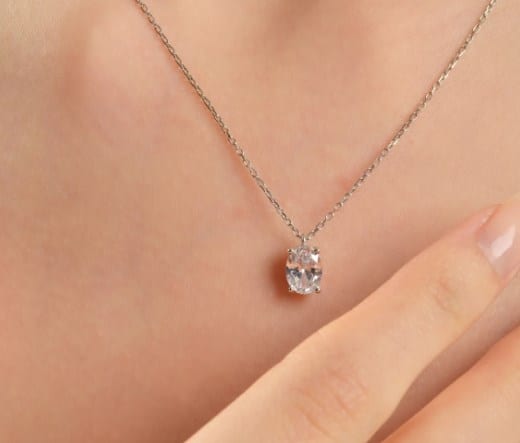 For a similar but pear-shaped moissanite pendant, there's this one from InfinityJewelersUSA. You'll be able to choose between a regular and heavy chain (16 or 18 inches long), 14k white or yellow gold.
GalantaJewels has a bezel-set moissanite solitaire pendant in 14K gold. You choose your size, from 3mm to 6mm, and whether you want a 16-inch or 18-inch chain. It's so dainty and elegant, I can picture Audrey Hepburn wearing something like it. It's understated and not your usual solitaire style.
If you love yellow diamonds, you'll probably want something like this Yellow Crushed Ice Moissanite Bezel-Set Necklace from LeMoissaniteCheri. It's a two-carat emerald cut stone set in 18k yellow gold-plated sterling silver. The yellow moissanite grabs your attention, but there's even more to see–smaller white moissanites along the chain.
Moissanites and crescent moon pendants seem to be having a moment, so why not combine them? StarJewelryArt has a One Carat Moissanite Moon and Star Pendant Necklace in white gold plated or 18k white gold.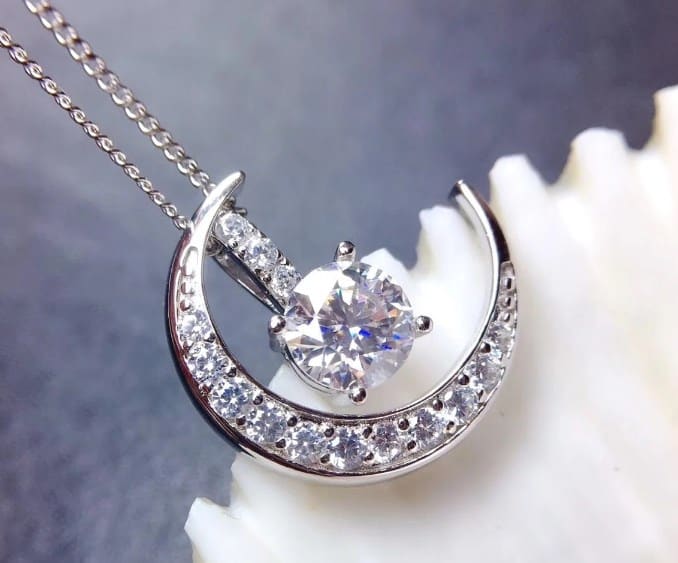 If you love round solitaires but want to glam it up a bit, this one from MartinJewel will do the trick. It will look incredibly stunning with a wedding dress, but you'll be able to wear it with your everyday attire, too, as long as you stick with one of the smaller sizes. You can choose from one-, two-, three-, or five-carat. Five carats might be a bit much for running errands and going to work, but the one-carat or even two-carat wouldn't be too over-the-top.
FAQs
If you're still on the fence about your moissanite pendant–what style you want and whether you even want one at all–maybe these FAQs will help you make a decision:
Question: Does moissanite lose its sparkle?
Answer: No, moissanite doesn't lose its sparkle over time. It remains radiant. If it appears cloudy, simply clean the surface. The stone is unlikely to be damaged, but oil and dirt could build up on its surface and then be wiped or washed away.
Question: How long does moissanite last?
Answer: You can expect your moissanite to last at least decades. In the case of a pendant, the stone's less likely to come into contact with things that could damage it over time, so it could last even longer than that. Rest assured that moissanites are almost as hard as diamonds, so they can take a lot of wear.
Question: What's wrong with moissanite?
Answer: If you choose a huge stone, it may not look like a natural diamond. You may regret your purchase if you feel that you're "settling" for moissanite. Estate Diamond Jewelry points out that moissanites reflect light differently from diamonds and look yellow in some lights. They could also be harder to resell than diamonds.
Question: Will I regret a Moissanite?
Answer: That's really going to boil down to an individual's preference and attachment to the idea of a diamond or other stone. Moissanite stands the test of time. It's durable, it's more affordable, it's beautiful, and it sparkles. In most cases, no one will know the stone is moissanite unless you tell them (or unless they have a trained eye and you buy an especially large moissanite). But if you have your heart set on a different stone than the one you get (in almost any case), there's always a chance for regret to set in.
Question: Can the average person tell the difference between moissanite and diamond?
Answer: It's doubtful that the average person will be able to tell that your moissanite isn't a diamond. They're highly similar to the naked eye, especially to people who aren't jewelry experts.
Conclusion: Enjoy Your Perfect Moissanite Pendant Style
Unless you've got your heart set on a diamond, you really can't go wrong with a moissanite pendant. Moissanites are durable, easy to clean, and will shimmer in the light (rather than becoming dull over time) for the length of the pendant's life.
Some of the best moissanite pendant ideas are classic styles. Still, since you won't be paying the diamond price, you can feel free to go with a necklace with a more unusual or modern design. You won't have to limit yourself to styles that never go out of style (unless that's what you're looking for) to get your money's worth. Either way, no one will know you're sporting a moissanite unless you tell them.
Best Online Moissanite Retailer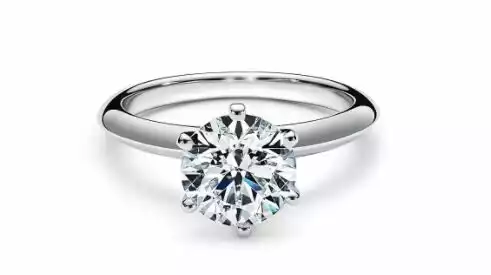 Recommended Reads: