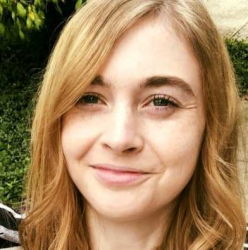 Latest posts by Erin Jamieson
(see all)
With a price range of a few hundred dollars to well over $10,000 per carat, emeralds are beautiful, but they're also expensive. Along with environmental concerns, more and more are turning to new ideas to achieve that signature green look. That's why green moissanite jewelry is a fresh take to update your style.
As someone who is budget-conscious, I love finding affordable but beautiful jewelry for everyone. But green moissanite certainly has its pros and cons– and it's not all that easy to shop for. That's why I'm sharing my tips, explaining why green moissanite deserves a spot in your wardrobe, and giving you my buying tips to find the best jewelry.
Best Online Moissanite Retailer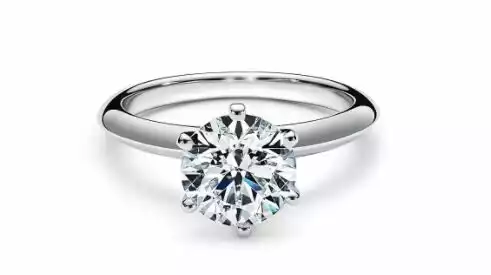 Bottom Line Up Front Summary: If I had to select just one piece of green moissanite jewelry, it would be these green cushion cut moissanite stud earrings. While these earrings have tuches of sophisticated glamour, they're also versatile. They showcase the beauty of moissanite, with a classic timeless design.
My Top Picks
Dazzling Green Moissanite Jewelry: My Picks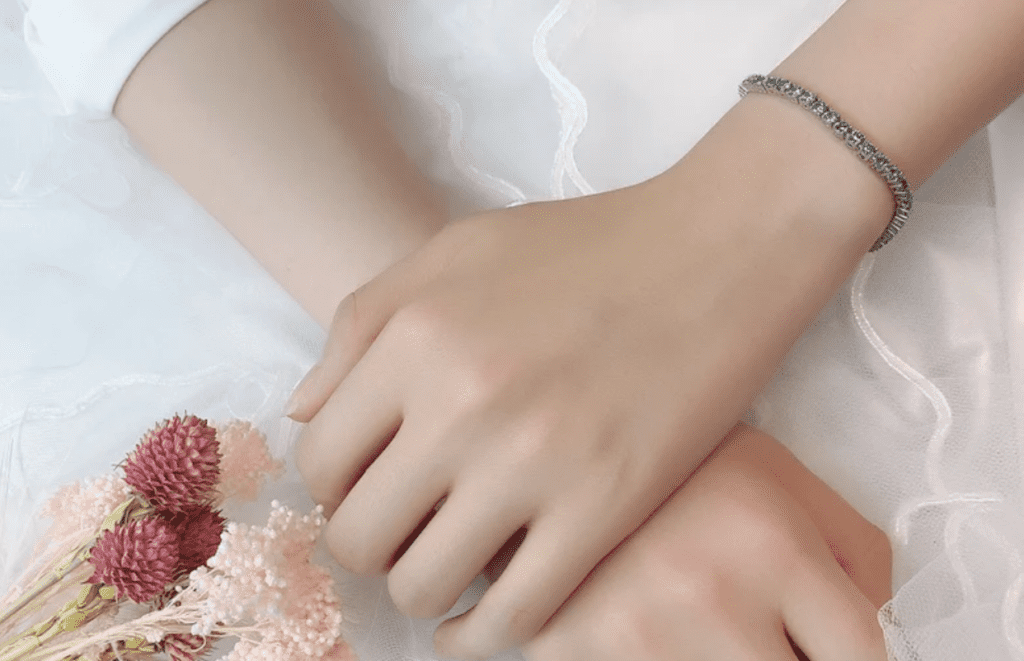 My Selection Criteria
To get you started, I've searched for fine-quality, unique green moissanite jewelry. All of these pieces feature beautiful craftsmanship and vivid gemstone color. All sellers are transparent and, of course, have a history of excellence– both for their fine quality and their customer service. Of course, all of my choices are offered at a price that's reasonable for the quality of the jewelry.
While the more vivid and saturated colors tend to be the most desired, you can play a lot with different shades of green. Those include mint green, teal/ blue-green, dark green, emerald green, olive green, light/ pale green, and even yellowish-green. I made sure I covered a nice range of these colors. But I also made sure there were no signs of discoloration. In addition, I only selected moissanite with clarity of no worse than "very slightly included."
I am only including jewelry made with genuine 14K to 18K gold, platinum, or 925 sterling silver. This means you don't have to worry about gold plating, which tends to last only a few years.
Emerald-Cut Green Moissanite Ring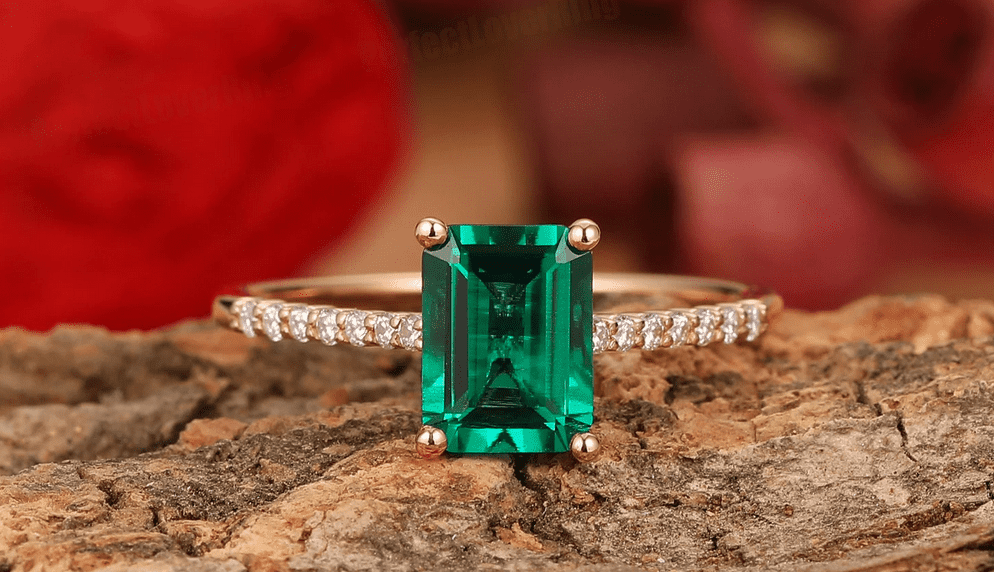 This gorgeous emerald-cut green moissanite ring is an instant. The green solitaire style features Art Deco influences, crafted with exquisite beauty. The center stone is a vivid deep green with only very very slight inclusions. The simple four-prong setting complements a slim 14K gold band. I love that the moissanite accent stones add dainty sparkle on the band– and can even be upgraded to diamonds. The seller allows a 30-day return window, free shipping, payment plans, and resizing. This is easily one of my favorite green moissanite rings on the market. I prefer it most in 14K rose gold, but yellow and white gold also look splendid. Buy Here.
Pros
Art Deco Influences

Excellent Customer Policies

Vivid Deep-Medium Green with Accents
Cons
Emerald-Cut has Subdued Sparkle

The band is Slim- Not as Comfortable
Vintage-Inspired Princess Cut Moissanite Ring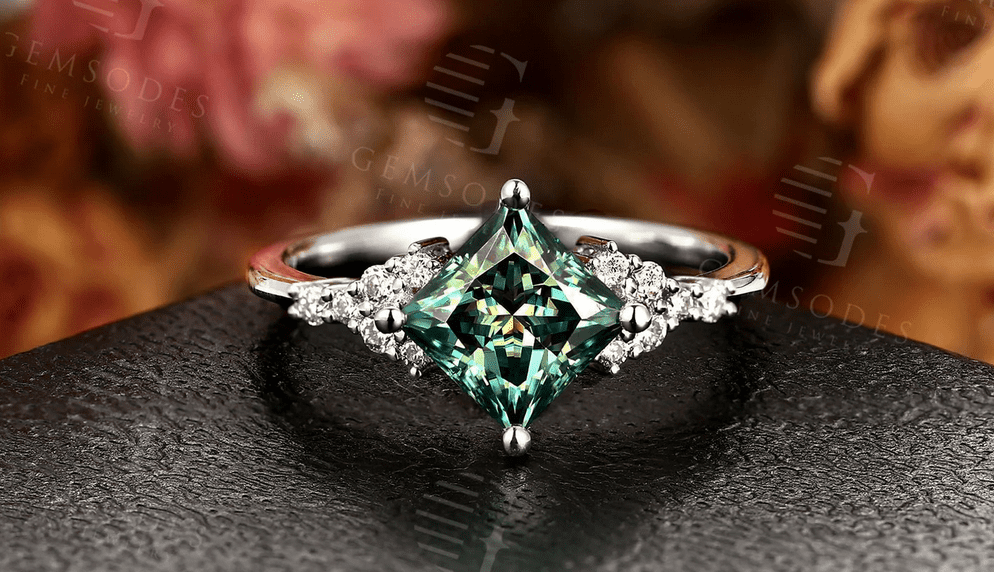 There's something ethereal about this vintage-inspired green moissanite ring. I love rings with delicate details, and I have always felt that it's the small details that set a ring apart. Here, a princess cut green moissanite stone is set beside genuine nearly colorless diamonds. The craftsmanship is superb, and you can even order this ring with custom engraving and gift wrapping. The band is kept simple and sleek, crafted with glossy 14 or 18K gold (white, yellow, or rose). While the center stone size is modest, the appeal is timeless with a touch of vintage– and this style certainly offers unique beauty. Buy Here.
Pros
Vintage Aesthetic

Genuine Accent Diamonds

Free Engraving
Cons
Princess-Cut Doesn't Sparkle as Much

Nearly Colorless vs Colorless Diamonds
Portuguese Cut Teal Moissanite Ring

Do you ever get nervous about buying jewelry online? I do. I used to think that it was because of how I am: just naturally cautious and budget-conscious too. But making a purchase as large and important as an engagement ring or cocktail ring shouldn't be taken lightly. That's why I love that this ring comes with a 90-day warranty. I also like that it can be made to order and shipped with wrapping. But even without those policies, this unique teal green moissanite ring would earn a place on my list. The round Portuguese cut is brilliant, with dazzling dimensions. It also really highlights the beauty of the light teal stone. Meanwhile, the 14K gold band impresses with intertwining vines for a boho/ floral motif. Buy Here.
Pros
Brilliant Portugues Cut

Beautiful Vine Motif

90 Day Warranty
Cons
Sells Out Quickly

Modest Carat
Modern Dainty Green Moissanite Necklace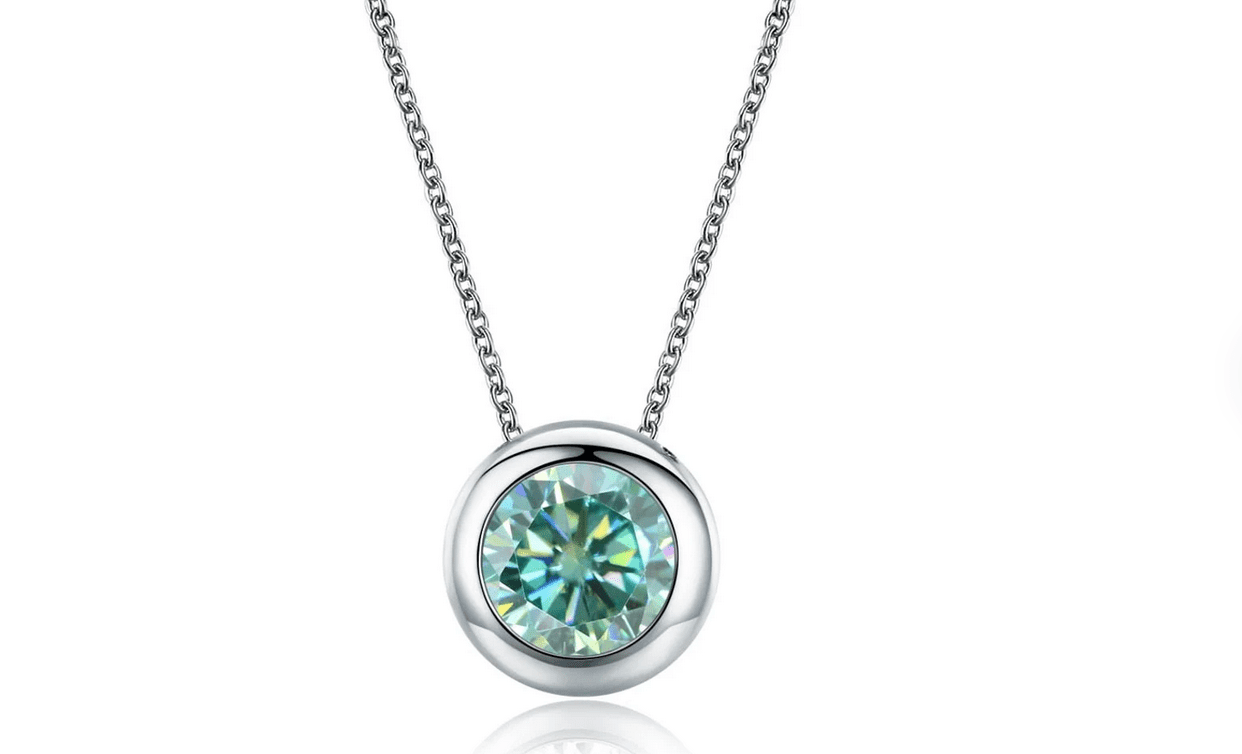 I appreciate a statement necklace, but I find myself wearing dainty styles more often. If you're looking for a green moissanite necklace that you can wear with even the most casual styles, this one is for you. This necklace is at once dainty and modern, with a clean, light profile. The gorgeous light green round gemstone is complemented by a classic 925 sterling silver cable chain. While simple at first glance, it's clear that skilled craftsmanship went into making this necklace. A GRA certificate is included along with a jewelry box. It's also priced well under $100. Buy Here.
Pros
Gorgeous Light Green Moissanite

Dainty and Versatile

Great Price
Cons
Sterling Silver Can Tarnish

Very Small
8.75 Carat Cushion Cut Green Moissanite Pendant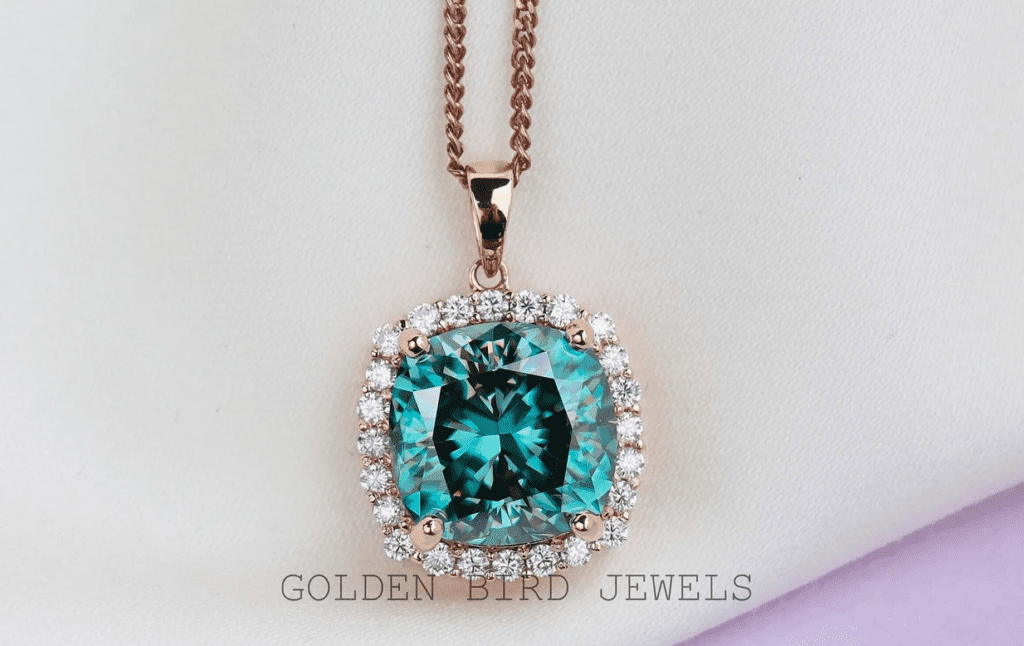 This green moissanite pendant necklace is nothing short of stunning. If you're looking for a high-quality, unique, and large carat moissanite necklace, look no further. This luxurious necklace features a cushion-cut moissanite stone of excellent quality. While the carat weight alone is impressive, it's the halo design that adds brilliant sparkle. Those accent round moissanite stones gives the illusion of an even larger center stone. The fancy colored green moissanite is a vivid teal green, set on a 14Kor 18K gold setting, platinum, or sterling silver. The jeweler offers a 30-day warranty, custom engravings, rush orders, and multiple ways to contact. Buy Here.
Pros
Gorgeous Halo Design

Colorless Moissanite Accents

Excellent Customer Service
Cons
Expensive

Not Practical for Daily Wear
Green Cushion Cut Moissanite Studs Earrings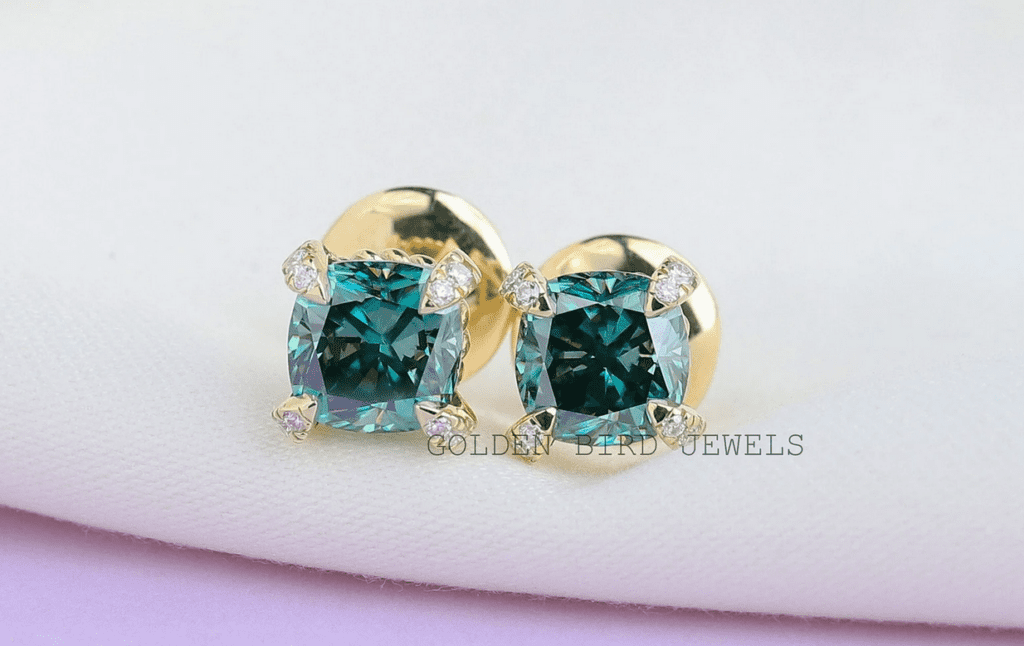 I love these earrings, and that's not an overstatement. Green moissanite earrings are tricky to find, and even more challenging to find in exceptional quality. But these handmade earrings would make an excellent gift. While glam, they are also versatile enough to wear with casual outfits. A classic cushion cut provides lovely sparkle for the medium green stones. The prong setting is accented with gorgeous accent stones. I love these, especially with yellow gold backings, but the seller gives you plenty of options. Those options include 14K gold, 18K gold (white, rose, or yellow), platinum, and sterling silver. The screw back closure is easy to wear. You can even personalize your order, and your earrings come with a certificate, engraving, and 30-day warranty. Buy Here.
Pros
Excellent Customer Service

Vivid Sparkle

Glam but Versatile
Cons
Fairly Small

Deeper Green
GemStone Blue-Green Moissanite 14K Dangle Earrings

While I normally wouldn't go to Walmart for a top pick, this is well-earned. This is not Walmart's brand, but a jewelry company that has been in business since 1903. These gorgeous dangle earrings feature blue-green round moissanite in a classic tiered style. The accent stones add sparkle and provide the illusion of greater length. They're sophisticated but traditional and would look simply lovely with either a v-neck or sweetheart neckline. They're also thoughtfully made. The jewelers, headquartered in New York, ensure that all pieces meet high-quality standards. You have optional payment plans if needed. The 14K yellow gold is an excellent way to make the blue-green hue stand out. Buy Here.
Pros
Accent Stones

Dazzling but Versatile Style

14K Gold
Cons
Not Made in the USA

Deeper Teal vs Light Hue
4.3CT Green Moissanite Tennis Bracelet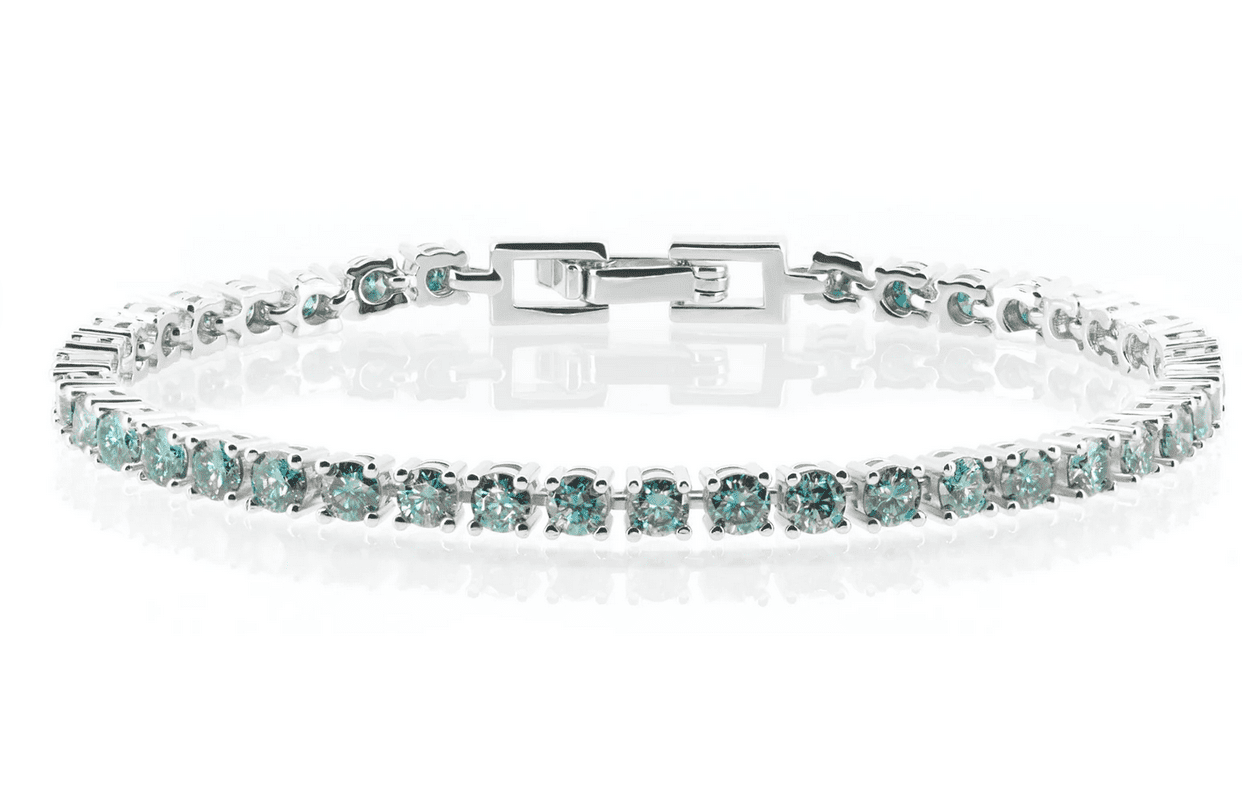 Tennis bracelets never go out of style. But I love seeing classic styles with an innovative twist, and that's certainly true for this versatile and elegant bracelet here. With over 4 carats of green moissanite, it's sure to make a statement. Round cut pale green-blue moissanite dazzles from every angle. The style is true to how tennis bracelets first were introduced, but the color is unique. The high level of craftsmanship is notable, as is the 9K, 14Kor 18K gold band. The blend of polish and luster is truly eye-catching. The bracelet is made with recycled materials and featured a simple snap closure. You can also order it customized with other gemstones, and shipping is free. Buy Here.
Pros
Glam Tennis Style

Round Cut, Vivid Moissanite

Very Versatile
Cons
Not Easily Adjustable

Only White Gold
5. mm Green D Color Round Cut VVS1 Moissanite Loose Stone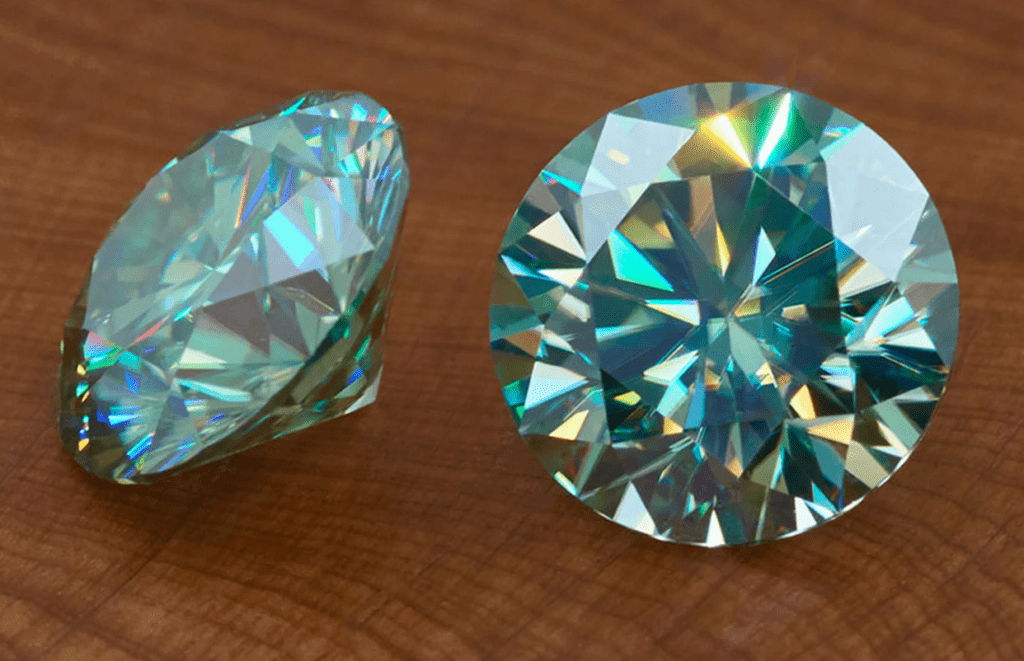 A loose green moissanite stone could be used to replace a stone, create your jewelry, or use for a ring setting. However, if you're going down this route, you absolutely should make sure you find a beautiful stone with vivid color. This small 5 mm green moissanite is one of your best options for a loose stone. The vivid green moissanite has a high level of clarity, excellent color grade, and sparkles no matter what you do with it. The seller is one of the top-rated on Etsy and even includes a certificate of authenticity with your order. Buy Here.
Pros
Excellent Quality

Unique Light Green Hue

Certificate of Authenticity
Cons
Frequently Asked Questions
Question: What is D grade moissanite?
Answer: The letter grade scale for moissanite refers to its color– notably for colorless to white/ yellow moissanite. Though not the same, this is akin to how diamonds are graded. Colorless moissanite is considered to be the "best" or most sought-after, and a D grade is considered to be colorless. Forever One moissanite is considered the highest quality colorless moissanite on the market.
Question: How do I find green moissanite?
Answer: Natural moissanite is very rare, so almost all moissanite sold is lab-grown. That's especially true for green moissanite. It's a genuine gemstone, but not found in nature. However, don't mistake this with lab-created stones, which are less valuable and purely simulants. One plus side of green moissanite being lab-grown is that it's considered ethical and more eco-friend than many natural gemstones. Moissanite is associated with closely connected bonds and powerful relationships. Some even believe that it has healing powers.
How much you should pay for green moissanite varies, but it tends to be less expensive than colorless moissanite, yet more expensive than cubic zirconia. While the downside is that green moissanite is not worth much for reselling, the upside is that it's fairly affordable. Green moissanite is around $80 to a few hundred dollars per carat. Knowing this is important, and one way you can avoid buying fake moissanite.
Question: How does green moissanite compare to emeralds?
Answer: My personal opinion? It's best to buy moissanite for its unique beauty rather than seeing it as a direct alternative. The main differences between green moissanite vs emeralds are:
• Green Moissanite is affordable but not valuable, while Emeralds are more expensive and more valuable
• Green Moissanite is lab-grown, while Emeralds are either natural or lab-grown
• Green Moissanite has a Mohs hardness rating of 9.25, while Emeralds are only rated at a 7.5 to 8 on the Mohs Hardness Scale
• Green Moissanite has multidimensional sparkle which can make it look "fake", while emeralds have more classic, more subtle brilliance
Question: Are there any online forums about green moissanite?
Answer: Sometimes, people find it helpful to hear directly from other customers, and I know there are several threads showcasing and discussing green moissanite on Weddingbee. Just please read these with caution. While it's green to hear from customers, you aren't getting expert advice or always as many details as might be helpful.
Question: Is moissanite better than white sapphire?
Answer: If green isn't the color for you and you're trying to decide between moissanite vs white sapphire, I recommend most buy moissanite. Now, white sapphire has a few advantages. For one, you have a wider selection of both natural and lab-grown white sapphire (moissanite is naturally occurring but most are sold as lab-grown). White sapphire will save you money, too. However, moissanite is far more brilliant and noticeably more durable. Need more information? Read about Moissanite vs White Sapphire to make the right decision for you.
Final Thoughts
I think there's a lot of confusion, and potentially misleading information about moissanite, including green moissanite. While colorless moissanite is sometimes referred to as a "fake diamond," green moissanite can be seen as a "fake emerald." I think it's time to rethink those ideas. Moissanite is a genuine stone, and while almost all that is sold is lab-grown, it's quite beautiful. Finding genuine, high-quality moissanite shows how gorgeous it can be in its own right. Whether you love teal moissanite, a vivid fancy green, or a deeper emerald green, there is no hard and fast rule. Buy jewelry you'll enjoy, and enjoy the unique sparkle that only moissanite offers.
Final Buying Recommendations: Other Places to Buy Green Moissanite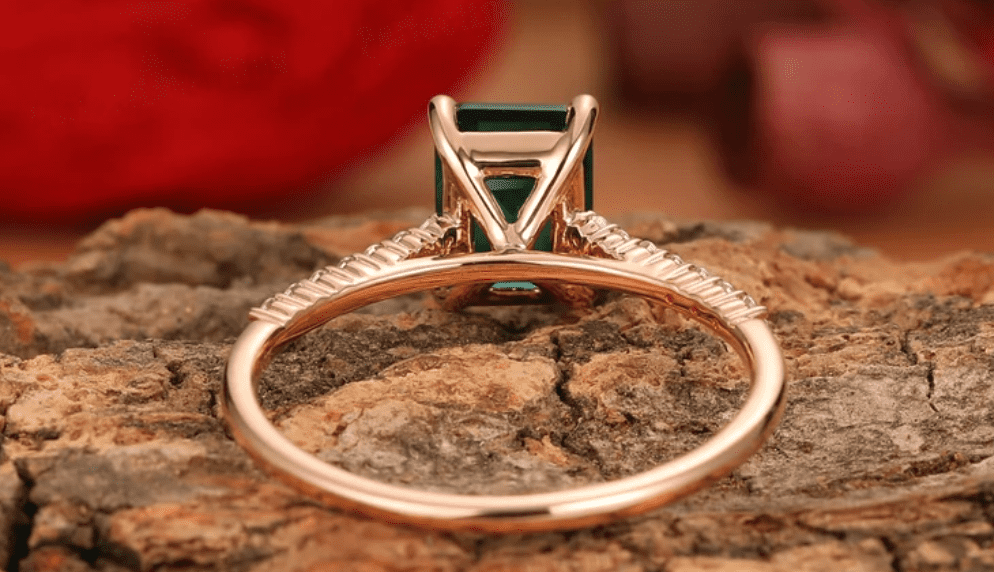 Whether you're buying a ring, necklace, or earrings, make sure you're buying from a seller with a positive history with customers. While Brilliant Earth and Charles & Colvard are normally my go-to's for the best moissanite, they supply colorless or nearly colorless Forever One moissanite. Aardvark Jewelry (both on Etsy and its store) is one reputable seller of green moissanite. Almost all of the genuine green moissanite is, in fact, from smaller stores. While you can find some options through Amazon, I tend to prefer the craftsmanship of listings on Etsy. You can tell a fake from a description that explains what the gemstone is. Look out for words like 'crystal,' Shop Aardvark Jewelry Here.
Best Online Moissanite Retailer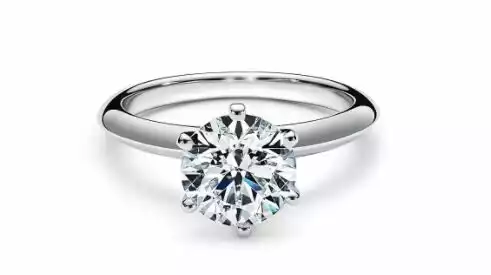 Looking for more interesting readings? Check out: