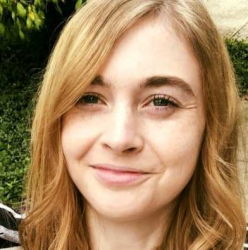 Latest posts by Erin Jamieson
(see all)
I've always been careful to save money, but investing can be daunting. And if you're like me, it feels more daunting than ever. From inflation to supply chain issues, the past few years have been full of uncertainty. That's why the move from traditional hard assets– like gold or diamonds– to ones with a tie to the virtual world, like blockchain diamonds, isn't so surprising.
Diamonds still account for $1.2 trillion in market value, according to Forbes. But even if you aren't buying to invest, blockchain diamonds can transform how much you know about the diamond you're buying.
Of course, you don't want to buy blockchain diamonds from just anyone. I know the process of diving into virtual diamonds may be strange at first. But with the right knowledge, you can invest in blockchain diamonds.
I'll show you how to select a company to buy blockchain diamonds from and my favorite trusted place online.
Bottom Line Up Front Summary:
Brilliant Earth is the one reputable place to buy blockchain diamonds. They source only GIA-certified diamonds and partner with Everledger to provide nuanced tracking. I like that they make it easy to sort through different diamonds by color, carat, clarity, and cut. I love that you can visualize diamonds before you buy them, and buy them loose or with a ring setting.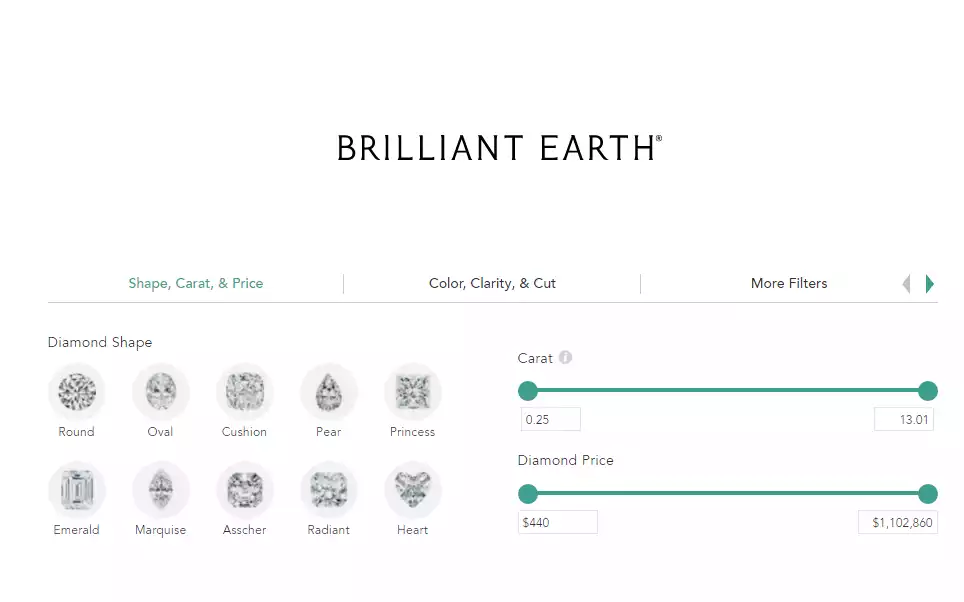 Search for Blockchain Diamonds | Brilliant Earth
The cutting-edge blockchain-based technology has been integrated with Billiant Earth's supply chain to seamlessly and securely track gemstone origin and provide greater consumer assurance for responsible practices for a collection of blockchain enabled diamonds.
Check Prices
We earn a commission if you click this link and make a purchase at no additional cost to you.
What Are Blockchain Diamonds
Blockchain diamonds are really exciting for more reasons than one. As someone who cares deeply about both diamond quality and sourcing, I see blockchain diamonds as a golden opportunity to improve transparency from supplier to buyer.
When I first stumbled upon blockchain diamonds, I assumed they would be connected directly to virtual currency. But these diamonds are being tracked with blockchain technology for ethical sourcing and advantages for investing.
Why Buy Blockchain Diamonds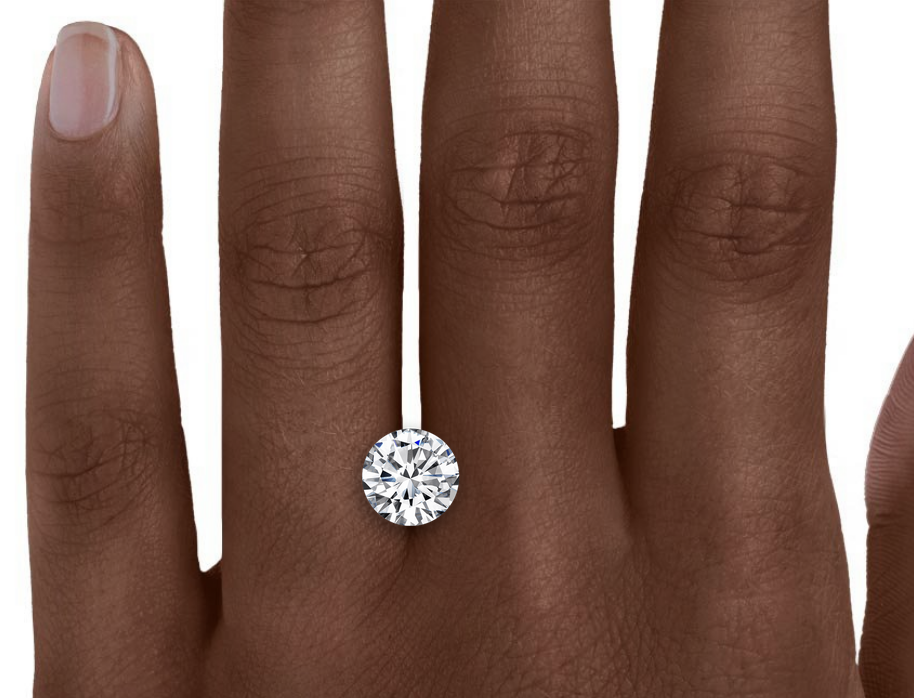 Blockchain diamonds provide tracking from sourcing to different sellers. What I love about this is you can truly understand both sourcing and value. While many diamonds are still reliant on certification, blockchain allows all of this information to not only be streamlined but more secure. Translation: it's much easier to alter the information for a diamond via certificates. Blockchain diamonds are more secure and less prone to errors.
That's the advantage for you as a consumer. But I also think it's important to consider the wider implications. We know that blockchain is already aggressively pursued in other industries, and there's no telling just how much it will expand in the next five years. I think this technology can continue to place more pressure on sourcing standards, and also introduce consumers to more unique and higher-quality diamonds and other gemstones.
With supply chain issues still omnipresent, I also think blockchain diamonds are just a more safe and more sure thing– even if they are still rather new. They are more expensive, however, and there are far fewer places to shop for blockchain diamonds. Plus, even amongst those places, you have to be careful where you shop for blockchain diamonds.
My Selection Criteria
There aren't many places you can buy blockchain diamonds yet—but I still wanted to apply high standards. My criteria fall into three main categories: diamond quality, secure payments, and company reputation. Above all, never buy from a company that has no information outside of its website and is not known within its industry.
Diamond Quality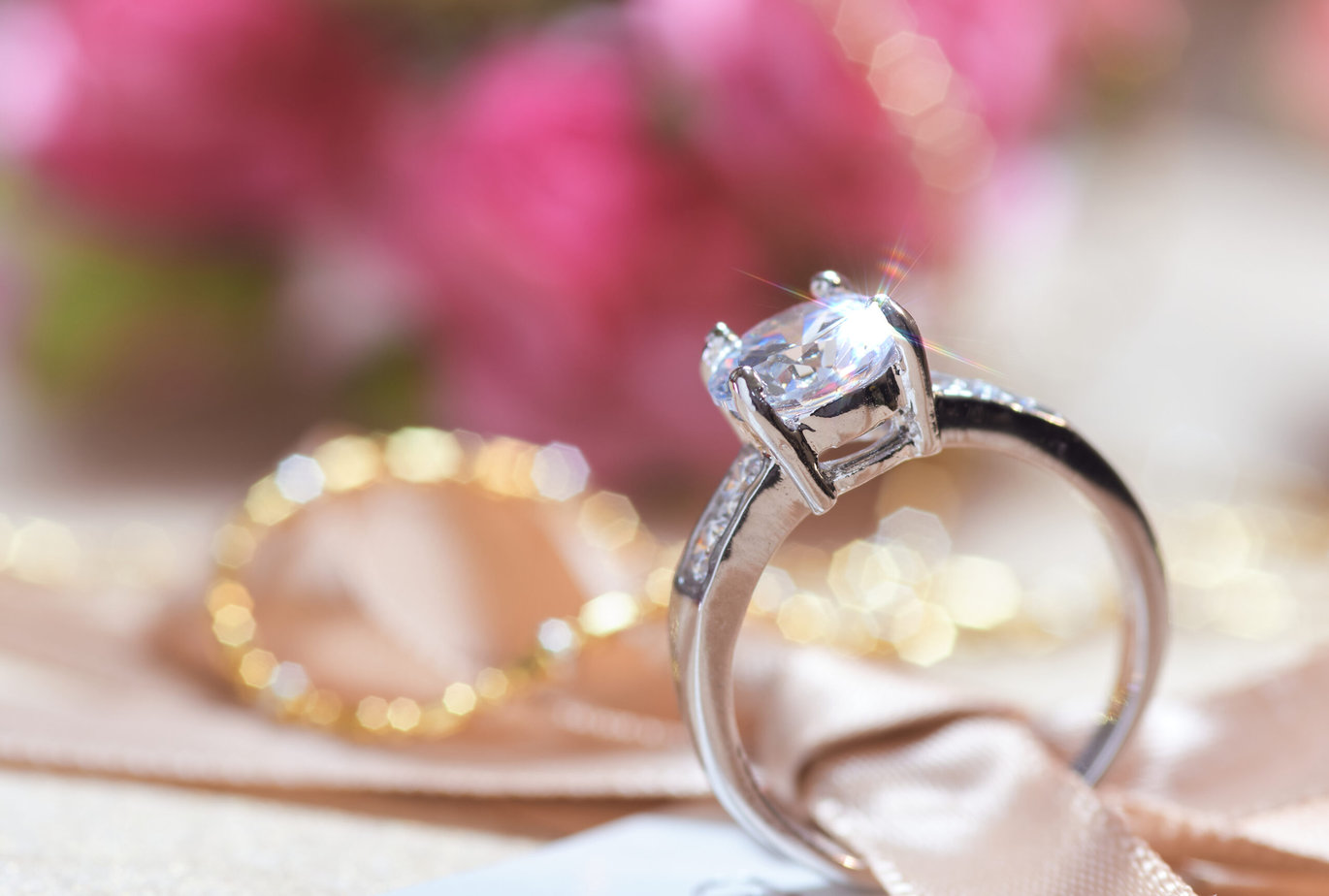 Diamond quality for me is related to the 4 C's of diamonds and ethical sourcing. Of course, with a true blockchain diamond, it'll be apparent quickly if diamonds fall short. There should be a nice range of colorless and nearly colorless diamonds. For clarity, I prefer the quality of being very slightly included or better. Diamonds need to be conflict-free, which means profits don't support civil wars.
Secure Payment
This is important. First, the website must be secure. Secure checkout should include additional verification and encryption. I also like to look at the company's privacy policy.
Reputable Company
Secure payments and diamond quality go hand and hand with a reputable company that sells blockchain diamonds. But I also like to gather some more information. For the places I've selected, I've checked professional business rating listings, like Better Business Bureau. I also get a sense of the company's history and note any complaints.
Best Place to Buy Blockchain Diamonds: My Pick
Whether you're actively looking to buy blockchain diamonds or just curious, this place offers quality and authentic blockchain diamonds. They're easy to shop from, but I'll guide you through the ins and out so you know what to expect.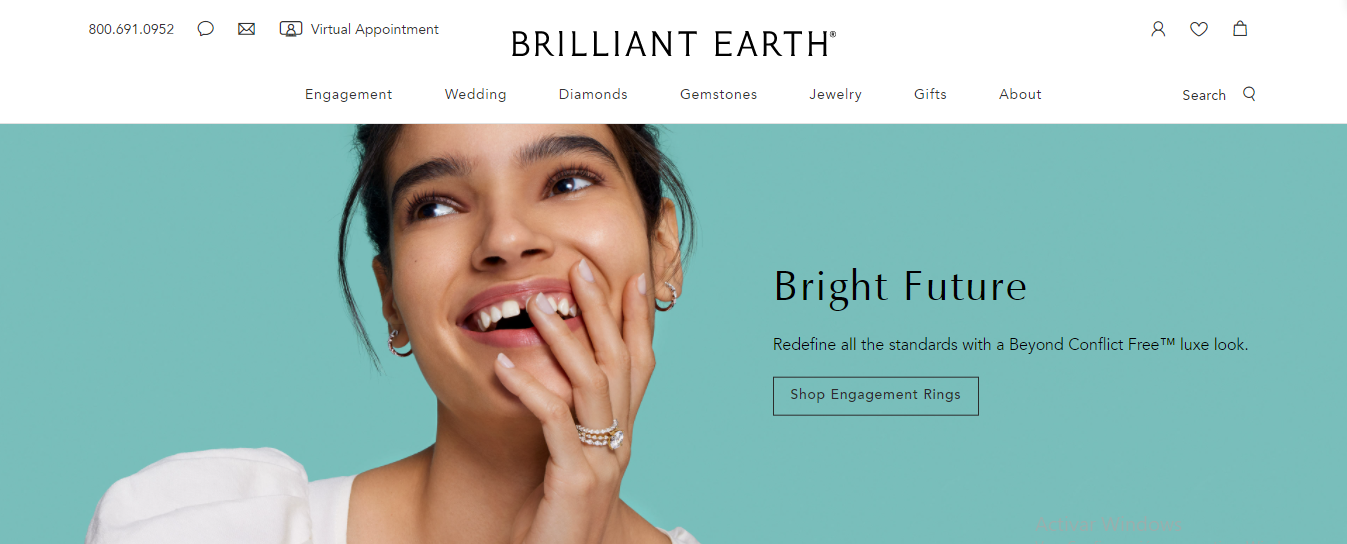 Brilliant Earth is my top recommendation for buying blockchain diamonds. From exquisite attention to detail to excellent customer service, Brilliant Earth is a leader in blockchain diamonds for good reason.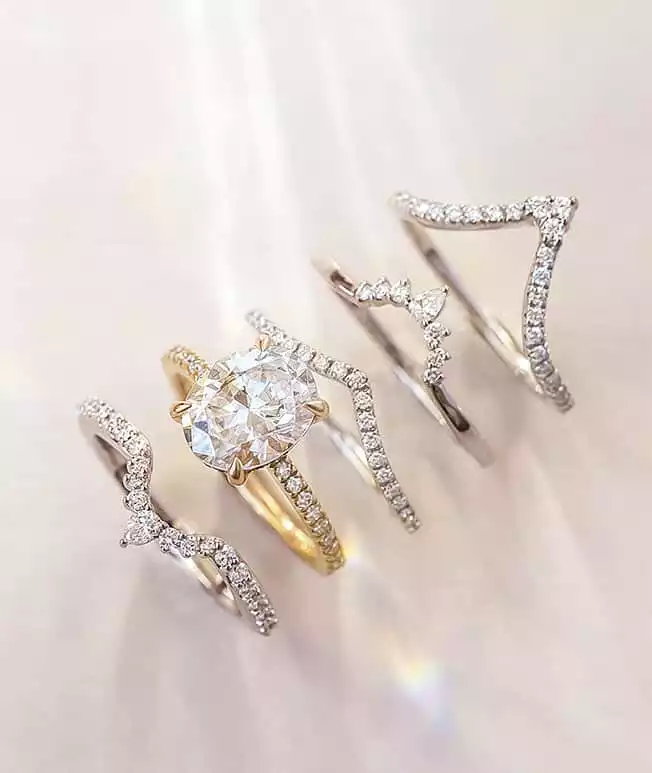 Company History
Brilliant Earth started operations in 2005 with a singular mission: to improve ethical diamond sourcing standards. While the Kimberly Act ushered in greater oversight for conflict-free diamonds, Brilliant Earth decided to take that a step further. Based in San Francisco, Brilliant Earth is primarily an online jeweler, but it does have physical jewelry stores in several United States regions. At the time, pairing experts in technology and e-commerce with jewelry experts seemed innovative.
They've led the way for online, ethical diamond shopping, so it only seems fitting that now they've expanded into blockchain diamonds.
Customer Service Policies
But Brilliant Earth has paved a reputation not only for innovation, but also excellence in customer service. I love that they provide free shipping not only to you but for returns. There's also a free lifetime warranty, a diamond upgrade program, financing options, and lifetime warranties against defects.
BlockChain Diamond Collection
Brilliant Earth made headlines as the first official jeweler to sell blockchain diamonds. They partner with Everledger– whom you can also buy diamonds directly from. All of these diamonds are conflict-free. Their loose diamond collection includes only round cuts at this time, so hopefully for will be available in the future. Ideal and super ideal cuts are available, and carat weights range from 0.29 to just over 13 carats. Clarity ranges from Internally Flawless (IF) to Slightly Included (SL1). All diamonds are GIA certified.
How to Buy Blockchain Diamonds
What's exciting is that Brilliant Earth's collection of blockchain diamonds is always changing. That can be anxiety-provoking, but trust me: you don't need to feel pressured to buy a diamond right away. Plus, the buying process is pretty easy.
Step One: Shop Loose BlockChain Diamonds

Your first step is to search through the collection of blockchain diamonds. You can filter by carat, color, shape, cut, price, and clarity. I recommend prioritizing color and clarity first. And since there are only round diamonds and GIA certification, don't waste your time with either of those filters. Once you find a diamond you're interested in, click on it and you'll be directed to the view page.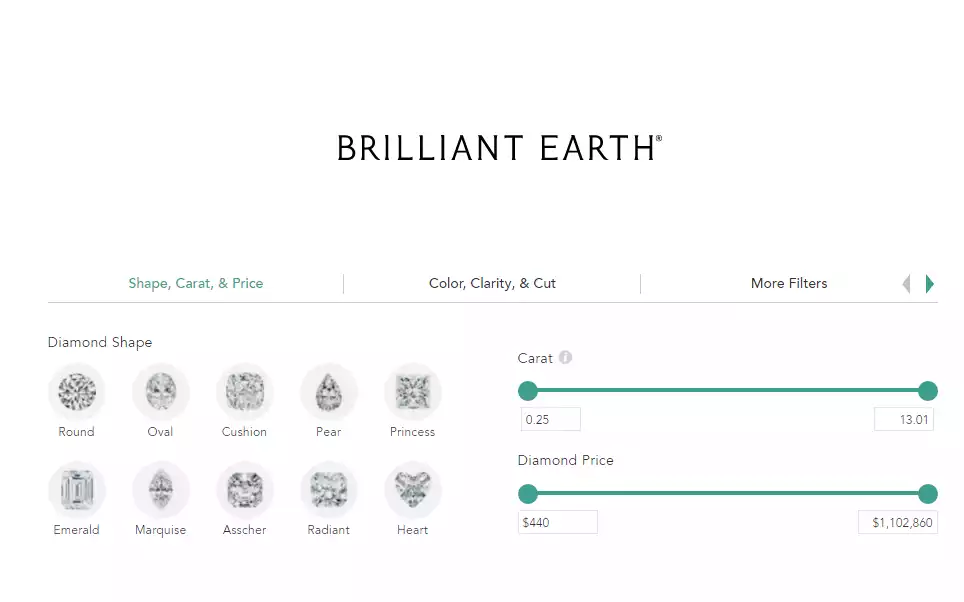 Search for Blockchain Diamonds | Brilliant Earth
The cutting-edge blockchain-based technology has been integrated with Billiant Earth's supply chain to seamlessly and securely track gemstone origin and provide greater consumer assurance for responsible practices for a collection of blockchain enabled diamonds.
Check Prices
We earn a commission if you click this link and make a purchase at no additional cost to you.
Step Two: Examining the Diamond
I've always been more of a visual learner and shopper, so I like that Brilliant Earth helps you see what the diamond will look like. Instead of flat stock images, there's a 3D visualization and a way to visualize carat size on a finger. I also double-check to look at the diamond details and grading.
Step Three: Buy or Add a Ring Setting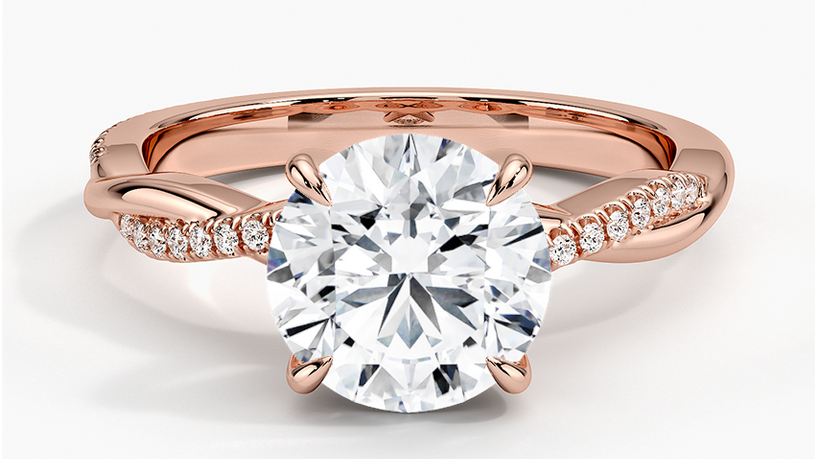 You can buy a loose diamond by simply 'adding to your bag.' But I love that you can also design your ring. If you want to design your ring, select the 'Add to Ring' button. You'll be directed to a page of compatible ring settings. Those settings include solitaire, accents, halo, three stone, hidden accents, nature-inspired and bridal sets. Most ring settings are available in 18K white gold, 18K yellow gold, 14K rose gold or platinum. The sheer level of customization means you're sure to create a unique and personalized ring. Once you're finished designing, click "Choose Setting" then select your size and add it to your bag.
Step Four: Payment
Brilliant Earth is very flexible when it comes to traditional payment. They accept all major credit cards and bank wire payments from the United States, Canada, Australia, and the UK. They also accept payment through Wells Fargo, Affirm, and PayPal. Affirm is their financing partner if you need a flexible payment plan. While I find their warranties pretty generous, it's worth giving Brilliant Earth's Extended Protection Plan a look. And of course, all purchases are subject to taxes.
Optional Step: Customer Service and Virtual Appointments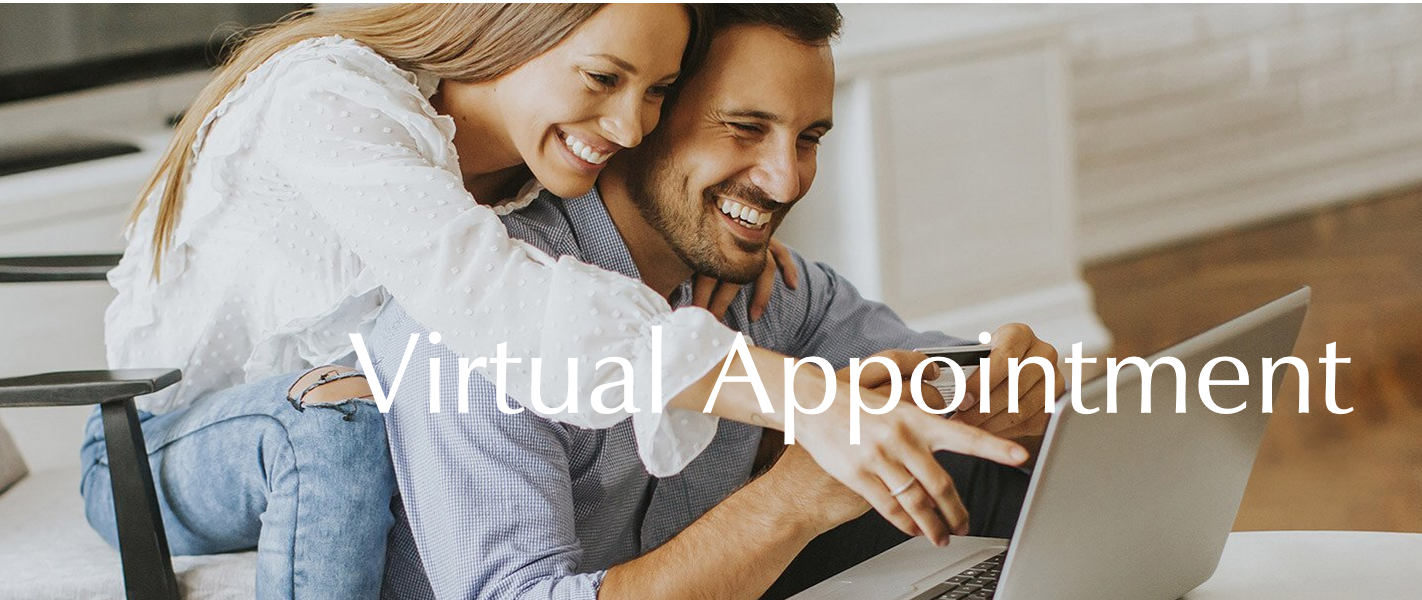 If you're like me and get stressed about making a large purchase, then maybe you should take advantage of Brilliant Earth's customer service options before buying blockchain diamonds. They have a phone line (800.691.0952) and an email contact form. But my favorite option is booking a virtual appointment. These appointments can be scheduled via Zoom for 45 to 50-minute sessions and hopefully have your questions answered about blockchain diamonds and designing custom rings.
Final Recommendations: Where to Buy Diamonds with Bitcoin
Interested in cryptocurrency but not ready to invest in blockchain diamonds? Though you have to be careful, there are now companies that allow you to buy diamonds with Bitcoin. While many retailers haven't made the switch, more companies, especially online, are starting to allow customers to purchase loose diamonds with Bitcoin. These companies always need to be fully investigated to make sure they offer secure payment and, of course, high-quality genuine diamonds. The companies below are a few places where you can buy diamonds using Bitcoin.
Best International: Hyde Park Design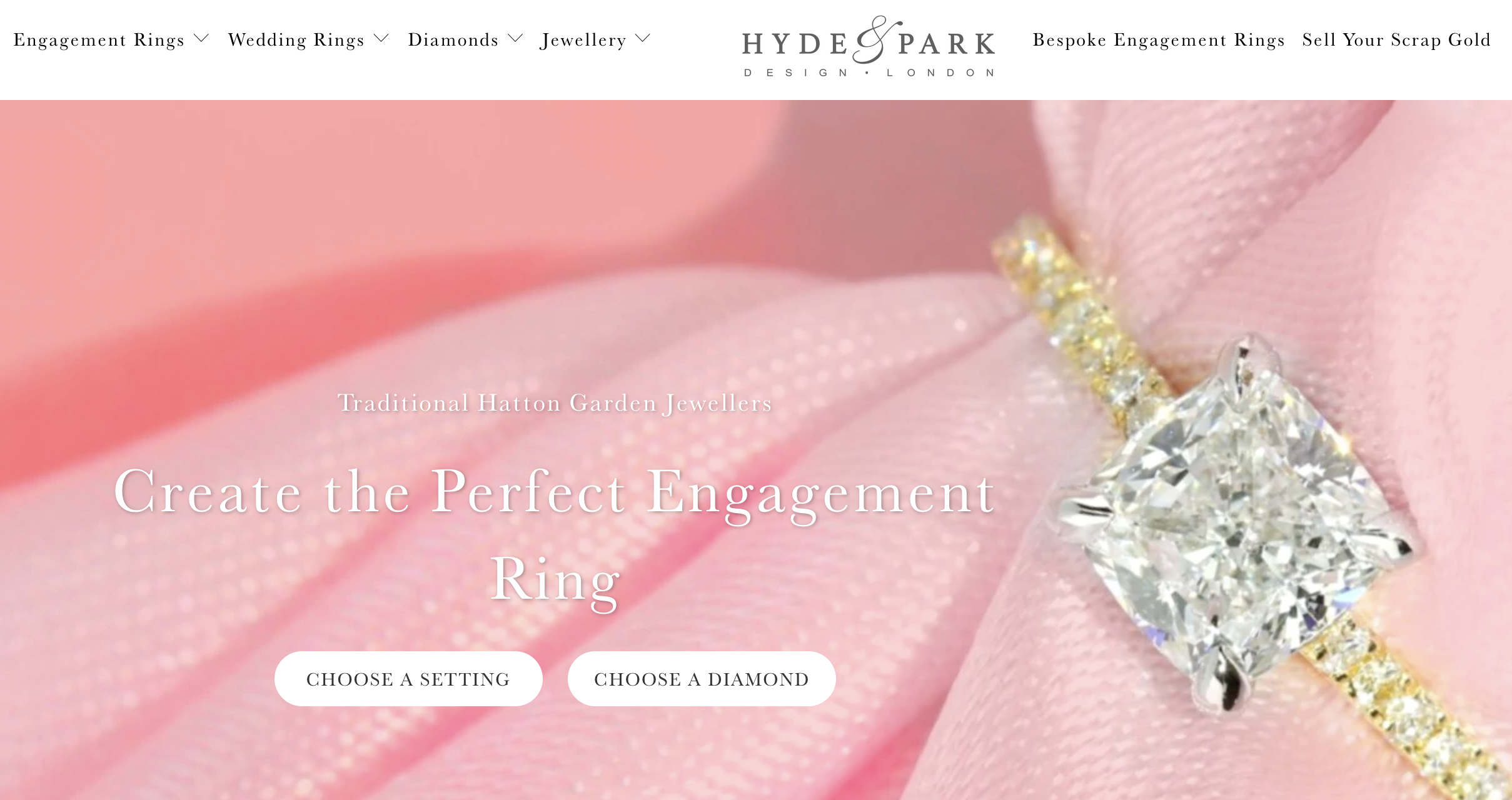 Hyde Park Design is a respected jeweler located in London. They have both a traditional store and have expanded to online sales. Their high customer reviews align with free 30–day returns, free lifetime manufacturer's warranties, and their commitment to sourcing only genuine, conflict diamonds. While some companies only accept Bitcoin for loose diamonds, they will accept this method of payment for rings, loose diamonds, and most of their fine jewelry. You can checkout with Bitcoin, but also Bitcoin Cash, Dai, Ethereum, Litecoin, and USD coin. Learn More Here.
Best Designer: Reed's Jewelry

Reed's Jewelry is based in North Carolina and has been in business since 1946. While I like the traditional origins of this company, they too have made the move to accepting cryptocurrency. Known for their diamond designer jewelry, you'll need popular brands like Rolex, David Yurman, Gucci, Effy, Kleinfeld's, and more. They have an easy payment option for Bitcoin for all of their jewelry and are respected, with an A-plus BBB rating. Learn More Here.
Best Vintage: Estate Diamond Jewelry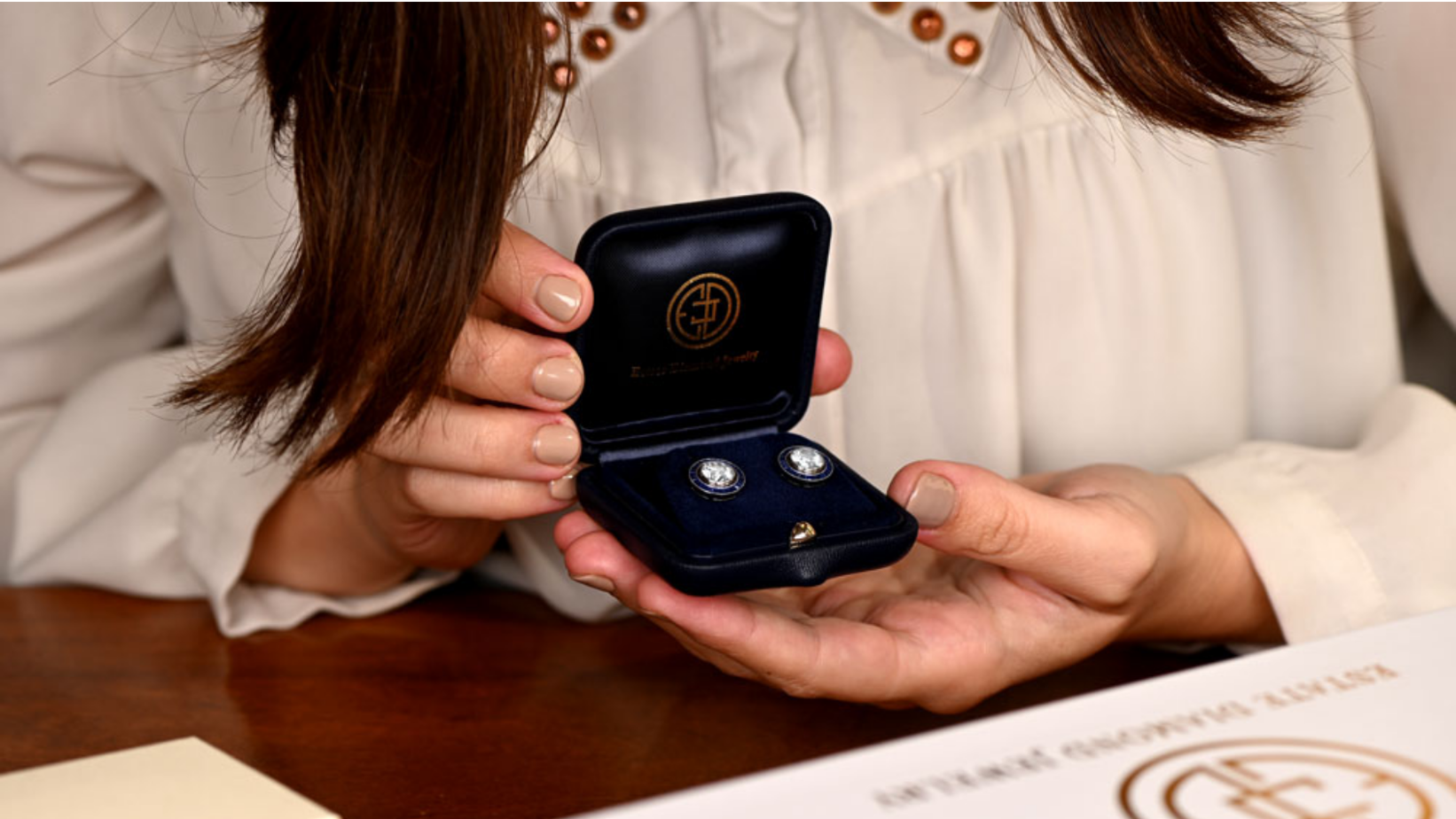 Estate Diamond Jewelry has traditional roots, with just under 4 decades of business under their belt. They sell authentic Victorian, Edwardian, and Art Deco rings and fine jewelry. They've earned trust from customers with an A-plus rating through the Better Business Bureau and they're family-owned. With an eye for exceptional and rare pieces, they're the largest supplier of vintage rings. Yet they only sell GIA-rated and ethically sourced diamonds and gemstones. I was surprised to see their May 2021 announcement that they would now accept cryptocurrency. As of 2022, that includes Bitcoin, Ethereum, Litecoin, and Dogecoin, as well as other major cryptocurrencies. Check out is directed to a processing app for quick but safe payments. Learn More Here.
Frequently Asked Questions
Question: How does Brilliant Earth use blockchain?
Answer: Brilliant Earth, an online jeweler known for its ethically-sourced diamonds and gemstones, is now diving into blockchain technology. There are several advantages to this. For one, a blockchain certificate increases investment value and may guard against inflation spikes. But it also goes hand to hand with Brilliant Earth's commitment to transparency, allowing customers to track where their diamond was sourced from. Around 10 percent of Brilliant Earth diamonds are tracked via blockchain. 
Question: How are diamonds tracked?
Answer: Something that's both interesting and important for the diamond industry is tracking. Tracking occurred even before blockchain technology– it just wasn't accessible to customers. Any diamond that's been officially graded by the GIA is marked with a serial number. That serial number is listed with the diamond so information about sellers and their quality can be tracked. That's yet another advantage of buying a diamond with GIA certification. It allows you to verify and understand its true quality and value. 
Question: Is Brilliant Earth a public company?
Answer: Brilliant Earth went public on the stock exchange for investing in September 2021. It made an impressive opening, drawing around $115 million at its opening, and offered stock at $12 per share. It's traded on the Nasdaq Global Market (BRLT) and is seen as a relatively good investment. The reason why many consider investing in Brilliant Earth is that it has a foothold in two industries that hold promise against even inflation: diamonds and blockchain technology. Brilliant Earth also remains on a trajectory of increasing profits. 
Question: Are diamonds a hedge against inflation?
Answer: Nothing in investing is certain, but diamonds are considered a good investment for a few reasons. While they're valuable, they're not nearly as susceptible to inflation as silver, iron, ore gold. They tend to retain or grow in value and are less easily impacted by global market shifts and supply chain issues. Diamond prices rise with inflation, though poor-quality diamonds purchased in bulk won't offer much resale value. High-quality diamonds that are taken care of are a solid investment.