Latest posts by Jeanette Kierstead
(see all)
The peridot is loved by many because of its stunning, leaf green color and the fact that it's the birthstone for many August babies. It doesn't have to be tough to find quality peridot engagement rings or wedding rings for your beloved.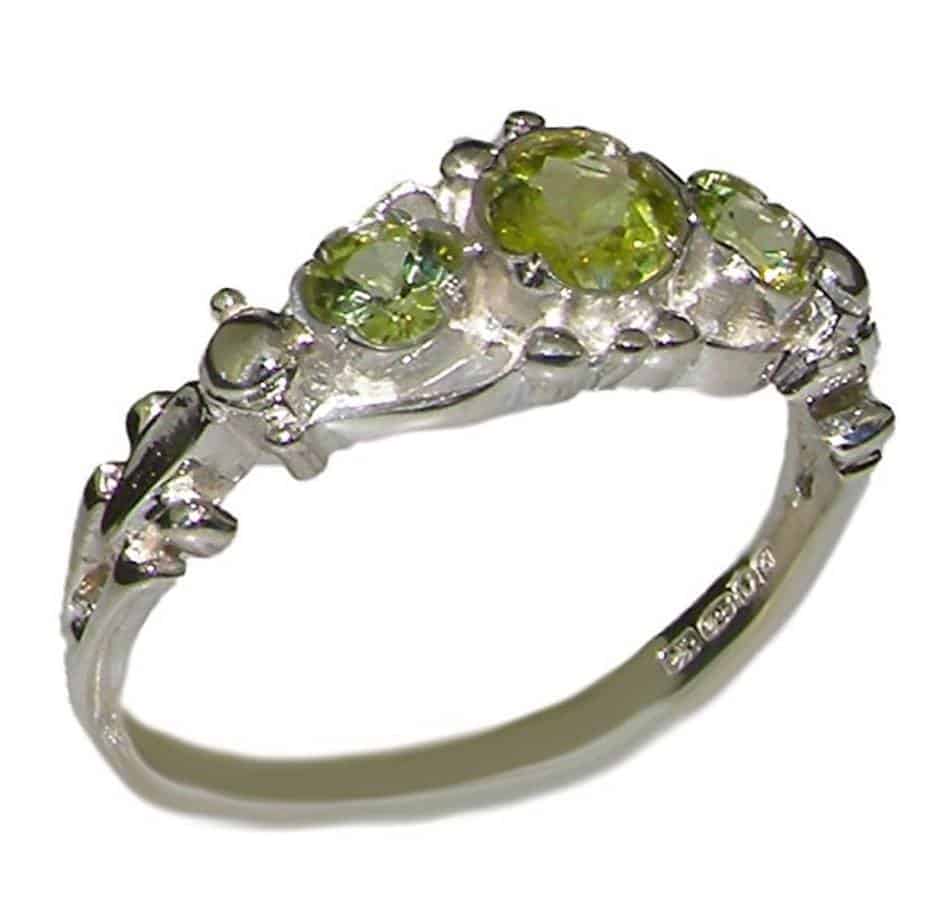 Meaning, History and the Power of Peridot: Fun Facts
Ancient history saw many peridot gemstones. In some light, the peridot can resembled emerald, so ancient citizens often believed that they were wearing emeralds.
It's said that Cleopatra didn't wear emeralds but peridots from Burma.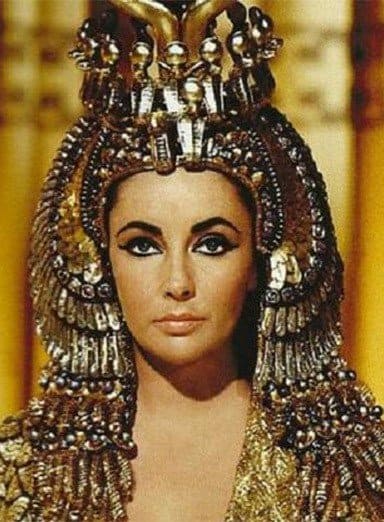 The gemstones from the country were more of an emerald green than the current leaf green we see today. Burma was a serious importer of peridot until a coup in 1962 left the country unable to properly bring peridot to market.
Europeans were recorded bringing back peridot stones from the Crusades in the middle ages. They used them for their robes and church plates.
Two of the biggest peridots in existence are museum pieces. The Smithsonian has a peridot of 310 carats on display. The Museum of Natural History in New York has the other notable peridot.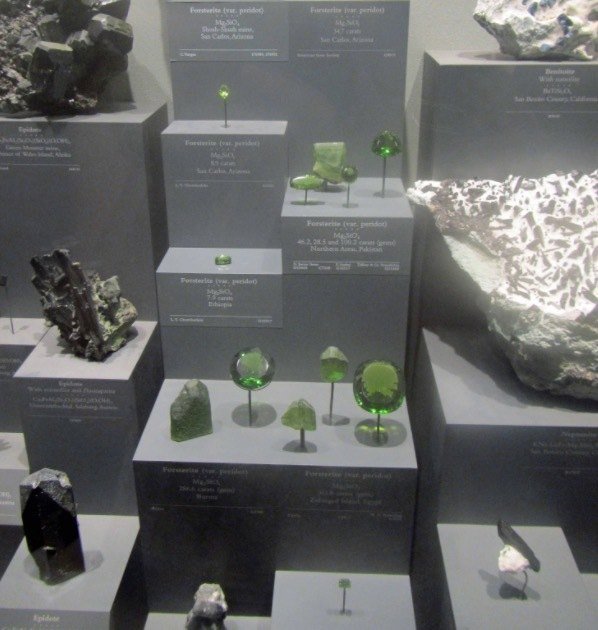 Peridot is created from lava. In Hawaii, the beaches and black basalt rock have millions of tiny peridot grains.
The gemstone is given as a traditional 16th wedding anniversary gift.
Qualities of Good Peridot Engagement Rings
Peridot gemstones are durable with a hardness between 6.5 and 7.0. While they have a moderate amount of shine and sparkle, they're valued for their unique color, which can range from yellow-green, green with a gold tone, olive, bottle or brilliant light green to a deep chartreuse.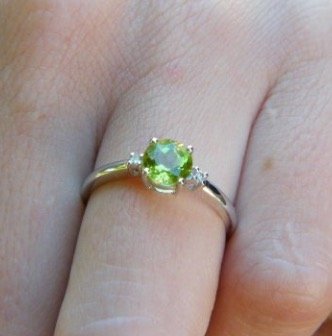 Quality peridot stones will see flaws depending on their size. The bigger the stone, the more likely there is to be flaws visible to the naked eye. In some cases, the stones can be enhanced using oils or resins to improve their appearance. With these enhancements, the peridot will require special care.
Care for Your Peridot Engagement Ring
A natural peridot with no enhancements doesn't require special care beyond the care required for all jewelry. Keep them away from chemicals that might cause the stone to become pitted or cloudy. This includes cleaning agents and bleach. Chlorine from the pool can cause issues with your peridot ring.
Styles, Metal Color and Night Terrors
While white gold should be avoided, legend states that if you choose to use yellow gold in your peridot ring, it has the power to become a talisman to ward off night terrors and bad dreams. Others believe that they must be worn on the right hand to work effectively. It's said to protect the wearer from evil, but also to bring happiness and attract lovers.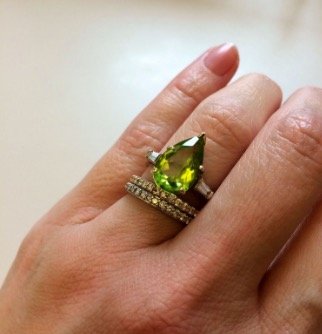 Wearing peridot with white gold or silver should be avoided if it has a rhodium coating. Every few years, the coating will need to be redone, which can cause the peridot to become cloudy over time. The rhodium basically eats into the peridot over time and causes it to become pitted, too.
Shopping Tips for Purchasing the Right Peridot Engagement Rings for the Love of Your Life
Price Comparisons
There are huge differences in the price of peridot rings depending on the quality of the stone, the color and cut as well as the design of the ring itself. A poor peridot will fetch a low price. One that is quality will be a huge difference in price. The best color is one that's a deep lily green with an undercurrent of white flashes. Some of the most desirable gemstones come from countries like Pakistan and Saudi Arabia as well as Arizona in the U. S.
Custom Stones and Cuts
Some of the best peridot engagement rings are ones that are cut specifically for the setting and the ring design. You'll want to make sure that when purchasing a peridot stone, you're choosing a quality cut and brilliance.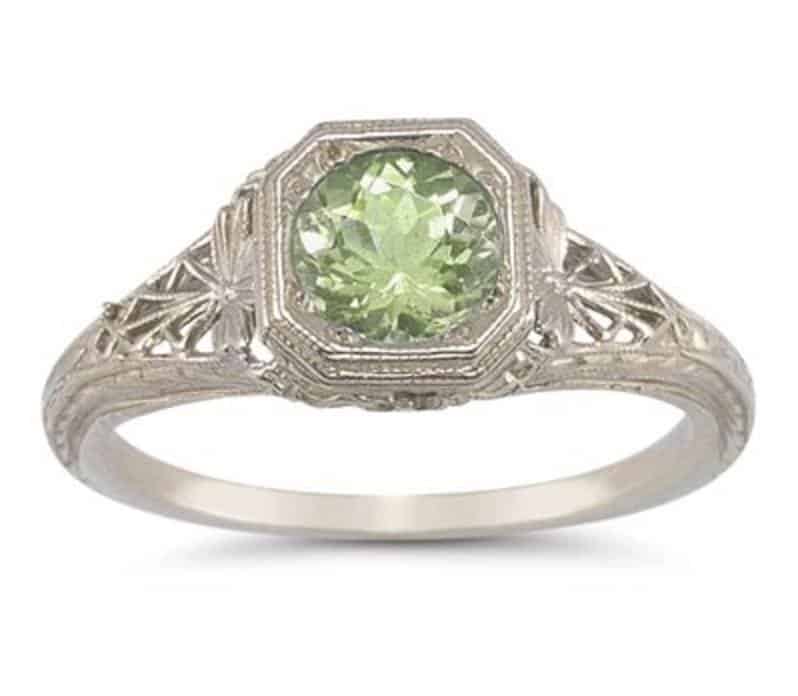 Peridot and Diamonds
When purchasing a peridot engagement or wedding ring, you might want to include a halo of diamonds or a channel along the band. Make sure that you're buying from a reputable seller who has certifications from an independent appraisal company. It might be a GIA or EGL certificate. If you purchase one that is vintage or antique, it should have a certificate of authentication from an appraiser.
Before purchasing a peridot from a seller, make sure you're getting at least a 30 day guarantee on the purchase. If you are not able to see the ring in person, it's the best guarantee you have that it's exactly as pictured.
Peridot Engagement Rings – Final Thoughts
A peridot engagement or wedding ring is a stunning alternative to the traditional, and sometimes, boring choice for engagement rings on the market. If your beloved is an August baby, she'll love that you incorporated that detail into the proposal. Ensure you have done your research, though, to get the best peridot ring that you possibly can.